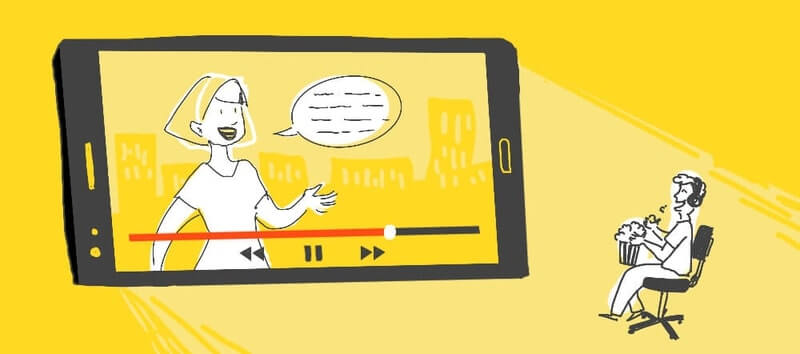 Online Video: Is it a Boom or a Bubble?


Much was talked about how video will be the next big content format on the web - the new HTML. Cisco's Annual Internet Report was considered the herald of an imminent gold rush by most companies building their business around video (including yours truly) - in 2017. The report predicted that 82% of the Internet traffic would be video by 2022. 
‍
A lot has happened over the past three years since that forecast. Right now, it's fair to ask: is the Online Video trend worth its hype? Is it true that everyone is adopting video for their business? And would you miss the boat if you don't get started with videos? 
Some of these questions are difficult to answer for two reasons: 
‍
1. It's hard to differentiate between a boom and a bubble, especially in its nascent years marked by exuberance.
2. It's impossible to draw a picture without access to data and insights about how videos are created, distributed, and consumed today.

There is, however, an intriguing story behind this that's worth telling. We love a great story. Which was all the more reason for us to take the time and effort to collate relevant data points to build a story we think would reflect the state of Online Video as we enter 2022. 

Online Video: Consumer and Business
Online Video represents all video content formats streamed over the Internet to end-users who watch content on smartphones, computers, digital smart TVs, or any other media device.

At a broad level, you can look at Online Video from two perspectives:
1. Consumer
2. Business. 

Online Video for Consumer is video content designed primarily for entertainment or any other personal need. Those movies and documentaries we find on Netflix? All of this can be categorized as Consumer Online Video. This category also extends to videos watched on TikTok and other social media platforms or those created and shared with your family. Online Video for Business are videos designed with the intent to achieve a business goal. At some point, you've probably found yourself sitting through a pre-roll advertisement on YouTube. Video ads are designed with a business objective - it could be brand awareness, getting leads for sales, or a similar objective that aligns with a business goal. 

It's important to understand the clear differentiation within Online Video. Why?

Primarily to be able to understand and appreciate what's happening differently within each domain. Since Consumer Online Video has distinct business models tied to it, like a monthly subscription for entertainment (Netflix) or free content with advertisements (Instagram, YouTube), the end-user of such video perceives it as a channel for entertainment or leisure. On the other hand, Business Online Video is considered more persuasive by end-users with direct sales intent most of the time.


Consumer Online Video as a domain has seen breakthrough disruption in the last decade. It was reported three years ago that 6 out of 10 internet users uploaded at least one video every month. Since then, this number has only been rising with better internet adoption in the last few years. While that gives you a picture of how smartphones have nudged consumers to create videos, the other side of the consumer story - that of online entertainment- is equally compelling.
‍
In a 2020 internet minute, more than 400000 hours of Netflix content are streamed by users worldwide. Adding to that, YouTube has 2 billion users (out of a total 4.66 billion internet users) who watch at least one video every month, and the number grew by 200 million in the last 2 years. This will only spiral upward with the adoption of 5G technology standard by broadband cellular networks.
‍
Let's try to understand how the Business Online Video industry has been doing. It appears that 65% of people believe brands don't produce videos worth-watching. Adding to that, with news being a category of story that most users like to keep a tab on, it's surprising to see that only 2.5% of average visit time was spent on video pages in a range of 30 online news sites. Creation of business videos seem to have a lag as well. In a recent study 45% of media teams have paused or stopped a video campaign midway in 2020.

From these stats, it's clear that videos created with a persuasive business intent are not the ones that are talked about when annual reports shower accolades on Online Video. We will get into the details on this topic later as we try to understand Online Video for Business in depth.

What's Working in Online Video for Business ?
Since David Ogilvy launched his agency's first successful advertisement, "The Guinness Guide to Oysters," for a hitherto unknown client called Guinness in 1951, the world of advertising has gone through many waves of transformations.


The most significant change has been in the format of content - which evolved from print copy to digital video, all of it produced to get more sales or build more awareness for a brand.
‍

One of the biggest wins of Online Video for Business has been in the advertising world, which is now dominated by social media and search engines that offer the most valuable "real estate" for advertising. Online Video drives a 250% clickthrough rate for many small e-commerce businesses running ads on Facebook. Avenues like YouTube are understood to be cost-effective advertising platforms today for brand-building. Educational videos also trump with 83% of people agreeing that a product/service explainer video aids a buying decision.

In contrast, 4 out of 10 people prefer watching educational videos over entertainment. This provides an opportunity to create educational videos that can help their target audience. Another activity for brand-building with video is its rising adoption on professional networks like LinkedIn. 54% of marketers have shared brand videos on LinkedIn, and out of them, 78% believe it helped their business.
What's not working so well
Now let's try to understand what's not working so well with Online Video for Business. Video posts produced by news organizations received 30% less engaged time than the average post. This contradicts the general notion of news like 'videos tending to do better on social media.' Adding to that, 91% of people say that they decide if they're going to continue watching a video within the first 10 seconds.

Even if this validates the reducing attention span observed among users on the internet, it's also a resounding testimonial for the risk that a business carries in creating videos with a business intent that goes unwatched. While the jury is still out, this information could be interpreted as a need to create higher-quality videos for social media instead of following cookie-cutter templated videos. We will look at how to make better videos in the next section.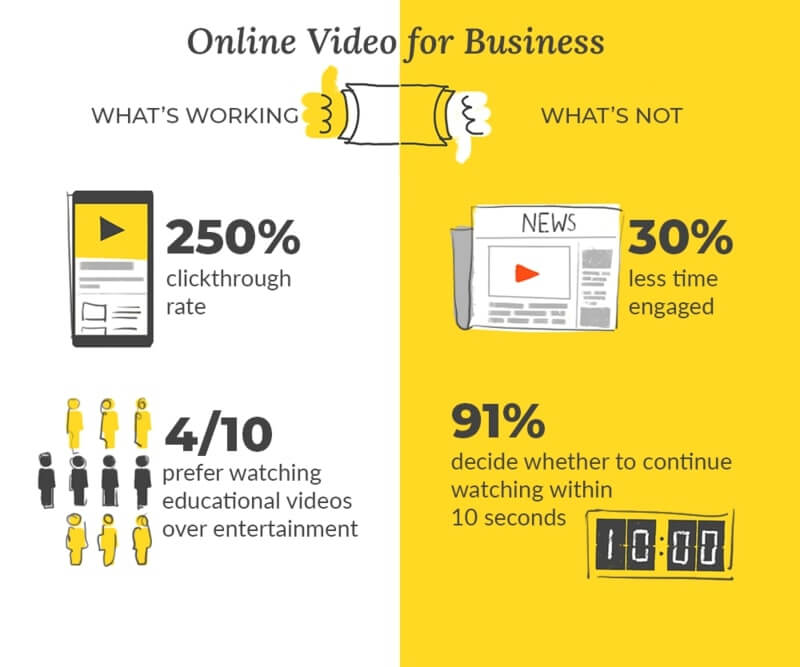 Evolution of the Online Video -Last 20 Years
When Toy Story was released in 1995, it wasn't just the beginning of Pixar's dream run of blockbuster animated films. It also started a new type of viable and economical video storytelling in the Business Online Video world - animated explainers videos. They are videos that use computer animation technology to render characters and storylines.

Eventually, with the help of Adobe's Flash Animation technology and complex animation editors like After Effects, it was soon possible for small-time video editors and studios to create moderate production quality animated videos, which served the need for businesses who could get a promotional video for pricing that ranged from $2500 to $25000 (as quoted by an animation studio 10 years ago). But a lot has changed with Online Video in the last 10 years, and much of this primarily attributable to two events:
‍
1. Jawed, one of the co-founders of a startup called YouTube published a grainy low-resolution video called "Me at the zoo" on April 23, 2005. The platform later made home video creation and shared a hip thing to do and later paved the way to vlogging or video logging.
‍
2. The launch of the iPhone on 29th June 2007 and the subsequent wave of smartphones making it easy to record good quality videos. 13 years later, it's possible to record an 8K resolution video using a smartphone today.

These two events initiated a gradual shift in the kind of videos consumers ended up creating and sharing with others. We moved from a time when a well-crafted animated video took 30 days to complete post-production,  to present-day- creating videos with real footage that takes zero seconds to publish. This also led to the shift in the type of videos we started using to tell stories.
‍
Real-life video footage now dominates animation - they are quickly produced, high definition, and more authentic today.


Today 500 hours of videos are uploaded every minute on YouTube alone, with most of it being real footage based productions.
‍
Another critical transformation in the anatomy of the Business Online Video was the rise of Text Videos as a communication medium. This was propelled when Facebook decided to promote videos and nudged users to watch more videos by auto-playing them with no sound on a scrolling news feed. Innovative publishers like BuzzFeed quickly adapted. They now had to create videos with text to convey the story to viewers who were just watching videos (not listening).
‍
This new format became the most potent medium for commerce in the ensuing years since 2015. How? It packaged the best of both worlds: videos are 60,000 times faster processed than other formats by our brains, and text provides a sense of control that makes it more likely for users to perform a buying decision. The effectiveness of Text Videos has led to rising usage of embedded captions in most video platforms like Facebook, Twitter, and LinkedIn.

Videos have now transformed their form to adapt to the platforms they are published on and the devices they are consumed.The early years of the millennium saw widescreen videos (of aspect ratio 16:9) used on most of the Internet. Today we've expanded this with square videos (1:1) that work well on social media feeds and vertical video (9:16 or 2:3) found to be effective for platforms, like IGTV and Tik Tok.

In a 2017 survey, 83% of marketers said they would increase their reliance on video as a strategy if there were no obstacles like time, resources, and budget. This brings up another aspect of how Online Video evolved in the last few years.

Video creators, today, explore ways to create videos quickly and easily. A few elements that have really helped here is the availability of Stock Media, including photos, videos, and music, that's widely used for designing video. Adding to that, the availability of Online Video Design Tools like Typito that enables you to create videos with text animation and stock media helps more businesses adopt Online Video.



The one element of video that has always remained important through the last 20 years is Story. Videos designed with a compelling story have done far better than their counterparts irrespective of other elements constituting the video.

Storytelling will not only increase your brand affinity in your audience's eyes; it can also be up to 22 times more memorable than facts. A brand's ability to tell stories reflect their ability to empathize and be human- a strong reason why the top 10 most empathetic companies in the Global Empathy Index are amongst the most profitable and fastest-growing in the world.

What we learned from analyzing over 200K Business Online Videos

Our reporting on the Design of Video won't be complete without evaluating what type of videos are being created and published by businesses worldwide. We looked at 225,000 videos designed recently on Typito and published by businesses ranging from freelancers to small marketing teams to agencies to large corporations.

Among the insights we were able to draw, we understood two key points:

1. 53% of these video projects had branded captions added on them - that is sub-titles that were designed to reflect the brand identity in terms of colors, font style, and other characteristics.

2. On average, every video had 7 text animation overlays added on them, conforming with the popularity of the Text Video format we talked about. These text overlays fall under the categories: Intros, Lower Thirds, Captions and Outros. All of these elements help the creator stitch together a video story with text and media.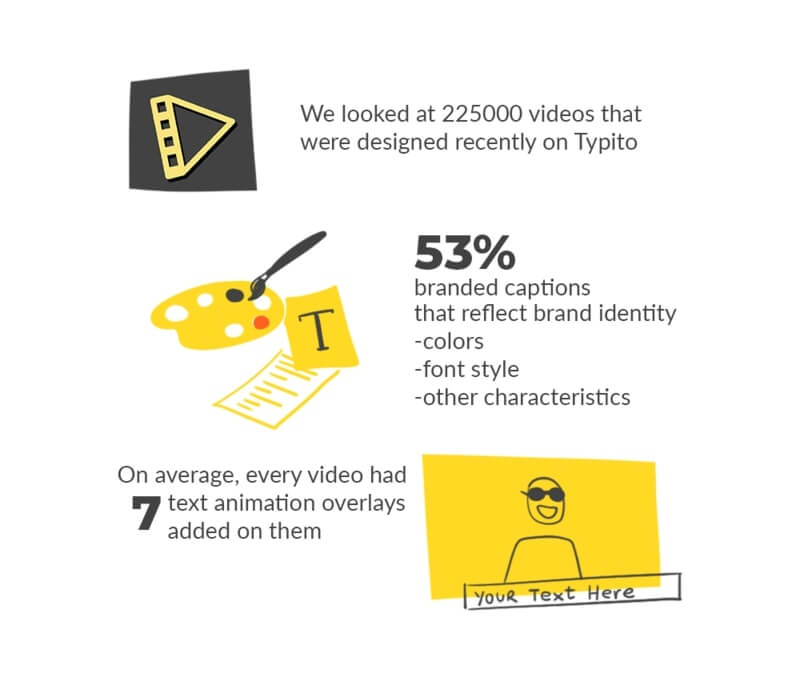 These findings confirm our understanding of the anatomy of an Online Video for Business today. Let's now try to look at an example of how these videos look like when designed with finesse and story.

An embodiment of Online Video in 2020
If we had to pick a case study of how Online Video can achieve ambitious business objectives, we needn't look further than the 2020 US Election. In the high stakes election that saw the ad spends topping $1.5 billion, it's worth looking at how a specific organization innovated with videos and highly regarded the media worldwide for their impact. We are talking about The Lincoln Project.

The pioneers of The Lincoln Project have spent over 200 years electing Republicans and had decided to spark a nationwide movement with a singular mission: to defeat the incumbent Republican U.S. President and his ideologies. Since its inception on 17th December 2019, The Super PAC (Political Action Committee) has raised more than $65 million-  a remarkable achievement for a relatively new organization.

The Lincoln Project was able to perform incredibly well to meet its business objectives of raising funds to run effective political campaigns. There's no way to undermine the major role Online Video played in their game plan.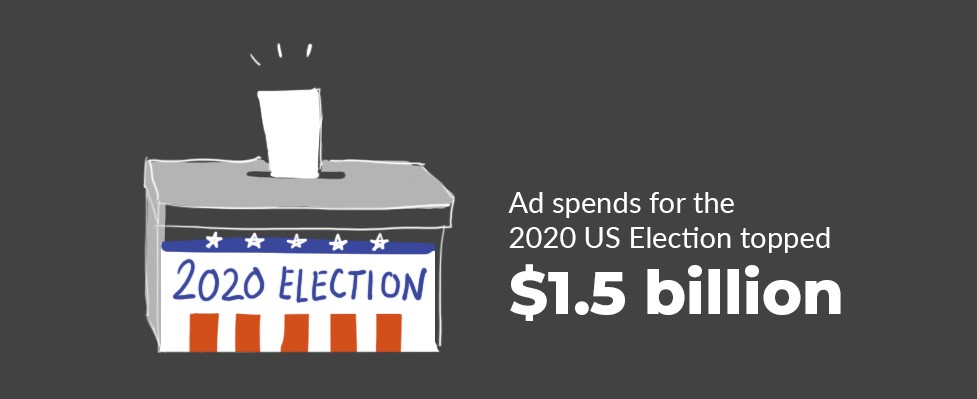 The PAC published over 300 videos on YouTube and raked in more than 250 million video views. Their performance on Twitter has also been phenomenal, clocking over 1 million views for almost all of their short videos with tens of thousands of viewers engaging on each of them in the form of retweets, replies, and likes. 
‍
Let's try to understand what video design was adopted by The Lincoln Project team becomes so effective as a Super PAC by checking out one of the videos: Focus Group.

‍

As you can see, the script carries the video from beginning to end. The use of text animations amplifies this story phenomenally. This is also a brilliant example of the Connectionism Theory of Information Transmission in Cognitive Sciences at play. In a nutshell, the theory illustrates how people retain information about a topic better when provided with more cues to describe the topic. 
‍
The use of video design elements like stock media and music makes it a video produced at a reasonable cost. With such reduced production cost, it also makes it feasible for the editing team to design a video like this every other day. 

Apple's SuperBowl advertisement 1984 directed by Ridley Scott may have been once considered the face of video advertising in the last century. Today, however, it's all about the ability to create short video ads quickly and consistently for social media that are driven by powerful stories and scripts and stories just like The Lincoln Project.

Video for Business: a Nascent but Promising Medium
When a market matures, new categories get created around them, and they start picking momentum. Facebook launched its Pages feature in 2007, which led to a new marketing category known as social media marketing. As you can see in the Google Trends chart below, social media marketing has been on the rise since then. 
‍
However, what's also evident from the chart is that video marketing has not picked up steam as a function despite the hype we hear around about how video is disrupting content delivery format on the internet.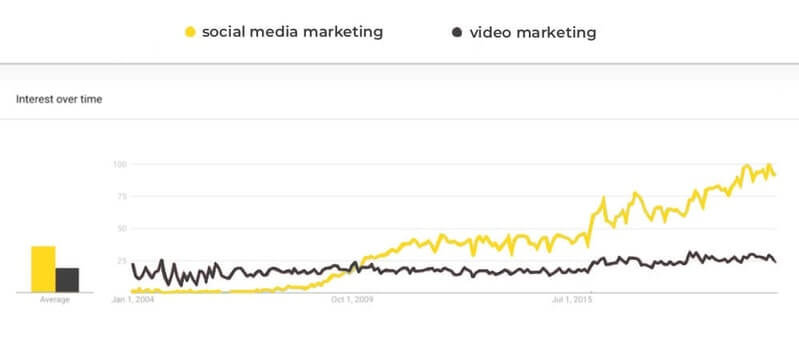 And that's where our need to differentiate between Consumer and Business Online Video makes sense. While Consumer Video has had a meteoric rise in the past years, Business Video has not seen an adoption anywhere close to that. This is precisely why you will find that very few businesses have videos on their content calendar for marketing. It's because the format is still an experimental one that's not proven to be an integral channel with reliable ROI. 
‍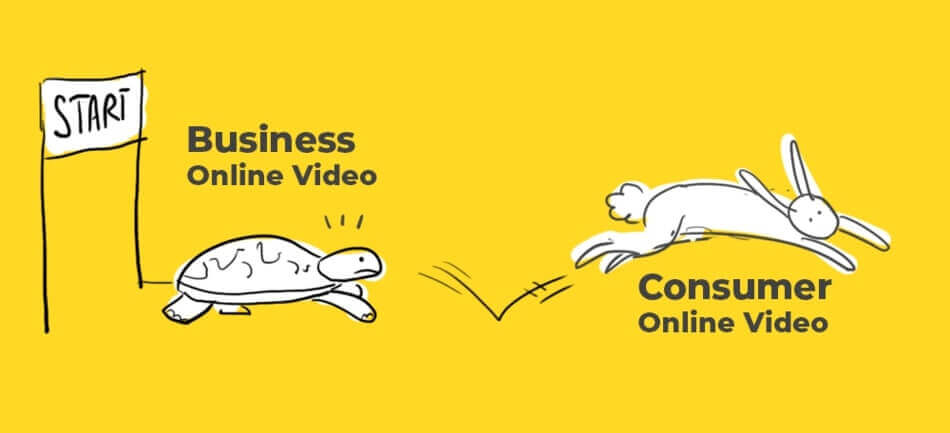 ‍
But things have changed a lot in 2020, for the year was not a normal one. Let's learn more about that.

How COVID-19 is accelerating the adoption of Online Video for Business
Certain worldwide events lead to drastic behavioral changes, and the Covid-19 pandemic of 2020 has been one of them. The pandemic forced businesses worldwide to adapt to new ways of doing things. 


One of the most prevalent tectonic changes has been the adoption of video for various business functions - whether its client relations, team collaboration, or knowledge sharing. We have suddenly become dependent on services that allow us to work and learn from home, with video playing a central role in this transformation.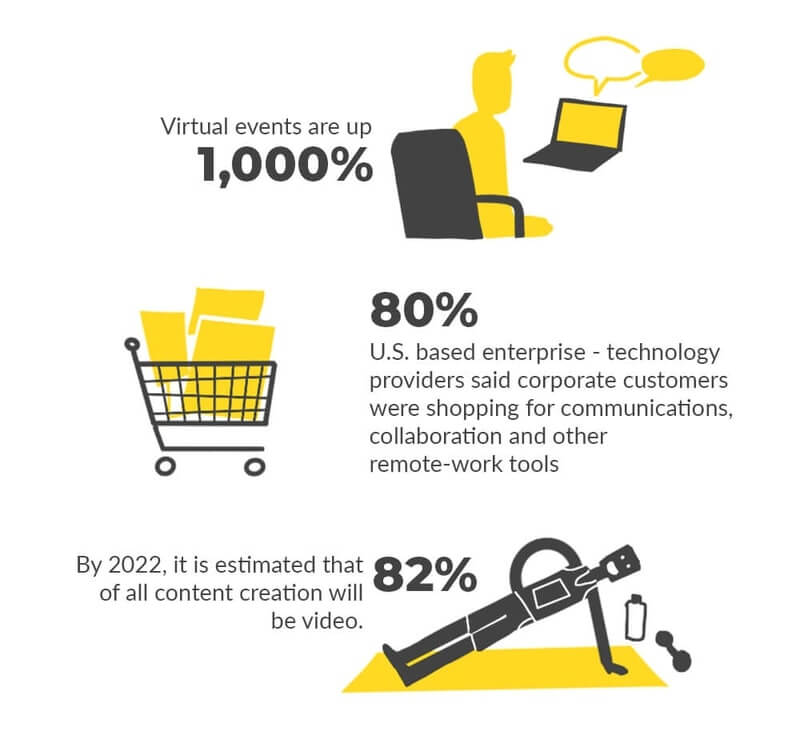 Virtual events are up 1,000% since the inception of the Covid-19, and more than 80% of U.S. based enterprise - technology providers said corporate customers last month were shopping for communications, collaboration, and other remote-work tools, up from 76% in March 2020. Many hyperlocal small businesses have also changed their style of operations, the prime example being fitness studios going online, adopting Online Video as the means of teaching, and appearing poised to enter an online fitness boom. By 2022, it is estimated that 82% of all content creation will be video. 
The changes in the way we interact with our surroundings via video will have long-lasting effects on the way we evolve as social animals. One of them would be our acquired ability to become comfortable with video as a medium for communication.‍


We believe this can be the turning point for Online Video for Business to finally gather enough momentum to become a promising channel for businesses worldwide, especially with 5G and other technology developments adding to the tailwind. Online Video for Business is not there yet in 2022, but the future looks promising.