10 Effective Social Media Best Practices for Nonprofits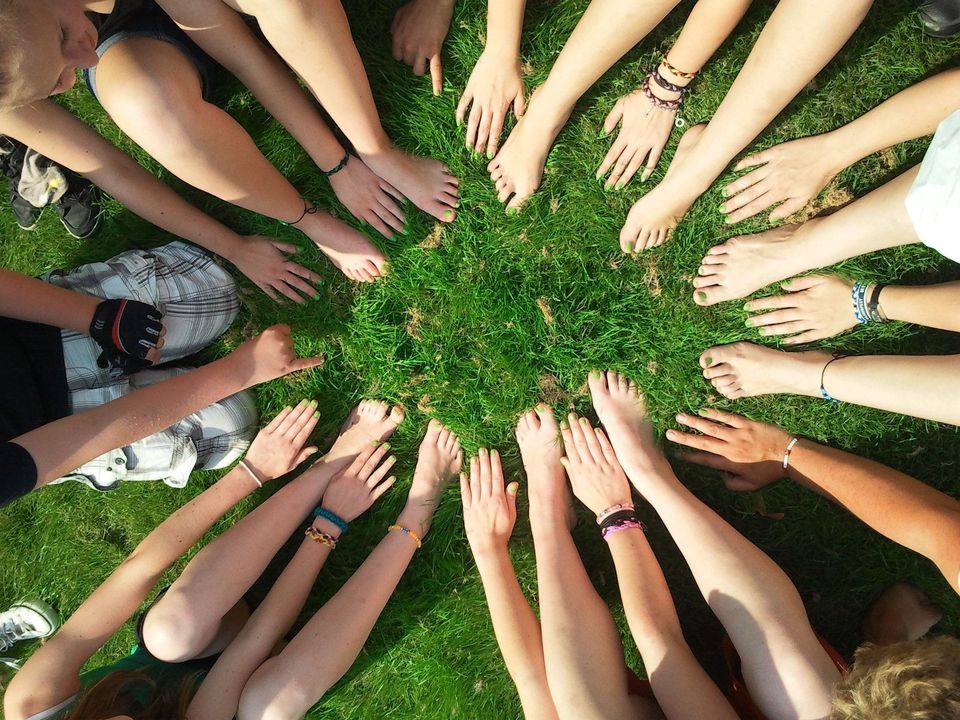 Social Media is a very good place for your nonprofit to build an online presence and spread awareness. But lack of funds, resources and time may stall you from getting the full potential out of social media. But guess what, with strategic planning and some best practices, you can set your social media efforts in motion. These are things like using services from companies like Task Ant to promote the non-profit and use specially curated hashtags to get a wide range of audiences to view their content.
You can even see into buying a Wikipedia page here, to advance your presence online. To get started with, we have gathered some tried-and-tested social media practices for nonprofits that can generate amazing results. Here we go!
1. Know your audience
Social Media platforms like Facebook, Twitter, and Instagram, have a variety of audiences. If you want to tap into the rich userbase of these platforms, you need to know your target audience.
"If you want to create messages that resonate with your audience, you need to know what they care about."

Nate Elliot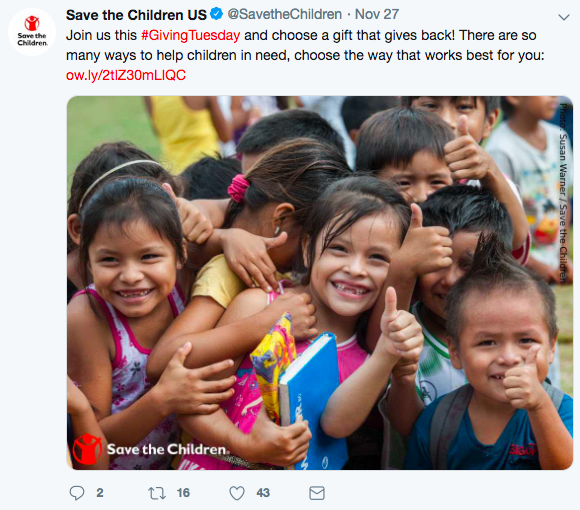 Save the Child: Twitter
If you just started out on creating target audience personas, you can refer to the backgrounds of your current supporters and donors to get some idea. Things like, where your current donors and volunteers are located, their interests, age, job, etc will give you a head start. You can also run a small survey to know more about your supporters better to create your target persona. You can also look at The Small Business Blogwho have an article about buying likes and follows that can give you the boost your profile needs to be seen by your target audience.
2. Build meaningful relationships
After you have established a persona, you need to find your prospective supporters and invest some time to build real relationships with them.
"Donors don't give to institutions. They invest in ideas and people in whom they believe."

- Kay Sprinkel Grace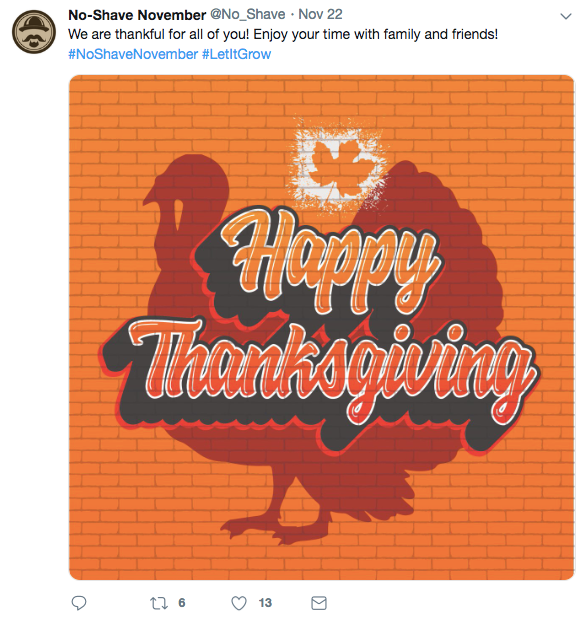 No Shave November - thanksgiving tweet
Create true relationships that endure. Building strong bonds will help your nonprofit organization to thrive at great heights.
For example: After a successful fundraising event, let donors know their donations helped people's lives. Mention donors with a thank you picture or a video in social media to let them know their money and support helped to further your mission.
After a successful campaign or event, spread love to your volunteers, for without them you wouldn't have achieved any goals.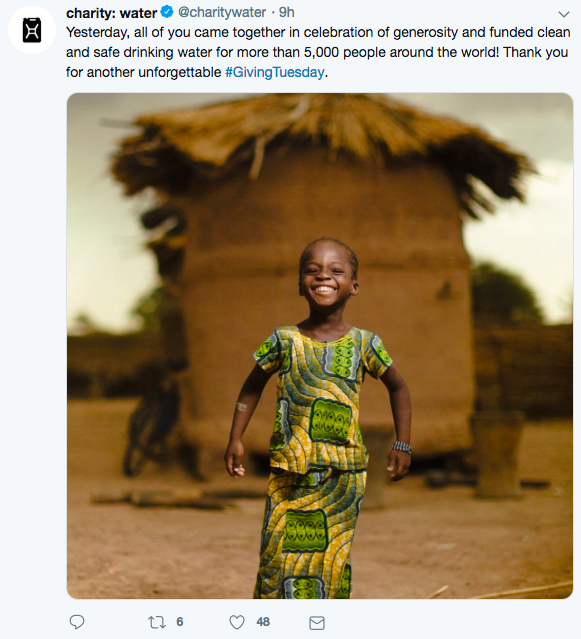 Charity: Water - Twitter
The basic idea is to reach out to people both personally and via online to create bonds. While you publicly acknowledge your donors and volunteers with pictures, videos, and words, other people will know about it. This will also attract potential donors and volunteers to your organization.
3. Set achievable goals
When you are starting out in social media, you will have a very small audience. So, that brilliant video you posted may not catch as many eyeballs as you expect. But don't fret.
"Setting goals are the first step in turning the invisible into the visible."

- Tony Robbins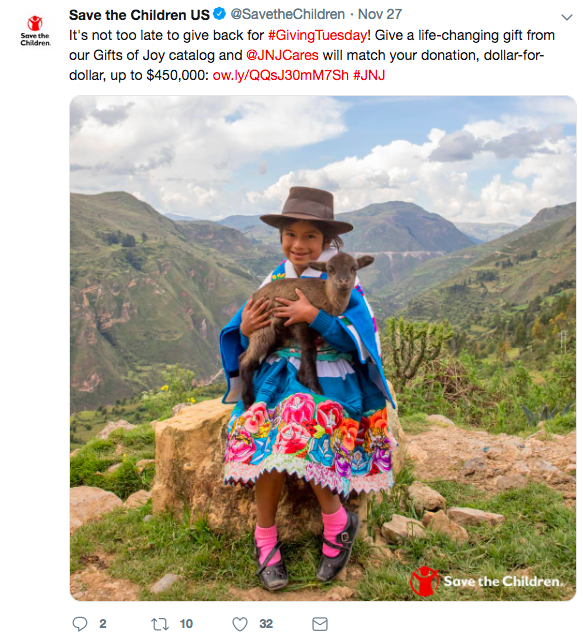 Save the Child - #GivingTuesday
To get things in motion, set a goal. The goal should be clearly defined and it can be something like - to increase your social media followers by the next quarter. Your goal should be realistic and measurable. When you start achieving your goals, you can include your social media followers to take part in your success.
For example: If your goal is to get 10k likes on Facebook, let people know when you make progress on the way. Thank them for all the support they showed along the way. Likewise, you can also use the same method while collecting donations from social media and announce the amount of money you raised along the way.
4. Post engaging content consistently
People love to get content on regular basis. Social Media platforms like Facebook and Instagram are built around this philosophy, and using this hashtag generator can help to make sure that your content reaches the right audience.
"Consistency is the true foundation of trust. Either keep your promises or do not make them." ? Roy T. Bennett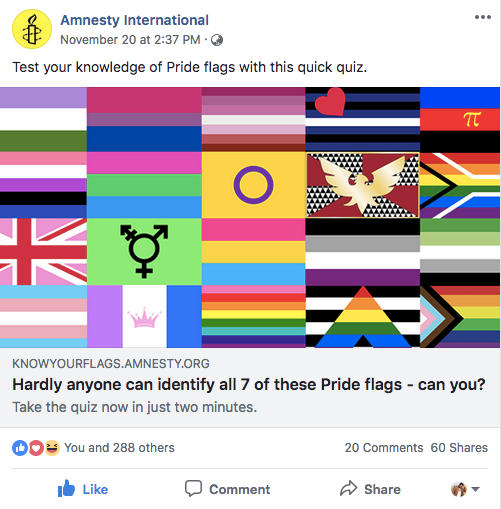 Amnesty International - Pride
If you post engaging contents on a regular basis, you are educating more about your organization and day by day they will be more attracted to you. When you approach them with a 'call to action', the probability of them responding to your favor will be high.
5. Build communities
Building a strong community through social media and growing it can be one of the most audacious things you can do to your organization.
"There is no power for change greater than a community discovering what it cares about."

Margaret J. Wheatley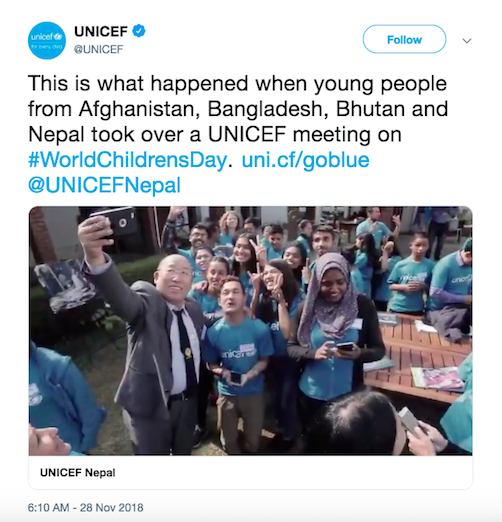 UNICEF: Volunteers
Approach social media in such a way to drive people to visit your organization website, participate in your fundraising or crowdfunding events or volunteering in your programmes.
A community would like to spend time, energy and resources to help you achieve the greater good your organization is working towards.
6. Adapt to new trends
Trends in social media flow with culture. They come and go in the blink of an eye, providing ground to test new marketing skills and ideas.
"Things get much easier if one jumps on the bandwagon of existing trends."

- Lei Jun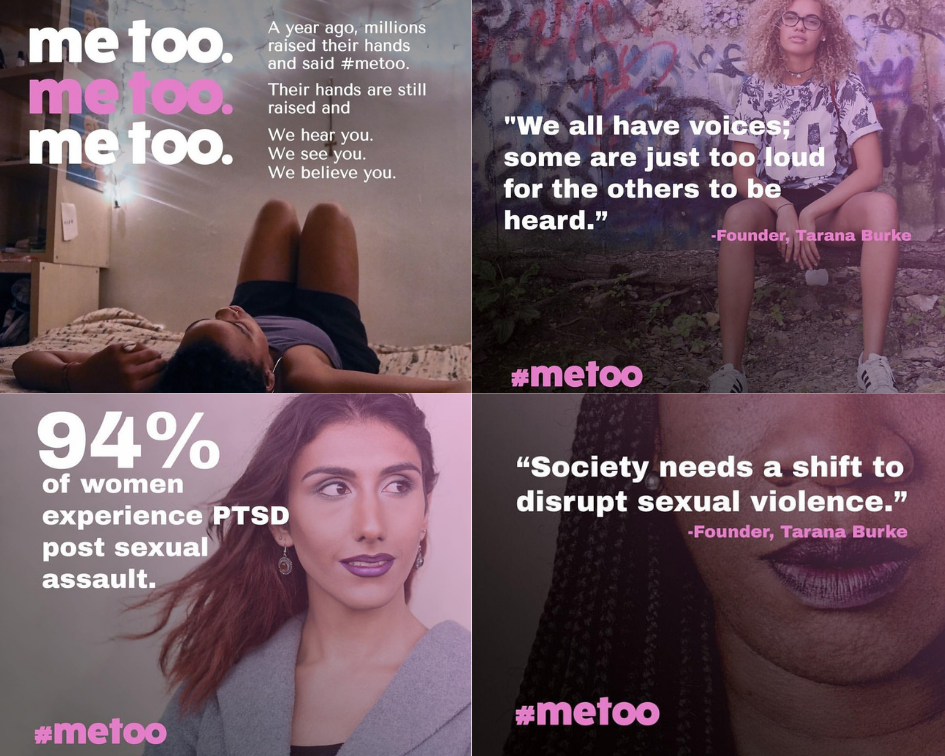 #Metoo campaign
By knowing what's relevant in culture and the marketplace, you can keep your audience engaged. When new trends in social media like a new meme, gif or video arrives and trends in social media, you can try to leverage its popularity to get some attention.
7. Run campaigns
When you have enough followers on social media, you can start online campaigns. During online campaigns, you can use pictures, gifs, and videos as tools to set your campaign in motion.
"I love the creative process - brainstorming and coming up with campaigns."

- Scooter Braun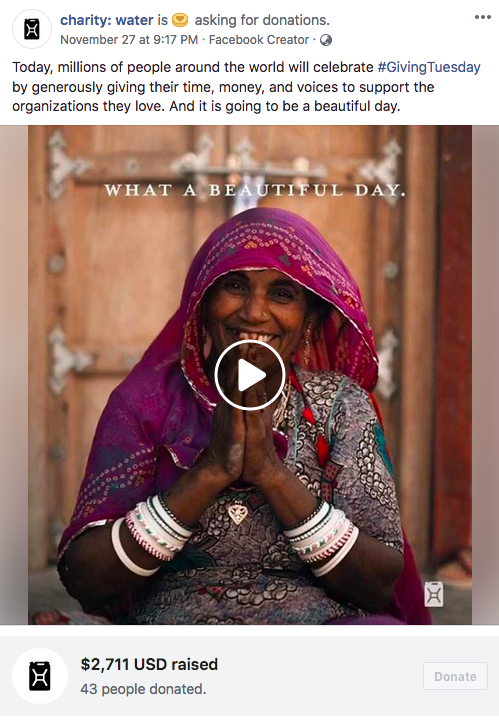 Charity: Water - Campaign
8. Use storytelling
People love to hear stories and like to share stories they love to others. When you engage with people through social media, you need to use the power of storytelling.
If you're fundraising for a cause, you can communicate with your audience about it and catch their attention by using compelling stories.
For example: If you are trying to get people clean water, you can use real stories like how children have to walk miles to even get even dirty water from ponds. Explain to your audience how many people are living without basic necessities and how little funds can make a difference.
"Storytelling is the most powerful way to put ideas into the world today."

--Robert McKee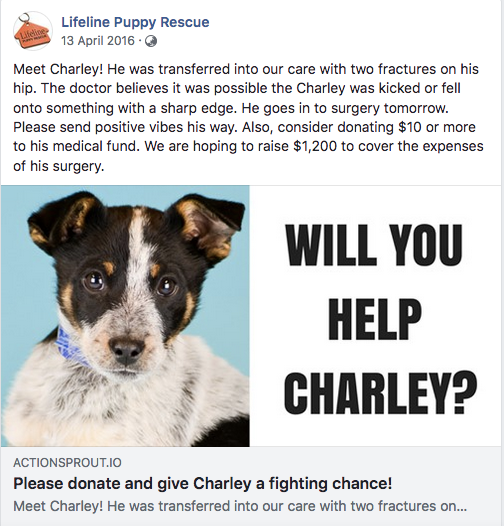 Help Charlie: Lifeline Puppy Rescue
Creating stories and sharing it with your audience will make them emotionally invested in your story. At the end of your story, you can add a Call To Action. If your story created an impact, your audience might want to contribute to your cause.
9. Add a call to action
Nothing is better than a CTA at the end of your story. Make sure your CTA is straightforward and is powerful enough to make people take action.
The action is the foundational key to all success.

-Pablo Picasso

American RedCross - Facebook page with donate button
A compelling CTA will draw more engagement in social media. For example, you can use the CTA button on Facebook to convert the visitors who come to your facebook page as donors by using the "Donate" button.
10. Create a content and distribution strategy
Content creation and distribution strategy is a good way to start your social media efforts. Create a calendar upfront to plan which posts to post and when to post it. Having a content creation calendar in place will also remove any guess or confusion that may arise while publishing.
"Content is king"
- Bill Gates
For distributing content, you can depend on multiple platforms. You can also schedule your social media post ahead of time so you can be available to work for your cause.
Winding up
Now you know how to skyrocket your social media efforts. You can go on and create your social media pages to spread your nonprofit mission to the online audience and raise huge funds. To make your social media posts engaging, you can use videos. For creating awesome videos from scratch, and to spread your message further, you can use Typito Video Editor.
For Nonprofits like you, we are running Typito for Nonprofits Program. You can get an amazing 50% discount on our plans. Get Started!!!