How to Edit SRT files Easily Online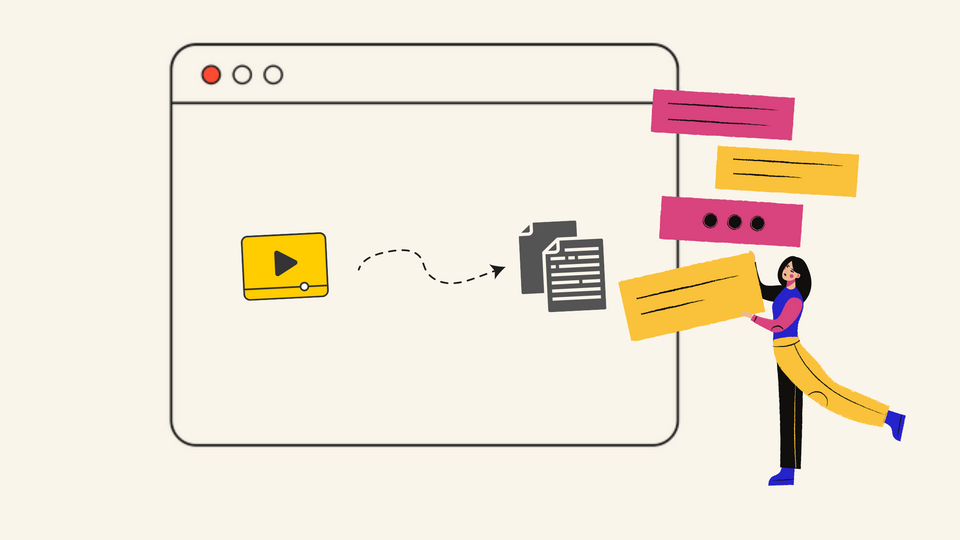 If you are a video creator, you probably know the impact subtitles can have on your video. If the addition of subtitles could make a difference, a faulty subtitle could have a negative impact on your content. So here's how you can edit an SRT file in 2 easy ways and fix your video captions.
Here's everything we'll cover in the next couple of sections:
What is an SRT file?
SubRip Subtitle files, also commonly called SRT files, are plain-text files that contain subtitles or captions for videos. They also have the start and end timecodes of every line which ensure that the text is in sync with the audio.
You can watch videos with their subtitles by just adding the SRT file of the respective video to your video player. SRT files are easy to create and use. You can learn more about SRT files and how to create such files for your video here.
Before we get into that, let us see how subtitles contribute to your video and help the viewers.
Firstly, subtitles make your videos accessible to a huge audience. Foreign language speakers, individuals with auditory impairments, and just anyone who watches video content without sound benefit from subtitles to a great extent.
Also, some viewers might be visual learners. So they might prefer watching videos with subtitles to help with retaining the information better.
In addition to making it easier for the audience to understand the content, they also improve engagement and boost SEO for content producers. Social media scrolling allows videos to be played with the sound off. Having captions, in this case, would make the audience consume your content even with no sound and increase engagement.
So is it possible to edit text or adjust SRT file timings manually? The answer is yes, and it is as easy as ABC.
How to edit an SRT file easily
---
Editing an SRT file is very easy and there are online options that you can try to get the job done. You can also do it on your device in minutes. Here's how you can do it.
How to Edit an SRT file online
If you are looking for an easy method to edit your SRT file online, Typito's got just the right tools for you. It is easy, straightforward, and quick. You also don't need any additional software on your device to do this. Let's get into the steps, shall we?
Step 1: Head over to Typito & get started
Firstly, upload your video to Typito and get started. Once that's done click on the Captions icon in the left panel (labeled as 1 in the below screenshot).

Next, select the style you want your captions to appear in. You can choose from the themes listed (labeled as 2 in the screenshot above).
Click the Content tab in the left panel and then upload the existing SRT file that you want to correct or edit. Then select Upload SRT and upload your file.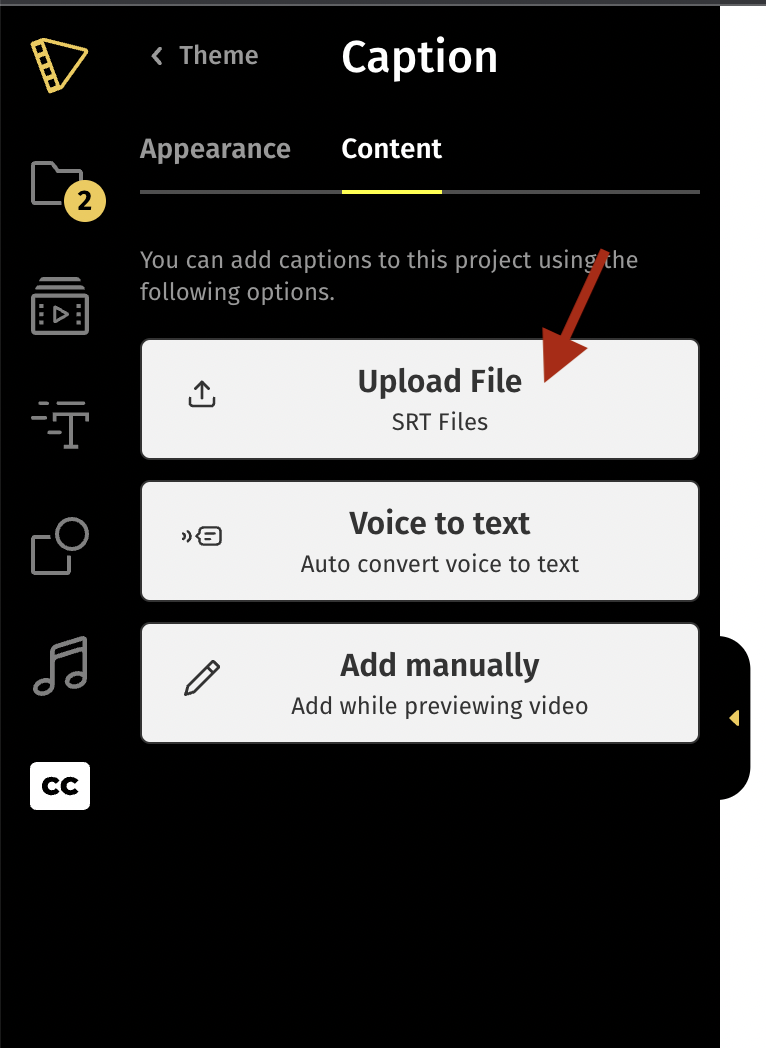 Note: If you don't have an SRT file, you can click the Voice to Text captions to automatically generate captions for your video and then proceed to edit this manually.
Step 2: Edit the Captions
Once you upload your file, the captions along with their timestamps must appear in the left pane.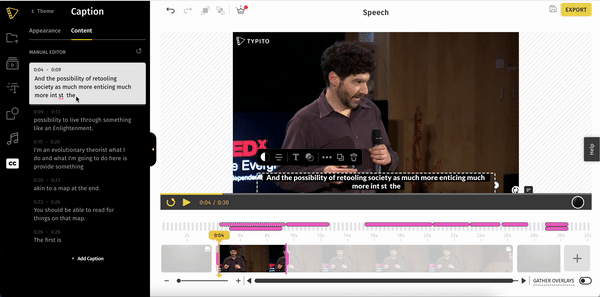 You can edit the text by clicking on the text or the timestamp space in the left pane and then making the required changes.
Another way to go about it is to directly click on the text box in your workspace.
Step 3: Preview, Export and Download your new SRT file
After you finish editing your video, export your project.
Once your project is exported you can download your video and download your edited SRT file separately.
Note: Typito has great options to format the captions in your video. From fonts and colors to placements, there are so many ways to customize subtitles. Here's a quick guide to help you edit the captions on your video.
How to edit an SRT file on MAC?
Step 1: Go to the folder that has the SRT file.
Step 2: Right-click on the file and select Open With TextEdit.
Step 3: The opened file will look something like this.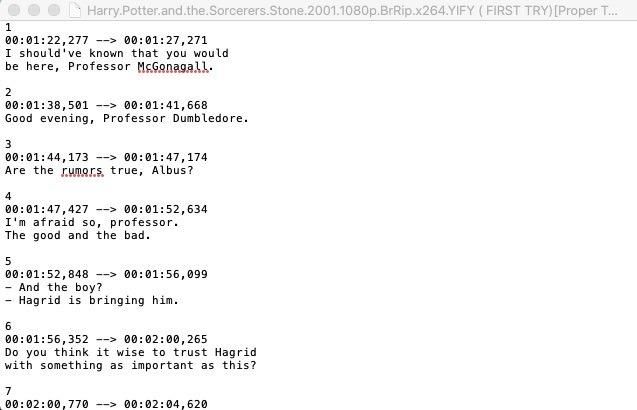 An SRT file opened using TextEdit on MAC.
Step 4: You can see the lines numbered with their timestamps and text.
Step 5: Find the line that needs editing and make the changes.
Step 6: Save the file. The SRT file is edited and ready to use.
How to Edit an SRT file on Windows?
Step 1: Go to the folder where the SRT file is located.
Step 2: Right-click on the file and click open with on the menu.
Step 3: Select notepad. The opened file might look like this.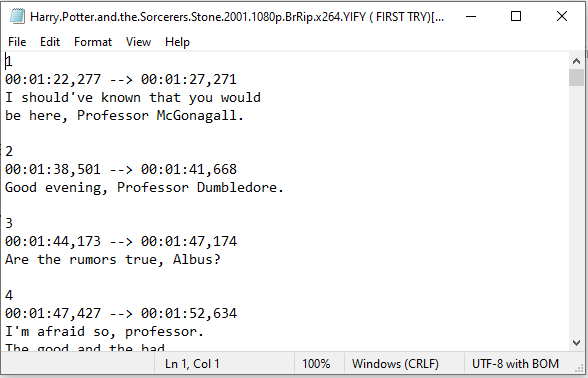 An SRT file opened using Notepad in Windows.
Step 4: You can see the lines numbered with their timestamps and text.
Step 5: Make the necessary edits and save the file.
Step 6: The SRT file is edited and ready to use.
When does the need to edit an SRT file arise?
---
Chances are you get frustrated when the subtitles and the video are not in sync. All of us have been there and we know it ruins the experience of watching the video.
If you are a video creator or a brand manager and your video has this problem, you know you have to find a fix right now. If you leave the subtitles with errors, a good part of the audience may skip a video mid-way if the subtitles are not in sync.
This could be because of errors in the timings that make the subtitles come a little early or a little late. If you are watching a movie and the subtitles are 30 seconds early, it could potentially spoil the movie for you. We wouldn't want that, would we?
While timings are an important issue to look out for, wrong text and typos in the subtitles could also go wrong for you. In this case, it shows a lack of attention to detail and professionalism. If the subtitles are in a foreign language, accuracy is incredibly important. A mistake in the translation could send out wrong information and lead to misunderstanding.
There could also be a harmless need to just change the content of an SRT file, say for an update or use of a better choice of words.
In a nutshell
One can say that subtitles have made consuming video content very convenient. Differences in accents, content in foreign languages are now not a setback to be accessible to global media. It also makes understanding and interpreting easier.
In addition to this, hard-of-hearing individuals can also get the maximum out of videos with subtitles. When subtitles have such big roles to play, having faulty subtitles with errors in text and timings will be a huge put-off for the viewers. But rectifying these errors is no rocket science and takes only a few minutes on our devices or online. Have an SRT file that needs a tweak? Do it in a minute on Typito.
Video Marketing is a powerful tool and continues to grow. Typito can help you make professional-grade videos without the hassle of complex video editing. Want to experience smooth and simple video editing? Head over to Typito.