What is an SRT File? And How to Create SRT file for Videos Easily?
When you create a video, you would like your audience to immerse themselves in what they're watching completely. Of course, audio and visual effects play an important role, but one cannot deny the role of subtitles here. Adding subtitles (technically known as .srt file) to your video is one of the most important things you can do to tie your video into a neat package and present it to your viewers.
From educational to entertainment, all videos today are backed by SRT files and yours should as well.
So how do you create SRT file for your videos? Before we give you a  lowdown on the process, let's talk about what is an SRT file, first.
What is an SRT File?
---
SubRip Subtitle Files (.srt) or SRT files are your subtitles texts that you can view in the form of captions in your videos. SRT files have a start and stop time, right alongside the subtitle text which synchronizes them with the video's timeline, displaying the right caption at the right scene.
Having an SRT file for your videos cuts down on the tedious process of manually entering subtitles when uploading a video, which may be time-consuming and might result in inaccuracies.
Keeping the cumbersome process in mind, with  SRT files, editors can create a single file and upload it to the videos on every platform to run the caption alongside the scene and make subtitling easier.
Why are SRT files important for videos?
In addition to making your video more approachable for your viewers, an SRT file has a lot more to offer.
Autoplay Assist: On many social media platforms, while scrolling through social media feeds, many viewers don't bother to turn on the audio for videos. Having subtitles can still present the message of your video and catch their attention if it interests them.
SEO Benefits: Uploading SRT files to native video platforms allows your video to be indexed by Google and climb on the ranking charts. How do you do it? By creating an SEO-optimized script using keywords and uploading a complementing SRT file which will boost your searchability and hence, ranking.
How to Create an SRT File?
---
There are many ways to create an SRT file and the most common among them is using a text editor or, if you are directly uploading a video to YouTube, a through YouTube editor.
In this article we'll take you detailed steps for how to create an srt file in 3 different ways:
Create SRT File using a Text Editor
Use Youtube Studio to Create an SRT File
Create an SRT File for your Video on Typito
Create SRT File using a Text Editor
Simply put, a text editor is any document creator installed on your computer. For instance, if you are a Mac user, it is TextEdit and if you are a Windows user, it can be Notepad.
Creating an SRT file is all about formatting the text (the subtitle) the right way and saving it to the SRT format.
Your format should follow this standard format:
Hours : Minutes : Seconds, Milliseconds
Start Time -----> End Time
Relevant text as per the video that you want as subtitle for the scene
Here's what this should look like: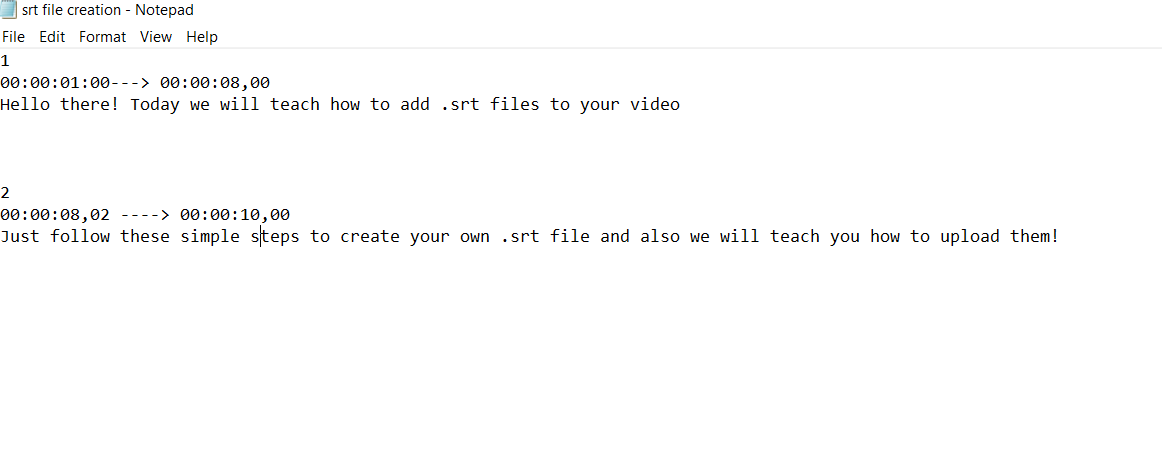 Once you are done creating your subtitle file, all you have to do is convert the format to plain texts and then save it as a .srt file. The regular prompt is usually in a .txt format, you can change it to .srt manually.
Use YouTube Studio Create and Download SRT Files
Using an alternative tool to create SRT files is like skipping the queue. One such tool that can help you create SRT files automatically for your videos is Youtube Studio. Using YouTube Studio can help you skip a few steps, and extract an SRT file automatically from your video's voice-over.
Step 1: Go to YouTube Video creator and upload your video. Once your video is uploaded, go to the left panel and select Subtitles

Log in to your account and click "Subtitles" to begin creating an SRT file for a video.
Step 2: Select language check the box if you have a default language of your preference.

Step 3: Next, select from the options to how to add your captions. While auto-sync can be faster than manually typing it, the latter guarantees more accuracy.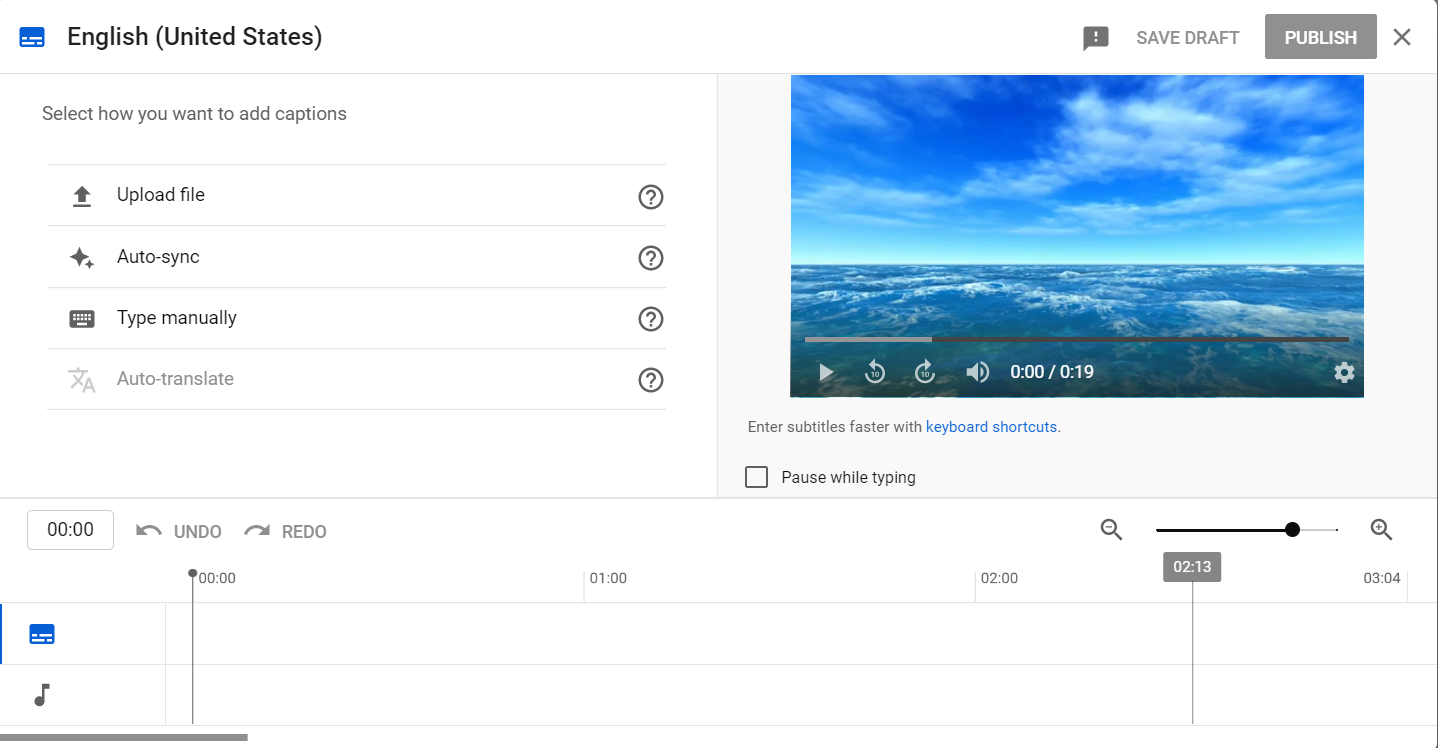 Step 4: Select Auto-sync option for a quick way to auto-generate subtitles for your video. Once your subtitles are auto-generated, you can edit these to make sure it's accurate.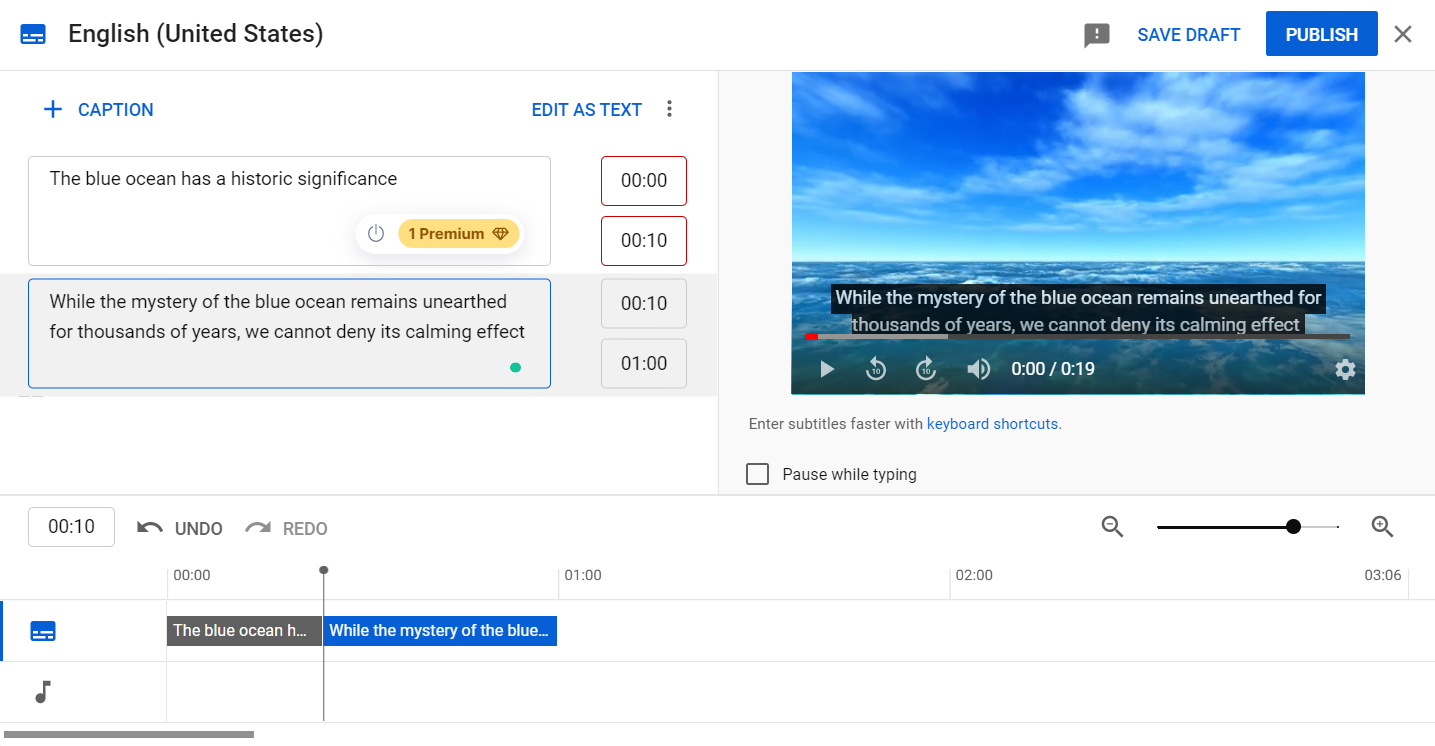 If you'd like to manually type in subtitles perhaps in an alternate language, select Typing Manually, you will have the text box and the timer that you can select to enter your captions and ensure that they appear at that specific timeline. You can even check the timeline below and the preview of the video on the side to see how the final product would look like.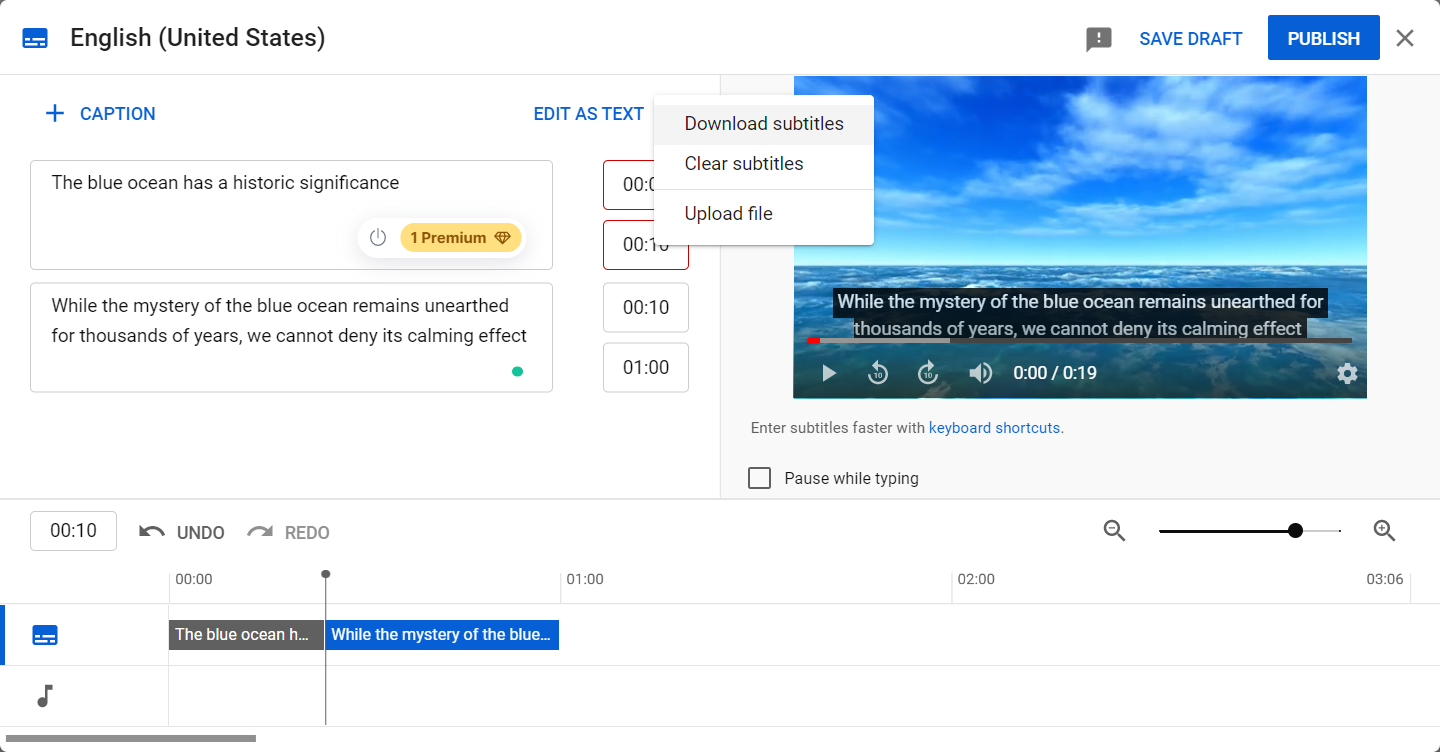 Step 5: Once you're done click the more options button (indicated by 3 dots) and select Download Subtitles for your video. And you're done! You can now use your downloaded SRT as needed.
Create and Download SRT File using Typito
If you're someone who prefers to get your SRT file sorted while editing your video, instead of uploading it to Youtube just to download an SRT file, Typito might be just the video editor for you.
Typito is a 'drag and drop' video tool that allows you to create and edit your videos in a few easy steps as well as auto-generate subtitles for your video that you can then download as an SRT file.
Here's a brief tutorial to help you create and download an SRT from your video:
Step 1: Upload your video
First, you will have to choose a format (video dimensions) to create a new video project. Click the Create button to choose a format.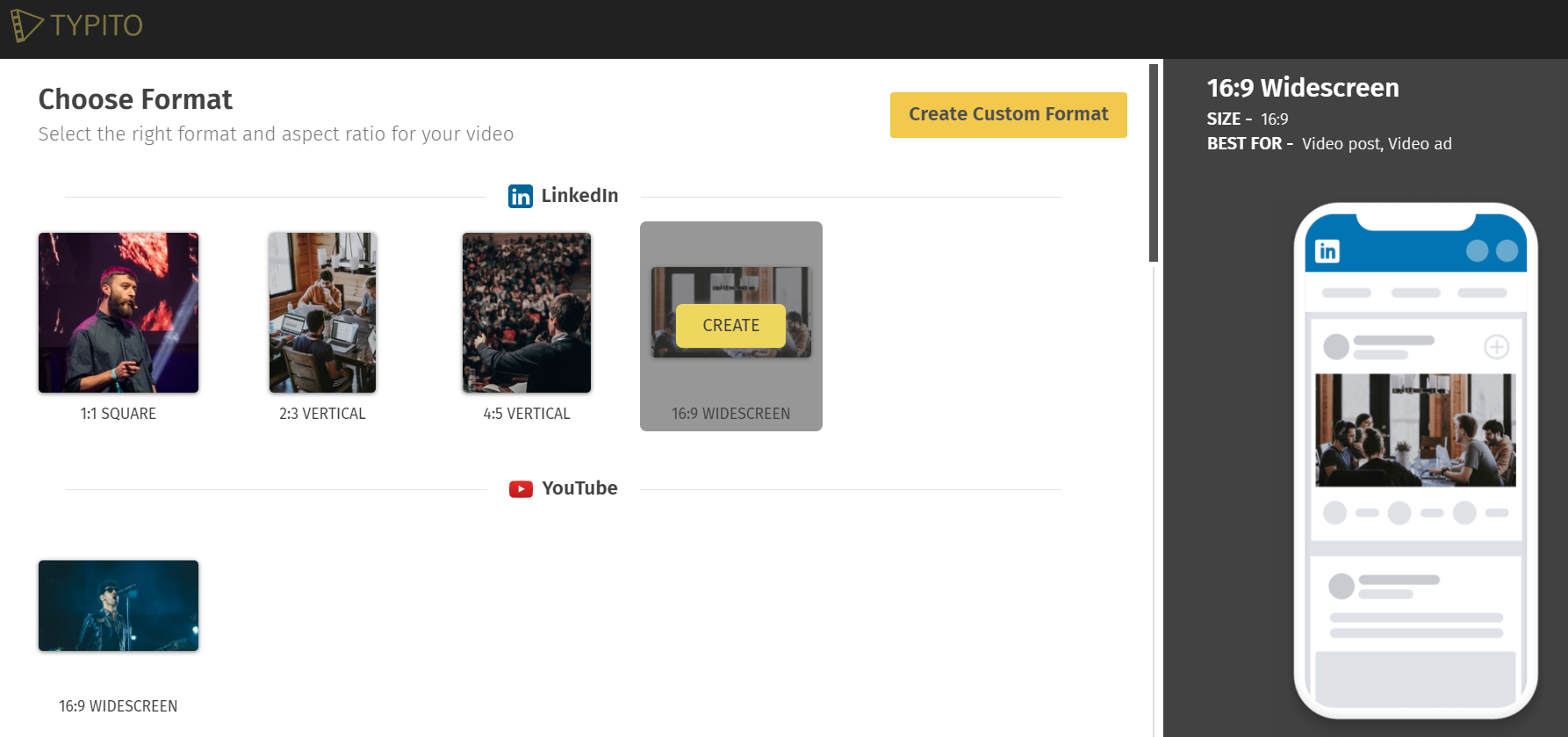 Step 2: Click Captions from the left menu and choose an appropriate theme for your captions.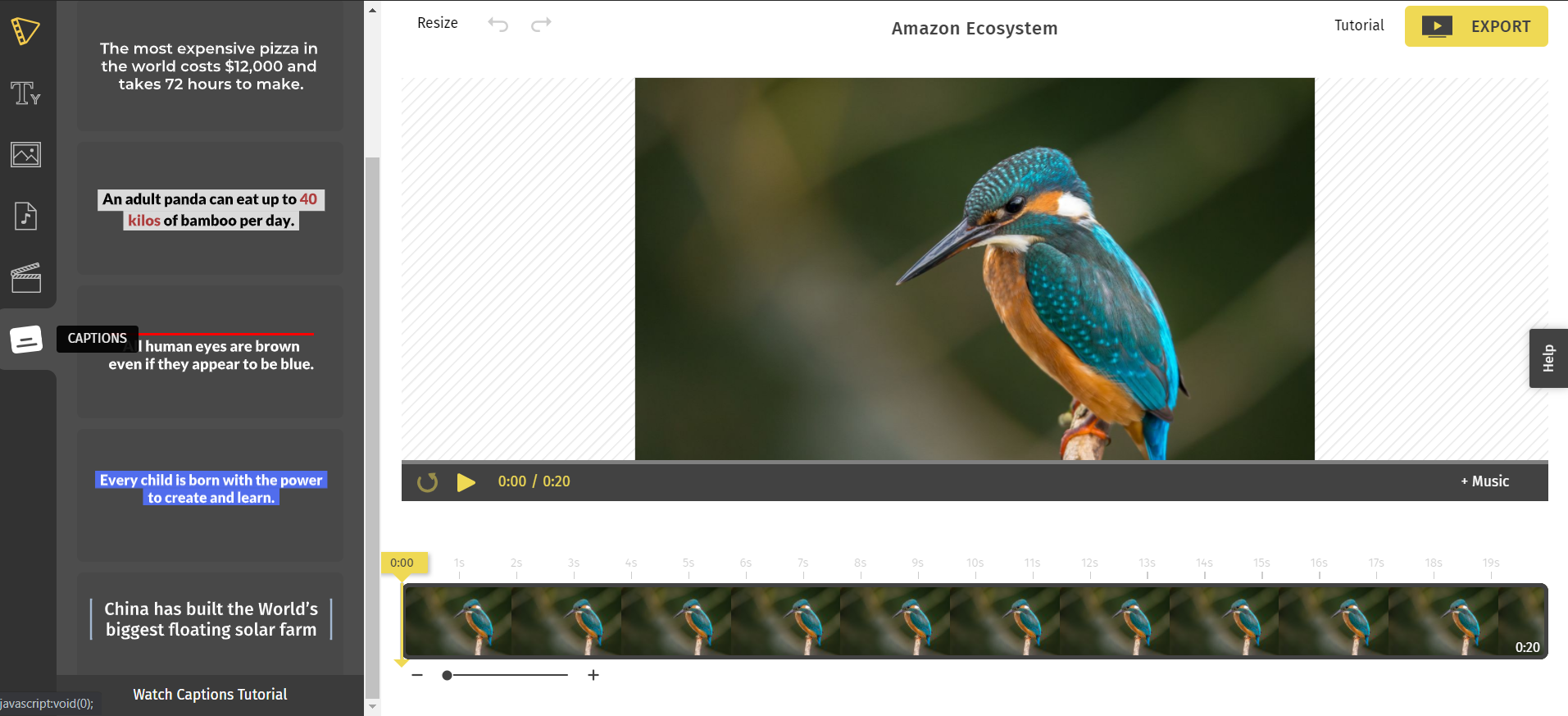 Step 4: Select the 'Add Content' option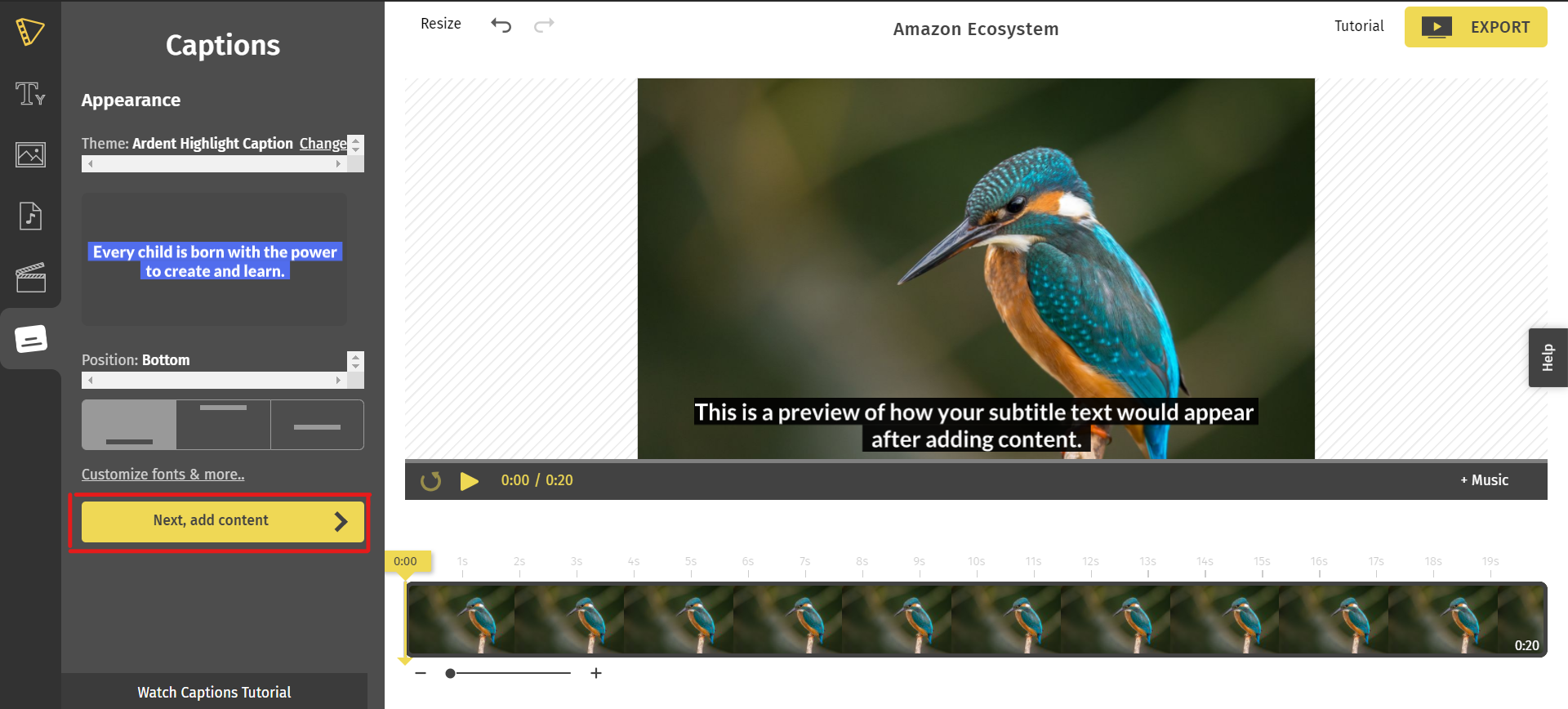 You can either choose to Add subtitles Manually or use the Voice to Text Feature to automatically generate subtitles for your video.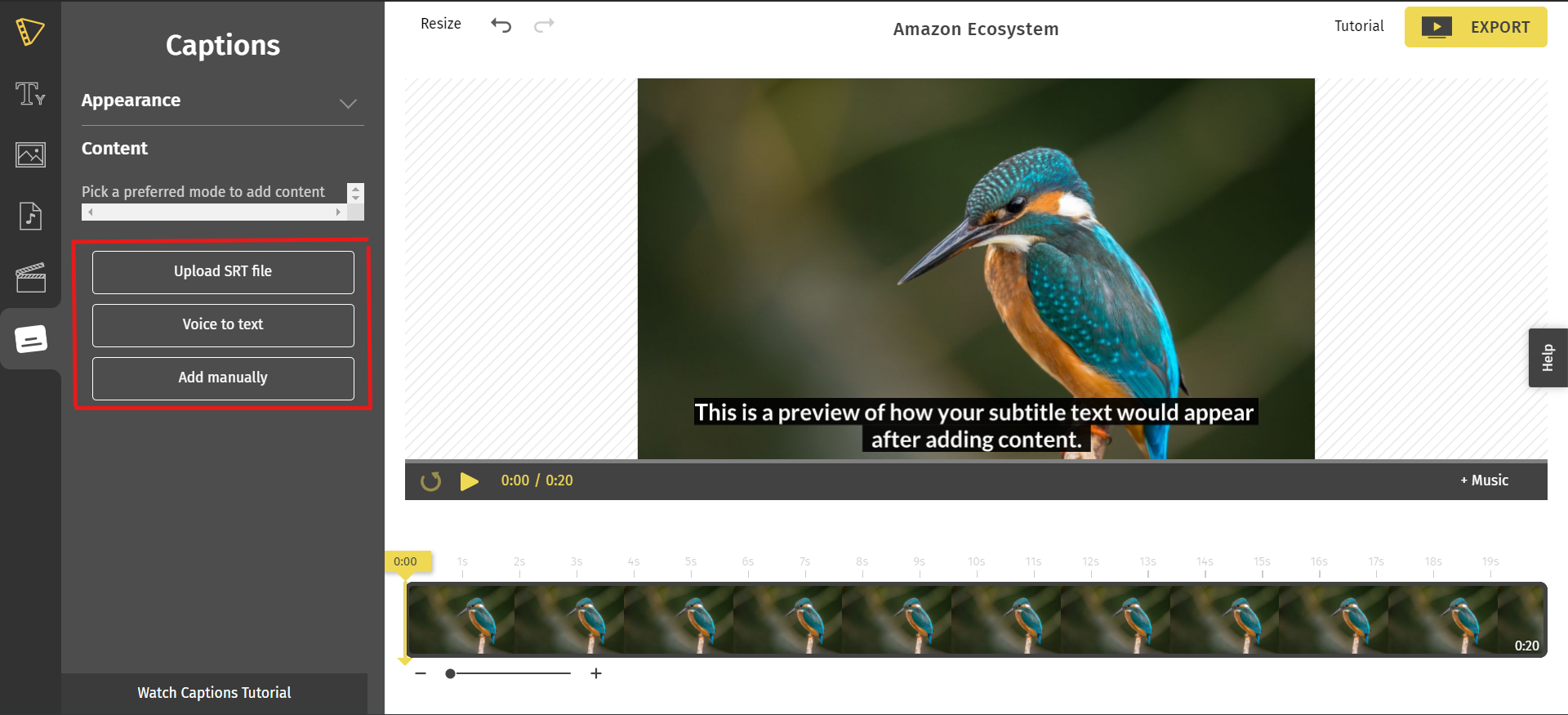 To make creating subtitles easier choose the voice to text option and give it a couple of seconds to auto-generate captions for your video. Once your subtitles are generated, you can give it a quick check and edit any words as needed. Next, click the Export button in the top right corner of the screen, this will allow you to download your video as well as download the SRT file separately.
Click the Download Subtitles link to download your file.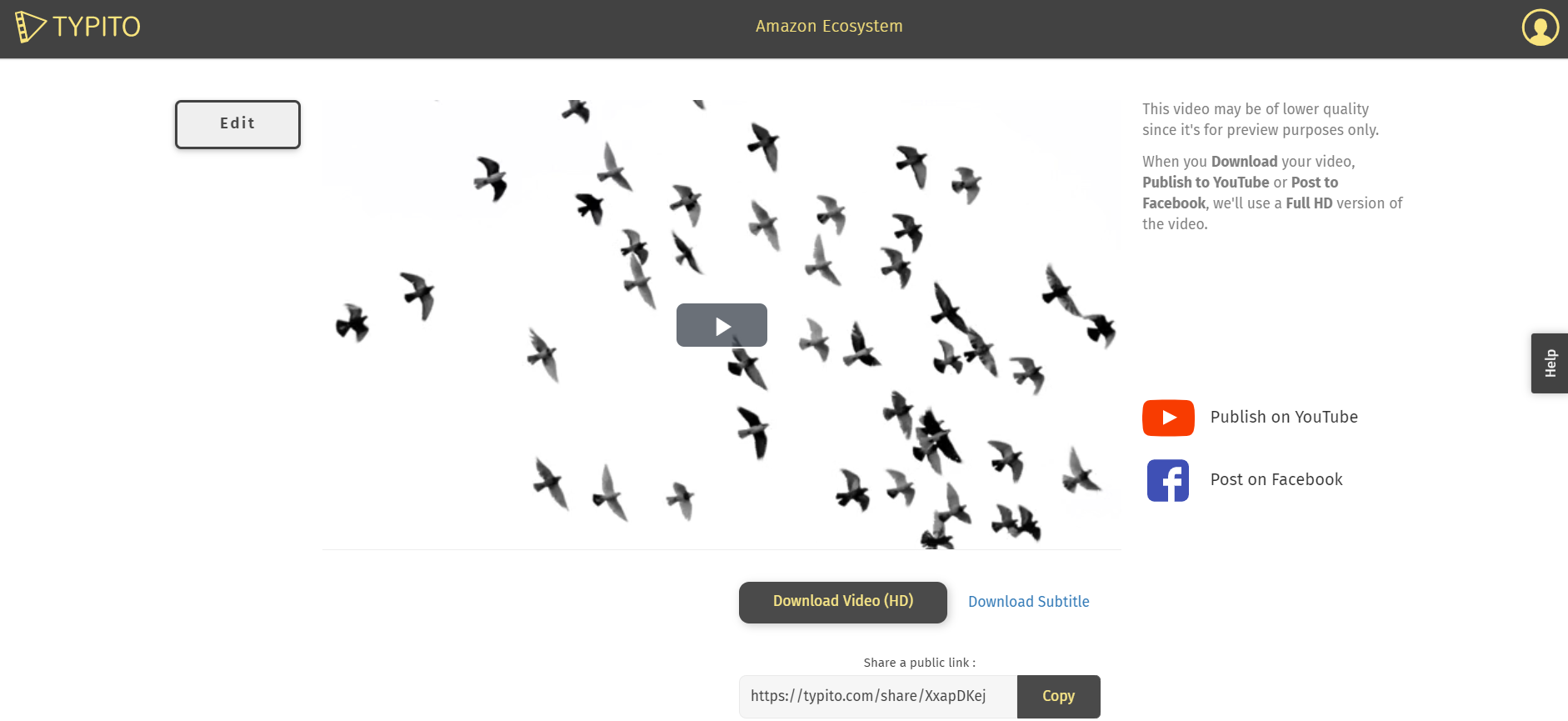 And you are done!
How do I Add SRT Files to My Video?
---
Adding SRT files to social media platforms is a battle half won when you create an error-free SRT file. All you have to do is upload them. Here's how you can do that on social media platforms.
The process in all social media platforms is pretty similar.
Upload the video on your page, be it LinkedIn, Facebook or Instagram.
Once you upload it, click on the Captions button and click on upload SRT File.
If you are uploading subtitles for Instagram and Facebook Ads, you should be patient till the video is uploaded. Once that is done, you can upload your SRT file.
Ensure that your format for Facebook is as follows:
Filename.[two-letter language code]_[two-letter country code].srt
However, adding an SRT file shouldn't be limited to native platforms. There are many online tools that offer the whole package that makes editing and captioning easier.
Final Takeaway
---
Gone are the days of half-hearted attempts at subtitling videos, with incorrect grammar and lack of synchronization between the scene and the subtitle. Having captions can only help your video gain more reach and with social media in the picture, you can leverage the power of subtitles to increase viewing time and retention rates.
Having a subtitled video is not a choice. However, you can make the process simpler by creating an SRT file, previewed and checked beforehand to ensure seamless language flow and grammar.
Today all social media platforms are equipped with easy SRT upload options. All you have to do is upload your SRT file and preview it before publishing it. You can also use tools like Typito to smoothen the process.
It cannot get easier than that!
Tell us about your captioning journey so far. Has it been easy? Did you face any difficulties? Let us know!