Video Resume: Best Practices, Templates, Examples, and How to Make One Online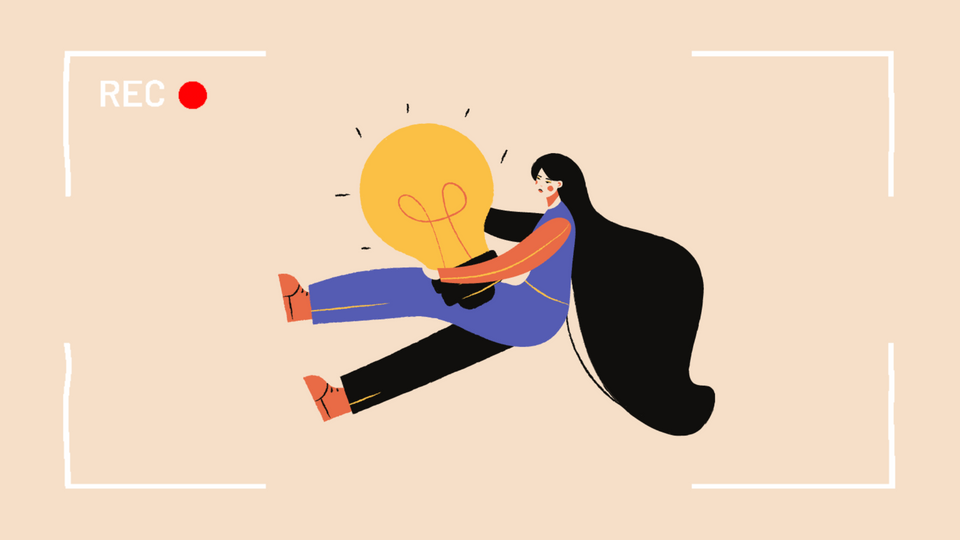 They said 'job hunting' is all about being different and standing out. While everyone was busy utilizing image editors to polish their resumes to make them look incredible, the unexpected new normal brought in a fresh perspective. And the job industry was no exception.
Meet, video resumes—a short video where you introduce yourself to a recruiter or a hiring manager. For most people, a video resume is no less than a nightmare. Why? Because one wrong move has the tendency to go viral on social media, no matter what part of the world you're in.
So the big question is, how to make a video resume that's great enough to get you noticed and land you into the job you have always dreamt of?
Well, the secret lies in this blog, where we tell you some excellent tips to go about when creating a video resume and show you how to make a video resume by yourself.
Quick Links:
What is a Video Resume
---
A video resume is a short or brief video created by a candidate seeking a job opportunity. This video is sent to the hiring manager for prospective employers to review.
It is more like a short film, which describes an individual's personality, skills, education, qualification, and experience. If you use a video resume, it's still important to write a traditional resume because the idea is to supplement, and not replace, Paper / Doc / PDF resumes.
With remote hiring and pandemic, most companies prefer receiving 60-90 second short video resumes for two reasons:
Speeds up the screening process
Saves the time to go through long, multi-page resumes
A video resume is often submitted along with the cover letter or printed resume. It's a great way to show your personality and creative side to the recruiters, helping them decide if you will be an ideal match for the company's culture.
💥 Did you know?
"Video resumes" gained more popularity when TikTok announced that it was entering the recruitment space by launching TikTok Resumes (Source: CNBC).
Interestingly, 35+ companies, including Shopify, Target, and Chipotle, took part in the TikTok Resume pilot program to enable potential candidates to apply for different job roles by sending their video resumes and introducing them to employers.
These videos were sent to the recruiters via their app for final review. Since most listings were at the entry-level and given TikTok's demographic—whose audience is younger Millennials and Generation Z, posting video resumes makes sense.
One of the key benefits of video resumes is that they give you an incredible perspective about a candidate. In fact, they are an excellent way of showing your authenticity and creativity, making your resume look different than others.
This move from TikTok came as companies started facing an extreme shortage of frontline workers and customer-facing roles.
A video resume (or video CV) is not about making an extensive list of your job history or achievements and turning it into a movie. No! It's more about showing off the undefinable qualities that create an impression.
What Makes a Good Video Resume
A good video resume must explain the strengths and expressions that you cannot put in a typical document. Qualities like clear communication, warmth, humor, and charisma set it apart.
A few factors make up a good video resume:
Video quality: Just like hardcopy resumes, quality and presentation play a key role in creating a video resume. A video resume with clear pictures, unique font, excellent sound quality, and well-lit shots can make a lot of difference.
Appearance: The attire you wear and the location you shoot in can add a professional touch to your video resume.
Language: Another crucial factor that makes up a good video resume is how well and clearly you speak. Your knowledge, business acumen, and speaking abilities grab attention.
Background: Your background matters when it comes to video quality. Loud and bad backdrops or poorly-lit locations can leave a negative impact on your video resume.
Substance: Most good video resumes will have these: an impressive intro, objectives, work history, knowledge, etc.
Length: Never keep the video resume too lengthy. Keep it between 2-5 minutes.
References: These are important details to add to your video resume. Make sure to add at least 3-4 credible references in the end.
When to Use a Video Resume
---
You must use a video resume if you are applying for a job that requires editing videos, performing, or presenting in some way.
As said earlier, video resumes aren't a replacement for traditional resumes. For example, a portfolio website resume can only be made after you know how to create a simple website for it. You can think of video resumes as a way to help in emphasizing certain skills which are more valuable for employment opportunities in creative industries such as acting, journalism, social media management, or broadcasting.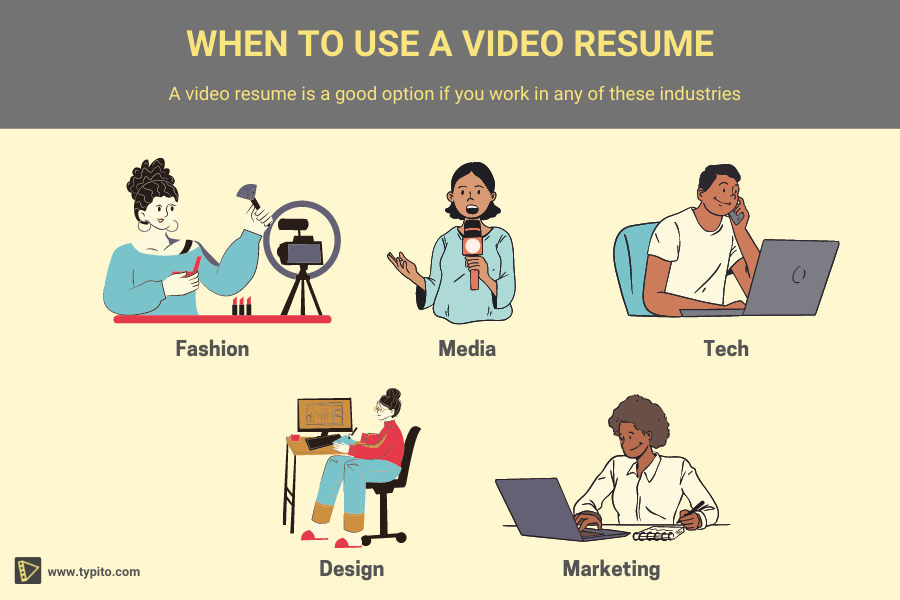 A video resume is ideal for job applications in the following industries:
Marketing & Sales: This field requires people to communicate with customers and clients. That's why showcasing your confidence and interpersonal skills make it ideal for recruiters to know about your personality, helping them in the overall selection process. That's why a good video demonstrates these qualities and skills better.
Fashion: If modeling or designing clothes is your passion, highlighting your work on a video helps sell yourself better and increases selection possibilities. Runway footage might be dynamic, allowing you to introduce your style.
Media: This can be anything from video production, editing, cinematography, social media, or news broadcasting. In a sector where camera and video work are crucial, videos serve as an opportunity to showcase your talents.
Tech: Speaking of the IT industry, it is forward-thinking and more relaxed when compared to other sectors. In fact, they are often receptive to distinctive job applications. That's why a good video resume helps demonstrate your qualities and experience in a better way.
Other than the above, you can consider sending a video resume in the below situations:
When an employer asks for it: A few companies might specifically ask you to send a video resume. You can still share your video resume along with a doc/PDF copy of your resume, or make a presentation to share an "elevator pitch" as to what makes you a perfect candidate for the job role. Video resumes help in demonstrating your personality which they might not otherwise receive from a typical print resume.
When your resume is extensive: Let's say you have immense relevant experience, and it takes multiple pages to highlight your experience and skill set, then it's better to keep your print CV short and do the heavy lifting in your video to help the hiring manager comprehend what makes you a qualified candidate. Once they watch your video resume, the hiring managers might keep those highlights in mind when reviewing your cover letter, traditional resume, or any other elements.
When you want to personalize your resume: Although not all companies might require a video resume, one can personalize your application. This helps you be different from others. Moreover, seeing the way you speak, communicate, interact, and demonstrate your skills can leave a good impression on your employers.
What to Include in a Video Resume
---
A video resume is good when it is able to:
Introduce yourself
Summarize your learnings and experiences
Provides adequate reasons for the hiring manager to reach out to you
To help you understand this better, we have divided this into 3 different sections: Intro, Skills & experience, and the Call To Action (CTA).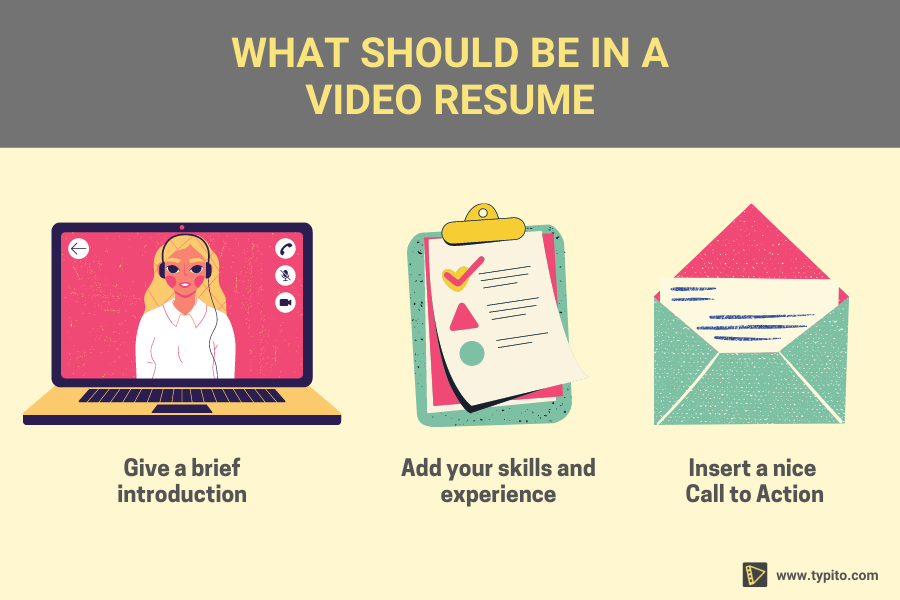 1. Introduction
While an engaging introduction about yourself is the ideal way to start a video, you can also directly address the organization you're applying to. Say, for instance, "Hi Typito, I am Mary Smith".
Doing this not only grabs attention but also makes the hirer feel prioritized. Once that's done, the next thing to talk about is the profession that you are either in or dream to be in.
2. Experience
Once you're done introducing yourself, the next thing to do is to throw some light on what you are passionate about and what your work experience towards the role has been so far.
For instance, as a salesperson, you can speak about how meeting clients from across the world and sharing business ideas with different people motivates you deeply. Add a personal touch by sharing your stories or anecdotes that support this.
Keep things interesting - Don't make it boring by speaking only about your skills or your work experience. Throw some light on your life experiences, especially the instances that have pushed you to develop the skills further. Speak about your awards and achievements, as this helps add some value to your overall profile.
3. Call to Action (CTA)
Call to Action plays a key role. When it comes to video resumes, it leaves the ball in a hirer's court, but also gives them strong reasons to call you back for live interaction.
Perhaps, you can end the video by saying, "There's much more to say about my skills and work experiences but I didn't want to make the video long. I hope you will give me an opportunity to talk more about it during an interview".
Here's a perfect example of what we are trying to convey:
Video resumes are more like mini job interviews. Your demeanor, clothing, subject matter, and language must be interview-appropriate. What we mean is, don't send a skydiving video unless you are applying for a position in the skydiving world.
Here are a few more things to keep in mind:
Tell a nice story: While video resumes are an excellent way to express your personality, it becomes impressive and engaging only when you convey them in a story form. If you find it hard to decide what to speak about, first start by writing an outline that highlights your background and then add relevant experience. For example - things you learned in the past year and how that can contribute to making you a good fit for this role.
Keep it short: Nobody has time for a lengthy video, so make sure to keep the video resume short and not more than 2-5 minutes. Also, read your script aloud, or even better, record yourself and see the way you perform. This helps you know where improvements are needed.
Be precise and specific: In order to make your video resume compelling, create custom videos for every job that you apply to. This helps in pointing out what works and what doesn't. For example, if a job role says that they want a candidate with video editing experience, don't just speak about the various projects you handled, show a glimpse of your work too.
Dos and Don'ts While Making a Video Resume
---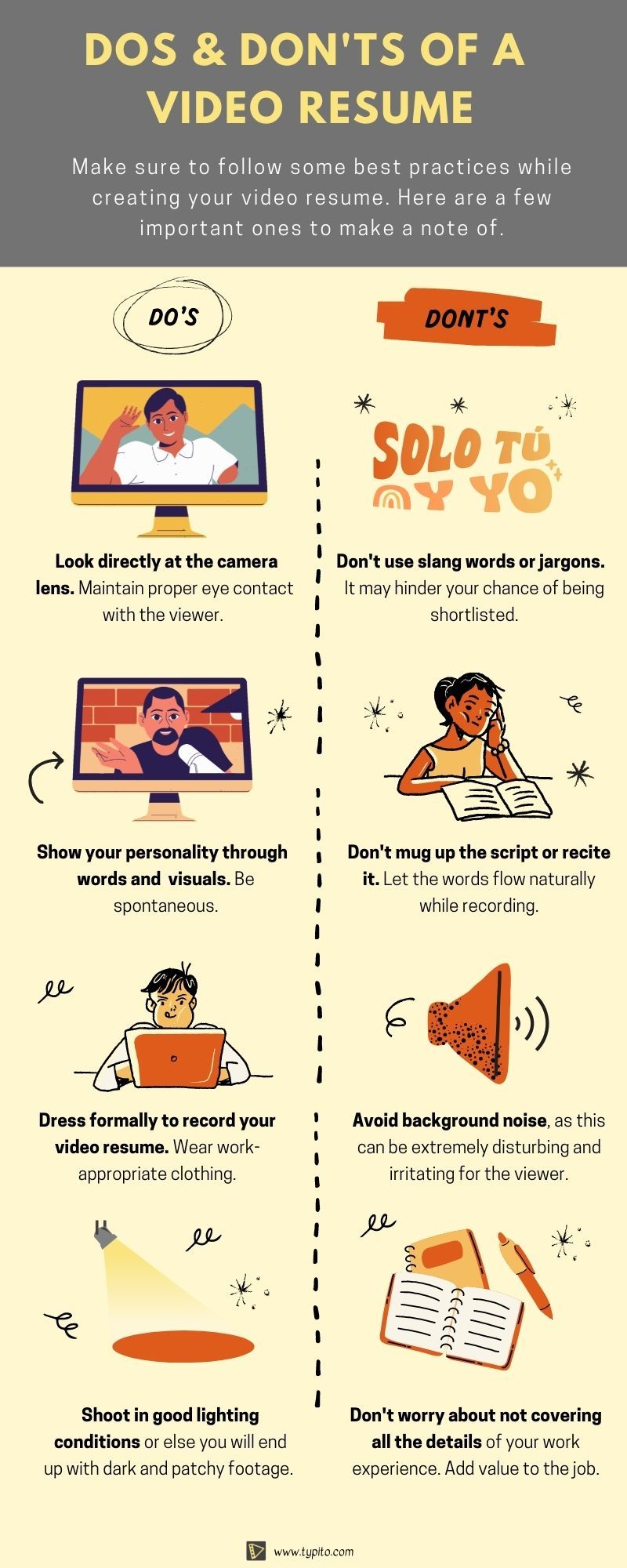 Do's:
Eye contact is important: Don't look at yourself. Instead, look at the camera lens to ensure you make proper eye contact. Also, this makes it look as if you are having a conversation with the viewer directly.
Dress professionally: Just because it's a video resume and you are shooting it from the comfort of your home or that you can be in any attire that you want. Remember, it's still an interview and you're presenting yourself before that hirer, so make sure to dress formally as you would do during a physical interview.
Showcase your personality: Make sure that your video resume reflects your personality. By this, we mean you should speak in a way that grabs the attention of the hirers. Your visuals and words leave a huge impact. So present yourself well. Keep the tone natural.
Record in well-lit conditions: Shoot your video under bright light. Recording in gloomy or poorly-light conditions can end up with patchy and dark footage.
Short, simple, and sweet: You want to leave an impression with your video resume - so keep it simple and short. The maximum length of your video resume should be 2 minutes. Don't add unnecessary details which can be covered in your traditional CV and cover email.
Don'ts:
Use slang words or jargon: Not everyone understands jargon and slang words. That's why it's best not to use them when creating your video resume. It makes your video difficult to understand and the person watching your video may tune out.
Recite the script: Monotonous recitation is not going to work out in a video resume. Keep it conversational and spontaneous. Your video shouldn't look as if you have rehearsed to spew out some information. Just know the essence and let those words flow naturally while recording yourself.
Move your hands too much: That little 'lens' on your camera is magical. It can play down a few things while majorly magnifying others. What may seem like a mere gesture, in reality, will end up looking uncomfortable, bizarre, and fidgety on-screen. We are not asking you to stop your hand's movements completely but rather keep them minimal. Make sure your shoulders are still. When you face the camera, be relaxed and speak confidently. Fidgeting makes you look unprofessional and nervous.
Be concerned over not covering everything: Remember that it's a video resume and not a movie. You might not be able to cover everything like your traditional CVs - and that's ok. Instead, leverage video resumes to showcase your personality, communication skills, problem-solving abilities, and speak more about how you can add value to the new role.
How to Make a Video Resume Online
---
Creating a video resume doesn't have to be complicated. All you need is the right tool and that's where Typito comes in.
With an easy-to-use interface and predesigned customizable templates, you will be able to create stunning video resumes online within minutes!
✅ Note: Typito's video resume maker lets you create professional resumes that can highlight your qualifications and experiences beautifully. From premade customizable templates to a wide selection of music, stylish transitions, animated effects, and color options, Typito has all the features you need while making video resumes.
All it takes is 3 simple steps:
1. Upload your video clip or image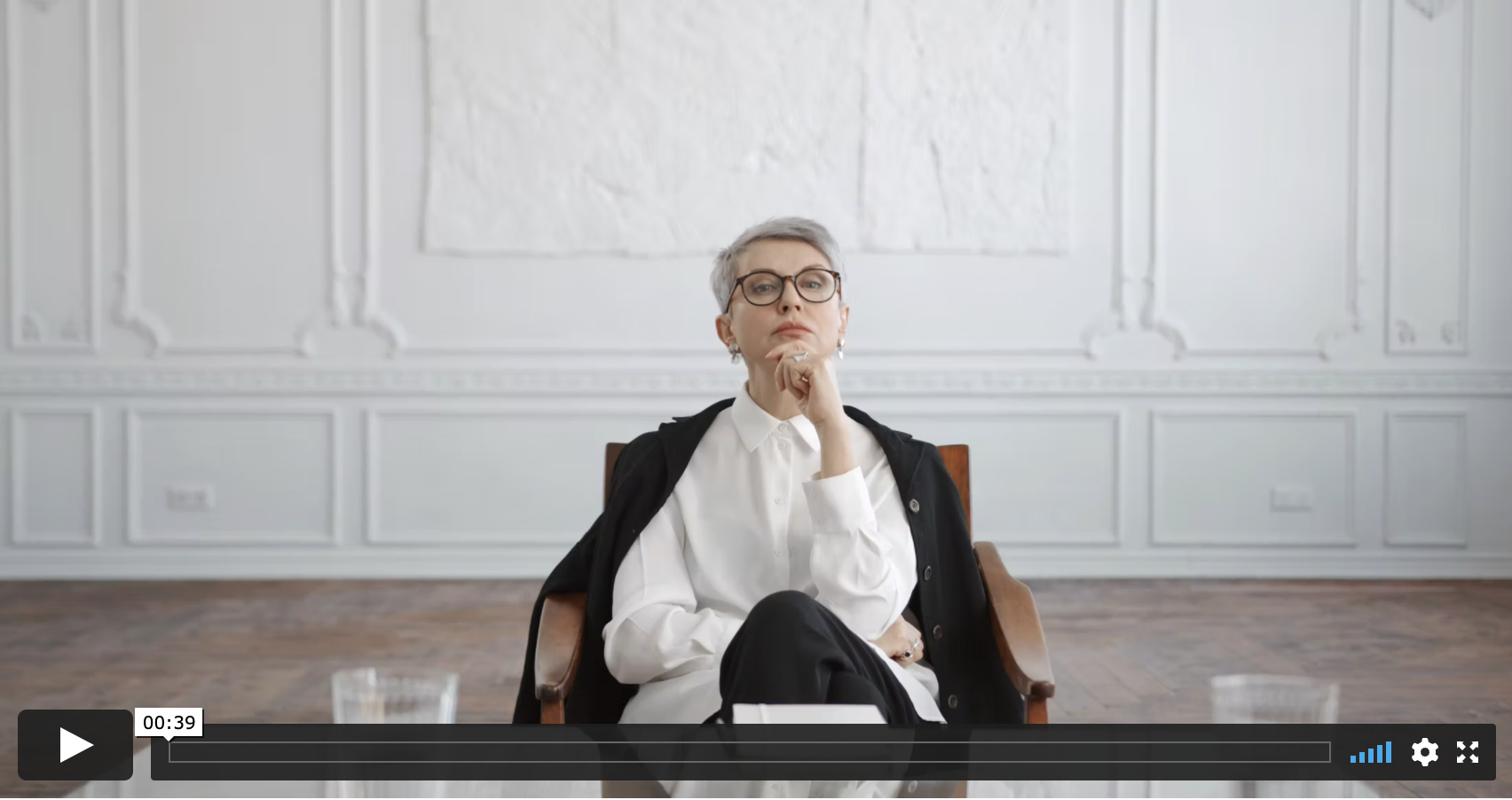 Drag and drop your video clips or upload images (perhaps, your photo or screenshots of your typed resume - to create a reference in the video) from your computer. You can even use our inbuilt Stock Media Library for high-quality stock images and videos in your video resume to make it look more attractive.
2. Edit your video resume
Use our resume editor to add animated text and footage. Personalize your video by swapping colors, styles, fonts, and much more to make a video CV that will showcase your achievements.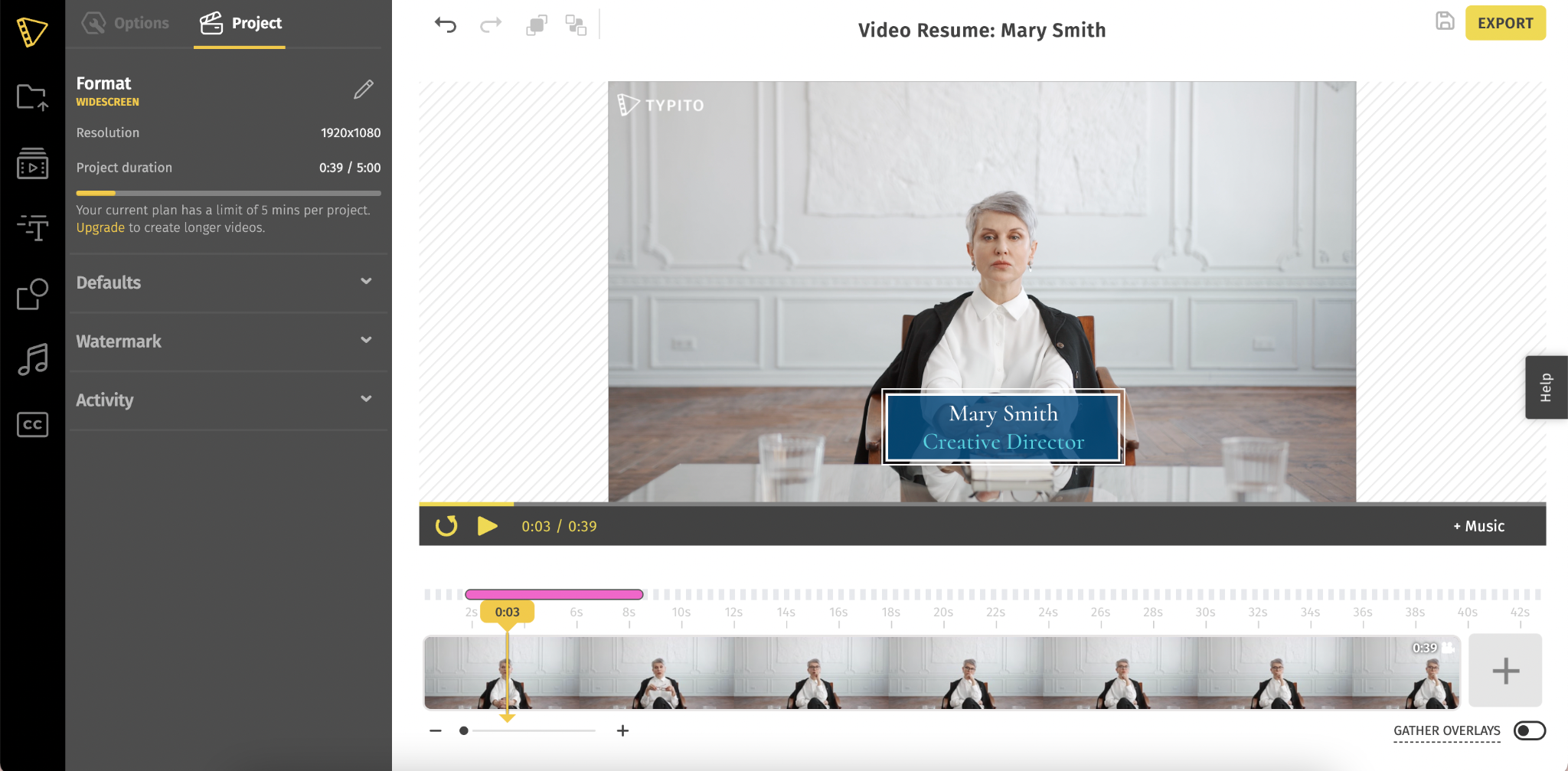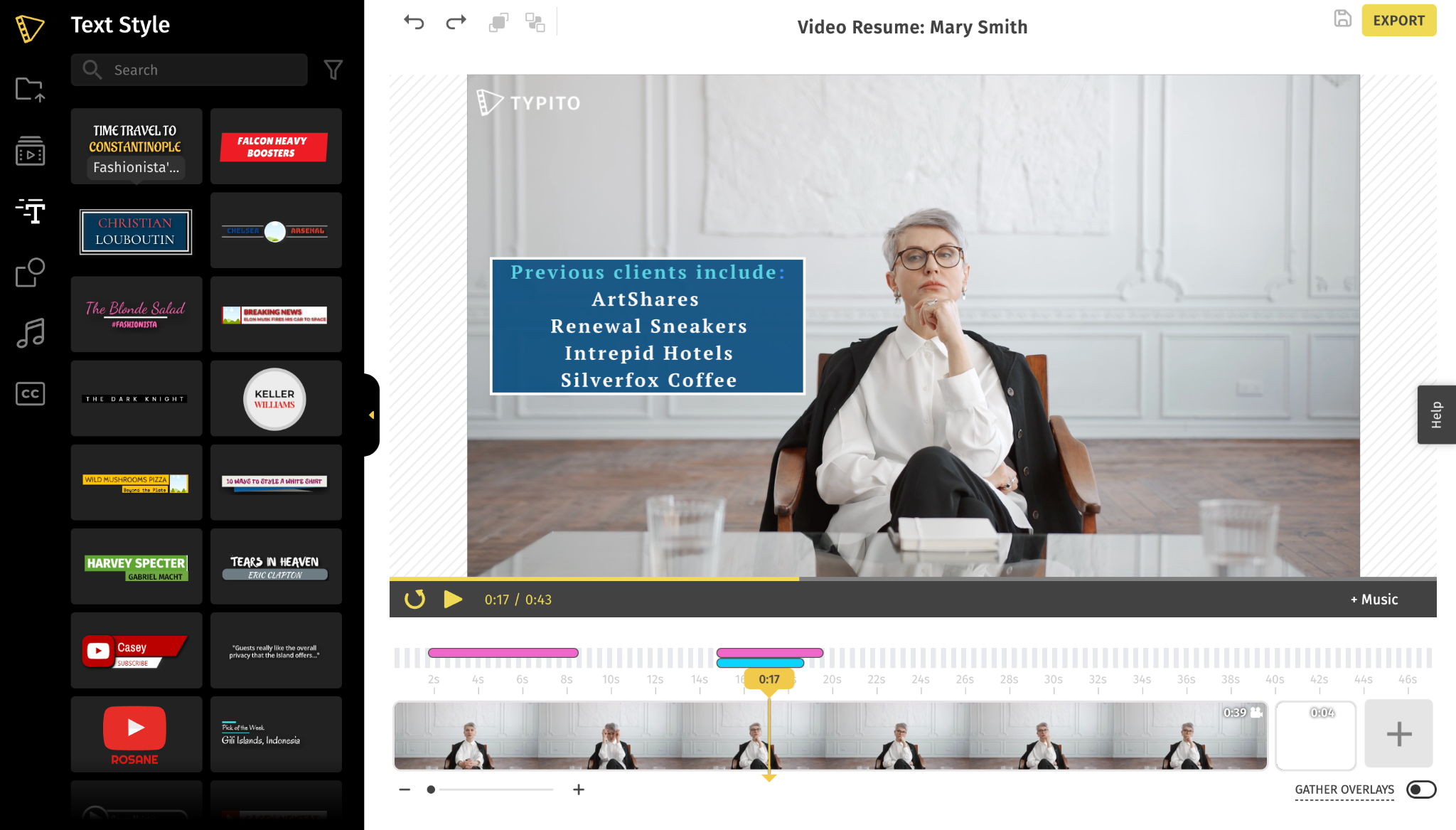 If you want to add a soft background music track to your resume you can. But be careful to adjust the volume so that it doesn't interfere with your speech. Click My Media to upload your audio track or browse through our Music Library to choose from our collection of royalty-free music tracks.
3. Download and share
Once you have edited and beautified your video resume, you can do a quick preview and export it. The rendering process completes in a few seconds and is all ready to be downloaded or shared on Facebook or YouTube.
Now that you have a fair idea about how to make a video resume, let's move to the next segment.
Best Video Resume Templates to Use
---
Here are some creative video resume templates to help you get started.
1. Professional self-intro video resume template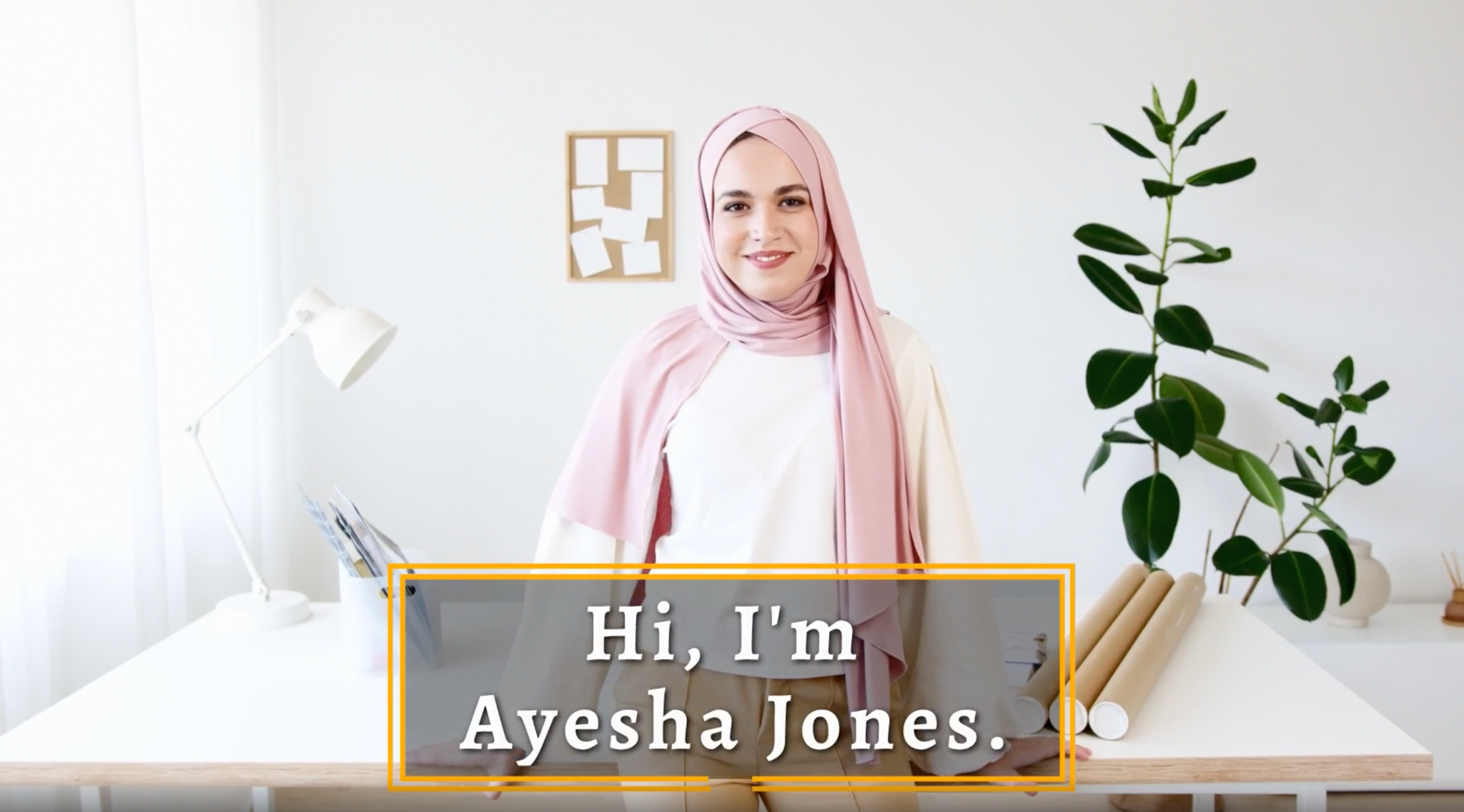 Remember, this is a competitive market and you never get a second chance to create that 'first' impression. So leverage this beautiful video resume template and create an unforgettable impression that recruiters hire you once they see it! Whether you're scouting for a fresh job, looking for volunteer opportunities, or want to show your professional skills in a unique way, this video resume template is all you need.
2. Creative self-introduction video resume template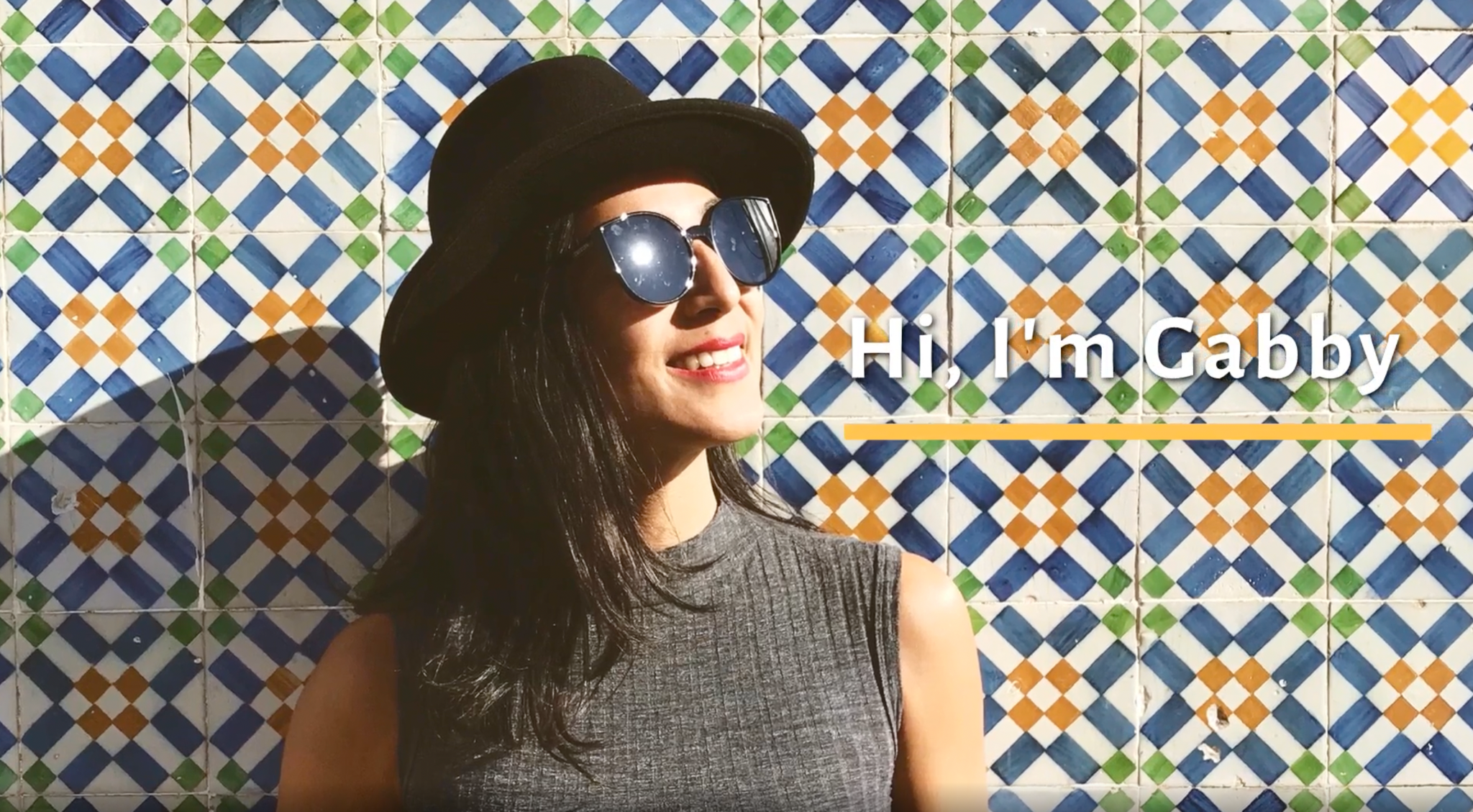 Writing an introduction email, facing the audience, or meeting new people can be difficult. Use this predesigned video resume template if you're applying for a job role that's more into the creative side. Perhaps, like a designer, artist, marketer, sales, video editor, or acting.
Introduce yourself in an engaging and fun way with this template. All you have to do is fill in the blanks about what you are passionate about, highlight your skills, your background, and things you're hoping to achieve together.
3. Talent hiring video resume template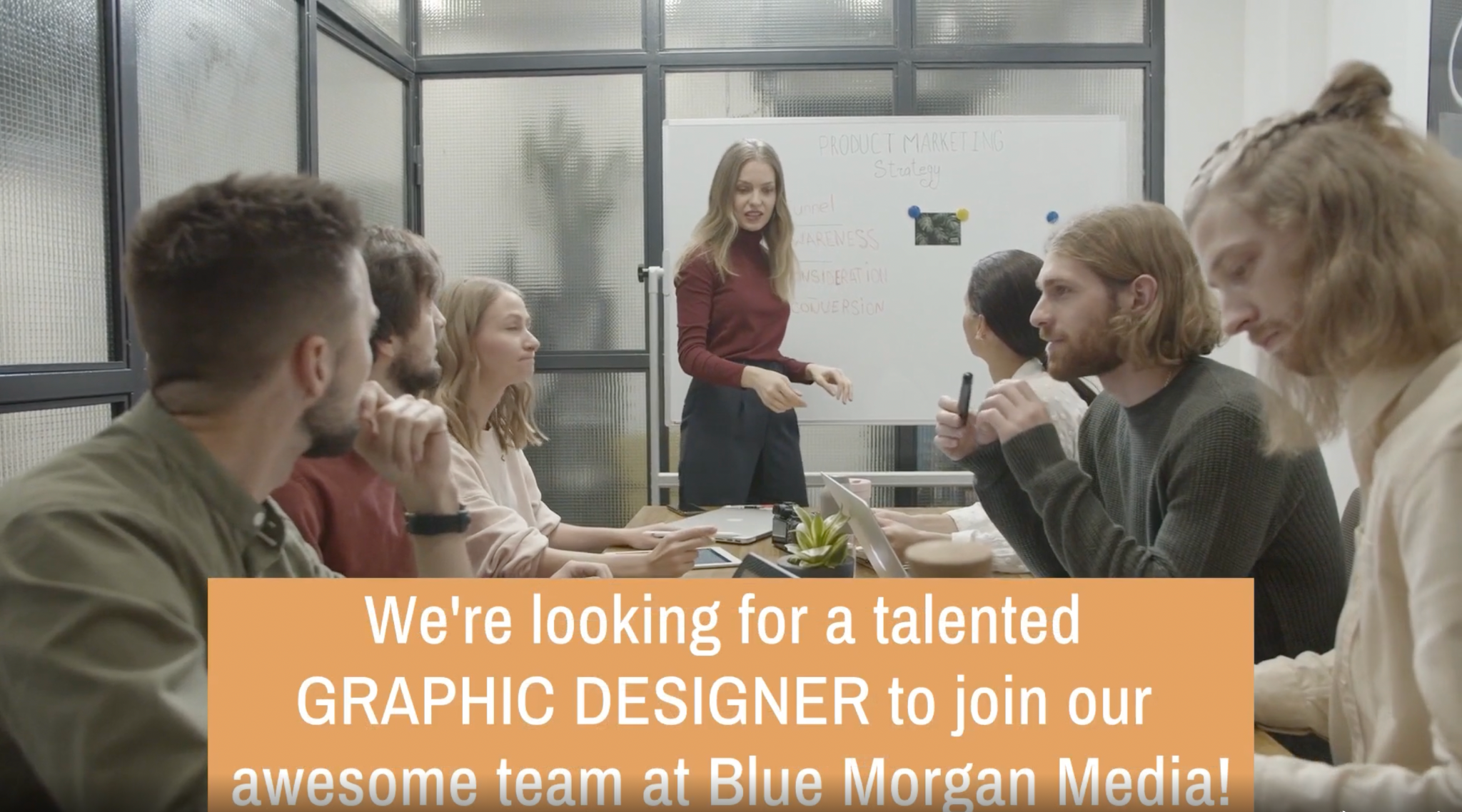 Unlike the above two resume templates, this is a little different. This video template aims at hirers or recruiters who want to post a video about their new opening—more like a job posting. Rather than posting a mere message on LinkedIn that—we're hiring—you can get creative with a video job listing instead. Say goodbye to boring text ads, and say hello to this energetic video!
Hire potential candidates and close resource requirements for your business much faster.
This template is ideal for adding some movement, your brand color, music track, and movement to stand out. Highlight your mission and vision, describe the position you're looking for, and what the job role will be like. Such video job listings are a compelling way to inspire your future employees with an incredible spirit.
Amazing Video Resume Examples and Ideas
---
Just in case you're clueless about how to make a good resume, then here are some ideas to take inspiration from and help you get started:
1. An engaging video resume
If you observe this video closely, you will notice that it is simple, yet spontaneous and engaging. The footage is shot outdoors in a well-lit setting and the person speaking to the audience radiates confidence.
Key takeaways from this style:
For the video editing process, the person in the video has made a smart move by adding multiple components which bring the visuals to life like - image overlay, text animations, contrasting font color to grab attention, nice audio, and cutaways to highlight his past work.
The video is precise, short, effectively highlights his skills, and most importantly, maintains a viewer's interest.
2. Conversational video resume
Back in 2012, Mark's video resume went viral and when you watch it, you'll know why. The video opens with a fun and engaging intro, followed by quick cuts to tell his story effectively.
Key takeaways from this style:
The most important aspect to make note of here is the tone - its conversational, spontaneous, and its visuals make it super interesting to watch.
3. Simple and neat video resume
This is a simple video resume and is a perfect example of how you can leverage video resumes to demonstrate your skills. It's shot in a very simple setting without excess editing techniques.
Key takeaways from this style:
What highlights this video is the snippets. Try including snippets of the way you work. If you watch this video, you will notice that Laura used screen recordings to showcase her talents in-situ while rattling a list of programming languages she is familiar with. This is a perfect way to emphasize your talent and split the video into different kinds of content.
4. Professional video resume
Are you someone who feels shy facing the camera? Then this video resume is a perfect example of how you can manage it cleverly. Josep has actually made a video resume without using a video.
Key takeaways from this style:
The magic lies in the video's formatting where he turned his photo into a clean video, showing off his skills with a minimal color palette and clean layouts.
5. Self-introduction video resume
This is an interesting video resume where Alex has created a scenario of interviewing herself with common interview questions while showcasing her storytelling, presentation, and editing skills.
Key takeaways from this style:
This is a really creative way to switch up the presentation of your video. In the example, she creates a story of a young, creative, and determined person who's ready to work.
Create a Stunning Video Resume Online in Minutes
Stand out from the crowd and make a stunning video resume online in a few clicks and land your dream job. Add intriguing captions, motivating music tracks, and emphasize your skills with easy-to-edit video resume templates. Create a lasting impression on employers with Typito.