How to Add Slideshow Music Easily: A Simple Guide
Video Slideshows are a great way to combine the power of images and video to share ideas. Whether you're looking to share personal experiences and memories or share business ideas with a slideshow presentation, slideshow videos are simply your best bet.
If you have created presentations as a part of your school and college project, you will remember the Mario like-tune that you could add to your final slideshow presentation.
While those were the good ol' days, the world has gone beyond the one-note slideshow tune and entered the world of symphonies and awe-inspiring background music that can make your presentations and videos dynamic with a hint of drama.
If you are a marketer, you would like the importance of dynamism in your presentation to attract consumer attention. If you think about it, Instagram Reels and Tik Toks are famous because of their background music! So without further ado, let us understand how you can add music to your slideshow and make it more engaging.
So Why Make a Slideshow With Music in the First Place?
Imagine yourself scrolling down Instagram and you come across a product video. Simple picture slides, with no tantalizing audio jingles or music. Chances are that you might move one. However, if you are greeted by a cheerful jingle, chances are that you will watch that video for longer.
This is a parameter considered by many marketers to improve their engagement rate. So if you are a marketer or a small business owner, you might like to explore this melodious pathway and get the traffic humming your way.
So here's how you add music to your slideshow and strum your customer's heartstrings.
How to Make a Slideshow With Music
---
Now there are many ways you can add music to your slideshow. You can add music to your Google slides or maybe use tools like Typito to create a custom video-like presentation, complete with delightful texts and background score.
How about we start with the basics?
Embedding Music to Your Google Slides
There are many ways to add music to your Google Slides templates. Follow this commonly used step-by-step order, to achieve your goal.
Step 1: Get the Audio File Ready
Convert your audio into videos using free tools like Audacity. Upload these new videos to your Google Drive.
Step 2: Embed the Audio to Your Slides
Open Google Slides and select the option Insert on the top and choose Audio. You can select the video you recently downloaded in Google Drive.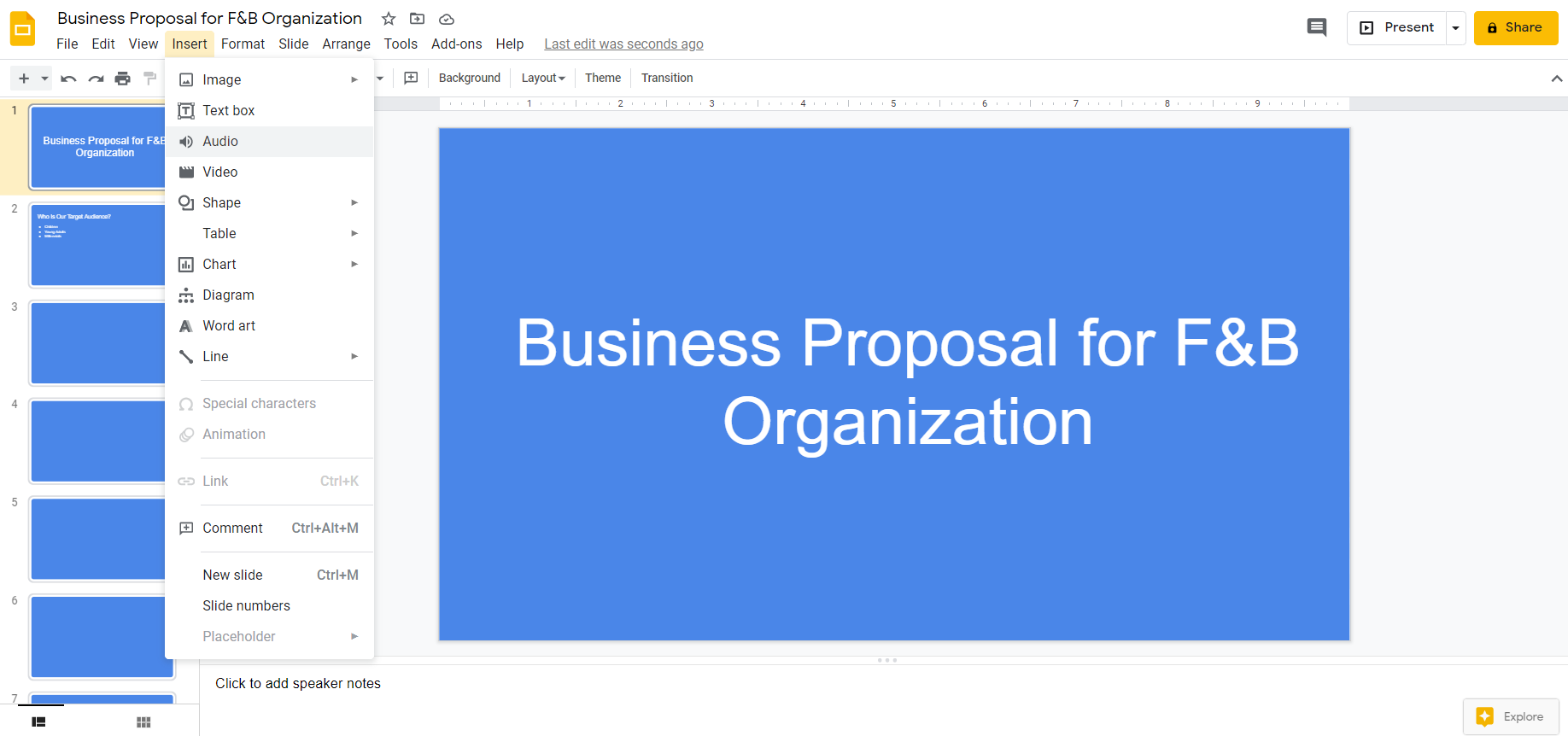 Step 3: Hit Auto-Play Mode
Your audio has been seamlessly integrated with your Google Slides. Now right click on the slide and select Audio Options and select the auto-play when narrating option. If you have a voice-over, sequence the audio with the voice-over to avoid clashes.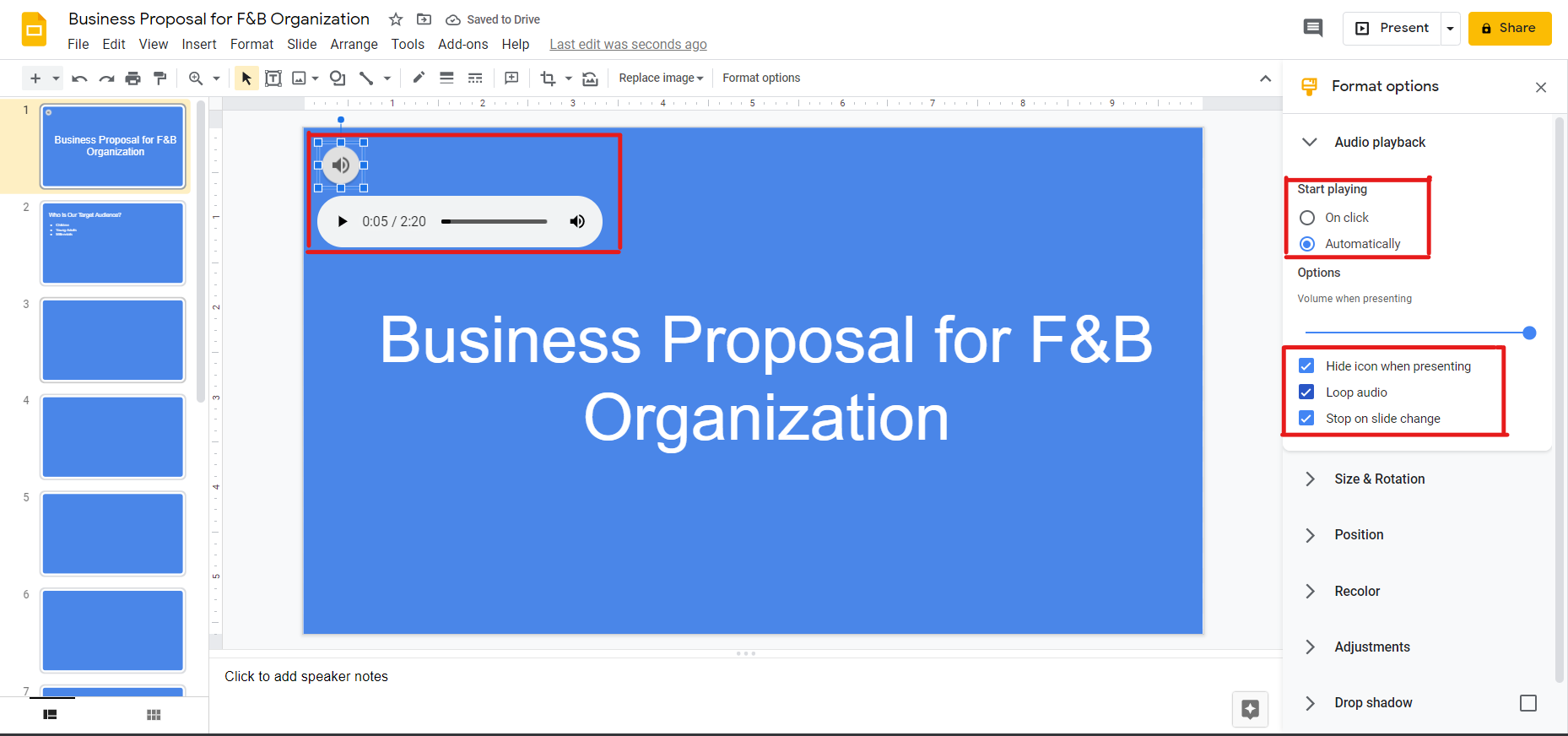 Step 4: Hide the Video Player
Sounds funny but hiding the video player will fulfill the original rule of adding background music to the presentation.
And you are done!
Good to Know: Always keep in mind the copyright issues you might run into if you don't check the credentials of music you would like to adopt. Go for royalty-free jingles to avoid legal hassles.
Embedding Music to Your Slideshow with Typito
While the process above helped add the audio to the slides, it is not what we can call a polished product. By using designated tools like Typito, you do not only add background score to your presentation but all fine-tune it to make it more engaging as well as compelling.
Step 1: Choose Your Format
While we are looking at creating a presentation, choosing a format makes it easier to create a presentation that will work on almost every platform. The suggested size is 16:9.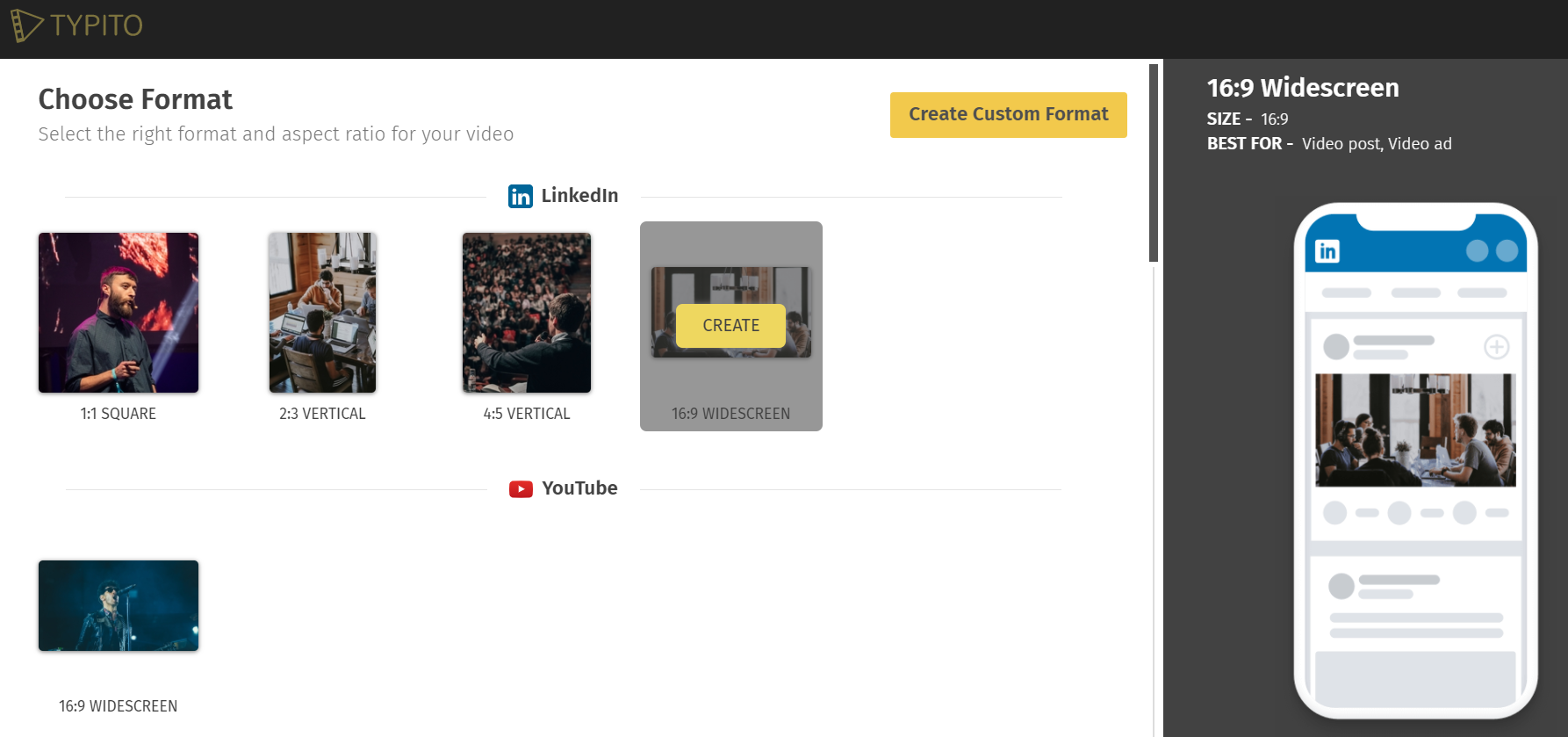 Step 2: Select or Upload the Images for the Slideshow
Since we are aiming to create an engaging slideshow, we can easily do so by selecting multiple relevant images from our folder or the stock images available. You can even trim each image on the timeline to suit the length and aesthetics of the presentation.
Step 3: Add Audio to Your Presentation
Your presentation is on your timeline and you have added the necessary edits. Now it is time to add your audio jungle to your video. Just click on the left panel and scroll down the audio option.
You have 8 mood-based tracks and 13 that are often taken for background scores. Select the tune of your choice and click on Apply.
Your slideshow now has a background score. Preview it and check before exporting.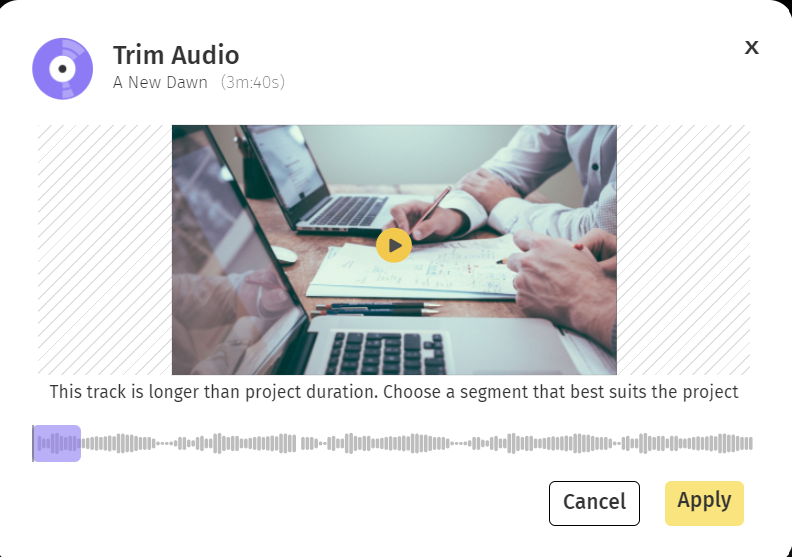 3 Tips for Choosing the Perfect Slideshow Music
---
While we have discussed how to add music to your presentation, it is important to make the right choice as well. This leads us to the next question, how do we choose the right music for our slideshow.
We are glad you asked!
Here are 3 tips that can unlock the creative potential of your presentation and make it an instant hit among your viewers.
Go For Royalty-Free Music
This is the first step towards securing the right music for your slideshow. As the first filter, royalty-free music allows you to add a pleasant background score to your slideshow without the fear of legal implications.
Sense the Vibe
Is your presentation more about healing, yoga, and wellness? Then having an upbeat sunshine tune will kill the message of your calm-inducing yoga and healing presentation. Your health and wellness presentation should be reinforced by soft flute music or soft harps that add a sense of tranquility in the ambiance and help you get your viewers exactly where you want them to be.
Take the Pick!
There are some brilliant audiophiles out there, born with the ability to recognize music, the tune, and the emotions behind them. Many companies use their expertise to handpick their background score that you can add to your presentation. Trust us, some of these staff picks curated in specific genres are backed by a passion for sound and experience in the industry ranging for decades!
Conclusion
What other ways can you think of to make your slideshow more fun and engaging?
Typito helps you add stock footage and custom footage to your slideshow and helps you make a presentation worth addressing.
Try Typito today!