Best YouTube Outro Templates [Tips + Inspiration]
With 2 billion monthly active users and more than 1 billion hours of YouTube videos watched every single day, it's no surprise why a logo on your video is essential for highlighting your brand. Here's where a good intro and outro can put the spotlight on your brand.
Here's the thing—with millions of people on YouTube, you don't really have to worry about 'who' will see your videos. What you should be more concerned about here is your viewers' attention.
Amongst millions of YouTube videos out there, you want people to stay hooked until the end of your video. You also want to make sure they keep coming back to your channel. So how do you ensure that they continue to consume your videos regularly?
There's a lot you'd need to do to enhance your video content - an excellent place to start is with a killer video intro and outro.
While the intro is something we have already covered in our previous blog, today, we will throw some light on the importance of outro in a video and how you can use the best YouTube outro templates to make your work easier.
Quick Links:
What is a YouTube Outro?
A video outro is a part that plays at the end of the video, right after the main content. It is also known as 'end cards, end slates, or end screen.'
Simply put, a YouTube outro is the 'last part' of the video that serves as a sweet spot for placing your CTAs (Call to Action).
When you make YouTube videos, you expect people to watch them till the end. That's the ultimate goal, but your secondary objective is to leverage an eye-catching outro to show your audience what to do next.
Outros are a brilliant way to increase brand awareness and inspire action. You can create the outro of your video, depending on your goal.
Whether you want your viewers to navigate to other relevant videos from your YouTube channel, make them subscribe, or post your website link, the outro is your gateway to keep your audience engaged and take action.
Adding attractive visuals in your YouTube outro not just engages your viewers for a long time but also prompts them to quickly subscribe to your channel.
Elements of a YouTube Outro
YouTube provides four different parts to add in a video's outro, and these include
1. Subscribe button
The primary purpose of this is to link your channel and make it convenient for your viewers to become your subscribers.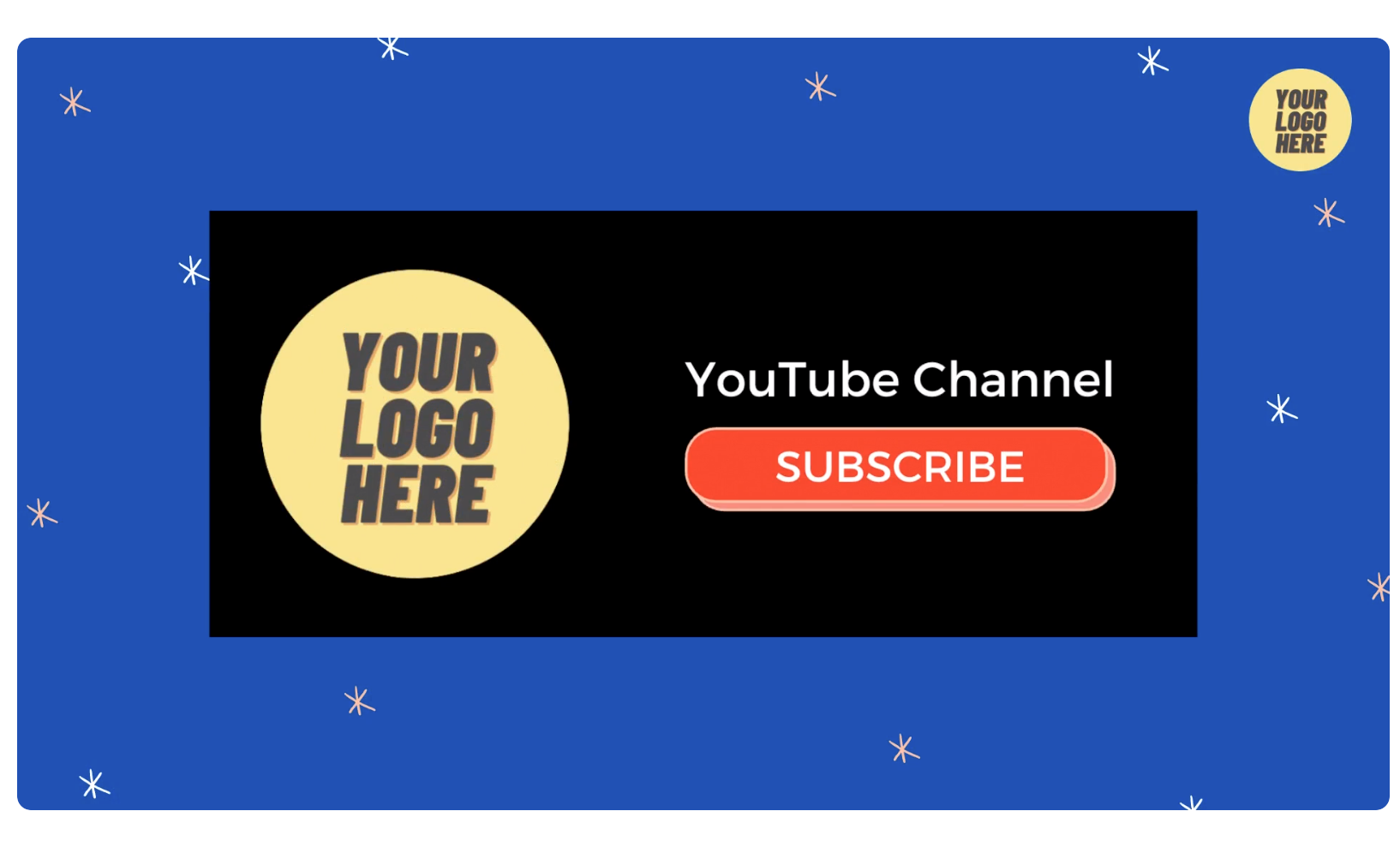 Try out this template
When to use it: When your goal is to get more subscribers.
2. Video or playlist
It's like a clickable card, which links to an individual video or a playlist of multiple videos. This makes it easy for your viewers to watch your other relevant videos without searching on your channel.
When to use it: Always - because it drives viewers to see your other content. It helps increase views.
3. Channel
Again, this is a clickable card, but the difference is that it links to another YouTube channel.
When to use it: To promote your second YouTube channel or cross-promote other YouTubers.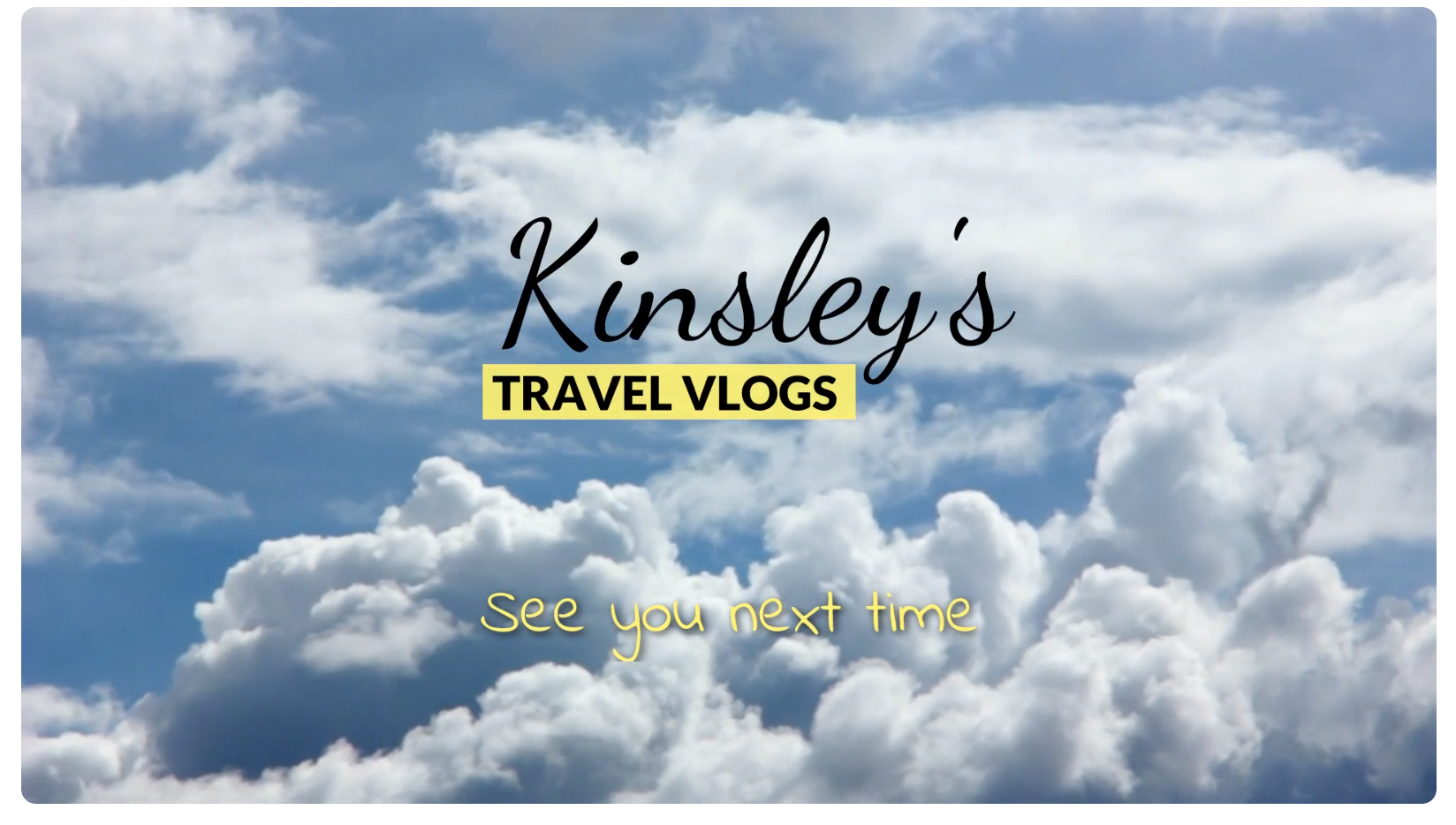 Try out this template
4. External website
A clickable card links or points to an external website. Also, it's worth calling out that the website you are linking to should be a part of YouTube's partner program. It shouldn't contain content that may be considered dangerous or offensive, such as malware or pornography.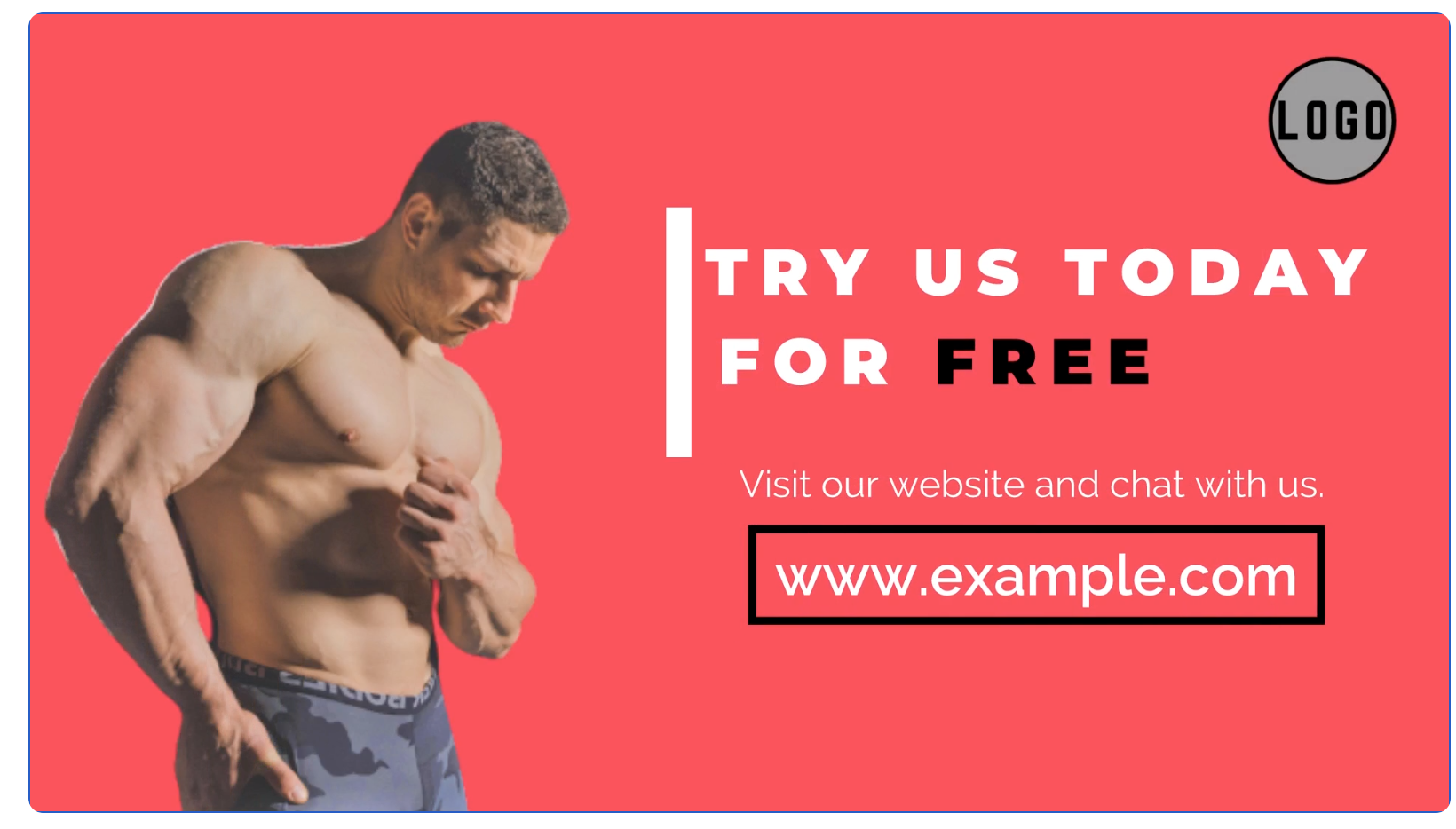 Try out this template
When to use it: To drive traffic or visitors to your website. This could be a blog, e-commerce site, or your social media handles.
✅ Note: Although you can use all four elements to your end screen, it's best to stick with just two elements to avoid any clutter on your screen.
Now that you know the elements in a YouTube outro, it's also essential to know the rules and requirements.
YouTube Outro Requirements
Here are some key points to note:
The ideal resolution for a YouTube outro is 1920 x 1080 pixels.
Maintain an aspect ratio of 16:9 to ensure that your video looks perfect even on mobile.
Your YouTube video should be at least 25-seconds long to add the elements in the end screen.
The YouTube outro length should be at least 8 - 20 seconds for the audience to process the information. It gives them enough time to react and take action, mainly when using multiple elements.
Time your video to add the outro easily in the end, or else the actual content might coincide with the outro, leaving the viewers confused.
When creating a custom outro, pay attention to the size you use for various elements. For a canvas of 1920 x 1080 pixels, here's a quick overview of the size in pixels you must use: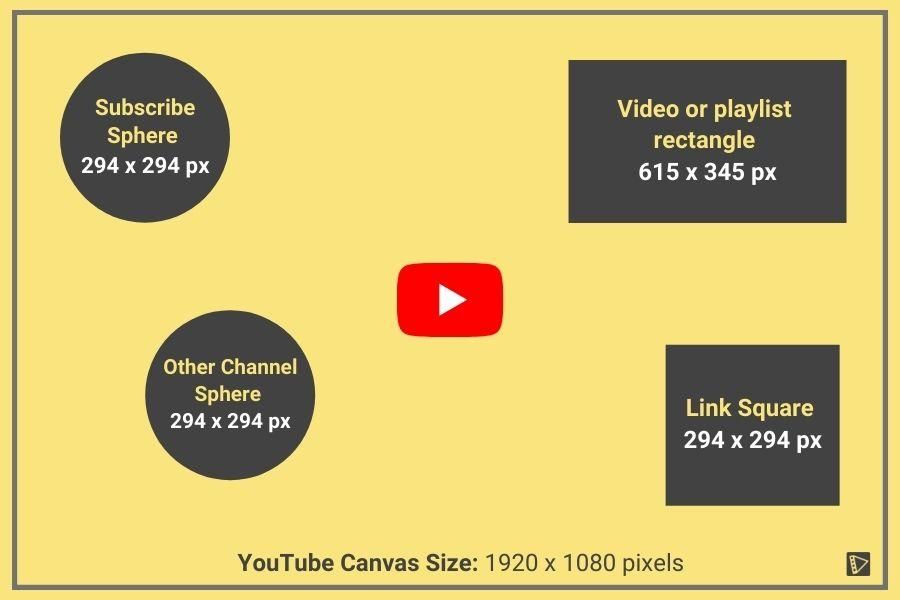 Refer to the size shown above while creating outros for your videos so that everything comes together perfectly while overlaying the elements on your YouTube video.
Best YouTube Outro Templates
The process of creating effective outros requires knowledge and the curiosity to experiment. Although it sounds simple, not everyone can pull it off right.
You need an outro that leaves a lasting impression to keep your viewers hooked. And if you thought that creating one is time-consuming and difficult, then you're totally wrong.
With some stunning YouTube end screen templates that are freely available, you don't really have to reinvent the wheel. They are a no-brainer and guarantee fantastic results in no time.
Here are some of the best YouTube outro templates that Typito offers to help you create impressive videos. Choose the one you like, edit the text, add your brand logo, upload music and have a customized video outro done in a few minutes.
1. YouTube sharp text template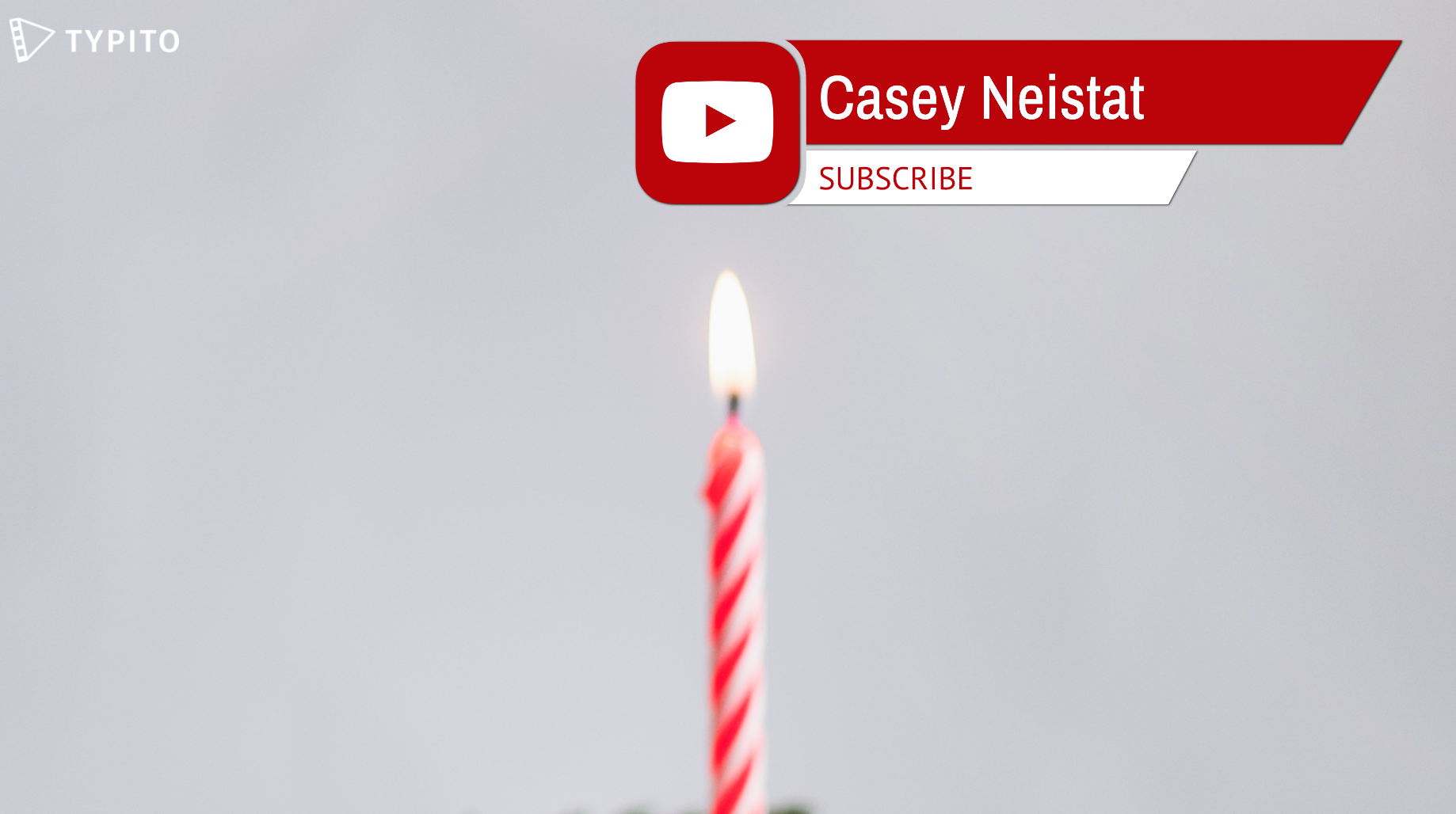 This is a simple, clean, and animated subscribe button template exclusively made for YouTube outros. Featuring a nice, rich red color with contrasting text color, it not just adds an excellent touch to your YouTube video but also is bright enough to grasp information from.
Engage your viewers and inspire them to subscribe to your channel. The beauty of using this template is changing the background colors, font style, and size to match it to your branding.
2. YouTube outro template with logo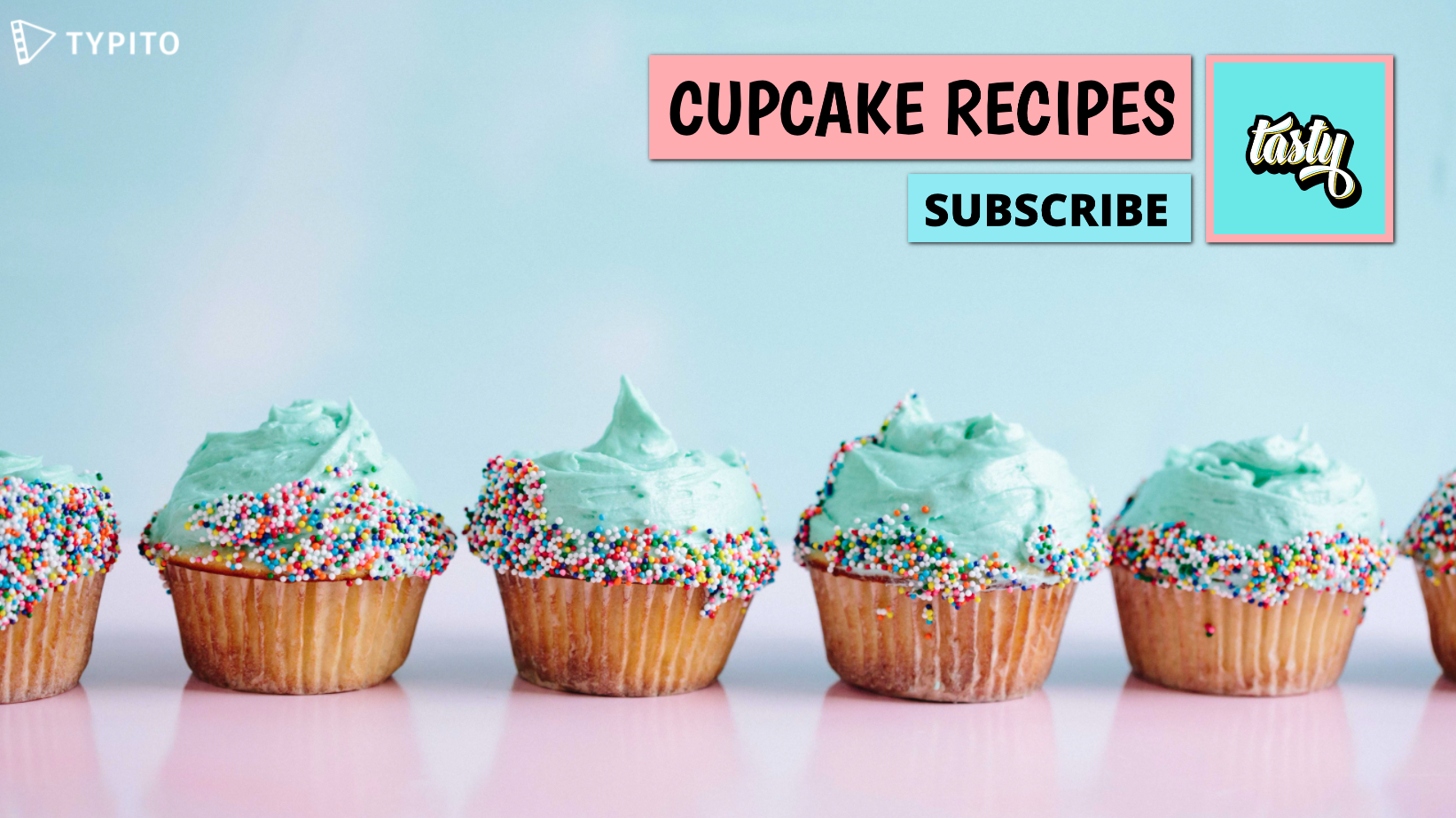 Present your brand logo in a simple yet attractive way with this modern template. Featuring a light and soft animation, this outro template features a placeholder for the logo and two fields in varying lengths to differentiate which information needs to be grasped first and which next.
This template is handy to build your brand, whether instructional baking videos or videos of other genres. And of course, you can format the font color, size, style, and text to suit your brand.
3. Professional YouTube outro template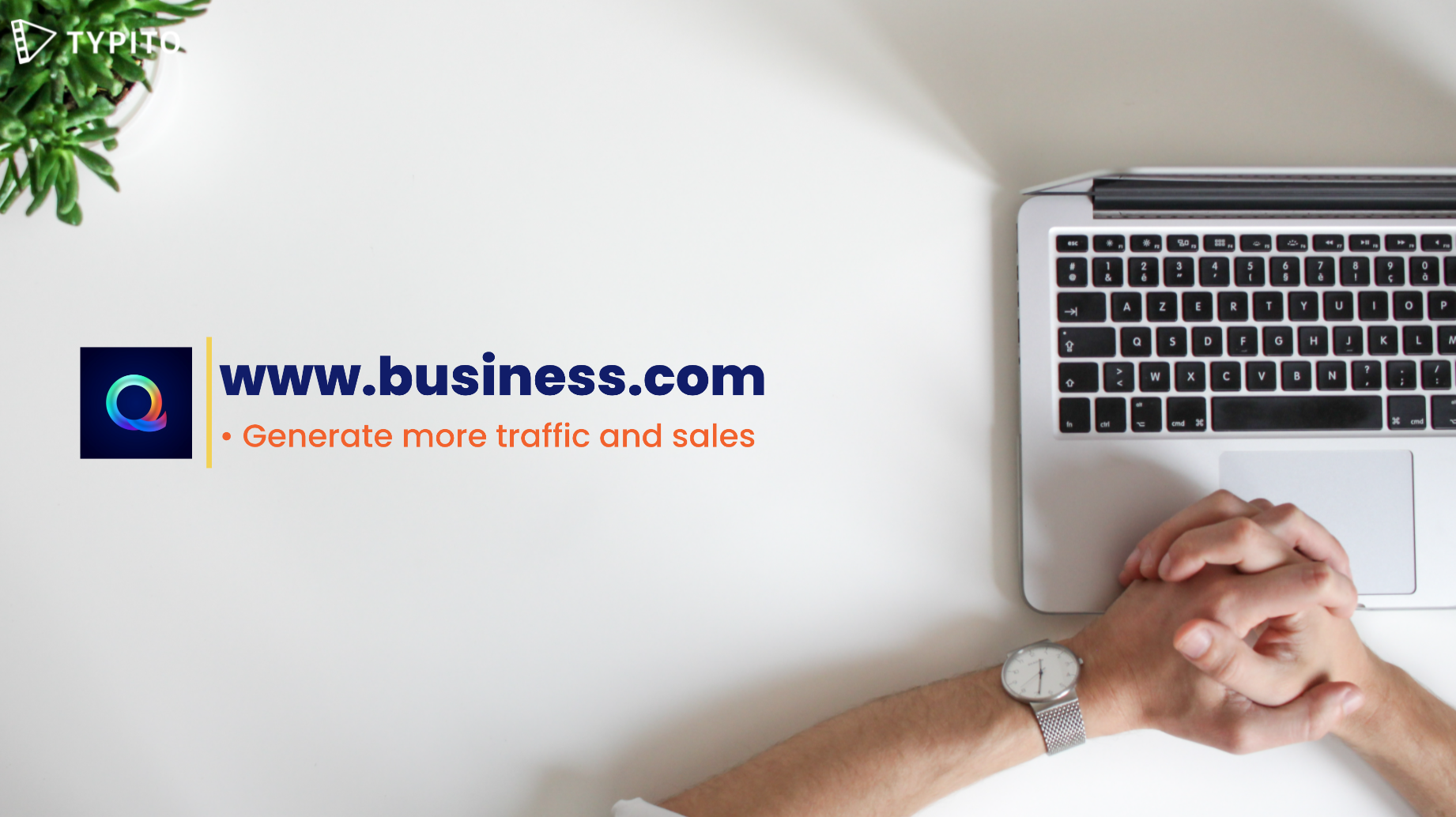 If you create professional videos and have a website that you want to promote in your outro, then this is the template to go with.
It features a simple yet modern design. It has an image placeholder on the left to add your logo and two text fields in varying font sizes (placed one below the other) to help prioritize the information you want to make your audience gather first.
4. Linear YouTube outro template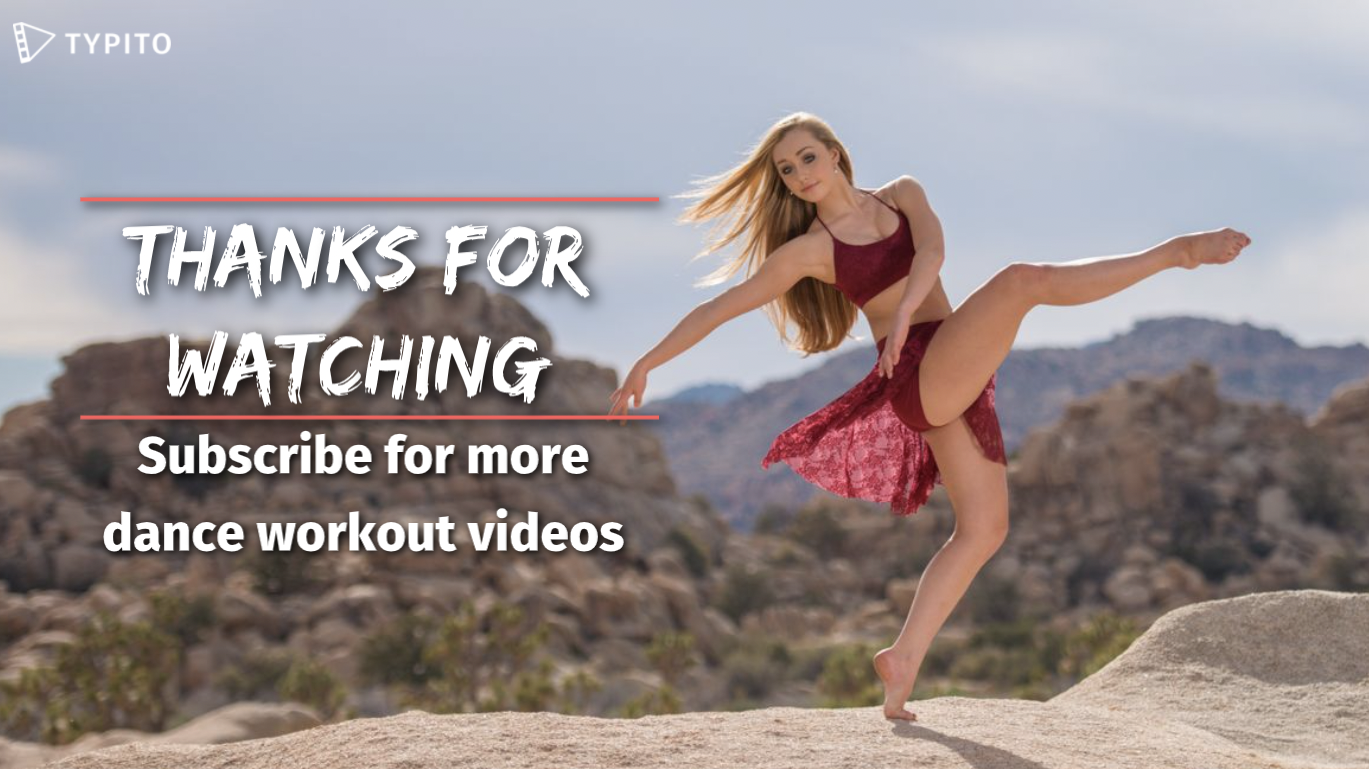 Use this template to go minimalist and yet modern for your fitness videos, baking videos, tutorial videos, and more. Featuring a bold opening with a 3-liner text field, neatly placed in contrasting parallel borders, this template gives adequate space for elaborate titles.
The additional text field (below the main title and one with smaller fonts) highlights your channel name or some more information you want to convey. It gives you extra flexibility by letting you change the font color, size, and style to suit your branding.
5. Marketing outro template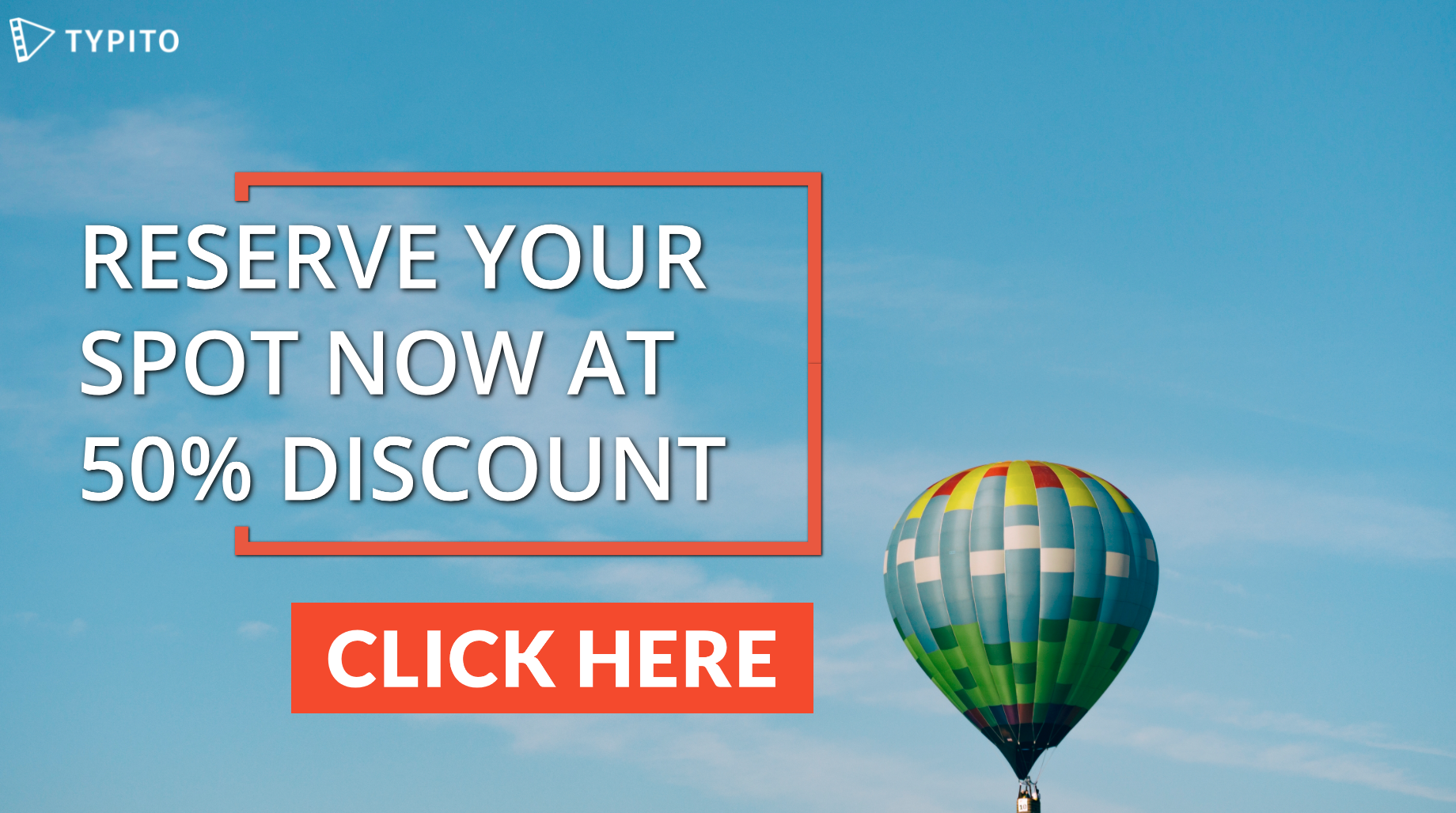 Videos make it effortless to explain how valuable your service is, but they are fruitful only if you end it with irresistible offers. And this YouTube outro template is a perfect example of that. Featuring a nice and clear design, the animated text field is perfectly bordered to highlight the importance of the information you want to communicate with your viewers.
Use it with nice video backgrounds and rich colors to sweeten the deal! Entice your customers to claim valuable offers.
6. Minimalist outro template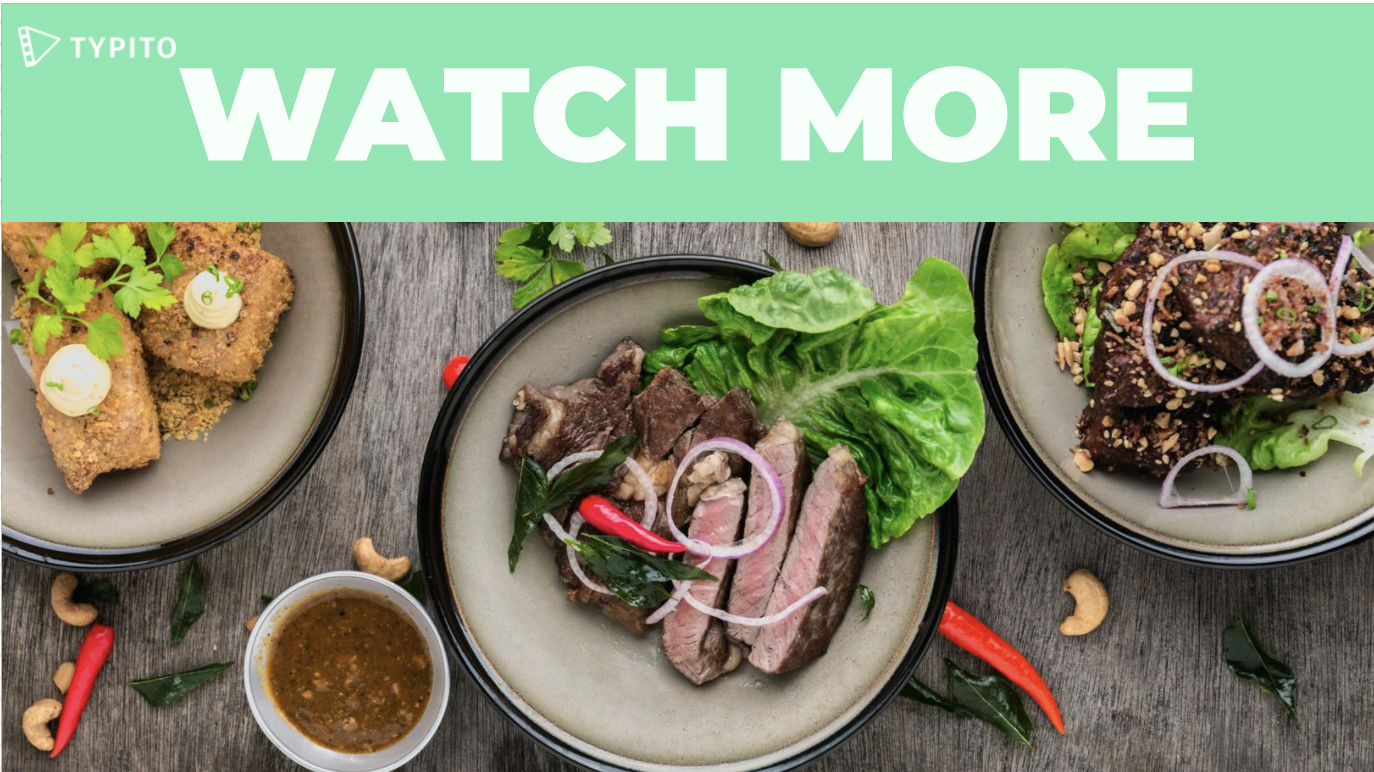 Put your CTA in a simple yet attractive way with this outro template and request your audience to take an action. It conveys the action message loud and clear on a nice vibrant background color, which can be easily changed based on your brand or theme. Just add some interesting pictures and get this dynamic end screen within a few clicks.
Best Practices for Creating YouTube Outro
Be creative when creating an outro for YouTube. Although the end part of the video, it's still a perfect section to bring in the 'wow' factor and influence your audience to take action.
Here are a few tips to keep in mind while designing a YouTube outro:
1. Be consistent to build your brand
It's crucial to keep 'consistency' in mind if you build your brand with YouTube videos. Use a consistent color palette, editing style, brand logo, etc., throughout the video to let your viewers recognize your channel and build trust. The idea is to instill the value of 'brand recall' to your audience.
Let's say you are a beauty vlogger who also has an e-commerce site that sells natural products. In this case, make sure to add your website link to every YouTube outro to make it convenient for your viewers to navigate to your site and remember your store name always.
2. Add a sensible CTA for higher conversions
Without clear CTAs (Call-to-Action), your viewers will diverge and start watching either videos of others or perhaps, exit from YouTube completely? To keep them engaged, having unambiguous CTAs is indispensable.
For instance, if your channel is all about skincare and you want your audience to watch your other relevant videos, it's best to add respective links in the outro. Also, don't link irrelevant videos, as this creates confusion.
3. Stick to your objective
It's important to create an outro that's not just relevant to your videos but also that supports an objective—it could be for a specific video, video series, or your entire channel. Your goal might be to increase the channel's watch time, acquire more subscribers, or drive traffic to your website. No matter what that is, make sure to add a "why" to your approach.
4. Keep your outros clean and simple
You can add all four elements to your outro but it loses focus and makes it look cluttered. Keep your outros simple and clean to prevent distractions and make it easy for your audience to grasp information. If you are using static graphic outro, grab any brushes for watercolor illustration and paint a visually compelling image background.
The main purpose of outros is to boost engagement with your audience. Nobody likes cluttered outros. In fact, they can backfire entirely. So keep your outro no-nonsense, sophisticated, and sleek—one that communicates the message without any struggles. If you're planning to add verbal CTAs, pick soothing music for your outro background rather than a loud, jarring tune.
5. Think of your channel as a whole
Whether you are just picking up ideas to start your YouTube channel or trying to increase your subscriber count, ask yourself an important question—what do you want to be popular for? What's the story you want to tell? Don't just think of specific videos. Instead, think of your YouTube channel to strengthen your brand and message.
Final Words
YouTube outros are like a cherry on the cake and that's why having the right design and messaging in place is super important. It isn't a good idea to let your video fade into a dull, blank screen.
Without a proper outro, the risk of converting your potential viewers into subscribers is also high. You also miss out on the opportunity to build a strong relationship with your audience. Typito's pre-designed YouTube outro templates are ideal to create end screens that build loyal subscribers for your channel.
Give your YouTube videos a chance to be noticed.
Typito is designed to be user-friendly so that you don't have to learn complex video editing skills. We have everything in place for you to just add video design elements in a few clicks. From a pool of 200+ custom templates, you can make your outros visually appealing, more professional, and encourage your viewers to take the intended action.