How to Make a Video for Facebook Online with Pictures and Music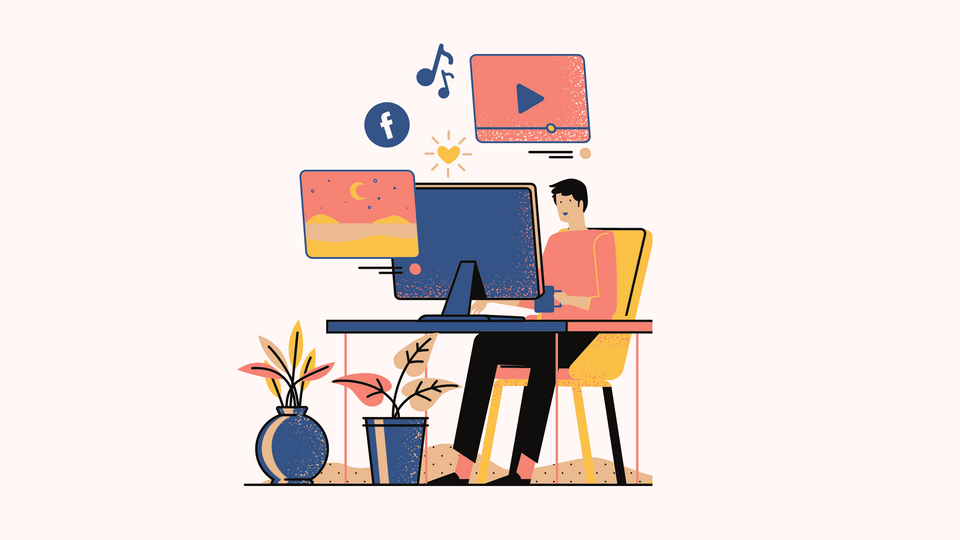 Facebook is massive - it's been hugely successful for a while now and it only keeps growing. About 2.91 billion around the world use Facebook as of 2021. Videos on Facebook have been there for a while - and you probably already know how to make a video for Facebook, but with all that noise and the enormous amount of video content on Facebook, you need to make videos for Facebook that stand out. In the next few sections, we'll cover the simplest way to make a video for Facebook with pictures and music and how to make sure your Facebook videos stand out in 2022.
Facebook reaches 59% of the world's social networking population. It's the only social platform to reach more than half of all social media users. Facebook is also the world's third-most visited website. It's outranked only by Google and YouTube. When people spend time online, there's a good chance they're spending it on Facebook.
This is why Facebook videos are the perfect aid for your business as shared marketing videos can reach millions worldwide.
Whether you're looking to get your business some exposure on Facebook with Facebook video ads or you just wanted to share a happy memory from your last Christmas celebration - we've got you covered.
What's ahead?
How to make a video for Facebook?
---
Ideally, you can just record a video and upload it on Facebook. But what if you need a little something extra? A professional video with editing? Or a collage of multiple videos and photos with text effects and transitions? Or do you simply want to trim unnecessary parts from a video?
Let's look at how to make a video for Facebook Here's how you can do it easily on Typito.
Step 1: Upload your media
Login to Typito if you have an account, or get started directly and sign up later.
First, let's choose the correct format to create this video. Here's where you'll need to decide if you want to post your video as a Facebook feed or as a vertical Facebook story.
You can choose from - 16:9 widescreen, 9:16 vertical, 4:5 vertical, and 1:1 square.
Click the Facebook icon at the top and then choose a format (the arrow on the right to scroll for more variations in the video formats).
Select the Facebook tab and click on the format you prefer for your video.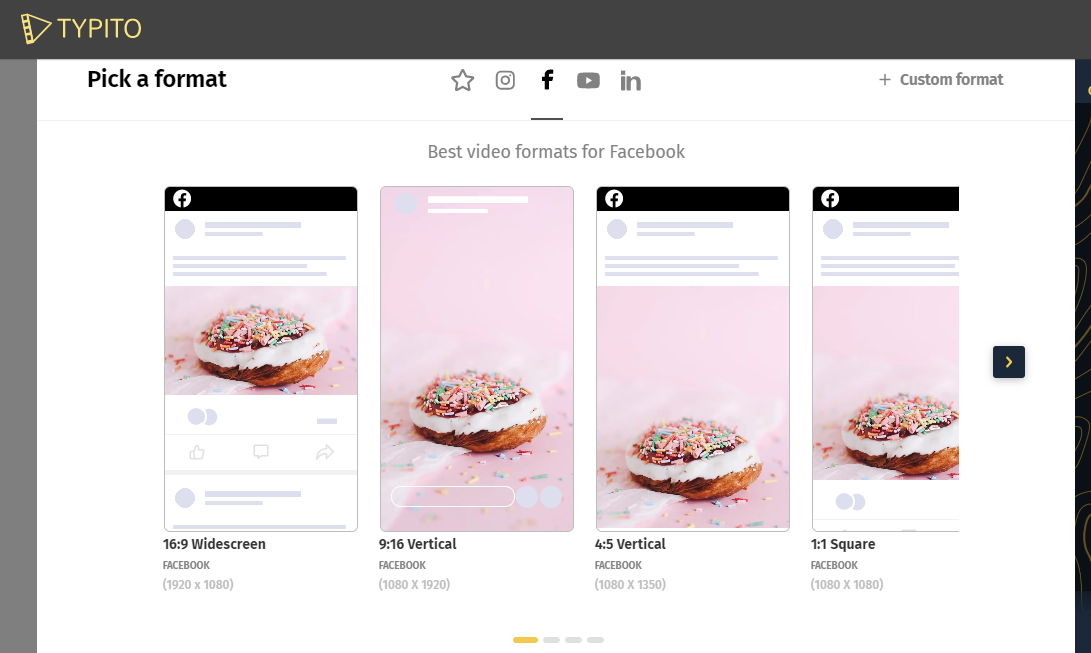 Different video formats for Facebook
Once you've chosen the format you want to use, you go ahead and upload your video or images to make your Facebook video. You can add the files from your local storage by browsing or just dragging and dropping the file.
You can add more media to your project after you start editing.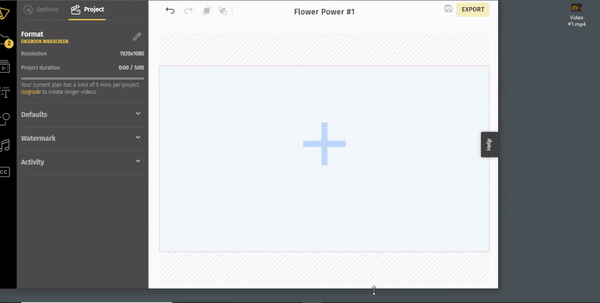 Step 3: Trim and cut your clips
If you're working with short video clips you'll want to ensure that these video clips are trimmed well. If you feel the video length is long, trim and reduce the duration. You can do it by clicking on the media on the timeline and moving the bars that show up at the ends of the video.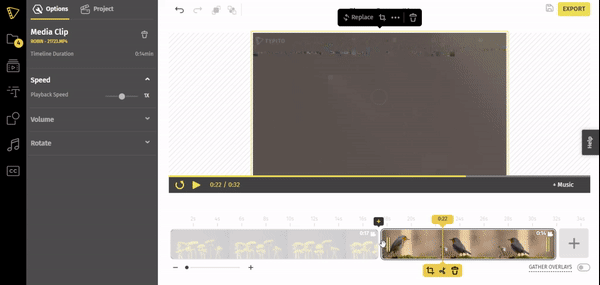 To cut the video, click on the place where you want the cut. From the options that appear below, click on the scissors icon. Choose the crop icon to crop the video. By clicking on the trash icon, you can also delete the video from the project.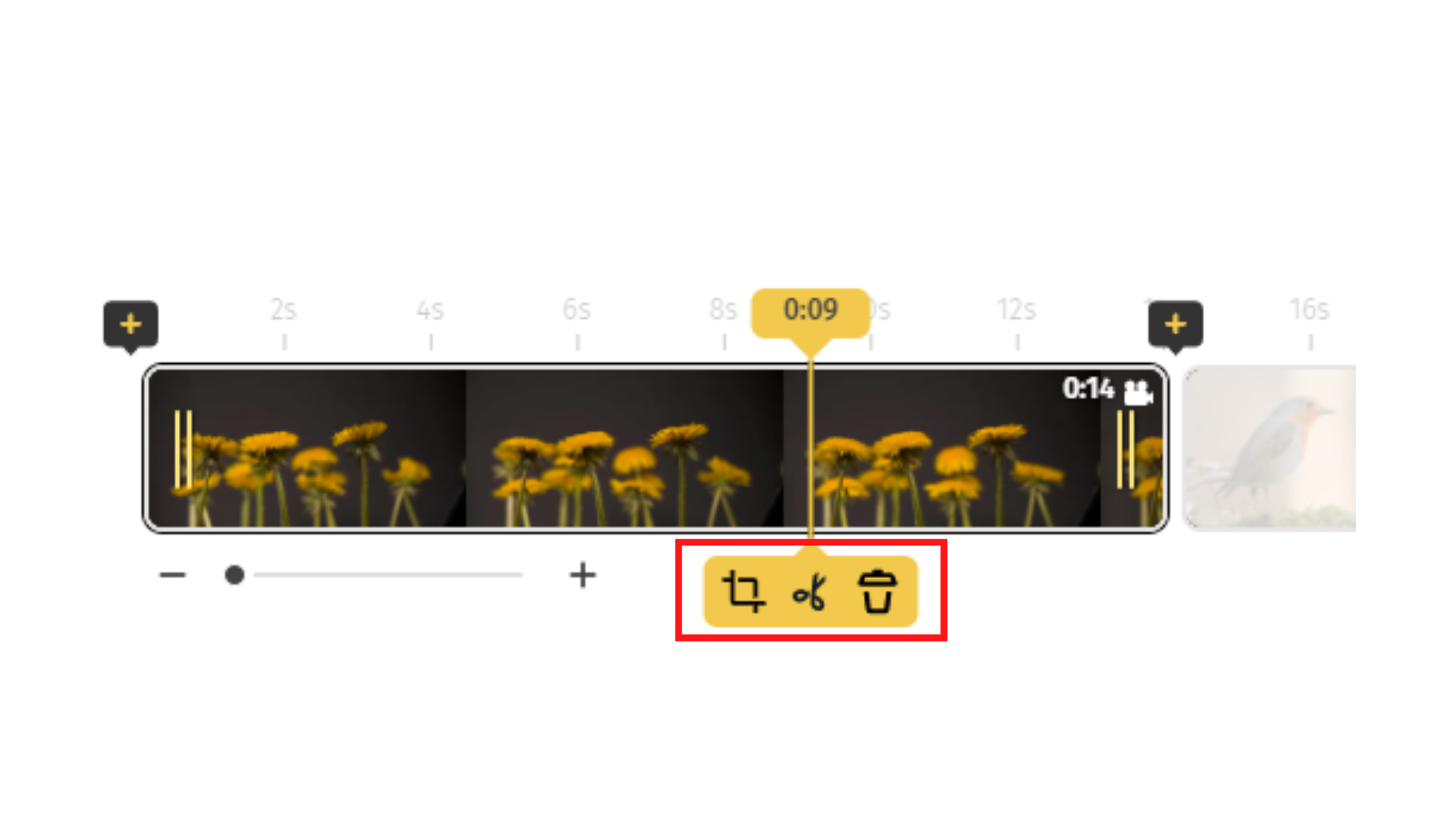 The menu has icons for crop, cut and delete.
Step 4: Add transitions and effects
You can add transitions between clips if you're merging clips together. To add a transition, click the "+" at the beginning or end of a clip on the timeline. Here you can choose between Fade to black and Cross dissolve.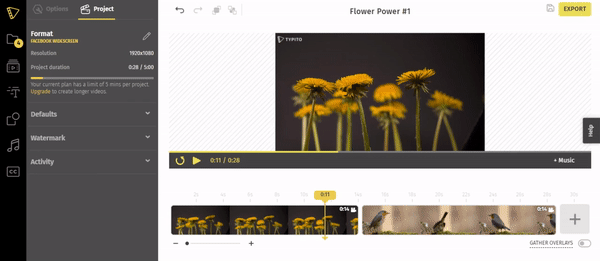 Step 5: Adding text and text effects
Adding text to your video gives additional information about the video, whether you're adding product descriptions or offer details for a Facebook video ad or just memorable captions on a personal video.
To add text to your project, click on the Text Effects icon in the left menu bar. Typito has a number of pre-designed text templates to choose from. Just click on the one you chose and replace the words with your text.
You can change the styles and appearance of how the text appears. Use the left panel or the floating action bar that pops up above the text effect to change the color and the font.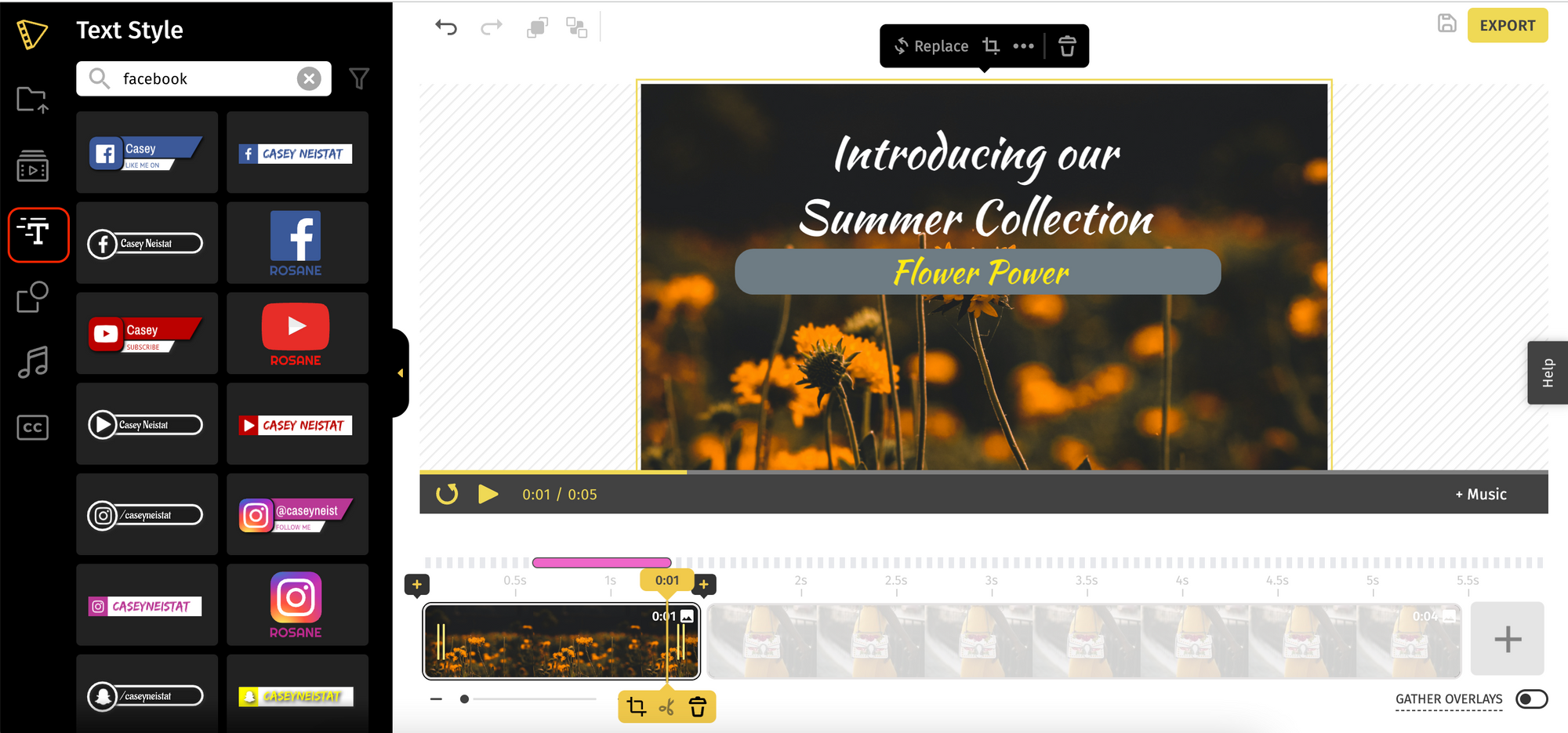 Typito has a wide variety of text effects.
Step 6: Adding music to your Facebook video
To add music, click on the Music Library icon. Select a suitable sound to play in the background for your video from our 100+ music files.
Scroll through the options. Click on the play button on the left of each sound to preview. To add it to your video, click on the Add button on the right. Select the part of the sound for your video and click on Apply.
In the left panel, you can trim the audio and adjust the volume of the sound.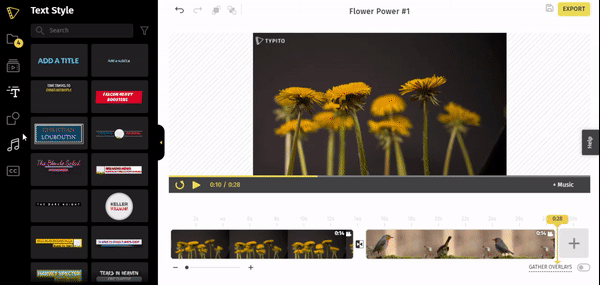 Step 7: Preview and export
Once you are done editing, preview the video once to check for errors and changes. Export the video after the changes. The export might take a few minutes. Your video is now ready to be shared on Facebook.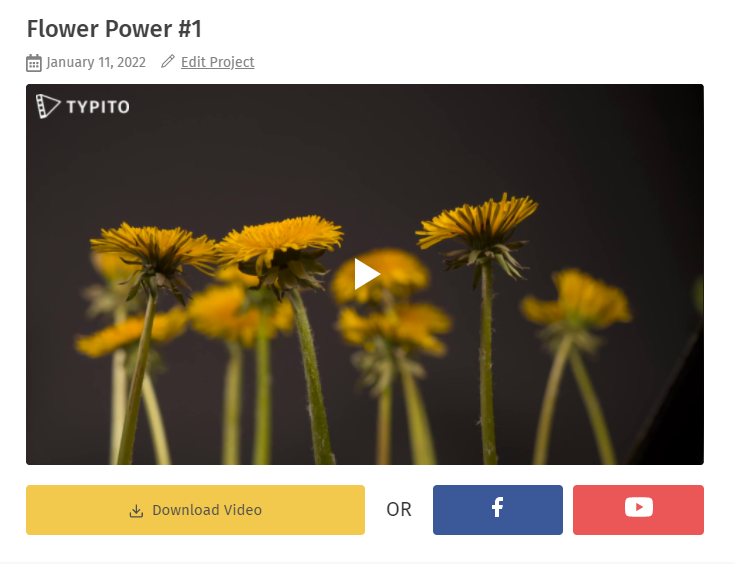 Your video is now ready to download or share.
You can even create Slideshows for Facebook if you have a ton of photos. Here's how to make a slideshow on Facebook.
Quick Recap: How to upload a video on Facebook?
---
If you have the video to be uploaded on your phone or computer, you can add it to your feed from your Facebook account. To do that, follow the steps given below.
Log in to your account with your credentials.
Go to the home page.
Click on the photo/video option under what's on your mind.
Upload the video or drag and drop it.
Add a suitable description.
Click on Post, and you are done.
How to edit a video on Facebook?
---
We might feel like the posts we made need a little bit of tweaking in the description or hashtag. Sometimes you might want to add a YouTube video link to it that you missed doing. Thankfully, Facebook has an edit option for your posts. Here's how you can do it.
Login to your account and go to your profile.
Go to the videos tab in your profile.
Scroll to the video you want to edit.
Click on the three dots on the right corner of the video.
Click on the Edit Video option.
Make the necessary changes and click on Save.
Types of Facebook videos Format
---
Videos on Facebook can be posted in different formats. Each kind has its pros which one can exploit to their benefit. Let us look at each one of them in detail.
Linked Facebook Video
These are videos that are hosted on other sites like YouTube and linked to Facebook. They were used frequently when videos could not be uploaded to Facebook directly. They are displayed in small embedded windows and are clicked to play.
How to add a linked video to your feed?
Go to the video you want to link on YouTube or a similar site.
Copy the URL of the video.
Go to the Homepage of your Facebook account after logging in.
Click on What's on your mind?
Paste the URL and click on the post.
Native Facebook Video
These are the regular in-feed videos that users can upload from their devices. The footage uploaded has to satisfy some basic requirements like having a width of 720 pixels, a resolution of 3 Mbps, and a frame rate of 30 fps. It can be as long as a few seconds to 240 minutes.
This is an instance of a native Facebook video uploaded by Taylor Swift on her Facebook account. It plays directly on Facebook without the help of any other social media platform.
How to upload a native video to your feed?
Login to your Facebook account.
Go to the Home page.
Click on Photos/ Videos below What's on your mind?
Click on add photos and videos and upload them from your computer. You can also drag and drop the file.
Give a suitable description for the post.
Click on Post.
Facebook Stories Video
Facebook Stories are great for sharing photos and videos. Stories disappear after 24 hours, unlike the posts on your feed. All of the images and videos you post as stories autoplay when clicked. The limit duration is 15 seconds. Unlike regular posts, others cannot like or comment on stories.
How to upload a Facebook story?
From the mobile app, click on Create a video.
To record, click on the video icon.
To upload, click on the photos icon on the lower right.
You can add text, effects, and stickers from the icons given.
Click on Save to save it to your phone.
Click on Your Story to post it.
Select the displayed option if you want it to be displayed on your feed.

Facebook Live Video:
Facebook offers live streaming, which has become really popular. They are the popular format for launches, interviews, and conversations. This connects millions across the world enabling them to take part in the conversation.
Here is a live-streamed video of one of Prada's fashion shows. Fans and fashion enthusiasts around the world could witness the event on Facebook when they couldn't be present physically. This feature makes the event available for everyone just through their phones.
How to do a live video on Facebook?
Log in to Facebook.
Go to the Homepage of your account.
Click on What's on your mind?
Click on the more option or three dots on the right.
Select Live Video.
Enable your video and audio. Check both.
Give a suitable title and description.
Go live.

How to make the ideal video for Facebook?
If you are making a video for Facebook, the following checklist might come in handy. Follow these steps to get an ideal video that your audience will receive well.
#1 Be very clear
Have a clear idea of what you want the video to be about. Convey it with clarity with the necessary footage. Use the correct tags and a clear but concise description for your post. This helps the audience get the picture you had in your mind. Make sure the thumbnail says something about the video and that it is not clickbait.
#2 Post frequently to leave an impression
If you are looking to make a name for yourself in content creation or brand marketing, posting regularly goes a long way. It helps people associate with your content and brand name. Also, the chances of it reaching a wider audience of viewers gradually. Set up a content strategy and stick to it. Posting content of any form twice or thrice a week is bound to show results when compared to posting once in two weeks.
#3 Original content only
We can't emphasize this enough - always be original! Facebook can identify unoriginally and repurposed content, thus restricting reach and views. Share authentic, accurate information always. Watch other's videos in your theme and come up with ideas for doing it differently. This rule holds strong not only for other videos on the internet but yours as well. Remember to deliver something unique and special with each video.
#4 Mobile friendly
About 98% of the users are mobile Facebook users. People use the Facebook app on the go, in public without audio 9 out of 10 times. Hence always remember to add captions and text. Make the video for small screens. Use close-in shots for better viewing.
#5 3-second rule
In the current fast-paced world, we live in, the viewers will not wait for the best part of your video to come up. Capture the audience in the first three seconds. This will get them to stay for the entire video. In a format where it is super easy to scroll and move on to the next thing, you get a window of 3 seconds to convince people to watch your video. Plan your video that way.
Wrapping up,
Facebook videos are excellent prospects for personal and business requirements. They provide a wide canvas and are superior to images statistically also. Thinking of your next video project? -  A birthday wish for someone special? An advertisement for a new product?  With Typito, it's easy to make a video for Facebook, whether you're a beginner or a professional.