7 Twitter Best Practises For Nonprofits

With more than 326 million monthly active users, Twitter is becoming one of the best platforms for nonprofits to connect with supporters and donors. From organization-wide new updates to blog promotion, Twitter can be used as one of the main tools to let your supporters know what happens in your nonprofit every day. Finding followers is fairly straightforward, although you may wish to visit a website such as Twesocial.com for further guidance regarding this. Here we provide some best practices to use Twitter to increase your brand recognition, attract new donors, volunteers, and supporters to your cause.
1. Tweet good content
Every tweet and retweet should contribute to your mission. More importantly, your content should be relevant to your audience. It's all well to get a starting amount of followers using a service like Tweeteev.com but if you do not tweet content relevant to that following then it can only get you so far.
Before tweeting, it's better to know what value you are adding with the post. This will give you some perspective about what kind of content to post to your audience. After raising funds, tweet and acknowledge your followers and thank them for the support. This will let your followers know you value them.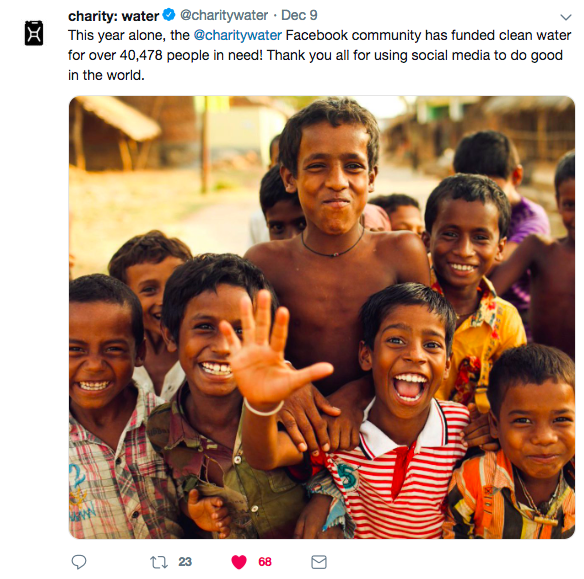 Charity: Water Tweet
Engaging in a humane way by educating your audience with fundraising videos, blog posts, and infographics as tweets. By giving good content that are relevant, you can attract more audience, spread awareness and raise more funds.
2. Use relevant hashtags
Use relevant hashtags that are specific to your cause and are trending on twitter. This will give your tweets more visibility. While tweeting, you can include at least two hashtags in your post with appropriate captions.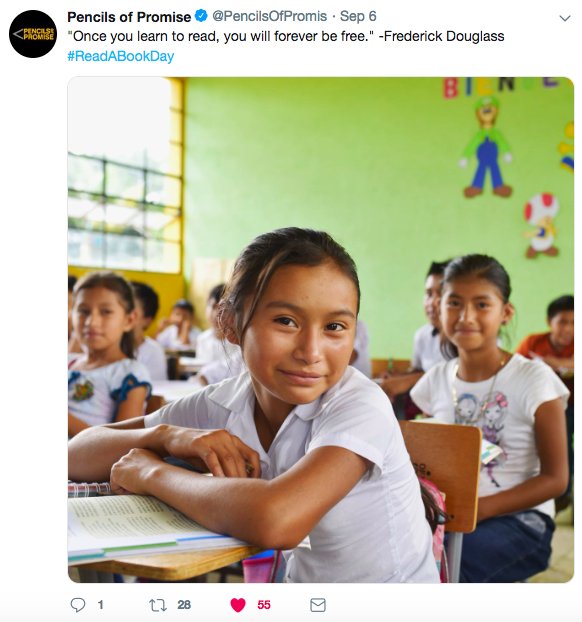 Pencils of Promise - #ReadABookDay Tweet
If you are running a fundraising campaign, you can create your own hashtag and encourage people to use it. Creating a unique hashtag will help you to know how many people are using it.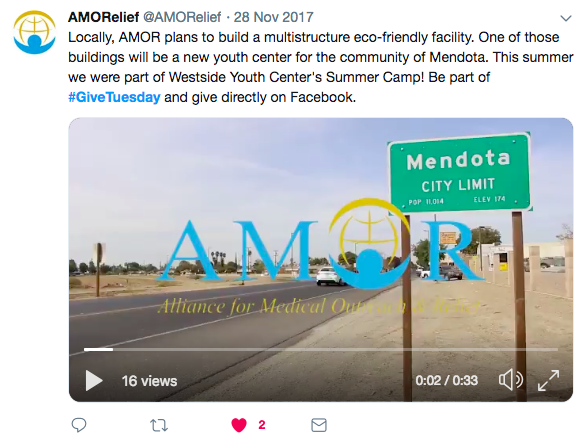 AMORelief using #GiveTuesday hashtag
You can reach out to these people as the possibility of them becoming prospective supporters of your organization is high.
3. Retweet and ask for retweets
You can encourage people in your network to retweet your tweets. This will give you more visibility. You can also make it a habit to retweet content that is useful for your followers.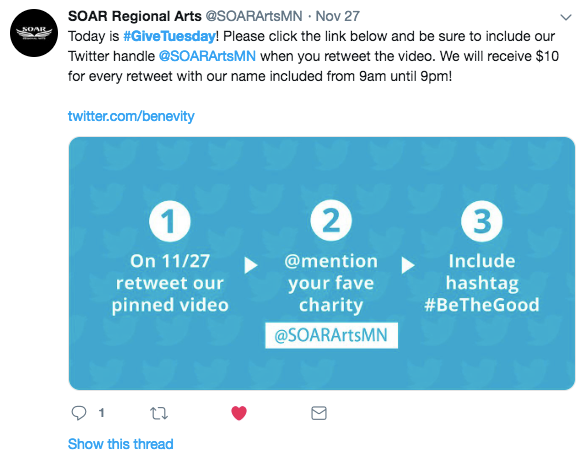 SOAR Regional Arts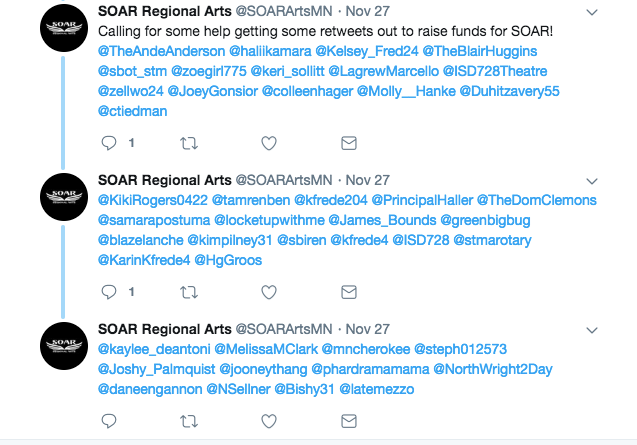 SOAR Regional Arts - asking for retweets
While fundraising, you can ask people in your network to tweet about you to give your fundraising efforts a push. You can also retweet your supporters tweets using your account.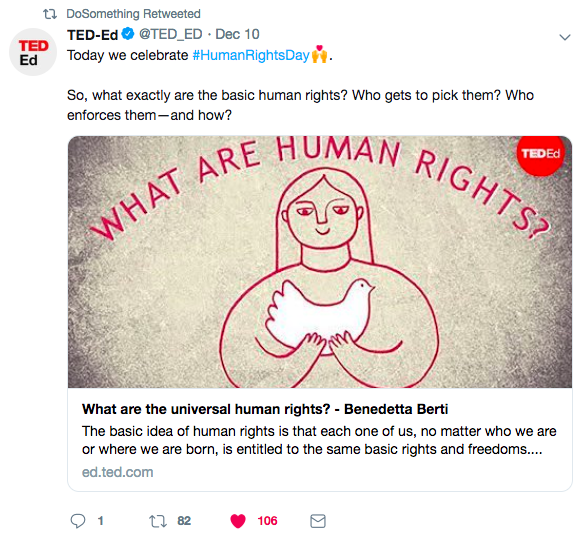 DoSomething retweet
When possible, retweet content from other organizations whose mission aligns with yours. This will let you build connections and the possibility of the other organization retweeting your content in the future is high.
4. Mention in tweets
If you have written a blog post that talks about an organization or person, you can find them on Twitter and tag them in your tweets. When you tag them, the possibility of them checking out the content you published is high and they may retweet your tweet to their followers, giving you more exposure to new audiences.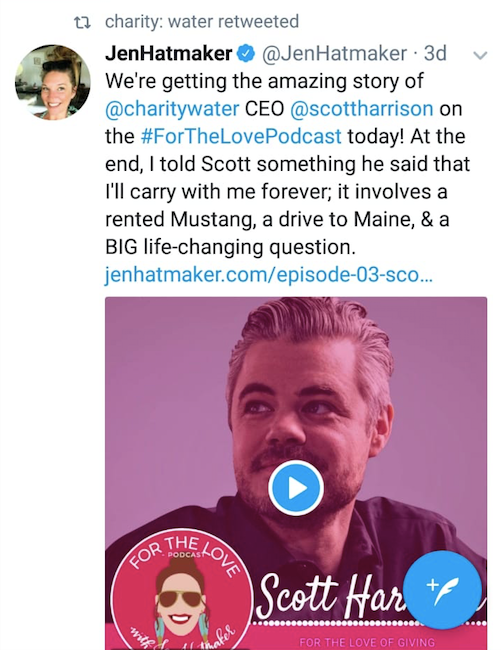 Charity: Water retweet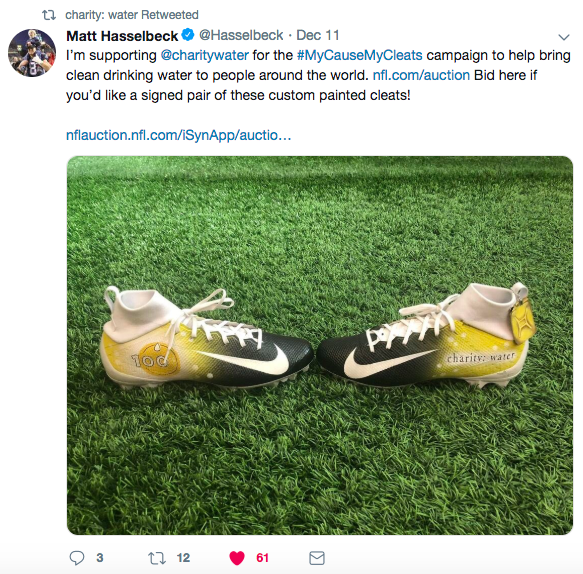 Charity: Water retweets Matt Hasselbeck
This will help you get new followers and tweet likes and shares. Likewise, you can also retweet tweets and engage with people who tag you in their tweets.
5. Conduct live chats
Live chat sessions are a way to show that you as an organization care about your followers. Announce to your supporters that you are arranging a live chat session on Twitter prior a week. You can also invite nonprofit experts and influencers to your chat session. Prepare a set of questions and problems you are about to address in the session beforehand. Use a unique hashtag for the chat session and encourage your followers to share their views and opinions.
6. Schedule your tweets
To maintain consistency you can schedule your post ahead so you will have more time for things that matter most to your nonprofit. For scheduling your posts ahead, you can use applications like Buffer.
7. Use twitter analytics
Twitter analytics provide you with insights about how your tweets are performing. It shows how many link-clicks, retweets, and likes you got from your tweets. From the analytics, you can learn the pattern of tweets that receive a lot of engagement, and try to tweet more like them to make your tweets take off.
Bonus tip: Use a custom URL shortener like Rebrandly to shorten and brand the links that you create and share on Twitter. Since there is a limited number of characters allowed per tweet (280 characters) a URL shortener is very useful on this platform. Using branded links can also increase your click-through rate by up to 39%.
Winding Up
So, now you know the best practices for Twitter to get more retweets, and followers. For engaging in Twitter you can use text, images, and short videos. If you are looking to make attractive videos for your fundraising campaigns, you can use Typito. For Nonprofits like you, we are running Typito for Nonprofits Program. Now get in there and grab an amazing 50% discount on our plans. Create beautiful and engaging videos with Typito. Get Started!!!