15 Effective Real Estate Ads to Get Noticed [Tips & Examples]
Real Estate Ads Examples to inspire your 2023 ad campaigns for Facebook and more.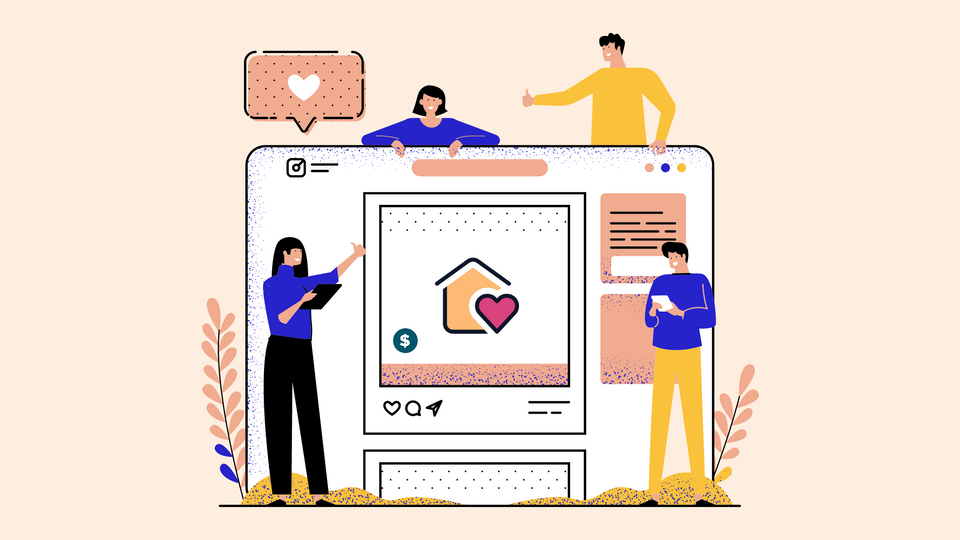 In today's digital age, online advertising has become a crucial component of real estate marketing. With buyers moving online for their purchase decisions it's a good time to invest more in your online ad campaigns.
Here's a snapshot to put into perspective just how important online marketing is for the real estate niche:    
95 % of buyers begin their process of searching for a home online.
52% of realtors note that social media results in the highest-quality leads versus other sources
73% of homeowners say they're more likely to list with a realtor offering to do a listing video.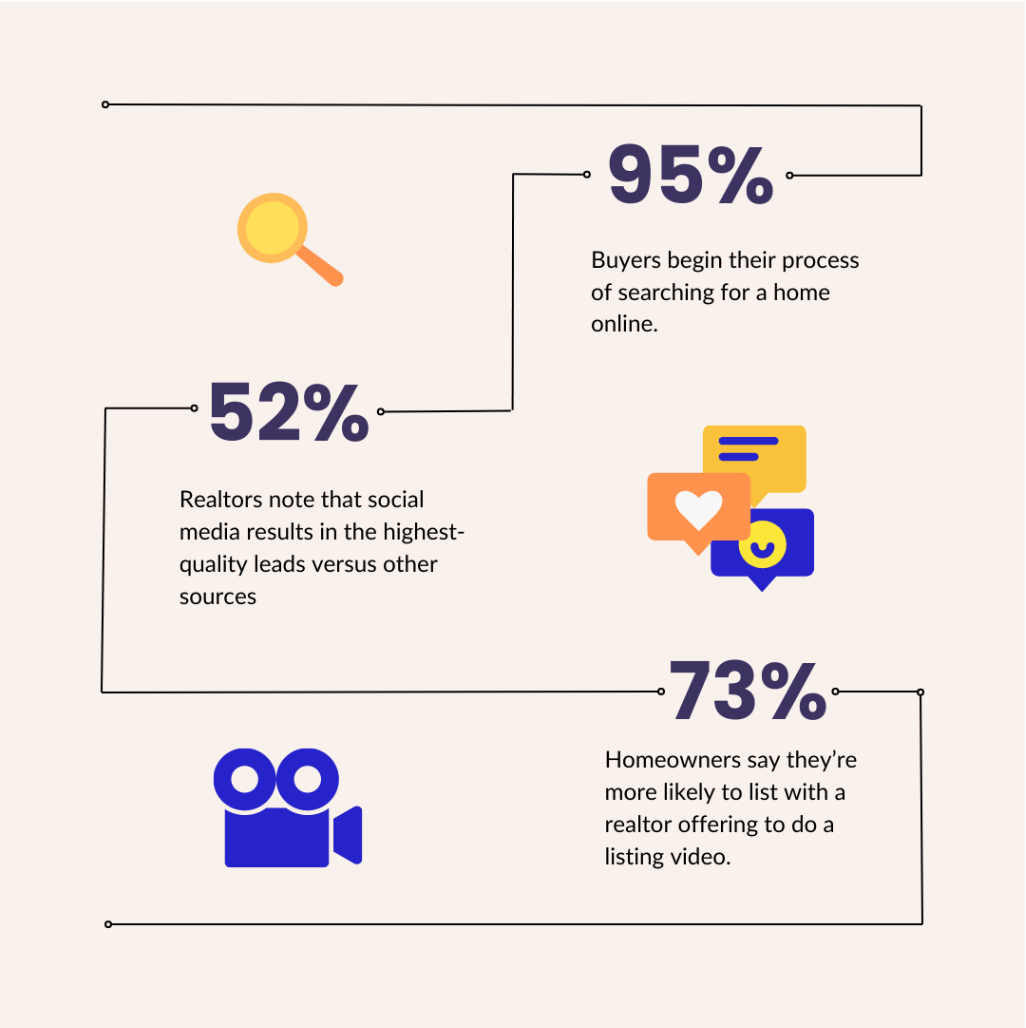 Apart from being considered more cost-effective; online advertising also gives you control and insights which helps with improved targeting. With online marketing, you can get into specifics like audience demographics, location, and insights on behaviors and interests. All of this can significantly contribute to how you tailor your ad campaigns based on what potential home buyers are looking for at the time.
In this article, we've curated 15 catchy real estate ad examples. We'll also discuss why these work well and some key ideas you could explore when brainstorming for your upcoming campaigns.
---
15 Real Estate Marketing Ad Ideas & Examples
1. Elevate Property Listing Ads with Videos
This is the most common and direct real estate ad type that you've probably seen a lot of and tried out yourself. With a ton of listings out you'll want to secure ways to ensure your listings stand out from the noise.
In this example here, they've put the spotlight on a specific feature - fabulous views from every window. Their copy paints a picture that is hard to scroll past. The video is a clever slideshow compilation of photos of the property along with neat text overlays to highlight the property specifications. This is a great way to work with video, even if you don't have clips or breathtaking shots of the property.
Key takeaways to elevate your listing ads:
Hook people from the start with a strong opening visual or text caption.
Highlights a specific house feature that will grab attention.
Use cluttered free visuals with complimentary neat text overlays.
Have a clear call to action that nudges interest.
💡
Pro Tip
Here are some more types of videos to try out:
1.
Slideshow video.
Even if you don't have footage or shots of the property, you can
create a video slideshow
from just the photos.
2.
Live or Virtual Tours
Experiment with a virtual tour or a live tour of the property to give your viewers the feeling of a 1:1 walk-through experience. Be sure to
add captions to your video
for better clarity.
2. Use a Carousel for Multiple views or to Group Similar Listings
If you're using real estate Facebook ads try out a carousel ad. It's a neat way to showcase multiple listings in the same area. It's also a great way to put together multiple photos to show different views of the property in case something specific catches their eye.
While it's tempting to use eye-catching images even if they're stock photos or photos from listings that are sold off, try to give your views a "what you see if what you get" view of the listings to avoid indulging in click-bait practices. Ultimately, you want them to not just click the ad call to action, but genuinely be interested in what you have to offer.
Key takeaways to elevate your ads:
Showcase different angles and views of the property.
Highlight key property specifications in bullet points.
Stay true to the visuals of the actual listing.
3. Offer an Exclusive Deal
Grab attention by offering an exclusive sneak-peak of the property listing. This example goes all the way to offer a peak of the listed property before it even hits the market. This piques interest and makes the prospective buyer feel like they've been offered something exclusively.
Key takeaways to elevate your ads:
Build hype for your listing with 'exclusive previews' or private tours.
Use words like "Exclusive preview", "Coming soon" etc. to stimulate a sense of urgency.
Have a clear call to action to directly contact you for more information.

4. Host an Open House Event
While their search for properties begins online, people definitely want to come to visit the house in person for a better view. Ads like this make it easy for them to view which properties are open to visiting and make it easy for them to sign up to attend an open house event.
Key Takeaways to elevate your ads:
Have a clear call to action that lets them sign up for the event.
Create a carousel of similar listings you have available in the area to make it accessible.
Highlight one thing that stands out for each listing if you can.
Add photos to give a better view of the property.
5. Hook Attention with a Good Story  
A good story fosters lasting connections and if used correctly and creatively it could make your prospective buyers care more about your ads.

Instead of just listing out what is so attractive about the property, let prospective buyers visualize themselves building a home there. Tell them a story that they can relate to or imagine what their new lifestyle would look like. This is an effective way to nudge prospective buyers to want to visit the place.
Key takeaways to elevate your ads:
Use creative ad copy to tell a compelling story.
Describe a perfect morning, a sunset, or a desirable lifestyle
Use phrases like "Picture this (...)" or "Welcome to your dream (...).
Avoid exaggerated narratives that might oversell.

6. Get Creative with Wordplay
It's true that your visuals are probably the first thing that will grab attention before any prospects begin to skim through your copy. But this doesn't mean copy takes a back seat. Your copy can be worked on to be just as powerful.
Using clever wordplay or sprinkling your copy with a bit of humor can do wonders. In the example here, the team introduces their new "Pawsome" mascot with some clever and humorous copy. While the graphic used here is simple and rather generic, the copy steals the show. Don't be afraid to see how you can leverage creative copy similarly to grab attention and stand out.
Key Takeaways to elevate your ads:
Use humor appropriately in your ads to differentiate yourself.
Use emojis to give your copy a fun and approachable tone.
7. Offer Free Services
The journey of searching for a home can be daunting, especially if it's something that you're doing for the first time. Having a little help from industry pros can go a long way. What's also great about ads that offer free services like these is that they target potential customers in their early stages of decision-making and can give you a ton of insight into buyers' intuitions.
The example here is a great way to offer help with a free seminar catered to home buyers. It's simple and highlights the important challenges that most people have questions about like loans, credit, and current market trends. It even throws in a sense of lightness with the phrase  'over brunch and mimosas' to sound more approachable to anxious customers.

Key takeaways to elevate your ads:
Emphasize "Free" to encourage more participation.
Highlight what your potential customers can take away.
Offer something of genuine value that potential customers can relate to.
8. Stir up FOMO
This is a different and refreshing approach to building interest in your real estate brand. The copy is short and piques a sense of FOMO (fear of missing out), in this case, something every first-time buyer should do. There's also a clever use of first-person making it seem like they're talking and engaging directly with you.
Key Takeaways to elevate your ads:
Experiment with other types of ads that build interest in your brand, and showcase your knowledge and expertise.
Present a common challenge and then offer a clear solution.
Be sure to adopt an approachable and friendly tone when sharing advice or tips.
9. Create a Negative Shock Effect
There are a ton of fears, challenges, and anxieties around buying and selling property. And a perfect way to ease anxious buyers is to put their troubling thoughts at ease. Using negative effect headlines like this can grab attention and stir up curiosity. It's also a great way to show off your expert opinion and knowledge.
Key takeaways to elevate your ads:
Keep your visuals simple, with bold text that is easy to read.
Have a clear call to action, preferably one that initiates a conversation.
Offer an honest take to differentiate yourself and stand out as a thought leader.
10. Build a Sense of Community
A strong sense of community will draw in prospective buyers and nurture long-lasting relationships with your existing customers. This might even make them want to recommend you to other people looking to buy or sell properties. Use ads like these to retain and nurture better customer relationships.
Key Takeaways to elevate your ads:
Show existing customers appreciation by hosting events or networking meet-ups.
Make it easy for people to sign up for your events.  
11. Move Beyond Direct Selling with Helpful Content
Anyone looking to buy, rent or sell a home knows that certain processes can be frustrating to navigate. You can offer people a break from the chaos by sharing useful educational content on topics that they often have questions about. For example, the video here by Theory Real Estate talks about the pros and cons of self manages properties vs outsourced management.
Key takeaways to elevate your ads:
Have a clear call to action that encourages engagement with your post.
Increase the convenience of accessing your helpful content. (For example, making it easy to sign up for your webinar/newsletter)
Offer honest and original content to differentiate yourself.
Consider linking lead magnets like downloadable cheatsheets or PDFs in exchange for an email to generate leads.
12. Show Them Why People Love You
If you've been receiving a lot of praise or ratings lately, it's a good time to show it off. Feature your new homeowners who were able to find their dream home because of you. It's an effective way to establish trust and credibility.
Key takeaways to elevate your ads:
Highlight positive reviews you've received
Get loyal customers who have been with you for repeated services to share their experiences.
Share positive feedback or even how you've used constructive feedback to shape your business approaches.

13. Stay on Top of the Real Estate Market Current Trends
The markets are constantly fluctuating and potential buyers are always on the outlook for trends and expert opinions. This is where you can step in with an insightful take or an expert opinion. It's also a great way to make your posts shareable. If the viewer finds your post helpful they're more likely to share it with others.
Key takeaways to elevate your ads:
Grabs viewer attention with a relevant statistic, fact, or projected trend.
Have a clear call to action that takes viewers to the relevant post to learn more about the topic.
Make it easy for people to share your post/article. You can even use a pop-up prompt to encourage shares.

14. Celebrate Small Wins (or big ones)
Received acknowledgment for your outstanding work and performance? Let the world know! Sharing your accomplishments is an effective way to build trust and credibility with your prospective buyers.
Key Takeaways to elevate your ads:
Highlight your achievements.
Take a moment to thank and acknowledge your team.
15. Use a Cinematic Video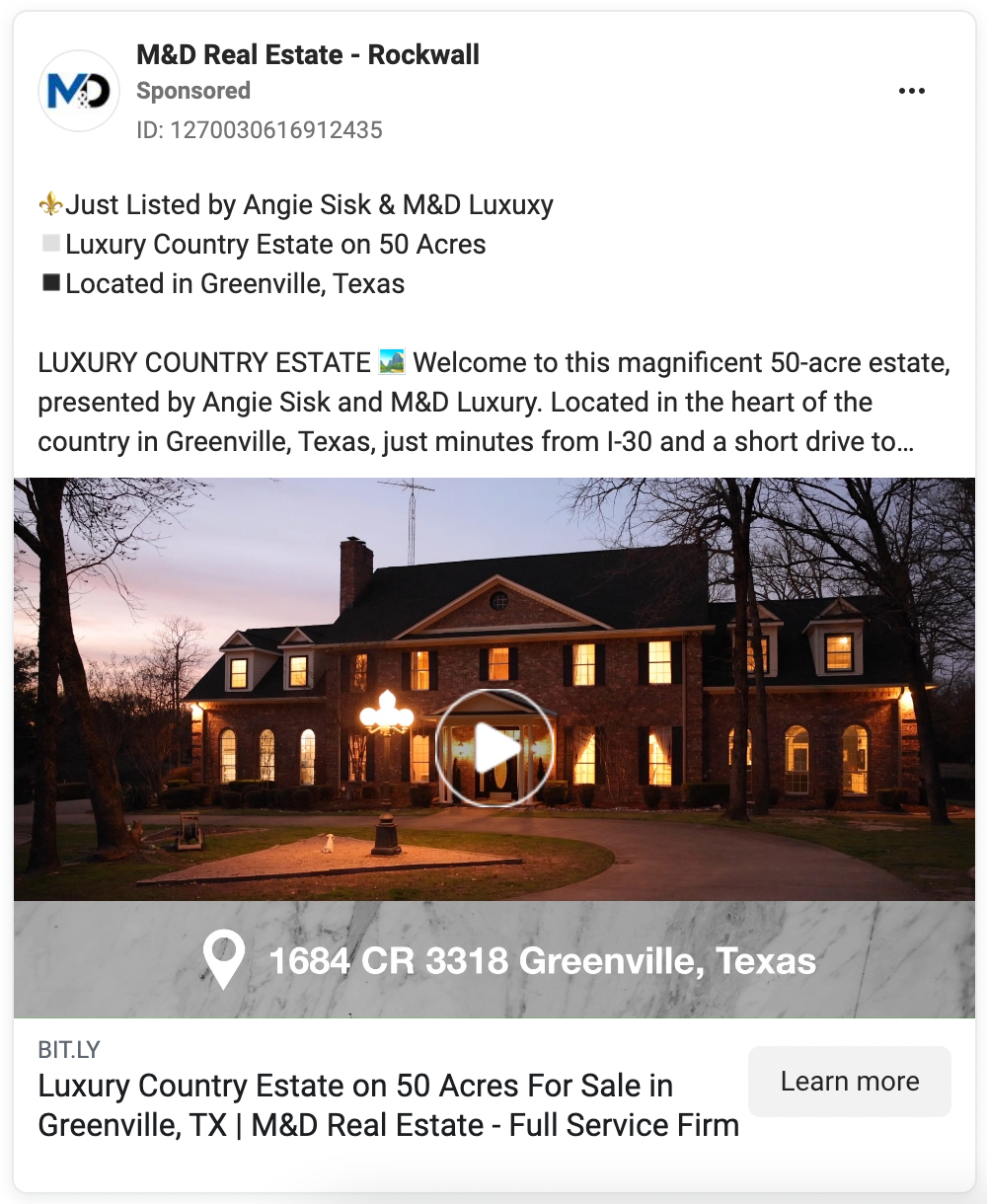 When it comes listings, people want to see more videos to get a better sense of what they're looking for. If you have a budget that you can stretch a bit consider investing in high-quality footage of your top listings. Good visuals are the key ingredient to getting a click on your ad.
M&D Real Estate does a wonderful job here with its video listing. Apart from the breathing taking shots of the property, the video has a few elements that really level up the overall production. The neat lower third text cue, in the beginning, introduces the agent along with a professional photograph. The video then takes you through the exterior and interior of the home in sync with a voice-over that describes everything breathtaking about this property.
Key Takeaways to elevate your ads:
Use high-quality visuals.
Make sure your videos are polished with neat text overlays, a professional photograph of your team/agent, a complimenting soundtrack, and engaging voice-over narration.
Ensure the top selling points of the property are highlighted with text overlays on the video, as well as, in the narration.
Use captions on your video for better clarity.
---
TLDR; Cheatsheet to Creating Simple & Real Estate Ads:
Get creative with a mix of text, images, and video.
Highlight the value proposition or at least one specific feature.
Simple graphics/images paired with powerful copy can go a long way.
Always have a clear intent and call to action.
Move beyond just listing ads and offer value with informative/educative content.
Sell a story, an aspirational lifestyle, or a dream home.
Use testimonials, reviews, and performance awards to build trust and credibility.
Keep it relevant and honest.
Build a sense of community to foster stronger customer connections.
Differentiate yourself with strong branding.
---
Wrapping it up,
Real estate buyers have moved online and if you haven't paid as much attention to your online ad strategy, you're probably missing out on a gold mine of an opportunity.
Effective online ads can drive higher quality leads, and insights from how well your ad campaigns perform can give you insights into your potential buyer's considerations.
Creating ads like the ones we've covered for online platforms or social media doesn't have to be complicated. You can start with simple photos and clever copy to get people to engage with your ads.
And if you're still feeling hesitant to dive into something new or simply don't have the time to invest just yet, consider using easy-to-use tools and templates to help speed up the process.
Now that you have quite a few takeaways from our list of 15 best real estate ads, you can find new ways to improve your existing ad campaigns and expand your real estate brand presence online. Which of the above are you ready to try out?
🎬
We've built Typito to make video creation easy and reliable for everyone. If you're looking for a simple video creation tool to help you create video ad campaigns you can try out Typito for free.
Make a Real Estate Video Ad With Typito
More From Typito to Spruce Up your Real Estate Marketing Campaigns→