Health & Fitness Ads: Inspiring Examples, Tips, Best Practices, and More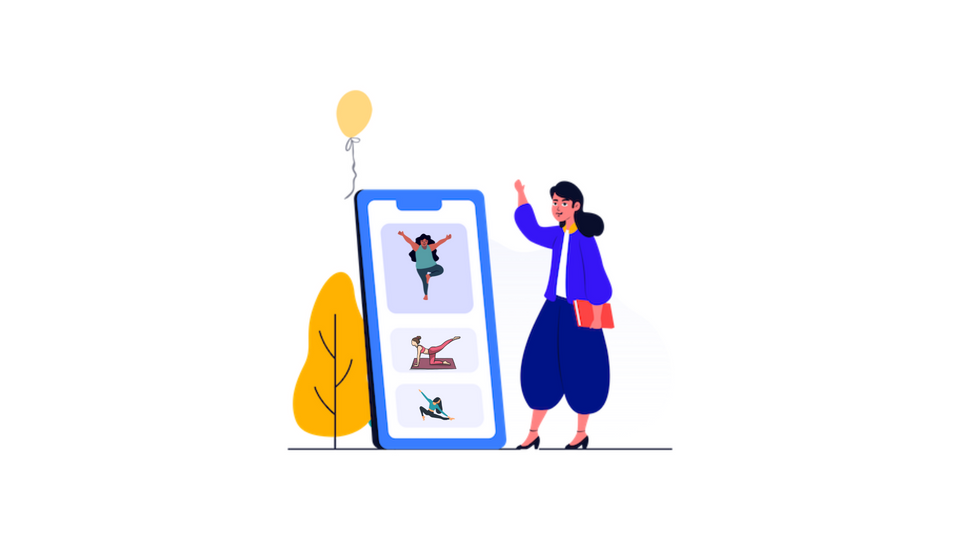 Did you know that our brain processes visuals 60,000 times faster than text? Well, yes! And given the natural affinity for visuals and the amount of time we are glued to our screens, it isn't surprising that videos are becoming a crucial medium for marketers and advertisers to reach more consumers.
More than half of global consumers have cited videos as the type of content they want to see from brands they support. And for the health & fitness industry, it's no different. Nothing works better than compelling fitness ads, as they have the power to inspire and motivate people to work out religiously.
Creating fitness video advertisements doesn't have to be expensive. Although having a generous production budget makes it easier to create stunning fitness advertisements, it's still possible to make mesmerizing, shareable videos that have the power to convey the message across — and help accomplish tangible outcomes — without spending a fortune.
Today, we will tell you how to go about creating amazing health and fitness ad campaigns that have the power to influence your target audience and help your fitness brand to grow fast.
Here's an outline of what we will discuss:
What Makes a Fitness Ad Stand Out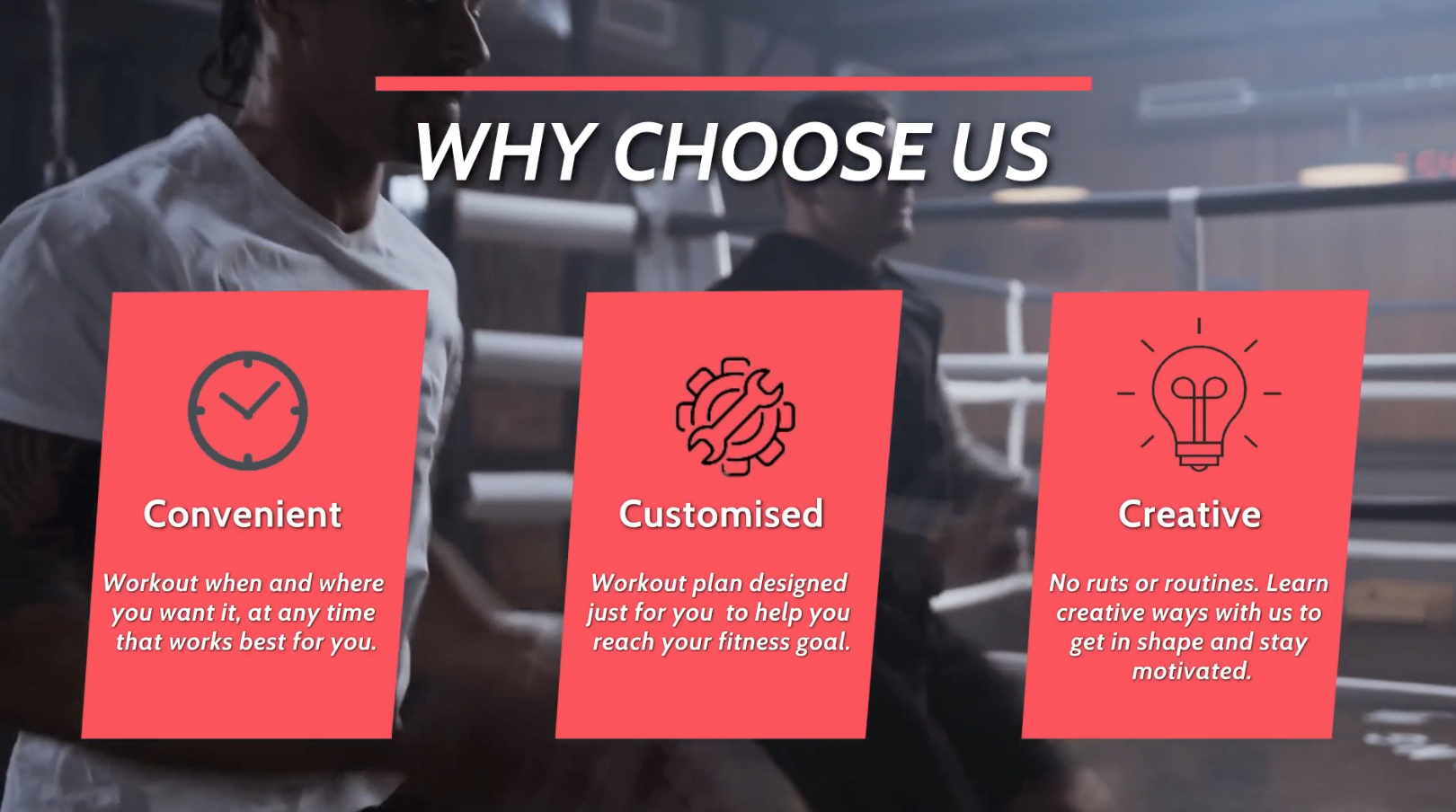 1. Creative storytelling (within 30 seconds)
Video storytelling is a type of advertising technique that brands use to evoke emotions and drive interest in their target audience. Stories play a key role in making your fitness marketing more effective while ensuring they are immersive, powerful, and engaging.
They are much more than a sales pitch. It's an art that has the power to instill empathy and build a strong connection between your viewers and your fitness ad campaigns.
Here's how you can go about it:
Step 1: Consider these questions beforehand
👉 Plot: What is the story you want to tell, and how will it be structured? Ideally, a powerful story starts with a strong intro, brings up a complication or conflict, and ends with a solution.
👉 Purpose: What's the actual purpose of conveying the story to your audience, and what action do you want them to take afterward?
👉 Persona: Who are the key characters in the video story, and how will they connect with your persona?
👉 Target audience: Who will watch your video? Are they new customers, existing ones, or potential customers?
👉 Distribution method: How will you share the video story? Where will you launch it - YouTube, Facebook, your website, or some other platform?
Once you have answers to these questions, you will have a framework to work with. Think of some creative ways to connect with your audience and techniques to make your fitness ad video memorable, shareable, or perhaps, go viral!
Step 2: Make a good storytelling video
👉 Identify your objectives and target audience: Outlining your goals and want to achieve with your video story and which viewers you want to target it'll be easier to move forward with confidence.
👉 Come up with a narrative: Make sure that the video's plot is clear and the characters are well-defined and memorable.
👉 Decide on the video format (live actors, animated, special effects): This largely depends on the budget, video format, and timeline. It's worth noting that filming live-action videos take more resources and time than creating a story with the help of stock video.
Step 3: Keep these video storytelling tips in mind
👉 Create a solid arc: Doing this makes it easy for the audience to be in line with the story, be more immersed, and engage until the end.
👉 Edit the video ad to create an impressive storytelling effect: After filming the video, if you feel that there are a few aspects that don't make sense, just cut them out. Make sure to show the video to an outsider (someone who belongs to your target group) to get genuine feedback.
👉 Make the video visually appealing: Pay more attention to the scenery, eye-catching fonts, and camera angles, as these can uplift the way your video looks and stick in the minds of your viewers, making them watch again.
2. Nailing the pain points of the target audience
Consumers don't care how great your products are. Instead, they are searching for the right solutions to their issues. Your fitness campaigns will witness better growth if you address their problems correctly.
But the question is - How do you know what your target audience's pain points or challenges are?
Here are a few things to note:
👉 Put yourself in the audience's shoes: The best way to know your audience's pain points is by putting yourself in their shoes. When it comes to fitness, try to be more practical and ask yourself these questions:
➡️ What are some roadblocks beginners might face when starting out a fitness regime?
➡️ How much is too much to pay for fitness training programs online?
➡️ What other interests does your audience have?
➡️ How can you build a flexible fitness routine for busy people?

👉 Know about your audience's issues by asking them directly: Take off the guesswork and learn about your audience's problems by asking them directly so that you can create fitness ads that resonate with them. Interestingly, multiple ways to ask your audience about their biggest fitness problems exist. Reach out to them through surveys, direct messages, comments, reviews, forum discussions, social media, live stream Q&A, and keywords people are trying to find answers for. You can even send welcome emails asking new subscribers about their biggest problems.
3. Simplicity, curiosity, and personalization
When it comes to creating fitness ads, there are three golden rules you need to remember:
👉 Less is more
👉 Curiosity is the catalyst
👉 Personalization drives conversions
Making effective ads is no longer only about cost and reach. Though these are vital, gaining attention, driving engagement, and retaining awareness is key to branding and strategic advertising. And that's why a blend of these three elements (simplicity, curiosity, and personalization) in your fitness campaigns can do wonders.
Take any award-winning ad or an ad that brought in great results, you'll find one thing in common: simplicity. While compelling stories and incredible executions are great, the straightforward message delivers results.
Let's speak about Nike's ad campaign, for that matter.

In 2020, Nike released an inspirational and powerful ad on International Women's Day to convey its message of empowerment. The video had no groundbreaking effects to capture the viewers' attention. Rather it was kept simple with extraordinary and inspiring stories of women who made a big difference in their communities.
The clip plays under one minute and features a narrator beautifully stating that a day will come when we needn't have a day to celebrate the achievements of women because that has to be honored every day and not one day!
4. Use of elements (text, images, smooth animations)
By elements, we mean anything and everything that helps enhance the aesthetics of your video. They could be from text, image overlays, animations, clips, captions, icons, timers, and more.
Here are a few elements to use in your video:
👉 Text: Believe it or not, the text has the power to make your video look compelling. It's a great way to make content consumable and highlight key actions. Many brands think of typography videos as the best bet, as it has the power to keep the viewers feeling enthralled and more drawn in.
👉 Image overlays: Adding images to plain, boring videos gives a significant boost and makes them more catchy and dynamic.
👉 Smooth animations: Animations increase interest levels and improve viewers' ability to remember details from your message. This means they may remember the important things you want them to remember, which may result in more sales and conversions.
Also, keep in mind that excessive use of elements can make your video look tacky, cluttered, and overdone. So make sure to balance them out.
5. For silent playbacks, beautiful visuals, text-heavy descriptions, and subtitles are the key
The shifting viewership behaviors have transformed user expectations of what an incredible video sounds like. While you may add music, audio, or sound effects, the video must still be able to work well without them.
When viewers lean into video content, both sound quality and soundtrack become pivotal, no doubt. But when your content is seen on social media, people watch them on mute. That's why producing compelling video ads which are compatible with a no-sound experience is more important than ever.
Many small businesses and brands have nailed such video ads in the past, and here's how you can go about it:
👉 Gorgeous visuals: Show, don't tell. That's how pro videographers do it with silent playbacks. Viewers respond better when you include strong visuals in your scenes. They convey the information better, even without captions or sounds. It makes a video not only silent-friendly but also more memorable.
👉 Storyboarding and shot selection: These become critical for silent viewing. The more the performance of speakers and actors, the better visuals you will have to play with. Close-up shots elicit better engagement, enabling performers to express emotions.
👉 Move things with montages: A well-worked montage is one of the best techniques to convey a visual story with stickiness and pace. And if you are working with stock footage, montages can give it a creative, distinctive stamp.
👉 Subtitles: These are a video's table stakes, especially if it is featuring a speaker or includes a voiceover. People love reading subtitles because they help them keep up with the speaker – and that's the trade-off that results from watching videos on mute.
👉 Text overlays: Since viewers prefer absorbing video content comfortably and at a relaxed pace, text overlays play an important role in enhancing the overall video experience. Effective video overlays have 14 words (maximum) per scene, spread over three lines (preferably two).
6. A great soundtrack
While optimizing your videos for silence is a good practice, you still want to add some sound for the viewers who play with sound. A nice piece of music can emphasize the message for people who want to hear and know what your video is all about.
7. Actionable CTAs
For silent videos, placing a call-to-action becomes even more challenging. However, a good practice is to place the CTAs twice—one within the initial 10 seconds and the other at the end.
8. Interesting thumbnail
This has been stressed enough for a long and for valid reasons. An interesting thumbnail has the power to create the best first impressions, grab viewer attention, give context to your video, and drive engagement.
How to Create Health and Fitness Ads
The possibilities of creating modern-day fitness ads are just endless, but one thing is true for any advertising campaign: a proper plan.
Here's a step-by-step guide to help you go about it:
1. Strategize your ad
The AIDA model needs no introduction. It's the founding principle and must be at the core of the fitness ad. They help be aligned in terms of your key objectives and the ad itself.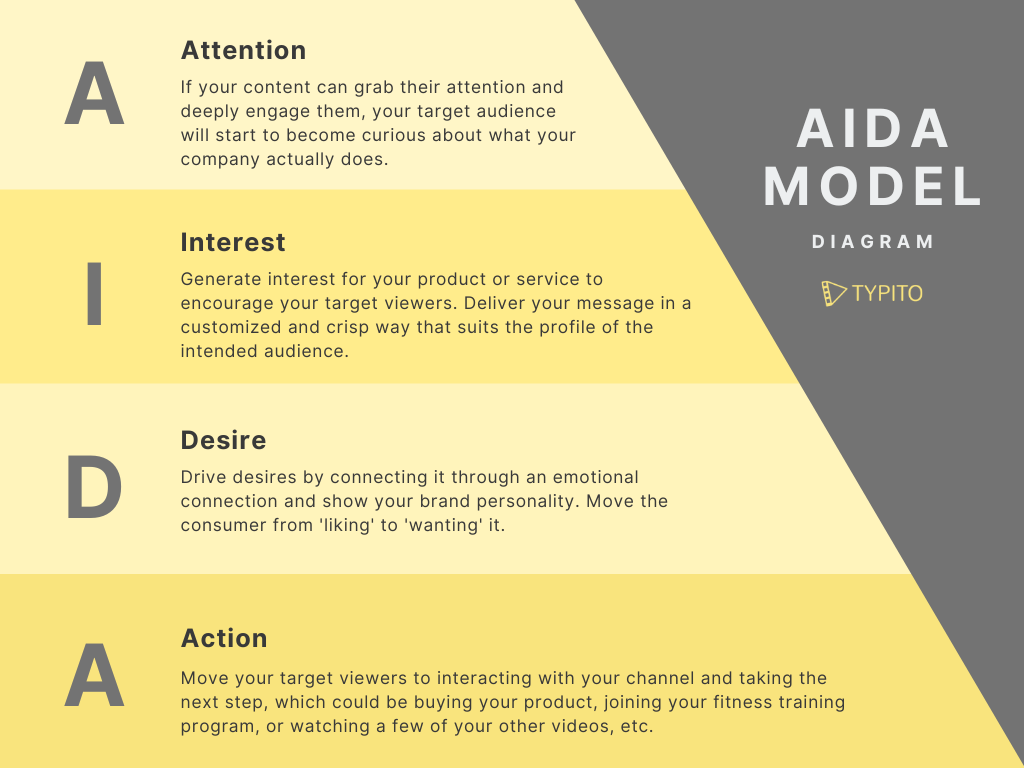 👉 Awareness: Grab viewers' attention by getting them to see your ad.
👉 Interest: Spark interest to get your viewers to watch the ad.
👉 Desire: Persuade your viewers through FOMO. Show them what you're promoting.
👉 Action: Drive desired behaviors and enable them to take action.
Missing these key elements reduces the chances of accomplishing what you want through your fitness ad campaigns. Miss 'awareness,' and they won't even read the ad. Miss 'desire,' and they won't need what you are offering. It's like a chain. There is nothing worse than getting a viewer's attention just to see them go away, as there weren't any clear directions for him/her to take.
2. Set your objectives and choose your target audience
Define your goals to make sure your ad does what it is meant to do. It could be driving more views, generating leads to your online fitness classes, promoting new training programs, or creating brand awareness; no matter what, write down the objectives.
Knowing what you want to accomplish with your fitness ad will help you come up with creative content and keep things on track. Setting the right goal to work towards gives a direction to style your ad.
Once you have your goals, identify whom you want to target and tailor your ad accordingly. Doing this will impact both the ad placement and the design.
3. Plan your creatives
A good health and fitness ad will have a few key elements. While the sky's the limit to making your videos creative, but there are a few must-haves:
👉 Graphics or images: This should either be the key focus of your fitness ad or should complement the ad content you choose.
👉 Catchy headline: If the footage or clip, or image you use isn't intended to be the key focus, then ensure your headline is powerful enough to grab your viewers' attention.
👉 Content: Any text in your fitness ad should be readable and easy to understand.
👉 CTA (Call to Action): What action do you want your viewers to take after they have seen your ad? Depending on the CTA type you opt to use in your video ads, you can use them in various ways: Visual, Verbal, Comments, End Screens, Pinned, and Watermark. If you are publishing them on social media, make sure to add a button that prompts the viewers to take action.
Fitness Ad Templates to Help You Get Started
We have some options if you are ready to jump on board with a nice fitness video ad. Of course, you can easily hire an agency or a professional to help yield high-quality results, but it is also extremely expensive and might take longer.
On the other hand, you can hire an amateur or a student who's less expensive, but then you'll be compromising on the quality. Or you could DIY using a free or low-cost video editor with templates like Typito.
Here are some of the coolest and best fitness video ad templates to help you save time, cost, and unwanted headaches.
1. Run a fitness product sale
Trying to create a fitness promo video? Then here's a template that engages and promotes your products. It features well-designed text captions to showcase your message.
2. Gym membership at a discount
You only have a few seconds to grab your viewers' attention, so add some punch to your gym ad with this gorgeous template. This fitness ad template lets you show off your best offers with vibrant colors and cool text animations. Its bold, in-your-face message is a perfect way to show that your gym/health brand is a great place to get themselves in shape!
3. Promote your yoga studio
Promote your yoga studio creatively with this tranquil ad template. Highlight not just the USPs of your brand with sharp, vector icons but also add a nice finishing touch with a logo and session schedules.
4. Live stream promo ad
Set the mood for live streams with this intro video template and get your viewers to be fully motivated and engaged with your streaming sessions. With beautifully designed, bold text captions, highlight your key message not just in style but also inspire self-care.
FAQ
✅ 1. How do fitness trainers attract clients? There's no magic formula to acquire more clients for your business. Instead, the idea is to follow a multifaceted approach through referral marketing, sending weekly emails to your existing clients, engaging with new customers on social media, posting testimonials on your blog or website, and developing relationships with healthcare professionals.
✅ 2. How to sell yourself as a personal trainer?
With an increased demand for personal trainers over time and a dynamic, competitive industry witnessing growth every year, marketing yourself as a personal trainer is more important than ever. Brand yourself professionally. Make sure your flyers, business card, logo, and social media creatives work in tandem to project the right impression.
✅ 3. How to promote my fitness business online?
There are a couple of ways to do that effectively. Reach out to your contacts and explain your services, live stream your classes and share them as links, run fitness challenges from time to time, and offer exciting rewards or giveaways.
Are you excited to start your own fitness ad campaigns but unsure how to do them? Let's get you started on an editor built to make video creation a breeze.