7 Best Fitness YouTube Channels to Inspire Fresh Content Ideas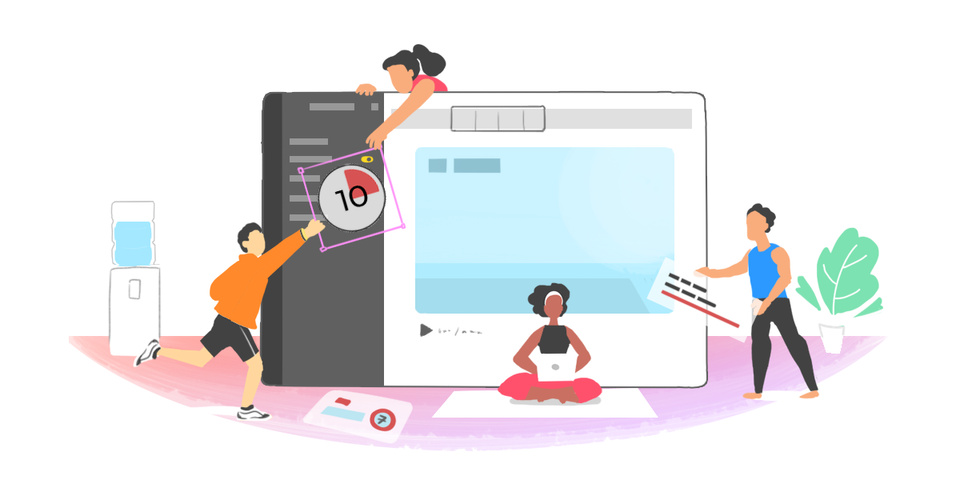 Ever wondered what gets people hooked and subscribed to some of the best fitness YouTube channels than others? Any guesses?
Well, it's three things:
👉 Unique content
👉 Video quality
👉 Simple approach to fitness
Here's the thing: being a video creator might seem fun, but it takes time and effort to be successful. And by success, we mean being able to keep your viewers engaged with interesting video content, which is where things get slightly challenging, especially in a niche like fitness.
But guess what, many fitness YouTubers have cracked this code and have stepped into the limelight with a massive subscriber base, earning not just millions but also inspiring other beginners and fitness content creators on YouTube.
Today, we will talk about some of the best fitness YouTube channels (categorized based on their expertise in fitness) to help you understand what makes them stand out from the rest and how you can come up with some unique creative ideas from watching their videos.
7 Best Fitness YouTube Channels to Follow and Get Ideas From
Here are some of the best fitness YouTubers to inspire your personal training business:
Here are our top picks:
Now let's dive into why they're awesome…
1. Chloe Ting
Fitness YouTube idea: Personal training videos, weekly weight loss challenges
What's unique about her YouTube videos:
👉 Short workout challenges that promise dramatic results
👉 Easy-to-follow instructions
👉 Shoots videos in a well-lit space with a minimalist background
👉 Has text cues to give you an overview of what to expect
👉 Clearly labeled exercise routines
👉 Motivates viewers till the end of the video
👉 Uses timers to keep track how long the workout sessions will last
Chloe Ting is one of the leading and most popular personal trainers with a wide range of well-structured routines, follow-along workouts, health and nutrition tips, and more.
She came into the limelight with her "Two-week shred" challenge during the pandemic. People began doing her workout challenges and loved these because they were broken down into either one or two-week challenges and it promised dramatic results. The shorter exercises look effortless and don't seem to take up a lot of time, even if you have a busy schedule.
When it comes to videos, Ting is amazing at breaking down long workouts into just 30 or 10 min routines that don't feel like a drag. She guides you about the entire workout routine to ensure you follow along properly.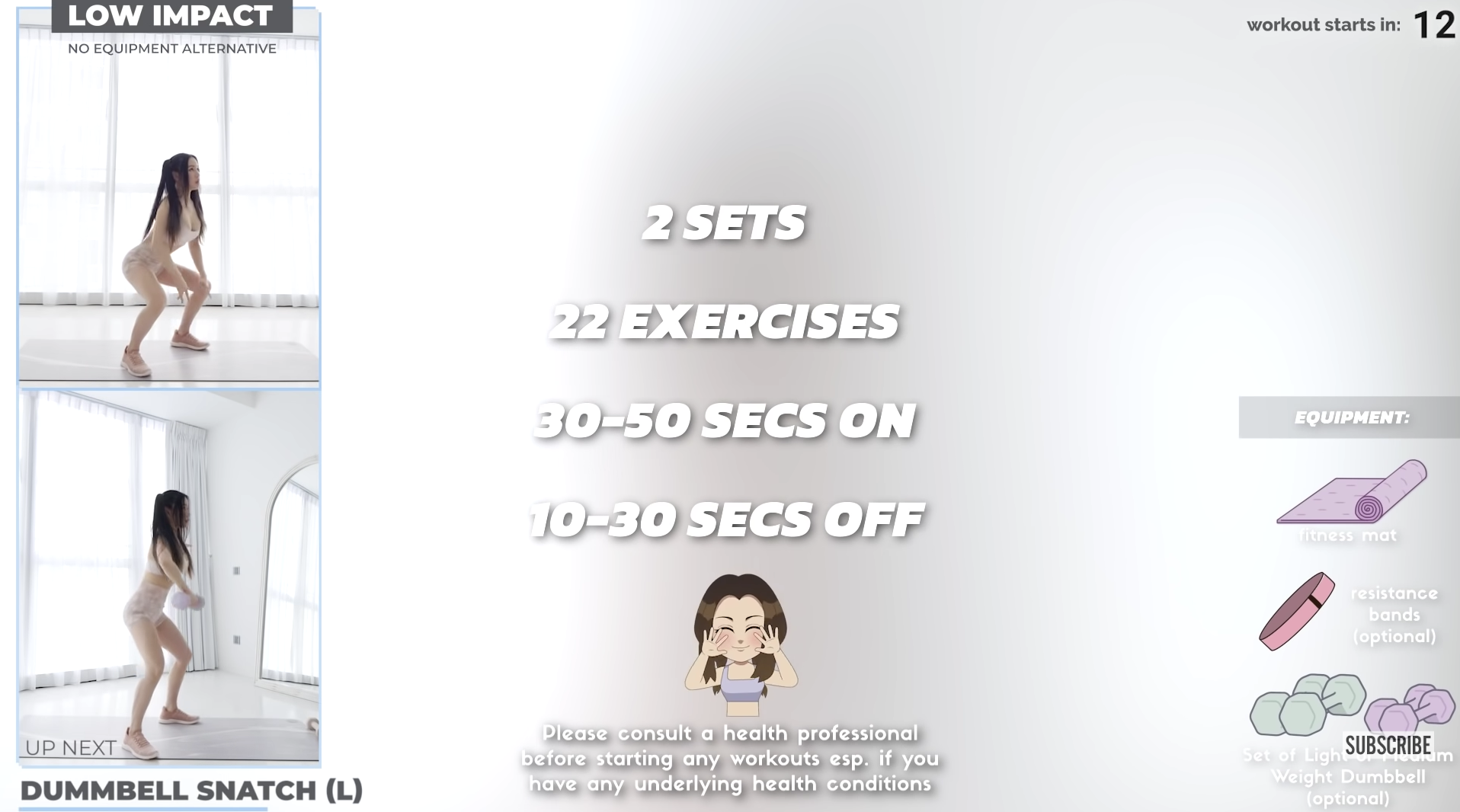 Her workouts are so well paced they give you enough time to build a good mind-muscle connection, which is perfect for a beginner-audience that might have some apprehension around exercising for the first time. Her videos are interactive and her charisma is just infectious to make anyone new to the fitness journey feel comfortable.
2. Yoga with Adriene
Fitness YouTube idea: Yoga & Meditation Routine
What's unique about her YouTube videos:
👉 Made for everyone
👉 Easy to follow instructions
👉 Build a relaxing ambience with simple and natural backgrounds
👉 20-30 minute long videos to easily fit one's busy schedule
👉 Has a distinct intro card and usually ends with a positive message
Adriene Mishler, is a popular name in the yoga community with 11+ million subscribers. Her wit and charm makes you roll out your yoga mat and follow along.
Unlike other complicated yoga tutorials, her videos are simple, easy to follow, and, most importantly, are created for everyone (some of her programs are even freely accessible). She focuses on high-quality free yoga videos around body-healing stretching, pain relief, and mindful breathing.
Something that stands out in her videos is her approach to yoga. It's less about practicing poses in a stiff manner and more about mindfulness. She also creates yoga programs or series around themes that concern her audience - which just goes to show how in sync she is with creating yoga programs around what her audience is going through.
And a bonus - you will often see her dog Benji in her videos 😃
3. Pamela Reif
Fitness YouTube idea: Quick home workout videos
What's unique about her YouTube videos:
👉 Quick workouts with versions like a beginner, intense, and live series.
👉 Gets straight into the exercise routine without any long intros
👉 On video cues to indicate the current exercise, the time left, and the next exercise
👉 8-20 minute videos to easily fit a busy schedule
👉 Shoots her videos in a well-lit space for quality
Pamela Reif has amassed 9 million subscribers on YouTube. Her motto is 'quick and effective', and her channel has playlists for beginners, medium level and intense workout. She also has some really cool song and dance workouts to make working out a lot more fun.
Her videos start with a bold intro card that displays the routine name and then moves right to the beginning of the workout. So you have to be ready the moment you play her videos because there is no verbal intro. And when she says it's 20 minutes, she sticks to the timer.
We love the way she creates her videos with some interesting elements. This includes a little timer on the screen's top right corner and a countdown clock to help viewers know how much time they have left for every exercise.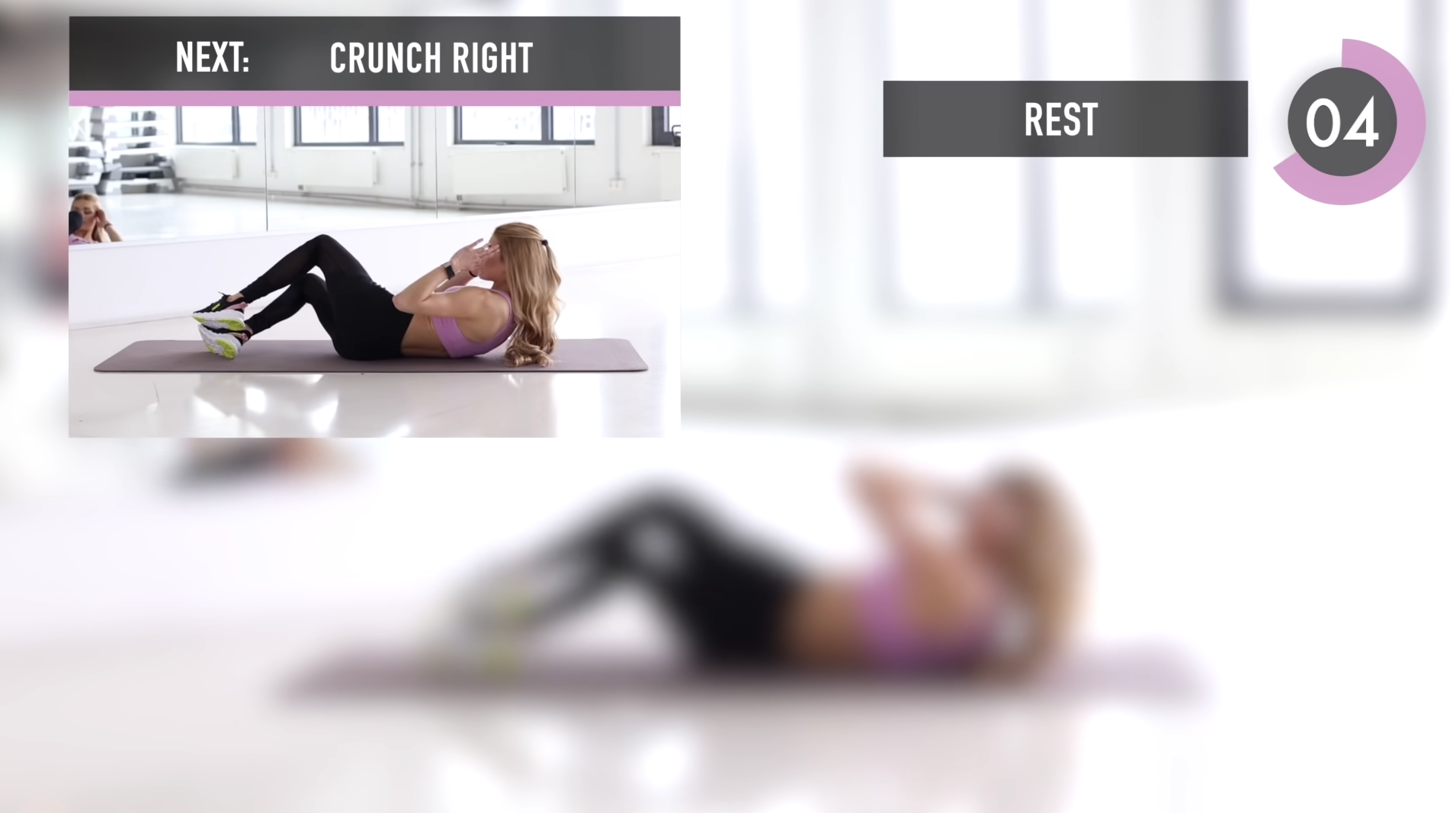 4. Scott Herman Fitness
Fitness YouTube idea: Weightlifting, Nutrition, and Supplement Tips
What's unique about his YouTube videos:
👉 High-quality videos with less to no background music
👉 Highlighted text to stress the importance of certain facts
👉 Demonstrates the correct and incorrect ways of doing an exercise
👉 Keeps the outro simple
👉 Creates content that's unique, engaging, and helpful
Do you remember Scott Herman? Yeah, the actor who appeared in the movies Heist and Living Will? Yeah, he's now a popular fitness YouTuber with 2.5+ million subscribers.
According to IMDB, Scott is an accomplished athlete and loves sports like wrestling, running cross country, soccer, kickboxing, and boxing. He spends most of his days hitting gyms, going to castings, and updating content to his fitness website:
He's a social media fitness influencer, fitness trainer, and a longtime fitness enthusiast. His fitness videos focus on a holistic regime that incorporates weightlifting, strength training, nutrition, and supplement tips.
He consistently publishes videos and entertains his subscribers with two new videos every week, another key reason his YouTube channel witnessed tremendous growth in recent years. In addition, he trains his body in a different way to build muscle mass and endurance, making his content unique and authentic.
So, the takeaway here: consistency + unique content = appeals to the YouTube audience.
He shoots most of his videos in his home gym to give a professional touch. The space is well-lit and he guides his audience step-by-step to ensure they get everything right. We love the way he highlights some key information to help his audience register a few things and of course, the subtly-placed 'click to subscribe' text that's shown throughout the video.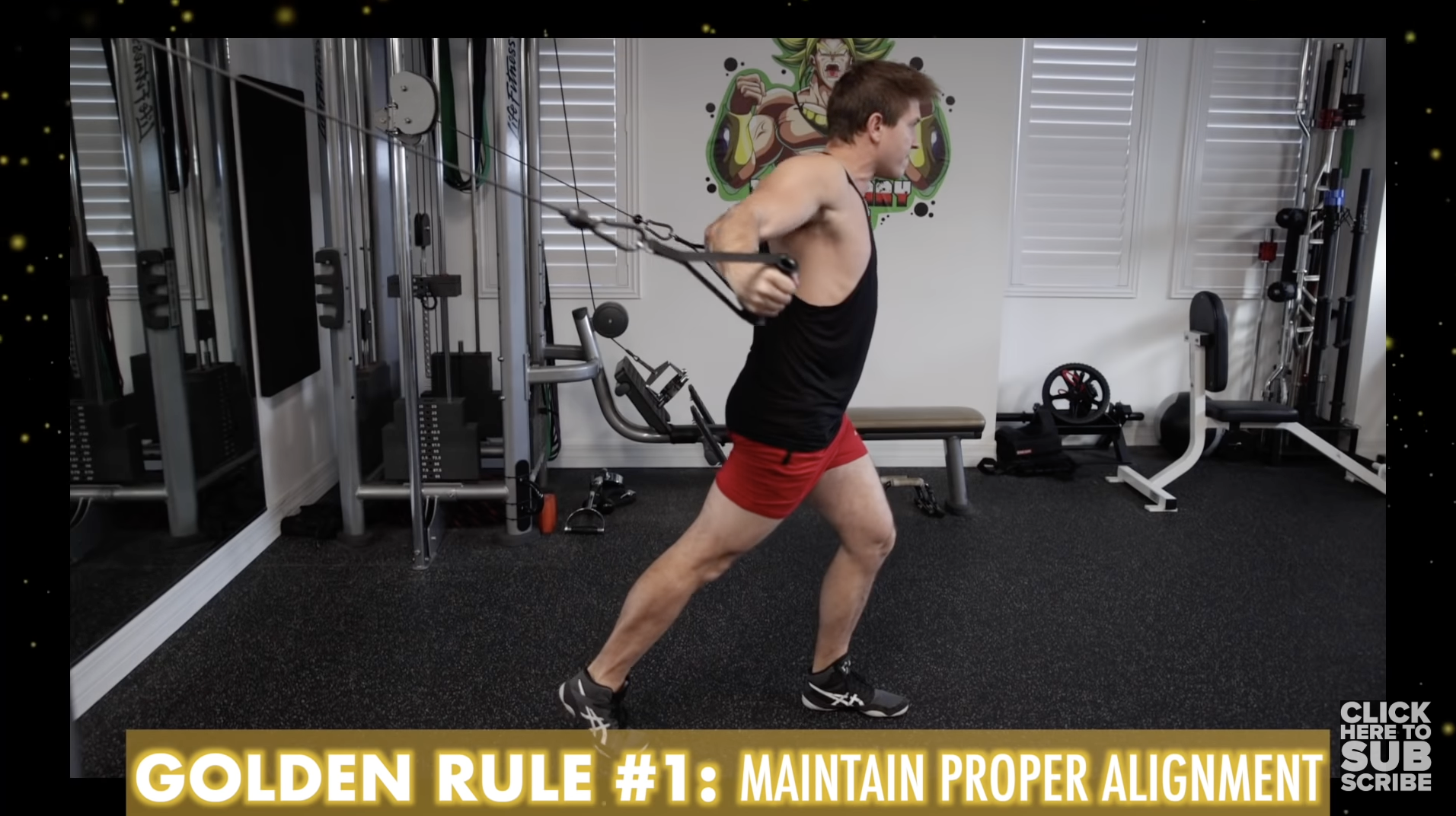 He even goes one step further by helping his audience understand the correct and incorrect way of doing a specific exercise. He utilizes neatly-pointed arrows with highlighted text to convey what could possibly go wrong and how they could be benefited if they did a workout in a certain manner.
They say, it's the little tips that matter for the YouTube audience and Scott has certainly cracked this code. He takes a lot of care in ensuring his audience is getting and doing everything right, which according to us is a brilliant way to keep the audience engaged and keep coming back for more.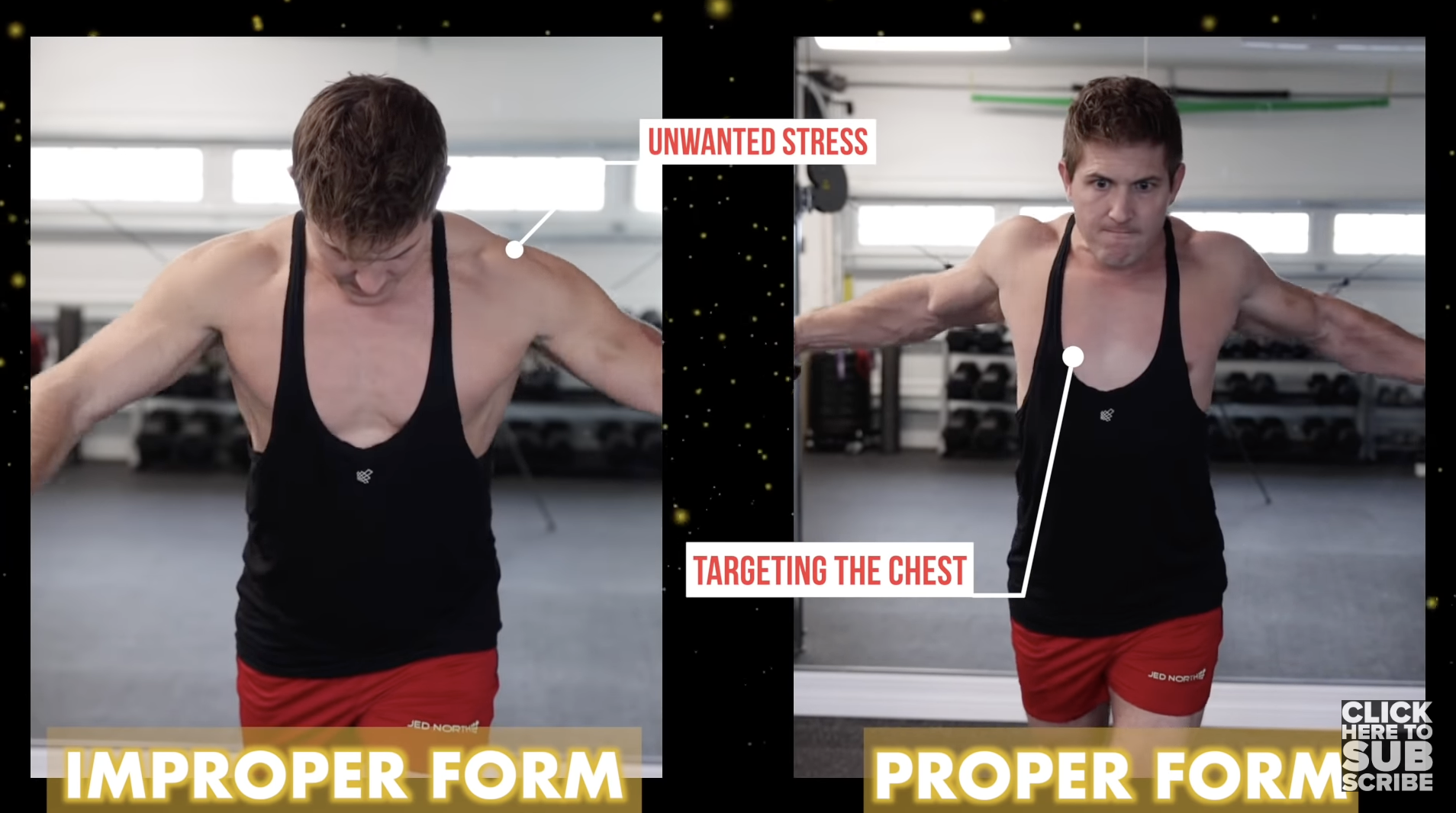 5. Fitness Blender
Fitness YouTube idea: Full-length workout tutorials, HIIT, stretching, pilates, cardio
What's unique about their YouTube videos:
👉 Videos often include exercise modifications for beginners
👉 Gives a preview of the workout even before the instructor performs it
👉 Lists the workout instructions clearly at the beginning
👉 Use of progress timer bar to ensure they stick to time
👉 Highlights the name of every workout they show
👉 Shows you a tiny on-screen preview of the upcoming exercise
👉 Creates content that caters to all fitness enthusiasts (beginner, intermediate, and advanced)
Fitness Blender is another popular fitness YouTube channel launched in 2008 by a couple Daniel & Kelli Segars. They have amassed a massive 6.5+ million subscribers and continue to grow. Their fitness goal is simple – 'make health and fitness affordable, approachable, and attainable.' They strongly believe in sharing unbiased workout, nutrition, and health information.
Their videos run from 5 to 90 minutes in length - typically around 30 minutes - and feature one or the other leading viewers through various exercises. So if you're in a time crunch, their shorter exercises are perfect. From HIIT (high-intensity interval training) to barre exercises, yoga to pilates, stretching, and cardio, you're sure to find something which fits your workout regime.
Their workouts require almost no to little equipment. Their simplicity is what makes them popular. Their channel features 700+ workout videos, which are shot against a light background and usually have no music since the instructor often talks about the exercise while giving you a complete overview of the entire session.
We love the way they introduce what the video will entail by displaying them in text format with nice headings and bulleted lists. Also, it clearly mentions if you need any equipment to perform those workouts or not, which is just brilliant. They don't miss out on branding, either. You'll see their logo at the bottom throughout the video.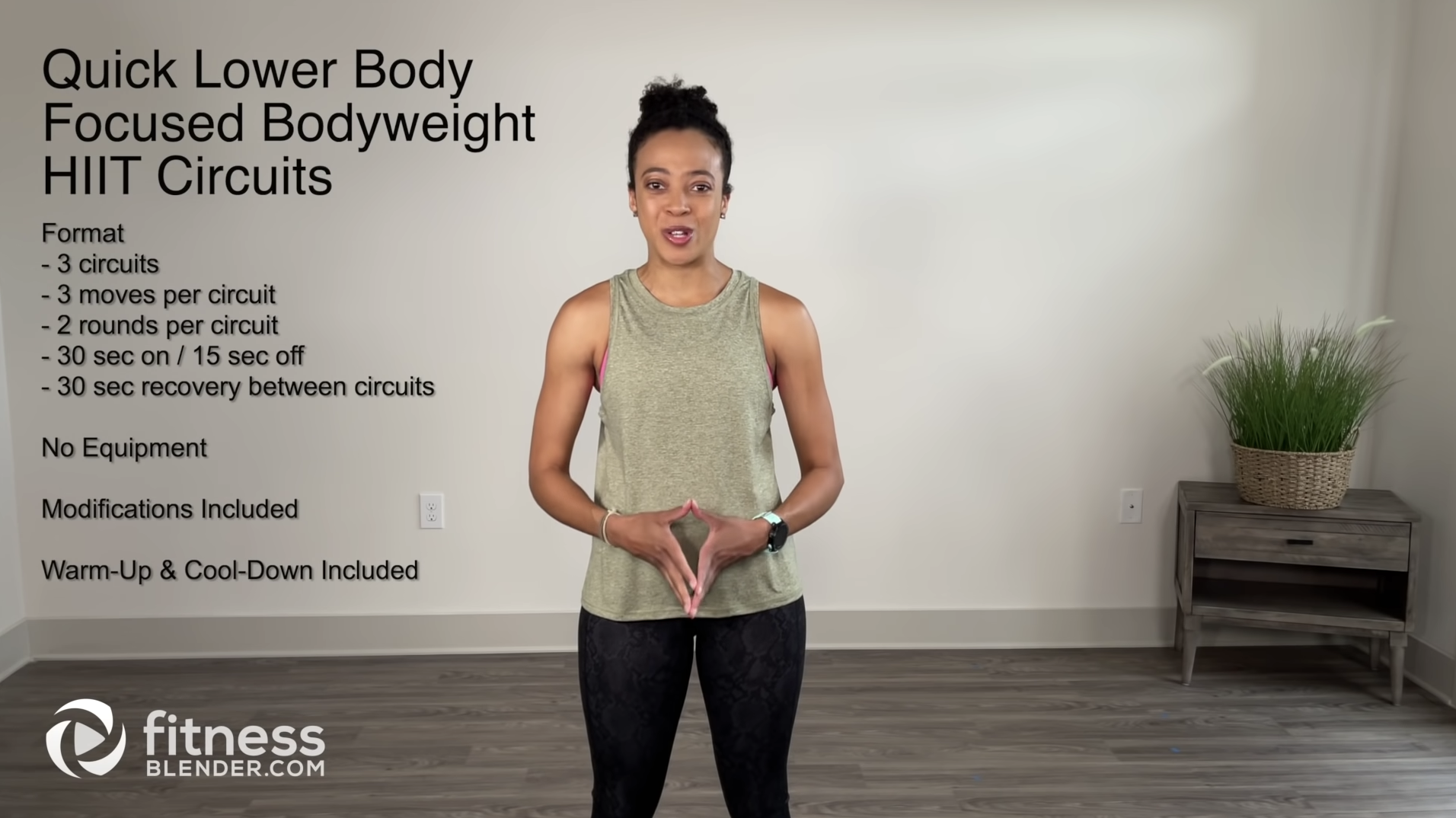 That's just not it. Further, they break the exercise routine into parts, explaining how long each workout will last, what viewers need to do, and the repetitions they have to perform.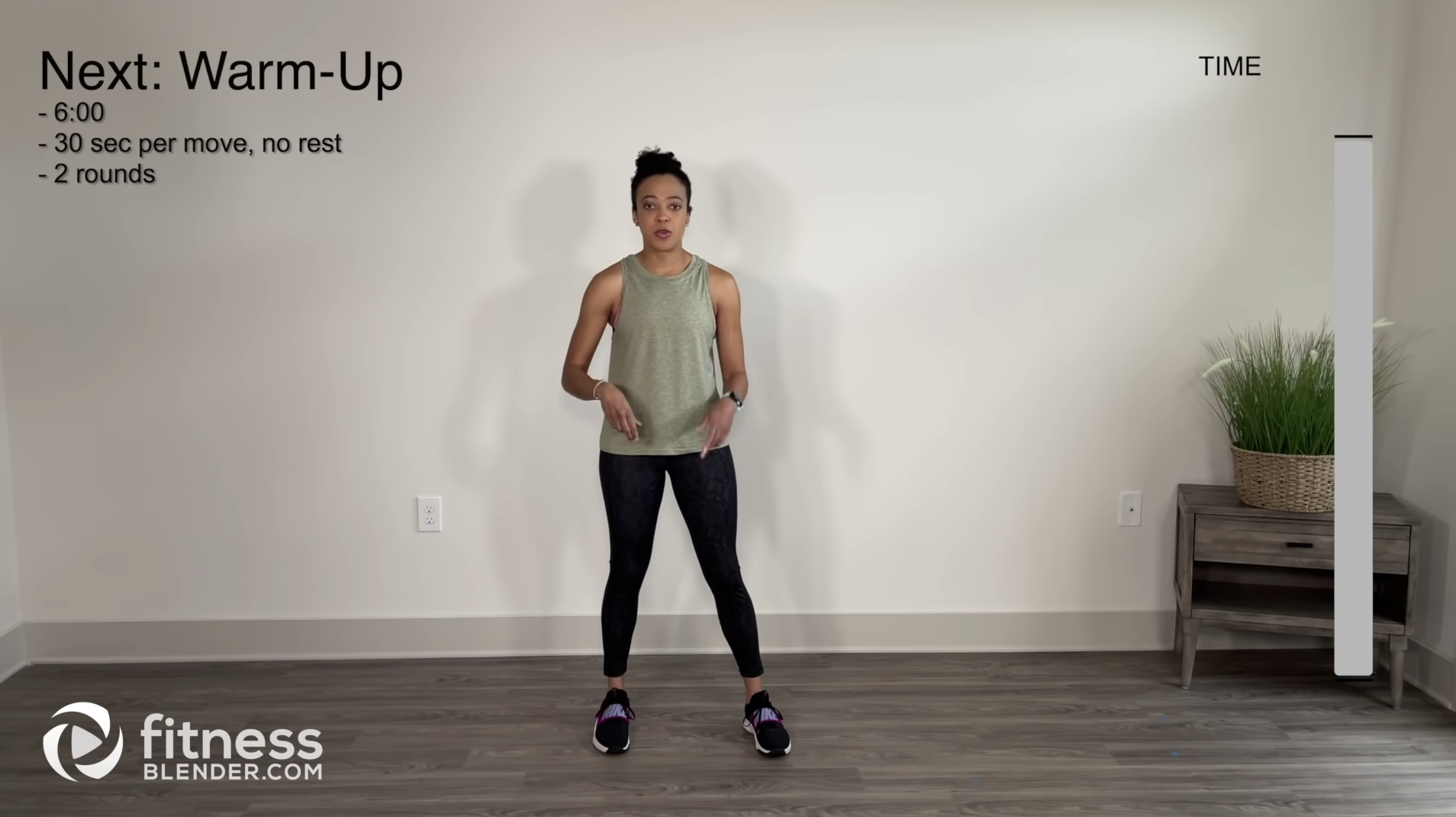 Their videos also include a preview of the workout to help viewers understand the workout even before the instructor performs it. This is a great way to give some time for the viewers to grasp how that exercise needs to be performed. It also includes a timer bar to ensure they stick to the schedule.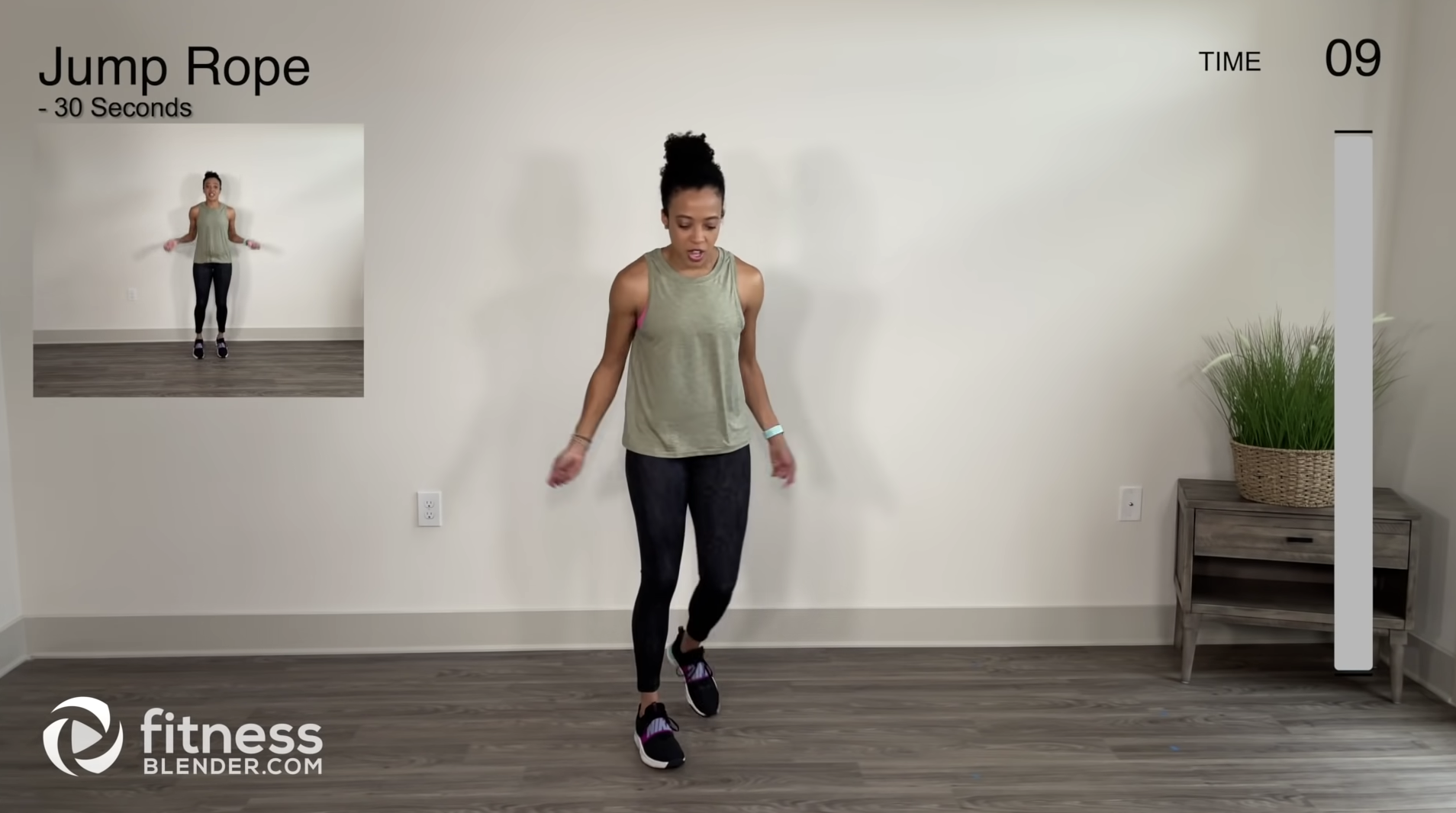 6. PopSugar Fitness
Fitness YouTube idea: Strength training, exercise plans, kickboxing, dance cardio
What's unique about their YouTube videos:
👉 Uses light background so keep trainers in focus
👉 High-quality videos that's welcoming
👉 Use of progress timer bar to track their workout sessions
👉 Uses bold and larger font texts to highlight the workout type
👉 Minimalistic videos that's appealing
👉 Less use of equipment
👉 Light background music
PopSugar needs no introduction. But little did you know that this admired lifestyle brand also has a YouTube channel with 6 million subscribers.
Anna Renderer, a renowned and certified fitness coach/expert hosts this channel. However, she isn't the only fitness expert who hosts the videos. It's also led by other expert fitness trainers who have a peppy enthusiasm and create videos that boost energy.
The channel features videos that instruct people to practice a wide range of exercises, from strength training to kickboxing to pilates to dance cardio and barre. Their video quality is just top-notch. Not only are they welcoming but soothing to watch. The instructions are clear and easy to understand.
Every video consists of a three part structure: warm-up, exercise, and cooldowns. It's strategically designed to help viewers achieve desired results. The exercise depends on how long the video is. Say, for instance, if their video is 35 minutes long, then the exercise session is about 20-25 minutes.
7. Self
Fitness YouTube idea: Health, Fitness, Workout
What's unique about her YouTube videos:
👉 Minimalistic videos
👉 Shoots videos in calm and relaxed space
👉 Easy-to-follow instructions
👉 Clean and attractive intro segments
👉 Highlights the workout name in a nice, bold text
👉 Soft background music
👉 Attractive thumbnails
👉 Gives a lot of importance to presentations and detailing
Health and fitness videos have gained immense popularity in recent years and both experts and enthusiasts from different parts of the world have stepped into the limelight for their creativity.
Today, they have over 1 million subscribers on YouTubers and publish engaging videos about nutritious recipes, healthy eating tips, workouts, fitness advice, celebrity cameos, beauty how-tos, and many useful videos to help viewers feel their absolute best.
Self creates videos that aren't just engaging but makes you fall in love with your body and life even more. And that's why their channel is aptly described: We help people feel better. Their videos are fun, insightful, and downright gorgeous. From a mere 20-minute workout to healthy diet to skincare routine, this channel has everything covered.
Aesthetically shot, Self's videos are informative and super easy to follow. They are minimal, simple for anyone to grasp, and feel like a breath of fresh air. They film videos in a calm space with hosts speaking in a relaxing voice.
That's just not it. We are in awe with the way they design their intro segments. They are clear, neat, and eye-catching. They are consistent with their content formats, which also helps create positive expectations and trust with the brand.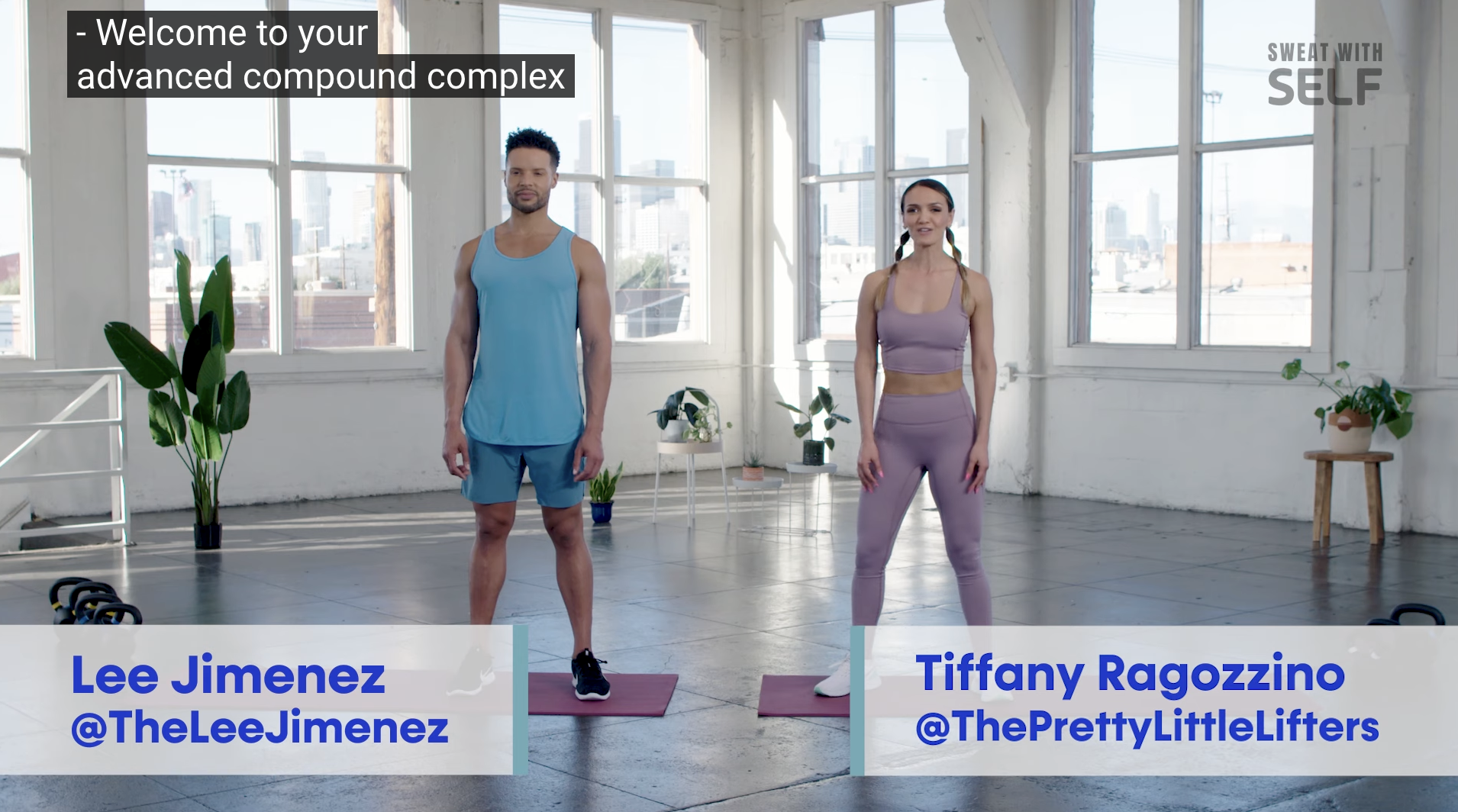 The background music is extremely low that you barely hear. The focus is more towards what the experts instruct. Their approach to fitness is simple and most of them even teach you to do it without any equipment.
Fitness YouTube Videos: Do's and Don'ts
| | |
| --- | --- |
| Do's | Don'ts |
| ✅ Create content that's engaging | ❌ Start your channel without defining the goals |
| ✅ Create content that triggers interest | ❌ Overuse annotations, as they can be distracting |
| ✅ Emphasize quality over quantity | ❌ Create videos for the sake of publishing content |
| ✅ Be consistent in publishing | ❌ Submit a poor-quality video |
| ✅ Keep the videos interactive | ❌ Worry about professional equipment |
| ✅ Tag relevant keywords for visibility | ❌ Keep lengthy opening credits and titles |
| ✅ Create playlists for related videos | ❌ Embed a bad audio |
| ✅ Ensure brand consistency across | ❌ Measure success based on views |
| ✅ Research your content in-depth | ❌ Have high expectations of going viral |
| ✅ Shoot videos in a well-lit space | ❌ Disregard viewer comments |
| ✅ Keep the videos visually attractive | ❌ Ignore CTAs |
| ✅ Promote your videos on social media | ❌ Change your topics drastically |
| ✅ Add an end-screen to showcase other videos | ❌ Get lost in the latest trends |
| ✅ Create meaningful and attractive thumbnails | ❌ Blindly chase the YouTube algorithms |
| ✅ Break out your videos into categories | ❌ Give too much importance to toxic comments |
| ✅ Add captions and transcript | ❌ Shoot in a space where there isn't enough light |
| ✅ Use text animations and motion graphics | ❌ Use a dark, bold, or distracting background |
| ✅ Use timers and image overlays | ❌ Publish shaky footage |
| ✅ Use a good video editing tool | ❌ Create videos in a rush |
Tips to Get Started With Your Fitness YouTube Channel
Here's a simple outline to help you get started:
▶️ Write down your objectives: What's the goal of creating your fitness YouTube channel. Of course, revenue is the outcome but what else? Is it building a brand or a strong subscriber base or creating channel memberships?
🎯 Define the target audience and create the buyer persona: Have a plan as to how you're going to funnel your viewers and formulate the CTAs accordingly. Consider where and how you will place the CTAs (branding, outro, etc).
💰 Have a budget: Include all your expenses, from equipment, and software to marketing.
📕 Churn out fresh content ideas: The best way to get this right is to monitor competitors and see what they are doing. Do a detailed gap analysis to understand what they are missing on and what factors can get your channel to attract more viewers.
Excited to start your fitness channel on YouTube but not sure how to do it? Let's get you started on an editor built to make video creation a breeze.
---
FAQ
1. How to come up with unique ideas for your fitness channel?
Start by understanding your target audience. Find out what they are looking for and what problems they need a solution for. Next, look at your competitors in the space and check out the videos that got maximum likes and views. Read through the comments. You can even run a poll to understand what people want.
2. How to make a fitness video interesting?
A fitness video is all about action and interaction. Combine your up-close clips with energizing transitions, action shots, and impactful music to show highlights, plays, and tutorials in an attractive way. Try filing from different angles to ensure you capture every movement.
3. How to create fitness videos that can go viral?
There's no surefire shot or a magic trick to get this right but rather a combo of factors like using the right set of keywords, catchy title that sparks interest, engaging content, and creating something that solves a problem.
4. How to shoot professional fitness videos?
While lighting is important, outfits and location matter too. Clothes that are bright or dark can be distracting and get lost with professional lighting. If you are shooting outside, the ideal time is the "magic hour," close to sunset or sunrise.