Guide to Creating a Fitness Brand Identity with the Right Marketing Content
Creating a fitness brand is no more about striking instructors or high-end equipment, but about making exercise a lifestyle and not a chore. From Zumba to Tabata, Yoga to HIIT, working out is taking a customized turn, and the growing community of fitness enthusiasts can't get enough of it.
Moreover, the pandemic has given a new perspective to the fitness industry like never before. From Chloe Ting to Cultfit, every fitness brand with a visual platform grew its business exponentially and is expected to continue growing.
So, how did these Goliaths of the fitness industry rise up on the charts? It all boils down to brand building and brand affinity.
Before we get into the details, here are some noteworthy stats to help you comprehend this industry better.
Interesting Facts:
Identifying Your Fitness Niche
---
Finding a niche in the crowded fitness market is laborious, but cutting above the noise makes all the difference. While creating a fitness brand, niche forms a small but profitable segment of the target audience with specific health and wellness preferences.
While it is easy to get confused between niche and specialty, budding fitness entrepreneurs need to understand that while the former focuses on problem-solving, the latter is more about the type of work.
For instance, catering to overweight and highly stressed office professionals is a niche, while Zumba, HIIT, and barbell training, to name a few, are called specialties.
There are primarily 4 factors on which you can permute and combine to create a specific niche for yourself.
| | | | |
| --- | --- | --- | --- |
| Type | Workout Specialties | Preferences | Target Audience |
| Gym | Pilates | Luxury | Families |
| Independent Studio | Yoga | Budget | Professionals |
| Online | HIIT | Innovative Technology | Stay at home moms |
| Franchise | Dance | Celebrity Trainers | Women |
| Mobile | Crossfit | Convenience | Millennials |
Independent Studio + Pilates + Women + Creative Techniques = Your Unique Niche
Finding a niche reduces the effort to garner attention, reduces competition, and creates your image as the go-to expert and problem solver, expanding your growth potential.
Defining Your Target Market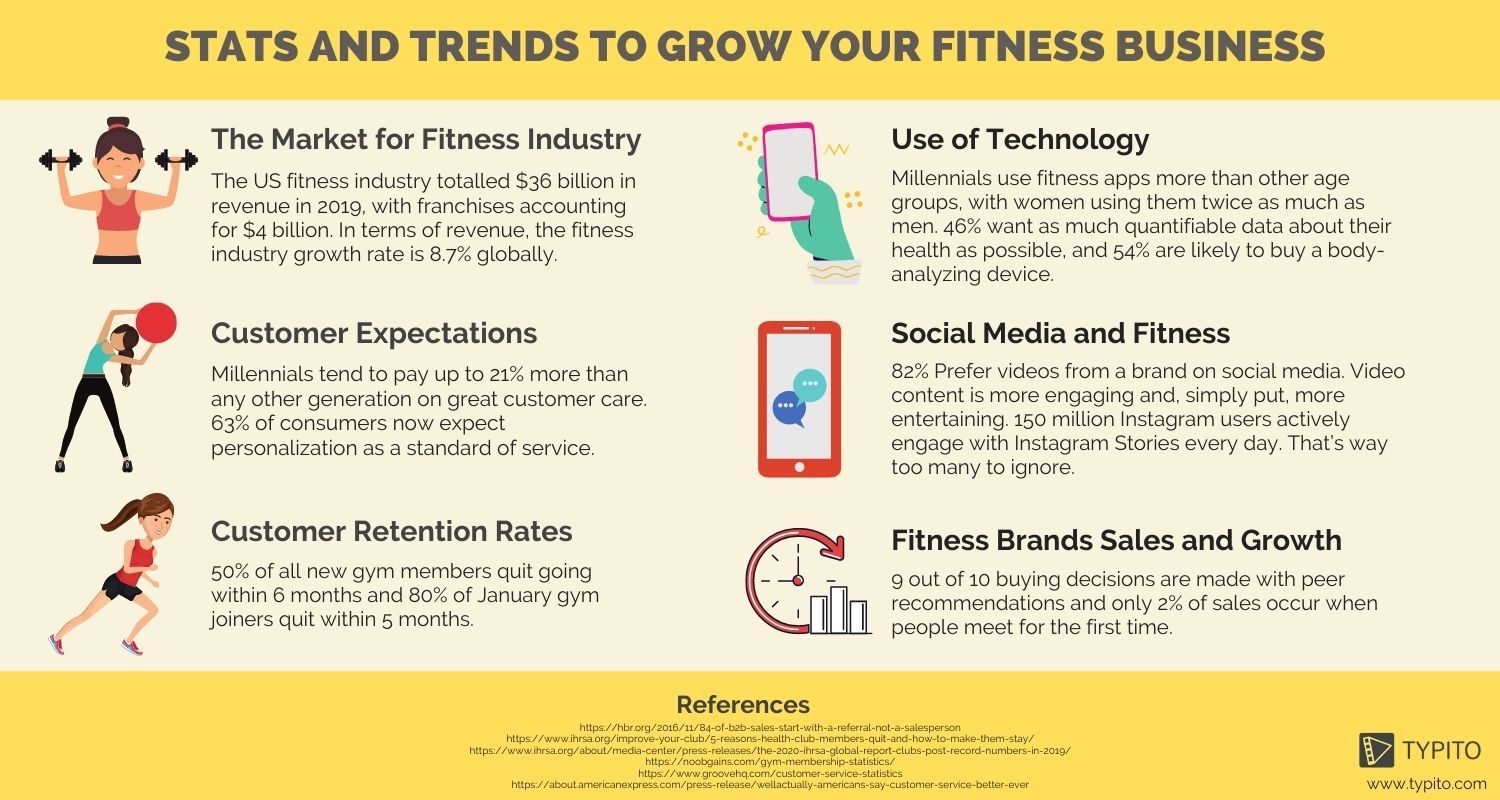 If you have been eyeing popular fitness cults, you are missing out on an opportunity. Exercising is a universal concept, subjective to people and their preferences.
Therefore, it is time to talk about market segmentation or defining your target market.
Market segmentation is all about classifying your target market into specific groups based on several factors like:
Demographics
Location
Interests
Behavior
Purchase power
Understanding these preferences allows you to add a personal touch to your fitness business. With this rational segmentation, you can focus your energy on fine-tuning and serving a particular target audience.
You can segment your market into:
Sports
Mental Wellness
Weight Loss
Holistic Care
Peak Performance
Who is your audience? It may be anyone from the following:
Athletes
Beginners looking for proper training
Fitness Enthusiasts
Geriatric Population
Middle-Agers
Millennials
Those suffering from obesity
Those suffering from physical injuries but need to work out to get back on the health bandwagon
Similarly, you can also create a niche target by specifying the group you don't want to cater to:
The ones who use illegal enhancers/performers
Age groups under 18
Those looking for a one-time class
Those looking for hacks and the not ready to put in the hard work
When creating a fitness brand, zeroing in on your target audience helps you grow and expand into different specialties.
Specifying your customer base helps you save time, tailor-make marketing strategies, and create a niche for yourself as a primary solution provider.
Positioning Your Fitness Brand
---
Brand positioning is the art of affixing your brand's name in people's minds. You first need to identify the type of customers you want to attract, typically people who closely identify with your brand.
You can either position your brand as a low-cost gym franchise or an ultra-luxury and bespoke fitness provider. How you position your brand will determine your competitors and the tacts you will need to adapt to have an edge over them.
The Vision of Your Fitness Brand
---
The Positioning of your brand also determines the vision that you have for your fitness line. For instance, if you plan to be a mass health-provider, then you'll need to build a budget fitness franchise. Having this clarity allows you to create a 3 or 5-year plan.
Do you want to establish your geographical footprint or add more levels of techniques to your workouts? Maybe, you want to incorporate nutrition into your service package. Will it align with the predicted trends?
The idea is to write down all the possibilities and see which of these excite you the most. If not, maybe, it's time to forge a different path.
The Mission of Your Fitness Brand
---
This answers the why behind your fitness business. Why are you creating a fitness brand? Is it because of the fad? If that's the case, be rest assured that your enterprise will not take flight.
Perhaps, you are a fitness enthusiast who wants to make healthy living available and affordable to all? Such a mission gives you the purpose to look for ways to incorporate better services and be authentic about your venture.
As an entrepreneur, your mission is what's going to keep you on track.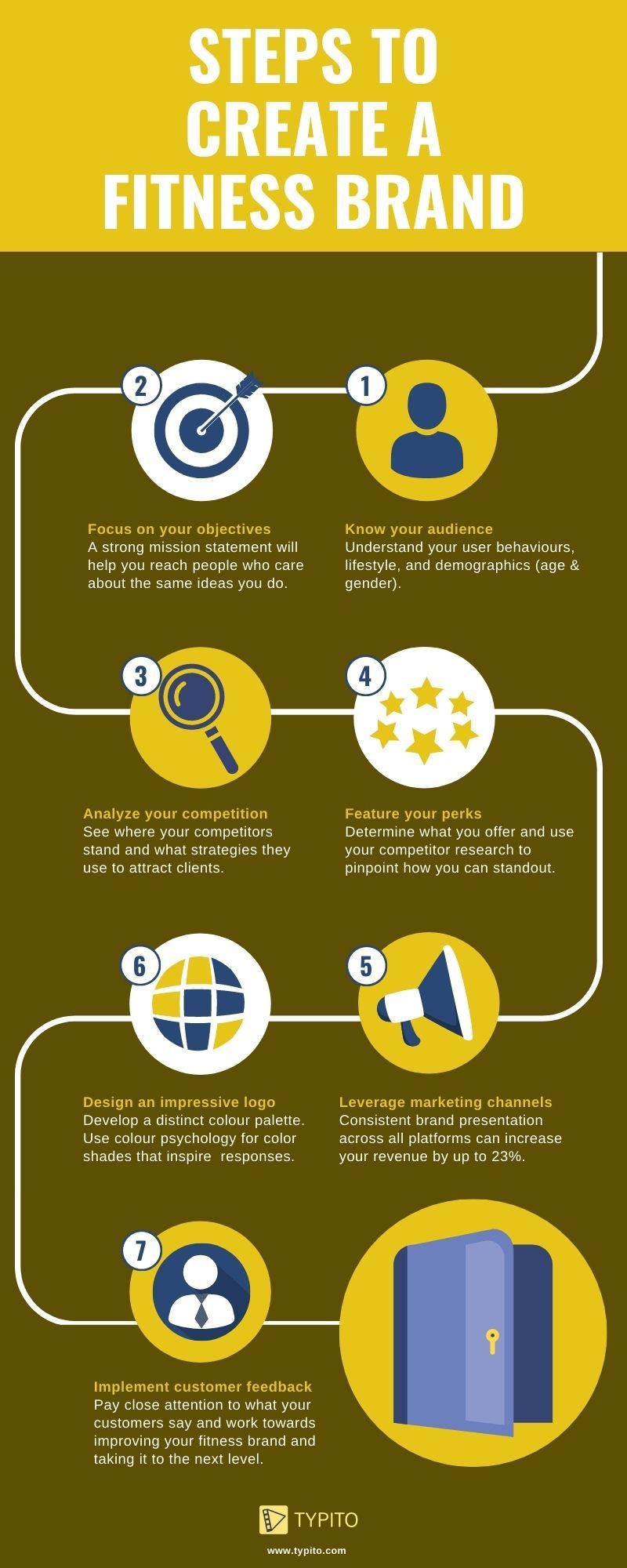 Designing Your Fitness Brand
---
Now that we have a clear idea about the objective of creating a fitness brand, it's time to dive into the design and aesthetics. This mainly revolves around an innovative name and brand logo, which people can relate to.
While choosing a name for your brand, list down the characteristics of your business. Is it holistic well-being or more on the side of athletic training and nutrition?
The name is in nature. One such fun example is California based Blogilates, where Founder Cassey Ho, combined her love for pilates and video blogging and coined the term, Blogilates.
For example, as a weight and strength training fitness brand, your logo should not only represent weights but the objective of being healthy, both physically and mentally. Here are a few steps to consider while designing your fitness brand logo:
Designing a fitness logo needs to have a holistic idea about health and well-being.
Understand types of logos: Do you want it to be a text logo, a graphic logo, or both? Each logo style has its significance in conveying a message across. We recommend going for a combination of text and graphic logos.
Do your research: It is not unusual to be unsure of the logo designs. Look up your competitors and note down the ones you like. In addition to the competitor research, list down the characteristics of what you want to convey via your logo, like patterns and colors. Colors have a significant psychological impact and can help you attract your target audience based on your logo's representation. For instance, red denotes power and being pumped while green denotes a more natural take on things and goes well with yoga institutes.
Set a Budget: While we all want to splurge to get the best logo, it is important to set a budget to avoid overspending.
Hire a Designer: Many will be tempted to do a DIY logo design using AI logo generator tools online. While there is no harm in adding a personal touch, a designer is trained to put emotions and ideas across creatively in a simple logo.
Setting Up a Digital Presence
---
Today, in order to gain visibility, you need to tap into the digital scope to set and improve your brand position. This includes an active web and social media presence.
Promoting Your Fitness Brand on Social Media
---
Social media is the most important tool you can use to improve your brand presence, especially during the pandemic. Social media strategies need a thorough understanding of the industry trend, the social media trend, proper tools, and competitors.
1. Create Your Own Voice
Your brand message can be quirky, motivating, and so much more. The idea is to narrate the tone you have set for your brand and infuse it with your social media collaterals.
Short GIFs, motivational messages, an inspirational video by a fitness influencer and so much more can elevate your brand positioning.
One such example is the Latin inspired Zumba Fitness. When the fitness franchise first started, it was mainly via events and fitness meet-ups.
It soon entered the DVD realm and two decades later, it is still keeping up with the times with regular YouTube uploads and a strong social media presence.
Its subsidiary - Strong by Zumba is yet another fitness line that has gained a worldwide appreciation via collaborations and social media interactions.
By keeping up with the times, Zumba fitness has established its voice and a worldwide fan base.
2. Use the Right Tools
Using the right tools can make a world of a difference to your digital marketing plan. These tools can help you create well-written and marketable content that is eye-catching.
| | |
| --- | --- |
| Tools | Purpose |
| Grammarly | To check your copy |
| Canva | To make relevant creatives |
| Typito | To create engaging videos |
| KWfinder | To find trending keywords |
3. Analyze Your Performance
Social media marketing is all about consistency and analysis. All social media platforms have analytical tools that help you calculate your posts' engagement rate and figure out how you can elevate your social activity.
4. Be Open to Feedback
Social media is an open and interactive platform where customers often profess their affinity or disappointment for a brand. Leverage social media to understand your drawbacks and fine-tune your services for improved performance.
Creating Engaging Video Content
---
A good video can leave a huge impact on your brand. In order to rise above the clutter, your brand position needs to be relatable and welcoming. One technique you can use here is to create a video series. Interestingly, people are 1.5 times more likely to watch videos rather than read text.
As we mentioned, thanks to the pandemic, the fitness industry took an unexpected turn. Now, most are enthusiastic about building a virtual presence which makes it imperative for them to go for video content.
Gym enthusiasts, yoga gurus, and pilates experts exploded on mainstream media and everyone had one aspect in common- a visual-based platform on YouTube, Instagram, or similar platforms.
Establishing yourself and showcasing your fitness expertise on the world stage using video is easier than ever before. With tools and a video editing platform offered by Typito, you will have everything you need to make your mark.
Introducing Typito
Everyone loves filming videos but the process of editing it to meet the viewer's expectation is not only nerve-wracking but tedious as well. This is where Typito can help.
While most creators, brands, and enterprises are looking for tools to add text, templates, logos, graphics, and many more, Typito has it all and makes it easier than ever to create videos with all of this.
Typito is an ideal online software that allows you to edit your fitness videos and optimize them based on the platform you intend to publish it on. With more than 20 video formats, aspect ratios, and the ability to edit in full HD, Typito is a platform that has it all.
Edit Easier than Ever
Marketing and establishing your fitness brand identity using the tools provided by Typito is easier than baking cake.
Break free from installing enormous software from Adobe and Apple as Typito provides more than 200 professional motion graphics templates, to add and animate text with ease.
Created for various video genres including food vlogging, travel vlogging, news, sports events, and many more, your fitness videos will turn out stunningly awesome on Typito. You can design videos with a range of text templates like - Intro animation, logo graphics, adding captions or text, and be proud of the outcome every single time.
Most of these templates, text, images, graphics, and others can be dragged and dropped onto your workstation with just a click. The minimalistic dashboard is built for people of all ages to understand it with ease.
Cross-Platform Video Editing & Sharing
IGTV, Snapchat stories, and the tsunami wave of teenagers Tiktok introduced to the videography platform are tremendous.
The tectonic shift was enough for even the giant in the space, Youtube to create its very own vertical story platform on the mobile app.
Google Photos, Instagram, and even Flipkart now have their own version of vertical video sharing baked into its app.
What we notice here is that the acceptance of the vertical video format that many experts predicted would never work on the backdrop of YouTube's success.
Aware of the versatile requirement of video editing formats, Typito seamlessly integrates YouTube, Facebook, Instagram, and other platforms and allows you to directly share your fitness vlogs on all of these social media sites.
Taking it one step ahead, the "Resize" feature helps you transform your video into either vertical or horizontal in just a click.
With absolutely no compromise on quality, you can edit full HD, 1080p videos, and render them online which alleviates the hardware demands of other huge and clunky software.
Right before exporting the video, Typito lets you preview the final output before making it live on any of the platforms to avoid nasty surprises and the hassle of reposting the videos.
Adding Subtitles, Captions, and Texts with Ease
Did you know that a staggering 85% of videos on Facebook are watched on mute? If you have a substantial following on Facebook and post often on this platform, having videos with captions will tremendously help people to follow your instructions even on mute.
According to WHO, 5% of the global population has some level of degree loss. Hence, adding subtitles to videos makes videos more accessible. It can increase visibility by more than 7%. So it pays to add captions on all platforms.
Typito has you covered even in this aspect and in an impressive fashion. Offering 3 different ways to add captions, you can try the traditional transcription method or adding a pre-generated SRT file but the magic happens when you choose the Voice to Text method.
Adding captions should be the least of your worries post a rigorous fitness training session so, with the Voice to Text method, an algorithm automatically transcribes the text in the video and allows you to place it anywhere you want.
All you need to do now is correct any minor errors in the transcribing process, and voila, you have a video with captions ready to be published.
Wrapping it Up
---
While creating a fitness brand is no easy task, there are a lot of interesting ways you can make your enterprise a success. Right from charting a vision on paper to building a rock-solid digital presence. Just remember to keep it diverse.