Top Glofox Alternatives: Fitness Business Management Software
If you were looking for the best fitness software to manage your fitness brand, you've probably stumbled across Glofox, and it's appreciable for all the right reasons. However, if you want some more choices on affordable and easier-to-use solutions for your business, you've come to the right place!
We've compiled a handy list of fitness software alternatives to Glofox that you can try out.
Here are 8 fitness software alternatives to Glofox that we looked at:
Before we get started with each of these, let's take a quick look at Glofox and what makes it one of the leading software in the Fitness Software arena.
Glofox- A brief summary of the pros and cons
Glofox is a gym and studio management software for fitness brands with gyms and fitness studios. It helps gym and studio owners manage memberships, class schedules, online bookings, billing and invoicing, and reporting with ease.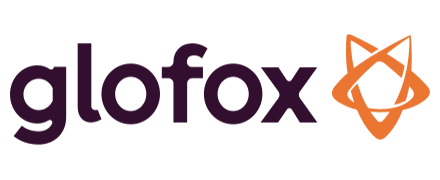 Let's look at some of the checkboxes that Glofox ticks when it comes to offering solutions for fitness businesses.
Some of Glofox's Advantages:
1. Great for Large Fitness brands moving online
If you're looking to catapult your classes online, this is a great software tool to help you get started with streamlining your business management. You can build a content library by adding online workout classes and on-demand content and control who gets access and when. Viewers can view all of this content and access your services from a branded online portal that is integrated with your website.
2. Integrations with Facebook and Instagram for Marketing
Glofox is known for its user-friendly website and app portals. What makes this more flexible is its integration it offers with Facebook and Instagram, which enables bookings directly from social media accounts.
3. Great for Data-Driven Business Decisions
Powerful reporting tools are critical for monitoring your business. Glofox offers unique and critical insights into membership management and facilitates engagement with members through automated emails and push notifications so you can act ahead of time to retain customers on an expiring membership.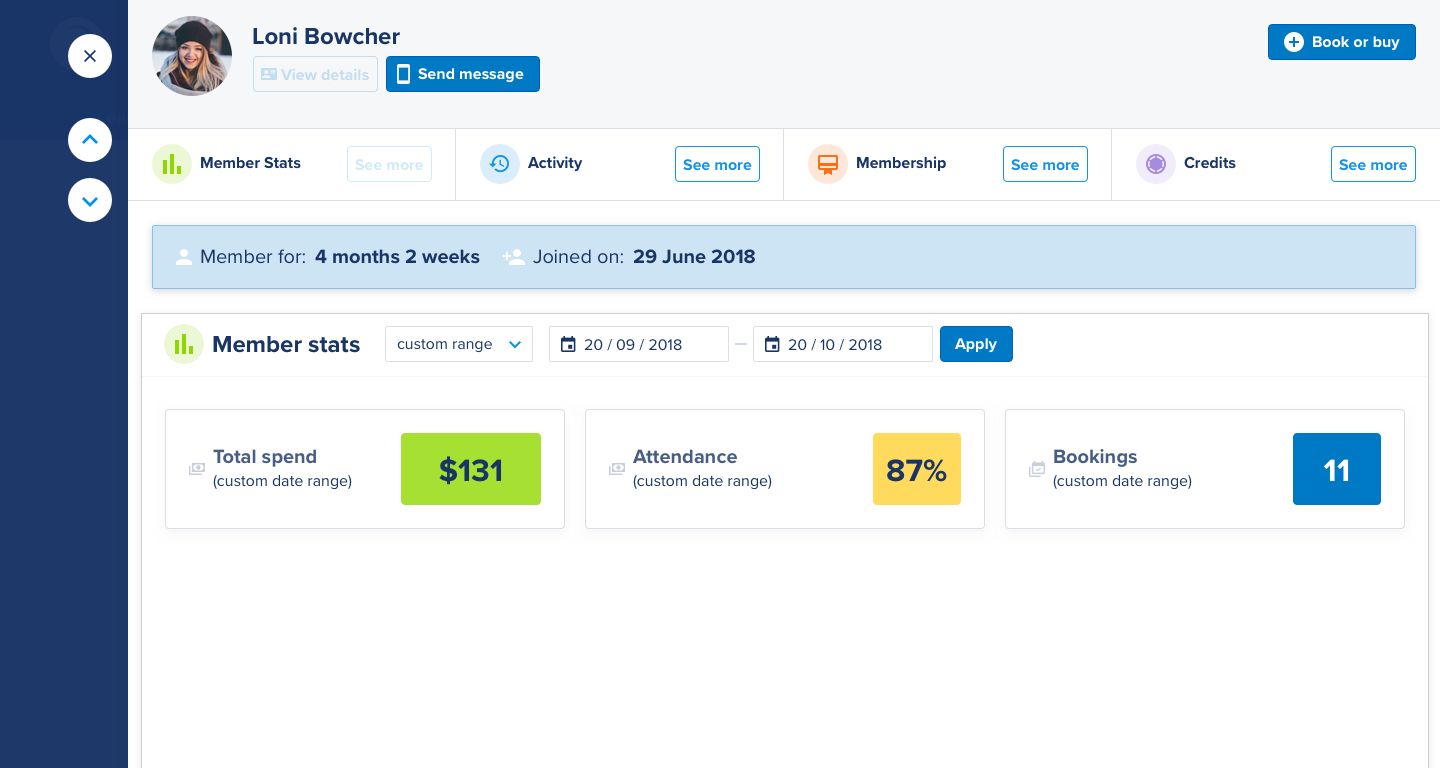 Source: G2
While Glofox can be positioned as an ideal fitness business management software if you are a large studio or gym brand looking to automate administrative tasks, small businesses might reconsider this choice.
Here are some reasons why:
Glofox does not offer a free trial or freemium. If you're working around a budget, this software might be strenuous, especially if you're a smaller fitness business owner or independent trainer. There are plenty of alternatives that don't cost as much but allow you to manage your fitness business just as efficiently.
If your goal is to expand services by selling single workout plans or deliver individual training, Glofox has limited e-commerce capabilities.
Glofox lacks an employee management system. Having a single platform to manage both - an internal team and your clients saves you the added investment in two different platforms.
Now let's look at some alternatives that are catching up and serve niche business requirements.
1. Exercise.com

When it comes to single-handedly managing a business, it can get quite overwhelming, especially if you're caught between offering great classes as an instructor and excellent service as a brand.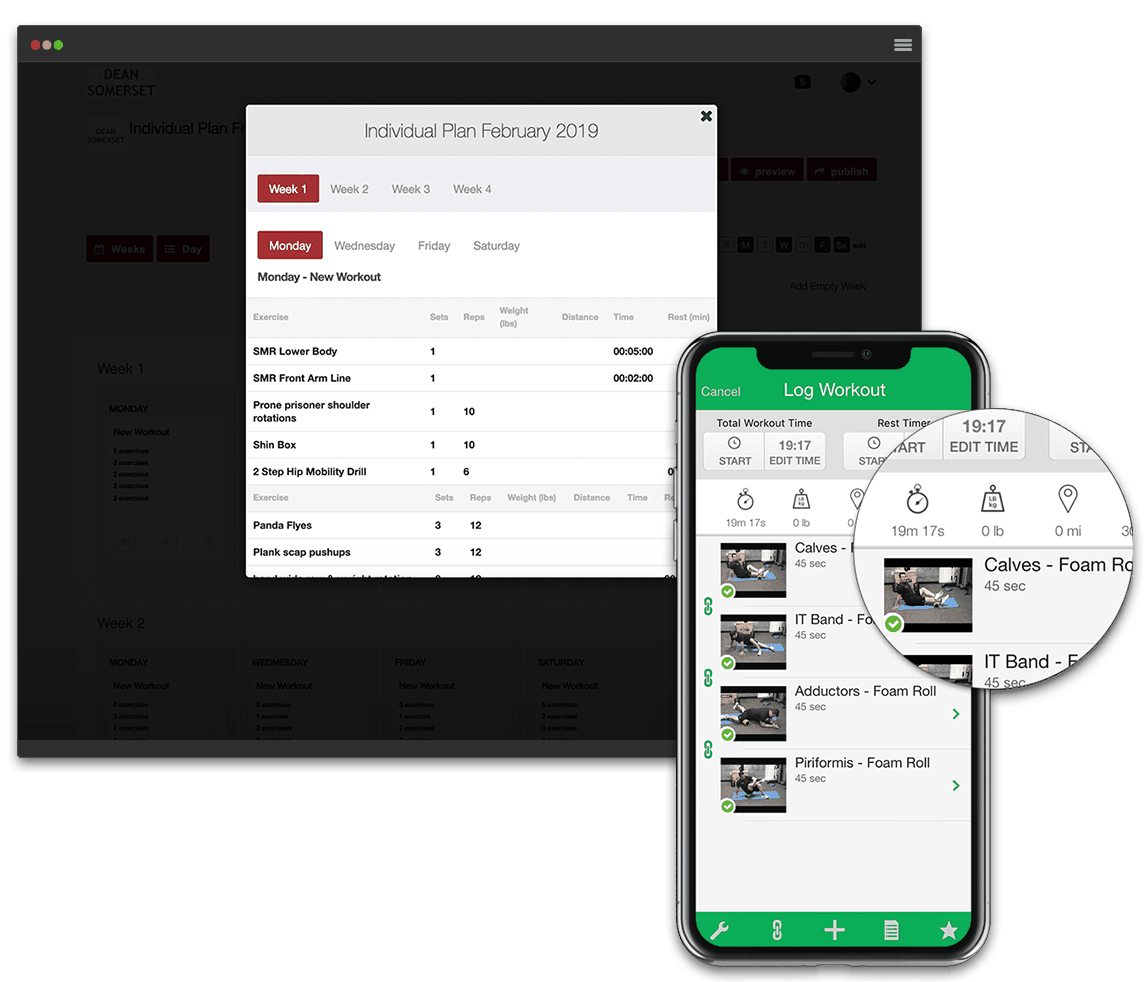 Source: G2
Exercise.com offers business management solutions for fitness training professionals who are looking to manage every aspect of their fitness business on their own.
Feature Overview
Plan and Create detailed workout sessions
Online Scheduling
Membership Management
Client-check-ins via Messaging Feature
Customized web dashboard and mobile apps
Integrations and add-ons
Automated scheduled delivery of workout plans
Billing and Invoicing Management
Pros:
Data Security assurance for client and payment information
Whitelabel Solutions
Features for Client Assessment
E-commerce Opportunities for trainers to sell single workout plans
Cons:
2. Mindbody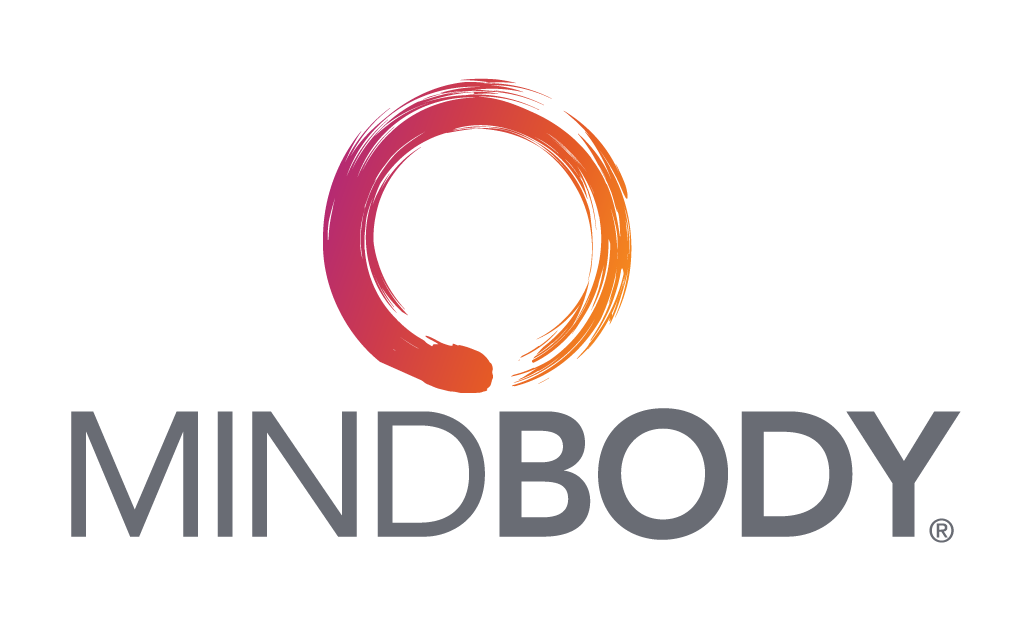 Mindbody's biggest strength is its customer experience. It's ideal for small and mid-sized fitness brands looking to commit to building excellent customer experience.
It's cloud-based management that expands its services to accommodate fitness brands like gyms and personal training centers and wellness and beauty centers like salons, spas and massage centers, and yoga studios.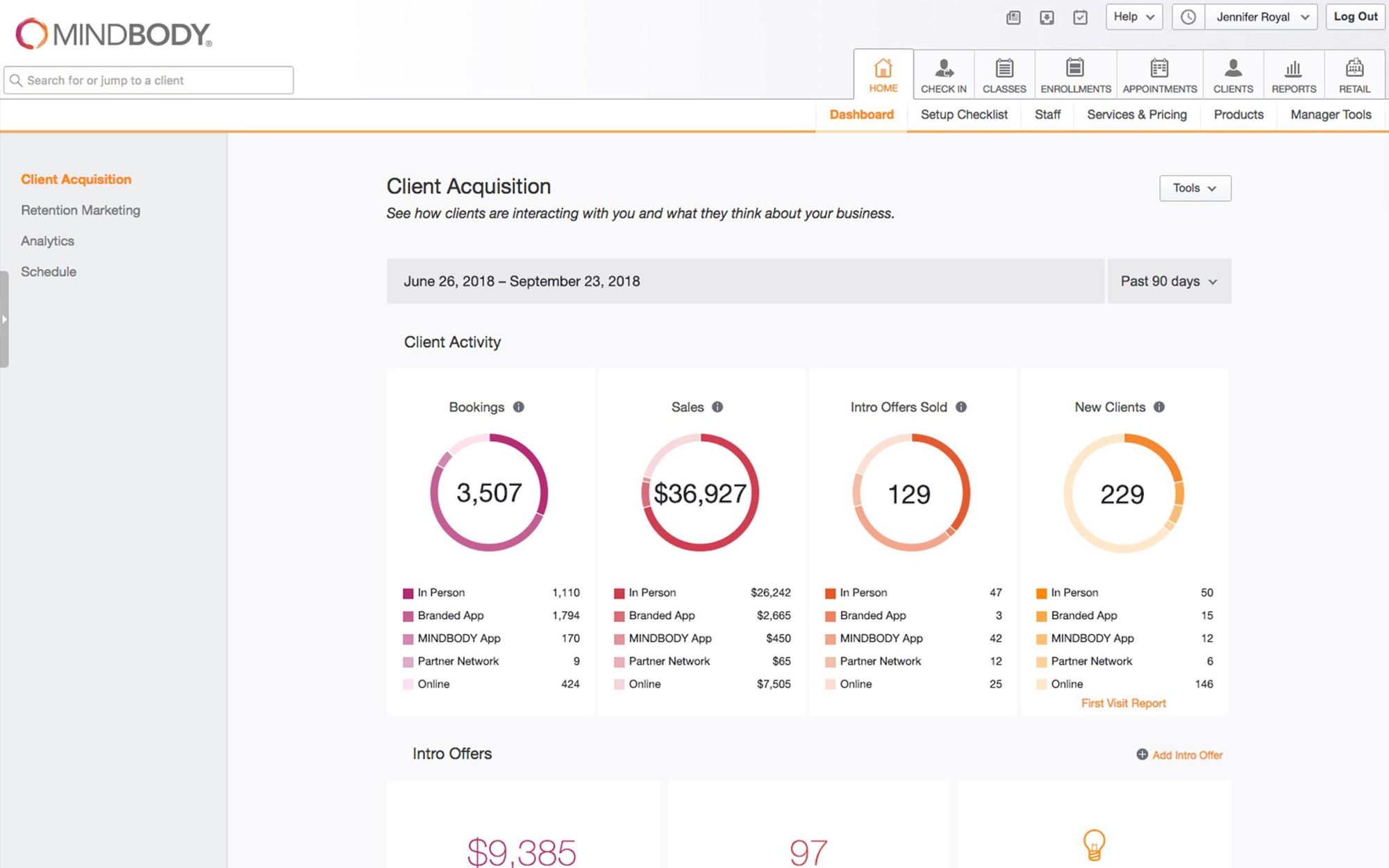 Source: Mindbody
Feature Overview
Automated appointment scheduling and calendar sync
Direct Online Bookings and class scheduling
Membership and Employee Management
Android and iOS app for Mobile Experience
Targeted Marketing Campaigns and Marketing Assessment Reports
Flexible integration features
Product Marketplace and Online Store
Auto Billing
Pros:
Free MindBody Community access for collaborations
Real-Time Scheduling
Live Stream and Video Classes
Create your own branded mobile app
Cons:
No Free Trial Available
Higher functionalities come at a higher price.
Not very intuitive and can be confusing to work some of the features.
3. Zen Planner

Zen Planner is a customizable membership management solution for small and medium businesses that run affiliate gyms, boutique studios, martial arts schools, and yoga studios. Zen Planner equips fitness owners with more than just business management tools.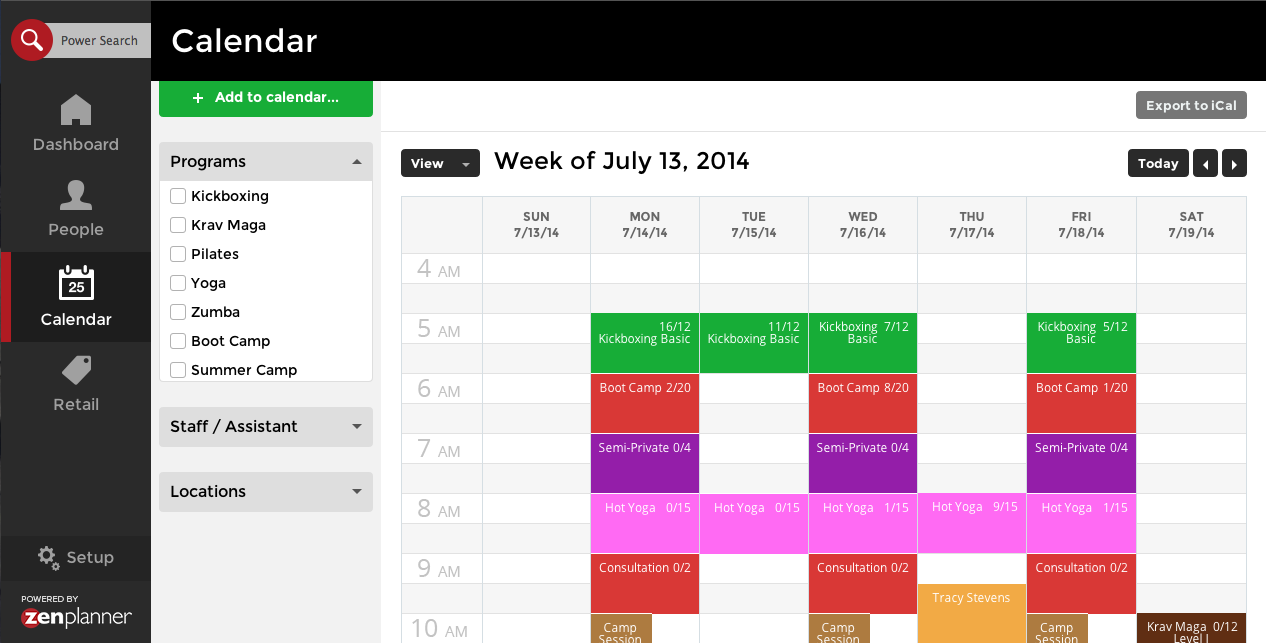 Source: Getapp
Feature Overview
Simplified Online scheduling
Customizable automation
Tracking for attendance and workouts
Mobile App Access for Members (IOS and Android)
Integrated Website and Marketing Tools (lead generation, SEO)
Client self-service through Kiosk iPad App and Member Connect
In-depth reporting and analytics
Automated billing function and payment processing
Pros:
User-Friendly Interface with Intuitive Interface
One-on-one training sessions to help you get onboarded.
Free Trial Available
No extra or hidden costs on contracts, startup fees, etc.
Cons:
No free version or Freemium Available
Pricing is based on the number of active members.
Reviews report an occasional lag with the kiosk (attendance) interface.
4. RhinoFit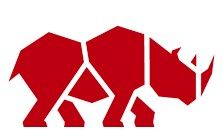 RhinoFit is easy-to-use and is excellent for all types of fitness business models such as gyms, dojos, boot camps, CrossFit, and independent personal trainers.
On the marketing front, you can run email and promotional campaigns. If your brand has merchandise or products (or is considering to), Rhino Fit also allows you to build a custom product store for your gym, track your inventory, and sell your products online.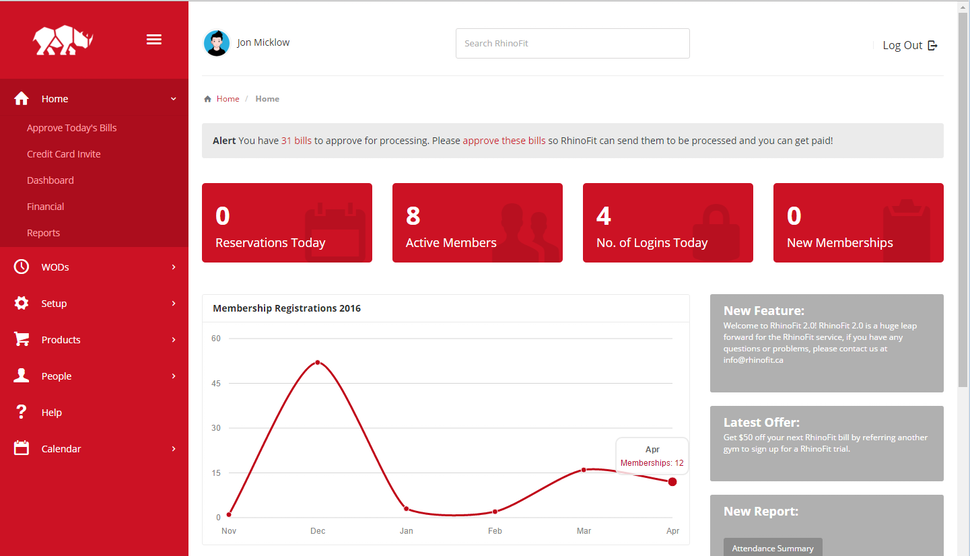 Source: Softwareadvice
Feature Overview
Membership Management
Build a custom product store
Digital Waivers
Custom Gym Memberships
Website embedded calendar for scheduling
Email and Promotional campaigns
Automatic Reservations and Reminders
Billing and Invoicing Management
Pros:
Free Version available
Intuitive and easy to use
Cost-effective pricing makes it relatively inexpensive.
Cons:
Brand customization Limitations
5. Club OS

Club OS offers streamlined and automated sales and marketing solutions for fitness and health clubs.
Features Overview
Lead acquisition and management
Automated prospect/member follow-ups
Calendar Management & Scheduling
In-house email marketing and text messaging communication
Regional Access for Multi-Location Businesses
Integrations with Popular apps
In-depth reporting and KPI's
Pros:
Easy to use and relatively intuitive.
Ideal for managing inbound and outbound marketing efforts
Ideal for small businesses with a single location as well as multi-locations
Cons:
Not very intuitive
Mobile App Limitations
6. Wellness Living

If you're looking for a versatile tool that is still reliable and affordable, Wellness Living might just top your list. Wellness Living is a popular choice for fitness and wellness centers.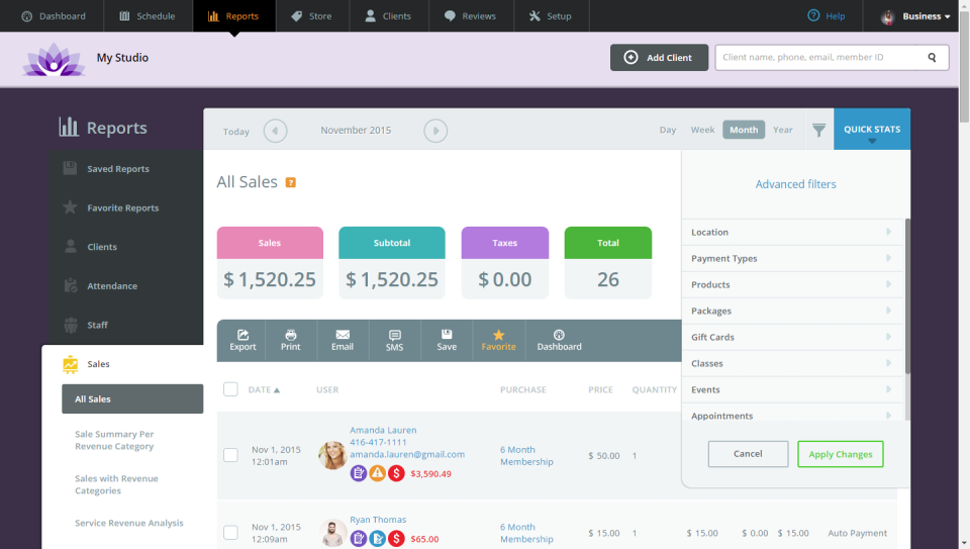 Source: Softwareadvice
Features Overview
Online Scheduling and Appointment Bookings
Membership Management
Event Management
Attendance Tracking with self-check-in/out
Marketing Management
Employee Management
Client management, Marketing, and Reporting
Payment Processing for Billing and Invoicing
Pros:
Easy to use and intuitive dashboard.
It doesn't require any add-ons or integrations.
Has integrations with Zoom and FitVID for Live and video classes.
Cost-effective and ideal for small businesses.
Cons:
7. Active Network

Active Network is an activity management solution and ideal for YMCA's, campus recreation centers, non-profits, and recreation centers to improve community business and member engagement.
Feature Overview
Online registration and reservations
Membership Management
Event Management
Digital Marketing Services
Data management
Facility management
Merchandising
Payment processing
Pros:
Easy-to-use for planning and organizing events
Customizable Solutions
Excellent for organization events.
Great for virtual events or remote programs.
Cons:
No Free Trial
Dedicated to the business needs of YMCAs, non-profits, etc.
8. Data Trak

DataTrak from ABC Financial is a cloud-based club management solution designed for businesses in the health, wellness centers, and fitness industries. With Data Trak, you'll have a centralized space to manage all your member and employee data.
Feature Overview
Membership Management
Centralized data management
Inventory Management
Employee Management
Class booking and scheduling
Marketing Features like email marketing
Attendance Tracking
Payment Processing for billing
Pros:
Ideal for fitness establishments like gyms and clubs
Data dashboard for goals and progress
Tracks delinquent payments, so you don't miss out on payments.
Cons:
No Free Trial
The interface is not very intuitive.
Limitations on customization
When picking a tool for your business it's important to take a step back and assess your business needs before investing in a tool. Choosing the right tool then boils down to picking functions that help you fill in the identified gaps in your business - whether its customer retention or making more data-driven decisions.
We hope our list of alternative Gym Management Software helps you find the best alternative that suits your business goals.
Got any questions about video marketing or how to create engaging fitness video stories for your business? Shoot us an email at hello@typito.com.