With YouTube reaching new heights every year, there's no doubt it has become one of the popular destinations for video creators to share creative content and build a source of revenue.
If you've been thinking of starting your own channel but don't quite know where to begin, then here's your first step - getting some topic inspiration. We've built a list of some of the best YouTube video ideas for beginners.
Before moving forward, we thought it's best to show you some noteworthy stats about YouTube-just in case you're not 100% convinced about launching your channel.
A quick look at the stats:
How the World used YouTube During COVID-19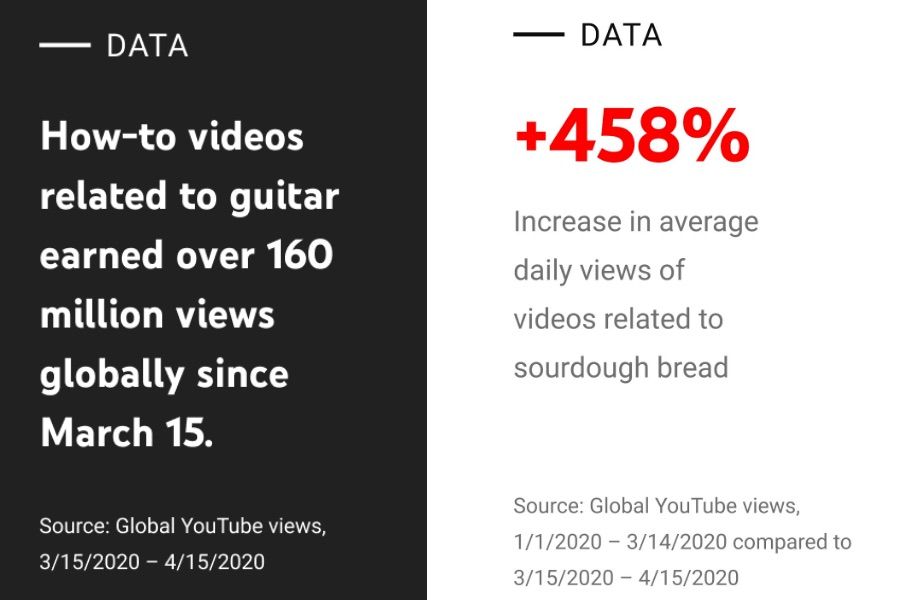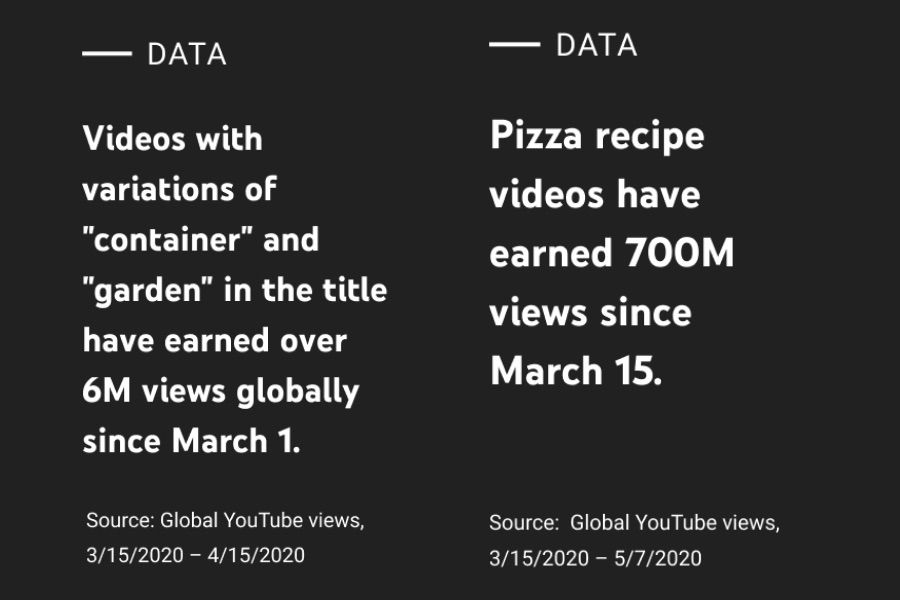 Source: YouTube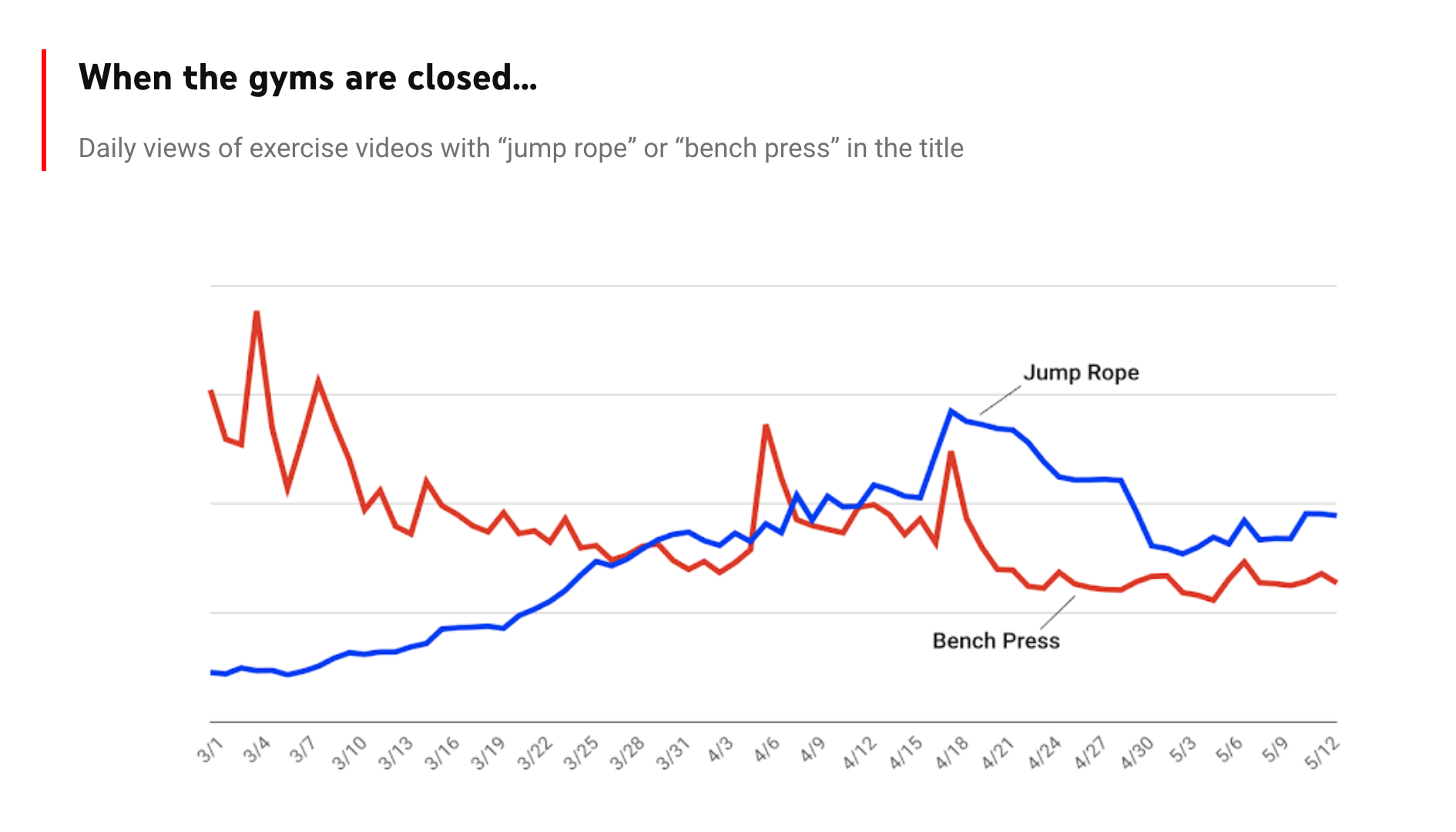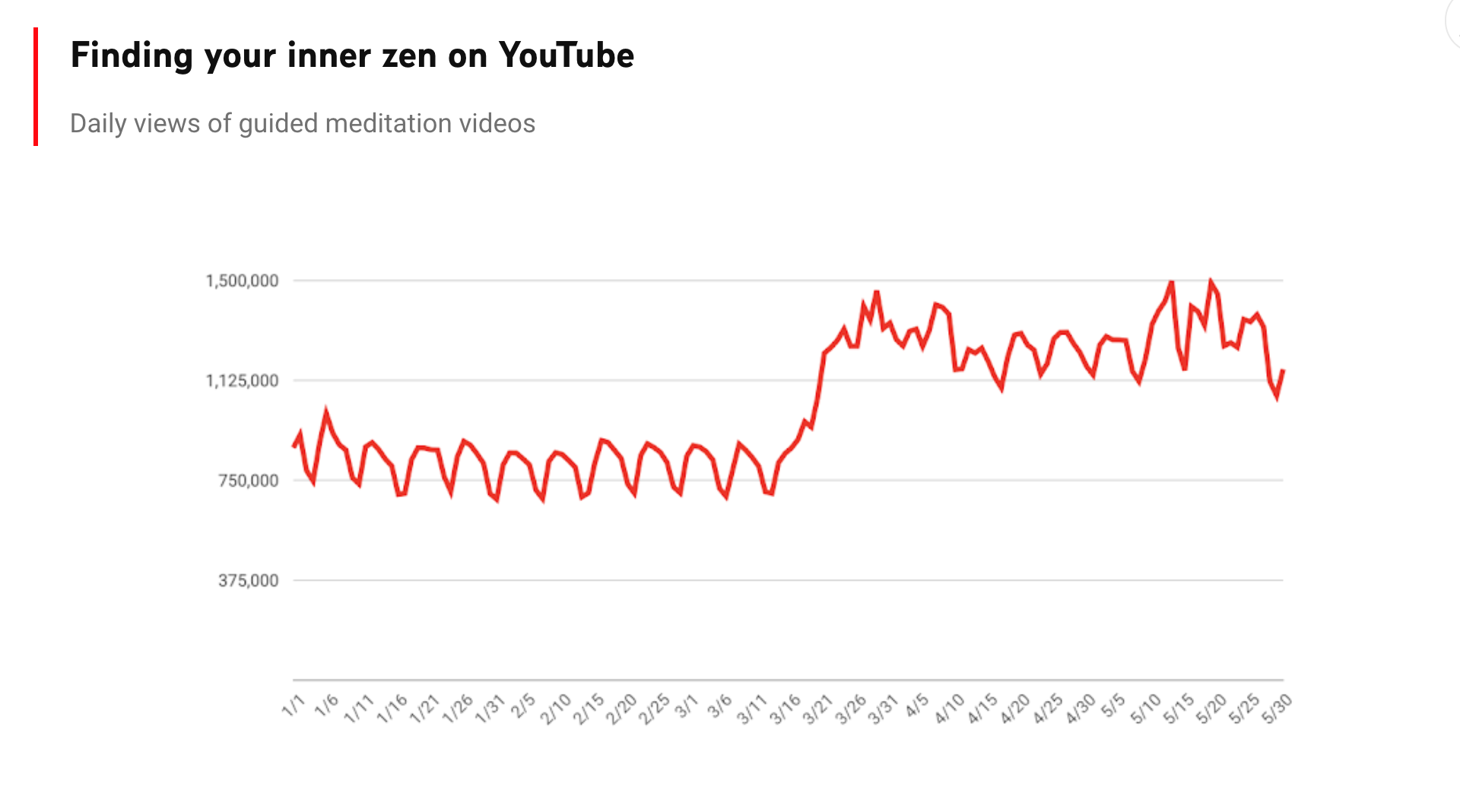 Source: YouTube
With such a massive user base and billions of people tuning in to YouTube each month watching videos every day, you can't just overlook this platform.
Now, the most important question is, what YouTube videos should you create to acquire a lot of subscribers?
A good way to come up with an answer to this question is to think of this from two perspectives:
What kind of expertise do you have and what are you most interested in?
Which trends are getting people to search for answers all the time?
If you're still confused, then here's a curated list of incredibly popular YouTube video ideas for beginners to help kickstart your creativity.
50 Best YouTube Video Ideas for Beginners
Get ready to explore some good YouTube video ideas that will reinvigorate your brand and leave your audience wanting more.

Here's our list of popular YouTube video ideas for beginners:
For the first YouTube video, you could film an introductory video about yourself. Perhaps talk about who you are, what you do, a brief introduction to what inspired you to start this channel and what to expect to contribute with your channel.
1. Self-Inspired YouTube video ideas
Give your viewers something to look back on later, to show them how you got things started and the way your channel evolved over time.
Here are a few ways to create self-inspired videos:
Self-introduction videos: Talk to your audience about yourself. Give them a glimpse into your life, your background, and all about what you plan to do with the channel. A good self-intro video can get things easily fired up and build interest around your topic.
Vlog regularly: Vlogging is a popular category on YouTube and profitable in terms of conversions for individual creators, but the most important thing here is uniqueness. This factor can create a whole lot of difference. The way you speak in front of the camera, your confidence, your ability to rile up engagement, and your storytelling skills will blend to make your channel unique and stand out from millions of other vloggers. Just in case you're clueless on how to start with a vlog, look up top video examples or use a YouTube trailer template to help you create something impressive for your channel.
A day in your life: Such videos are extremely popular on YouTube. You'll often see these videos pop up in your suggestions all the time. The idea is simple - Show people what your daily routine is like and make them virtually live your life. This is a brilliant video idea to build a sense of connection and get close to your target audience.
Share your journey to success: By this we don't just mean monetary success. It could be anything that's transformational like - your journey from being unhealthy to fit, building a healthy habit, or learning a new skill. Share nuggets of knowledge with your audience like the way you set goals and how you progress to accomplish them. Trust us, people have an affinity for real-life inspirations.
Reaction videos: You've probably seen reaction videos all the time, if you live on the internet. They're all over social media as short clips but they're quite popular on YouTube as well. This could be a good starting point for your channel too. For example, you could record your reactions to movies clips, incidents, anything that's trending, or perhaps, to other famous influencer videos to attract viewers. It doesn't have to be just 'your reaction.' Instead, it could be your family's, friends', or your little cousin's reaction to incidents.
'See what happens when you do this' videos: These are great to create buzz on the internet, especially if you pick trending activities to film. Record yourself, a family member or a friend trying things for the first time in life. For instance, eating a completely new cuisine, bungee jumping, or even something as oddly entertaining as trying to talk after inhaling helium.
Bucket list videos: Draw up a bucket list of everything that you've been fascinated to try out. Now get your camera and film yourself ticking off each item on your bucket list. Such videos gain immense interest amongst viewers. You don't have to do anything big. Start by making a video series with the smallest wishes, and then move on to the bigger items on your list.
'My list of favorites' videos: This is another type of YouTube video that has gained momentum over the years and, perhaps, is one of the best YouTube video ideas for beginners. You could start by creating videos on your favorite series, movies, books, television shows, foods, makeup products, etc. Such videos bring in views, especially from people looking for recommendations for books, TV series, music, games, etc. Moreover, you'll have a better chance at building a following with like-minded people.
2. Dance or Music based YouTube video ideas
If you're blessed with a perfect pitch voice or any talent in music, don't hesitate to share it with the world. When it comes to music marketing strategies, YouTube videos are the best. Remember how Justin Beiber went on from being a mere YouTuber to becoming a global superstar?
Here are a few ways to create dance/music-based videos:
Share your original track/music creations: If you have a couple of original tracks recorded, try combining them with creative visuals for some competitive advantage. You could use video clips, small animations, or cool stylized graphics to make a lyric video. Check out some of our coolest music templates that you can use to create videos with engaging text effects and captions.
Studio recording sessions: Show your viewers how to make music- from recording your songs in a music studio to what the process of creating music is like.
Music covers: If you have a knack for making impressive covers of songs, you're bound to have a higher chance of getting noticed on YouTube. Here's a good example of this.
Music videos with creative slideshows: Although it sounds complicated, music video slideshows are super easy to create. Especially if you have a handy template to get started. Create some amazing slideshows to feature your music or album covers.
Songwriting process: Create a small video diary to share how you go about songwriting. This is a great way to share writing tips and inspiration for song themes.
Karaoke versions: People love karaoke, whether they can or cannot sing. You can create high-quality karaoke videos of the most-liked songs that people sing along to.
Animated music videos: Animated music videos are more popular than you think. In fact, you'll see a wide range of animated music videos on YouTube that includes 3D art, motion graphics, hand-drawn art, etc. Remember the "Elton John & Dua Lipa's Cold Heart" animated series that received great response from the audience? Yeah, that's exactly what we are talking about here!
Live concert videos: While YouTube Live can help with virtual concerts for now, maybe, after the pandemic, give it a chance and see how your target audience responds.
How-to videos - Use a screen recording to show how you mix and record music. This can be interesting not only for your fans but also for other aspiring musicians, as well.
'Behind the scenes' videos: People are intrigued by what happens backstage- bloopers, glitches, and the real prep until showtime. So try recording the scenes that occur before or after a music concert or a video shoot.
Reviews of music apps and instruments: Although there are thousands of online shops to buy sound effects, music albums, equipment and musical instruments, many people lookout for the right advice. If you've had fair experience in any of these topics and can share a critical opinion, you can create videos to review equipment to help your audience buy the best.
Interviews with top musicians/stars: This requires some strong connections in the industry, but use it to your advantage if you have it. Set up interviews with the musicians to boost views for your channel and make it go viral. Record the interview, edit them using a good video editing tool, publish online, and watch your views grow.
3. Compilation YouTube video ideas
The beauty of Compilation Videos is that they require very little video production work. However, it takes a bit of time and patience to scout for the right content. Once you find it, just string it together with sound effects and watch them go viral.
Here are a few ways to create compilation based videos:
Meme video compilation: Don't underestimate the power of a good meme. The ability of memes to be utterly relatable, whether it's a sad reality or just humor, is remarkable. Imagine taking all the best ones from the internet and compiling them to make a single video? MemerMan is one such example that you'll want to check out.
Sports video compilation: We have die-hard sports fans across the world - whether it's football, cricket, or basketball. That's why sports video compilations are immensely popular on YouTube. Your compilation videos could compile the best goals ever made in football history, match highlights of a single player, and more.
Funny video compilation: If there's something that can never go out of trend, it's funny videos. Who will say no to watching funny clips?
Cute pets or babies compilation: We're all guilty of being drawn to cute baby videos whether it's human or baby animals. There's just something pleasing about seeing a meek baby animal or a cute baby that keeps people hooked on till the very end.
'Like a boss' video compilation: These video types have lots of organic value and have a higher possibility of going viral without having a huge following. Look for all the exciting things people do on the internet and compile them to attract your viewers.
Amazing facts videos: Compilation of rare or interesting facts is always a great way to attract views.
Challenges video compilation: Most of the time, challenge videos go viral and if you're lucky it'll pave the way for new trends on the internet. Remember the Ice bucket challenge, Bottle Cap challenge, and the Kiki challenge? The list is endless, and it always compels people to follow suit.
Oddly satisfying video compilation: Compile videos which are soulful yet weird to watch.
Fail video compilation: These videos never fail to hit big numbers on YouTube. Just curate some failure clippings that are hilarious to watch and compile them to a single video for the viewers to enjoy.
4. Gaming YouTube video ideas
Did you know that YouTube has a Gaming hub that's specially created for hardcore gamers to publish their content? Here, you'll find a wide range of live streams and gaming videos and an opportunity to chat with gamers. If gaming is what you live and breathe by, then you have a separate audience waiting for your guidance.
Here are a few ways to create gaming based videos:
Live gaming streams: These videos are incredibly famous on YouTube. If you are a pro at playing something, try recording your live sessions and commenting on the gameplay (just the way PewDiePie does it with his 110 million subscribers). You can even do a gameplay walkthrough, or even better, just discuss a popular game.
Gaming tutorials: No matter what game you choose, the higher the level, the more challenging it gets. Many hardcore gamers need help crossing those levels, so if you're pro at a specific game, record the way you play and make some good tutorials around.
Game reviews: Share your opinions about different games you have played and tell the audience why they should try it.
Gameplay reaction videos: Record your genuine reactions when playing your favorite games and show your audience how you deal with various events occurring in the gameplay.
5. Lifestyle YouTube video ideas
If you have a great aesthetic sense that keeps up with the latest trends, then one of the good YouTube video ideas is to choose 'lifestyle' as the key topic.
Here are a few ways to create lifestyle videos:
Travel vlogs: Are you someone who travels extensively? Then make a video diary of all the places you have traveled to and publish it on YouTube. One such good example is Drew Binsky's vlogs. He travels across the world and experiences different cultures and cuisines. All of these vivid experiences are brought out beautifully in each of his videos.
Home tour videos: It doesn't matter whether you live in a huge mansion or a tiny house. There's a separate set of audiences that's crazy for such videos. They find it interesting and amusing. This home tour video for example, doesn't even boast any fancy apartment. The channel just has 11k subscribers but you'll be surprised to see the amount of views the video managed to fetch. Sometimes, all it takes is simplicity.
Beauty routine videos: Most women love to know the beauty secrets that other women follow. If you're good at maintaining your skin or hair health, try showing them how you do your self-care routines with a beauty routine video.
What's in my bag videos: These types of videos are trendy among celebrities and A-listers. The reason such videos grab attention is purely due to curiosity.
Health & weight loss videos: If you're a fitness freak or health-conscious who knows a lot about diet and nutrition, then share your tips with others. Here's a YouTube channel you can be inspired from.
Shopping videos: A simple recording of you shopping at Walmart or a grocery store can be super interesting if you know the right way to present it. Here's a YouTuber that makes simple shopping videos that are targeted only on moms. Her videos are relevant, natural, and extremely helpful at the same time.
6. Review YouTube video ideas
If you're good at comprehending things while weighing their pros and cons at the same time, you could make videos and help others make the right buying choices.
Here are a few ways to create review videos:
Beauty products reviews: Are you someone who loves using beauty products? Then you can guide people in finding the right ones. Address the typical questions that most women might have in their minds and answer them honestly. Just empathize with your viewers for better engagement.
Unboxing videos: These videos are super popular on YouTube. It gives people a first glimpse of what a product looks like and an experience of knowing a product better without even buying it. The commentary that you provide about the product while unboxing serves as a guide for your viewers to decide whether they should buy it or not.
Book reviews: Reading books requires time. It's more like going on a journey. If you're an avid reader, share your knowledge with others in choosing the right books to read.
Product & brand comparisons: Comparison videos (when appropriately explained) can help people make the correct buying decisions. Whenever there's a dilemma of selecting between two products, help the audience with your meaningful videos.
Software & app reviews: Do you have a love for apps and software? If yes, then explain the differences between them and help your audience in choosing the best ones.
Restaurant reviews: Not all restaurants provide good food. If you have the right taste buds and know where exactly those delicious dishes are made, share it with everyone. Foodies are going to love it!
7. Tutorial YouTube video ideas
Not everyone is good at knowledge transfer. Teaching (with passion and interest) is one of the rare skills and if you have that in you, then try doing one of the below.
Here are a few ways to create tutorial videos:
DIY hacks: Show viewers some exciting ways to get smart with their day-to-day activities with some amazing hacks. These have a higher tendency to reach a wider audience.
Makeup tutorials: Are you someone who only takes minutes to be party-ready, then share your knowledge with others and help them save their time.
Video-making tutorials: From filming the video to editing and adding effects, a lot goes into making videos. If you're skilled at making videos, then kickstart your YouTube journey by helping others to make stunning videos.
Tech-based tutorials: From smartphones, laptops to wearable devices and other electronic gadgets that we use daily might either run through problems or the audience might need help with things that they might not know as much as you do being a pro. So create some amazing device-specific tutorials and share the videos. If optimized well, they also tend to show up on Google's top results.
Magic trick tutorials: Are you skilled in the art of deception? If yes, then record all your magic tricks and entertain your audience with your videos.
Coding tutorials: Programming is not an easy job. No matter how perfectly you do it, it ends up with a few bugs at some point or the other. If you're a programming geek, then help starters by developing their coding skills with the help of your videos. The possibility of making programming tutorial videos popular on YouTube is by keeping them as simple as possible.
Skills teaching tutorials: This could be teaching your viewers anywhere from drawing, painting, sewing to playing guitar, pian, and lots more. The list is endless here!
The platform's simplicity is one of the key reasons why YouTube has grown exponentially over the years. It makes it easy for creators to upload and share their videos with a vast audience. Consequently, there's a broad range of video content to select from.
Whether it's beauty tutorials, gaming channels, product reviews, unboxing videos, or learning new skills - YouTube has everything.
Not sure how to create YouTube videos? Start here.
Typito is an online YouTube video maker that lets you create stunning videos within minutes. From choosing striking templates to editing to adding effects, the tool covers it all and helps your YouTube videos gain more engagement, views, and subscribers.