How to Make a Slideshow on Facebook that Stands Out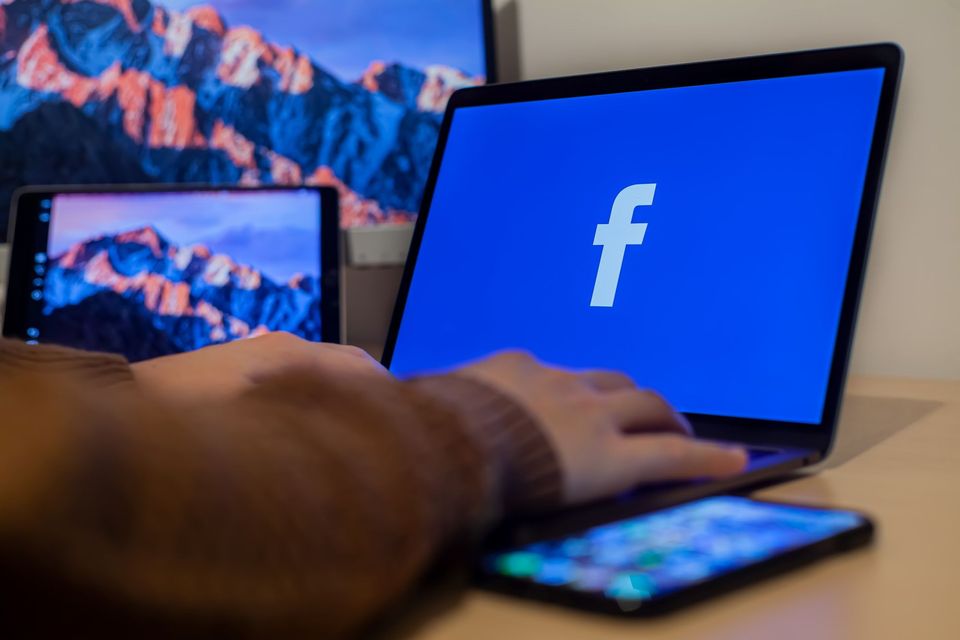 Let us say you've just wrapped up an extensive product photoshoot for your brand. Your initial plan was to post these as images across social media and build some brand engagement. But now you realize you have too many amazing photos to choose from, and you feel like you need a little extra something.
Slideshows are the best fix to this hiccup as they are easy to make but do the job effectively. Keep reading and find out how to make a slideshow on Facebook with zero hassle.
A slideshow is a string of photos placed in a sequence with a transition effect to connect each image. Slideshows can have background music for an added effect, but they work just as well, even without any music. It is essentially a video but one-eighth the effort but has the same effect.
WHAT'S AHEAD?
Why choose Slideshows over Images?
Two main reasons - Slideshows nudge people to spend more time on your posts, and they take less time to create than full-length videos. Let me explain how this works.
Video content has shown better performance than images. This is because videos force the user to stop scrolling and watch the video, making them spend more time on your post instead of just scrolling past a photo.
Statistics show that video ads bring in better results than image ads of the same products. But creating videos is more work and can be more expensive to produce in most cases than just posting images. Slideshows bridge this gap aptly and can work as the perfect replacement for videos at times.
Why can't I make Slideshows on Facebook?
Over the years, Facebook has risen as a profitable platform for brand owners to invest in advertising. Until recently, Facebook had a handy slideshow feature that let you create a slideshow very easily with a certain amount of customization.
Now that the feature isn't readily available, we are forced to think of the options we have to get slideshows made with the same level of ease and customization. And we got you covered.
How to Make a Slideshow on Facebook in 5 Easy Steps
---
Making a slideshow doesn't have to be tedious. Here are 5 easy steps to create a slideshow and post it on your Facebook feed.
Step 1: Build your Storyboard.
Step 2: Begin with a Slideshow Template or Create a new slideshow
Step 3: Upload your Photos to your Workspace on Typito
Step 4: Add text, Transitions, and Music to your Slideshow.
Step 5: Preview, Export and Share your Slideshow on Facebook.
Let's look at each of these in detail and show you how to do this.
Step 1: Build your Story
Come up with a clear idea of how you want your slideshow to appear. This might require you to go over a ton of photos and shortlist the ones you want to use for your slideshow. Decide on the number of photos you want, and always save a few for backups.
A bit of planning here can organize your work and save a significant amount of time while editing.
Step 2: Begin with a professional slideshow template or create a new project.
Typito has a range of ready-to-use slideshow video templates to help you get started quickly. You can begin by choosing a template from our slideshow template collection. Choose a template keeping your audience, business goal, brand, and style in mind.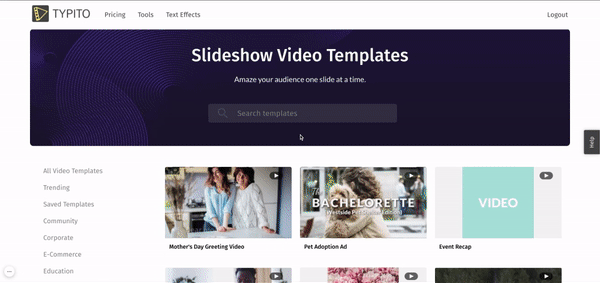 You can also create a slideshow from scratch. If you already have an account, log in to create a new project. Select the aspect ratio for your slideshow that you want to post on Facebook – vertical, square, or the widescreen format.
(New to Typito? You can directly get started by uploading your photos and save the sign-up effort for later).
Step 3: Upload your photos and images
Drag and drop your photos to upload them to Typito. You can also click and choose images from your system folders.
If you want to use more photos, check out our Stock Media Library for high-quality images and photos that you can add to your slideshow.
Step 4: Personalize your Slideshow with text, transition, and music
With a Typito Slideshow Template, the storytelling elements are taken care of, all you have to do is replace the images with your own photos.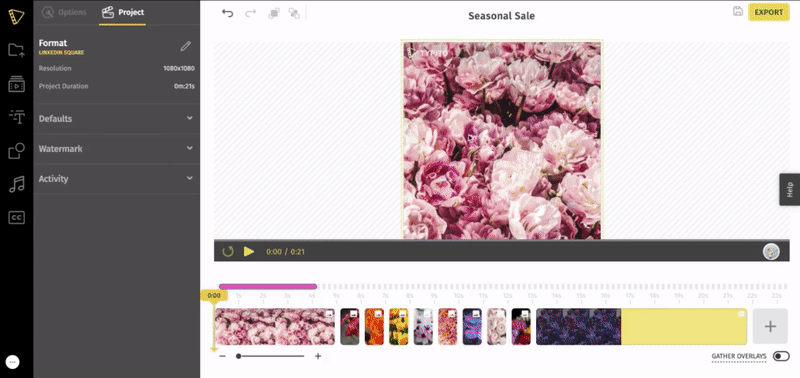 If you're creating a slideshow from scratch – Once the images are added to your timeline you can swap clips to change the order how you want your clips to appear. Drag clips along the timeline to arrange it in the perfect sequence to tell your story.
Next, it's time to add text, transitions, and music to your slideshow.
Add text to your Slideshow
Click on Text Effects and choose from any of the text templates. Click the Text Effect to add text to your video.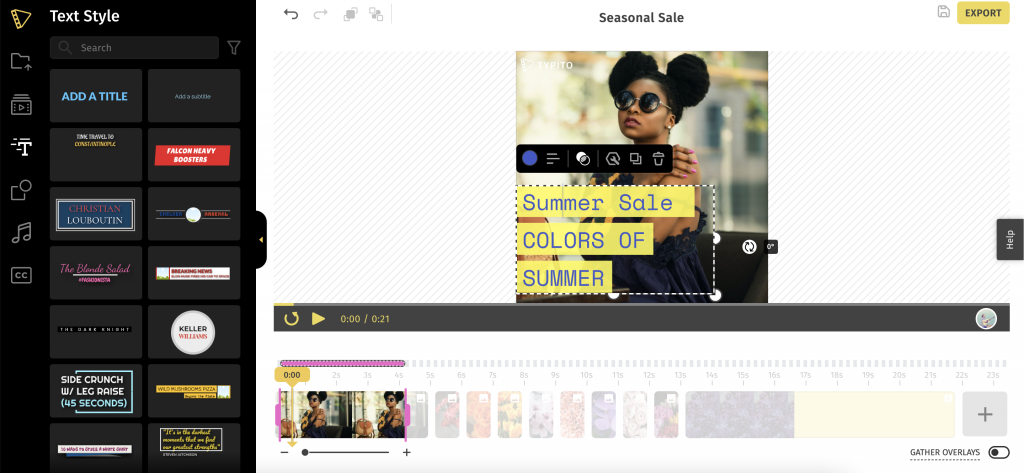 Next, change the text in the inserted template to add your message. Click the Text Effect to edit the text. You can also change the color and font to match your brand colors.
Add transitions to your slideshow
Transitions work well to give your photo slideshow a smooth playback effect as each photo plays. We recommend keeping transitions simple so it's not too distracting and abrupt.
To add transitions to your photos, click on the plus icon that pops up between two images on the timeline. You can either make the images fade to black as they play, or make them cross dissolve into the next.
Add music to your slideshow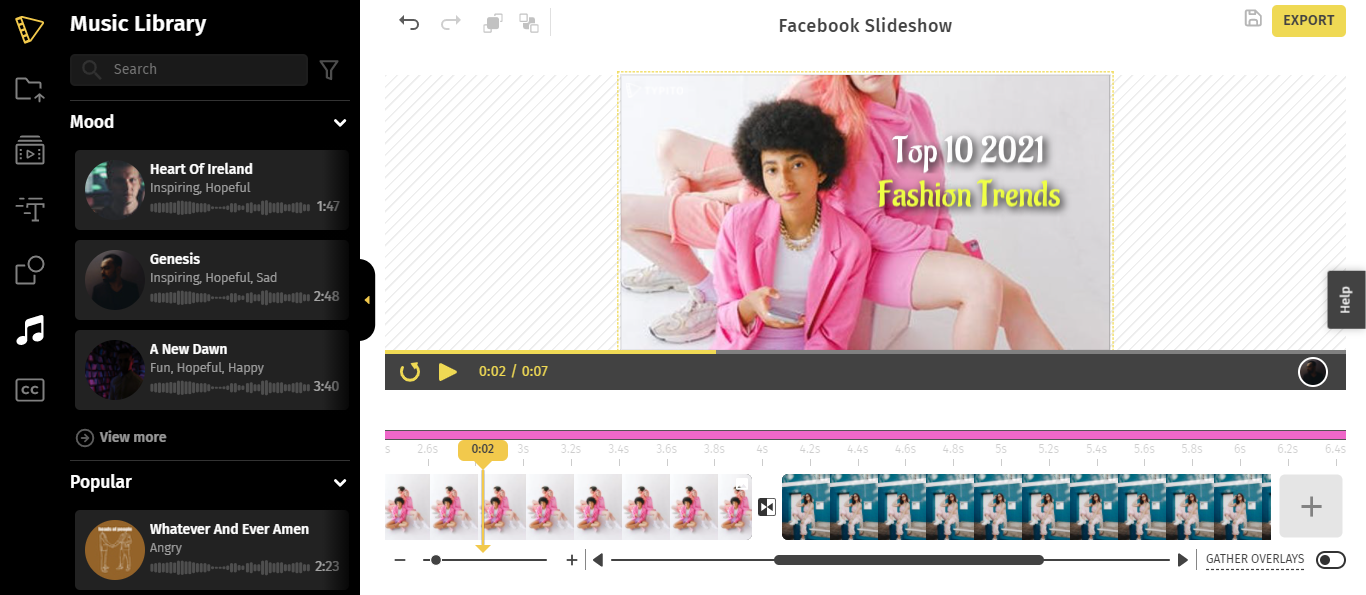 Adding music instantly elevates and draws attention to your slideshow.
Here's how to add music to your slideshow:
→ You can either pick a song from the Typito Music Library or upload a track from your own collection.
→ Click on the Music Library from the left panel and choose from a wide collection of free music tracks available across genres.
→ If you have a music track you want to upload, click My Media. Next, click the upload button under Audio to upload your MP3 file.
→ If the audio track is longer than your slideshow, you will be prompted to trim the audio track to match the duration of your slideshow or to select the part of the song you want as your background.
→ Any changes or edits to the audio can be done in the left pane that is displayed when you click the Audio Icon.
Step 4: Preview, Export and Share your Slideshow on Facebook.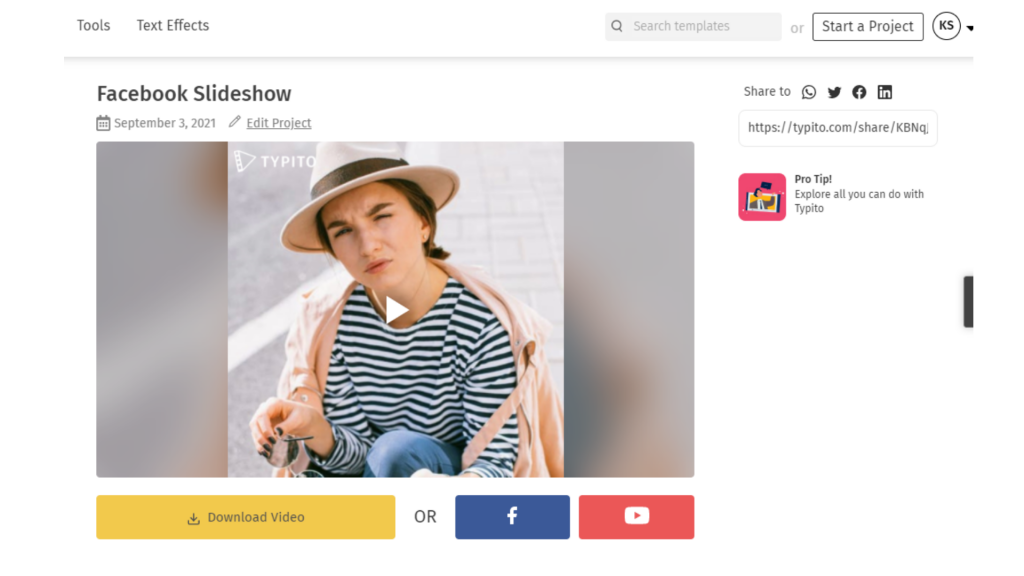 Once you think you are done with putting your slideshow together, preview your entire project for any final touches or fine-tuning. Click Export to export the slideshow to your local storage.
Step 5: Post it on your Facebook account.
Login to your Facebook account. Click on Menu and select Create → Post. In the window that appears, choose Photo/Video and select the exported slideshow. Give the slideshow a suitable caption and hit the Post button. There you go, you are done!
Alternate ways to Make a Slideshow On Facebook (without a video)
If you don't want to create a video but have a ton of photos to post, there are ways to do this- The Photo Carousel Effect.
A straightforward solution is to post multiple pictures as a single post on Facebook as a carousel post. This checks off the need to make a video or a slideshow. However, this offers no transition effects and the addition of music which could be a deal-breaker if your post serves as a marketing tool.
Another way to go about this is to link your Instagram account with your Facebook account. Carousel posts that you publish on Instagram can also be posted on Facebook by enabling "Post on Facebook".
5 Ways to Use Facebook Slideshows for Business
The process of creating a slideshow may be quite simple but the power it holds and the variety it offers is extensive.
If you are a business owner and want to use slideshows to help with brand advertisements or to serve as your marketing material, you will find the following different ways to use slideshows helpful.
1. Facebook Slideshow Ads or Promotional Slideshows
Promotional slideshows can be used as ads to display a product to reach a wider audience. The highlights of the product can be featured and it can include other important details so that people can approach you if they need your help or are interested in the product to buy it.
This slideshow promo ad for The Jungle Book by Walt Disney Studios has exciting posters lined one after the other. Note how the creators have used the slideshow to showcase their stellar cast and characters for the movie. Their stunning visuals and usage of texts make the ad top-notch.
2. Product Slideshows
Slideshows are perfect for displaying your array of products. A great idea is to pick a theme for the products and put together a curated number of items. For instance, if you are a designer brand, you can put together a collection of Top 3 trending bridal wear this wedding season or your best selling products of the month compiled in a slideshow.
Here's how My Baby Pie, a clothing brand for kids, used slideshows.
This ad shows the brand presenting its Top 5 picks for the week. Their vibrant colors and non-fussy design might actually allow their followers to have a good look at the pictures and consider a purchase.
Your job made a lot easier with our ready-to-use templates.
3. Year-in review or event recap slideshows for your business
Another great usage of slideshows could be a year-end review of your business. Suppose you have conducted an event and want to put up pictures showing how amazingly the event panned out. Slideshows are a great way to capture the momentum of your event. It not only makes the viewing experience better, but the storytelling aspect of it will keep viewers engaged.
This slideshow by PUMA has some iconic moments from the #FENTYxPUMA fashion show. Note PUMA has used few but very strong, important pictures from the event which sums up the event highlights.
4. Collection/ Product launch slideshows
Slideshows work well for launching products and adding the needed text as it makes it easier for everyone to read.
Here's how Snickers introduced its campaign.
The clever use of the 16:9 aspect ratio has only the Snicker bar and the color scheme makes it stand out.
5. Customer story slideshows
Customer stories always go down well with the audience. It gives your brand a personal connection to your business. It could cover a shopping experience of a customer or their experience with your product.
Here's an example of how popular designer Vera Wang used a similar approach to do a customer story. It is simple, elegant but the impact is huge.
Instead of opting for only images in the entire story, they had also used a few videos to give us a better insight. The smart and stylish usage of fonts adds finesse to the video.
Things to Keep in Mind when Creating Slideshows
Making slideshows is like a walk in the park. But you are not the only one making slideshow ads and content on the Internet.
With the content overload happening on the web, there are certain quips you can take care of to make a mark.
Here's what you can do to get the maximum out of your slideshows.
Facebook has a number of options when it comes to the aspect ratio of the post. Choose the right size for your content. If your content is a little more on the text side, choose a wider frame to space out the elements. People have shown increased interest in watching vertical videos on Facebook – this might be a good dimension to start with.
If your slideshow is going to be a commercial, keep it simple and short; make it catch the viewer's eye as they are scrolling through your feed. You don't need a lot of time to do that. An ad can be of 15 seconds maximum to fetch the result it is expected to. If its purpose is to serve as a video, the ideal length would be 2 to 5 minutes.
Choose an impressive and captivating thumbnail. Be very particular and put a lot of care into the first few slides of the presentation. The audience needs only a few seconds to decide whether to invest time in a post or not.
Captions may not seem important when you are handling visual content, but it actually does add a lot of value. A nicely written caption for the post reflects the effort that goes into the post. It also has to be appropriate and be concise to perform well. Captions with 10 words show good engagement statistics.
Use texts to your strength and remove any room for doubt and miscommunication that comes with using only images. If you integrate it well with the content, the text is not going to stand out but becomes a part of the frame.
Lastly, make sure that your content is original and has something unique about it. Facebook users are all eyes for something fresh on their feed amidst their monotonous scrolling.
Wrapping it up,
Slideshows for Facebook are easy to make but also very performative if you pay attention to the details and stats. Ads, montages, and a number of other things can be put together in half the time if you use the Typito facebook slideshow maker.
With Typito, adding transitions, music and text are hassle-free jobs that take you very close to the removed slideshow feature of Facebook.