How to Make your Nonprofit Instagram Amazing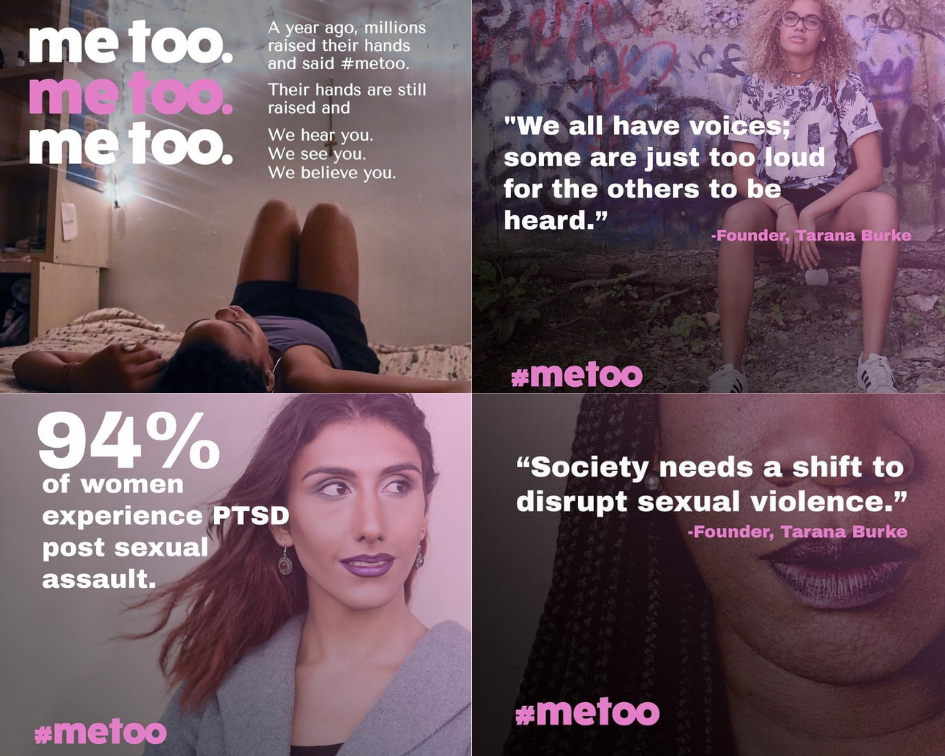 Instagram is a great place to showcase what's happening in your organization on a day to day basis. Through Instagram posts, pictures, videos, and stories, you can establish an everlasting connection between you and your supporters. It will also help you to attract new prospects to your cause. Here we present you some actionable tips to make your nonprofit Instagram account amazing, so you can keep doing good on full force.
1. Create an Instagram Business Account
An Instagram business account has many advantages over a personal account. Don't fret, if your organization is still using a personal account, you can simply convert to a free business account anytime.
When you start a business account, you can
Add your contact button and website link.
A contact button will help your visitors to get in touch with you quickly. While a website link in your bio will help visitors to know more about you by visiting your website.
Access to Analytic Insights
The Instagram business account provides you basic analytics insights about how your posts performed. You will have access to "impressions", "engagement", "likes" and "reach" on all of your posts and stories.
Using data from analytics, you can learn about which content is performing well and know more about the preferences of your followers.
Create and run Instagram ads
If you are running a fundraising campaign or event, Instagram ads can help you target users who will be interested in your cause. The ads ensure instant reach so you can use it during your fundraising campaigns to get maximum visibility and engagement.
2. Upload Stories and Use Highlights
Stories feature is where you can upload or instantly shoot videos or pictures via your smartphone to let people know what's going on in your organization every day.
Instagram Stories is a powerful storytelling tool you can use to engage with your followers. You could also look into automating some of your Instagram processes, such as liking, commenting, or following other users by looking at Instagram engagement tools that you're able to find by reading reviews online, such as this webpage https://quantummarketer.com/ingramer-review/ or one similar.
Real stories of people catch the attention of people and open their minds to the cause you're working towards.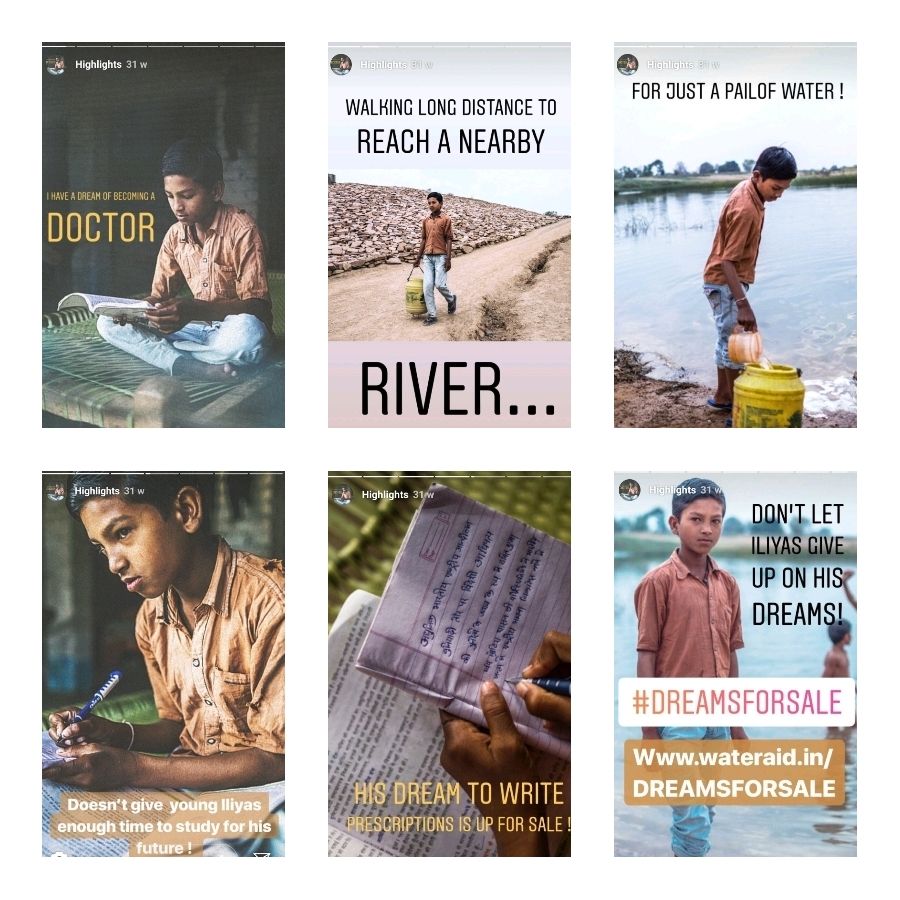 Story from WaterAid India - #dreamsforsale campaign
The Stories feature is by default set to disappear after 24 hours. But you can use Story Highlights features to retain these stories as long as you want.
The Highlight feature will act as a sneak peek at what your organization went through over time and it will also act as a feed for people who missed out on these stories in real-time.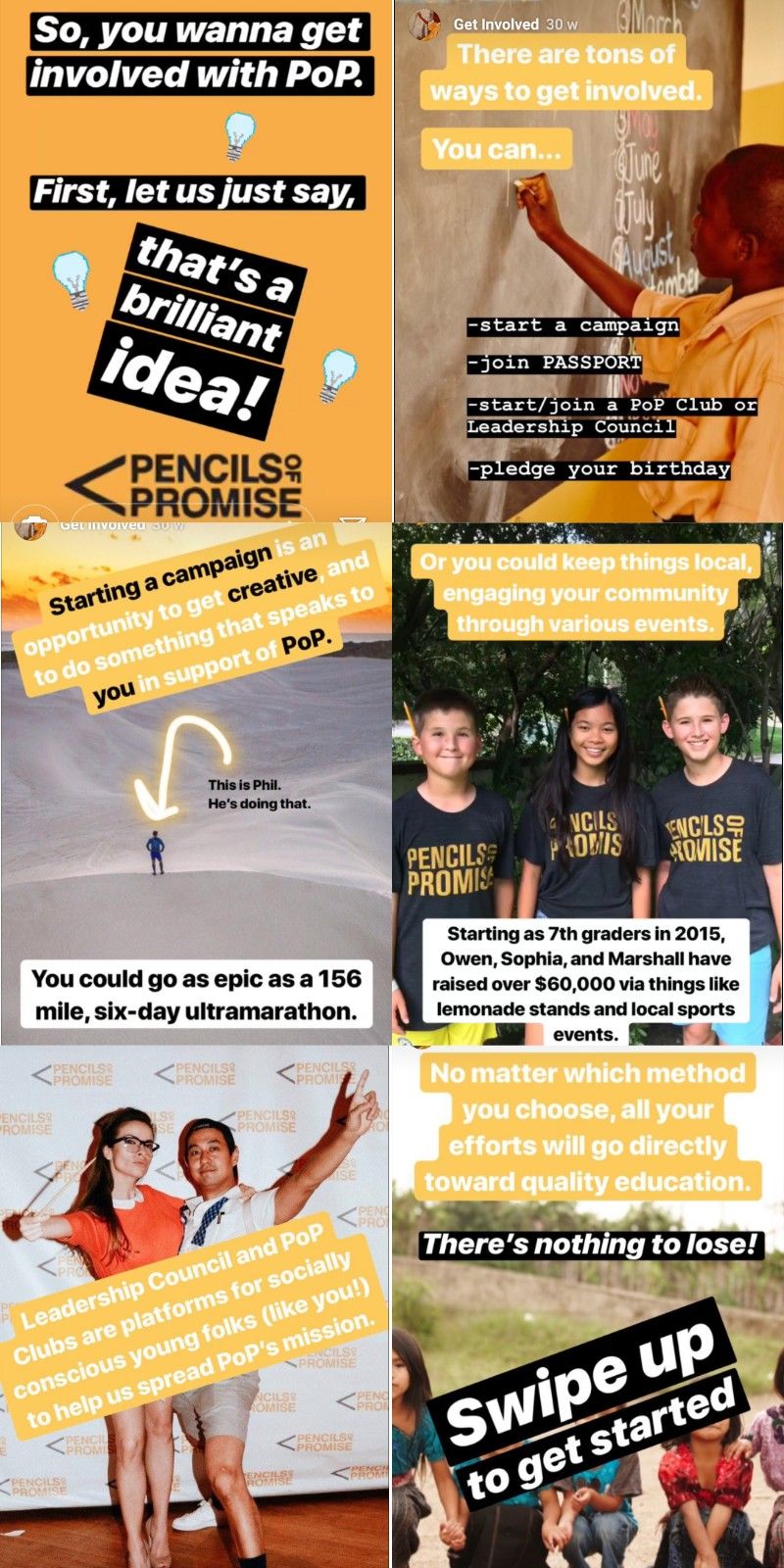 Story highlights from Pencils of Promise
Stories Highlight feature will help your current as well as prospective supporters to know more about you deeply.
3. Always Put a Link in Your Bio
Place a link on your bio so a visitor interested in you can take some action after seeing your pictures, videos, and stories. When you are running online fundraising, you can use your website's donate page link in your bio and direct people to donate for your cause.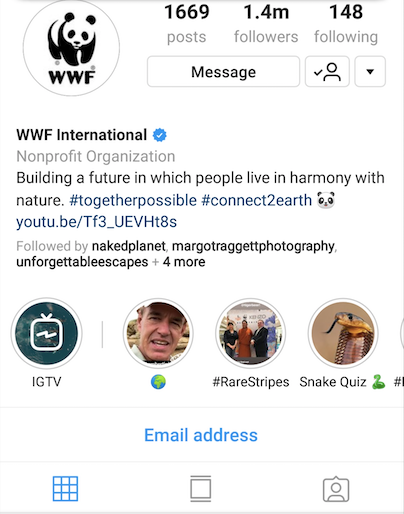 Bio of WWF
When posting pictures and videos about a fundraising program you can let them know by using the "Link in the bio" caption in your descriptions and stories. You can also add captions with highlighted texts to video to let people know they have a CTA after watching your content.
4. Invite Facebook Friends to Follow Your Page
You can post a status on Facebook announcing that your organization is on Instagram. You can also post multiple times in your pictures and videos mentioning your Instagram account. If you do not have many followers on Facebook, it may be worth it to check out a site like https://bountii.com/best-instagram-growth-services/ to find alternative ways to boost your following on Instagram. There is always a way to get more people to view your content.
5. Post Both Photo and Video Content
Instagram is primarily a photo-sharing application, but it also allows you to post 60-sec videos. Short videos have a big impact on social media, so when posting pictures, remember to make small videos to balance your content.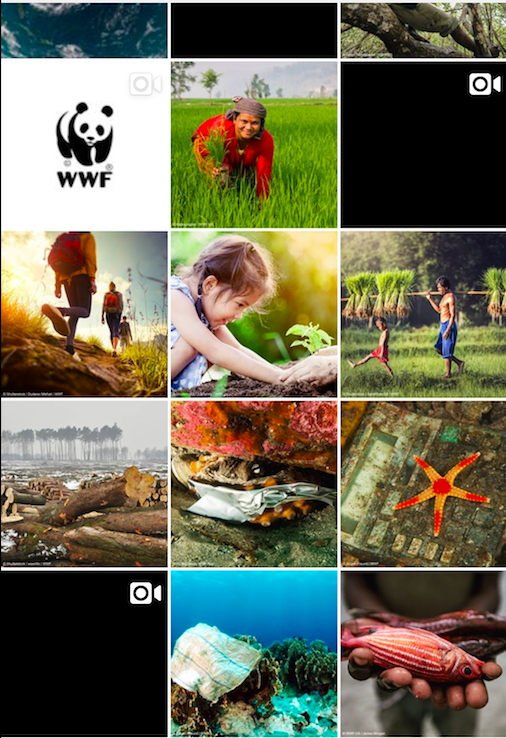 Combination of pictures and videos - WWF
You can post small thank you videos, events, and fundraising videos on your feed. You can also post small teasers or trailers to inform your followers about your upcoming fundraising event or program. Keeping your followers updated with any events that you're involved with, could mean that they spread your message to others, which in turn, will allow you to increase your followers. And if you don't find this as effective as you thought it might be, then looking into how Nitreo grows your Instagram may be your next port of call if you want more people to become aware of your nonprofit.
6. Turn On Push Notifications
You can turn on push notifications. The notifications will let you know, whenever people like, comment or mention you in a post. You can also encourage your donors or people who are close to your network to turn on notifications, so whenever some emergency fundraising comes people can be there to take action behalf of you.
7. See What Your Followers Are Liking
Knowing more about your audience can give you insights on what works and what not work in your next social media campaign. This will help much in creating or tweaking your ongoing content strategy.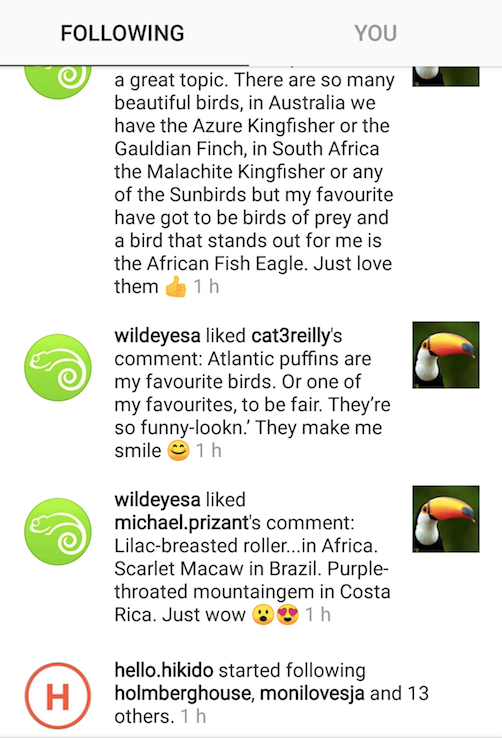 Get to know the likes of those who follow you
You can see what your followers are liking by using the click the heart icon at the bottom right part of your screen, and then select the "Following" option at the top left corner of the Instagram Application.
8. Schedule Posts Ahead of Time
Use a tool to schedule and publish your post. Setting up Instagram posts ahead of time can save precious time that you can use to engage with your supporters instead. You can use software like Hootsuite, Sprout Social or Buffer to schedule your posts ahead and spend your valuable time supporting your cause.
9. Nonprofit Hashtag Tips
Hashtags can make or break your posts on Instagram. So, while posting, use relevant hashtags that has good reach.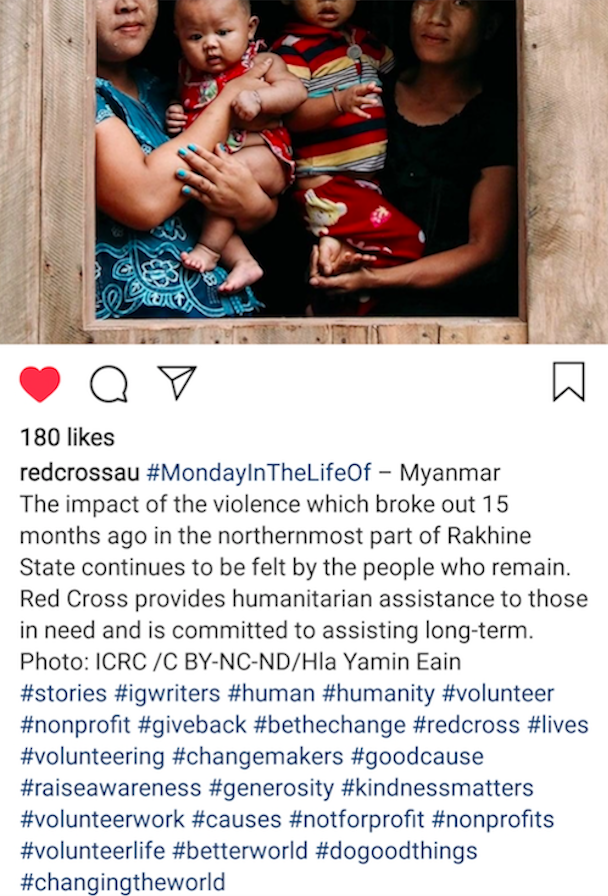 Hashtags by Red Cross Australia
10. Lookout for vanity metrics
Relevant hashtags can improve your post visibility and performance on Instagram. But you have to be careful when using them. Hashtags that don't resemble your nonprofit will get you followers who are not in your target-audience persona. So, try to use relevant hashtags to grow your profile. Any followers you get by using irrelevant hashtags can harm you, as these profiles may not be interested in your cause.
11. Use Tag Handles in the Caption and the Photo
Tagging other people will only improve your discoverability. When you are posting pictures or videos, which involve other organizations or people, you can add a tag in the picture as well as in the caption.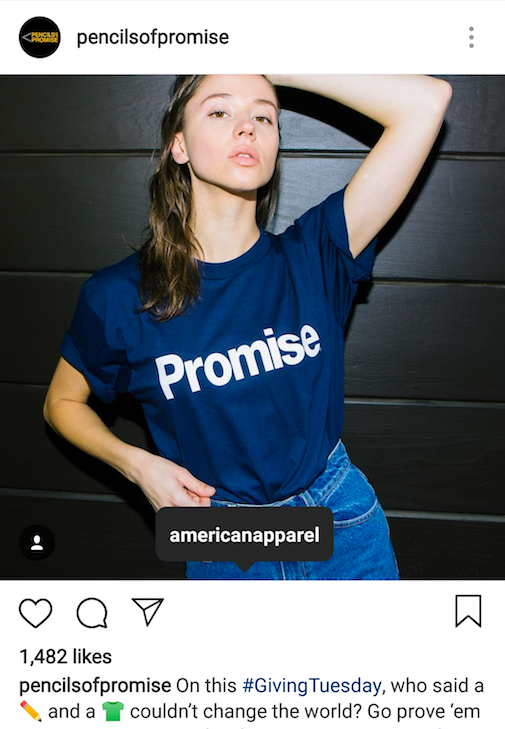 A tag showing American Apparel - Pencils of Promise
Tagging in the caption with relevant hashtag and tagging in the photo has two purposes. Tagging in the caption of your content will notify the organization while tagging them in the photo will get you in the "tagged photo" section of their profile.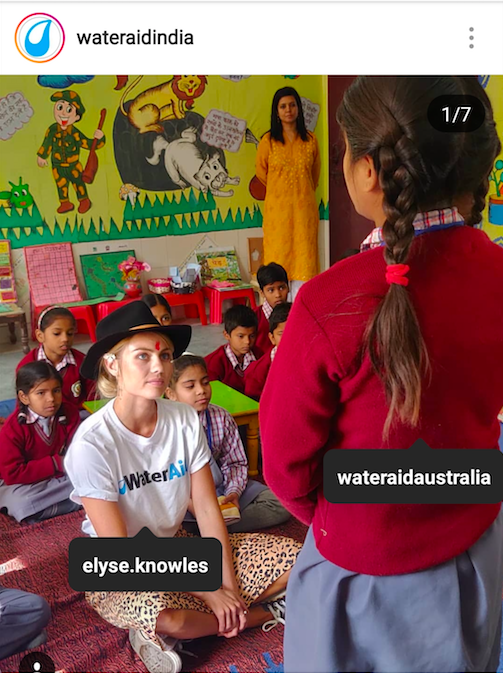 Tagging Australian model Elyse Knowles - WaterAid India
For example: If you post a photo of your donors or volunteers, and tag them in both their caption and photo, then you can increase the visibility of your post.
12. Use the Most Relevant Hashtags
You can use the search feature on Instagram to check which hashtags are trending. You need to go with the one that best represents the picture or video that you are going to post.
But if you are aiming to start a whole new social media campaign, you can come up with a brand new hashtag.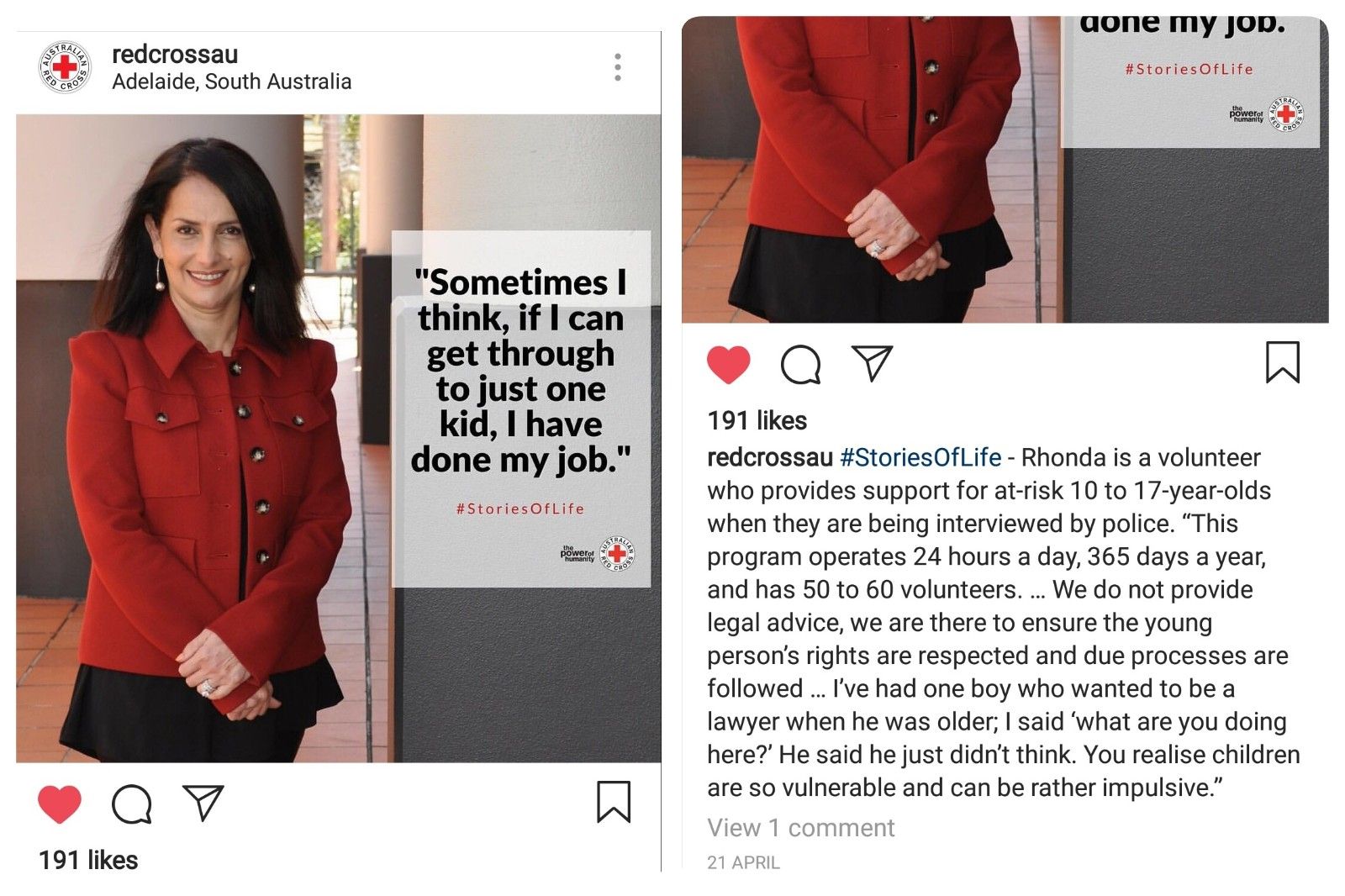 #StoriesofLife Campaign - Red Cross Australia
Starting a whole new Hashtag campaign will let you track whoever is using your unique hashtag and get to the people who are interested in your cause and reach out to them for donations. The search feature can be used to find a hashtag with fewer posts and if you think it has the potential to get more followers you can use it in your posts. So, doing a little quick research on your hashtags can make a big difference.
13. Test Out Squares and Rectangles Images
You can either go with an Instagram photo in landscape mode or go with a rectangular.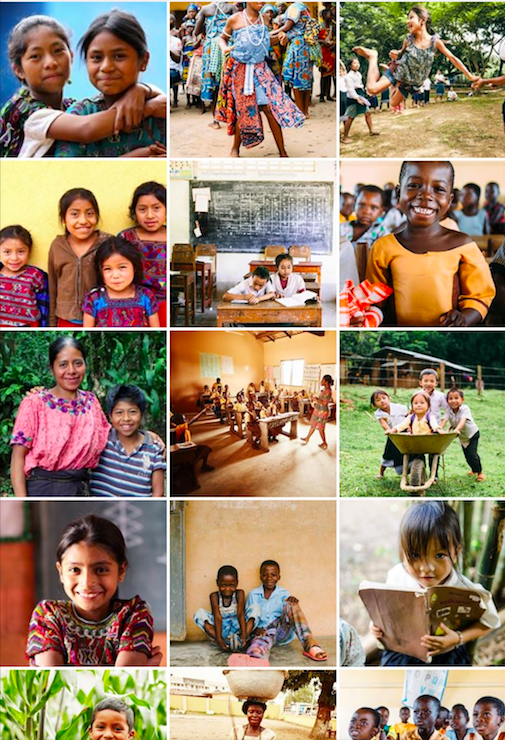 Profile of Pencils of Promise
You can also try pictures with highlighted texts and captions to get the attention of your followers.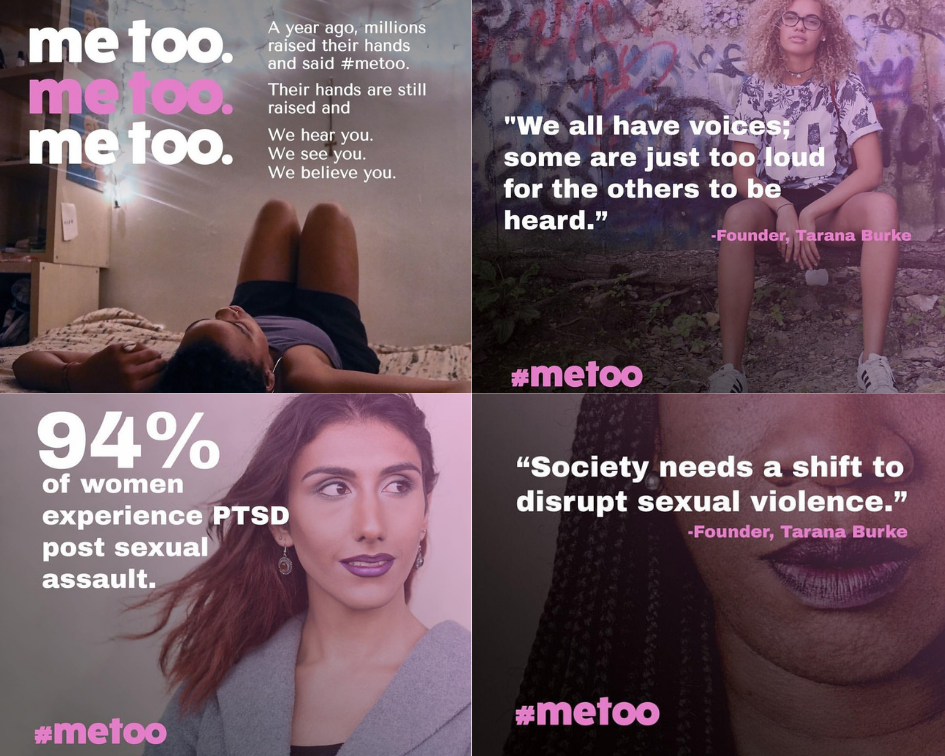 Pictures with highlighted text and captions - #Metoo campaign
You can test out which type of photos are the best performing or looks better before posting.
14. Instagram Ads
Instagram ads are nothing but regular photos or videos in your feed, but the difference is Instagram will help you reach a wider audience. You can use Instagram ads when you're running your fundraiser or event.
Since Instagram is owned by Facebook, you can post and manage Instagram ads from the Facebook ads manager itself. Furthermore, you can post stories with an embedded link and add a CTA button in your paid promotion.
15. Test to Find the Best Time to Post
It is always best to try experimenting a little bit and note down which time works best for you and your own audience. Learn about your audience and their likes and help you which time they are investing more time on Social Media. Likewise, you can also use insights from individual posts to learn about the best time to post.
16. Start using IGTV
Recently Instagram has launched IGTV, a platform where long vertical videos can be posted. IGTV is relatively a new platform, but it is backed by the immense user-base of Instagram.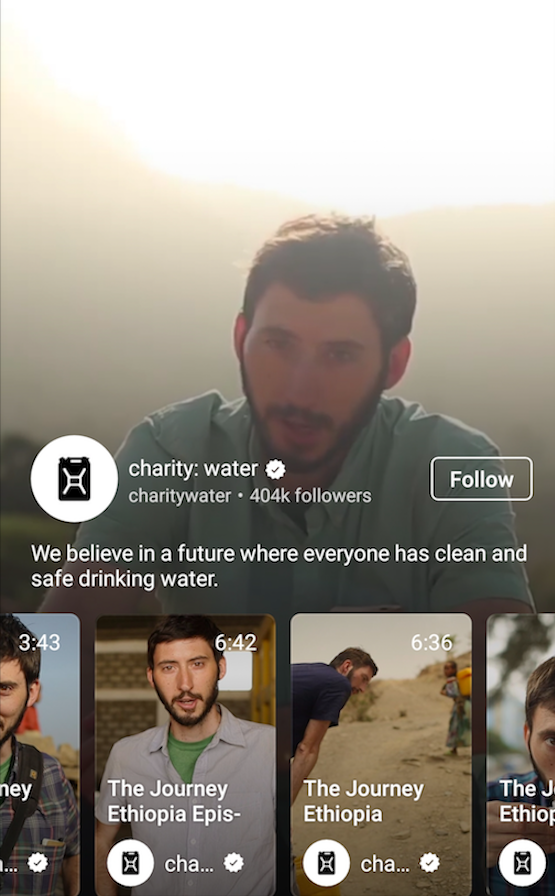 IGTV - Charity: Water
Moreover, IGTV can also be accessed from the dedicated button of the Instagram app itself. Thus, creating videos especially for IGTV will get your immense response and visibility than posting in other video-sharing platforms.
Summing Up
So, now, you know how to make your Instagram account uber-cool and amazing. Now, get in there and post some pictures and videos to get things rolling.
Pssst!!! In case you didn't know, we are running Typito for Nonprofits program. Get an amazing 50% discount on our plans. Use Typito to make your Instagram videos beautiful with engaging text, graphics, and animations. Get Started!!!