How Typito enabled India's Largest E-commerce Company with Social Videos
It's extremely hard to be the numero uno dominating the e-commerce space of the World's largest democracy and Flipkart has been doing exactly that for the past many years. The brand that understands and serves the Indian consumer psyche better than any other company, Flipkart ventured on the ambitious project called Ideas (or popularly called
Flipkart Ideas
), a curated selection of content on its platform, in August 2019 to make consumers' shopping experience more meaningful by guiding them through their e-commerce purchase journey.
Integrated on the Flipkart platform, 'Flipkart Ideas' aimed to inspire users by helping them discover new products and brands through credible information and bring forth ideas that help consumers add new purchases seamlessly into their lives. The experience plays a crucial role in bringing the next 200 million consumers online who are primarily from tier-II and tier-III cities, enabling them to narrow down specific products suitable for their needs.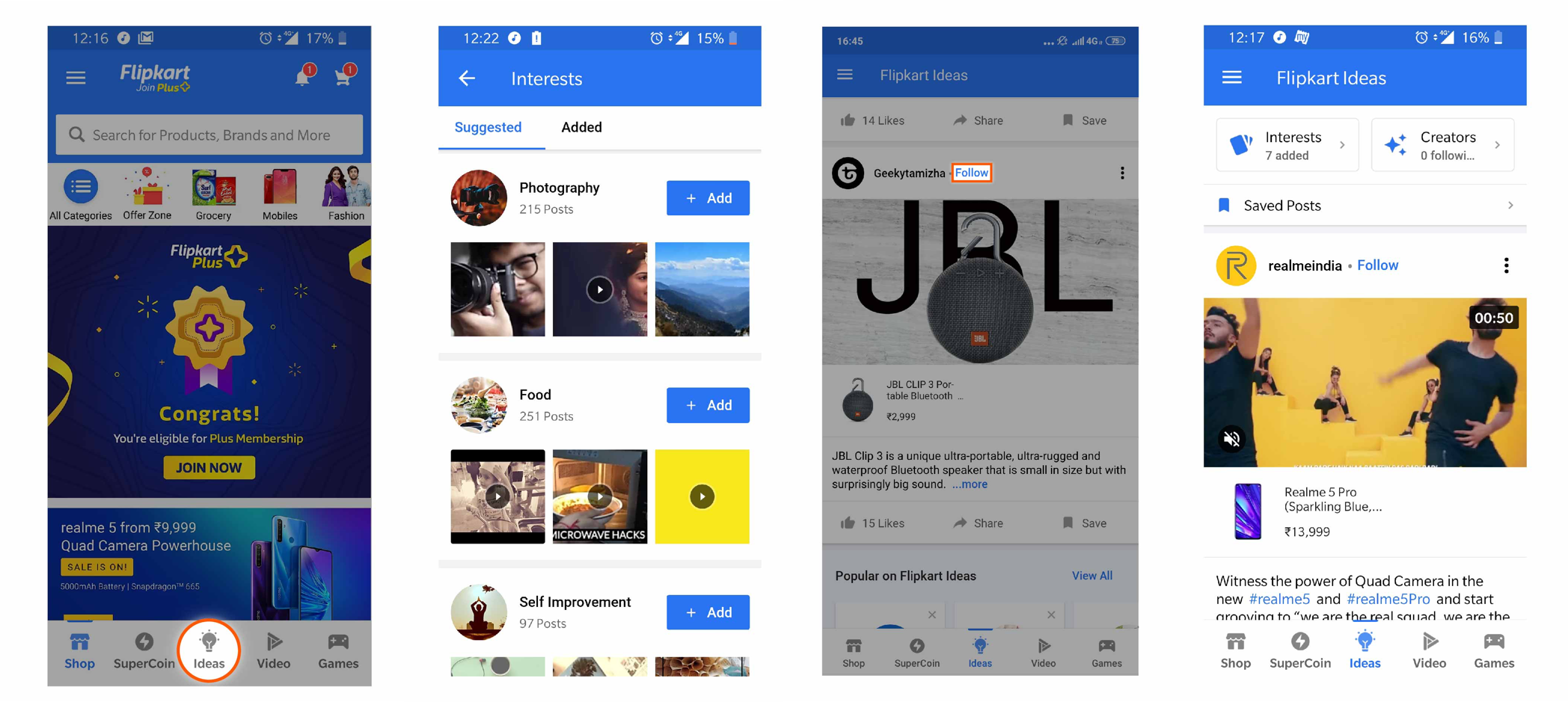 Ideas user experience on the Flipkart Mobile AppThe team has made it extremely easy and intuitive for a Flipkart user to experience the Ideas "magic". It's as simple as the following 3 steps:
Open the Flipkart App and tap on Ideas in the bottom navigation bar
Now, you can fill up your feed with big, bold shopping ideas curated to your taste by following your favourite influencers, brands and interests.
Sit back and enjoy your brand-new Flipkart Ideas feed, personally curated according to your preferences. And begin your buying journey 2.0 there!In the words of Arindam Mukherjee, Senior Director of User Growth team in Flipkart, Ideas is revolutionary as a concept, combining the nuances of e-commerce and social media with a touch of influencer and brand marketing and Flipkart happens to be in that sweet spot to be able to execute such a bold undertaking. He says, "Flipkart Ideas aims to inspire our consumers into their next purchase by bringing out the latest trends, tips and hacks across fashion, home, beauty and gadgets through rich content formats like video and polls. It is perhaps the only platform which seamlessly bridges the inspiration to purchase parts of the shopping journey and brings together consumers, brands, influencers and publishers across these retail categories."So far the Ideas project has been proving to be vital in enabling millions of Indians through their online buyer journey and the team is doubling down now given the validation they've got about the importance of Ideas in their mission to "provide a delightful and memorable customer experience".
The Social Video Challenge
As the Flipkart team went to the whiteboard in early 2018 to evaluate the type of content they wanted to enable on the Ideas experience, they knew video would play a vital role in making the experience engaging and impactful from a buyer journey perspective. The success and the inevitable dominance of video as a content delivery format on the Internet has been one which is undisputed across Industries. Cisco
that video would comprise of 82% of the Internet traffic in 2022 and this trend got an unprecedented boost in India with Reliance Jio's entry into the mobile data market in September 2016. India's data usage per smartphone was identified as highest in the World at 9.8GB / month in a
by Ericsson and it's expected to double to 18GB by 2024, fuelled by rich video content.While video was important in the Ideas roadmap, the Flipkart team knew it has to something beyond video. It has to have a strong social element that would encourage users to share what they see and spread the value of Ideas to their loved one. They doubled down on what they termed the"Decoding the Social Video" challenge and came up with an understanding of what they called a"High Quality Immersive Social Video Experience" for e-commerce buyers. And the search began for partners who could enable them to realise this vision in their Ideas project.
Enter Typito and the making of Flipkart Studio
As a company committed to helping businesses become better video storytellers with the help of an easy to use intuitive video editing platform, Typito fit really well with the needs Flipkart had. Having catered to the needs of hundreds of thousands of e-commerce store owners and marketers around the world to create beautiful social videos that more than doubled conversion, our team at Typito was positioned well to understand and appreciate what ingredients are important to design a video experience for e-commerce. And both the teams didn't waste precious time and got started with building what is now called Flipkart Studio, World's first e-commerce focused Social Video and Media creator platform that is built to enable Flipkart's network of brand and influencers to create social video and other interactive content that would move their customers and influence their buyer journey.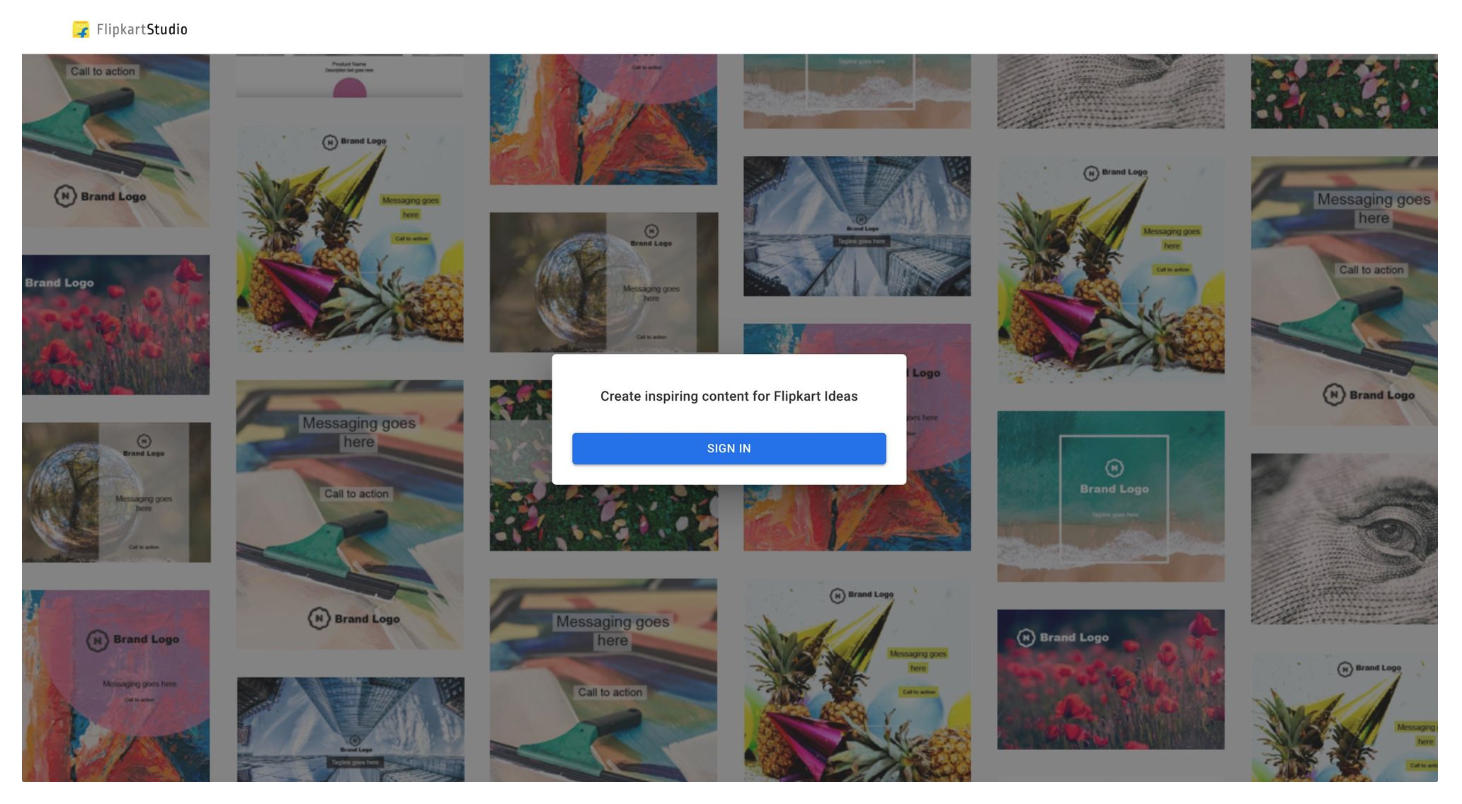 The product that's only accessible to Flipkart's network of content creators has been designed to create mobile first interactive experiences like immersive product showcase videos, engaging polls and quizzes and many other formats with a lot of emphasis put on the design elements that make these formats engaging and impactful.With the astounding reviews they've got for the first version of Studio product, Flipkart team is now doubling down on making the experience richer and more capable.
What a successful partnership between Social Video and E-commerce looks likeFor Flipkart, the product and technology acumen along with the experience, of servicing marketers and e-commerce store owners using the DIY product, brought to the table by Typito was instrumental in nailing down the version 1.0 of Flipkart Studio product. In Arindam's words, "Having Typito on the project definitely helped us tap into their expertise in the field of video creation and especially social video in e-commerce. It has been a great partnership over the last few months. Their collaboration is very much appreciated and their agility in delivery has helped us launch Ideas within the planned timelines."

Based on the learnings so far, Flipkart now wants to go heavy on interactive immersive video experience to enable their audience to perform buying decisions within lesser time, better context and more information. And when it comes to the partnering opportunity for Typito, it was refreshing to learn how such ground breaking thought innovation can happen at a big organisation, a validation of the culture that has been groomed in Flipkart. The experience also gave Typito the much needed learning to understand how e-commerce happens at the scale of millions and how video can impact the user's buying journey in one of the biggest e-commerce platforms in the World.