How Cushing Uses Customer Testimonial Videos as a Marketing Channel
Timing is everything, right? A month before the stock market crash of 1929, the doors opened at Cushing. Providing blueprints established relationships with Chicago-based architecture, engineering and construction companies. Did founder, F. John Cushing, imagine these firms would evolve into environmental branding customers almost a 100 years later? While impossible to know, many now contact Cushing to produce wall graphics and wayfinding signage.
One thing is certain: not a soul on the factory floor thought customers would appear in marketing videos. The first television had been invented just two years earlier. The idea of ubiquitous portable smartphones serving up video content by pushing buttons? Beyond the deepest reaches of science fiction!
No one would picture a printing company (really - any company) ultimately using video to promote a business. Fast forward to 2020, and research shows 71% of B2B marketers use video in their outreach. Our challenge? Limited budget and no traditional video production experience.
Several years ago we hired a firm to create videos. The series featured customer interviews, employee stories and company history. Clients loved the outcome. We knew our long-term goal should be learning production and taking it in-house. But where do you start? Which product could shorten the learning curve?
Enter Typito
We had assets: Thousands of project photos. Hundreds of client headshots. User generated video from customers and co-workers. How could we do more with the content?
Video professionals have dozens - probably hundreds - of video platforms and video hosting options available within a few clicks. Positive reviews of Typito were a great sign. It was built for the non-videographer (did I just make up a word?). Or maybe more accurately: it was built with the marketing person in mind.
Have you tried Canva? Typito is like Canva for video. The interface made sense to me the first time I logged in. Minutes later I uploaded project photos and Cushing employee images. My copy was ready for video captions. Being able to point, click and drag and drop images made the process easy.  A few hours later I created a video that was used on a new website page.
Never thought I'd find a video tool I would learn in less than a day!
Just Getting Started
The user-friendly platform has opened creative opportunities. The Pixabay integration is incredibly useful. I have been pleasantly surprised with available stock footage and relevant clips we've been able to incorporate in projects.
It's easy to upload assets such as videos and photos. The sample music files are useful, but I have enjoyed adding my own. Sites such as free stock music makes this a simple process. Find a file you like, download the MP3 and upload to Typito. You can easily sample the music before committing it to your project. Just be sure to give credit where credit is due!  Most files we have used either can be purchased or in lieu of payment, we credit the creator (based on their terms) where you host it. Here's an example with a music file we used.
Tremendous Motion Graphic Templates
Available templates to add style to text captions are easy to use. Each style had a title. For example you can pick from ones called Buzzfeed Outro to Brand Circle. Once added to your project, editing is simple. I recommend browsing available templates and testing them. It's a large resource but doesn't overwhelm.
An unexpected use (which I can't wait to leverage more), is uploading video snippets captured by co-worker smartphones. It adds another dimension to stories. Our clients have loved the results. And it's another way for our internal departments to collaborate.
"I am on install sites all the time and take video and photos for our marketing team to share", says Christine Fetting, Cushing Account Manager. "It's great to see install videos taken on a mobile phone added to company spotlight. These help us tell more of the story and the video has delighted customers."
And recently clients have shared time lapse installation videos. In the past, we have simply uploaded to Youtube or Vimeo and shared. With Typito, this client-generated content is a great way to showcase expertise through short, "snackable" videos. It enriches website page content. Typito has made it easy to take a conceptual idea and see it realized. Without outsourcing.
In The Future
Our customers are the most impactful marketers. Static testimonials and headshots have increased conversions. What's next? Inviting clients on camera for customer testimonial videos.  More prospects need to hear and see how clients have used printing to:
Recruit team members
Retain employees
Generate revenue
Typito has given us the confidence to take the next steps.
Customers want to know the impact on three B's: Their business, brand and the bottom line. Static case studies help but we need to take this a step further. Using Typito to develop more customer spotlights with video will get us there.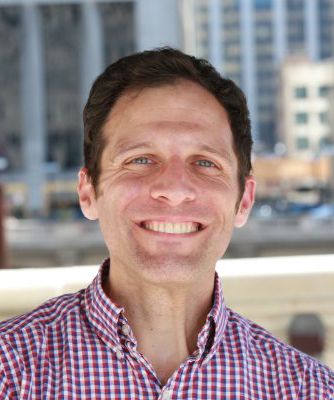 Jon Davis is the marketing department at Cushing, a display graphics printing company in Chicago and Typito customer. He writes customer stories, directs content strategy and website efforts. He is excited to add video production creation to Cushing efforts using Typito.