How Typito became the Fulcrum for a US Presidential Candidate's Video Design Strategy
Imagine your job is to move people. And move millions of them. And later become a servant and a leader at the same time taking care of the millions by implementing policies that benefit them. This is precisely what a politician's job description looks like. And to excel in all of this, the politician has to become an excellent storyteller. Someone who can empathise with the audience, and convince them of the reasons why they should support her mission and vision as a leader.
Among the candidates who are contesting in the 2020 US Presidential Elections from the Democrats front, if there's one candidate who understands the power of storytelling like no other, it has to be Marianne Williamson. Not an incumbent in the American Political Ecosystem, Marianne established herself in the heart of her supporters as the bestselling American author, spiritual leader and activist. She has written 13 books, including four New York Times number one bestsellers in the "Advice, How To, and Miscellaneous" category. She founded the much revered Project Angel Food, a volunteer food delivery program that serves home-bound people with HIV/AIDS and other life-threatening illnesses that have no income and might perhaps be on something like critical illness insurance or some sort of Social Security. She is also the co-founder of the Peace Alliance, a nonprofit education and advocacy organization supporting peace-building projects of International scale. As you can see all of this is not possible without being an inspiring storyteller that Marianne is.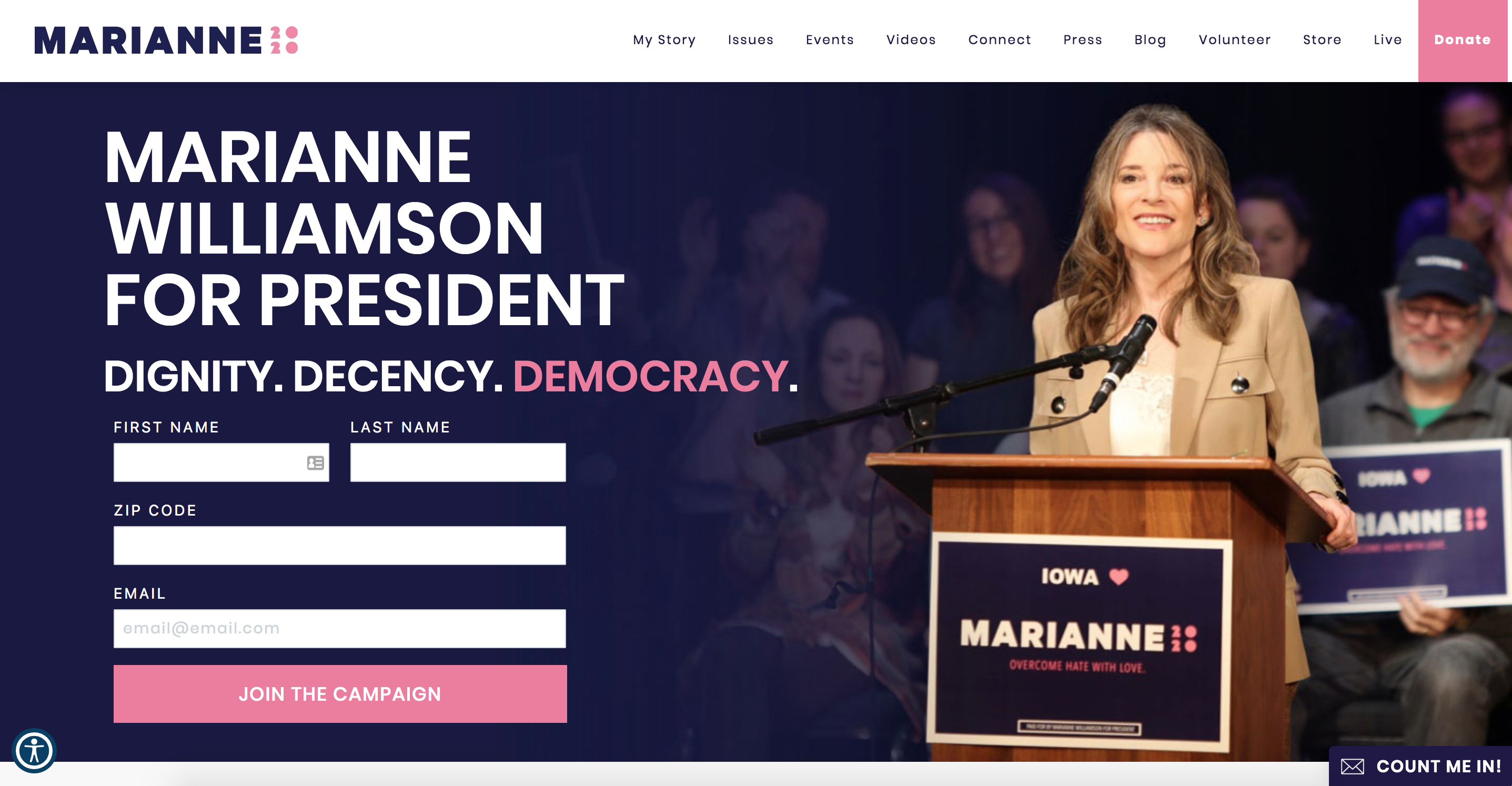 Marianne's on-brand website for the 2020 US Presidential Campaign
But on 28th January 2019, when she announced her candidature for the US Presidential Campaign, she knew she will have to explore impactful and innovative ways to narrate her stories to connect with the Millennials and Generation Z that represent close to 49% of US population as per Statistica's 2017 report and that video would play a major part in it.
Video Design Strategy for a Political Campaign
When Marianne's team got into a huddle to brainstorm their video strategy, they were able to zero down on the primary advantage they had over the other candidates:
Marianne is an amazing orator and public speaker and it's possible to get high quality videos of her public speaking endeavours with relative ease.
Once they agreed upon the team's competitive advantage in the elections, their video-first content strategy boiled down to solving three challenges:
how to repurpose the master videos (the original video) to create video formats optimised for different social media channels
how to ensure all the videos follow a specific design language, all of them aligning to a central story
how to ensure the video formats are inclusive with the help of captions since most of these videos follow the "talking head" format of a speaker talking to the audience.
After talking to experts and evaluating multiple approaches to video distribution for reaching their audience on social media, the team eventually came up with a strategy for videos repurposed from the master video along with on-brand captions.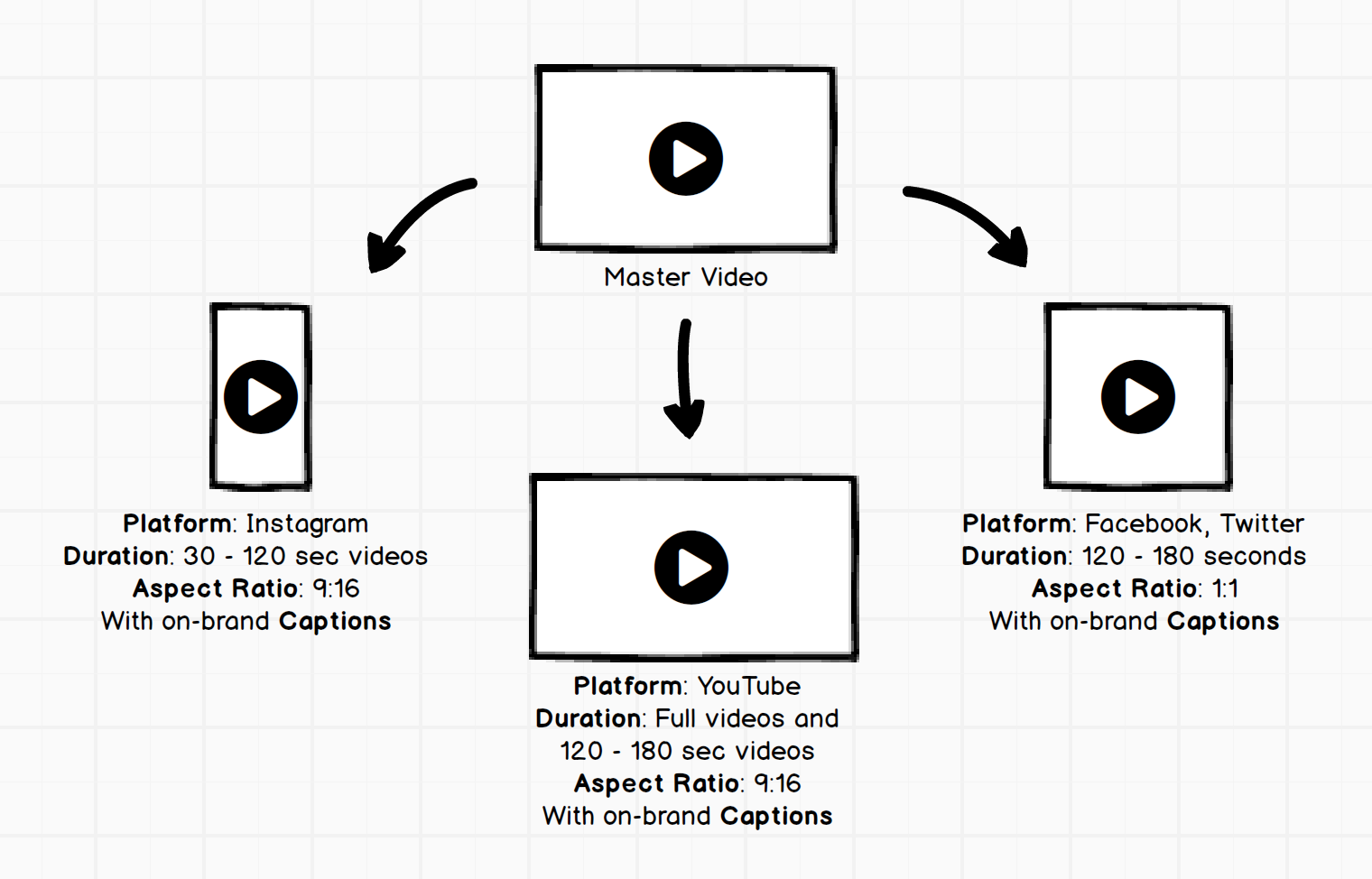 Marianne Williamson's social video strategy for the 2020 US Presidential Campaign
Now they wanted to finalise on the toolkit that enabled them to create these videos. With just one caveat - they were particular about choosing a product that's online, collaborative in nature and that enables their volunteers, with zero or minimal video editing experience, to produce on-brand videos tailor made for the different social media platforms. And.. they discovered Typito.
How Marianne's team used Typito to design social videos
Helen Caddes, a marketing leader who has worked with multiple startups, led the social video efforts for Marianne's team and Typito appeared to be an obvious choice for her considering the video plan they charted out. The software provided on-brand captions as a service, enabled the video marketing team to collaborate online and provided an easy way to repurpose videos with appropriate formats for different social media platforms using it's Custom Formats feature. And on top of all these reasons, Typito appeared to be a product with almost zero learning curve for Marianne's team - and that means the team can start churning out videos almost instantly without any training required.
Marianne's team has since then been designing and publishing engaging video campaigns on different platforms as per the video strategy that was highlighted above, using popular platforms to release the videos after they researched the most commonly used video viewing platforms using pages you can see if you click here or research other statistics regarding the various video platforms such as YouTube and DailyMotion, etc. Let's look at one of the video campaigns they successfully distributed through the key social video platform complying by their video strategy:
Given below was the main video of the talk that Marianne gave during the Yale Political Union on October 25, 2019:
The master video was then uploaded to Typito and repurposed to create all the different video form factors.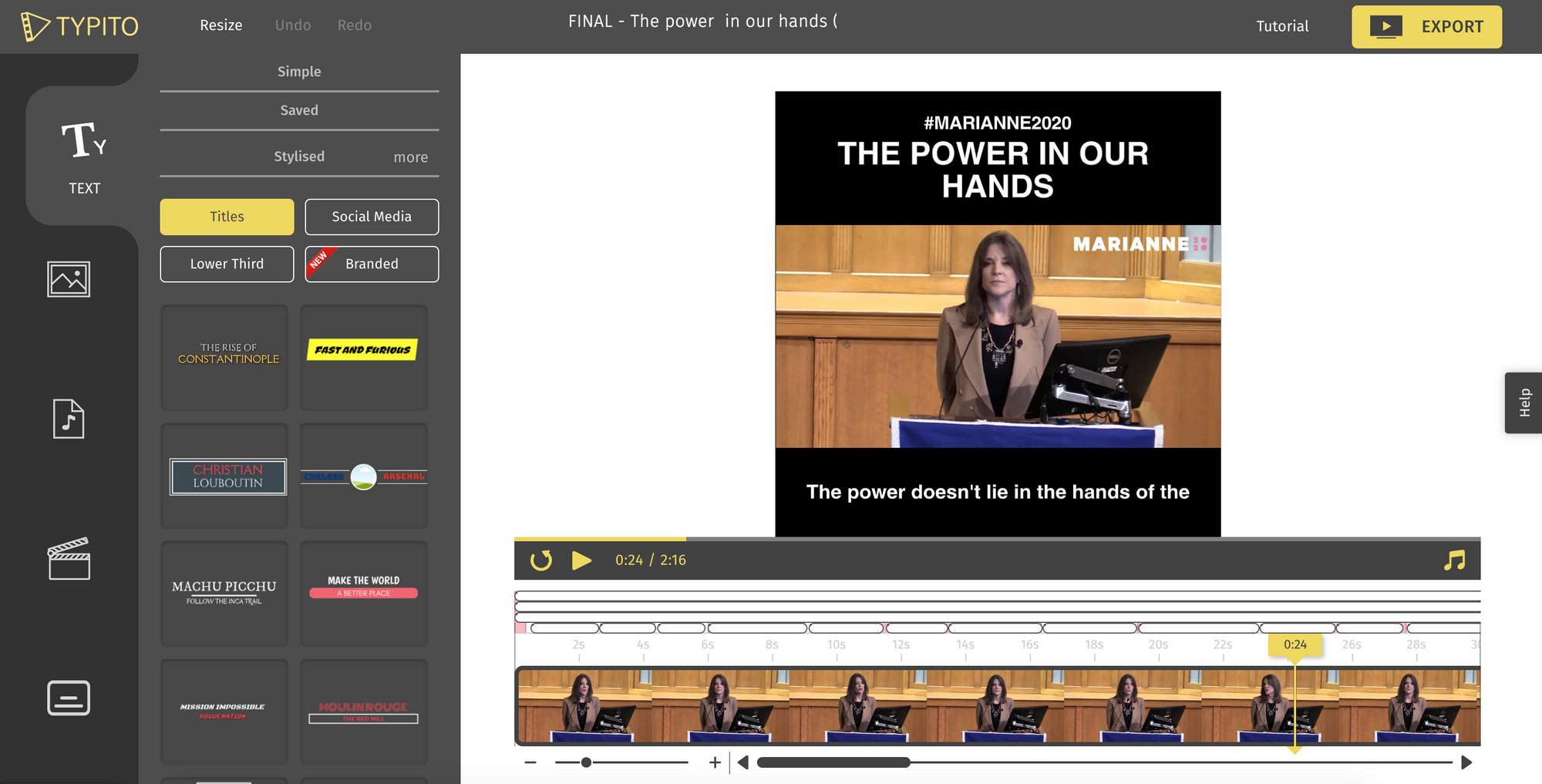 Marianne's "Power in the hands of People" video project on Typito
Now let's take a look at the different platform-specific video snippets that were created from the master video:
Instagram:
Twitter
Facebook
And finally a smaller snippet of the video on YouTube:
As you can see all the videos align with their social video strategy that focuses on repurposing and optimising the original story to create an impactful video-first campaign across social media channels.
Hope this short story helped you learn how some of the best video-first political campaigns transition from a strategy drawn out on a whiteboard to a well oiled content machine and why Marianne decided to adopt Typito to design her video marketing campaigns.