5 Video Marketing Strategies to Grow Your Brand [With Free Video Templates]
Every business and brand needs to market itself online. There are many ways that a business can do this, however, it's important that a business first makes sure that they have a good website online. You can't just have any website though, you need to make sure that it is SEO optimized, looks good, is easy to use, and is exactly what your customers will want.
If you have no knowledge of building a website, then you should look to hire a professional (if you don't know who to use, check out Go-creative.com.au). Getting someone to help you with this sort of thing can make a huge difference to the success of your business online.
Of course, it doesn't just end there though. There are plenty of other things that you can do to help your business and brand market themselves online. Whether that's through their own marketing team, they go to an agency like Home Service Direct that are SEO experts within their industry, or they attempt to do it themselves - it doesn't matter. If they aren't putting content out there then there's no way for them to grow as a business. There are lots of ways a business can market themselves but one of the most effective ways in recent years is through video marketing.
Video marketing, along with SEO, is one of many ways to attract potential clients for a business. Reminiscent of TV advertising, video marketing can show precisely what a business does and what it can offer its clients. For instance, a HVAC company can use video marketing and a HVAC SEO service to showcase the effectiveness and professional work their contractors can provide their customers while growing their leads and tracking potential customers.
All brands need a video marketing strategy. While the idea isn't new, the importance of video on every social media platform and channel has changed. Video is no longer a small part of the marketing plan. Instead, it is now at the very centre of all the outreach and marketing efforts.
Over 83 percent of businesses now use video as part of their marketing strategy and for a very good reason. Videos achieve 66 percent more qualified leads and they are able to increase brand awareness by 54 percent.
That means, if your brand has still not created a custom video marketing strategy, then you are effectively losing prospective customers.
Continue reading to learn how you can grow your brand by implementing the right video strategy.
1- Understand your target audience and analyze competitors
Every successful marketing campaign starts with accurate and thorough research. Before you start brainstorming video ideas, analyze your target audience and their expectations.
Who are you trying to target?
What type of content usually resonates the most with your target audience?
What social media platforms does your target audience primarily use?
Are any of your direct competitors employing aggressive video marketing strategies?
With the above questions answered you should then dive deep into the main goal of your video marketing campaign. When you are able to better understand your target audience, it becomes easier to create videos that can connect with your customers.
Gathering consumer insights before developing videos also gives you a better idea about the kind of videos you should be producing and the money that you can ideally spend on marketing efforts.
2- Use live videos to drive engagement
Live videos on Facebook and Instagram are a great way to engage an audience and get their opinions in real time. A live video helps you connect with your followers in an authentic and immediate way that other ways just cannot.
In just a few years, live videos have become incredibly popular among users. In fact, people spend more time watching live videos than pre-recorded videos on their feeds. Over 80 percent of users prefer to watch live videos from a brand, instead of reading a blog.
For instance, Benefit, a cosmetics brand, does weekly live videos on its Facebook page to discuss the company's products and share tips with viewers.
Who is their target audience?
Anyone interested in makeup or just Benefit products in general.
What is the goal of the video?
To improve customer loyalty and give people a better understanding of the company products. While ecommerce has made it easier for people to buy products online, consumers are often unsure about buying makeup online because you can't judge a makeup product with just a picture. A live video demonstration gives viewers a much clearer and better idea about the products.
The strategy and approach of the video
During the live sessions, the viewers would share their questions or queries about new product launches, application tips, and recommendations, and the hosts would answer all the queries promptly. By listening to the viewers and actively engaging with them, Benefit was able to gain loyalty and brand authority among its online customers.
3- Improve brand awareness
Over 81 percent of customers have been convinced to buy a service or product by watching the brand's video
Creating awareness about your brands should be one of your primary video marketing goals. After all, the more people know about your brand, the more chances there are of them buying your products.
For instance, BlendTec, a company that offers blenders decided to add a fun element to their videos in order to target a younger audience. BlendTec started a video series called 'Will It Blend?' on their YouTube channel where the brand would take products like smartphones, paintballs, and glues to see if they can blend.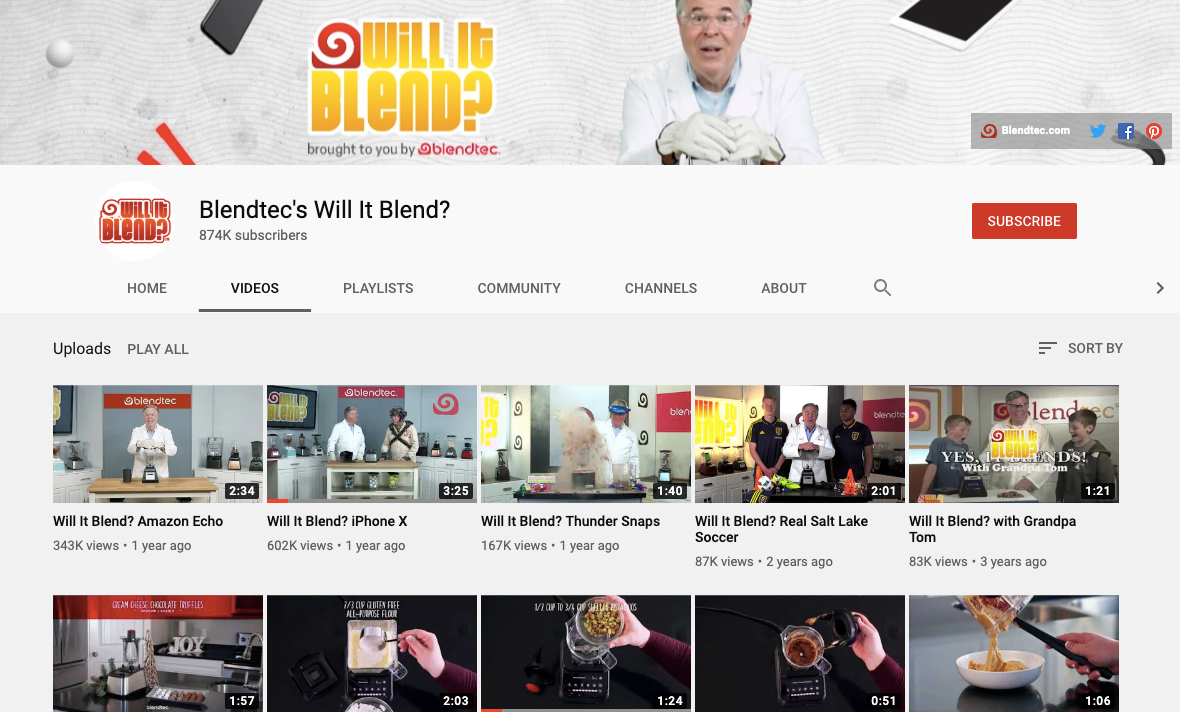 BlendTec's YouTube channel has over 850K subscribers and some of their videos have reached over 18 million views
While blenders are not something customers buy every few months, the video series led to an increase in sales by a whopping 700 percent.
Who is their target audience?
Blendtec wanted to appeal to the millenials who might not be that interested in buying blenders. Instead of talking about the numerous benefits of Blendtec, the videos were more fun, relatable and shareable.
What is the goal of the video?
Brand awareness was the direct goal of these videos. There is no hard selling of Blendtec. All the videos start with a short intro of the products they will try to blend, and then they go directly into the actual thing -- the blending.
It is not important that the blenders are powerful enough to actually blend smartphones and other electronic devices, because let's be honest, nobody will be using these blenders for that. The goal is to make these blenders the star of the video and keep all the attention on them.
The strategy and approach of the video
The brand wanted to make videos that were shareable and had the ability to go viral. Blendtec marketers also made sure to incorporate all the trending topics in their videos. For instance, when the iPhone X had just launched, they did a video to see if the new Apple smartphone would blend.
Similarly, around the Amazon Prime Day, the brand released a video trying to blend Amazon Echo. In the description box of the video, they shared details about the Prime Day sales on its blenders.
Key takeaway:
The videos are fun, compelling and convincing in nature. More importantly, they help define BlendTec's brand. You can also take advantage of the trending topics by using them to showcase your products and in turn convert leads into sales.
You can create videos like this using your brand colors, logo and fonts. Click here to check out some free Branded Video templates powered by Typito.
4- Educate your customers through explainer videos
Explainer videos are the perfect way to show prospective customers how to use your products or services. In fact, over 97 percent of marketers believe that videos have helped improve user understanding of their products/ services. And more than 95 percent of customers have watched explainer videos at least once.
Explainer videos help users quickly understand the gist of the product which in turn allows them to decide whether they want to use the product or not. It improves the customer experience from the very start and helps increase customer retention as well. After all, you can only retain customers that know how to use the product and find it beneficial.
For instance, Webflow, a drag and drop tool for building responsive websites, uses explainer videos to showcase the different features of their tool and make it easy for users to leverage the tool.
Who is their target audience?
Freelancers, entrepreneurs, startups, and SMBs who want to quickly get their website up and running with minimal coding and technical expertise.
What is the goal of the video?
The goal of the video is to show users how easy it is to use Webflow. When it comes to SaaS products, especially the ones aimed at business and working users, it is important to showcase that these applications are actually easy to use and they have a smaller learning curve.
Webflow achieves that by telling the audience how users can drag and drop elements to create custom website designs and even use templates available. The video also goes to explain the entire process along with CRM and third-party integration.
The strategy and approach of the video
All the explainer videos by Webflow have tightly scripted videos with good animation and live screencasting. The videos also have captions to make it easier for users to understand everything.
More importantly, the videos aren't trying to sell the service. Instead, the aim is to educate viewers about the different features of the tool in the most thorough way possible. After all, no matter how useful your SaaS tool is, if it feels too overwhelming to the users when they look at it for the first time, they may not even want to try it.
Key takeaway
A short explainer video can help your customers understand your products or services completely in less than a few minutes. It can also help improve sales and customer retention.
If you want to create tutorial or explainer videos like this, Typito provides you with beautiful predesigned text animation templates. Check them out here.
5- Build trust with testimonial videos
The best thing about videos is that it allows you to tell a story of your own. Most often, brands get so caught up in showing their products or services in the videos or following the latest trending topics that they forget the real reason behind publishing videos -- To gain more customers.
Testimonial videos are a great way to build trust among prospective customers, especially for B2B brands. As many as 93% of purchasers include reviews in their purchasing decision. Standard testimonials might look good on your website, but they don't make your brand stand out in any way. After all, almost all the brand websites have customer testimonials.
Video testimonials can add a human element to your brand by showcasing how your product or services help customers.
Slack is an instant messaging platform mainly used for internal company communications. In order to showcase the usability of the tool, the brand decided on a testimonial video called "So, Yeah, We Tried Slack..." to show how the tool can help companies communicate in a better way.
Who is their target audience?
Slack is primarily a B2B tool which is why its target audience includes companies that are looking for ways to replace email communication with something more seamless.
What is the goal of the video?
The conversion was the main goal of these testimonial videos. The video shows prospective customers how Slack can transform communication within their company and it encourages them to sign up to see how useful the tool can be.
The strategy and approach of the video
While most testimonial videos are boring and one-dimensional, Slack makes them interesting by adding an element of humor. The video first does a deep dive into the several problems that were being faced by the company before they started using Slack. Then, the different members of the team discuss all the different ways that Slack helped them save their time and increased efficiency.
The video offers the right amount of humor and visual effects to engage the viewers while highlighting the many benefits of the communication tool in a fun way.
Want to design testimonial videos for your business? Here's a step-by-step guide.
Final words
While video marketing can seem rather overwhelming, expensive, and time-consuming, it can be as easy as clicking a few buttons if you have the right tools by your side. Typito is a free video editing tool with a highly intuitive interface and thousands of templates that let you create brand videos for just about any purpose within minutes. Create an Instagram Story, a Facebook video with captions, or a YouTube explainer video -- anything is possible with Typito.
Sign up today to see how Typito can help grow your brand.