How Insider Inc. Reaches 300 Million People a Month Using A Viral Video Brand
Insider, who?
Started with Business Insider in 2007, Insider Inc. expanded its focus to include lifestyle and general news stories in 2015. The brand's digital video presence spans across topics as diverse as food, art, travel, science, news, and even beauty.
"Video has become a huge central way to tell stories in digital and it has developed a lot in the last 10 years and we have developed with it"

– Henry Blodget CEO, Co-Founder, and Editorial Director at Insider Inc.
According to Henry, the company aims to inspire and entertain their audiences with both news stories as well as entertainment pieces. With their aggressive content creation and distribution strategy, they have been compared to the likes of Buzzfeed. In the past 4 years, Insider has constantly evolved and adapted their creation and distribution strategy to ensure they stand out and stick around as a "shareable" brand.
In this article, we'll be looking into the success of Insider and how they grew their brand name with their bite-sized viral videos that audiences can't get enough of.
Insider's Growth (is inspirational!)
"It's always been a combination of storytelling, data, and distribution for us. If you don't understand all three, nothing will happen."

– Henry Blodget
Three years ago, Insider started posting short videos about interesting stories, from Drake to Vine artists to even cronuts. Their viewership spiked from 162 views to as high as 321000 views. This is when they started to crack their formula to making their videos enticing enough to make them shareable. Insider's most popular videos are as short as 3 minutes and these garner an average of 13M views. Now that they were gaining this popularity, they needed to make sure the company was well managed to keep these popular videos being churned out. This meant taking on new employees and making long term investments to the company. What started off as a few people was now a small business with a flat hierarchy. And with a bigger team came bigger risks, such as the video filming and production equipment being stolen, that's why they looked into matters like Verisure security and insurance to protect their new growing business. With the employees, keeping them invested in Insider and happy to make video after video after video was the next potential hurdle to address. After all, the more productive employees are, the more videos they could put out, and the more popular Insider would become. That's why Insider took actions such as using a Tool for managing employee benefits to ensure everyone they hired was happy with their role and stayed productive. In the end, it was about managing these components to get the best results and peace of mind.
There are 4 simple reasons why Insider's videos went viral. They were short, interesting enough to share with friends and family, templatized to give every piece of information about the topic without any fluff, and native to the platform that the viewer was watching it on.
Let's look into the different elements of making these short videos as well as the identifiers that made them unique to Insider.
Breaking Down Insider's Viral Video Design
1. Branding
Insider videos have a highly unique style, making it easy for anyone to spot and identify their videos even without looking at the social handle name. Every video uses text to highlight important words or features that the video is focusing on.
The text is written in the Lab Grotesque font, a straightforward and minimal font that makes the videos easy to read. The text is in white with important points highlighted in green, the primary color used by Insider across their platforms and even in their logo.
If the video wants to inform viewers about the place, it shows a location pin along with the name of the place that the of the product or service originated from.
For instant identification, the logo is shown at the beginning of every Insider video and as a watermark on every frame throughout the video. Videos usually end with a final frame that includes the Insider logo as well as their tagline "Life is an adventure".
The video thumbnail is based on a clear frame of the product that the video will be about. Since the stories of their videos are varied, Insider has chosen to keep their thumbnails organic instead of creating a consistent theme with colors or posters.
2. Ideation and Storyboarding
Your story is the foundation of any content you put out. Insider's stories have one driving principle that makes them win. This principle is based on the brand's identity.
"Insider Inc. equips our curious and action-oriented audience of more than 375 million with the information and inspiration they need to keep the world, and their lives, moving forward."
This means that every story that is transformed into a video has to first answer one question- Does the story make the viewer curious? What makes the story stand out?
Insider's videos have an element of curiosity, informing their viewers about a new concept or idea, whether it's about a pizza dessert or an Airbnb in the arctics.
When storyboarding, the Insider creative team has a template that is easy to replicate. Since their stories are fleshed out and juicy enough, the videos never get boring, even though they follow the same structure of storytelling. Here's how most of Insider's short videos are structured-
Hook: The USP shows the most interesting part of the video and entices viewers to keep watching.
Introduction: This is an overview of the video. It shows the place where the idea was founded, how famous it is, etc. For instance, if this is
Experience: Videos always have footage of an Insider representative testing out the product or service and showing viewers the experience of it. The experience of the product is shown in different perspectives after the behind-the-scenes as well.
Behind-the-scenes: Insider videos make it a point to give viewers a peek into how the product or service is made.
Interview: Some videos also include interviews with the person behind the idea who explains how it is made or why their product or service is seeing so much success.
Insider's editorial voice is a conversational but digital voice - suitable for the platform it is being published on, keeping the tone of their stories casual and suitable for the platform they are publishing on. To maintain their style, the editorial team has an acronym that describes their voice- SHAFFFF (smart, helpful, accurate, fast, fair, fearless, and fun).
Videography
Insider videos look effortless and are usually shot with different kinds of mixed media- boomerangs, B-rolls, and even interviews. Most of the footage is shot in the perspective of the customer or user. For instance, in many Insider Dessert videos, the camera is in first-person point-of-view, showing the ice-cream being scooped up or the pizza sliced being cut up and taken.
The travel and adventure videos that you see on Insider Travel usually require drones and GoPros to capture the essence of the experience.
Insider's editors keep the video as engaging as possible, putting together as many varied, action-packed footage while stitching together a seamless narrative. You can get a vivid picture of the editing style by seeing it as quilting. Video editors put together the video in such a way that the viewer takes in all the information in a short span of time. Editors usually overlap interview audio over footage of how the product is made to give a smooth transition and keep the story flowing.
This effective editing style can also be recreated by you with the right video creation software that helps you create engaging videos with your footage, text, fonts, colors. Here's a glimpse at how you can do it with Typito: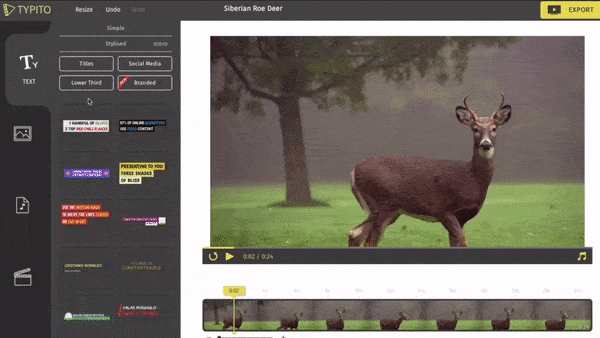 Audio
Insider videos use stock background music to liven up their videos. Videos that feature mini-interviews use audio from the footage shot by the creative team. If the product or service they are featuring uses audio, these videos include the audio as well to provide a holistic experience to the viewer. This isn't always the case though. So, most often, viewers are listening to lively music that has come to be synonymous with Insider.
Here's what Henry Blodget, CEO of Insider has to say about the use of sound in their videos:
"You have to create a lot of stories that can get a lot out of it even without sound if you choose to watch them that way and make it better with sound if you watch them this way."
Since many people are usually scrolling through their social media feeds while out in public or among company, Insider has been sensitive to this behavior and created their videos in such a way that they can be viewed with or without sound.
Distribution Strategy
Insider started under one account name across social platforms like Facebook, Twitter, Youtube, and Instagram to cover stories about interesting ideas. As the number of stories increased, the brand diversified and broadened the number of accounts they published on. They now have dedicated accounts on each social media platform that tackle one subject area- cheese, desserts, travel, science, beauty, food, and more.
Videos are posted in square format on all platforms. The frequency at which videos are published depends on the popularity of the account. For instance, Insider Food posts every day while Insider Science has videos going up only 3 or 4 times a week.
By using the right hashtags, and tagging the right accounts, Insider keeps their distribution simple and focuses on ensuring their story is enticing enough to grab more views.
On Instagram, you would notice that Insider also shares stories with low viewer count on the main @Insider account to bring more traction.
Five Best Practices We Can Pick Up From Insider's Viral Videos
Build trust with short videos
Insider started out with 1 to 3 minute long videos that were information-packed, letting viewers know exactly what they were in for. Once viewers were sure they wouldn't be served fluff and arbitrary information, they started to trust the brand a little more.
Instead of asking your audience to commit to your 10-minute long video, start building trust with nuggets of information. Make them realize why they want to keep watching your stories and turn them into brand loyalists before asking them to spend more time watching your videos.
Work with mixed media
Viewers on social media don't want to watch 3-minute stories that are told in one perspective and taken in one shot. The current way of consuming stories online is through 15 second Instagram Boomerangs and funny 1-second gifs. Mixed media allows you to keep your viewer's wandering attention on your content.
Mix up boomerangs, photos, Polaroid-like frames, and interviews without your video to keep it interesting for your distracted viewer.
Find a story angle that hasn't been told before
Every Insider video is based on a great idea that is identified to fit the brand's content strategy and is vetted to bring in lots of views. When trying to understand if your story is great, ask yourself a few questions:
Why is this idea interesting?
Why would someone want to watch it? How would they react to this story?
Does this story fit my content strategy?
Once you've answered these questions, you'll be able to understand if you should push forward with the idea or if it has to go into the discard pile. Vetting your ideas ensures that you're only spending time and effort on the best story ideas.
Create partnerships within stories
One of the best lessons that Insider has shown through practice is to prioritize stories over partnership. Once you have a great story, the partnerships follows and because of the quality that the story delivers, it attracts even more viewers and partnerships. As a creator, it's important that you ensure that every story fits the driving principle of your work and doesn't deviate from your vision for the content you create.
"We had 45-second videos that would completely overwhelm the servers of an e-commerce company, or book a restaurant for months in advance."

Pete Spande
Insider's publisher and Chief Revenue Officer
Understand changing audience needs and optimize strategy
In the initial days, Insider started with short videos as a way to earn their audience's trust. With their short but high-impact stories, Insider proved their credibility and established themselves as a highly recommendable media outlet. But, recently, with the popularity of documentaries, viewers prefer long-form videos over short ones. Insider recognized this need very quickly and shifted their video strategy to cater to the needs of their audience.
Keeping up with the evolving needs of your audience, understanding how you can fit in, and adapting your strategy is crucial to ensure that you don't get left behind.
Conclusion - Your video can go viral too!
These days, Insider is evolving their video strategy to adapt to the changing way people consume videos. They are creating more long-form videos and even moving into series production on Facebook Watch. But, four years ago, Insider started out by gaining trust, with short videos that grabbed the attention of viewers globally. Thanks to the brilliant story, style of production, and ease of interaction, these videos stood out and viewers couldn't help but share them with friends across social media platforms.
We hope this comprehensive guide gave you a better look into how Insider videos went viral and the secret ingredients that aided its growth.
Now, it's your turn to become the next internet sensation!
References:
https://tubularinsights.com/buzzfeed-video-strategy/
https://www.clickz.com/10-reasons-buzzfeeds-tasty-videos-dominate-on-facebook/98482/
https://digiday.com/media/seinfeld-effect-insider-shifted-video-strategy-focus-shows/
https://www.youtube.com/watch?v=dgty6JZhqV8
https://knightcenter.utexas.edu/blog/00-20735-insider-inc-ceo-henry-blodget-moved-experimentation-evolution-digital-media
The research for this article was done by Asiya Nayeem. She's also the co-author of the post. You can connect with her on LinkedIn for more insights.