Tips to Master the Art of Advertising to Blow Up Your Small Business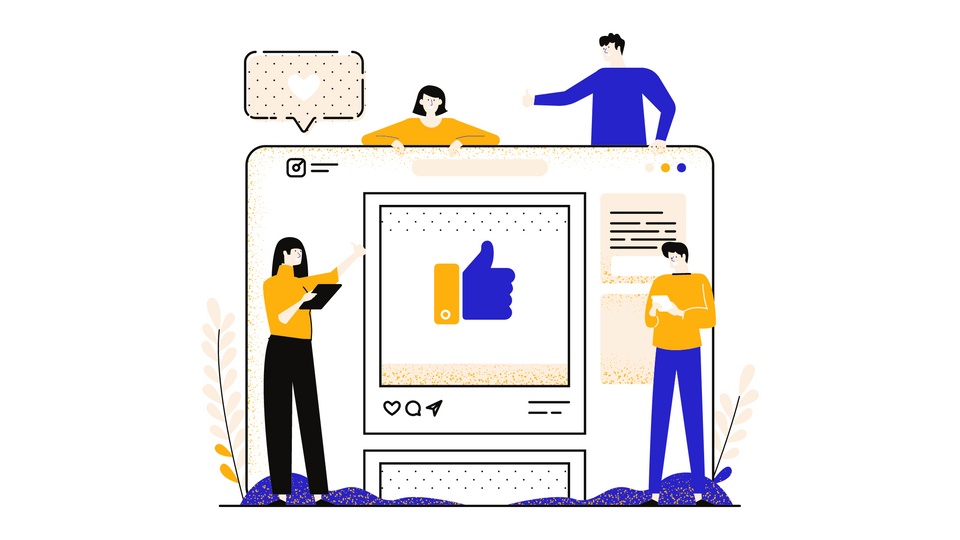 The Pandemic has flipped the way businesses run to a complete 180. Since many of us have moved online for our shopping, more and more companies have had to move to online transactions or start their business entirely online. There has been a 110% increase in the internet business since August 2020. Food and clothing retailing, in particular, saw a rise of 58% and 53%, respectively.
While the figures for rising small businesses - whether online or offline- are astonishing, it makes one wonder how many of these turn out to be successful. To stay afloat in the ocean of small business, one has to have several unique, well-planned small business advertising strategies up their sleeve.
Today, internet marketing has not only emerged as relevant but also effective in bringing in impressive results. Conventional methods like email marketing and broadcasting are still quite popular in the small business scene.
To understand the impact of advertising on small businesses and how to get the maximum out of your efforts, let's take a deep dive into the topic.
What's ahead
Small business advertising costs
Before we talk about advertising ideas, first things first. The one question that could be running around in anyone's head would be - How much should small businesses really invest in advertising?
To answer this question, you might have to begin with analyzing your business conditions and the sector it falls under. If you are a B2C business, spending roughly 5% to 10% of your annual revenue on marketing is advisable.
This, of course, is not a fixed range. It depends on factors like your history with advertising, the size of your business, and the performance of your competitors.
B2B companies, on the other hand, would require a lot less as their target customers are other businesses, not individuals. Hence the same advertising methods might not prove to be powerful. The small budget could be more focused to give better results.
Types of Advertising Small Businesses Can Explore
---
Small businesses have an ocean of options to explore regarding advertising channels/ Here are five broad categories that you can explore to create more avenues for your business.
Social media advertising
Email advertising
Broadcast advertising
Print advertising
Let us look at each of these in detail.
Social Media Advertising
Social media advertising is the rising platform for advertising. Approximately half of the earth's population has a social media account, and honestly, no one is surprised. Almost everyone has access to social media, which is why every ad you make can reach a broad audience.
Social media marketing undoubtedly could be the most significant advertising avenue. But you have to pick your platform based on your target audience, as people from different countries prefer different social media platforms to connect with others. Many adults choose Facebook, while Instagram works best if your products are designed for millennials. If you are a B2B business, Linkedin is the place to go.
Email Advertising
Email advertising is a valuable path to explore since the customers permit advertising mail to reach them. If they've opted in to receive emails, they're expecting emails with updates, news, and more. And when you send our emails, consider first to verify email addresses.
One way to go about it is by including a newsletter subscription on your website and sending marketing content regularly to the subscribers. You could also pitch your product in their inboxes to help take your brand motive straight to customers. It also saves up a lot of time as the receiver will mostly read through the mail if they are interested. Clever emails with a unique subject could make the subscriber stop and read. In this stage, don't forget to setup DMARC to ensure your promotional emails reach email leads' inboxes.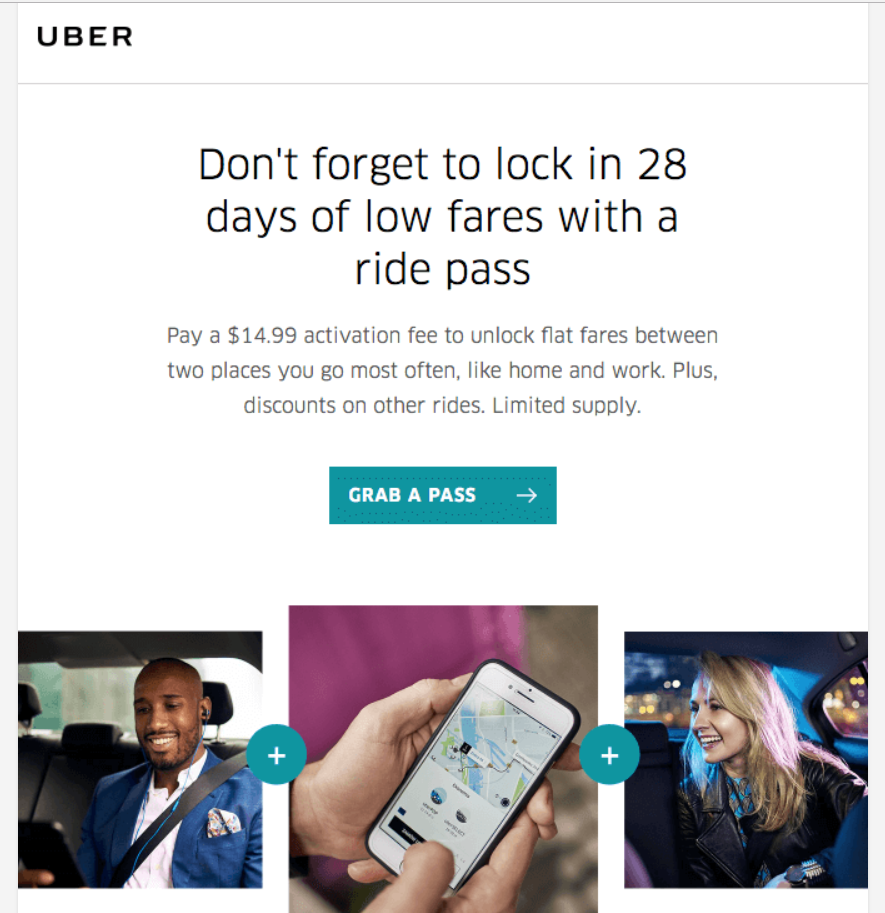 Uber's marketing mail for their new ride pass.
Here is an example of how Uber used email marketing and did all the right things. The text is minimal but to the point. The CTA is clear and prominent to draw attention in the mail.
Pay-per-click Advertising
Popular search engines provide ad services such as GoogleAds and Bing Ads that let you use ad spaces but pay for them only when interacting. It is a blessing to small businesses that deal with a limited budget for marketing. The advertisers are charged a minimal amount for this, only when a user clicks on the advertisements.
Broadcast Advertising
Broadcast advertising has been around for years and still is relevant to the changing times. This is typically all forms of radio and television advertising, like a commercial or a mention in the local news. If your business is focused on a specific geographic location, you could try and get a local TV/radio slot. This only concentrates on the local audience for advertising.
Print Advertising
One of the oldest forms of advertising, but it could still serve beneficial if used right. Newspapers and magazines are still great mediums to reach potential customers. Through print marketing, you could take your business to the section of people who are not tech-savvy or fans of electronic gadgets. If newspapers and magazines are a bit too old school for you, quirky and creative brochures could catch valuable attention from the audience.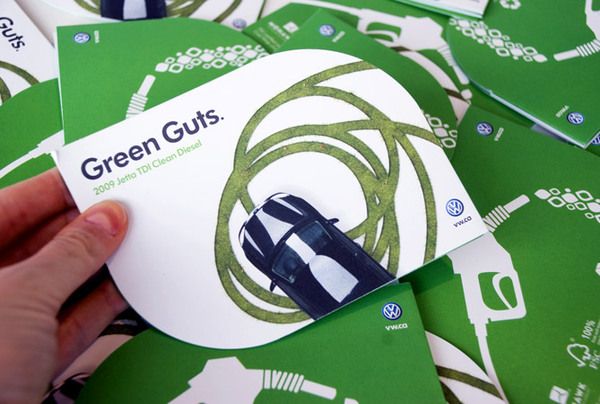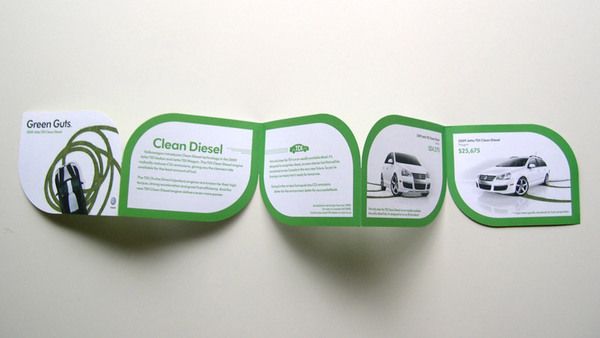 An interesting and stylish brochure from Volkswagen.
Image courtesy: www.logopearl.com
Notice the modern take on the conventional brochure by Volkswagon. They have stuck with very few colors but have gone for an experimental design to put forward their idea. A lot of thought and consideration has probably been put in the architect design brief.
9 Inexpensive ways for Small Businesses to Advertise
---
#1 Set Up A Google My Business Profile For Your Business
Signing up your business in Google My Business makes it very visible to your local customers looking for something similar. The benefits of a Google My Business - It puts your office on Google maps & SERPS for an increased reach. The real MVP of this service is the review section, where your customers can drop their experience along with a rating. Whenever your business comes up in Google Search, so do the reviews, which could be a game-changer. Set up your entire profile, complete with enough pictures and maybe a short FAQ segment.
#2 Get Yourself A Website - Now!
A website is crucial to surviving in the market if you are a growing small business. Customers around the world feel companies with domains have a lot more credibility than those who don't. Besides a reputation, it offers a lot of liberty when we talk about design and customization in comparison with standard social media. You could have multiple pages as per your product requirements and decide the flow and feel of the site. It adds a lot to the customer experience when they use your service.
Do you want to learn how to get your business a website with little or no computer science background? The internet's got your back! Several online website tools are available that help you get a website up and running without breaking a sweat. Some of these even come with templates that are easy to customize without any technical effort.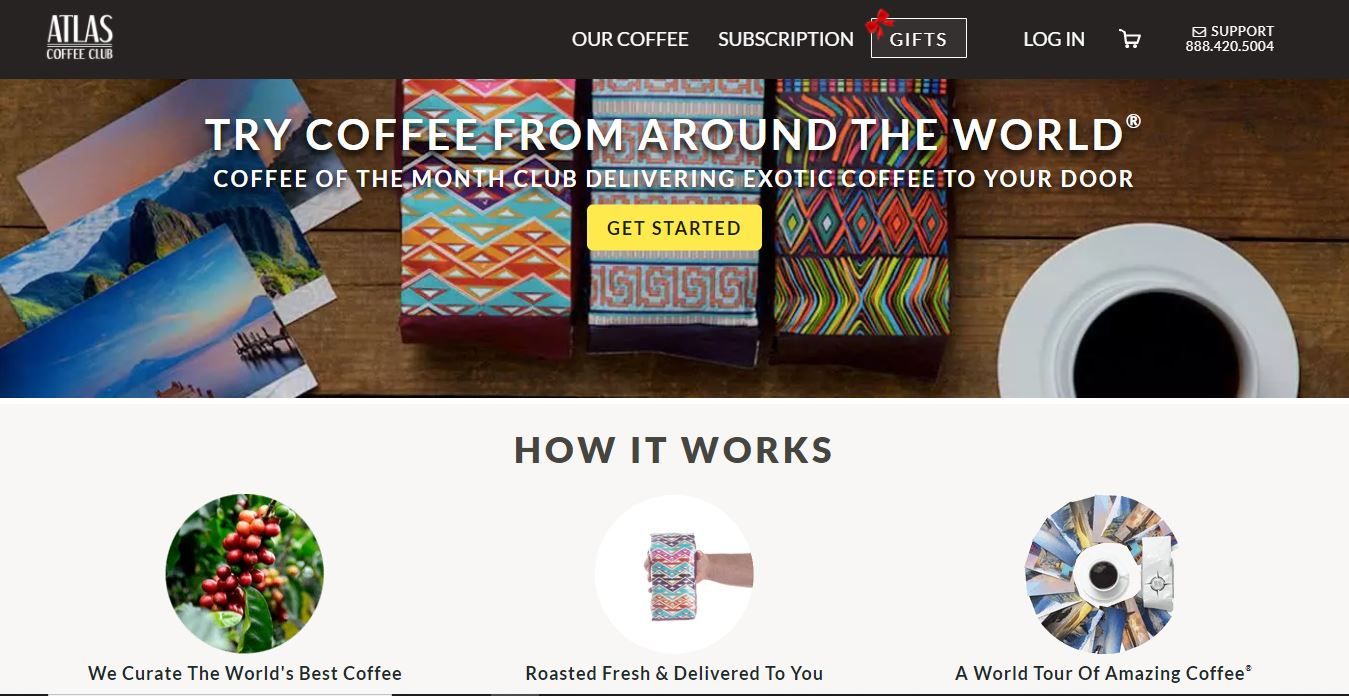 The landing page of Altas Coffee Club
Atlas Coffee Club is an exclusive coffee delivery club bringing coffee from around to world to its customer.   Their website is a perfect blend of modern and conventional designs used very cleverly. The usage of vibrant colors, placement of information, and appealing visuals hit all the right spots.
#3 Advertising Through Personalised Customer Service
Forget the thousands you are spending on advertising; nothing brings you business like word-of-mouth marketing. And the best part - it is almost free! A good customer experience can spread like a virus (pun unintended), and get you more business than you ever thought.
If bringing in new customers is hard, getting them to stay is where the real deal is. By just paying attention to the details you could make a wave among your customers. For instance, sending personalized notes with your products - travel the extra mile and have some small merch made with your brand logo or mascot and throw in some of them with every order and - BOOM! These freebies will do most of your work for you. If you are in the food or cosmetic industry, slide in the small sample of your new launch.
Sending birthday, anniversary, and seasonal wishes can leave a lasting impression on customers. Complete the message with your latest launch or your hottest deals, and you are all set for some serious business in the near future.
Collect reviews as a part of your regular process. Share them on your website and social media as a practice. Online shoppers rely heavily on reviews. So, make clever use of the ones you receive - keep them refreshed and tend to negative reviews with care. One way to offer round-the-clock customer service is by leveraging business phone services without hiring too many support agents.
#4 Social Media - Your Limitless Ad Board
As a small business owner, you know your Instagram activity is a minimum of 3 hours every day, and you also know that this is entirely for work. Social media is a godsend for small businesses, and there is no exaggeration there. Social media marketing is the future of marketing, and big corporations, like McDonald's and Amazon, have invested heavily in this and rely on it to a great extent.
By "go all-in" we mean GO ALL IN! Instagram, Facebook, Twitter, TikTok, Pinterest - you name it. Every platform has something different to offer and what doesn't work at one place might be a hit in another. Maintain consistent activity in the platform you choose.
With new trends popping up like mushrooms after a good rain all over the internet, jump right in and explore how it can help your business. Pick meaningful trends that align with your products and bring a fresh element to them to stand alone from the crowd. Get above the algorithm and reach a wider user base with every content you post.
https://www.instagram.com/p/CM5gbSWJhEF/?utm_source=ig_embed&utm_campaign=loading
This is how the McDonald's Instagram handle used the popular meme template to joke about how customers bombard the Social Media Managers who have no relation with the stores with questions and requests. Getting on the bandwagon (if it is something you could do for your brand), and following a popular meme or trend works the best to please the Instagram algorithm for big and small brands alike.
Be crystal clear of your target audience and plan your strategy and social media game around it. Instagram Analytics is your best friend. Check on them regularly and make sure you are doing the right things. If not, it is never too late to try out a different plan.
Shake things up a little; positive results are bound to reach you. Start with finding the time slot your posts get maximum reach and interaction. Try different posts at varied times of the day and find what works best. Tweak your content to fit your audience. Keep track of your posts' performance and find what posts do better than others - is it the stories, reel format, carousel posts, and IGTV videos? - find out what worked and double-down.
#5 Video Ads & Slideshows
The visual content of any form is wonderful aids to marketing. We often tend to consume anything with our eyes first, and putting out impressive content is the way to catch customers' attention. This is why you can't compromise the quality of the content.
Invest in quality props, cameras, and lighting to get better quality videos made. Plan and shoot content to help the audience to understand your product better. For instance, make "how to store your product for a longer life" or "different ways to use a product" videos to connect with your customers.
Shoot insider videos of your business on topics like - 'a making video', 'staff stories' etc., Showing an up-close view of the business makes you more approachable and accessible. Be cohesive with your content, choose a mood that goes with your brand and stick to it.
Here's how Hibbet Sports covered the story of a sneakerhead, Bart Pittman. The cinematic storytelling, the music gets the audience invested in it, and the personal element in the video will strike a chord with the audience.
As a small business owner, you probably have to don multiple hats by being the founder, manager, designer, and customer service executive, all on your own.
Finding the time to create marketing videos can be tedious, while shooting the video requires a lot of effort, the post-production work to edit your video doesn't have to be as challenging.
Online video editing tools like Typito are easy-to-use and have a ton of ways to make your videos look professional, without the complex editing. Moreover, you can also find a huge repository of time-saving video templates that allow you to just add your video clips, photos, and appropriate text to personalize videos for your brand. It's a great way to cut your video making effort in half while keeping the quality intact.
#6 Collaborations And Giveaways Are Great Tools
Collaborations and giveaways are the perfect tools that bring potential clients to your brand. It widens your user base and increases prospects. Tie hands with other small business owners or brands that sell products relevant to yours. It brings about a very organic exchange of followers that could benefit both parties.
Giveaways also work great for small businesses. People participate in huge numbers and contribute to engagement statistics. It also nurtures the brand-customer relationship.
And also remember - better interaction, better reach. Reply to comments and private messages as quickly as you can. Don't let them age in your inboxes for a long time. Fast replies help in better reach bringing in more viable customers.
#7 Start A Blog And Podcast
Blogs are a brilliant way to bring organic traffic into your business. Starting a blog that covers an array of topics related to your brand can enhance customer relationships. Besides informative blogs, cover your brand history and customer stories with your product to get closer to your audience. You could get freelancers and SEO management agencies on board to take care of the heavy lifting for you.
Podcasts are a fresh take on content marketing in recent times. Pick relevant topics and bring something new to the table. Some spaces to kickstart your podcast are Buzzsprout, Anchor, Speaker, Simplecast.
#8 Conduct/ Attend Fairs And Events
If you want to strengthen your network, events and fairs are the perfect way to do it. Conduct events that bring together small business owners where each of you can display your business for the attendees. One spot for a variety of quality goods? Sounds like a recipe for a hit. You can also actively participate in such events/fairs in and around your city. Join clubs and support groups for entrepreneurs that organize meets regularly to help each other and discuss the market.
#9 Paying For Advertisements Isn't A Crime
When we said inexpensive, we didn't only vouch for free forms of advertising. Paying for ad spaces and getting that extra reach is not wrong when you do it once in a while. Ads on Instagram and Facebook charge money for taking your post to your audience, considering the age group and the locality you want to target. The price you paid is never going to be unused.
Google ads and Bing ads are highly rewarding but at the same time cost-effective as you pay only for the clicks your ad gets from the users.
Wrapping up,
With internet business booming bigger every day, having the right product alone doesn't get you the big bucks. The combination of a quality product and the targeted advertising for it can change the course of your revenue graph up the Y-axis. Consistency is key. Keep doing what you do, you are one step away from becoming the next big thing. Best of luck!
---
Still have a few questions buzzing in your mind? Let us address some of them here.
Which social media platform is the best for my business?
Answer- There is no "one size, fits all" answer for this. It heavily depends on your business and target customers. If your business belongs to the B2B category, advertising on LinkedIn would be a good investment as customer advertising has no purpose here. Analyze which social media is preferred by your target customers and maximize advertising there. For example, if your product is for young adults and teenagers, Instagram works best.
How do I do free advertising for my brand?
There are a number of ways to leverage free advertising for your brand. Social media marketing is almost free and highly rewarding. Good customer service is another great way to get some word-of-mouth advertising and that is reliable for any kind of business (this could also be getting good reviews, social media shares/shoutouts that you can use as social proof).
How do I start advertising for my new business?
Start with a simple but functional website, maintain active social media handles, it's alright if you want to focus on just 1 or 2 platforms in the beginning but follow through with content creation consistently. Focus more on customer service if you have just started out.
How much should I invest in advertising?
Ideally, 5 to 10 percent of your revenue should be fine. But always consider other factors like your competitors and your current scenario and tweak the budget according to them.