How to Rotate YouTube Videos at Any Angle Online Quickly
Video editing is all about adjusting every frame to make sure it looks perfect. Though you'll need different elements to perfect your footage, a common feature that you might end up needing is 'rotate video tools.'
And if you think video rotation is a complicated task, you're in for a surprise because today, we will show you how to rotate YouTube videos in minutes using Typito.
On Typito you can easily rotate a video clip or an image overlay in any one of these directions:
Clockwise direction
Counterclockwise direction
Rotation is defined as a change in the orientation, depending on these angles:
90° clockwise rotation
90° counterclockwise rotation
180° rotation
270°clockwise rotation
270° counterclockwise rotation
360° rotation
Keep in mind that rotating a video or specific frames of a video will not affect or change its size.
On the other hand, Counterclockwise Rotations follow the path in the opposite direction and are represented by positive numbers. As the name implies, Clockwise Rotations follow the path of a clock's hand and are represented by negative numbers.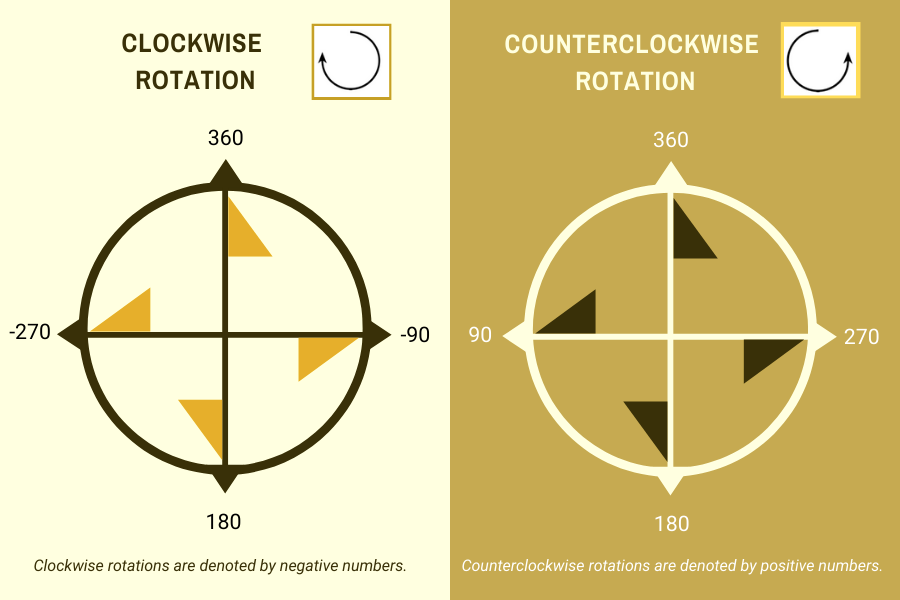 Now that you have understood the angles associated with the rotation types let's get started with rotating a YouTube video on Typito.
How to Rotate YouTube Videos Online
---
Whether you want to rotate your video left/right 90° or 180° or probably, any given angle, it's possible and super easy. Interestingly, you can flip YouTube videos before uploading, after it's downloaded, or to a specific angle that you prefer to.
Here's how to rotate YouTube videos vertically or horizontally with Typito's Rotate feature.
1. Create a new project
Rotating a YouTube video or probably, any video is super easy with Typito. You don't have to register or sign up (although it just takes a second with Google's single sign-on click). If you don't prefer to do so, get started instantly without having to log in.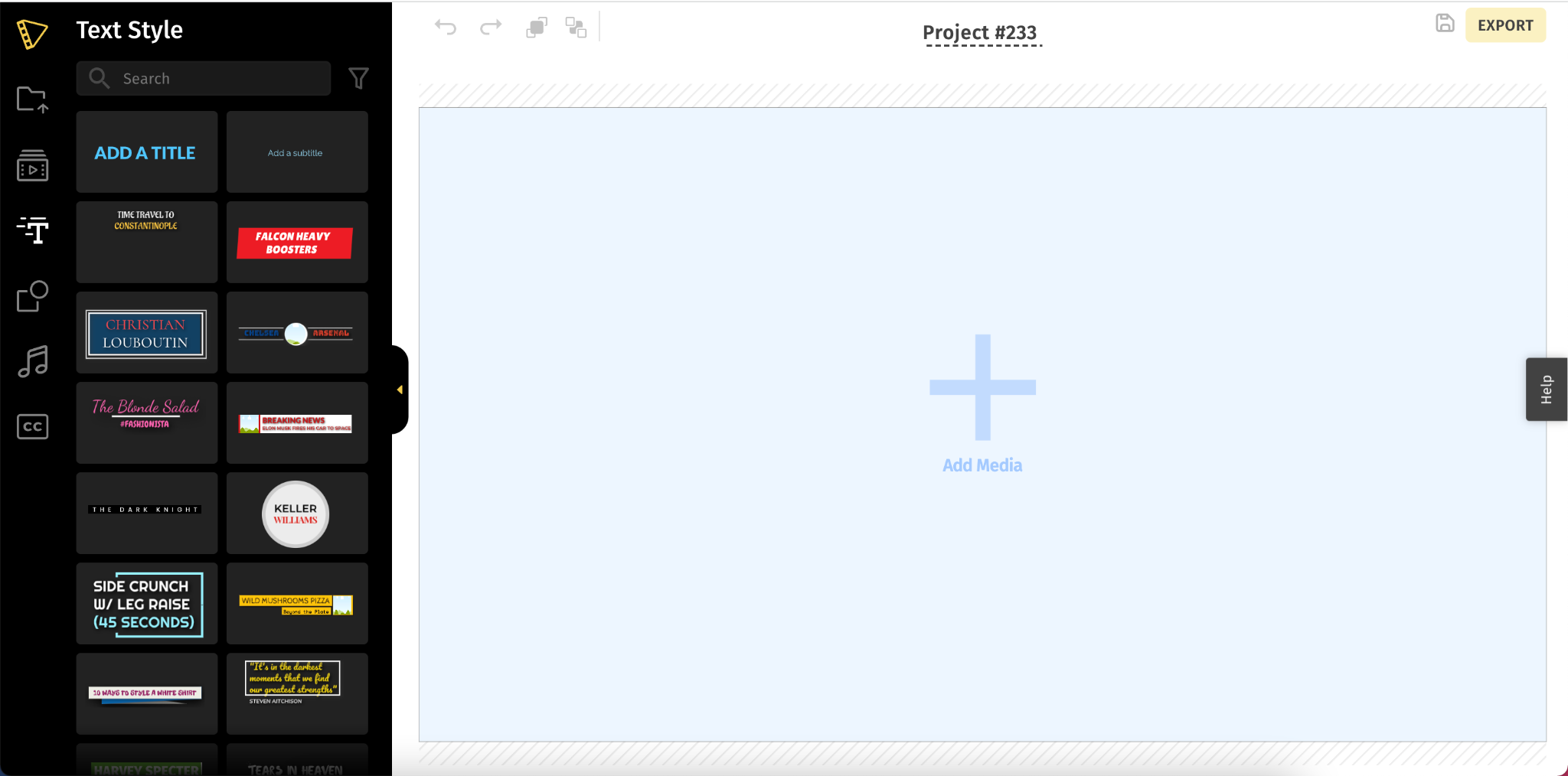 2. Upload your YouTube video
You can drag and drop your video on the canvas to upload it. Or click the "+" on the canvas to upload the video from your system files.
If you have multiple videos, you can upload more media to your project from the My Media shelf in the left panel.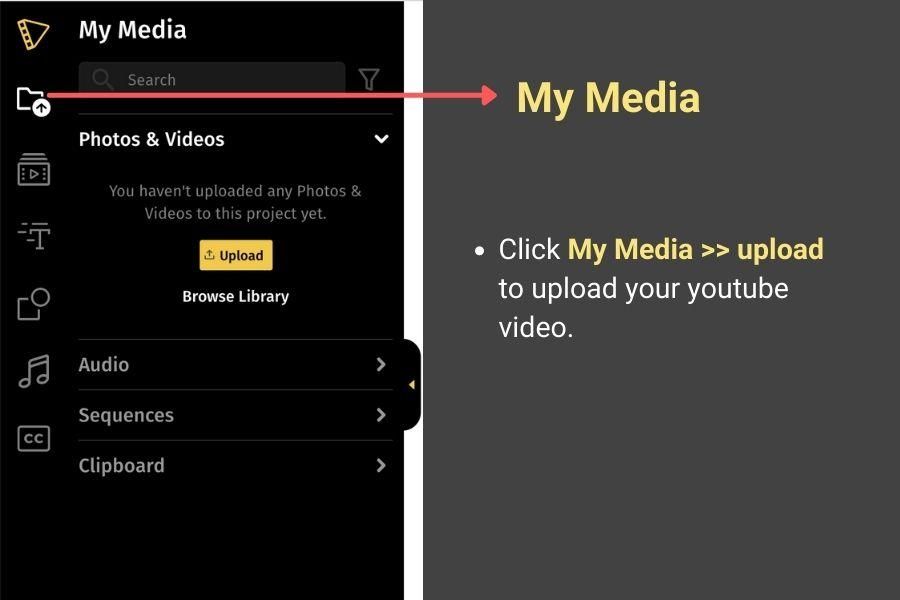 3. Rotate your YouTube video
Once the video is uploaded, click the clip on the canvas. This opens up the underlying property panel with two tabs—Options and Project.
Under the Options tab, click Rotate.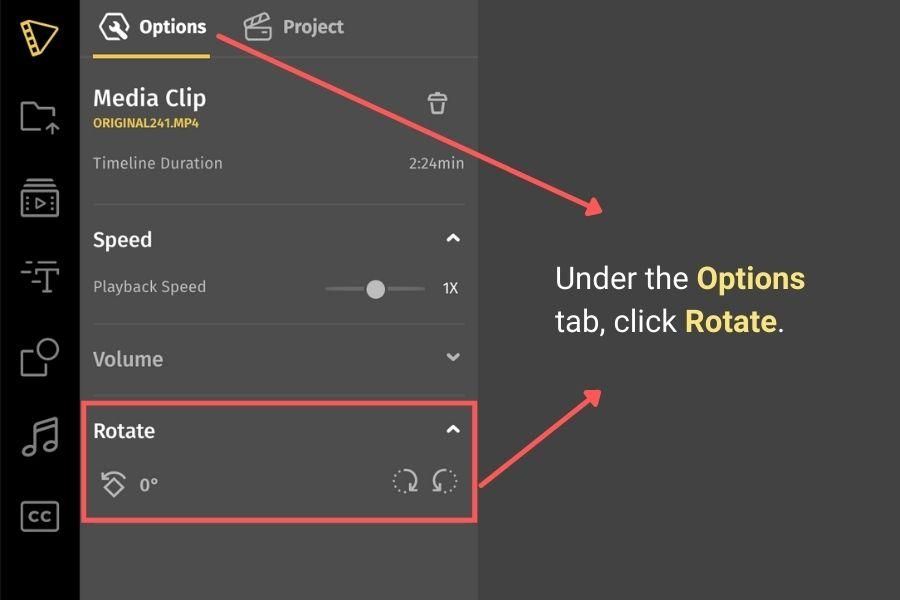 Choose the specific duration on the timeline from where you want to rotate the video.
There are 3 ways to rotate your video:
Rotate 90° Right
Rotate 90° Left
Custom rotation angle to adjust the rotation at a specific angle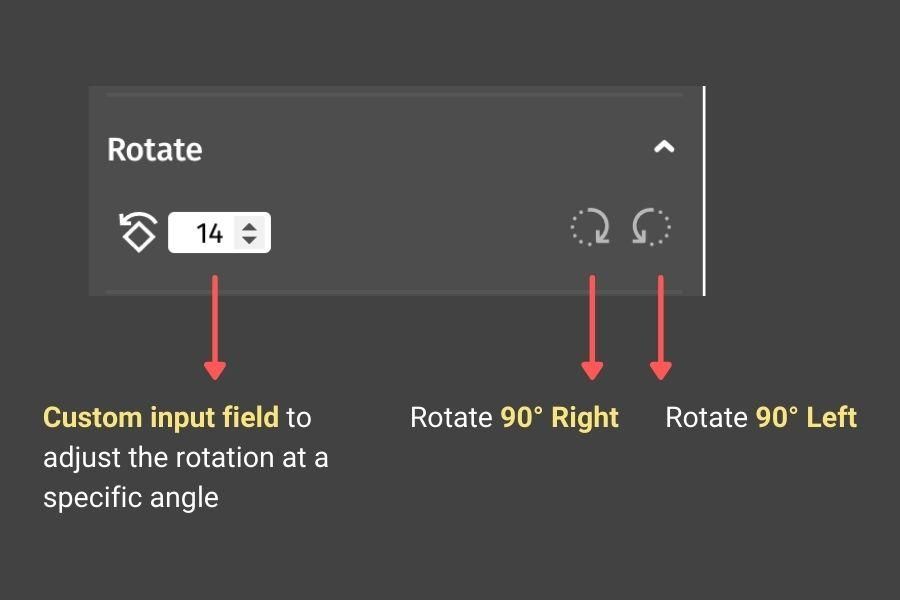 Choose any of the above options to rotate your YouTube video.
Here's how to rotate to 180° by using the 90° rotate option twice.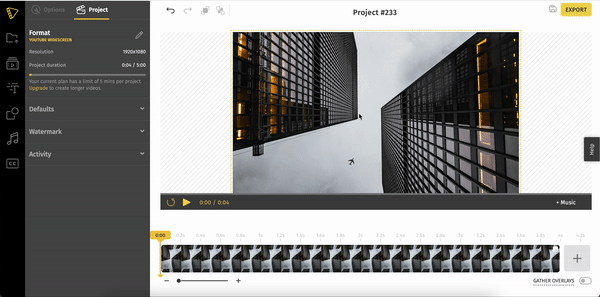 2. Here's how to rotate a video by entering a custom rotation in the field. You can use this to rotate a video by 14° or any other custom specification.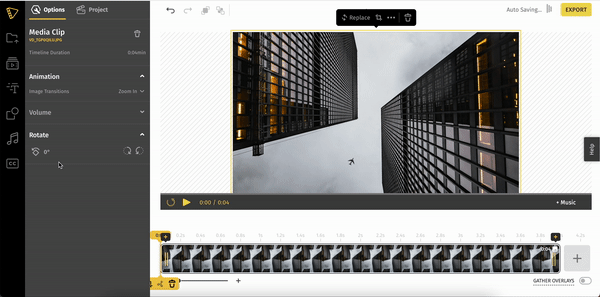 4. Download the rotated YouTube video
Preview your video by clicking play, and if everything is okay, all that's left is to export and download your rotated video. To do this, from the top right corner, click on the Export button.
Once done, you can download the rotated video to your device or share it with others. You can even publish it directly to your YouTube channel. You'll also have access to a public link for the created video, which you can share on major social media platforms.
Quite frankly, the above method to rotate your YouTube video is a no-brainer and is worth trying. Typito's drag-and-drop editor lets you do it easily in a few clicks.
Still have questions about rotating your video?
---
1. Can you rotate any type of video with Typito?
Yes, Typito isn't limited to only rotating YouTube videos. It can change the orientation of any video type or size to horizontal, vertical, or any angle that you prefer.
2. Is video rotation free with Typito?
Absolutely, You can get started for free without having the need to sign up. Typito's video editing tools make it easy to rotate videos in a few clicks. With the rotate feature, you can convert portrait videos to landscape or vice versa. However, when you edit videos on a free plan your videos will be watermarked with a Typtio branding. You can upgrade to continue editing videos without a watermark. Learn more about all of our plans here.
3. Can you rotate your YouTube video at a customized angle?
Of course. Typito provides a custom input field with increase/decrease arrow buttons to adjust the rotation to an angle that you prefer or enter the exact degrees you want to rotate the video to.
4. Can you change the orientation of a video?
Yes, you can change a video's orientation from portrait to landscape or vice versa for free with Typito. All you have to do is upload the video. Next, select the clip on the timeline and adjust the orientation under 'Rotate' in the left panel. Either custom-rotate your videos to the desired angle or use the 90° right/left button.
5. Can the rotated video be downloaded or edited again?
Yes. We know that there might be a need to edit a video over and over again until you reach perfection when you feel that it's good enough to publish it to your channel.
Multiple edits are given with any video you create and that's why when you export your rotated video, we ask you to enter the email address or complete the rendering process with either your Google or Facebook account. This way, you can come back to Typito, edit the video back whenever you want to, and download it again.
6. Can I rotate a YouTube video after it's published?
The best practice is to rotate your video before uploading it to YouTube. However, this doesn't mean you cannot rotate it after it's published.
For some reason, if you have uploaded your YouTube video to your account and don't have the file copy handy on your computer with you or are trying to edit and upload it back to your channel, don't worry, you can still get it. Here's how to download your own videos from your YouTube account.
On the other hand, if you're trying to download somebody else's YouTube videos, use one of these online downloaders instead (but be careful of the copyrights, though and even if you are, don't use it for commercial purposes unless the uploader gives the authority to do so).
Rotate Your YouTube Videos or change the orientation of your YouTube videos in a few clicks online with Typito. Rotate videos and share them with others on social media feeds like - Facebook, LinkedIn, and even Instagram. Want to experience smooth and simple video editing? Head over to Typito.