How To Make A Trailer In 4 Easy Steps [Tips & Tricks]
Want to know how to make a trailer that's really cool and simple all by yourself? Well, we've got that covered for you. In this blog, we'll show you 4 easy steps on how to make a good trailer.
Now, trailers are not limited to just movies or films that you watch on the big screens. You could use them for a variety of purposes like documentaries, youtube channels, launching a product, promoting your business, or even to get your podcast going.
So, before you begin to make your trailer, remember that the whole point of a trailer is to give your audience a sneak peek of what's in store for them. It has to create excitement and curiosity in them to want to know more about the film, product, show, podcast, or anything that you're creating for them.
Just to keep this read interesting, we've listed a few fun facts for you about movie trailers.
Here are some cool interesting things we learned about trailers from Movienco. Did you know?
Trailers were usually played after the film because the word 'trail' means to follow behind or after. Hence the name 'trailer'. But it was later decided to play them at the beginning as people usually left the cinema without watching the trailers.
The first-ever trailer was created in the year 1913 in New York for a promotional video of a Broadway musical.
The world's longest film had a trailer that lasted for 7 hours and the trailer was released in 2016.
How long should trailers be?
For feature films, you should try to limit the length of your trailer to a good 2 minutes and 30 seconds because you don't want to give away too much. So it's always best to keep your trailers short and sweet even if they're for a product or a business.
In this article, we'll be covering multiple topics regarding trailers. So feel free to navigate to any section that interests you.
Now, let's jump straight into the simple steps you can follow to make your very own trailer.
4 basic steps to make a good trailer
If you follow these basic steps, you can learn how to make a movie trailer or even how to make a book trailer all by yourself in no time. So, let's look at what they are.
1.Collect Videos and Upload them
Before you go ahead, you have to keep your video clips or images that you would like to use in your trailer ready.
These clips should be the highlights of your movie but at the same time should not be spoilers. They should be important snippets from your movie so that the audience gets curious to want to watch your movie.
Once that's ready, you can import them into Typito to begin creating your trailer.
2.Edit Your Videos
You can edit your videos by trimming and cutting them because there might be a few unwanted portions.
You can then add transitions between the clips to make your video flow nice and smooth from one clip to another.
To make your clips more interesting, you can change their speed by either reducing it to give it a nice slo-mo effect or you could add intensity by making the clip 10x faster.
3.Add Cool Effects to your Trailer
Apart from editing your trailer video, you could enhance it by adding a lot of cool elements. You have the option to choose from a whole bunch of text templates that could be used as titles, captions, or even subtitles for your trailer.
Another way to add an emotional element to your trailer is by using music. Because it helps you set the tone of your trailer and you can choose a suitable genre from our collection of royalty-free tracks.
And finally, you can add a logo of your brand or production house at the end of your trailer to create brand recognition among the audience.
4.Download your HD trailer and share
Once you finish editing your trailer and adding cool effects to it, you can export and download your HD trailer video.
In the next section, we'll explain in detail how to make a trailer video by carrying out these steps all by yourself.
How to make a good trailer in 4 easy steps
First things first, make sure you've logged into Typito by going to Typito.com (or if you don't have an account you can sign up for free).
Once you're in, click on New Project on the top right corner.
If you're looking at how to make a trailer for Youtube, then choose the youtube video format for your trailer as most of them are usually uploaded on Youtube. You can however choose any video format that works best for you.
And with that, you can begin to create a trailer by following the rest of the steps below.
Step 1: Upload your videos
Once you've decided on a particular format for your trailer, hover over it and click Create.
It will direct you to a page where you have to choose your media. You can either choose to upload media from your computer or you can use the videos and images under stock media.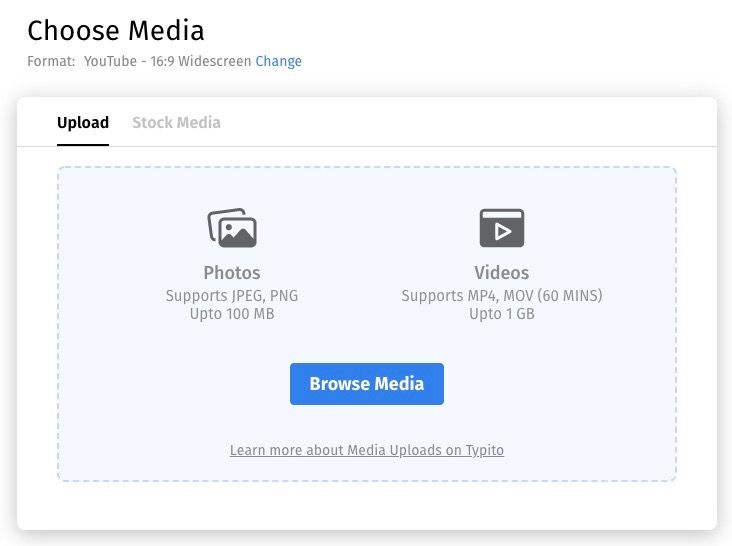 You can upload your own videos or use stock media
After choosing your video clips and images, click on Start Editing.
Note: You can always import more videos into your project even after entering the dashboard where you'll be editing your videos.
Step 2: Edit your trailer - Trim, cut,  & add effects.
To trim your video
Select the video that you need to trim. Once you do that, the clip gets highlighted and you will find two handles on either end of the clip.
To trim the video, simply drag the handle to trim out the unwanted portion.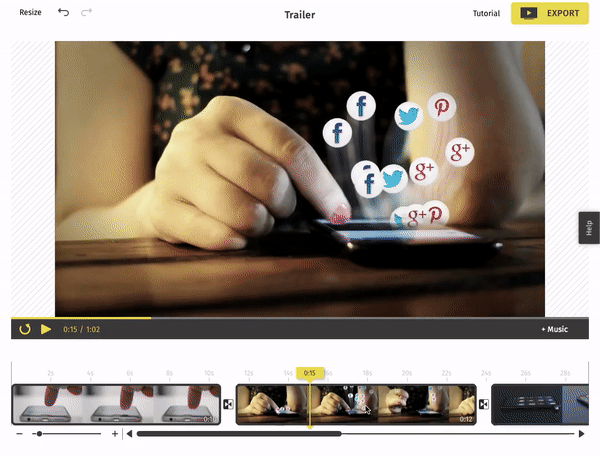 Click and drag the handle to trim your video
To cut your video
Place the pointer on the portion of the video that you want to cut and click it. Then, you will find a scissor icon to cut your video.
Click on the scissor icon and your video gets cut at that portion.
Once your video is cut, click on the unwanted portion and press the delete icon.

Click on the scissor icon to cut the video and the delete icon to delete the clip
To add transitions between clips
Zoom into the timeline by sliding the small bar below the timeline from minus to plus and you will find the transition icon between the video clips.

Zoom into it by sliding the bar from minus to plus and click the transition icon
Click on the transition icon and choose a transition for the video clip.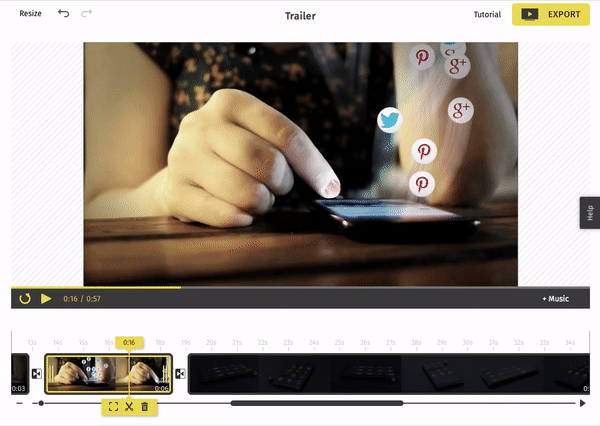 Example of a fade to black transition
There is a Fade to black transition as well as a Cross dissolve and you can try out both of them to see what works well for your video.
To change the speed of the video
Click on the Media tab on the left pane.
Then select the video clip you would like to change the speed of.
On the left side, you will find an option to adjust the speed of your video. You can simply drag the cursor to the left to reduce the speed or slide it to the right to increase the speed.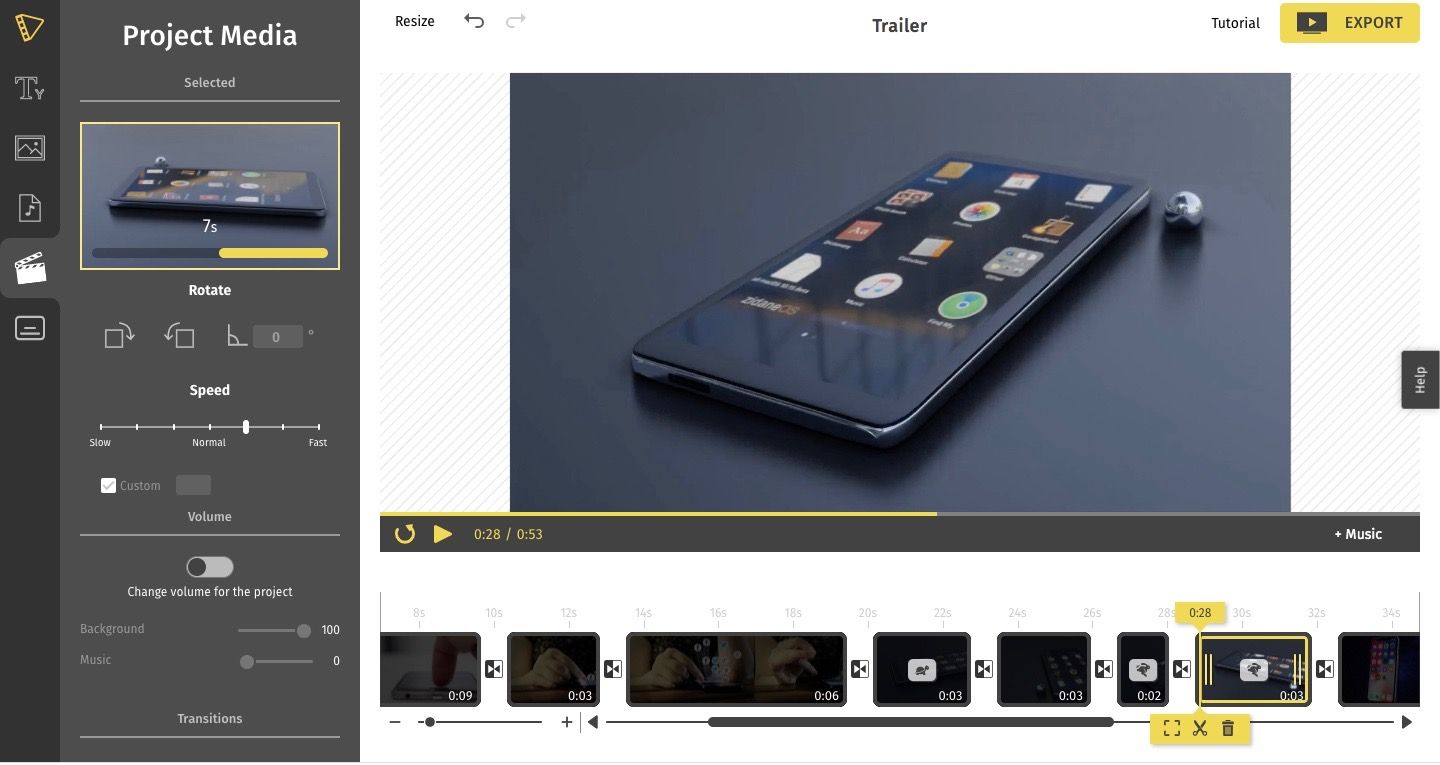 You also have the option to customize your video speed
Step 3: Add cool effects to your video trailer
To add a title to your trailer
You can use Typito's cool Title templates to highlight the key points of your trailer as well as enhance the visual element of your trailer. You can use these title templates as intros to start off your trailer on a high note.
To add a title, choose the Text tab on the left pane. You can either simply add text to your video or you can click on Title and choose from the list of cool title templates for your trailer video.
To add the title template to your video, simply click on the template and you can drag it to any position in the video.
You can then play around with the font style, color, and size according to your convenience.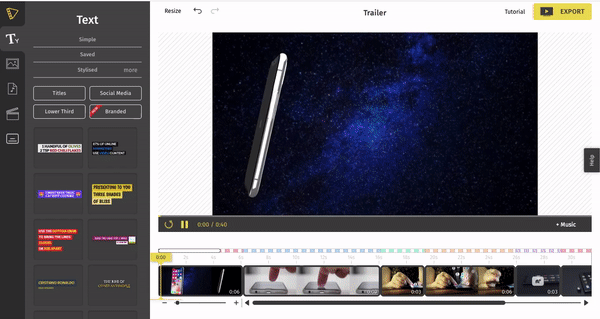 Choose a suitable text template by simply clicking on it
Now, there are different ways you can add text to your trailer. If you want to add them as text captions, we've got you covered as we have multiple caption templates too to choose from to make your trailer look much more visually appealing.
If you would like to add subtitles to your trailer that has a voiceover, you can check out How to add subtitles in 3 easy steps.
To add music to your trailer
Click on the Audio tab from the left pane. You'll then find a collection of different royalty-free tracks categorized into different genres.
Choose a suitable music track for your trailer by clicking the Add button near the track.
You can then select the best segment of the track that suits your project.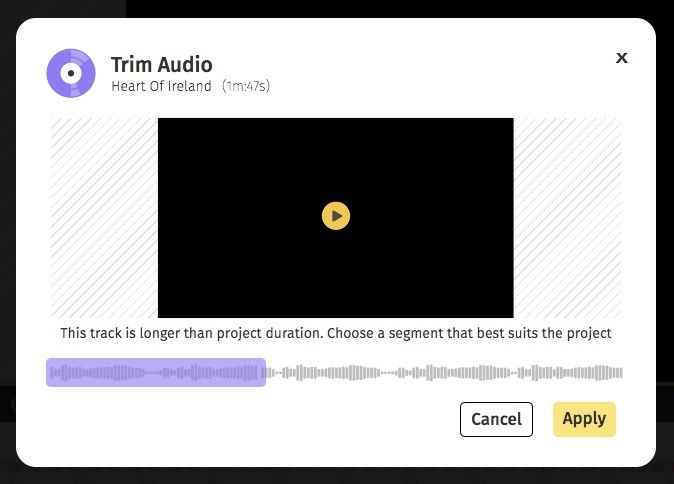 You can trim the best portion for your trailer from the music track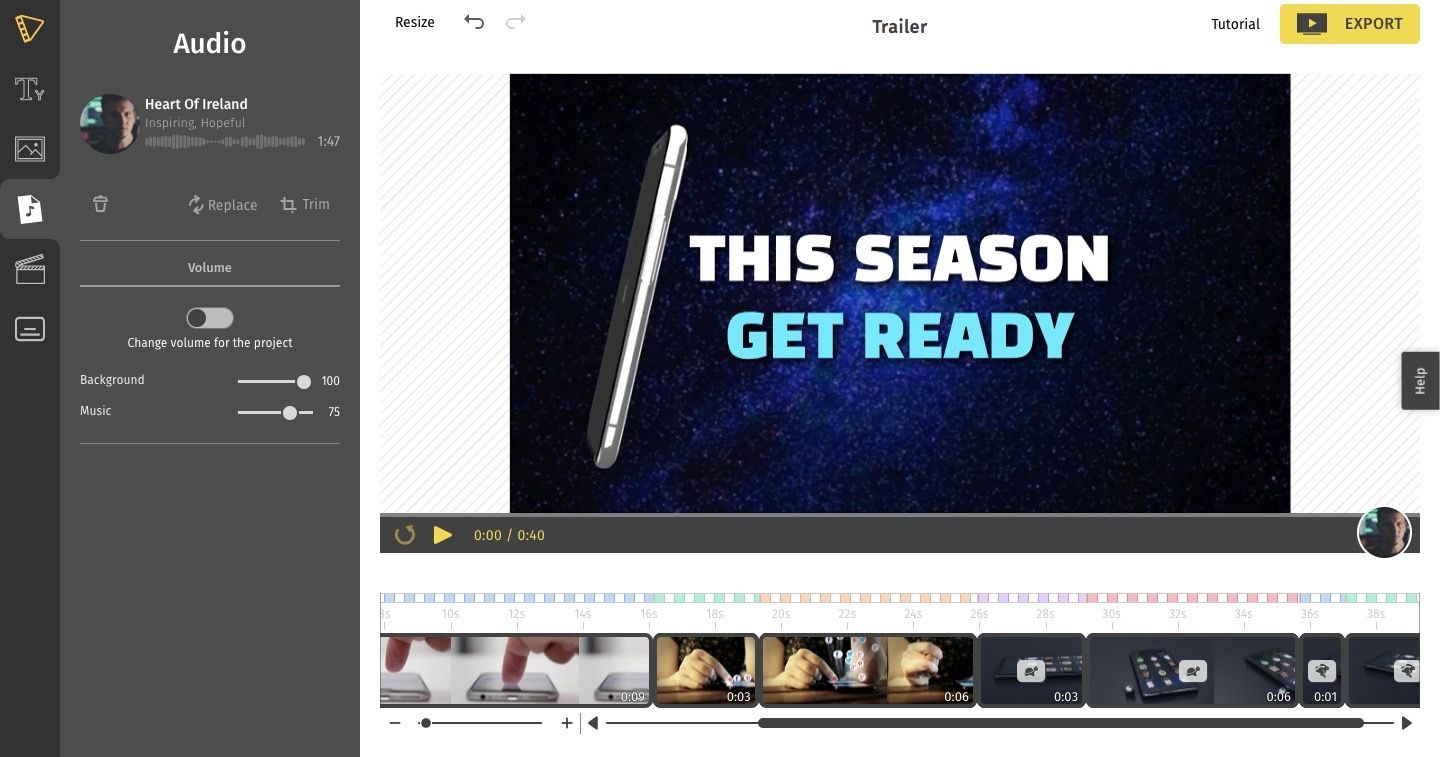 You can also make adjustments to the volume of the music track and the background sounds present in your video
To add a logo
Almost every trailer that we watch always ends with the name of the production house if it's for a movie. If it's a promo video for a product, they always bring their brand logo into the picture to establish their identity and create an impression.
If you have a branded logo, you can add them using our exciting logo templates.
To add a logo, click on the Image tab on the left pane and upload your brand logo from your device. You can add suitable text by clicking on the Text tab.
You can also add your logo using our exciting templates which you will find under the Text tab. Click on 'more' to view more logo templates
You can then play around with the font color, style, and size to your convenience.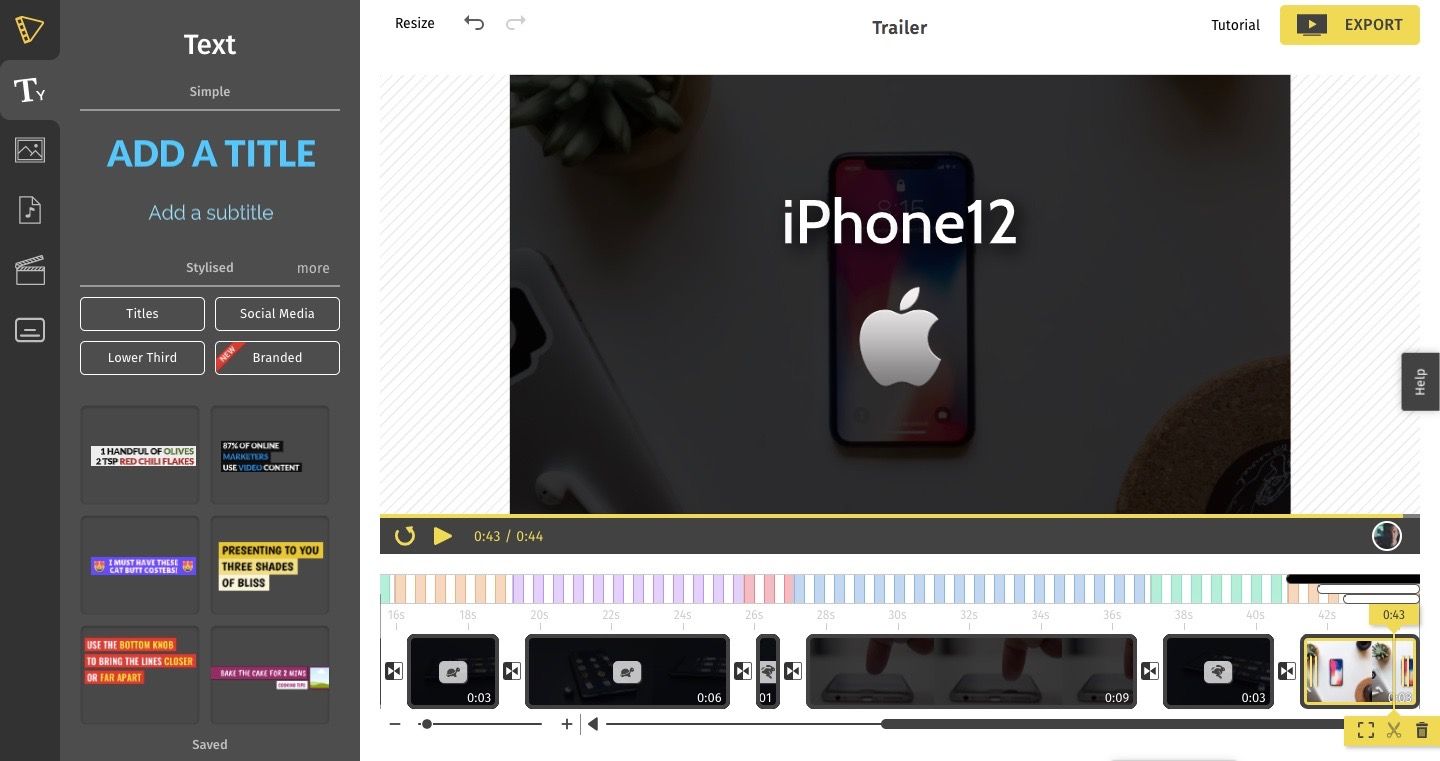 Position the logo and use a suitable font color and style to make them visible and clear
Step 4: Export your trailer
Once you finish making all the different edits to your trailer, you can finally export your trailer video. You can do so by clicking the nice little yellow button on the right corner that says Export.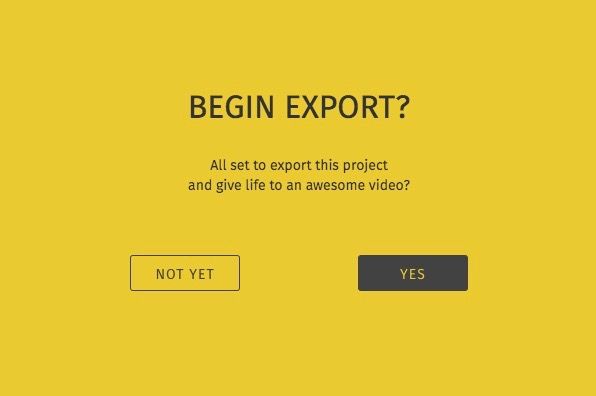 Choose Yes once you're ready to begin exporting your trailer
It might take a few minutes for your video to export. After that, you can preview your video and download it to upload them to various social media platforms.
And with that, you have yourself a cool trailer that's really simple to create in just 4 steps.
Now that you know the basic steps to make a trailer, let's look at some of the different kinds of trailers that are used in different fields.
Different kinds of trailers to Explore
Like we said before, trailers aren't used just for films. They can be made for a variety of different purposes and we've listed down a few of them for you to explore.
1. Movie Trailers
These are the most common trailers because they are very popular and people watch them all the time. They are trailers made for feature films that run for about 2 hours or more. Here's a cool example of a feature film trailer that you can check out.
The trailer of Netflix's The White Tiger
The length of the trailer is around two and a half minutes which is the ideal length of a movie trailer. They've also made use of the elements of text and background music really effectively.
2. Short Film Trailers
Do short films need trailers? Well, yes they do. While a short film may be limited in length in itself, it is important to make a trailer to create interest in your short film.
You can treat your short film trailer more like a teaser, which is basically a short version of a trailer. Remember to keep it short and to just give viewers a glimpse of the characters and the best shots in the film.
The trailer of a short film called Sleepwalk
In this trailer, the length is limited to a good 49 seconds and the trailer uses a nice background score to set the tone of the film. It doesn't give away too much of the plot and just reveals the title of the short film.
3. Book Trailer
A book trailer is a great promotional tool because they help authors reach a wider audience. It's a unique way to introduce your book to the audience. An effective book trailer should be 30 to 90 seconds in length because viewers have a short attention span.
The trailer for the book called Traitor Angels by Anne Blackman
It has a length of up to 50 seconds and makes use of text creatively along with captivating visuals.
4. Youtube Channel Trailer
A Youtube channel trailer is a trailer video designed to describe to people a particular Youtube channel in order to increase their subscribers. Again, it's important to keep the trailer short so that you don't give away everything. A good length would be 30 seconds to a minute.
A Youtube channel trailer of an artist and author called Abbey Sy
This Youtube channel trailer gives a brief description of the channel's creator as well as what the channel has in store for you. Although over a minute long, it explains everything clearly that a viewer would need to know about the channel.
5. Gaming Trailer
A game trailer aims at showing people what the game is and also aims to create interest and drive emotion towards the game before actually trying it. They come with attractive visuals and sounds from the game in order to arouse interest in the audience.
A gaming trailer by PS5 called Hogwarts Legacy
This is a really cool gaming trailer by Playstation where they talk about their latest game called Hogwarts Legacy. The trailer is combined with exciting visuals from the game and a voiceover that explains the purpose of the game.
6. Product Trailer
The main purpose of this again is to get your audience talking about your product. You can create these trailers when you're about to launch a new product and they work as a great marketing strategy.
A product video trailer by LG Mobile Global
In this trailer, you can see how they've used a background score to set the tone as well as text captions to help the audience retain the important points about the product. They've also ended the trailer with their company's logo and music for brand recognition.
Important Tips To keep in mind while making a trailer
Here are a few important things that you should keep in mind before making a trailer of any sort.
For a movie trailer, use the three-act structure where you first have an introduction of your characters, you then move on to the central issue, and finally, you end your trailer with a cliffhanger to get your audience to actually watch the movie.
Keep your target audience in mind while making a trailer to ensure that your trailer then becomes relatable and appealing to the specific audience in mind.
Use visual cues and text to create excitement and suspense.
Highlight important scenes. If it's a book trailer, include reviews and endorsements.
Have captivating high-quality visuals because well, who doesn't like an eye-captivating trailer?
Watch a lot of trailers to get more ideas on how you can do things uniquely for your trailer. It might also help to have a short storyboard outlining how you want to approach creating a trailer.
To Conclude,
We hope you have a better understanding of how to make a nice trailer with these simple steps and also about the various kinds of trailers that are used in different fields. So what are you waiting for? Go ahead and get started on your next trailer following these basic steps.