11 Great Places to Find Good Background Music for Video
Struggling to find kickass music for your video? We've been there too, and we know the struggle of scouting through websites trying to find free music or free stock audio that sounds great with a video project you're working on. There's a ton of great websites out there, but you really need to know where to look.
While that sounds easy, there's usually a couple of questions (or more) running through your head- Where can I get background music for videos? Is this really free to use? What are some of the licensing types I need to be careful about?
Let's cross off some of those questions, starting with where to find music for your next video project.
Where can I get Royalty Free Background Music for Videos?
---
We've put together a list of 10 great websites where you can find the best royalty-free music for video editing. Ready to start looking for music for your video the quick way? Here's our go-to list of top picks for "free background music for videos" to get you started.
YouTube Audio Library
Bensound
Audio Jungle
Jamendo
Soundstripe
PremiumBeat
Free Music Archives
Purple Planet
Dig Cc Mixter
Mixkit
Videvo
If you're still wondering about the particulars of each site, let's take a deeper dive into what each of these platforms has to offer.
1. YouTube Audio Library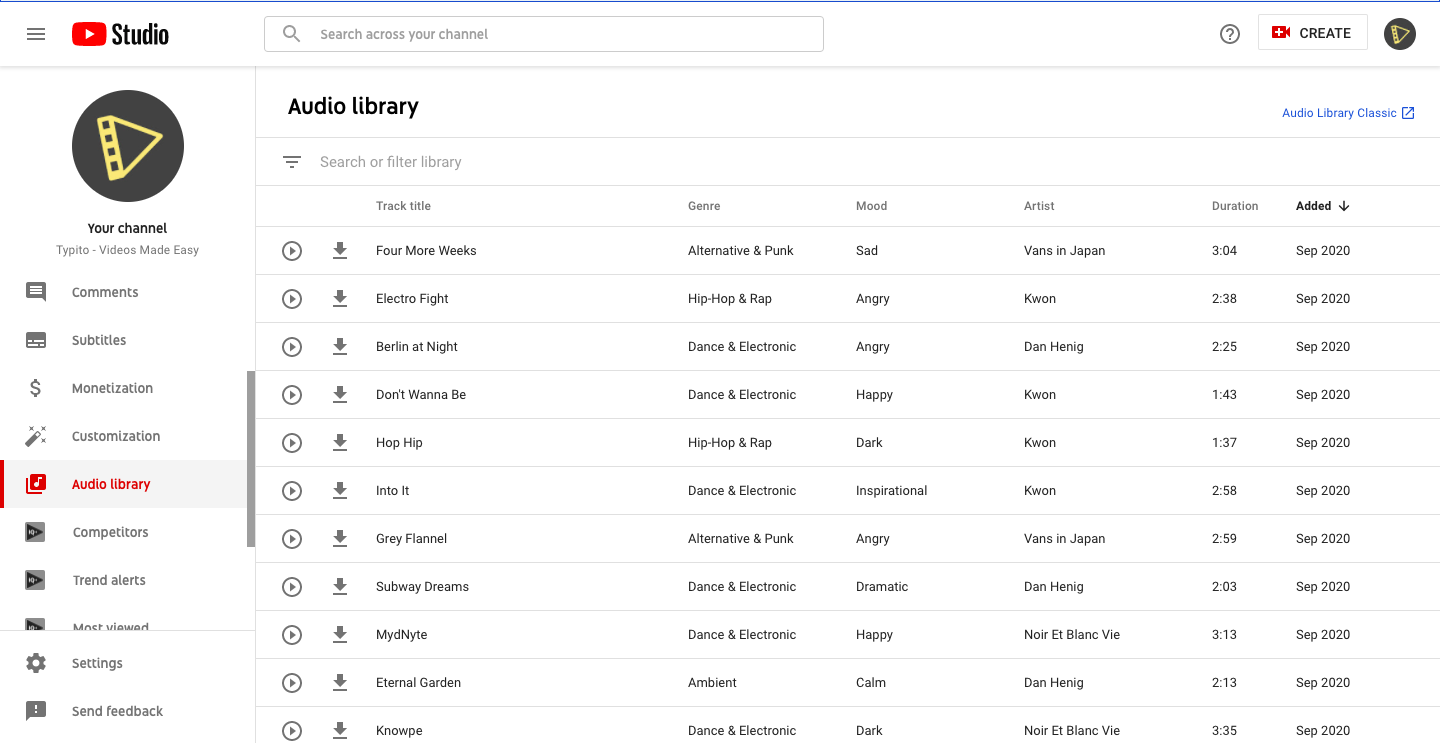 YouTube Audio Library has a great collection of high-quality and royalty-free production music that you can use for just about any type of video project. We love Youtube Audio Library and how easy it searches for the right track with extensive filters.
Whether you have an idea of what kind of music you're looking for or don't know where to start, the search and filter options help narrow down choices:
You can search for music with a keyword associated with your video project like 'corporate' or 'upbeat.'
If you know what music track you want, you can search by track title, artist name, genre, mood, and duration.
Filter based on tracks that would need attribution or might be free to use without any attribution.
What is the licensing type?
All soundtracks on the YouTube Audio Library are completely copyright-safe, which means you're free to use it for your video. However, some tracks are protected by creative commons and require you to include attribution information in your video description.
Hover over any of the tracks for a detailed description of the licensing type.
What's different?
You can save tracks you like for future projects.
You have access to tracks found exclusively in YouTube Studio.
New releases are added to the Audio Library twice a month, which means you can access fresh tracks.
2. Bensound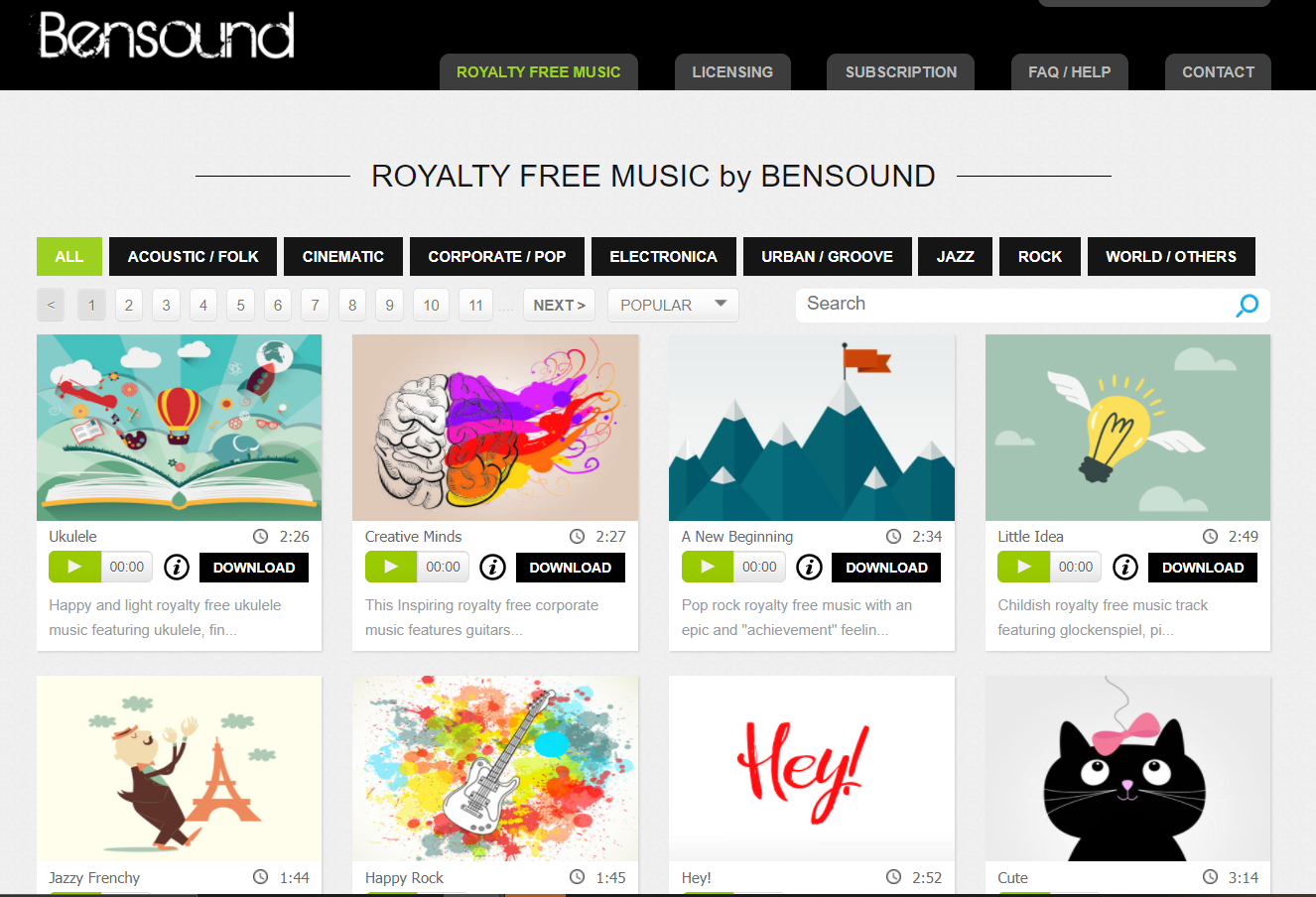 Bensound is a popular artist-owned website that features music by Ben Tissot, who has been composing music for over decades now. It has many audio tracks for specific music genres like acoustic/folk, cinematic, corporate/pop, and more.
What is the licensing type?
The music tracks available on Bensound is Royalty-free. This means that music here is free to use for online videos, but you will need credit Bensound.com when publishing your video online.
If you have a budget for music, you can check out the subscription offers, annually or per track.
What's different?
A smaller but well-curated collection that is easy to search through and features free tracks.
Search for music by genres like electronica, urban/groove, jazz, rock, world, and more.
You can also filter by popular or newest tracks.
3. Audio Jungle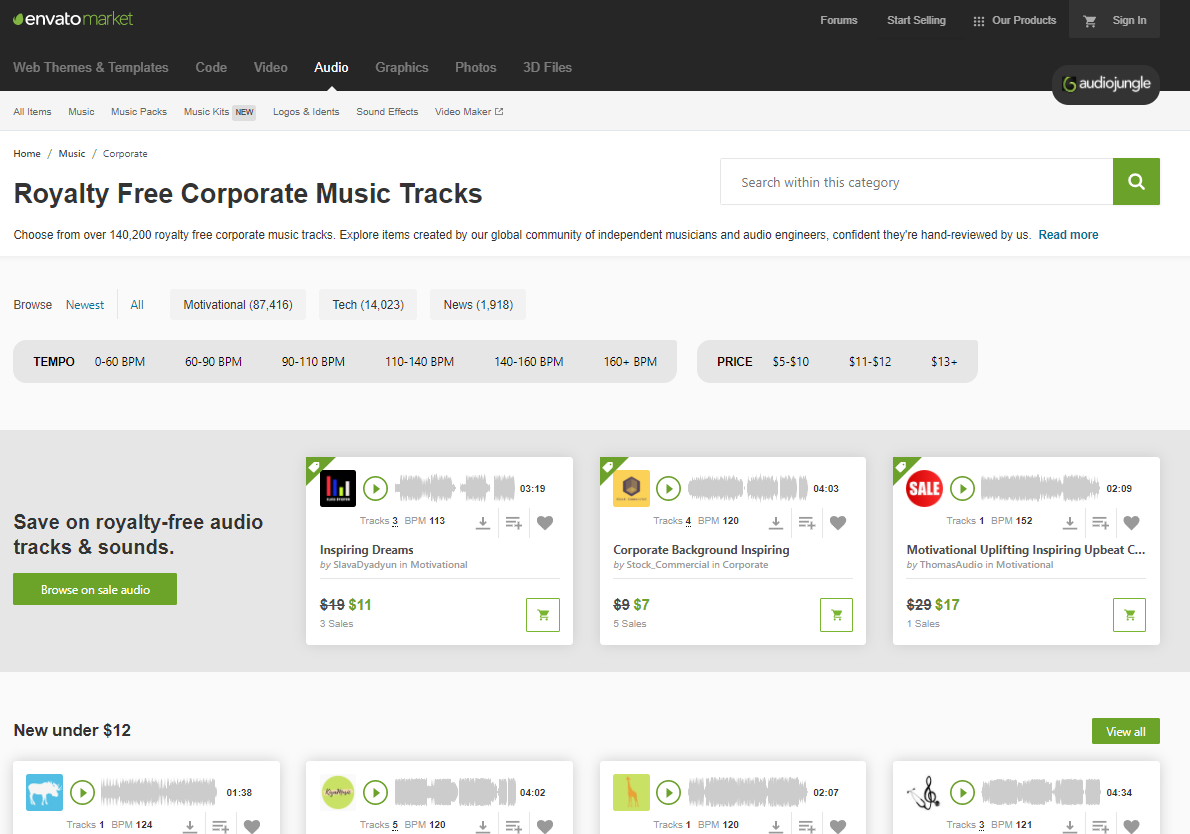 AudioJungle is a part of Envato Market and has thousands of royalty-free and Podsafe music and audio tracks. Besides being an extensive and excellent audio resource, AudioJungle has built a community of audio and a well-networked space to buy and sell music.
You can search for audio files by:
Music tracks and sound effects.
Music packs that have different tracks related to the same genre.
Logos & Idents that feature audio files for brands.
Audio Source files for Cubase, Logic Pro, and FL Studio experts.
What is the licensing type?
While AudioJungle does not offer free music tracks, it does offer flexible pricing with some of the tracks available are priced at as low as $1.
What's different?
Has an extensive category list with subcategories of music and sound files that lets you search more exhaustively.
AudioJungle offers a weekly summary of the most popular items and featured files handpicked by their site editors each week to make your choosing music easier.
You can even look through profiles of top music authors for more information.
4. Jamendo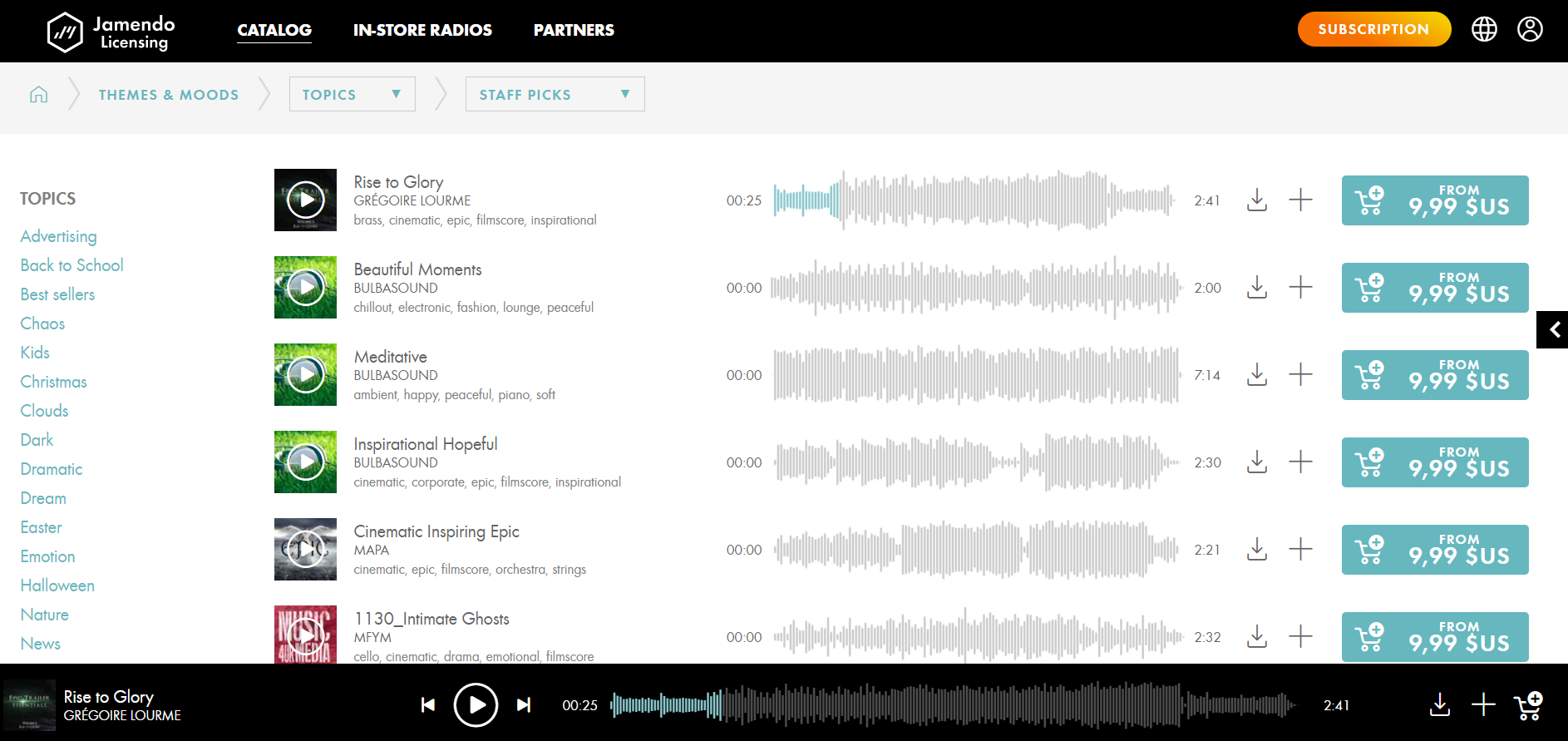 Jamendo catalogs more than 500,000 music tracks by independent artists from over 150 countries all over the world. You'll also find great featured playlists with a comprehensive choice in music. Jamendo also has genre themed categories like pop, rock, electronic, hip-hop, indie, and other genres.
What is the licensing type?
You can stream and download royalty-free music for free if it's for personal use but for commercial purposes, they offer single track licenses and subscriptions.
What's different?
Find curated Royalty Free Music for your video projects based on a theme, mood, instrument, and music genres.
You can also find music for your videos based on the type of video project you're working on by browsing through their listed categories like Youtube, sports show, travel, advertising, photoshoot, home videos, Facebook, corporate, etc.
They have a category for music in other languages like French, German, Italian, Russian, Polish, etc. So if you're looking for music from a specific language, this is undoubtedly a handy category.
5. Soundstripe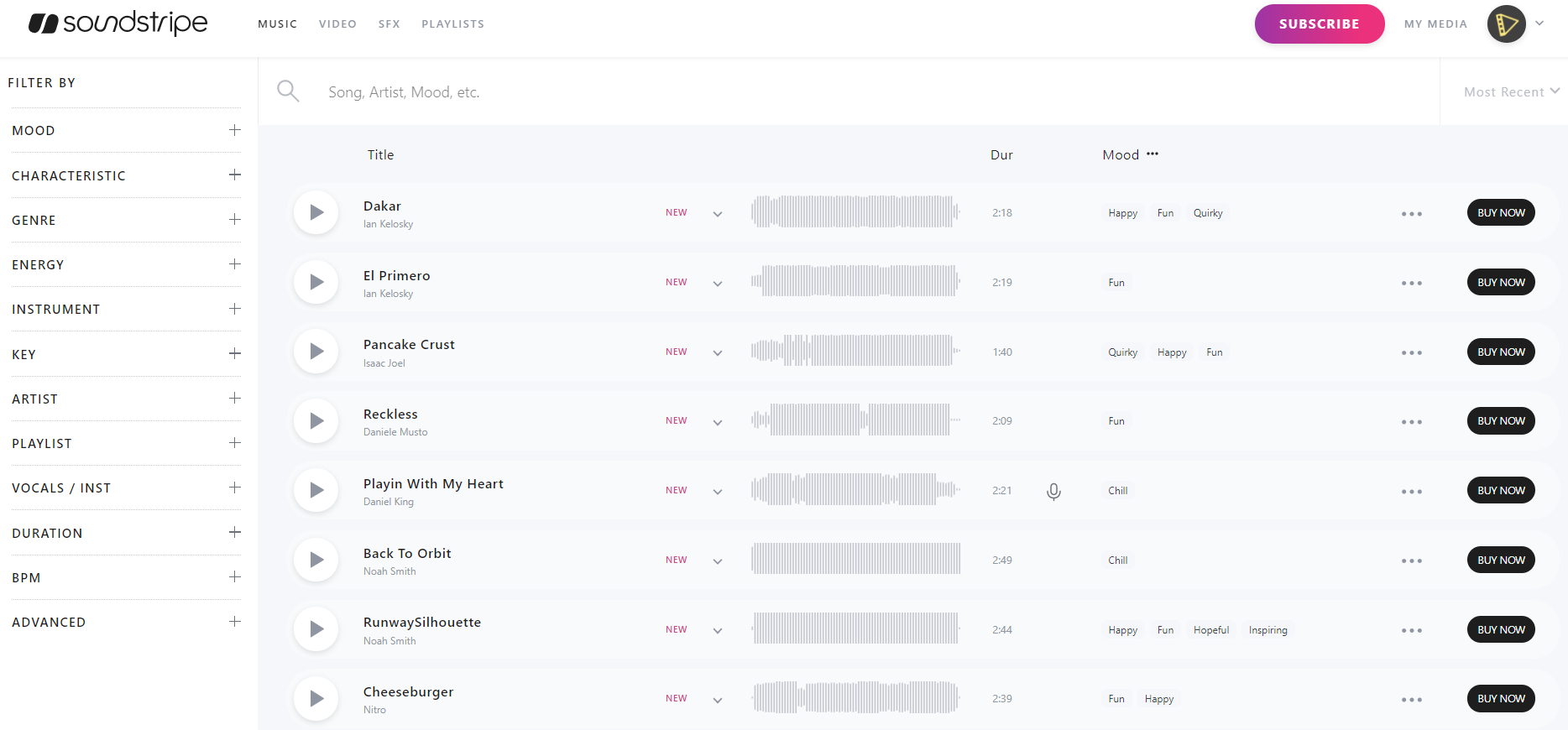 If you've been looking for music online, you would have definitely stumbled across Soundstripe. It's one of the biggest royalty-free music providers with over 4,000 songs, and around 200 new tracks added each month and curated by an in-house team of engineers.
What is the licensing type?
Soundstripe has unlimited licensing but requires you to sign up for a membership. Their memberships cover the cost for every song license, and there are no restrictions on what channels you can use the songs on whether it's used in a video online or on TV.
What's different?
If you want to skip all the searching, check out the curated playlists by their music team.
Soundstrip has playlists that are categorized by mood (like ambient or epic), genres (like indie or jazz), or use cases (like music for Twitch or podcast music).
Soundstripe also offers a catalog of over 35,000 sound effects.
6. PremiumBeat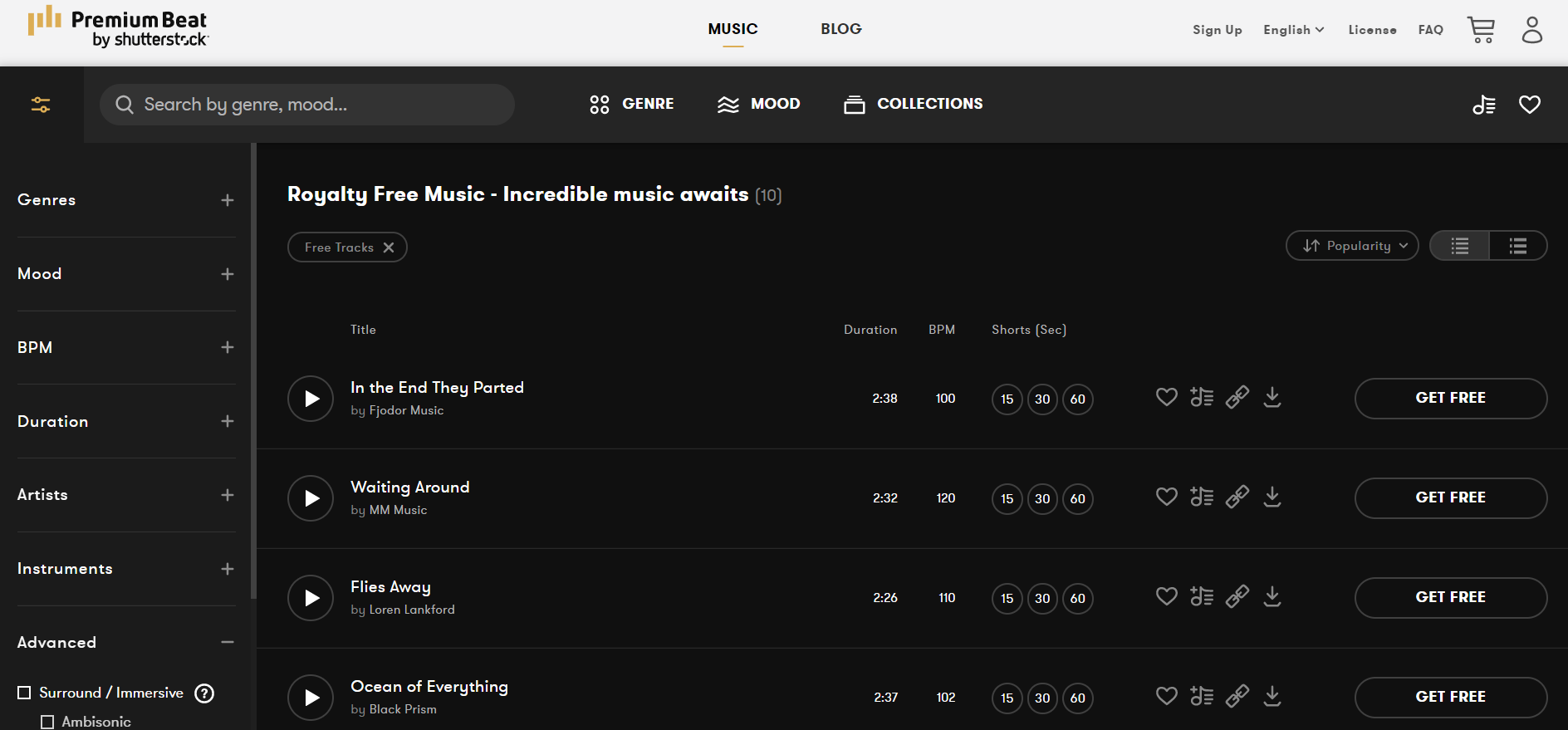 PremiumBeat, by Shutterstock, provides exclusive and high-quality tracks that you can use for your videos, films, and other media projects.
You can search for music by genre (acoustic, holiday, trailer, new age, film scores, corporate, etc.), mood (epic, fashion/lifestyle, patriotic, happy/cheerful, uplifting, underscores, etc.), or collections (tunes for influencers, cinematic tracks, lifestyle tracks ).
What is the licensing type?
PremiumBeat offers Royalty-Free Music Licenses available for single purchase or monthly Subscription.
What's different?
You can find music that's perfect for podcasts, corporate presentations, vacation videos, vlogs, apps, and other video projects.
PremiumBeat does have a category where you can download high-quality music for free.
Their music cataloging has advanced search options that help you find tracks for ASMR, tracks with Stems/loops/shorts, an instrument only, editors picks, and more refined search categories.
7. Free Music Archives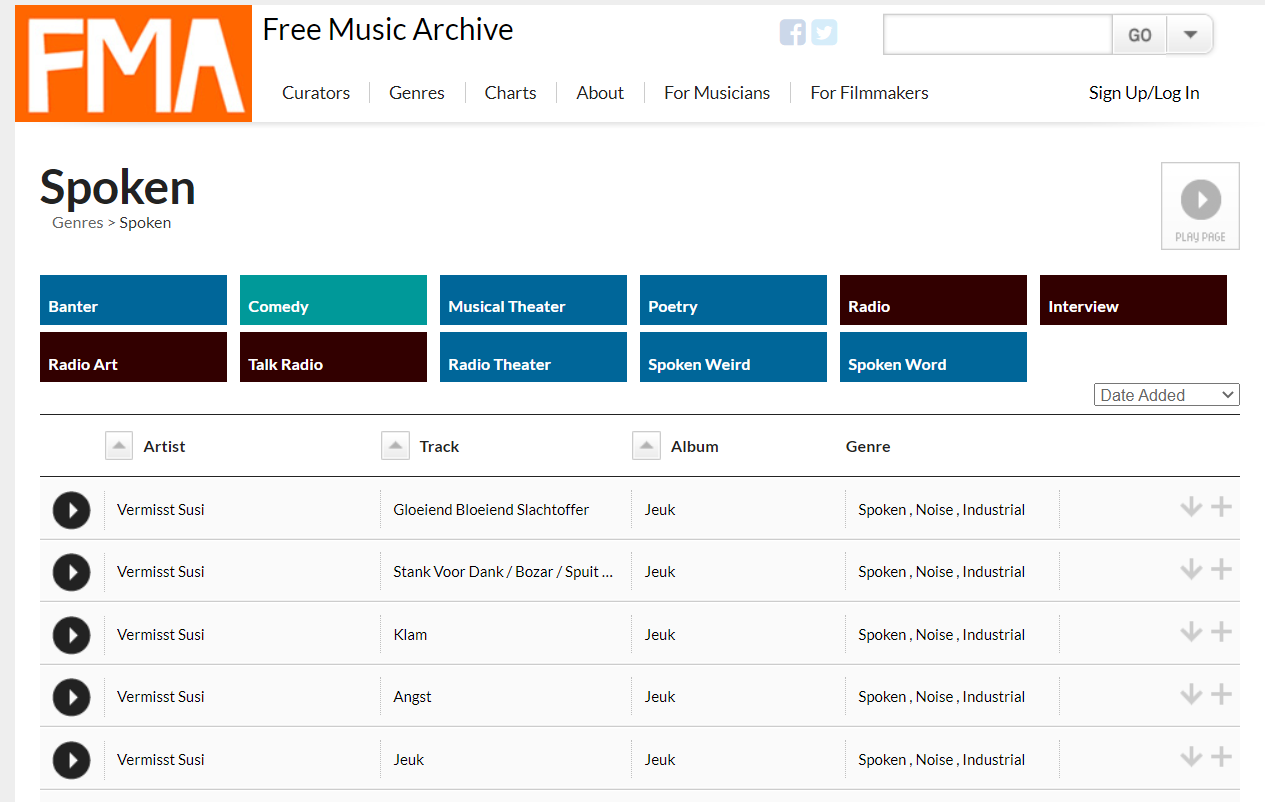 Free Music Archive has a collection of more than 1,500 public domain tracks (licensed for commercial use) as well as thousands more under Creative Commons.
It has a wide range of about sixteen different categories that span over multiple interesting genres. Some of these genres include sub-genres to help you get more advanced specific search options.
What is the licensing type?
FMA offers free access to open, licensed, original music. The music here is royalty-free and Creative Commons Licensed.
While some tracks are free, this doesn't always mean free to use or build on, so do take a closer look at their comprehensive license guidelines (it's pretty thorough and well explained).
What's different?
Free Music Archives has unique categories like 'Experimental' and 'Spoken' to find abstract ambient tunes.
If you're looking for world music, Free Music Archives has an extensive collection of music from categories like Afrobeat, Bollywood, Indian, Middle East, and more.
You don't need to create an account, you can download and listen to music without paying.
8. Purple Planet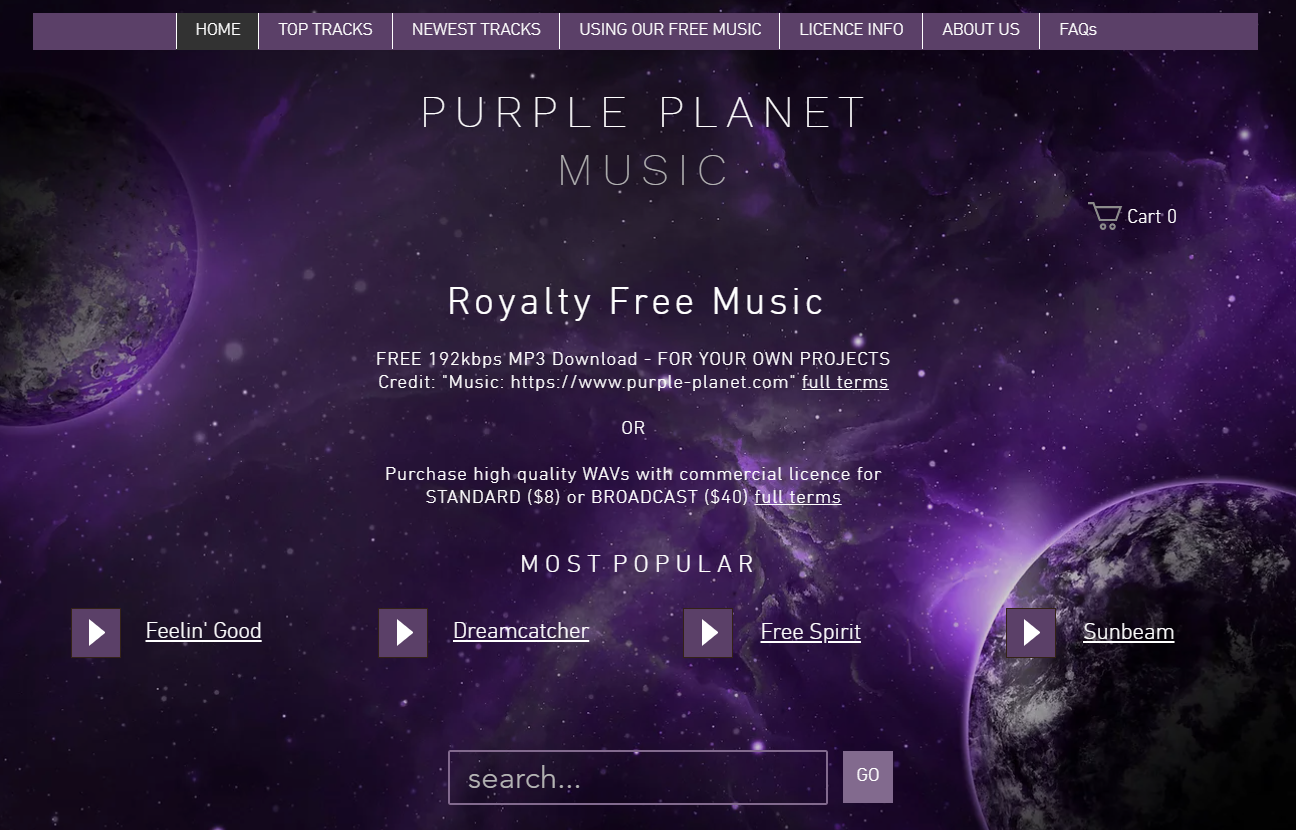 Purple Planet is yet another artist owned website with music by Geoff Harvey and Chris Martyn. You'll find very unique categories here like Tense, Creepy, Energy, etc.
What is the licensing type?
Purple Planet's royalty-free collection is free to use with attribution. For use without attribution, they do offer Standard and Broadcast Licence.
What's different?
Purple Planet has free music that you can use for your videos, but you must credit them.
You'll find everything from upbeat tunes to inspirational melodies.
9. Dig CC Mixter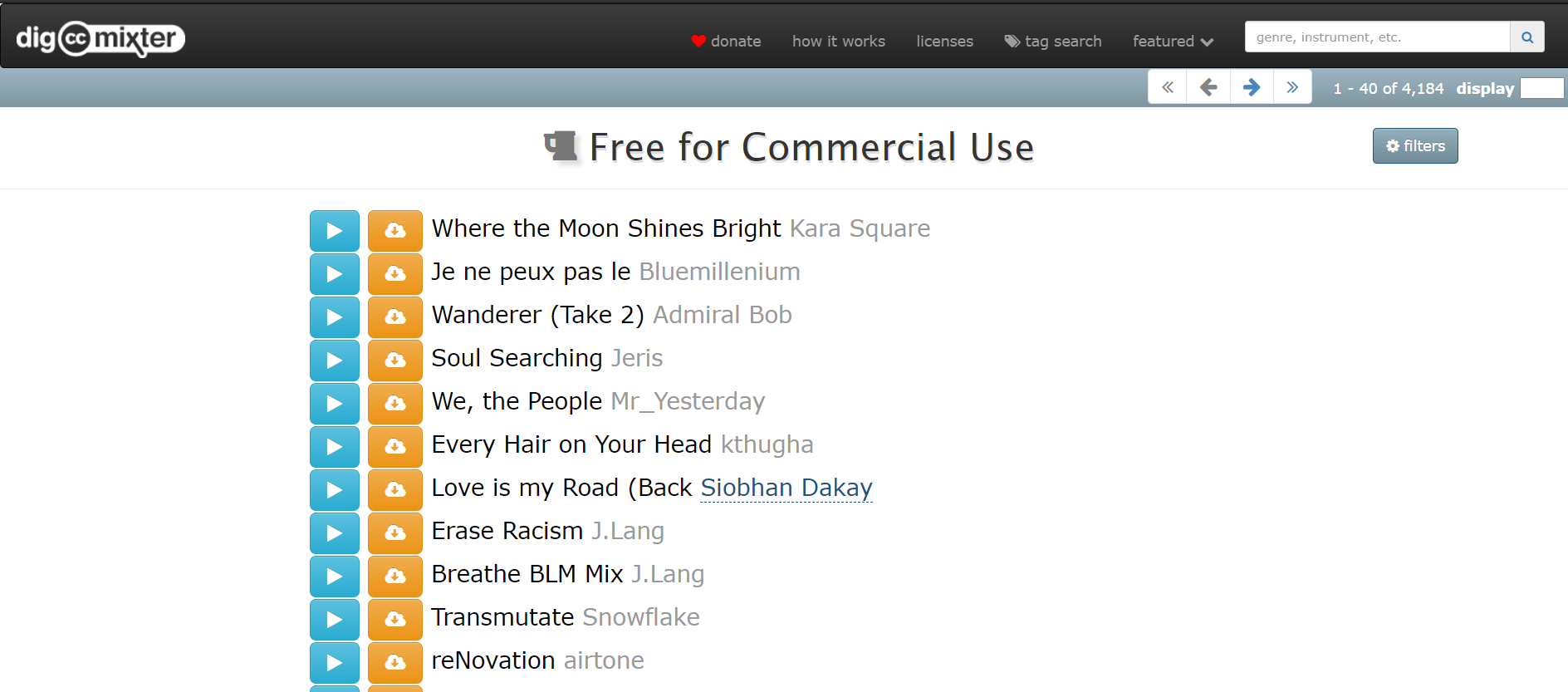 CC Mixter is a global community with 45,000 musicians around the world that create and share open music.
If you're looking for music for a video project, app, game, podcasts, you'll find dig.CCMixter to be a good place to start browsing. The music library's catalog is a bit difficult to search through with limited search and filter options.
What is the licensing type?
Dig.CC Mixer's creative commons licensing gives you access to use any of the music here for free with attribution. Of course, this depends on the track. Some of the music here is available to use free for commercial projects with attribution.
Since it's run by a community of musicians you'll really find a spectrum of music variety keeps their collection refreshing.
What's different?
Has free music options available for Commercial Projects (with attribution).
A whole range of music for film, commercial videos, and even music for video games.
You can filter by license type - free for commercial use under Creative Commons.
10. Mixkit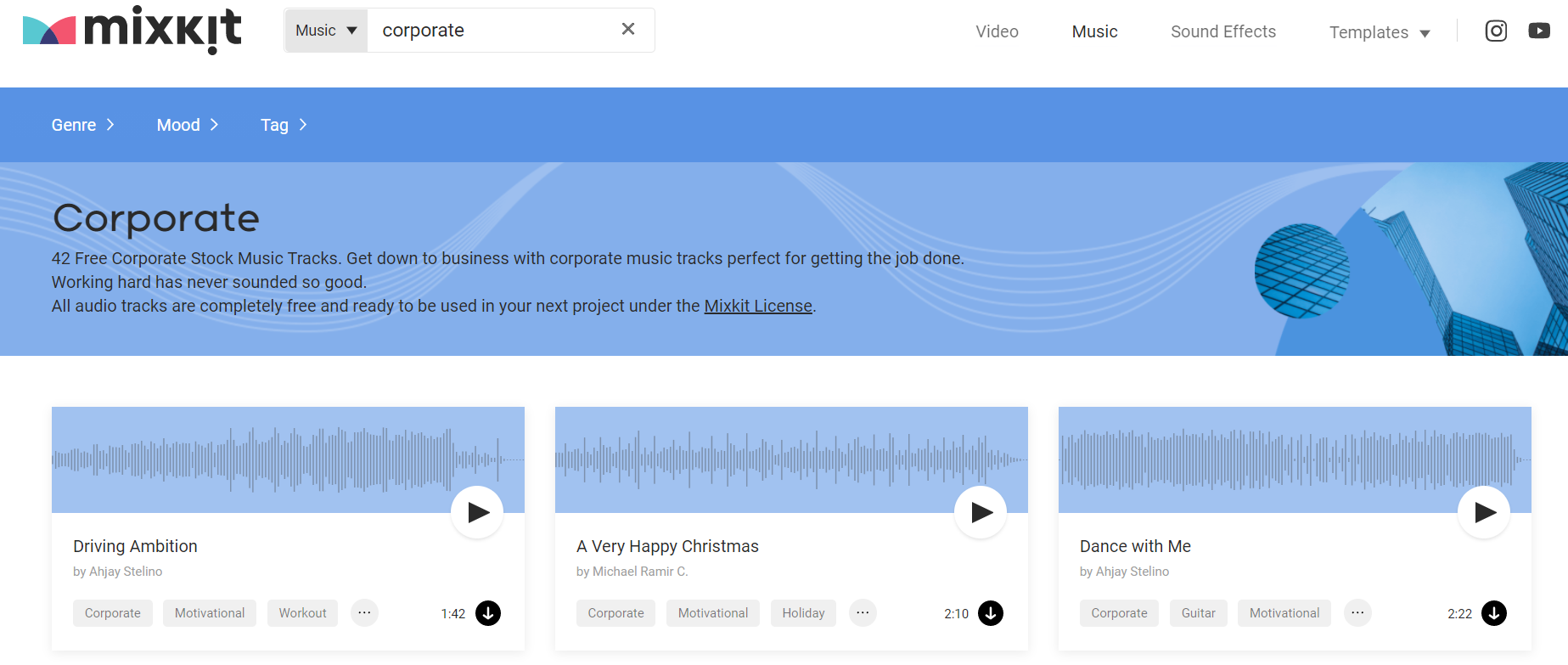 Mixkit started with free stock videos for projects and now they've added free music and sound effects to their platform. They have a small but growing audio library with royalty-free audio clips that you can use without attribution.
You'll find music for your next video, whether it's a social media video post, online marketing ad, Youtube video, or podcast.
What is the licensing type?
All of the music on Mixkit Stock is under a Mixkit Stock Music Free License and can be used in commercial and non-commercial projects for free.
This means you can download and use the music here for video projects to publish on any web or social media platform. Be sure to give the Mixkit Stock Music Free License a quick read to know more about what you can do with the free music here.
What's different?
You can find great background music for YouTube videos, podcasts, and online advertising.
Royalty-Free music that is free, and you can choose to attribute or not (although it is appreciated to credit the artist).
Mixkit also has a separate library dedicated to sound effects free for commercial and personal use.
11. Videvo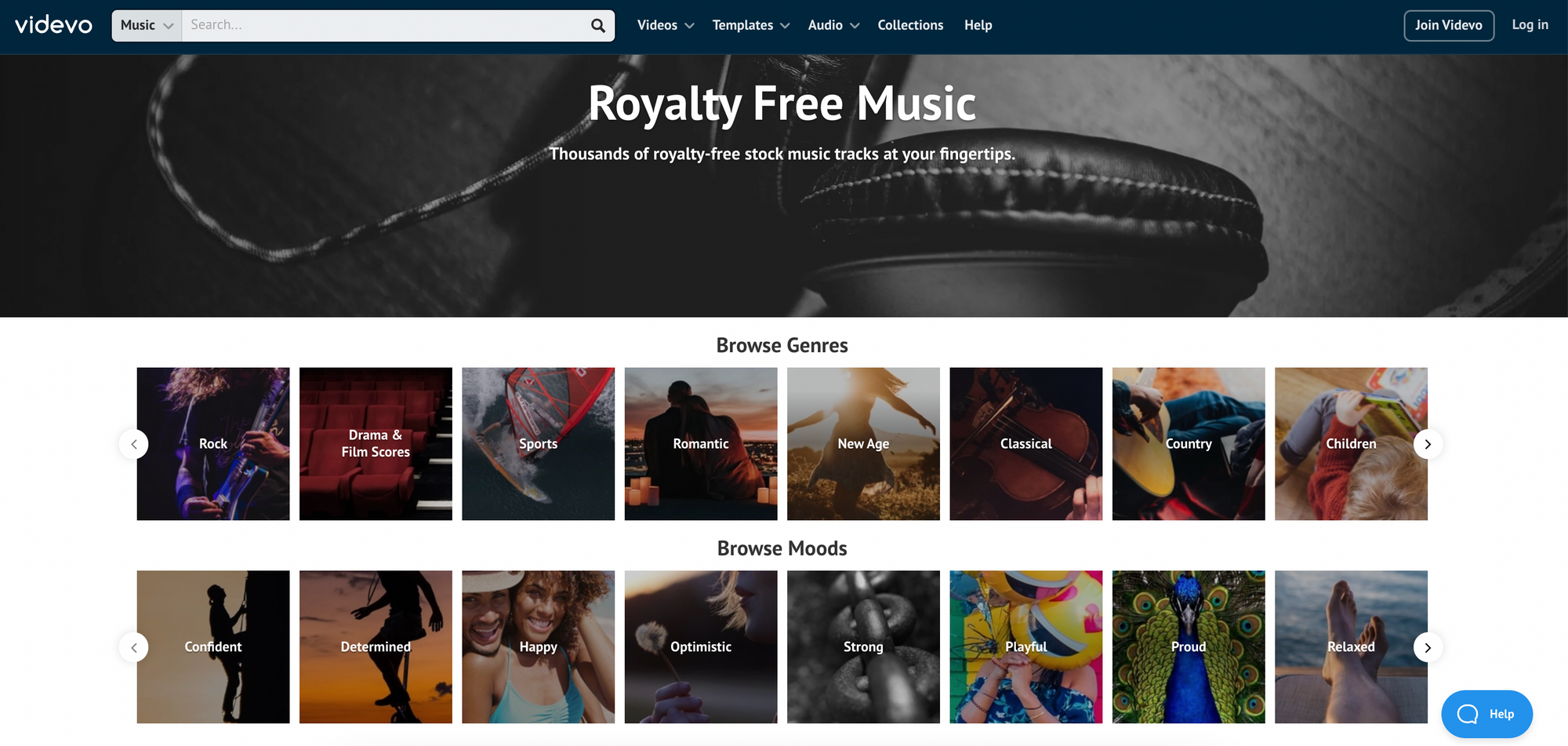 You may know Videvo.net for its vast library of stock footage (especially the thousands of clips offered for free!). In addition to stock video footage, it also has an audio library full of stock music and sound effects clips available for download. Since Videvo is committed to accessible stock media - you can browse through hundreds of these audio tracks that are free. Their audio library is comprehensive and well-organized under genres, moods, instruments, etc.
What's the licensing type?All audio offered on Videvo is both free and Premium and comes with Royalty Free licensing.
What's different?
One-stop shop for your creative needs - including stock footage, motion graphics, templates, and audio.
Thousands of assets across the board are offered free of charge.
Audio assets are of production quality and Royalty-Free.
Premium plans are highly affordable and greatly expand their libraries.
Royalty-Free Music is the best way to source music for your video projects, especially if you're working with a tight budget as a small independent video creator.
While this list of websites and audio libraries is excellent for finding great royalty-free music, be sure to double-check the license type and how to attribute the website or artist correctly.
Now that you have great options on where to look for free music to add to your videos, this brings us to our next question.
How can I add free music to my videos?
---
When it comes to online videos, audio is one of the most essential and yet one of the most overlooked video design aspects. If you're looking for a quick and easy way to add free music to your video, you can check our guide on How to Add Music to Videos Online in 5 Simple Steps.
While we're rooting for your creative ideas, we're also here to ease out your process of creating well-designed quality brand videos.