How Intercom became our Customer Messaging Hub and beyond that
Every business needs to engage and communicate with their customers in a positive way. Whether this is keeping them updated with their order progress, informing them about the latest deals you currently have, or answering any questions or concerns they have. They can do this through social media, live chat, high volume texting (Learn more here), or email. However, Intercom has become the hub for a large number of businesses to communicate with customers.
Most of the businesses in the SaaS (Software as a Service) world knows Intercom. A product-first company from outside the Silicon Valley that has essentially redefined the processes used by small, medium, and big companies to engage with their customers via chat and other communication channels.
Obsession with Customer Messaging
To learn more about the value provided by Intercom's product suite, a simple glance at their well-designed landing page would do: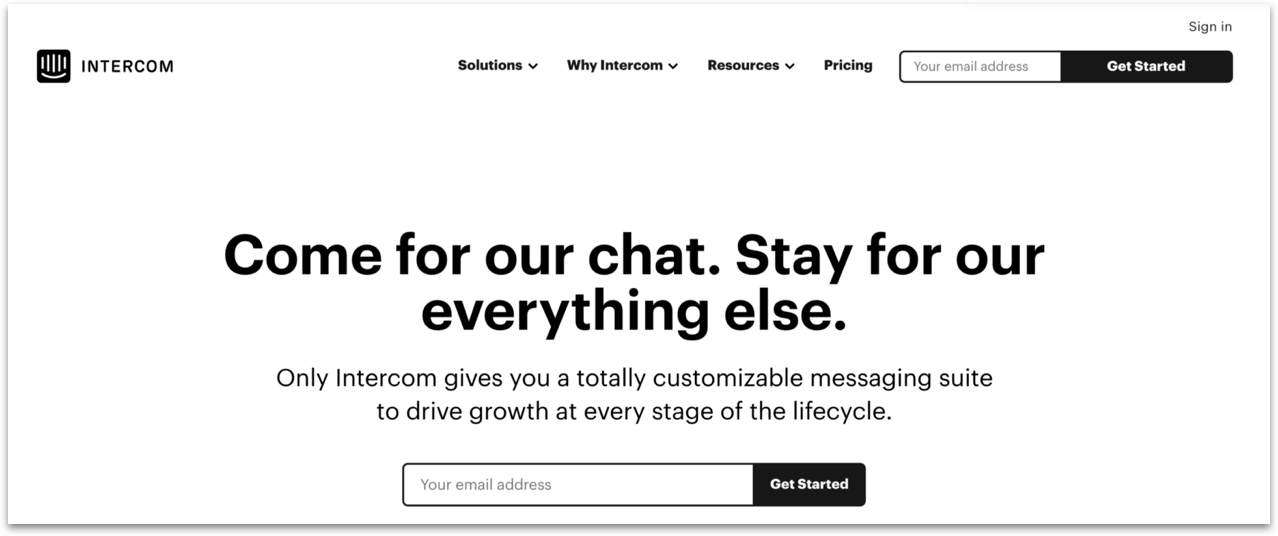 Screenshot of the Intercom landing page first fold as of May 29, 2019
They essentially provide everything that you need to communicate with your users. However, what's amazing is when you learn that the team at Intercom has always been laser-sharp focussed on providing a customer relationship management (CRM) and messaging tool for product owners from day 1. :)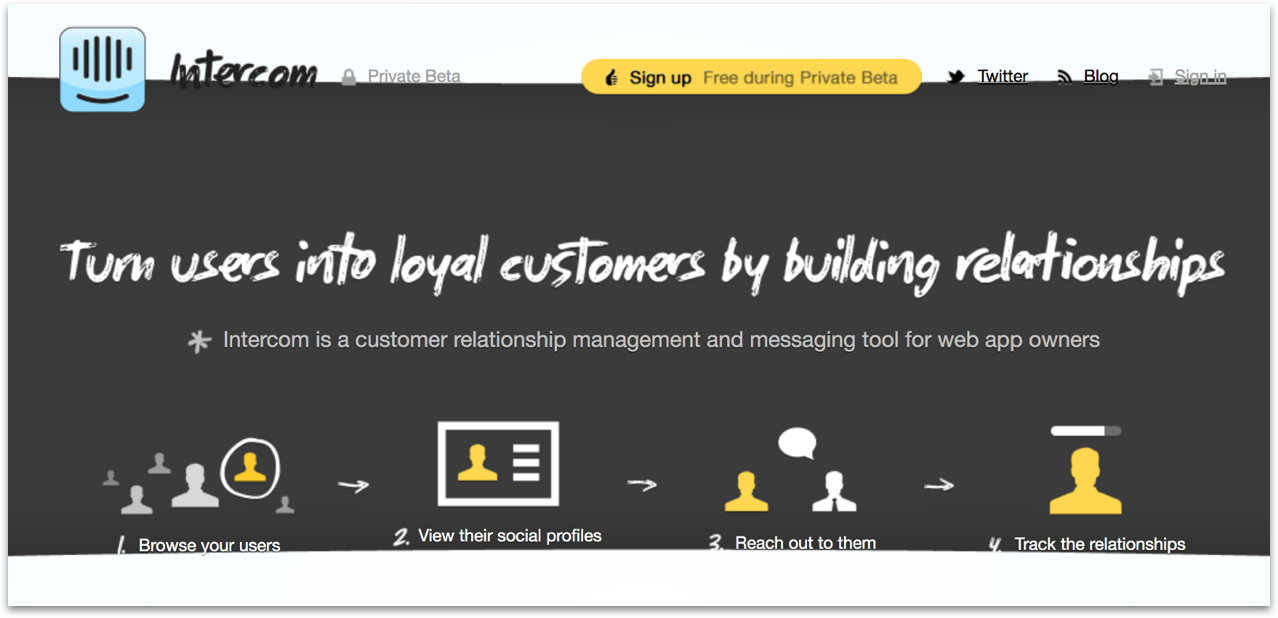 Here's what I found on the Wayback Machine?-?https://intercom.io 's first web check-in on September 23, 2011. Pardon the broken CSS :).
The product suite has evolved in the last 9 years but the problem that they set out to solve is still the same?-?managing customer relationships and customer messaging within your app. This is a classic example of obsessing over a given problem for a long time and bringing about disrupting changes in the solution space in a steady manner.
While the CRM part of Intercom's product suite serves as the backbone, what makes the tool a preferred integration in most web-apps is the 360 ° customer messaging capability. Now let's try to understand what I mean by 360 ° customer messaging.
360 ° Customer Messaging
After talking to 25+ SaaS entrepreneurs and from our own experience building Typito, I have been able to make a list of variants of customer messaging that I think are critical to an early-stage startup. Let me take you through them while giving a glimpse of how Intercom enables Typito to achieve the same:
1. Live chat
A basic capability to offer your customers a small chat widget that's inviting. On clicking the widget, the users get to talk to one of the team members and get their queries addressed. Live chats are useful in many ways:
a. Availability: They show that you care for the customer and is ready to be available for a quick chat to resolve a specific issue (instead of the traditional method of raising a support ticket)
b. Troubleshooting: It's an easy way to learn about bugs, errors and even more critical issues like a 502 Bad Gateway issue (yes, this can happen when you are an early-stage startup :))
Here's Srijith from our team reaching out to the customer who was troubled by the 502 bad gateway via Intercom's live chat. For the record, this was the last 502 we faced. We're definitely getting better at this :D
c. Product feedback: Your users are more open to sharing valuable feedback when they see that you are committed to resolving their issues at the earliest by using a live chat widget instead of sharing a support@yourwebsite.com email address. And what's even better, Intercom lets you tag conversations with appropriate keywords so that you can analyze what type of customers are asking for what features in your product, or what feature needs to be revisited from a messaging perspective so that your customers understand them better.
In Typito's case, we specifically use tags to learn product feedback from users and what features most of them are asking for. For example here's a customer asking for transitions feature on Typito: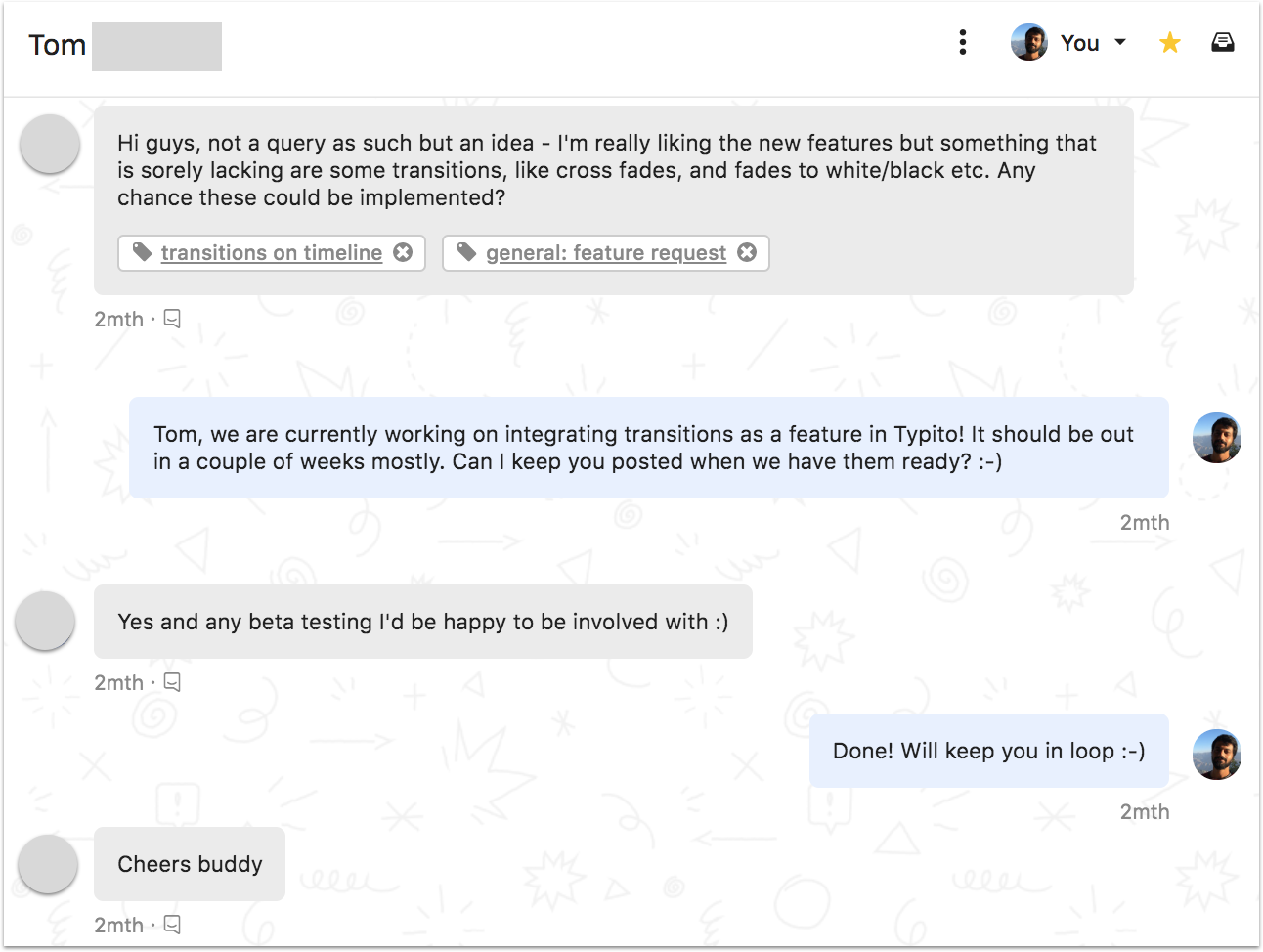 Example of a customer asking for a product feature
Once you start tagging product feedback, you are now in a comfortable position to sit back and assess what features your active users are requesting, a process that contributes to building a customer-centric product roadmap. To analyze these tags and arrive at conclusions (eg. on what product feature is requested the most), you can check out some of the apps that can visualize the tags data for you. You will find them in Intercom's app store: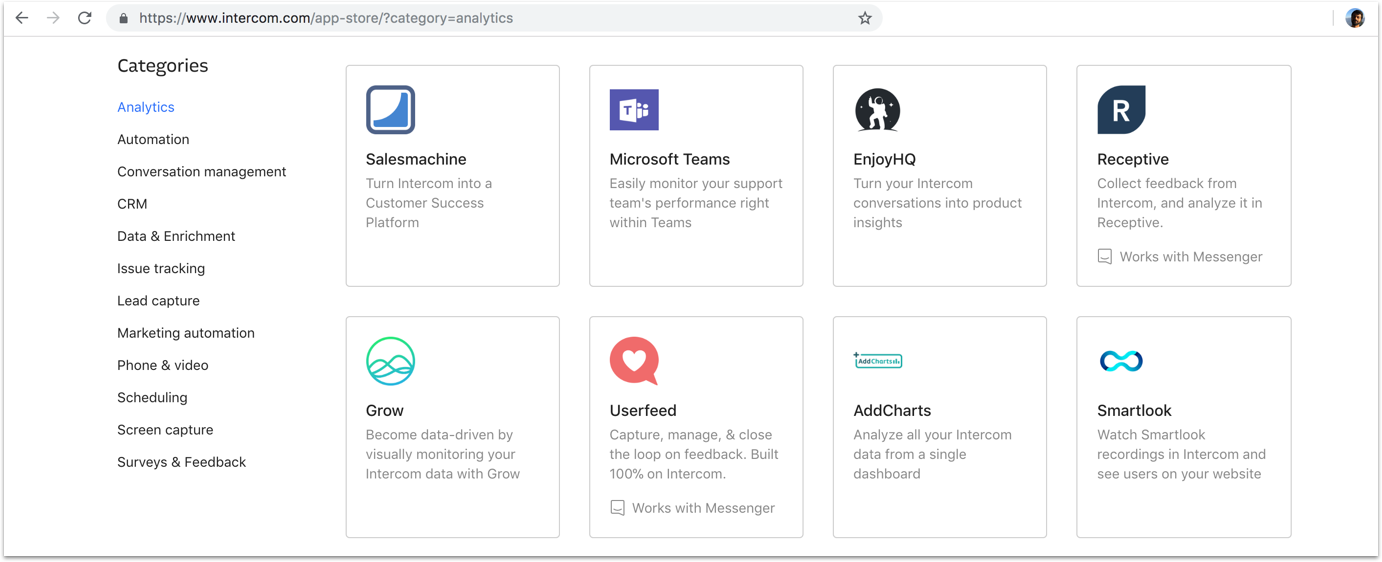 We've used AddCharts (2nd row, 2nd from right) to look at aggregate tags data for deciding what features to build from the customer-feedback bucket.
d. Issue tracking: Tags are also a great way to track the customers who faced a particular issue while using your product. With the help of tags, you can reach out to all of them using an Intercom email/chat when you've fixed the issue. Intercom has written a comprehensive article explaining how to use their tags feature to track support requests and bugs.
e. Differentiator: Most importantly, remember? You are an early-stage startup and this is one of the ways you can differentiate yourself from your incumbent competitor?-?by being out there with a live chat widget :).
2. Event-based in-app messages and emails
When a user finishes exporting their first video on Typito, what a delight it would be to reach out to him/her with a personalized message congratulating on the feat! We've seen that these experiences bring a smile to the user's face and play an important role in their decision to become a paying customer.
And on the other end of the spectrum, when a user decides to cancel their subscription to your product, it's a good practice to reach out to them and learn how their experience was and what we could do to make the product valuable for them whenever they plan to return. Intercom makes it super easy to create these event-based conversational experiences. Let me take you through 2 of the event-based emails we've configured on Intercom:
a. Cancellation Flow: Once a user initiates the cancellation on Typito, we immediately reach out to the user with a small survey that tries to capture a summary of their experience using the product. This is done by tracking a custom event cancellation initiated and we trigger the message for a user whenever Intercom detects the event being registered for him/her. The email copy that we use for this purpose looks like this: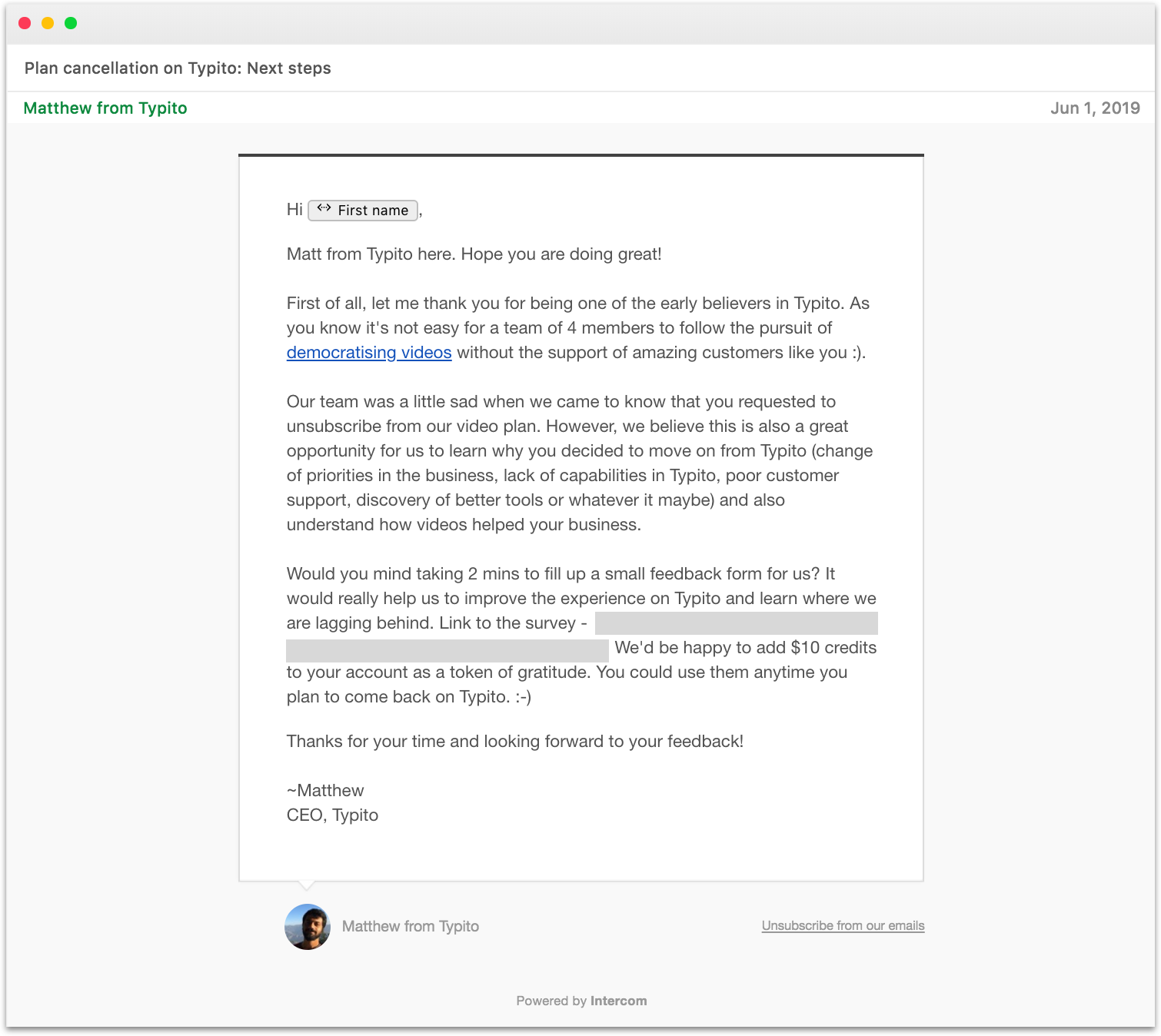 Cancellation flow email that we send out to churning customers.
b. Payment failures: One of the biggest challenges faced by SaaS products is the payment failure rates and of them, a notorious case would be do_not_honor payment failure cases. Such failures can happen whether you use a free payment processing service like Payment Savvy or any other payment gateway. These mostly happen when the Bank that provides the credit card doesn't have enough confidence in your product/company as a service provider and decides to deny the payment initiation. The reasons could be many, some of them listed in this post. However, the resolution to the problem is most certainly just one?-?asking the customer to talk to the Bank and get your company whitelisted for payments. Since Stripe, the payment gateway software that we use at Typito, provides the reason to us, we essentially send this data to Intercom as an event payment failure due to do_not_honor and send out an email to the user asking them to talk to their Bank. Simple! :)
Just like emails, you can also trigger in-app chats based on the user completing certain actions. For example, it could be triggering a chat on the pricing page after you realize that the user has spent more than 30 seconds on the page. The opportunities to experiment with customer messaging are endless with Intercom's event-based messaging product.
3. Product Education
We all love to believe that our product is very easy to use and it comes with zero learning curve. That's a mixture of our cognitive biases speaking and it's mostly untrue :). Most users need to be handheld on how to use your product and doing a good job here would improve your conversion rates (signed up user to paying user) as well as improve the likelihood of a new user becoming an evangelist who knows the product in and out.
To educate our customers at Typito, we depend on two products provided by Intercom:
a. Articles: This is essentially a help center where you can publish all the help articles related to your product in one place. Users can search for the right articles and find answers to their queries very similar to resolving problems by reading a manual (much simpler though!). We have written over 50 help articles and here's how our help center looks: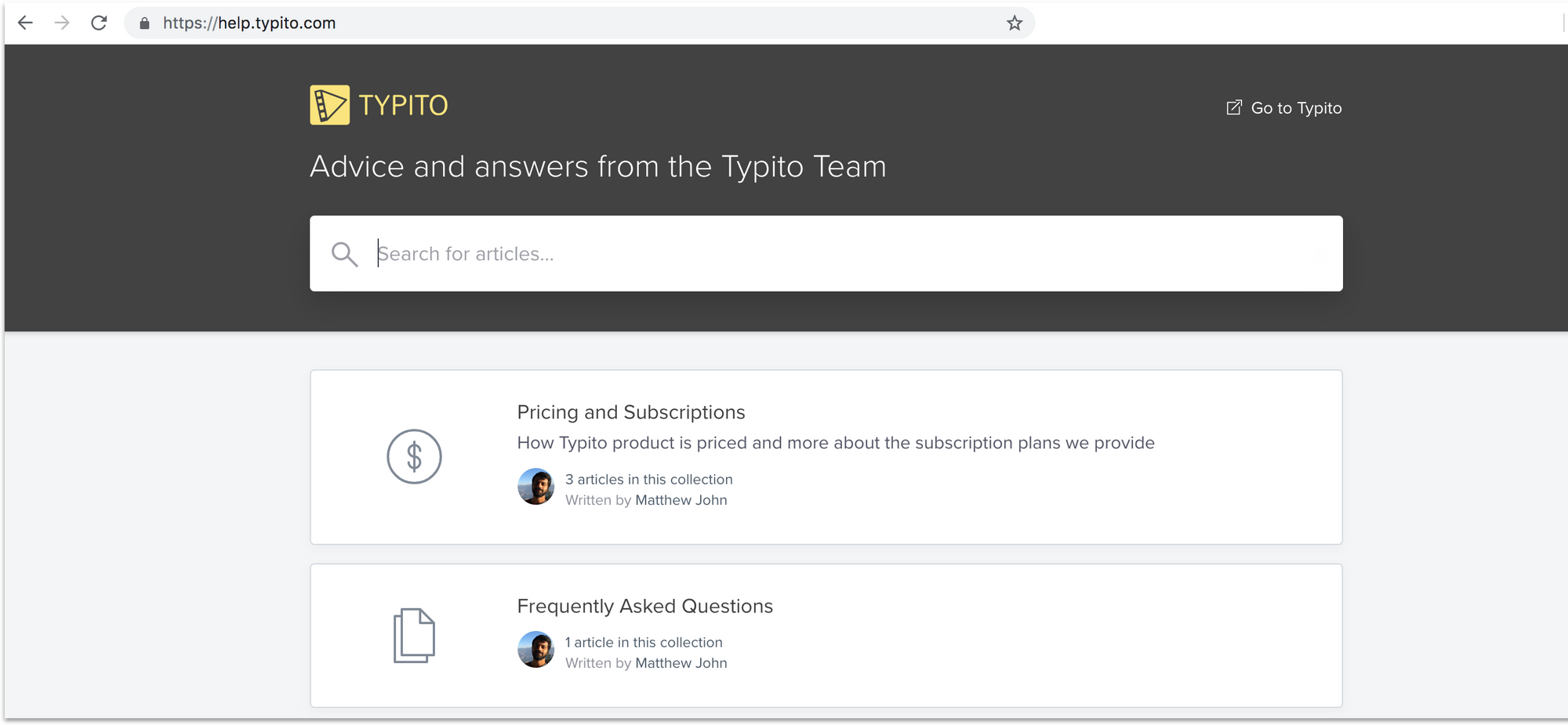 You can check out our help center at https://help.typito.com
The best part about Articles product is that you can embed one of the articles that you've written pretty seamlessly into a customer conversation, like the one below: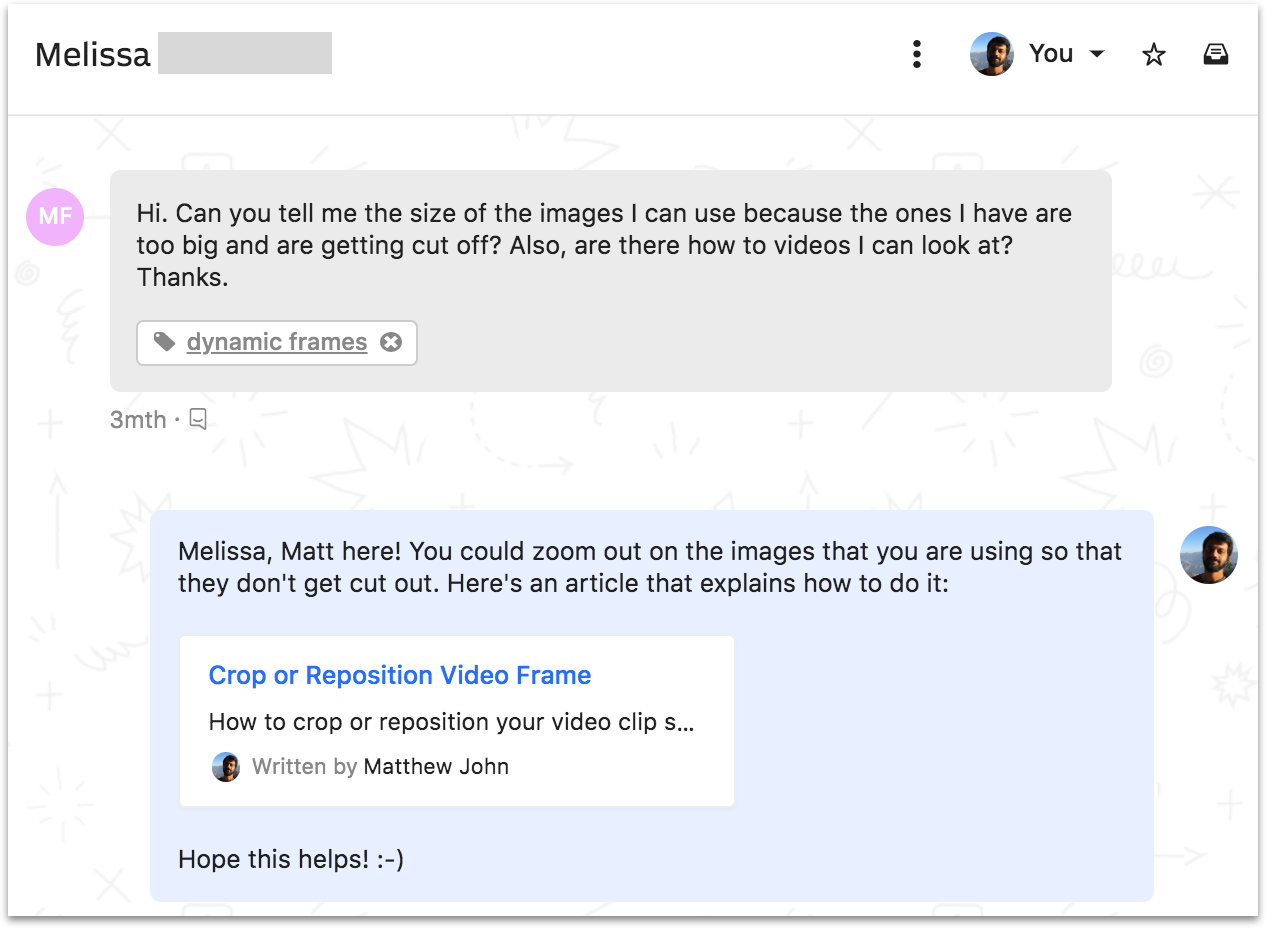 Here's me helping Melissa (user) with cropping an image on the video timeline using Typito. Check out the embedded article?-?Crop or Reposition Video Frame.
b. Product Tours: The second product from the Intercom suite that we use to educate customers about Typito is Product Tours, which essentially helps you create tutorial experiences for the end-user of your product. It can be used to build your new user experience (NUX) or to educate the user about a new feature that you launched in your product. We use Tours to help users get a grip on our editing experience on Typito: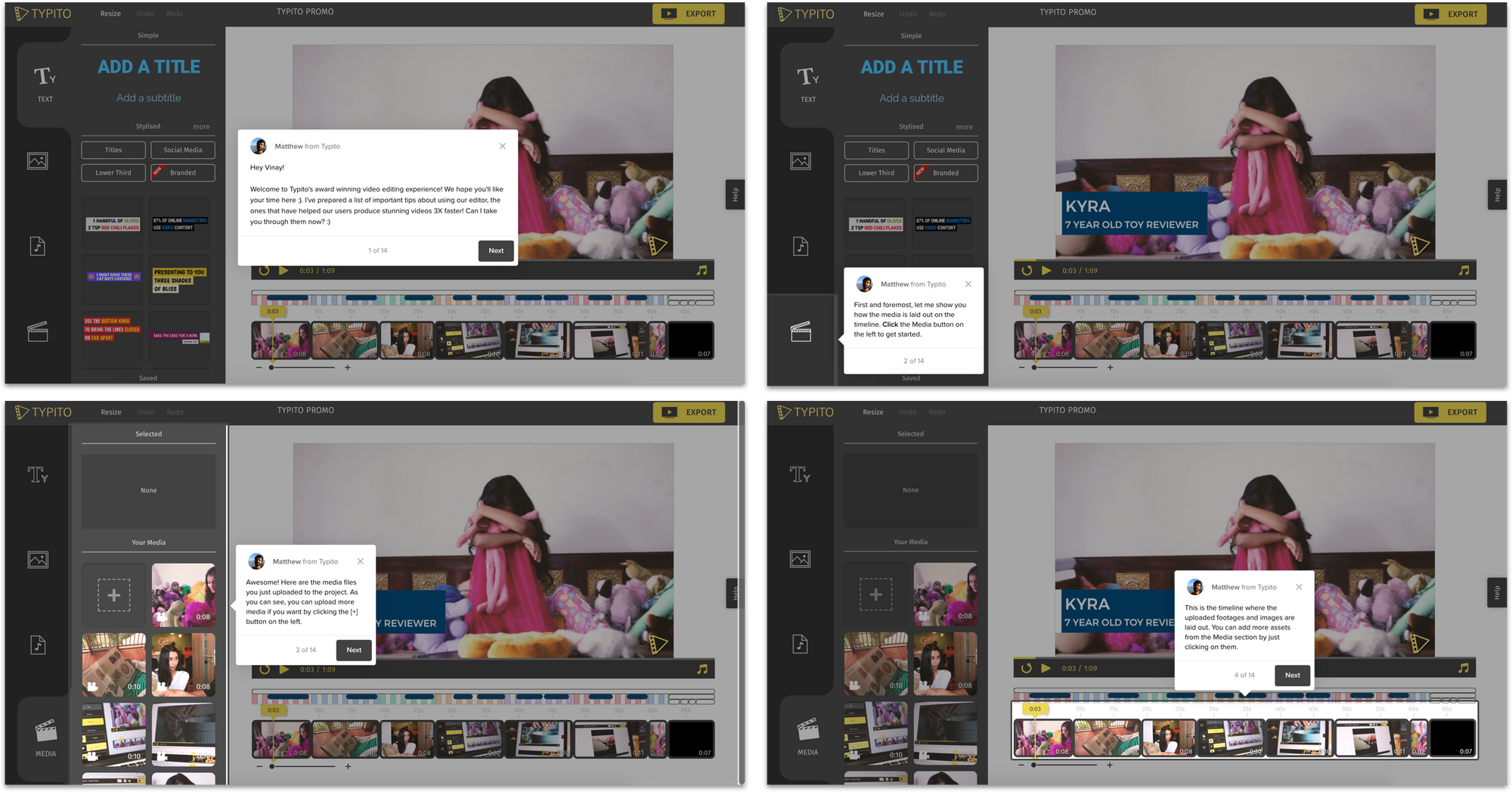 Thumbnails of the first 4 steps in a tour of Typito's editing experience
Tours is a recently launched product by Intercom that stands as a testimony to their obsession to help their customers (like us) communicate with customers effectively.
4. Bots: Though we haven't leveraged Intercom messaging bots on Typito, I've seen how some of our friends build experiences around Custom Bot and Answer Bot features provided by Intercom. For example, here's a Custom Bot used by SendX, an email marketing software, on one of their Infographic based landing page:
Link to the page: https://www.sendx.io/blog/cart-abandonment-infographic/
A good look at the different products provided by Intercom would help you decide what works best for your business.
Intercom for Early Stage Companies
I hope I've given you enough reasons to consider Intercom, among other tools, for managing customer messaging on your product. While Intercom's product suite works well for companies of all sizes, I strongly recommend the product to all early-stage startups since the company provides a special $49 per month plan that includes most features you'll need to get started with talking to your customers and educating them about your product. We are a proud beneficiary of this program and would vouch for it any day. Here's the link to their Early Stage program.
I hope this post helped you with a refresher on how to manage customer messaging on your product and how to use a tool like Intercom for the same. Feel free to share details of your experience using Intercom or other similar products. Look forward to learning from you! :)