Top 10 LinkedIn Video Influencers and What You Can Learn from Them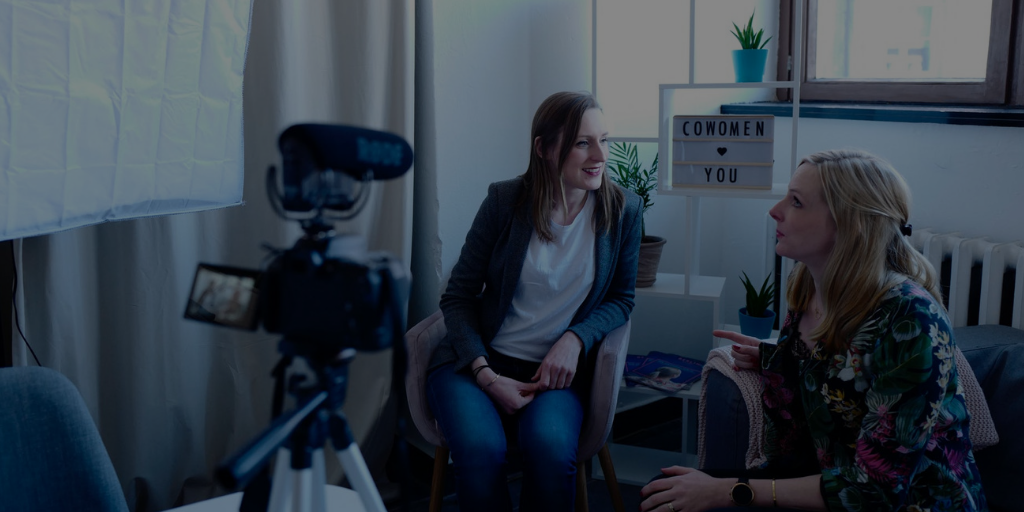 Since the launch of native video on LinkedIn at the beginning of 2018, the impact of video content on the channel increased manifolds. Surveys show that 75-80% of companies that have used LinkedIn video in their video marketing strategy have found it useful.
However, the platform is still not very competitive when it comes to video. Few brands on LinkedIn have experimented with video, and early adopters have the opportunity to take the lead and differentiate. The free organic reach of LinkedIn videos is vast, and there's no reason not to try it out as part of your growth and acquisition strategies.
In the past few months, we've observed influencers, senior executives, practitioners, coaches, and content creators as well as a managing partner or two share engaging video content on the platform. Below is a curated roundup of some of the top LinkedIn video creators and what we can learn from them:
Goldie is a recognized Top LinkedIn video creator. She is the Founder and Head of Content & Creative for Warm Robots, a social strategy agency. She has published 600+ videos on LinkedIn and posts an original video every day!
Goldie documents her visits, hosts interviews with industry influencers, shares her own opinions and ideas about business and personal brand building, and documents her visits to conferences and seminars in the creative and marketing industries.
She educates the community about personal brand building, B2B marketing, and social strategy.
Pro Tip: She sums it up well when she says "Videos let us see (and hear) faces and voices - add a layer of personality to each piece of content."
Allen founded TrackMaven, which in October 2018 merged with Skyword, a top content marketing platform.
Allen's style of video content creation is like a superpower. His videos are impromptu, and it looks like he is always on the go. ?
He networks with his peers and influencers during industry events and encourages them to share actionable tips in business building, branding, marketing, and more. Those who are looking for invaluable tips in business development and management may want to check out Exos Advisors for the good of improving operations and the quality of their staff.
Pro tip: Ask a question. People like to share their insights about a topic and sometimes all it needs to document great content is a simple question.
Chad is VP at Shootsta, the only subscription-based, scalable video content agency. Chad passionately believes in enabling everyone in your team to become video storytellers. His videos are crisply shot and have beautiful text animations, to sum up, the tips, and best practices.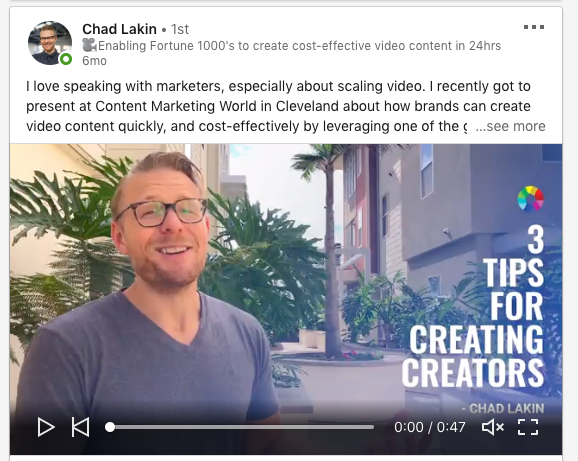 It doesn't matter if you are a solopreneur, a growing startup, or an enterprise, you will learn a lot about how to create engaging videos to build a brand and grow your business. While there are other steps you can take to encourage business growth, like using a company registered office address agent to give your business a more desirable address, video marketing is one of the best ways to attract new customers.
Pro tip: Chad uses the power of text captions to summarize points and reinforce his message throughout the video. Captions can increase video view time by an average of 12%.
If there's one LinkedIn video creator leveraging the platform to the fullest and generating the most qualified leads, it might be Kamara. She is a Resume Writer, LinkedIn Consultant, and Job Search Strategist.
Her weekly #TuesdayTen videos are consistently viral as she covers topics spanning across resumes, cover letters, LinkedIn optimization, and job searching.
Pro tip: Release content consistently. You need not create and publish videos every day, but be regular. Maybe it is just one video every two weeks, but try to stick to a schedule. If your content is useful, your audience can be turned into loyal subscribers leading to higher conversions for your business.
Shay Rowbottom is the co-founder of a Facebook marketing agency that has companies like Petco, Yahoo, Verlo among their clientele. Shay's influencer profile reached new heights since joining LinkedIn in May of 2018.
The themes range from self-help, social media strategies, entrepreneurship tips, and even sales. Her videos have clocked over 4 million views, and it is increasing by thousands every day. She is a very keen observer of organizations and employee culture. Though most of her videos are funny or inspirational, she has shared her vulnerability in quite a few videos. The genuineness in her videos makes them highly relatable.
Pro tip: Optimize your videos for LinkedIn format. LinkedIn loves square letterbox style videos. It commands more space on the mobile view, and the titles and captions over the letterboxes increase the attention span and make the videos highly consumable.
Dave is the VP of Marketing at Drift - the world's leading conversational marketing platform, trusted by top enterprise businesses like InVision, Marketo, MongoDB, Okta, Outreach. His expertise is in brand building and category creation.
Thanks to his approach to experimenting with any new upcoming marketing channel, Dave became one of the earliest adopters of LinkedIn video when it was released in late 2017. Now after being consistent with LinkedIn video, each of his videos generates 100,000+ views within a week.
Pro tip: Experiment. Experiment. Experiment. ? You have to find the specific content format, style or channel which will work for YOU. You will only find that if you test enough. Build a culture of experimentation in your team and encourage people to create content. It will help their personal branding as well.
The Lego group's mission is "to inspire and develop the builders of tomorrow." If you were like me when growing up, Lego-style building blocks have played a massive part in sparking your creativity and inspiring you to build things.
The Lego Group is one of the few brands on LinkedIn that is leveraging LinkedIn videos to out-educate the competition rather than outsell. Their videos educate the community about fostering creativity, school curriculum tips, parenting tips, and more.
Pro tip: You don't need to take the burden of creating the entire content on your own. See how you can leverage your network to find experts and thought leaders to talk about topics in your industry. A simple question to them can trigger some of the most actionable and valuable video content.
WeWork is leveraging LinkedIn video to showcase the full range of innovative companies building excellent products and services from their co-working spaces across the world.
These videos bring out the story behind the startups, their mission, and each video ends with shots of the team working inside WeWork. A great way to sell without actually selling, don't you agree?
Pro tip: Showcase customer stories. Your customers will love the attention you give them, and their employees are very likely to share the videos in their network - hence exponentially increasing your brand impressions. It is a great way to leverage the inbuilt virality of the LinkedIn platform without the need for paid marketing.
The tone of the video content from KLM Royal Dutch Airlines is among the funniest and informal approaches I have come across. These videos help KLM to humanize their brand and showcase the personalities and stories of the people responsible for the smooth running of the much-loved airlines.
Does a plane have a horn? Do you know what the maximum height is for KLM pilots? What happens when lightning strikes a plane? The KML crew answers such questions regularly and feeds the curious brain.
Doesn't take much to wish your customers during holidays does it?
Pro tip: Talk like a person. The tone of the content from KLM is very conversational. It feels like a personal profile: no corporate jargon or the conventional uptight communication style.
Sam is the CEO and Co-Founder at HotelTonight - the world's leading app for booking fantastic hotel deals. He has found a brilliant way to showcase how HotelTonight and its leadership appreciate the people building the organization.
He published a series of viral videos where he featured informal chats with the employees of HotelTonight. The employees shared career-building tips, productivity insights, and any updates from current projects.
Pro tip: Your employees can become the best influencers for your brand. Encourage sharing and transparency to create storytellers. Train people with social media fundamentals!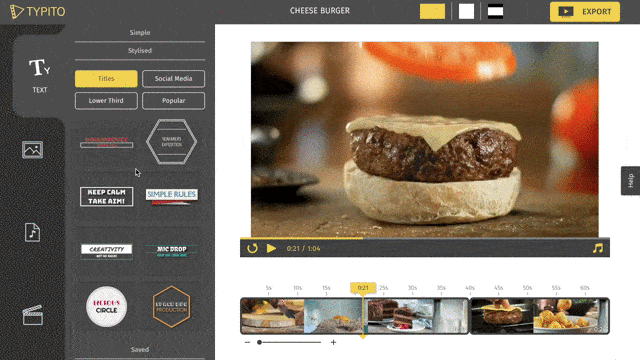 Our team at Typito has carefully curated this list of LinkedIn video creators. Typito is a web-based drag-and-drop video editor to easily create stunning social media videos with beautiful typography, video clips, and images. And yes, we have ready-made templates for LinkedIn! It's like Canva but for videos.