How to Make Instagram Story Videos Easily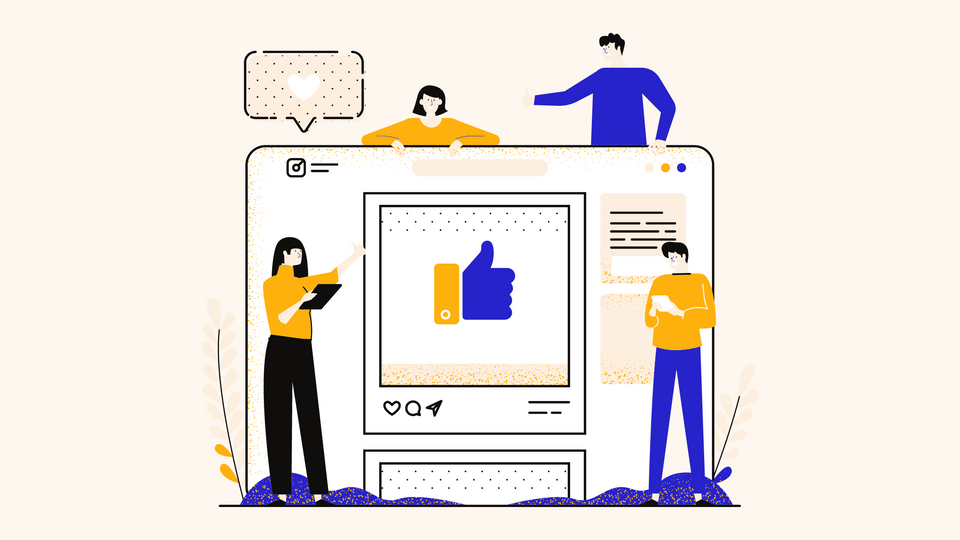 With more than 500 million Instagram users creating content via the stories feature actively every single day, there is no doubt that the 'IG Story' feature has been a big hit ever since its launch. This also gives us yet another reason to learn how to make Instagram story videos to keep viewers entertained and engaged with little nuggets of moments in your everyday life.
Here's a complete overview of what we'll cover in the next few sections in this Guide on Instagram Story Videos.
Quick Links
What is an Instagram Story video?
---
An Instagram Story Video is an interactive way to post content on Instagram that lets you share video snippets with your followers.
Instagram Stories are usually vertical videos or photos (up to 15 seconds long) that disappear after 24 hours since posting. Rather than displaying as the feed, Instagram videos show up at the top of your Instagram page just when you log in and can be viewed easily by tapping on any of the stories displays.
The creative possibilities for videos are quite expansive - whether you're posting video posts, video stories, Instagram Reels, or longer video forms like Instagram Live and IGTV.
Considering the user base for Instagram Stories and its high engagement levels, Instagram has emerged as an effective social media marketing strategy to reach out to new audiences for a lot of businesses.
How do Instagram Stories Work?
---
Instagram Stories are pretty straightforward. You can click the Your Story button that's usually at the top left corner of the screen and directly post your videos and photos as stories. Or you can make your posts pop with a ton of add-ons like - timestamps, doodles, polls, GIF overlays, music, stickers, and even apply effects and filters.
If your Instagram account is public, your Story will be visible and discoverable to everyone, but if it's private, the Story will be visible only to those that follow you.
Interestingly, viewers also can respond to your stories through DM (Direct Message) to directly engage with the Instagram Stories you put out.
How Long are Instagram Stories?
---
An 'Instagram Story' lasts only 24 hours after it is published. After 24 hours, it automatically disappears.
But what if you want your keep these Stories for longer? There's a way for that too. You can save your favorite Instagram stories as Highlights on your profile. These will appear to anyone viewing your profile.
A video inside your Instagram Story can be up to 15 seconds long, and anything longer can be cut as a next story and plays in a sequence one after the other.
There are many third-party apps to help you segment longer videos as 15-second increments so that they can be added to your Instagram Story without any hassles.
Why Should You Use Instagram Story Videos?
---
Whether you're sharing an Instagram Story from your profile or business account, the main purpose of Instagram Stories is to drive both engagement and value.
Instagram Story video feature has seen consistent growth from the time of its launch. The journey from 50 million or below users to 500 million active daily users, Instagram Stories has a massive audience that businesses can't ignore!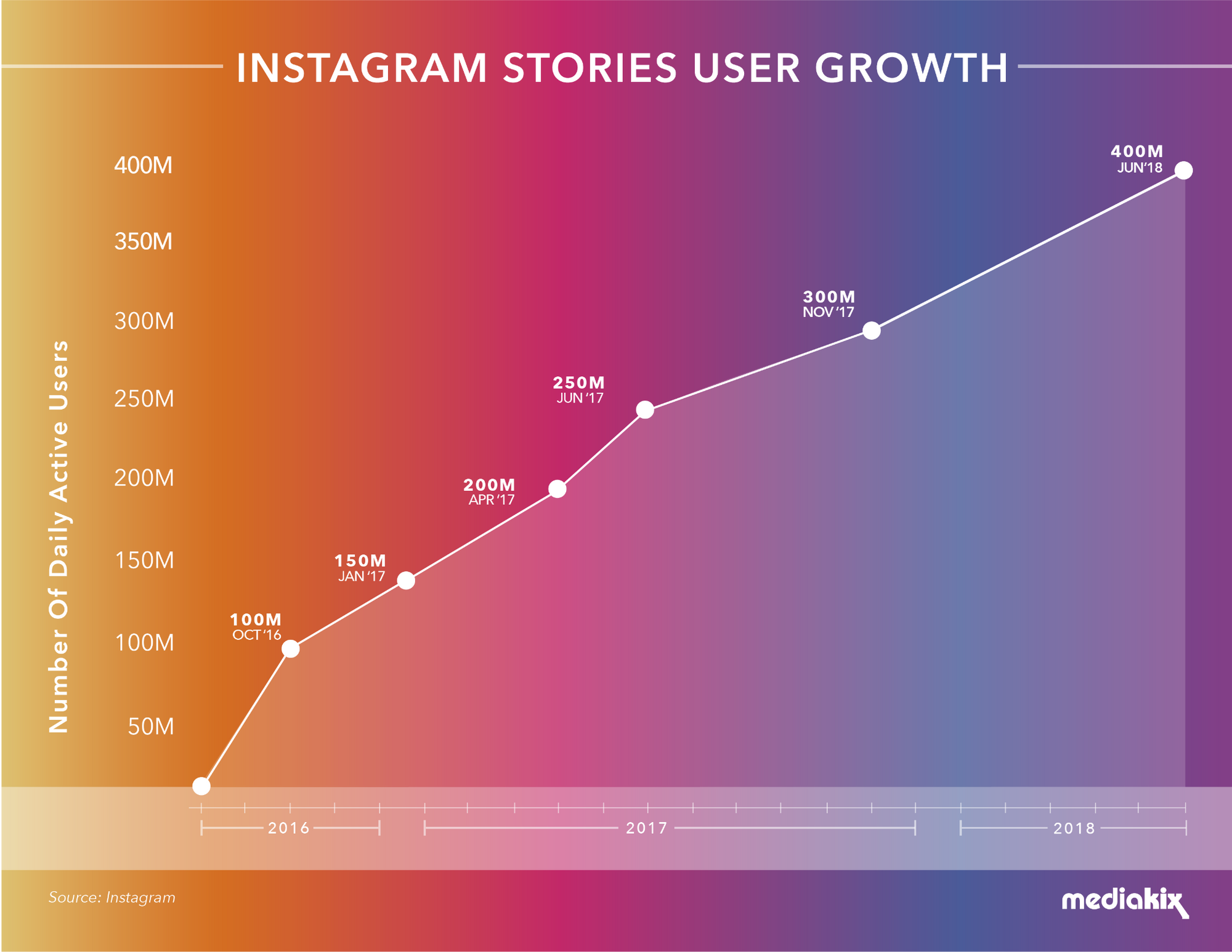 Source: Mediakix
Interestingly enough, with millions of Instagram users preferring to share disappearing content via Stories, the amount of average in-app time spent each day has also inclined to 30 minutes.
It's important to leverage Instagram Stories whether you want to channel traffic to newsletters or videos outside Instagram, share sponsored posts, or increase brand awareness,
It's a great way to keep your content fun and infuse your personality and brand voice without taking up much of a user's attention span. That's one of the key reasons Instagram Stories are short and last only for a short time on the platform.
What's more? Well, multiple brands across the globe have seen immense success after publishing short stories and videos to this social platform. Instagram Stories have worked like a charm in fueling growth to some popular brands like Chameleon Cold Brew, Doritos, and Bombas.
If you are a business, here are a few key reasons to start using Instagram Story videos as a part of your marketing strategy:
Increase engagement: The beauty of Instagram Stories is that they aren't limited to just followers alone. In fact, the IG's algorithms are crafted in a way to show stories to users that are relevant and might be interested in seeing what your brand has to offer. Being consistent is also a key. It's a fruitful approach to reach new audiences and gain traffic organically.
Increase brand awareness: Instagram Stories is a great way to promote your brand and provide a humanizing aspect to your business. Unlike Instagram videos, Story Videos don't have to be perfect in order to be more impactful. As long as they are meaningful enough to deliver the message, that should be fine. You'll have the space and liberty to be more experimental.
Run creative ads seamlessly: One of the best advantages of using Instagram Stories is the ability to insert ads between the users' stories without even distracting them. In fact, Airbnb created Instagram Story video ads to not only increase their ads recall but also create buzz about its products.
Share customer reviews: User-generated content matters a lot to businesses because it's one of the ideal ways to gain the trust of your target audience. They are not only authentic but also are highly likely to be viewed and increase conversion. Stories are one of the most effective ways to increase your customers.
Reuse your content: The beauty of using Instagram Story Videos is the ability to repurpose the content. If you have videos that gained a lot of attention on other social platforms, they can be shared on your IG Stories too. In addition, you can share videos from ongoing live events and generate comments in real-time.
Instagram Story Video Size Requirements
---
Although it might feel like the sky's the limit for creating Instagram Story Videos, there are a few rules you need to follow, and these include: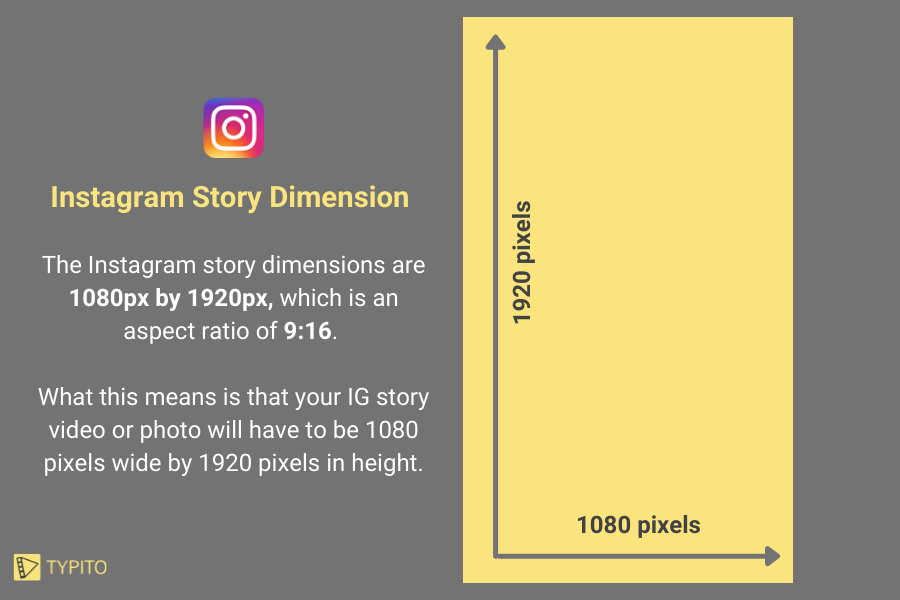 Your Instagram Story Video dimensions have to be a minimum of 1080 x 1920 pixels (Width x Height), which is a 9:16 aspect ratio.
The maximum file size for Stories is 4GB.
Instagram Stories are full portrait size, with an aspect ratio being 9:16. This is the ideal format for Instagram Stories, as it takes up the entire space of the phone screen.
The video length limit of Instagram Stories is 15 seconds but you can post any number of 15-second videos one after the other to create one long video.
The only accepted video file formats for Instagram are MP4 (highly recommended) and MOV.
Note: When it comes to 'Stories,' Instagram is stringent about the size requirements and dimensions. If you upload any video or photo that does not meet the necessary dimensions, Instagram either crops it or zooms into the video/photo. This, in turn, not only causes quality loss but also gets the important visuals cropped off.
Creating Instagram Story Videos
---
There are two ways you can create an Instagram Story Video, which includes:
Directly from Instagram
Using online video editors
Let's learn both of these in detail.
1. How to make an Instagram story video using Instagram
Log in to your Instagram account. Click on the "+" sign from the upper left corner and switch to 'Stories' mode.
You will see different video options to help you create Instagram Stories and these include:
Live video: You can start live streaming instantly. Once you go live, Instagram notifies all your followers that you've just begun a live video. Once you finish your live streaming, the video becomes automatically available in Instagram Stories and remains there for 24 hours.
Boomerang: You've surely come across Boomerang stories at some point when watching other Instagram Stories. You can create funny looping effects with the Boomerang effect. The secret to creating excellent boomerang videos is not to move them too fast, or else your Boomerangs end up looking too fuzzy.
Hands-free: This mode helps in making videos for Instagram Stories with a single tap. It lets you record videos without having to press & hold.
Superzoom: This option lets you make short videos with cool visual effects. This is a great way to draw the viewers' attention to a particular object.
Reels: These need no introduction. A new mode in the IG Stories camera menu (pretty similar to TikTok), this option lets you record shorter videos that are set to popular background music. Besides this, you can also pick from a wide range of effects and filters to make it more attractive.
Note: While adding a video using the native Instagram app is easy and quick, it may not be ideal for businesses, as the options are limited. Also, you don't have any control over the video's quality, and that's why using a good online video editor comes in handy.
And that's exactly what our next section intends to show you. Keep reading.
2. How to make an Instagram story video using Typito
Whether you're trying to create a video featuring a collection of images with eye-grabbing captions or titles or making a video ad for Instagram Story, Typito is the one-stop solution.
An easy-to-use online video editor, Typito lets you create stunning videos for your Instagram Stories without any video editing skills. From adding catchy text effects, animated captions to customizing the entire look and feel, Typito helps you create professional Instagram story videos that get more clicks and increase brand awareness amongst your followers.
Step 1: Create your project
Head over to Typito and get started for free (you can directly get started with editing your video and signup or log in later once you're ready to export your video).
You will see Typito's editor with all the video editing tools on the left and canvas to the right.
Step 2: Add your media files
You will be prompted to add your media files (photos/videos) from your drive. Or you can choose to create your video with high-quality videos and images from Typito's Stock Media Library. How to edit an Instagram video story on Typito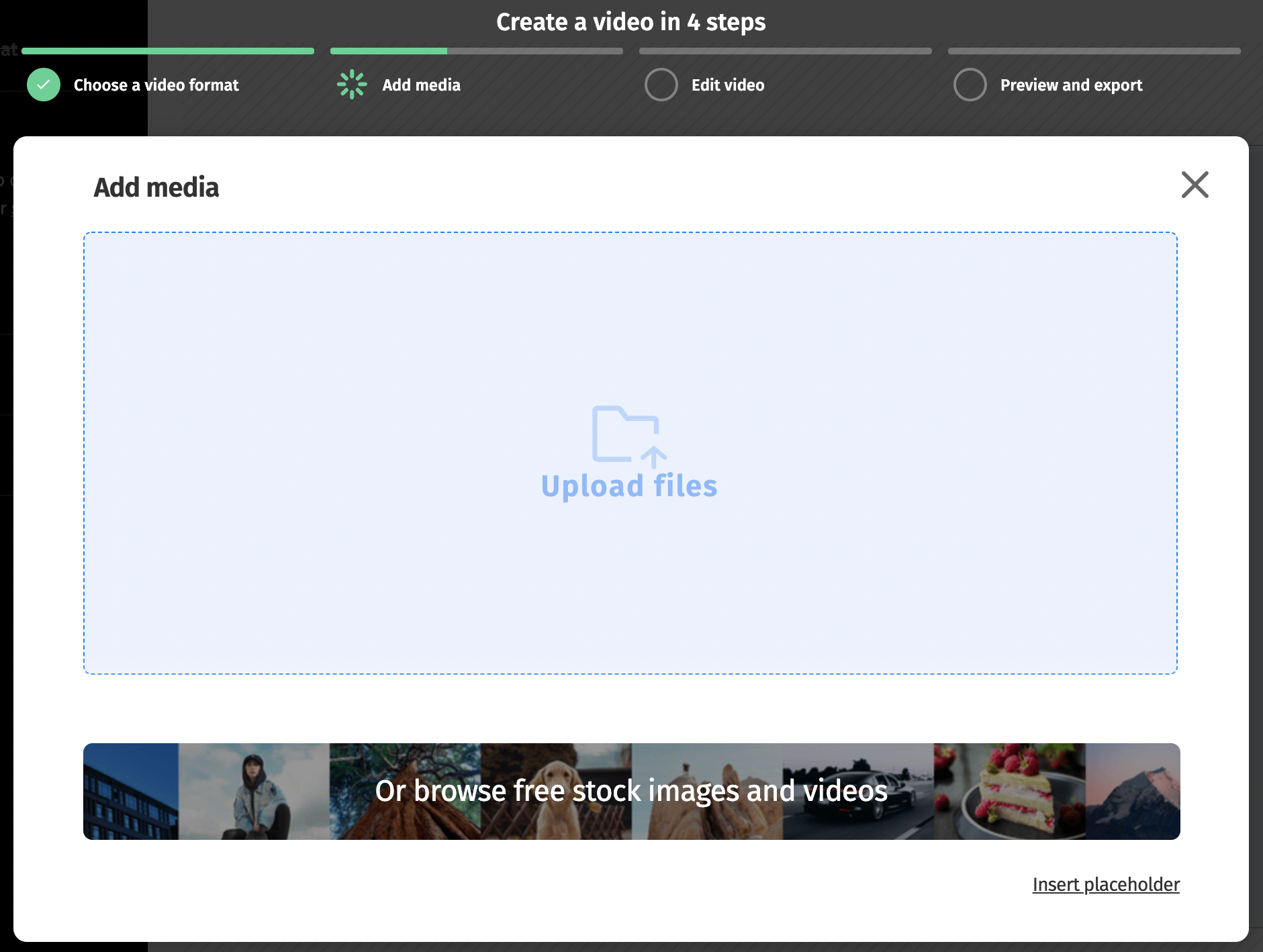 Hover on the image/video that you want to use and click the Add button.
Click add to project to insert to your Instagram Story Video.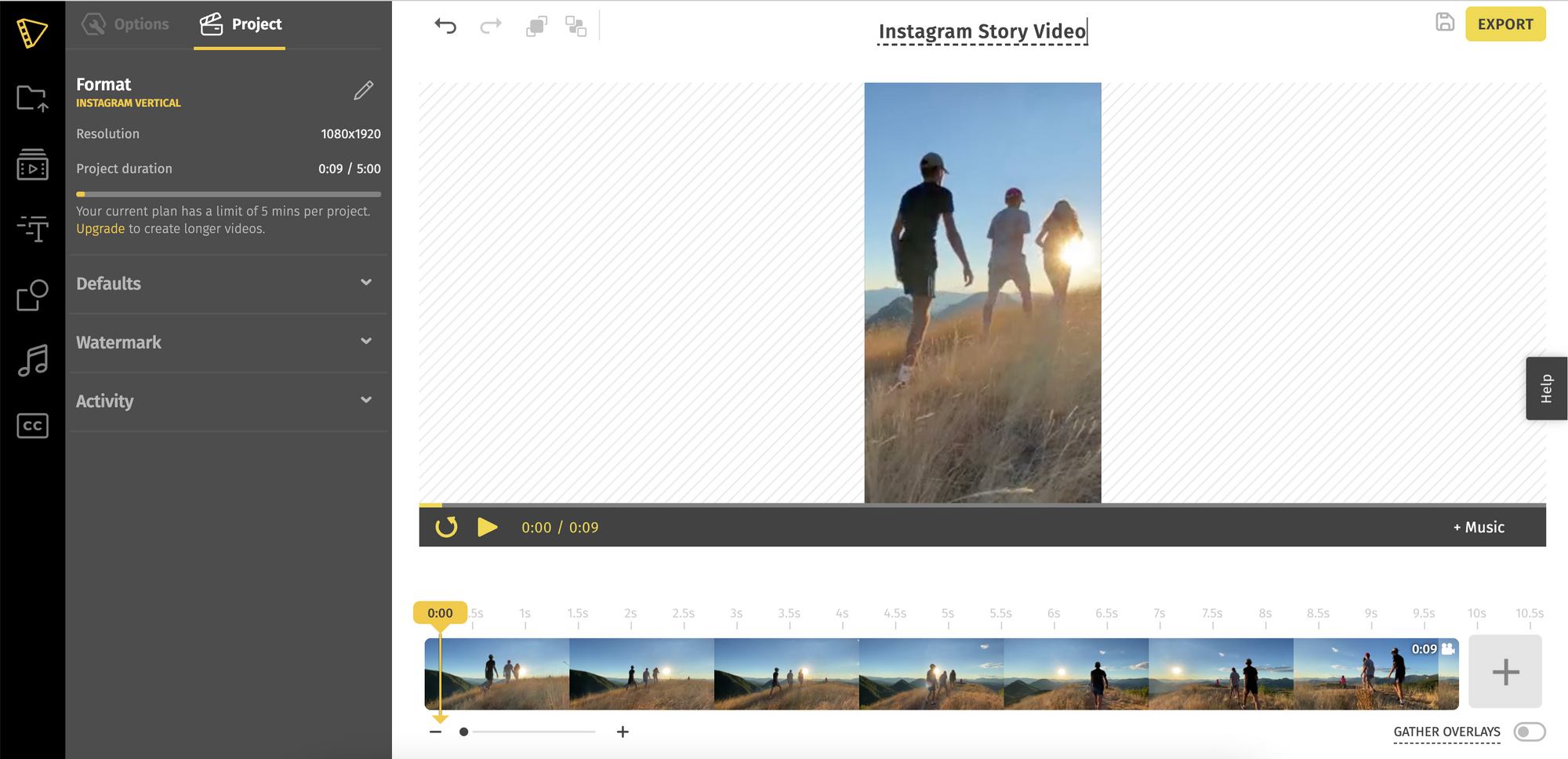 Pro Tip Have a square or widescreen video that you want to post as an Instagram story?
💡
Pro Tip: Have a square or widescreen video you want to post as an Instagram story?

Change the video format to meet the Instagram Story dimensions. Try out any of the Instagram letterbox formats. Click Project Settings from the left menu > Format> Edit. Now choose an Instagram letterbox format that adds padding to either the top or bottom of the image. You can use this space to add text, CTAs, or even subtitles if needed.
Step 3: Edit your video
Click the video on the canvas or the timeline to make edits. You can speed up or slow down your video to make your Instagram Story more attractive. If your video has background audio that you want to mute, you can adjust the clip volume to 0 from the left panel.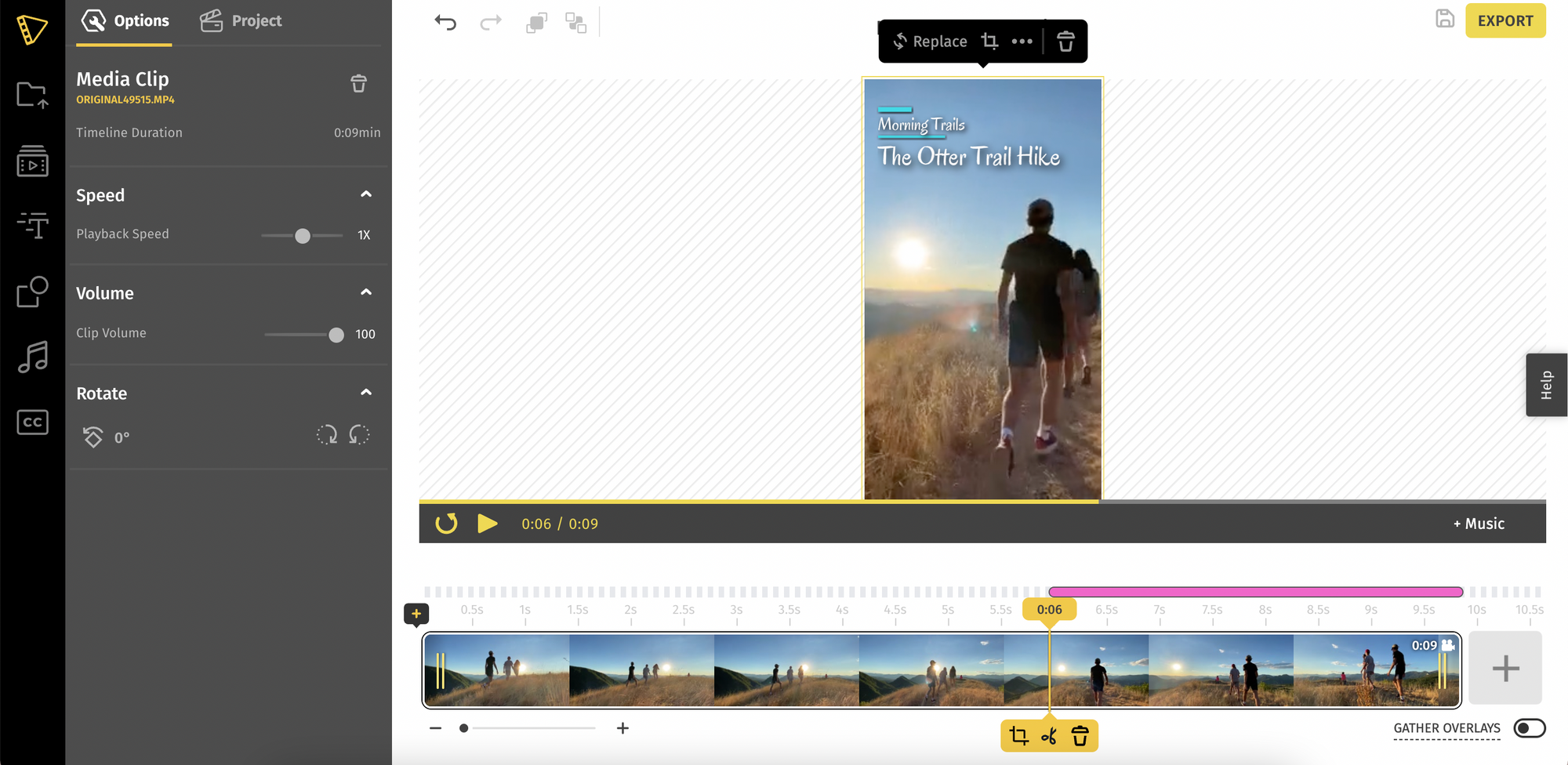 Step 4: Add captions, animated text, effects, format colors, and more
Click Text Effects from the left panel and choose from 200+ animated text templates to make your Instagram Story more attractive.
Click on the text template to replace the placeholder text with your message. You also customize the color, style, size, and more. You can also rotate the text to any desired angle.

You can even add your social media handles using predesigned templates, add captions, smileys, music, and many more. The possibilities to make your Instagram Stories enticing with Typito are limited to your imagination.
Step 5: Export your formatted video
Once you are done with formatting, the final step is to export the video. This takes a few minutes.
The rendering time depends on the length of the video you have created but once it's complete, the video is ready to be downloaded in the same format and dimensions you had set. Besides this, you can even share the video on social media platforms.
How to Check Instagram Story Views
---
Fortunately, you can see every person who viewed your Stories after you posted them. Here's how:
From your Instagram account, tap on the Story icon.
From the lower-left corner, you'll see profile icons of people who viewed your story. Tap on it to see an expanded view.
If you don't see any profile icon in the bottom left corner, it means that your story hasn't received any views.
Wrapping it up
When compared to Instagram posts, Stories provide more features and promote engagement with the help of questions, quizzes, and polls. Stories also let you post multiple photos and videos without cluttering your feed. You can use fashion images or other professional images to engage more followers in your stories, and at the same time, you will have more eye-catching Instagram visuals. It's a great way to engage with your target audience and grow your business.
Want to experience smooth and simple video editing? Head over to Typito and create engaging videos for your next Instagram story.