How to Make Instagram Videos Compelling (Tips + Examples)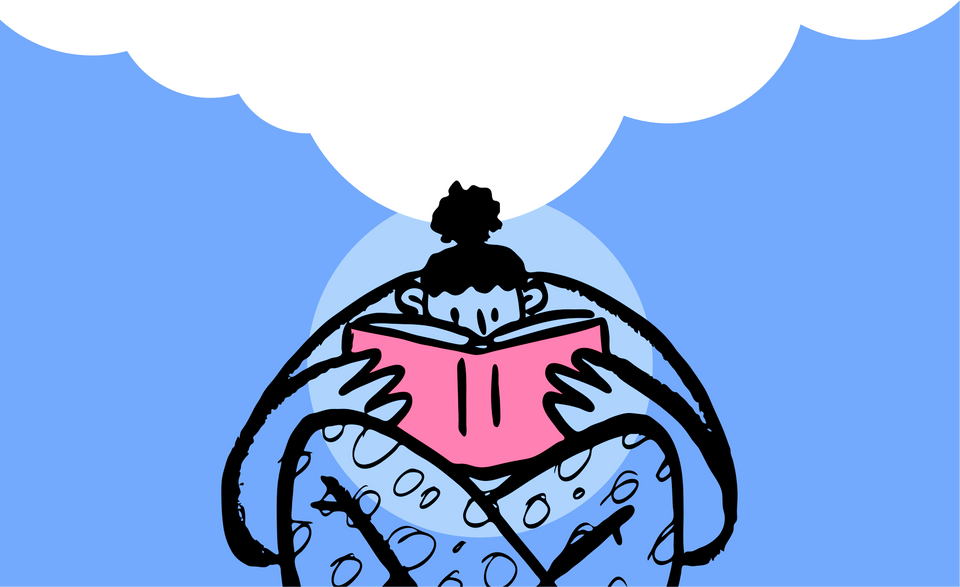 One of Instagram's most creative advantages to offer content creators is building relationships with people through powerful imagery that doesn't necessarily look like ads.
Instagram Video has long existed since 2013, and just when you thought, what next? Instagram has been busy doubling down its video features to help you expand how you share content.
The creative potential for video is expansive, from video posts to video stories and the introduction of longer video forms with Instagram Live, IGTV, and Reels in 2020.
---
Why should you create Instagram Videos for your brand?
If you're deciding to put your time and effort into learning how to create Instagram videos, you'll need to know that this will either generate more leads for you or convert (or both). Well, Instagram has shown promising numbers for both.
It's quite useful for lead generation,
Studies show that 54% of consumers want to see more video content from a brand or business they support (HubSpot, 2018).
Video marketers get 66% more qualified leads per year (Optinmonster, 2019).
Video marketers achieve a 54% increase in brand awareness.
And as for conversion,
84% of the people say a video ad has convinced them to buy a product or software.
Instagram is the social channel with the second-highest ROI among marketers.
93% of marketers say they've landed a new customer thanks to a video on social media.
Now that we've established how everyone - from big brands to locally owned businesses, is driving proven results with Instagram videos, it's time to look at what makes these videos so lucrative.

---
Key Ingredients to Create High-Converting Instagram Videos Using Video Design

When it comes to video, Instagram allows you to experiment with different video formats, styles, and extended video lengths for more prolonged viewing. But like every marketer, you're probably wondering - what makes an Instagram video stand apart from others?
While there isn't a single golden rule for this (and I doubt there is a "One Size Fits All" formula), many brands have managed to nail Instagram Video ads well enough to drive business results.
We looked at several videos from top fast-growing brands on Instagram to figure out what they're doing differently. Our answer brought us to a very noticeable key idea- Quality Video Design.
Text Captions, Visuals, Colour, Audio, and Brand essentials (your branded assets like Logos and CTAs) are the building blocks for creating videos that stand out.
If your videos on Instagram seem to lack the engagement or attention they deserve, it's time to step back and take a good look at your existing videos to see if your building blocks for video design are in place.
Here are some important questions you can ask yourself:
Format - Each type of post may require a different video format for optimal viewing. Are the videos in the correct size formats for Posts, Stories, and IGTV?
Footage - You can use a collection of stock photos and video clips or visuals from your personal collection. Whatever you choose to go with be select about your visuals to ensure that they grab attention and help tell your brand story better. Do the videos have captivating visuals and appropriate call-to-action to get viewers to convert or explore more?
Brand Essentials - Telling your brand story successful involves creating visuals that engage. You can engage viewers with creative and animated text captions. Don't forget to add a logo to reinforce branding. Have I used Text to visually hook viewers and make my videos more comprehensible? Is my brand logo clear and visible?
Audio - Clear audio and well-synchronized music influences viewers and enhances retention of the core message of anything you post. Does the audio I've used go well with the visuals of the video? Is the voice-over clear, audible, and synchronized with the video?
If you've taken care of these top questions, you've got yourself a handy best practices checklist :)
---
Since Instagram offers such diverse formats for sharing video content, the way users may consume your video may also vary. This gives you a space for a creative and well-mixed video strategy.
On the other hand, it takes putting a bit more thought behind each video you create. You may not be able to repurpose a single video campaign posted as a 60-sec video post and a 5-sec video story.
The best way to start thinking about your own Instagram campaign is to see what's worked (or not) for big brands.
We've put together a comprehensive list to help you get inspired and see what you can do best.
5 Types of Instagram Videos to grow your brand
Different businesses and different products are best served by different approaches and ad strategies. The key here is to Experiment (and to keep experimenting) and learn from other brands that are doing best.
Let's look at what Instagram has to offer when it comes to video.
Instagram Video Posts: You can share a 30-second video about your brand, product, or business.
Instagram Video Stories: Stories appear at the top of your feed and are visible only for 24 hrs, after which you can save it to appear on your profile.
Going Live with Instagram: Instagram's Live stream built for real-time engagement.
Instagram's very own IGTV: Instagram's app for watching long-form video content.
Instagram Reels: Instagram's version of TikTok that lets you create catchy 15-second video clips with popular music and effects.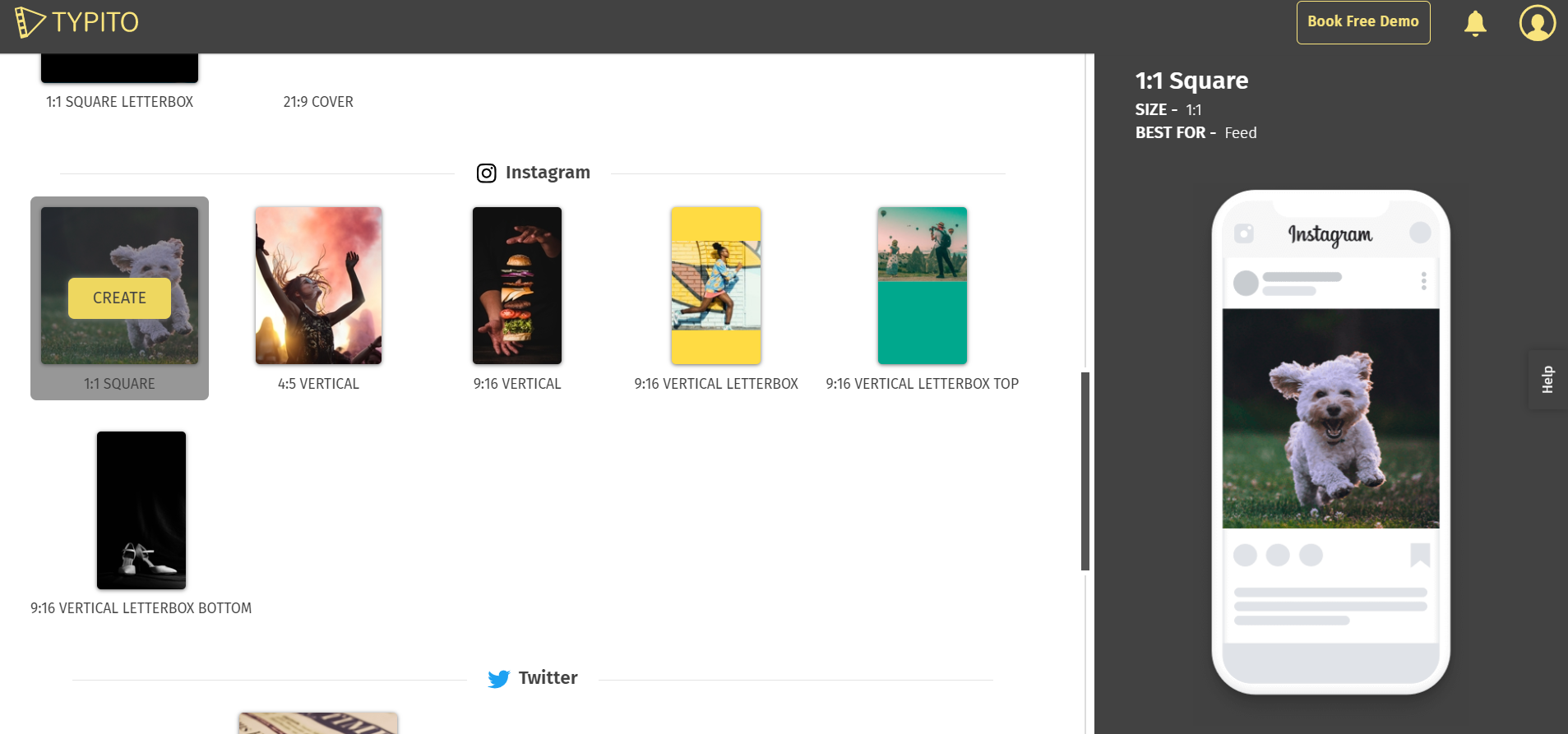 With Typito, you can create Instagram videos for different Instagram Video Dimensions
Let's take an in-depth look at each of these.
In the next few sections, we'll take a look at some interesting ways brands have used Instagram video, why these posts work so well, and what we can learn and do differently from all of this.
Instagram Video Posts
Instagram video posts have come a long way since 2013, allowing you to share 60sec captivating branded videos.
Why does this work? Videos offer more flexibility to tell your story through a series of images and encourage better engagement through comments.
Here are some technical format specs you'll need to keep in mind when creating video posts:
Video format: MP4
Length: 3 seconds to 60 seconds
Size: Instagram doesn't limit file size, its recommended to keep your videos under 50MB
Orientation: square works best
Aspect ratio: a minimum of 1:1 and a maximum of 4:5
---
Our Top Pick for Instagram Video Posts:
International automobile brand Renault (Italy) has managed to use engaging Instagram video campaigns to build excitement for their car launches and boost sales. Here's an example by Renault that stood out for us.
How do you talk about a car in the most exciting way? The first few seconds of this video draws attention by addressing one of the common misconceptions about electric cars and leaves viewers curious about Renault ZOE.
What You Can Learn From Them
Compelling Visuals The video uses a series of quick-paced visuals and big, bold animated text captions to highlight key information points about the Renault ZOE. This idea works well for two reasons:
It keeps the video short and digestible and
It makes the footage understandable, even without sound.
Clear Bold Text Captions In fact, the text captions in this video take up a significant portion of the Lower Third. Visually, this not only draws your attention to the Text but also makes the captions clear and more readable.
Creative Use of Color What also stood out for us is the use of color throughout the video. While we don't see an obvious use of Renault's brand colors, they ensured that the car stood out in every shot with its striking blue tones.
As for branding, instead of using tones similar to the branding color, they ensured that the Renault logo was highlighted in close-up shots at regular intervals and in the final shot.
What else can you use Instagram Video Posts for?
Instagram Video Posts are great for creating short, interesting videos like:
Product Videos or short demos
Informative Videos like tutorials and instructional How-Tos
Launches and Event teasers
How to Make a video for Instagram with Pictures and Text Captions
When editing on Typito, we've got you covered on two major checkpoints for your video:
Video Format
Cool Animated text captions (there's a ton more to explore, but we'll cover the basics for now).
To get started, log on to your Typito workspace.
Choose the Video Format from the options under Instagram.
Upload your visuals - image or/video clips to get started.
You can choose from several stylized text templates to create captivating captions, or keep it simple with a plain lower-third caption.
Pro-Tip
Text Plays a huge part in making your videos worth watching. There are three ways you can use Text on your video:
Instagram Video Stories
Instagram stories are an attention-grabbing way for people to learn about your business and drive traffic to your website and other relevant landing-pages.
Why does this work? Stories tend to give you more engagement. While more than 250 million users create Instagram Stories every day, about one-third of the most-viewed stories come from businesses.
Here are the technical specs you might want to consider for creating video Stories:
Video format: MP4
Length: Can run up to 15 seconds
Orientation: Landscape works well, but Square can be used too.
Aspect ratio: Recommended aspect ratio of 9:16 or 4:5.
Our Top Pick for Instagram Video Stories
Disney has used Instagram stories to run promotional campaigns on new content launched to the Platform. What stands out in this particular story is the use of color, contrasting bold Text, and how actionable this 15-sec story is.
What You Can Learn From Them
Great Use of Text Elements and Color Despite having a fullscreen length of video space, this video story keeps it simple. The contrasting text captions and the background matches its branding colors - Blue and White.
Since stories play out for about 15 seconds, it makes sense not to overload the viewer with visuals and get straight to the point.
Strategic Actionable Outro Instagram stories are different from Video Posts, in the sense that they may not need the attention to be on the intro. The focus for stories is the outro - which is the last thing users see before moving on to the next story.
This is your window to get your viewer to act. In this Story example by Disney, the outro works well for a simple reason - it has a clean layout of elements - the logo and the Actionable CTA.
Instagram stories are also incredibly actionable not just with CTAs but with inbuilt tools like the "Swipe Up" feature. Unlike video posts, Stories can redirect viewers to relevant pages, so it's essential to make sure your stories have such CTAs.
This works excellent for diverting traffic to a website or other relevant landing pages like a sign-up page or a pricing plan page.
Other actionable clicks you can add to your story are Tags to other Instagram Profiles, and stickers like Polls, Q & As, etc.
What else can you use Instagram Video Stories for?
Instagram Stories are great for creating short, interesting snippets like:
Videos of customer testimonials and reviews as stories.
Product Launches, Promotions, Sales and festive offers
Share Customer Feedback campaigns by using Stickers like Polls and Q&A.
When it comes to Image Stories, much of your editing can be done directly on Instagram by adding captions, CTAs, or stickers. However, it can require a bit more editing with video stories, especially if you need to animate your text captions to make it more interesting.
If you're looking to create something like the Disney Story above with big, bold captions and a small image slideshow, you will need to use a video editing app to put your video together before uploading it.
How to Make Instagram Video Stories
When editing on Typito, there are two key Instagram story elements you can easily add toy our video Story:
Image Slideshow
Animated text captions and CTAs.
Log on to your Typito workspace to get started.
Since this is a Story Post, choose the 9:16 format. It's ok if your images or video clips are square, you can still add this to your video format and use a background color to fill any spaces above or below.
Upload your visuals - image or/video clips to get started.
You can choose from several different stylized text templates for your outro. If you're looking for brand-inspired stylized CTAs, we've got a lot of options to choose from here.  Here's a video tutorial to help you create an Instagram Story for your brand.
Pro-Tip
Remember to keep your stories visually appealing. You can do this in multiple ways:
Using contrasting colors to make your text captions stand out. This helps you highlight the goal of your story.
Creating an eye-catching Outro with a single visible CTA that prompts action.
Instagram Live
Launched back in 2016, Instagram Live has grown as a channel for building brand awareness, with over 100 million users every day.
What makes it more useful is that you can go live with just your phone and a steady net connection. This makes it pretty cost-effective while giving your content an authentic, fun, and creative edge.
Why does this work well? Live streams can typically last for up to an hour and allow you a functional space for real-time engagement with your viewers through comments, reactions, and even requests to join a live steam video.
As soon as you go live, all your followers receive a notification, which increases the chances of engagement. After you've finished streaming live, you can simply save your Live Recording as an IGTV video that gets saved onto your Instagram Feed.
Instagram Live is a way for brands to get up close with users and build authentic customer relationships. With Live, you have direct access to interacting with viewers through comments, reactions, and live Q&As.
With Live streams, you can also measure the traction received with Instagram story analytics that offers vital insights on stream counts, likes, comments, shares.
Our Top Pick for Instagram Live
Tastemade went Live with Australian celebrity chef, author, and television personality, Curtis Stone, and the stream had over 1million views.
What You Can Learn From This
Subtle Business PromosWhile walking viewers through the live-action behind creating an infamous juicy burger, he also threw a mention of "Field Trip." While this did not promote Tastemade as a brand directly, it was great to give viewers a chance to interact with a celebrity chef and build interest.
What else can you use Instagram Live for?
When it comes to Live there's a ton you can share. Here are some ideas to help you go live:
Product Marketing - Go live with Behind the Scenes for Product Launches / Demos.
Host Discussions, Interviews with popular influencers,
Have an Instagram Take-overs by a celebrity or simply one of your team members to talk about what they do best and share what a typical day of work might look like at your office.
How to Go Live with Instagram Live
Before you do go live, do make sure you have a steady internet connection to keep your video stream high quality throughout. You might also want to consider using a tripod if your Live is a steady shot that does not require movement.
Currently, there's only a single way to go live directly from your account. Log into your Instagram account and swipe right from feed to open the Stories camera, then tap 'Live', then 'Start Live Video'.
As soon as you begin your Live Stream, try to use the first few minutes as an icebreaker to give your viewers time to join.
Once you see your view count going up to a satisfying number, you're ready to roll with the actual stream.
After you're done, remember to save your live video to your camera roll so you can re-upload it as a Story, Post or IGTV.
Instagram IGTV
IGTV was launched as a standalone video platform to give businesses a dedicated channel to video. It's ideal for sharing long-form vertical videos around topics related to your business or your community's interests.
Why does this work well? Much like Instagram Live, IGTV lets you create long-form content that gives you the ability to add value to a topic by covering it in-depth.
It also gives you a sense of continuity to have series with episodes that span for an hour per video, similar to what you would do on a platform like Youtube.
Let's take a quick look at what video specs you'd need to keep in mind for IGTV videos:
Video format: MP4
Length: 15 minutes when uploading from a mobile device and 60 minutes when uploading from the web.
Size: 650MB for videos less than 10 minutes; 3.6GB for videos up to 60 minutes
Aspect ratio: Instagram recommends that vertical IGTV videos have an aspect ratio of 9:16, while horizontal videos should be 16:9
Cover photo: Recommended size for cover photos is 420px by 654px (or 1:1.55 ratio).
Our Top Pick for IGTV Videos
When it comes to IGTV, Apple has some of the best examples of covering topics like creative photography, travel, experiences, and adventure.
Pro-Tip
If you already have IGTV videos on your Instagram Business Profile that need some captivating text captions to engagement, there's an easy way to edit your existing content. Here's a tutorial that will walk you through this process.
What You Can Learn From Them
Captivating Visuals What works well in all their IGTV is the compelling visuals that draw you - all of which are shot using an Apple iPhone!
Well Placed Product Promotions Their IGTV content series aims at clever placement of product, in this case, the iPhone 11, while sharing content that's interesting and engaging.
What else can you use IGTV for?
Here are some ideas to help you create IGTV videos:
Walkthrough, physical tours, or demonstrations.
Interactive series like a Q&A Series, discussions, and interviews with popular influencers on current trends or social movements.
Pre-launch buzz with work-in-progress project documentary.
How to Create IGTV videos
While IGTV is much like Instagram Live, you have more control over video design in terms of adding an intro to your video, text captions or subtitles. With a simple video editing tool, you can add a few finishing touches to your video to make it appear more polished and visually appealing.
If you're looking to create iPhone inspired IGTV videos, there's one thing Typito surely makes it easy to add text to your video. When it comes to text captions as titles, we've got an exciting collection inspired by big brands.
If your IGTV has a voice-over or someone speaking, consider adding voice-to-text captions. With Typito, you can automatically add speech-to-text captions to your video.
After you're done editing your video and adding necessary captions, it's' time to upload your video. You can upload your IGTV directly from Instagram or the IGTV App. If you'd like to add your video to an IG TV series, tap Add to Series. Note that if this is your first time creating a series, you'll need to create a series name.
Instagram Reels
Just when you thought there wasn't another video avenue to explore on Instagram, it rolled out yet another- Reels!
Reels is still the new kid on the block and has been rolled out to just a few countries but seems promising. Instagram Reels is similar to TikTok and provides options like audio from Instagram Music library, speed, effects, and timer to help you create catchy short videos.
Why could this work? With Reels, there's a possible distribution of content beyond your followers. That's right, Reels appear on your Explore page even if you aren't following the creator (only if your account is Public).
What else can you use Reels for?
While Reels is still being tested in this initial rollout, it could be a possible content avenue for brands looking to experiment.
How to Create Instagram Reels?
Log into your Instagram Account and swipe right to open the camera settings.
The Reels option will be available at the bottom.
Click on Reels to get started. Next, you set the following:
Audio- You can choose audio from the Instagram Music library. You can also record a reel with your original audio. Just like TikTok, Reels also come with an option to record original voice besides lip-syncing.
Speed- You can set your video's pace to playback slow or faster (0.3x slow - 3x fast)
Effects-You can choose from various filters saved to your Instagram Camera.
Timer- You can set your Reel to play anytime between 0-15 seconds.
Once you're done, you can either post it on Reels or as a Reel to your story.
Final Thoughts
Instagram Video campaigns prove that with a bit of ideating and a cool easy-to-use video editing tool, businesses, content creators, and marketers can successfully use videos to talk about their brands, drive traffic, generate potential leads, and increase sales.
From all the elements of video design we've covered- Text and Branding is vital. Text Captions on your video is one of the main aspects to make the Instagram video more engaging and ultimately successful at the impressive goal- whether to sell, engage, or simply connect. Together with branding, the Text helps you amplify your brand's familiarity with your customers consistently with every video you create.
These are some of the best examples we've seen, but are not the only ways you explore Instagram video content. We hope this list helped stir some intriguing ideas on how to explore video design and styles to tell your brand story on Instagram.
While we're rooting for your creative ideas, we're also here to ease out your process of creating well-designed quality brand videos.
Grow Your Business With Instagram Videos
Got any questions about creating engaging video stories for your business? Shoot us an email at hello@typito.com