How to Start a YouTube Channel (+10 Essential Tips to Grow your Channel)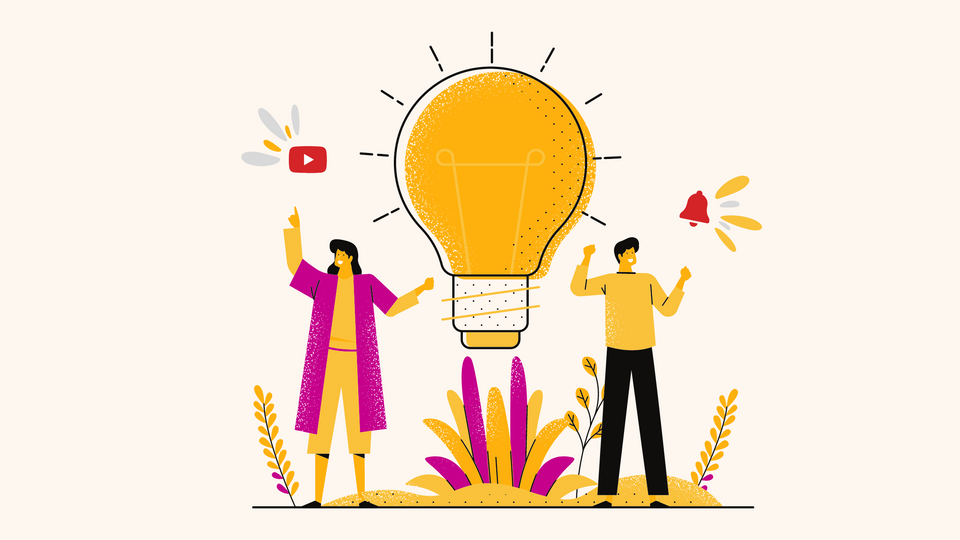 Everyone who uses the Internet will definitely know YouTube. YouTube, an online video sharing and social media platform owned by Google, is the largest online video platform in the world. If you are a video content creator trying to mark your online presence or a business trying to grow, having your own channel on YouTube can help you more than a bit. Keep reading to know how to start a YouTube channel and how to make it a success.
What started as a video-sharing platform, YouTube has expanded its base and now accommodates live streaming, small snippets of videos called shorts, 24-hour live stories, and lots more. Along with the growing forms of content, the user base of YouTube has also blown up. In 2019, the numbers were 2 billion. But in 2021, this has grown to over 2.3 billion users.
A YouTube channel comes into the picture, not just when you are a content creator putting your art out in the world. If you own a business and are looking for marketing options, a YouTube channel could be a good solution for marketing and brand awareness. It also helps advance your reach with its vast audience and viewership. It is safe to say now that over the years, YouTube has emerged as a very powerful tool for marketing for all kinds of businesses, big, small, or medium.
YouTube is more than just social media now. Careers are being built in the YouTube space, raising monetary profits and brand value. Knowing the do's and don'ts and playing the game well could make you the next big thing on YouTube. So let us dive headfirst into it, shall we?
What's Ahead
Step by Step guide to start a YouTube Channel
---
Step 1: Sign in to your account on YouTube
Head over to www.YouTube.com. Check if you are signed in to your account. This can be checked at the top right corner of your screen. If you can't find your profile, sign in using your Google account.
Once signed in, click on the user icon at the top right corner. You will find a menu on the screen once you click your profile. Click on Create a Channel from the list of options.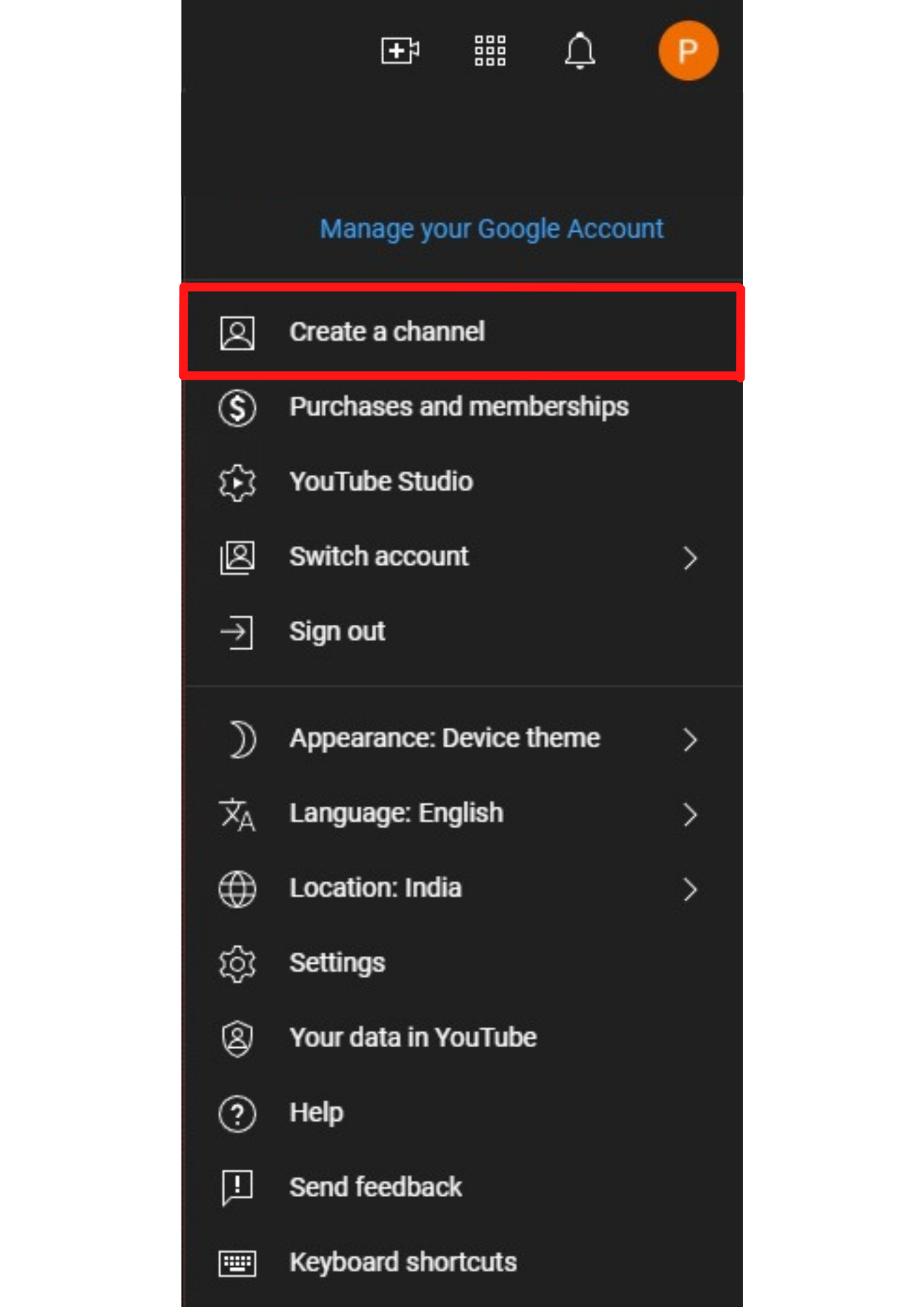 Give your channel a name and a profile picture. Your channel name defines your brand. So make sure to put enough thought behind it. Your channel name must reflect the genre of video content you intend to put out. The channel name could be a wordplay of something related to the content topic niche. You could also include an appropriate adjective describing your theme.
For inspiration, you can always use YouTube channel name generators available online. You can also change your channel name later.
After doing setting a channel name, click on the Create Channel button.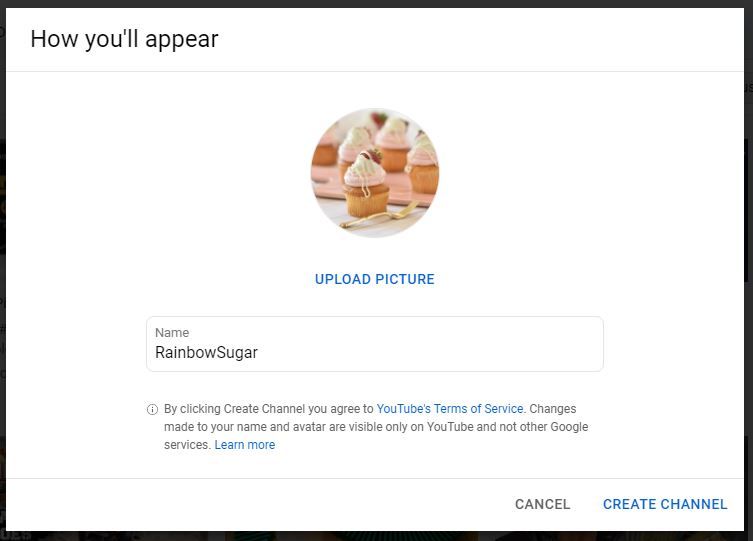 Fill in your channel name and upload a profile picture.
Step 2: Give your channel a description.
Now that the channel is created let's look at adding some basic channel descriptions. You will find two buttons at the top of the screen -  Customize Channel and Manage Videos.
Click on Customize Channel and go to the Basic Info tab. Fill in an appropriate channel description and an about section for your channel.

Fill in a channel description.
Step 3: Branding - channel banner, about section, add contact details, etc.
Select the Branding tab and upload your Profile Photo and a Channel Banner.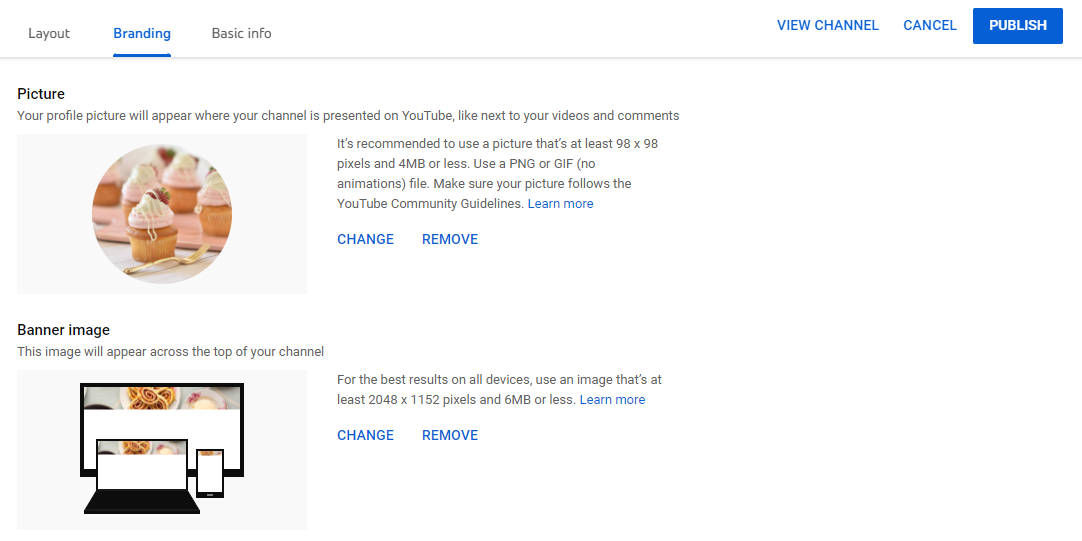 Upload the profile picture and channel banner.
The next step is to add your channel trailer to complete your channel setup. To do that, go to the Layout tab and upload the channel trailer for your visitors.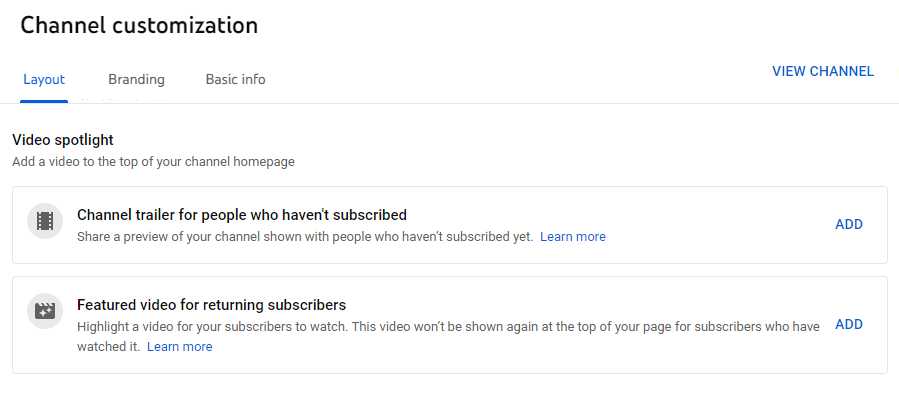 Upload your channel trailer.
A trailer is like a sneak peek at your channel. When new viewers visit your channel, they get a complete idea of your work and theme if they watch your trailer. A good trailer with elements that interest the viewer can guarantee a subscription from them.
Once the setup is done, click on your User icon again.
Select Your Channel from the options in the menu.
Step 4: Customize & manage your channel
Choose Manage Videos. You will now be taken to the YouTube Studio in another tab.
Here you can find options to upload your videos and get started with your channel.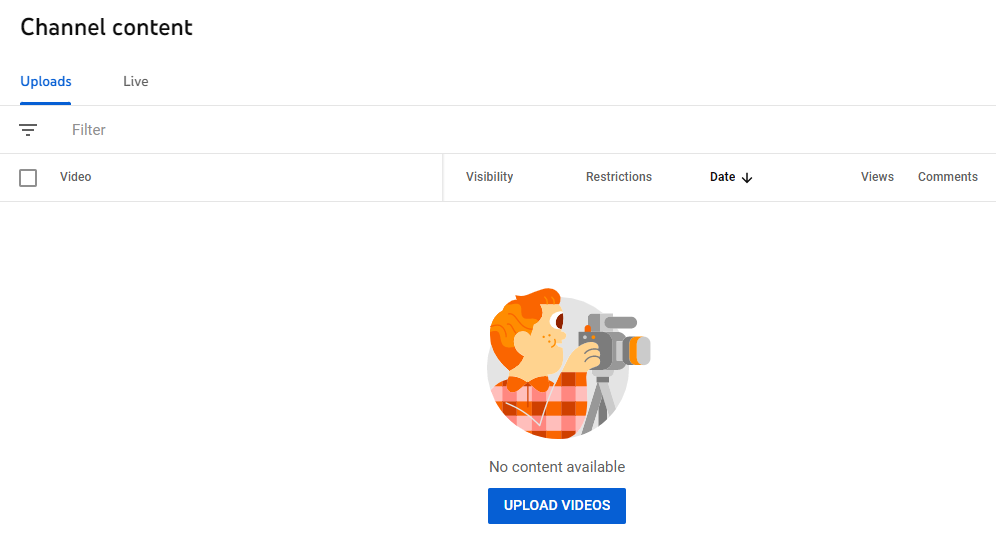 Upload your first video.
How to start an alternative YT channel:
If you have a channel already on your account and want to create a new channel, follow the given steps.
Step 1: Click on your User icon at the top right corner.
Step 2: Select the settings option by clicking on the gear icon.
Step 3: Click on Create a new Channel option to add a new channel to your existing account.
Step 4: Give your channel a name and click on Create.
Step 5: Click on the user icon and choose Your Channel.
Step 6: Click on the Manage Videos button and upload your videos to get started.
At any point, if you feel like you need a little extra help or any clarification on setting up your channel, check out Google's support page or YouTube's Creator Hub.
5 Good Reasons to Start a YouTube Channel right now
---
#1 Expose your brand to a wide user base:
YouTube has a huge, like HUGE user base. To put it in numbers, it has over 2 billion users and is the second most popular site only after google. Also, people spend a good chunk of their time watching YouTube videos.
With this volume of viewers, every video you upload has the potential to reach the entire world. In addition to this, if you have engaging content, your channel could be a hit, a huge hit at that.
#2 Adds to your brand value
If you own a small business, you might already have a solid online presence with a website and social media handles like Facebook and Instagram accounts.
Toss in a YouTube channel to your social media portfolio presence to complete the package. Interlinking all your content with one another could bring in more organic traffic and also help with the growth of your brand value.
#3 Visual content over text
For example, let us assume you are looking up what a whisk is on the Internet. Would you like to know what a whisk is from a picture or a text definition of the same? The answer is a no-brainer. Anyone would choose an image over text to learn, provided the context is relevant. In fact, 83% of human learning occurs visually.
Contents that fall under tutorials or how-tos might be easier to consume if presented as videos than lengthy text-heavy paras.  This also includes videos that show demos of products, cooking recipes, technical equipment reviews, or any kind of educational content. The audience will always pick a video for learning over text.
#4 Easy access to your content across devices
YouTube has crossed desktops and laptops and now is easily available to everyone on their phones. Over 70% of the total viewers enjoy YouTube on their phones. There is some degree of an audience for every video you upload. With YouTube being easily accessible to everyone, they are just a click away from your video. They can enjoy it in the comfort of their homes on laptops and desktops. They can also watch them on the go with their phones.
#5 Creative freedom
The creative freedom you get in making a video is immaculate. The range of content you can present in the form of a video is so broad. You can create videos of any genre you wish. The videos can be of any length, from seconds to a few hours. The video format gives us a hundred percent control over our content, and it is up to our imagination to get in the playground and have a go at it.
10 Essential Tips for Successful YouTube channel
---
Now that your YouTube channel is set up you crossed one-half of the ocean. But the real journey starts only when your content brings in results you expected.
In order to hit those goals and reach those milestones you set for yourselves, there are some tips you can follow. In order to help your get started, we have listed some of them below.
#1 Target audience
Know your audience to have focused content.
It's the golden rule for a reason. Knowing your audience will help you create the right kind of content that will keep them interested and ultimately keep them coming for more.
Trying to understand what kind of content interests them is somewhere you can start. Also, learn about their likes and dislikes. Doing this homework is the only way to give them what they are looking for. Find the viewing pattern of your audience. - YT analytics are your best bet here.
For instance, if you are targeting a school-going audience, focus on uploading videos during the weekends. This might avoid clashes with classes and work. Work out a schedule and stick to it. If you are uploading only on Fridays, don't change it.
When there is a fixed time for video drop, the audience will know when and where to watch your videos and won't miss any.
Develop a content delivery strategy and find out what kind of video works for you. Tutorials, voiceovers, vlogs - try different formats, look at the performance and make a decision.
#2 Set clear goals and be consistent
Set realistic long and short-term goals with respect to views and subscribers. Also, consistency is key.
You can also set targets for the number of videos you want to put out. Be crystal clear in what you want the channel to achieve. If it delivers infotainment, make sure people are taking knowledge out of the video and having fun in the process.
To better understand your audience and set clear goals, interact with your audience - the comment section is your best bet, but you can also send out quick surveys or tap into call center solutions.
Check the standards for each video that is added to the channel. Before uploading a video, ask yourself why people would watch your content and how it is different from the 1000 similar videos that are out already.
Perform a small quality check for your videos. If it is a tutorial for something, you can ask these questions - Does it have all the right elements for a tutorial? Are the steps clear and easy to follow? How clear is the process? If it passes the test, your video is good to go.
Another great way is to check the comment section of your video. People are more than happy to share feedback via comments on how you can do better (sometimes brutally honest too :) )
Your first video may not be an internet sensation and bring you a million followers. But remember Rome was not built in a day, neither was Pewdiepie. Regular posting irrespective of the poor numbers will bring in success one day. Be patient and plow through the starting days by giving your best. Also, keep up the frequent uploading and the quality of the content. Once you meet these checkpoints, results will just be around the corner.
#3 Stand out from the crowd
Your content has to be unique and fresh to stand out in an ocean of videos.
Always strive to bring something new to the table. Easier said than done, but not impossible.
Catch the audience's attention with a quirky intro or an outro.
If everyone were to create original content, you would be amused to find how no two pieces of content look alike. Each of us has our own identity and expression of our ideas. So, make sure to incorporate your individuality in every content you create to catch the viewers' attention.
Another way to stand out is YouTube Thumbnails. You can also make an impressive thumbnail with the essence of the video in mind. When a viewer sees a page full of videos, why would they choose to pick your video? This must be the question you should answer when you design your thumbnail.
At the same time, be mindful about not putting out thumbnails that are click baits. There is a fine line between making the thumbnail exciting and putting out false information and getting called out for it.
Finally, make your video easily consumable by splitting it into smaller sections. Keep it well structured and clear.
#4 Find your Niche
Avoid cluttered content that panders to everything and anything.
Doing multiple things on one channel may not be a good idea. It not only gives the audience a cluttered feeling but can also confuse them. So,  stop and decide your niche. Then work on giving quality videos mainly in that field. This will bring the right audience to your channel who are genuinely interested in what you have to offer.
For example, if you are covering tech and vlogging in the same channel, the audience for your tech content may not be a fan of your vlogs and vice versa. It would be just some extra irrelevant content that is not useful for them. In the process of skipping them, they may miss out on the videos they actually need from you.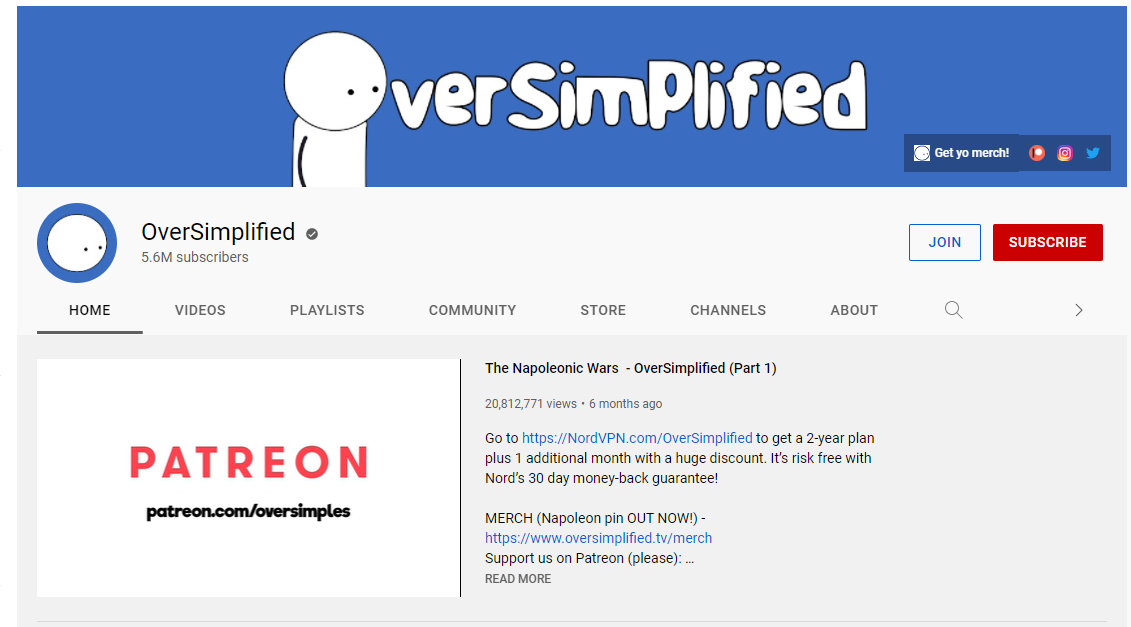 Source: Oversimplified, YouTube.
OverSimplified is a popular channel on YouTube with over 5.5 million followers. The channel is devoted to history videos presented in an animated format. Not only have they perfected their niche but also put out their content in an interesting form to keep the audience invested.
#5 Quality equipment
Never hesitate to invest in good-quality audio and video equipment.
This ensures great quality videos and makes watching 10x more enjoyable. Use easy but efficient video editing software to edit. Managing budgets can be challenging, especially when you're just starting out. Start small and move on to higher-end tech if needed as you grow.
Invest wisely in the right lighting setup, good quality cameras that fit your purpose, a quality sound system including microphones and speakers.
Along with good quality video and audio, the background music in the video also deserves some attention. It could completely take the experience from 0 to 100. Look for royalty-free background music that adds character to your video.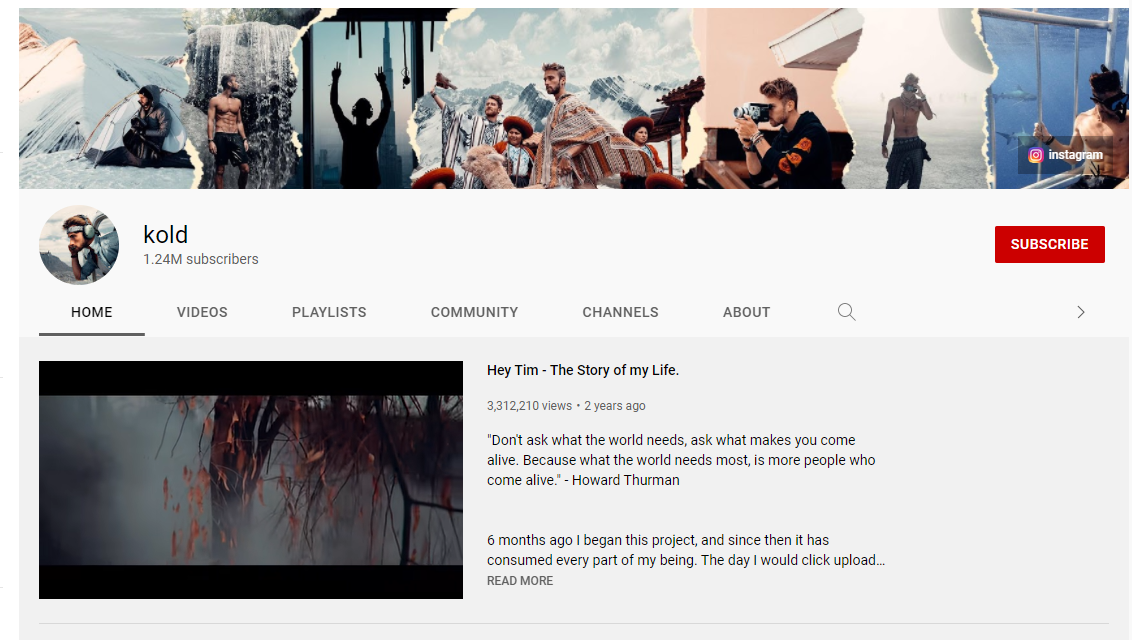 Source: kold, YouTube.
Sam Kolder's channel on YouTube has around 1.2 million followers. His videos generally focus outdoors and nature. But what stands out is his amazing editing coupled with high-quality footage.
#6 Observe. Learn. Execute.
Be an avid observer - a little inspiration could go a long way.
Keep your eyes open for strategies and tricks that other YouTubers use. Analyze how they make their videos and what they have done differently.
Do not copy from them but only look for inspiration and learning. What works well for others might not work the same for you, but it'll definitely open your mind to a fresher perspective.
For instance, a video might have an interesting intro while another could have a great editing technique. Watch, make notes, reflect them in your own work.
#7 YouTube analytics
Use data and analytics to catapult your channel growth.
YouTube Analytics is very helpful to measure your performance in numbers. The algorithm focuses more on the viewers of your videos than the videos themselves. It keeps track of your viewers' activities like what they watch and what they don't watch, how long they watch your videos, if they skip any part of the video, do they like or dislike the videos, and so on.
You don't have to please the algorithm; instead, just focus on your audience and what they want to watch. If you do this right, the algorithm will take your video to them.
To measure how your video is doing:
Keep a track of the click-through rate for your channel and videos. Click-through rates denote the number of times your video is clicked to watch from an impression. With that, you can figure out which videos perform better than others. If something that you tried, didn't bring in the numbers, dig deep to find out what is wrong. This way you can avoid it in the future.
Another metric you can make use of is the watch time. That is the amount of time your video was watched. If a viewer watched 7 minutes of a 10-minute long video, you have a 70% watch time percentage for your video.
Remember, a good click-through rate and watch time guarantee more promotion by YouTube, which means the video will be recommended to more viewers.
Likes and comments, obviously, are also a great way to gauge performance.
#8 Optimize search - SEO for YouTube
Like SEO, YouTube also follows certain rules for your video to rank better.
Learning how to do this right can rank your video in the recommendation. This will happen both on YouTube as well as Google, as Google owns YouTube.
YouTube has a lot of helpful resources on it and you can learn what might work for you in a few hours. Here's somewhere you can start with a quick video intro to YouTube SEO or you can read about YouTube SEO tips in this article here.
You can start with extensive keyword research, writing an appropriate description for your videos, and using video hashtags. Adding subtitles and closed captions can also help in the ranking. Follow them religiously to get better ranking results.
#9 Integrate with socials, website, blog
Interlink your social media handles with one another. Put up your YouTube channel homepage link or the latest video link on your Instagram bio.
If you happen to have a blog on your website, feel free to plug in your videos wherever you can do so. This way potential viewers can navigate themselves to the channel easily from different places.
#10 Increase interaction with viewers
Talk to your audience and build connections that move beyond just views and likes.
The audience can interact with you only through the comments and likes on your video. These comments can be good or bad, but it is wise to expect both. Like and reply to comments that are encouraging and appreciative. You can also pin comments from your audience that stand out or are interesting for everyone to see. Replying to comments is a nice way of showing you are listening and building a loyal community.
Engage with the comments even if they're negative and show your audience that you're open to constructive criticism and are willing to offer an alternate perspective. Reply and thank any comment that offers criticism. Even though it is impossible to please everyone, we can try to take comments in our stride. If someone's pointing out a part in your content they are not a fan of, work on it in the next video.
There are always going to be some hate comments that you can always remove or flag for YouTube to take down. YouTube also provides filters to sort the comments displayed on your videos.
Also, watching others' videos and commenting on them can be a good marketing avenue for your channel provided your comments are well written and received.
How much does it cost to start a YouTube channel?
Simply put, it costs nothing to start a YouTube channel. But if you want to monetarily benefit from it, a little investment is necessary. The expenses are mostly for the production of your video like the equipment, hiring professionals, travel expenses, and similar things. This varies depending on your video. In short, you have all the control over the cost of your video.
Final thoughts on starting your channel
The place of YouTube in our internet life is irreplaceable. If you have been fondling the idea of starting a YouTube channel, now is the time to do it. It could be the first step to something big.
All the best for your YouTube channel! We are looking forward to some kickass videos from you.
Feel free to check out Typito's channel to help you with editing videos for YouTube. Make your first YouTube video on Typito with all the video editing tools you'd need to make your video editing experience 5x easier.