How To Choose The Best Background Songs For Videos
From Facebook and Instagram to Twitter and Youtube, the video has become one of the most effective kinds of content. So, with video content on the rise and the increase in competition, having the best background songs for videos becomes really important for giving viewers a better experience and setting the mood of the video.
Hence, background music is one key element that a lot of video creators are focusing to improve nowadays. Whether it's a cooking tutorial or a travel vlog, it is important to make sure you have the right music track for your video.
What is the purpose of background music?
The purpose of background music is to fill the silence in the video and create an atmosphere where you can experience different emotions. It's not the primary focus of listeners but rather a subtle addition that enhances your experience of the video.
So now that we know its purpose, keep reading and we'll answer some of your top FAQs about adding background songs for your videos:
How to choose the best background songs for videos?
What are some of the best background music genres for videos?
How to add background music in a video for free?
How can I get free background music for videos?
How do you know if a song is copyright-free?
Let's look at them one by one.
How to choose the best background songs for videos?
Choosing the best background songs for your video can be a bit of a tedious task. There are a lot of factors you should consider before you choose the right track. So to help you pick an awesome track for your video, we've listed a few tips to help you in the process.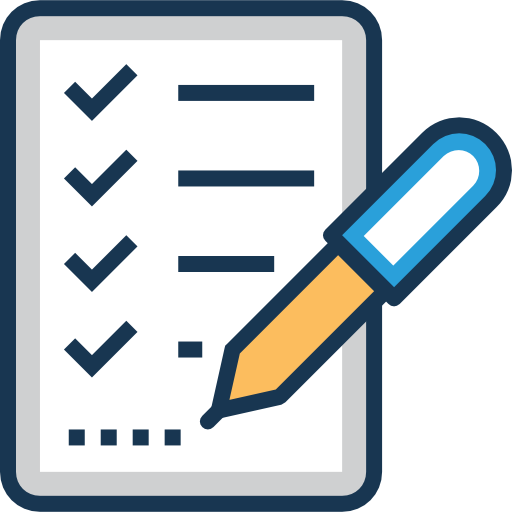 Know the purpose of your videoBefore you go about searching for the right music track, you need to have a clear idea about the purpose of your video. What is your video going to be about? Whether it's a sales video, a how-to tutorial, or a funny prank video, try and choose music that will match its video clips.
For instance, if you're creating a video for a product advertisement, it needs to engage the viewers and grab their attention. So, in that case, you might want to go for something more upbeat, dramatic, or cinematic.
So, if you have a clear cut idea of what emotion you want to portray in your video, you can narrow down genres of music to pick an appropriate track from.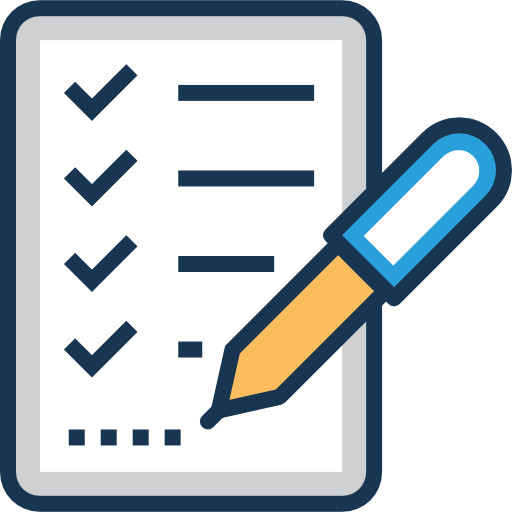 Know your audienceApart from knowing the purpose of your video, you need to have a specific target audience in mind. If you know the age category of the audience who will view your video, you can cater to their music needs accordingly.
If it's a video for your business presentation, you might want to play it safe and go for something more corporate. But if you're targeting kids for a toy commercial or an ad for a candy bar, you could add a few playful beats to your video to grab their attention.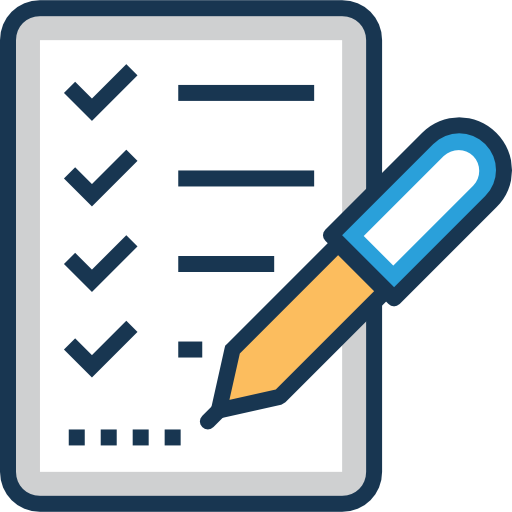 Make sure it doesn't draw attention away from the videoNow, this is the next important thing to remember. While you want the best background song for your video, you need to make sure it doesn't draw attention away from your video.
So the music that you add should complement your video rather than become the primary focus. If your video has a narration, avoid songs that have vocals because it'll ruin the whole purpose of your video. Choose a track that can keep up with the speed and tempo of your video.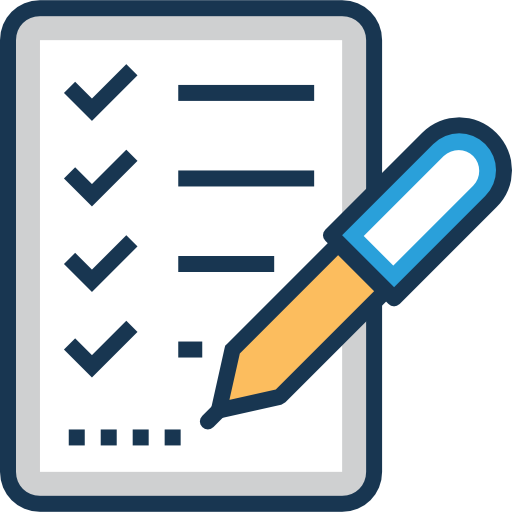 Set the mood of your videoAs we said, music is all about creating emotion. So, think about the emotion that you want to evoke from the video. That will help you set the mood and tone of the entire video.
Moreover, you need to know what role the background music would play and what you want your viewers to feel. Do you want them to feel inspired, happy, or emotional? Or do you aim to try and get your viewers thinking about the particular topic?
No matter what the emotion, you can instill them by choosing the right tracks which will help define the mood of your video. Nowadays, music sites categorize their tracks not only by genre but also by their mood. So it becomes easier for you to pick good background songs for videos.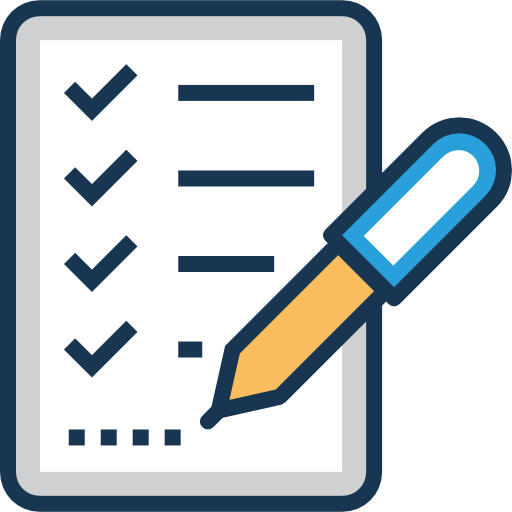 Hire a composer for customized tracksIf you still feel that you haven't found the perfect sound for your video, you could consider hiring a composer. There are a number of freelance artists and composers whom you can approach and explain exactly what you're looking for.
You can then create your very own music track for your video.
This is an option to go for if you have the budget, and if you don't find anything suitable for your video from online sites. Moreover, if you create an original score that's really cool and catchy, it will resonate with the audience and help you create your own brand recognition.
So these are a few things to keep in mind when choosing background songs for videos.
What are some of the best background music genres for videos?
In the process of searching for the right music track, you may come across several genres of music. But with so many genres, you might get confused as to which of these will best suit a particular video.
So, to help you with that, we've listed some of the best music genres for videos that you can find easily along with the kind of videos you can use them for.
1. Corporate Music
With corporate music, you can add a really nice motivational and inspirational touch to your videos. You can bring in the feeling of success, and it sets the mood of overall achievement. Such music tends to be engaging but at the same time, doesn't steal the spotlight in your video.
This is the best background music for
Presentation videos
Product advertising videos
Business and corporate-related videos
Motivational videos
In this introduction video of a marketing agency, the music added gives it a nice, pleasant feeling and a sense of motivation. It does not draw attention away from the video but blends well with the video's transitions and pace.
2. Acoustic Music
Here you get soft, warm, and mellow tones to your video. Because they tend to use guitar strums and a few drum beats to bring in that nice breezy tone to the music track. Thus, it helps bring in a positive and cheerful vibe to your video.
This is the best background music for
Wedding videos
How-to tutorials
Friendship videos
Lifestyle videos
This is a lifestyle video of the Youtube channel 'Pick up Limes'. In the video, you can notice how the music plays a subtle role in the video and doesn't make it too overwhelming. In addition, it nicely complements the narration without distracting the viewer from the main content.
3. Ambient Music
This is another music genre that is widely popular and found in almost every royalty-free music site. Ambient music provides a soothing and calm sensation to your video. As the name suggests, it's all about creating the right atmosphere with the music.
This is the best background music for
Travel videos
Educational videos
Yoga or meditation videos
This is a video featuring famous destinations in Switzerland by Jeff Amador who is a travel vlogger. In this particular video, he captures the beautiful sites of Switzerland and portrays them with the help of soothing ambient music.
The music and visuals combined help in engrossing the viewer and make them feel like they're a part of the journey.
4. Cinematic Music
From ambient and acoustic, we're moving on to something that's a little more dramatic. This genre can be upbeat and lively as well as slow and emotional. The cinematic music genre brings a pretty powerful tone to it indicating adventure or empowerment. They aim to enhance the emotional impact of a scene.
This is the best background music for
Sports videos
Movie trailers
Product video advertisements
In this car commercial by Mercedes-Benz, the background music is subtle in some places and then gets intense giving it a nice cinematic effect. The pauses in the video build tension and make it all the more dramatic and interesting leaving viewers at the edge of their seats.
5. Comedic Music
This is the fun genre of music where the beats are exciting and lively. It brings instant happiness with its rhythm and tone. It aims to keep things light and heartwarming for the viewer.
This is the best background music for
Pet commercials
Kids' commercials
Funny videos
Animated videos
This is a bunch of toy commercials for kids where the music has such fast beats that it grabs the attention of kids instantly. The music used is really peppy and lively and it gets the kids excited about the product in the commercial.
Apart from these genres, there are others like electronic, dance, rock, pop, jazz, and many more that you could experiment within your videos. The ones we've listed above were some of the commonly used and best genres that you would come across.
In the end, it's all about evoking the right emotion with your video. So go ahead and find the right one by experimenting with different genres.
Now that you're aware of different genres of music and where you can apply them, let's look at how you can add the background music to your video.
How to add background music in your video for free?
With Typito, you can create exciting and cool videos with an awesome collection of background music to choose from. And what's more? It's completely free. Here's a quick tutorial to help you learn how to add background music to your videos.
Before you begin, make sure to go to Typito.com and sign up for a free account.
Step 1: Once you've signed in, click on New Project from the top right corner.
Step 2: Choose a format for your project, upload your video clips and select Start Editing.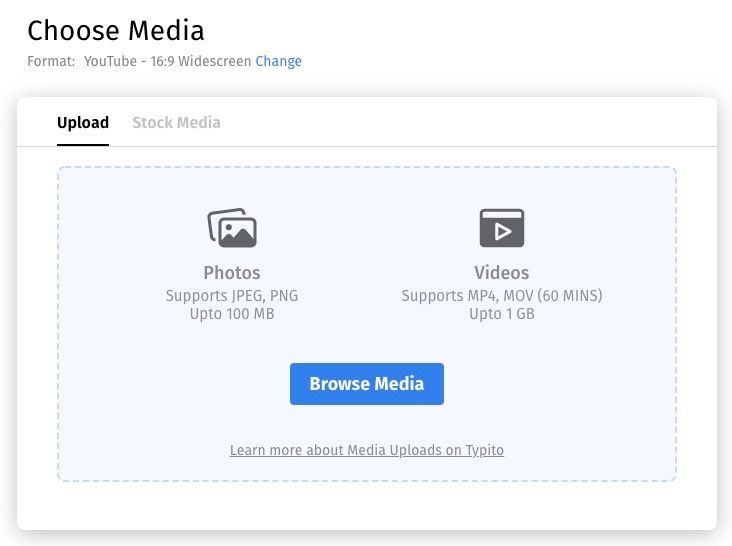 You can choose to upload your own media or you can make use of stock media
Step 3: On the left pane, you will find the Audio tab which will display an in-built music library of different music tracks to choose from. Click on a particular track to add it to your video or you can upload your own track from your device.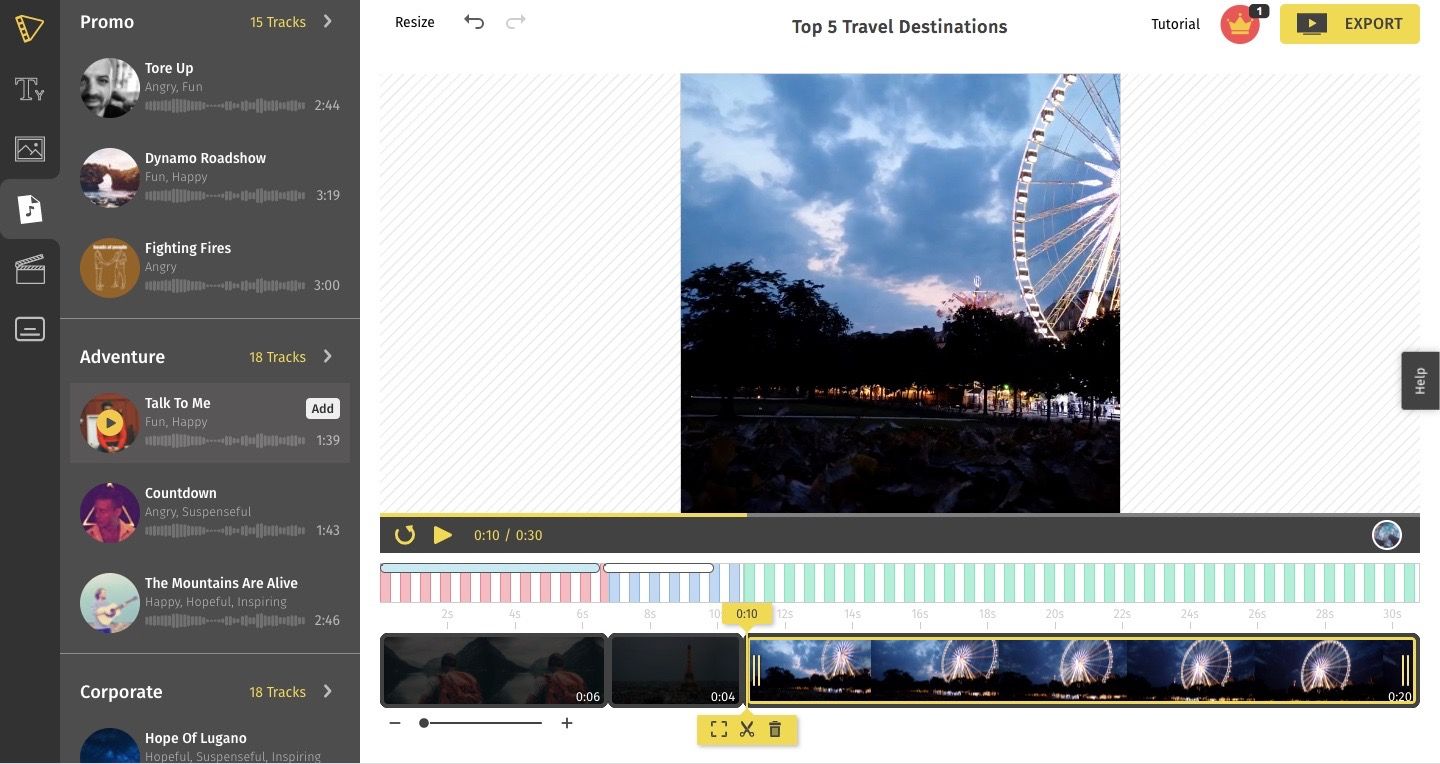 Choose a suitable music genre for your video from Typito's music library
In Typito's music library, you will find music categorized into different genres making it easy to find and add music to specific types of videos. There are genres like corporate, adventure, ambient, and promo to name a few.
Step 4: Once you've selected your track, you can adjust its volume and duration.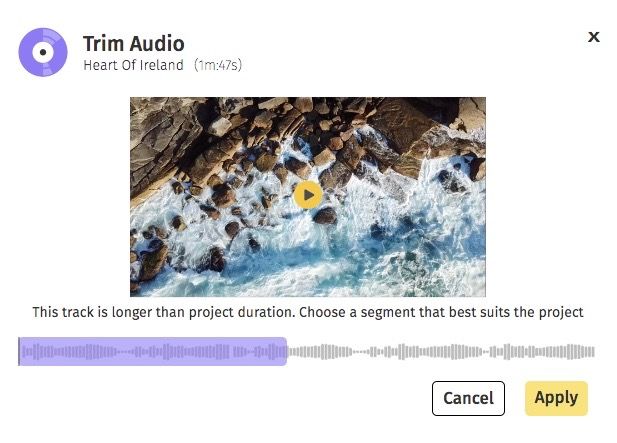 You can trim your music track and select the portion that suits your video the best
Step 5: You can then give it a preview and once you're happy with the result, click Export from the top right corner.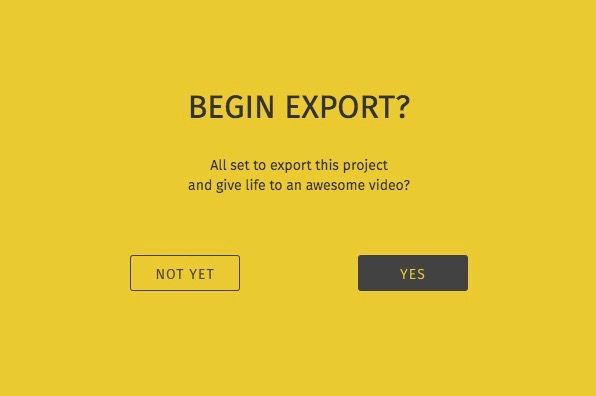 Choose Yes to begin the export process
The export process may take a few minutes and once it's done, you can go ahead and download your video in HD.
Your video is now ready to be published on different social media platforms as an Instagram video post or story, Facebook video or story, Twitter video, and more.
Just like Typito, there are other online sites that provide you with free background music. Let's take a look.
How can I get free background music for videos?
You can find multiple sites online that provide you with royalty-free tracks that will go great for background music in your videos. But remember that royalty-free doesn't mean that they're copyright free. These tracks still hold copyright with them.
With royalty-free tracks, you will not have to pay royalties meaning you will not have ongoing payments. While most royalty-free sites offer you a one time purchase, there are some sites that provide you with free music but may require you to give attribution when publishing them.
So, here we've listed the top 5 sites for you to check out that provide free background music for your videos.
Youtube Audio Library
Free Music Archive
Incompetech
Pixabay
ccMixter
Remember to give attribution when using a particular track because the least we can do is appreciate these creative artists.
Note: Check out our blog where we've given a complete guide on 10 great places to find good background music for videos (royalty-free sites of course) and details about their licensing terms.
How do you know if a song is copyright-free?
With millions of songs that we hear every day, it's sad that we can't use them for our videos because they all have a rightful owner. So we go in search of copyright-free songs. But that's extremely rare and pretty difficult to find.
Almost every song we come across, including royalty-free songs, has copyright. But there's no need to worry about the copyright of a song if it falls under any one of the categories.
Public Domain
Creative Commons License
Royalty-free
Public Domain is completely copyright-free and is usually pieces of music that were published before 1922 and have now entered the public domain to be used by anyone.
Creative Commons is a license that allows the owner to retain their copyright and allows users to use their music for free but with attribution.
Royalty-free, as we explained in the previous section, means you don't have to pay royalties for the tracks but they are not copyright-free. You can either make a one-time purchase from the site or you can use a few tracks for free by giving attribution.
If you still want to use other popular tracks in your videos, you'll have to read the copyright policies of the particular platform that you wish to publish your video on. Platforms like Youtube, Facebook, and others have certain restrictions when it comes to using music content to avoid copyright infringement issues.
So make sure to read their policies and guidelines and adhere to them to practice fair usage of music content.
To Summarize,
Background music has a key role in every video. So, make sure to choose the best ones for your videos.
There are multiple sites that offer you royalty-free background tracks for your videos. But remember to give attribution wherever needed to avoid copyright and other issues.
Hope we've helped you in your quest to find the perfect background music for your video.