20 best Facebooks video ad examples and unique takeaways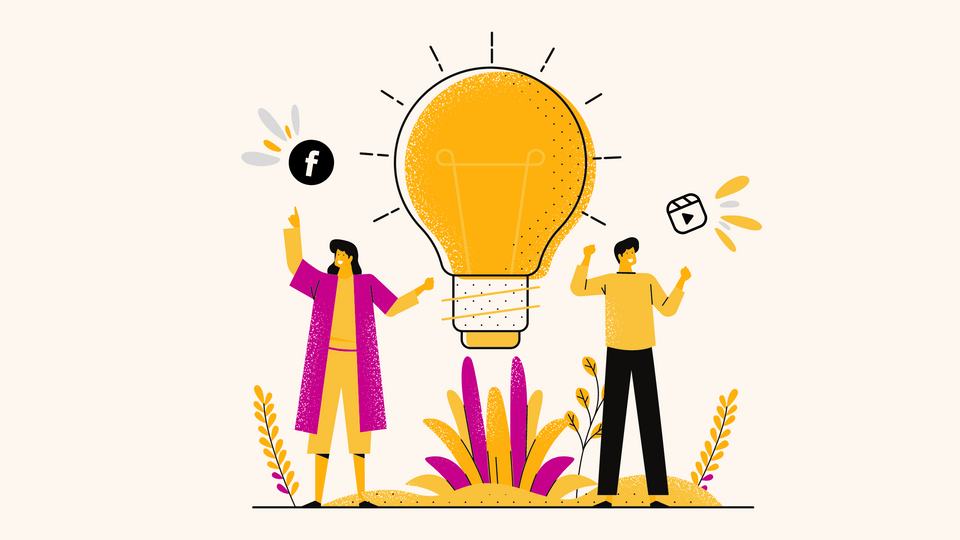 Facebook has held a solid position at the top among users, with many other platforms entering and leaving the market. The latest stats show that Facebook has around 2.74 billion active users worldwide. It still succeeds in simultaneously being relevant among the youth and the older audience.
This is one of the key reasons why Facebook is the top priority for online advertising and business. The percentage of social media marketers using Facebook is a whopping 92%. It brings us to the question - why is Facebook beneficial for business and advertising?
Advertising on Facebook is easy on the pocket. Hence, it has become a go-to marketing option for small to medium businesses. Facebook is majorly a visual platform. This allows you to share photos and videos of your business and attract potential customers. It is also great for getting feedback through messages, likes, and comments. It helps build a relationship between the brand and its users.
One of the main advantages of the Facebook advertising space is that you can create ad campaigns for your product and track its performance. With Facebook insights for business, you can learn valuable information about your audience, like their age and gender breakdown, interests and hobbies, and location. This will help you with targeted advertising, saving your resources, and using them in the right places.
What's ahead?
Why are video ads better than image ads on Facebook?
Image content for advertising is easy to create and upload but doesn't bring results like video ads. Video ads work better because they can pack more information than images. They offer a larger canvas to get more creative, bring in your style, and stand out from other content. It also shows the effort and intent you put into your brand to the audience.
20 Best Facebook Video ads and What you can learn from them
---
Looking for some well-made video ads for inspiration? We got you! After what we think is thorough research, we have curated the 20 best Facebook video ads and what stands out in them.
Clinique
This video ad of the global cosmetic brand Clinique is a treat to watch, with beautiful visuals and smooth transitions. One aspect to notice is how the key phrases are highlighted to focus on the product benefits. Even if the video is played on mute, the message still stands out.
Tropicana
Here is an exciting ad by the famous drink brand Tropicana. The ad talks about their limited edition toothpaste that one can win only through a contest. It is really creative how they have taken criticism for their orange juice and used it to increase user engagement.
IKEA
This exciting ad from IKEA shows how to bring pop culture into an ad to make it more relatable to the audience. You can employ this idea in your ad to keep up with the changing times on the internet.
Grammarly
This is how Grammarly introduced its new tone detection feature. Notice how the usage of emoticons, bold typography, and vibrant music drives home the message without being preachy.
Starbucks
Starbucks is always on top of its ad game. Quirky animation and meaningful campaigns always leave a mark in the marketing world. This ad shows their trail Borrow and Return cup campaign to promote recycling. The closed captions and infographics stand out in the ad that provides more clarity.
Sephora
This fun and fresh ad from Sephora, a well-known make-up and skincare brand is an excellent example of music used in the ad. A big takeaway from the ad is how the colors have been employed. The palette is soothing and warm to the eyes, also enhancing the theme of the ad.
Red Bull
Red Bull advertisements always remain a favorite among the viewers. This New Year greeting advertisement has its signature style of animation. What we can take away from their ad is precisely this - have your unique style. They have finished the video with their famous slogan. Using the digits 2022 in ads is not new, but Red Bull makes it refreshing to watch.
Old Spice
This video ad for Old Spice is a different route from the regular ones by incorporating animation into it. It is specifically made for the holiday season, and it captures the festive essence. It is short, but at the same time, very captivating with its idea. Switch up your ads, bring in a new element with every ad, keep the viewers on their toes.
Airbnb
Seasonal ads are always a great way to put your creative minds to work. Here the logo of Airbnb is played around to resemble ideas related to Halloween. This is simple but something you can try out in the next festive season to catch the viewers' eyes.
KFC
This new KFC ad caught our eye not just because it features Liza Koshy. For a popular fried chicken joint to introduce plant-based meat is a huge deal. And KFC has adopted this light-hearted ad to do that. This sure is to cause a stir among the crowd.
Garnier
Ads needn't be elaborate or lengthy. They can be simple and straightforward. Garnier, a beauty and self-care brand, keeps its ad to the point with attractive colors and design. It focuses only on conveying the topic, leaving no space for any distraction.
Cadbury
If "Keep-it-simple" had a video ad, it would look like this Cadbury Fingers and Buttons advertisement. Minimal colors, minimal animations, and catchy text - these elements make them stand out. Check out how text animations are used to make the rather simple ad lively.
Levis
Look at this Levis ad that emphasizes buying better to reduce waste. The brilliant usage of text, the ominous BGM, and the vital text catches our eyes in the ad. The post's description also explains the cause in detail and uses a hashtag to start a trend.
Target
Target's ad for their Pillowfort designers hits home due to multiple reasons. The main one has to be the storytelling element in it. The customer connection in the ad adds a lot of value to it. The pleasant music and soothing visuals get the viewer invested in the experience.
Adidas Originals
Music sets the pace of a video. The ad by Adidas proves just the same. It has a fast rhythm and subdued dark color palette to suit the sporty vibe of the brand. It uses vintage elements like a walkman and a Windows XP dialog box to add to the tagline, "Powered by the past."
H&M
For a clothing brand, an ad must show the pieces for sale and the experience that comes with it. This H&M commercial does precisely that. The beach as a background, the free-spirited vibe, the music tries to sell us the experience and it works.
ZARA
Generally, kids' clothing lines prefer a colorful, peppy theme for their commercials. Zara went a little off-road and came up with this artistic ad to launch their Fall 2021 collection. The picturesque frames, a variation in filters, and music as a part of storytelling were really a masterstroke.
Ray-Ban
Ray-Ban launched its futuristic glasses with cameras inbuilt to capture content for social media in a partnership with Facebook. The ad has a demo of the same with groovy music and animation.
Audi
In their ad promoting sustainability, Audi has used the benefits of subtitles and a clear description. Showing insider footage makes the viewer less like an outsider. Another genius play was linking their YouTube video in the description, thus creating a network for their social media platforms.
Etihad Airways
Etihad Airways understood the assignment. What do people get from an airline? More than just the travel, it is what awaits us on the other side. This is beautifully portrayed in the minute-long ad with the right music and script. Remember to show the audience they are not buying a product or service but an experience or a memory.
Different Video Formats on Facebook
---
Hope the best examples sparked some inspiration for your next ad campaign on Facebook. While you're thinking about creating Facebook video ads, you'd also need to think about what kind of Facebook video you want to make.
The variety of video formats available on Facebook is quite a number. From the regular native videos that one can post on their feed to the story feature that stays for 24 hours, there is a format to suit your needs.
You can analyze your ad, decide which would be ideal for you, and go ahead with that. For example, you could have a series of short teasers for your big launch, and the story format would be great to execute this.
You can read about the different video formats on Facebook to know more.
8 things to keep in mind while making a video ad
---
If you are creating your first video ad on Facebook, there are certain things you can follow to make it work on the platform. Here is a comprehensive checklist for you.
#1 Catch attention quickly
Your advertisement could be a few seconds to a few minutes long. With the current content overload in social media, what can you do to make sure the viewer watches your video entirely without scrolling onto the next one? One thing you can do is catch their attention in the first 5 seconds or less. Have something interesting in the beginning to kindle the curiosity for the rest of the video. Bring in the star product without wasting valuable screen time. This could make the user stay for the full video or get all the information they need before skipping.
#2 Keep it short
The ideal length for a video ad is 2 minutes or less. Extending the duration might make the ad longer and slower. Keep it short, crisp, and clean with only the necessary details. More often than not, it doesn't matter how long the ad is but how the storytelling is executed. Focus on how to get the concept across effectively.
#3 Be phone-friendly
Out of the total users, 1.19 billion are active users of Facebook on their phones. This is why your video ads must be mobile-friendly as well. Make sure the text is easy to read on a phone screen, and the frames are more closely shot than usual for a better experience.
#4 Know your Audience
All the efforts you put into your video ad might not show results if you don't cater to your target audience. Keep the theme and feel of the ad appropriate to your audience. Also, follow the stats of how well your ad is doing among your users. Check regularly if it reaches the part of the audience you were aiming to achieve.
#5 Text, captions, and description
Every video ad has the potential to go from good to great with the right background music with the right theme. But at the same time, remember many people consume social media content without audio. An advertisement's primary purpose is to give out information. Your ad should be able to do the same with or without audio. Use attractive pictures and text effects to draw them in. Keep it catchy and engaging but do not overdo it.
Subtitles and closed captions are helpful if the video has dialogues or lyrics. Facebook provides a space for giving your video a description. Use this to create an interesting build-up to the ad.
#6 Consistency is key
One way to stay ahead in the marketing game is to keep your posting regular. Develop a content delivery strategy or a calendar and stick to it to ensure results. Also, maintain a quality standard for your videos to fulfill.
#7 Connect your social media handles
The new age crowd on the Internet spends a significant amount of their screen time on Instagram. You could use it to add reach to your advertisement on Facebook. Facebook has an option to link your Instagram account to your Facebook account and post content at both places. This makes sure your ad reaches a new set audience and generates business with them.
#8 Online Video editor
We understand how it is not easy to make suitable video ads. A ton of work goes into it, starting from planning, shooting, editing, and publishing. After you shoot your footage, to get the job done easier, you can take the help of an online video editor like Typito. Typito is the right candidate if you are a beginner in video editing and looking for user-friendly software to edit footage, add effects, text, and music. It comes with ready-to-use templates for videos and text that you can use. It also has a vast library for copyright-free music and media for you to use.
Wrapping up,
A massive volume of video ads is uploaded on Facebook every day. Some work, some don't. Start putting efforts today to get your ad to bring in interaction and business. Watch a lot of ads on social media to learn what works and what doesn't. Find what makes a difference for you and crack the marketing game.