How to Grow Your Fitness Business Online with the Right Tools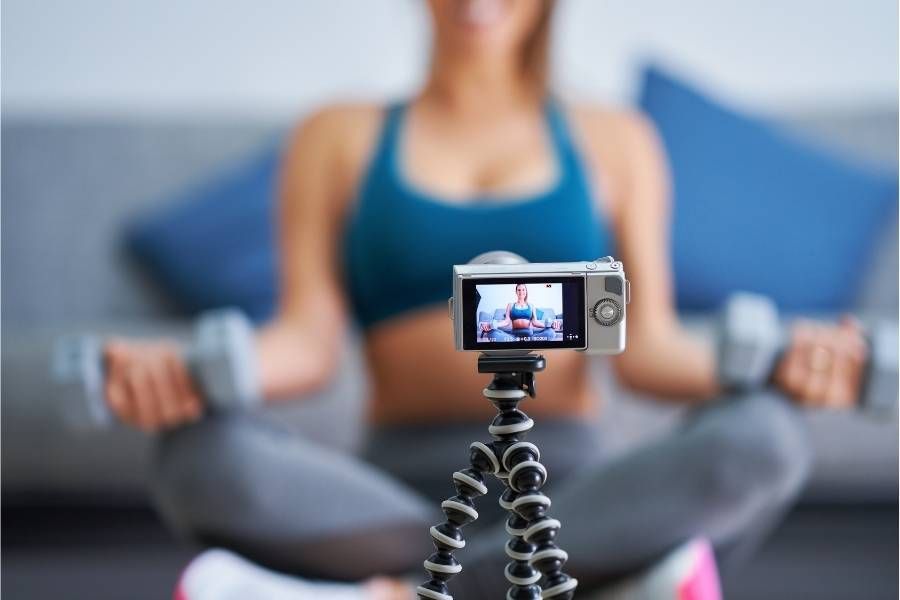 Being an Online Coach or a Personal Trainer can be lucrative and fun, but it isn't always as easy as it seems. Creating a fitness business and running it smoothly is challenging. Especially when you are the boss, the finance team, and customer support. Aside from investing in all the necessary equipment, the right fitness business software and tools can help considerably.
Additionally, the urge to impart fitness knowledge to as many people as possible is a feeling that every fitness expert shares. Whether it's a gym, yoga, aerobics, pilates, or other exercise forms, the constraints to teach are mostly physical. Hence, building an online platform for yourself is the best, obvious solution.
Once you make space, procure the required equipment, and hire the right professionals, you're through the first steps of establishing your online fitness business. However, you will need to do more.
Through the course of this article, you will learn everything starting from the equipment you need, right to establishing a monetizing program for the followers you will eventually amass.
Some noteworthy facts to consider:
The world of online fitness is not just growing rapidly but is anticipated to incline by 33.1% by 2027. This translates to an astounding figure of $59.2 Billion, which also means it pays to stand out from the hoi-polloi in the fitness content creation industry. (Source: Yahoo Finance)
In 2019, the fitness industry revenue totaled $94 billion globally. By 2030, it is anticipated that health clubs across the world will have 230 million active members. (Source: IHRSA)
The market's most significant segment is Wearable tech, which is projected to have a market value of more than 18.9 Million USD in 2020. (Source: Statista)
Investing in equipment that showcases your yoga, gym, or other workouts, brilliantly, is the best first foot forward you can take. So, strap in, as we virtually enter the realm of creating amazing fitness content.
The Necessary Equipment
---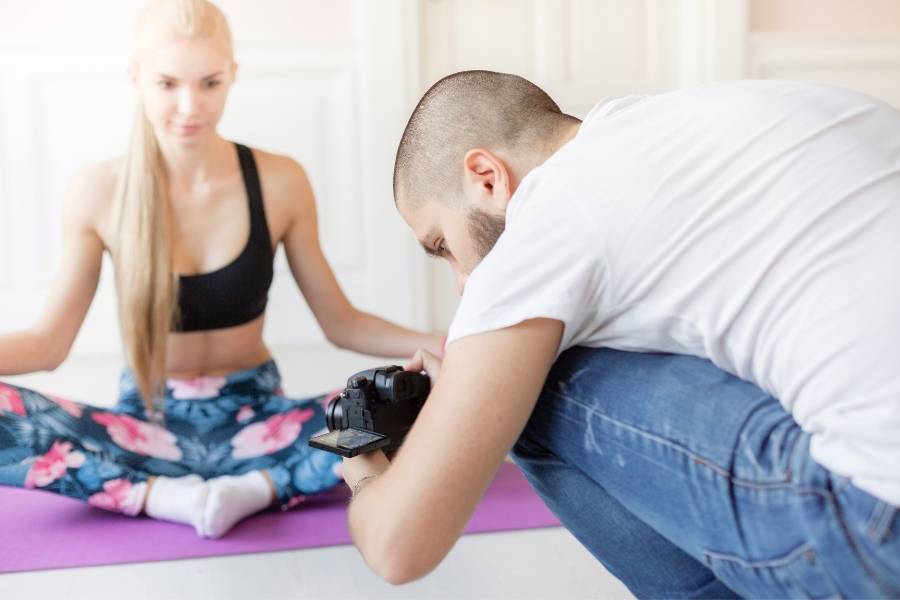 1. Lighting
One of the most imperative aspects of shooting great videos is lighting. Lighting dictates how your videos turn out and precede everything that follows. Hence, investing in softboxes that disperse light and creates an ambiance with no shadows is essential.
2. Ambiance
Creating a visual and lively ambiance will subconsciously influence and motivate viewers who repeatedly tune in to your content.
Light shaded walls that reflect the dispersed light can be played around with, along with wooden accents and working out equipment placed strategically to add to the whole vibe.
The same holds for other work out situations, and you will always have the liberty to change the interior decor based on the mood and the type of fitness genre you're shooting.
3. Cameras and Microphones
One of the most common cameras used to shoot fitness videos is the Canon G7X, known for its ease of use and versatility. You can choose from a range of mirrorless cameras out in the market, but any DSLR camera with an APS-C sensor, for example, and a prime lens will do the trick as they will give you a steady shot for exercise movements, making the video more engaging for your viewers
Avoid splurging on a full-frame sensor camera but focus on experimenting with different lens setups that work with the APS-C sensor DSLR. The Canon EF50mm lens with aperture F/1.8 is a brilliant initial investment.
Investing in a good microphone is where most creators and big brands compromise. While you may choose between various camera equipment based on your budget and other criteria, audio is one thing you ought to pay attention to.
A deciding factor that makes or breaks great visual content—microphones come in all shapes and sizes.
As far as fitness shooting is concerned, a Rode mic or a boom mic mounted on a C-stand is an ideal set up. Clothing mounted lapel microphones are great too, but these tend to pick up unnecessary writhing sounds.
4. Tripod
This is the most underrated gadget in your quiver. A sturdy tripod can elevate your production value to a different dimension. You cannot go wrong with a Manfrotto or a Vanguard tripod in your cinematography arsenal for a stable videography experience.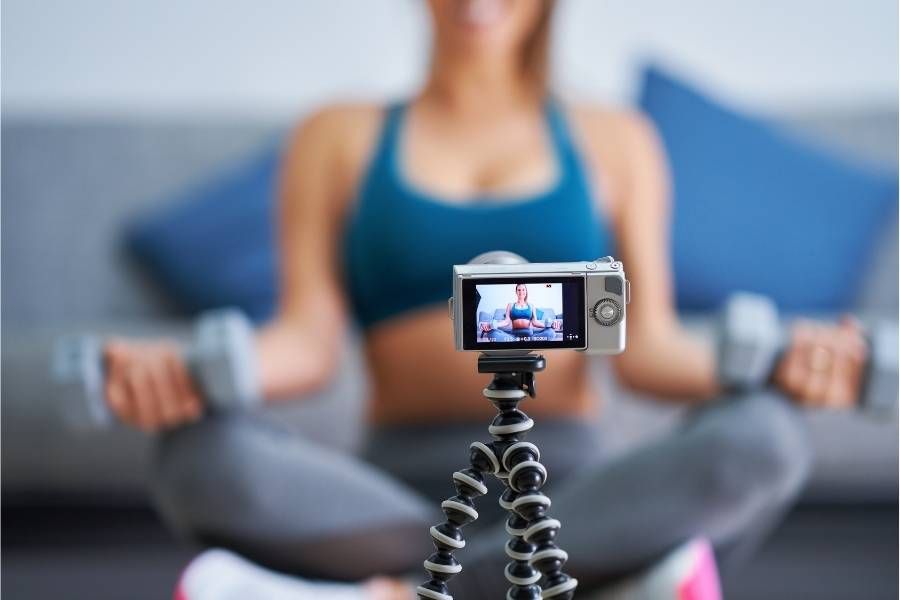 5. Dolly Slider or Gimbal
Fitness experts assert that posture is key while working out to avoid injuries, and the best way to film the ideal posture while working out is shooting on a dolly slider or a gimbal. This is sure to upgrade your cinematography value to an 'expert' level, but you may eventually add this to your gadget repository.
Ideating the Process of Cinematography
---
When you have your equipment sorted, ideate the right emotion you want the cameras to capture that will resonate with your audience.
It helps to have high energy in the video with the vocalization and zen energy if you're shooting yoga, pranayam, or meditation videos. Regardless, brainstorming with your team can do wonders for the video's final output, so hiring a team of experienced professionals will do the trick.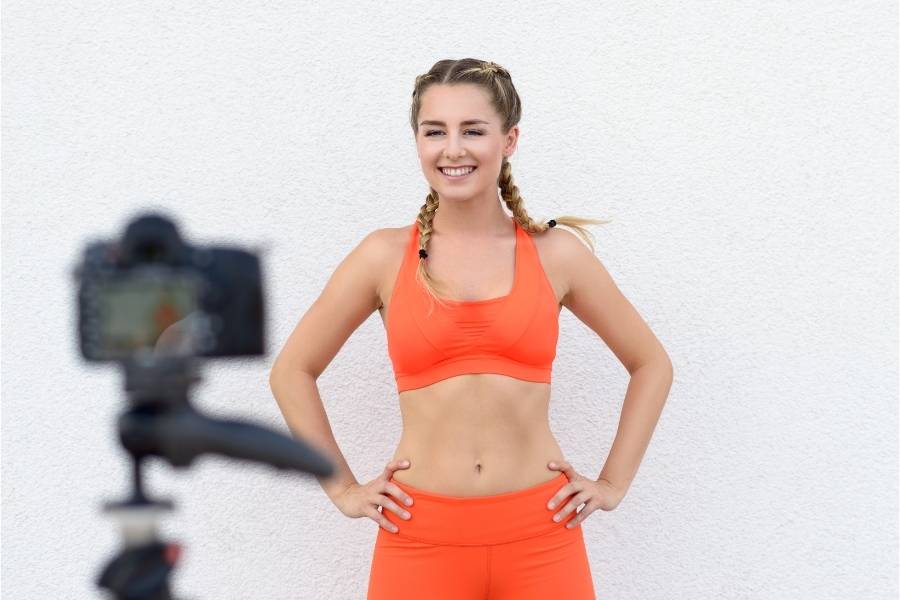 1. Videographer
Managing the technicalities of videography can be confusing. Consider having an experienced videographer take care of small details like working with natural lights or softbox lighting for your location. Consequently, it also pays to hire a freelance videographer and is a brilliant initial investment.
2. Photographer
Compiling a camera roll of gorgeous images on the cell phone or a DSLR is essential, as these images will end up generating a social media following and eventually draw in traffic for the website, as well.
Hiring a freelance professional or a friend to capture great workout images will go a long way in attracting the avid fitness populace. You can work with a smartphone/ iPhone images, DSLR, or any camera with a decent sensor to capture photos.
3. Live Streaming
During the pandemic lockdown, live streaming opened the doors people hadn't fathomed before.
Consequently, live streaming sessions attract new audiences. Live streaming from a cell phone to your Instagram, Facebook, or YouTube audience at a set time will keep your viewers on their toes.
Fitness Business Software and Social Media
---
Once you have your video footage shot, it's on to the next step—video editing.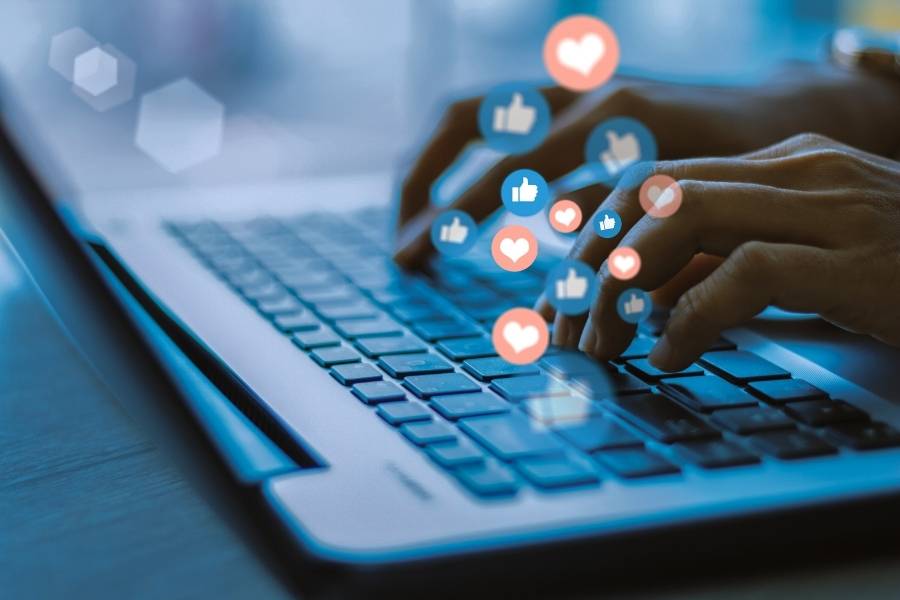 Take a deep breath and hear me out -we have the simplest solution, which just might make you fall in love with editing your videos.
Typito is an online video editing tool that eliminates the hassle of downloading and installing clunky software, which often carries steep learning curves.
Software like Adobe Premiere Pro, Adobe After Effects, and Final Cut Pro not only demand high-end hardware capabilities but also come with a hefty price tag.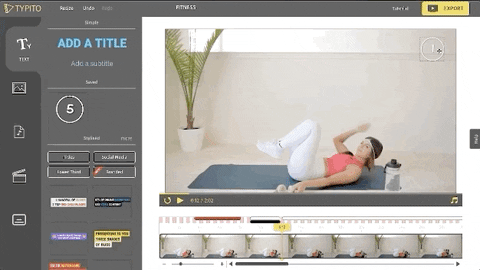 While Typito not only enables you to edit on your browser, it also takes up a load of rendering full HD videos over the cloud while offering a plethora of simple editing tools.
Besides adding text, images, graphics, and captions, Typito even allows you to add beautifully animated text and images to give your videos a professional look within minutes.
With just one click, the tool automatically adds subtitles to your fitness videos, which could be groundbreaking technology if you're aware of the pain of adding subtitles manually.
Having subtitles under the videos will ascertain that the viewers understand precisely what you're saying even while speaking from awkward workout positions.
Typito is not only a brilliant online editing software, but it also allows you to create videos for any social media and in any desired aspect ratio.
Horizontal or vertical, you can custom create your IGTV, YouTube, Facebook, and even LinkedIn videos straight from Typito. Once completed, you can even upload them directly to your page or profile.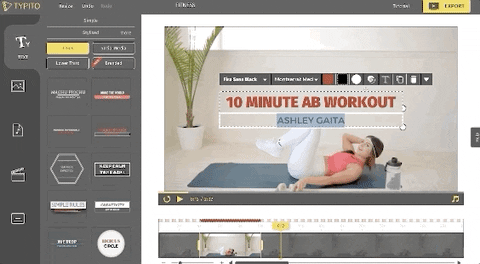 Speaking of social media, learning the ropes of managing all your social media sites is a skill on its own, but the most common practices all the social media sites demand is consistency, creativity, and hard work.
Strategize and Monetize your Content
---
After you've explored posting free fitness videos, there are three key monetizing models you can consider deploying to your viewers. Based on the kind of VOD (Video-on-demand) model, you can completely customize and categorize your content delivery system into either SVOD, TVOD, or AVOD.
1. Subscription video-on-demand (SVOD)
Netflix, Disney+, Apple TV+, and other popular over-the-top (OTT) platforms follow Subscription video-on-demand. This model is one of the broadest spread modes of generating regular, monthly revenue for your business.
Fact: A subscription-based video service means that your viewers subscribe to watch your ad-free fitness videos each month, and Netflix has proven this model to work like a charm with its 55% market dominance in the U.S. (Source: Forbes)
2. Transactional video-on-demand (TVOD)
The TVOD model is followed by iTunes, YouTube Movies & Shows, and others. In this model, the consumer either pays only to watch a specific video or rents the same for a fixed time.
This model is further categorized as 'electronic sell-through' (EST) and 'download to rent' (DTR) and generates higher revenue per sale. However, it does not beat the fail-safe SVOD method.
The TVOD model also allows you leeway to offer your content for discounted prices, so it is worth trying and testing this model.
3. Advertising-based video-on-demand (AVOD)
Followed by YouTube, Hulu, and other platforms, the AVOD model is when your viewers consume your content for free in exchange for watching advertisements and commercials in the mix.
This model attracts viewers in large numbers as most people don't mind watching commercials, which may work in your favor. On the downside, it might keep premium consumers willing to pay for ad-free content at bay.
While you're testing the waters to figure out the right subscription model for you, be mindful that YouTube and Amazon offer a hybrid model to watch free content and paid videos.
You may choose to watch free YouTube videos in the AVOD format or subscribe to YouTube Premium to remove ads altogether.
Other Ways to Monetize
---
The fitness realm of business opens doors that other businesses often don't because of the diversification value it brings to the table. Apart from just monetizing your videos, you can try the following monetization ideas:
Fitness Studio: You may start a fitness studio on your website where you offer customized courses, nutrition advice, health tips, protein product suggestions, etc.
Product Sales: Everything from a dumbbell to a pre-workout drink can be sold as workout products, and this will open doors like never before.
Fitness App: A fitness app can combine all your ideas in one place, and the in-app purchases model gives you a new monetization model.
Affiliation and Referrals: Affiliate and referral marketing is when you offer your audience a product recommendation or share an affiliated link for a product and earn a commission based on your referrals and URLs' revenue.
Build a Website
---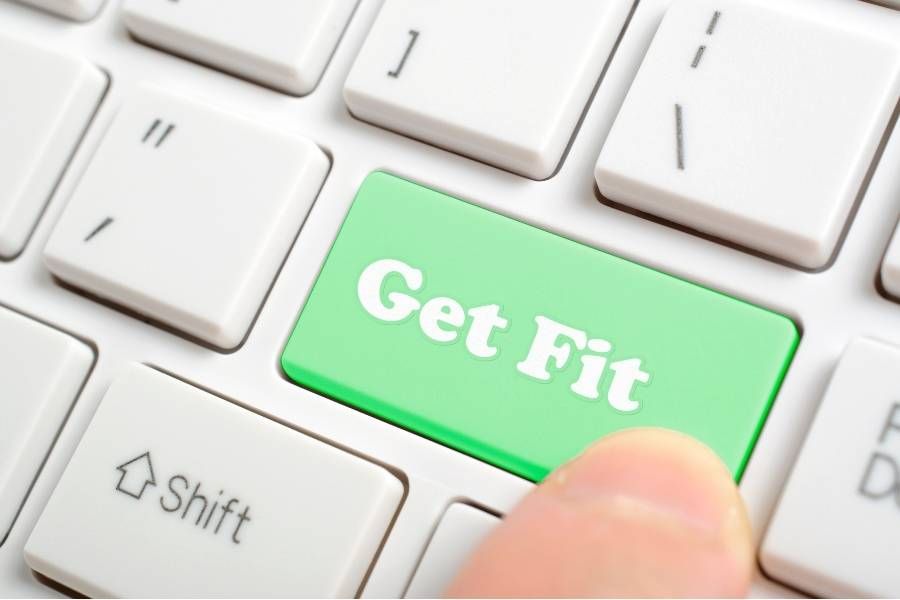 A website is key to display everything you've worked hard on cohesively. In simple words, it's a portal where you get to brandish all your content, products, monetization models, and more.
Assuming that you're aware of the know-how of choosing the right domain name, web host, and other basics to start a website, let me skip a few steps and explain the induction of 'fitness'.
When you visit the best fitness websites on the internet, they all have three things in common; a bold logo, display of strength in the chosen images, and straight to the point text that introduces your fitness vertical.
An interactive website cuts to the chase manages to engage visitors and garners traffic exponentially and consistently. Showcase your Unique Selling Proposition to the audience right on the homepage, and don't forget to make it interactive.
Politely introduce yourself and first display the free content you are proud of. As the user scrolls down, ensure that they see exactly what the domain, the logo, and the intro describe you and the other verticals of your business.
Eventually, showcasing the paid courses, sessions, classes, schedule, and videos you have to offer along with other monetizing aspects, get the point across that you provide the best fitness regime they're looking for.
Marketing your Content
---
Marketing yourself doesn't necessarily mean splurging money. It's a vital part of growing your fitness business. Building a community is imperative. Connect with your peers, other fitness content creators, and like-minded influencers to spread the buzz about your work seamlessly.
Building a community also entails communicating with your audience and constructing lasting relationships with them via email, the comment section, or even offering them personal discounts. Bringing a sense of warmth and a welcoming atmosphere always works irrespective of the B2C industry you're in, so connect with the people in the best way possible.
You may eventually use any traditional advertising methods to put the word out about your business. Advertising on social media sites works the best instead of television, magazine, or other older forms. While you're focusing on social media sites, it helps to strategize your digital marketing based on Google Analytics and other metrics.
Conclusion
---
Essentially, there are numerous ways to grow a fitness business online, but this article will surely help you get started. Be mindful that competition in this space is fierce, and learning (and unlearning) as you traverse the fitness business path is crucial.
Upgrade your equipment, scale your business gradually, invest wisely, and don't be afraid to experiment venturing into new verticals as the online fitness industry widens its scope continually.
Got any questions about how to create engaging video stories for your business? Let us know in the comments below.