How to Add Captions to Facebook Videos Easily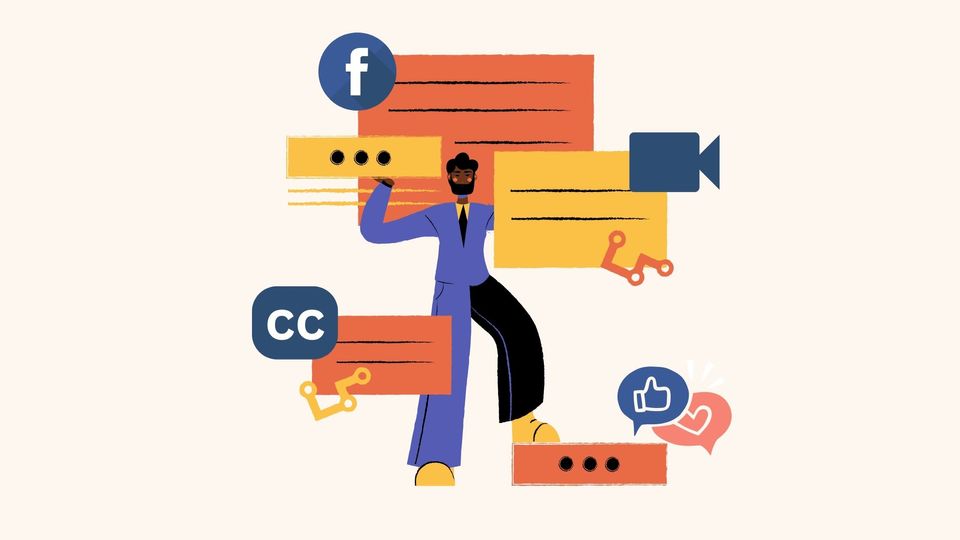 Adding captions to your videos can sometimes make all the difference when it comes to increasing views. Think of the last time you had to watch a video on mute - perhaps while traveling on a bus or train and forgot to carry your earphones, or you were sitting at a cafe waiting for a friend.
Captions on video make it easy for your audience to watch videos without sound and still understand the message.
Like most social media platforms, Facebook also encourages adding captions to videos as a best practice - and for all the right reasons. If you're looking for a quick way to add captions to a Facebook video easily, stick with us.

In the next few sections, we'll cover the following:
3. FAQs
Why is it important to have captions on Facebook Videos?
Captions make it easy for people to watch videos without sound. According to Verizon Media and Publicis Media Relationship of Video, Sound, and Captions Insights Study, 69% of people report viewing videos without sound in public places, and 1 in 3 has their captions on in a public setting. That's a lot of people that could possibly scroll past your videos if they don't have captions.
Captions might encourage people to stay hooked to your video till the end. A study found that 80% of viewers said they would likely watch an entire video when captions are available.
How to Add Captions to Facebook Videos Easily?
There are primarily 2 ways you can add captions to Facebook videos:
Facebook - If you have an existing subtitle file (SRT file), you can upload the same to a published video.
Typito - If you're looking to add auto-generated captions that you edit and style easily.
How to Add Captions to your Facebook Video on Facebook?
Step 1: Post your video on the Facebook Timeline
Step 2: Upload captions to your video
Choose the published video from the timeline.
Click More Options (1 in the Image (1)) and click Edit Video (2 in the Image(1))
Click the Edit option that appears when you place your pointer over the video (as shown in Image (2)).
Save your video - captions for your video will be automatically added.
While Facebook offers the option to directly add captions to a video right when you post a video, this has a few challenges.
You won't be able to style your captions in case it's hard to read against the background of your video.
Uploading an SRT subtitle file isn't always feasible - sometimes, you may not have a readily available captions file.
Adding Captions to Videos on Facebook by Automatically Generating
If you want to do a bit more with captions on your video tool like Typito can help:
Add automatically generated captions,
Edit, style, the way captions appear on your video,
Translate Facebook captions into another language
Here's how you can add closed captions to Facebook videos with Typito.
Step 1: Upload your Video
Head over to Typito and log in to your account.
Create a New Project and choose a format.
Drag and drop a video from your system files or upload a file from Google Drive.
Step 2: Add Captions to your Facebook Video
Click Subtitles from the left menu (CC).
Choose Auto-generated Subtitles.
Next, if you want to add translated captions to your video - select the language of the video and the language in which the caption is to be displayed. You can skip this step if you want captions in the same language as your video.
Choose a style that makes it easy for your video captions to stand out and be read clearly.
Step 3: Review and edit your Captions
Errors can creep in as auto-generated captions. So take a quick look, and if there's anything that needs to be edited.
Pro Tip - Typito's smart suggestions will highlight text that overlaps time frames in your video. To adjust any subtitles that spill over a time frame, you can adjust the text to shorten either directly from the left panel or from the timeline of your video.
Step 4: Export and Publish Your Video
After making the final changes, you can click on the Export video on the top right of your editing canvas.
Once the export is completed, you can see the option to download your video and directly publish your video to the Facebook account linked to your Typito account.
Wrapping it Up
Adding captions to your Facebook Videos can be a cakewalk for you too. Captions can make your Facebook videos more interesting and worth watching, even if the audio is off. Adding stylized captions and auto-generating captions for your video is easier with Typito.

Before we leave, we thought we might help answer some more questions that you might have relevant to captioned videos on Facebook.
FAQs
What are the best practices associated with Facebook video captions?
The two main purposes of creating Facebook video captions are to communicate the brand and message. To accomplish the same, it is important that it should be:
Error-free: So that even a person watching the video on mute gets the message conveyed through the caption.
Of appropriate color and font: Such that it doesn't merge with the colors of the video in its background and is invisible
Clearly visible: Captions should be of appropriate size and should be timed in such a way that the viewer can read them within the time for which it appears and watch the video simultaneously.
How to Edit Captions on a Facebook Video?
There is currently no option to edit your videos on Facebook. You can make appropriate changes by editing your SRT file and then uploading it to the video, but this can become tedious; hence you can use any online tools, including Typito.
To edit captions of a Facebook Video on Typito, head over to the Subtitles on the left panel, and you'll have to upload an SRT file, or you can auto-generate the subtitles if you don't have an SRT File. The transcript will be displayed on your left panel once the SRT/ auto-generated subtitles are added to the video. You can make the necessary edits on the left panel itself.
How to Add Captions to Facebook Video Ads?
You can always add a subtitle file to any of your videos by uploading an SRT file, as mentioned in the steps above in this blog.
Alternatively, you can upload your ad video on Typito first, generate captions via the subtitle option, export the same, and share it directly onto your linked Facebook account.