How to Add Captions to any Video - 3 Different Ways to do it
Auto-generate captions, upload a captions SRT file, & manually add captions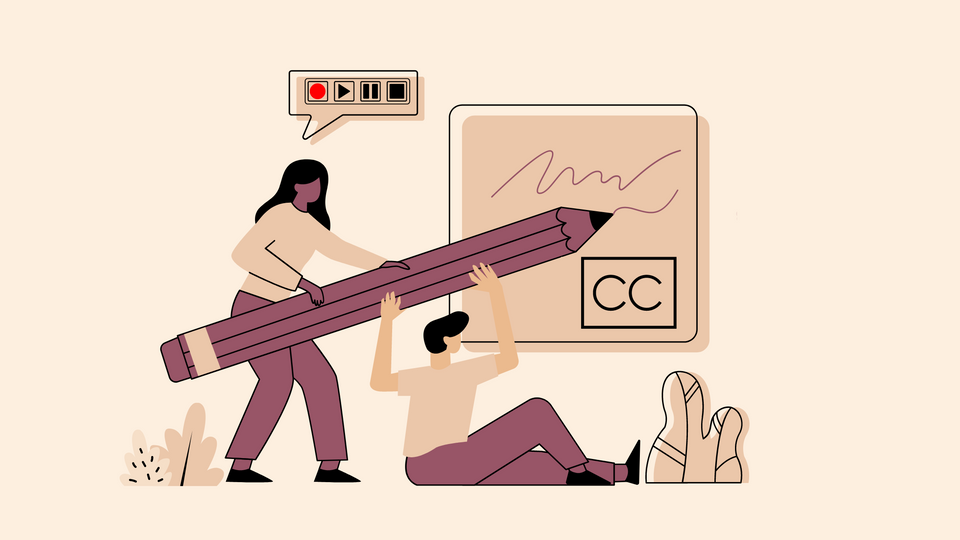 One of the most basic and under-appreciated methods to give your content marketing a kick is to make videos with captions. Video captions include the speech, narrative, and any other sound effects that are included in the video.
Why is adding captions to videos important?
Videos with captions garner more views than those without.
Captions make your videos more inclusive and can help you get more support from people who are deaf or hard of hearing.
Videos with captions are a great way to make regionalized content in mass and reach people in many parts of the world.
When compared to videos without captions, Facebook discovered that videos with captions had a 12% boost in views.
In addition to optimizing your videos with titles, descriptions, and tags, include captions is a proven approach to increase your videos' search engine optimization (SEO).
---
3 Ways to add captions to your video
Typito's captioning tool is ideal for captioning YouTube videos and shorts, Facebook advertising, Instagram videos, and other social media videos.
In the next few sections we'll look at 3 different ways you can easily add captions to a video.  
---
Let's look at it Step by Step
Step 1: Upload your media
Log into Typito if you already have an account. (You can get started directly and sign up for an account later.)
Choose the format based on the kind of content and the platform on which the video will be posted. Typito gives you different options depending on the platform on which you intend to publish your video - like 16:9 widescreen, 9:16 vertical, 1:1 square, and 4:5 story. You also have the option of customizing the desired format.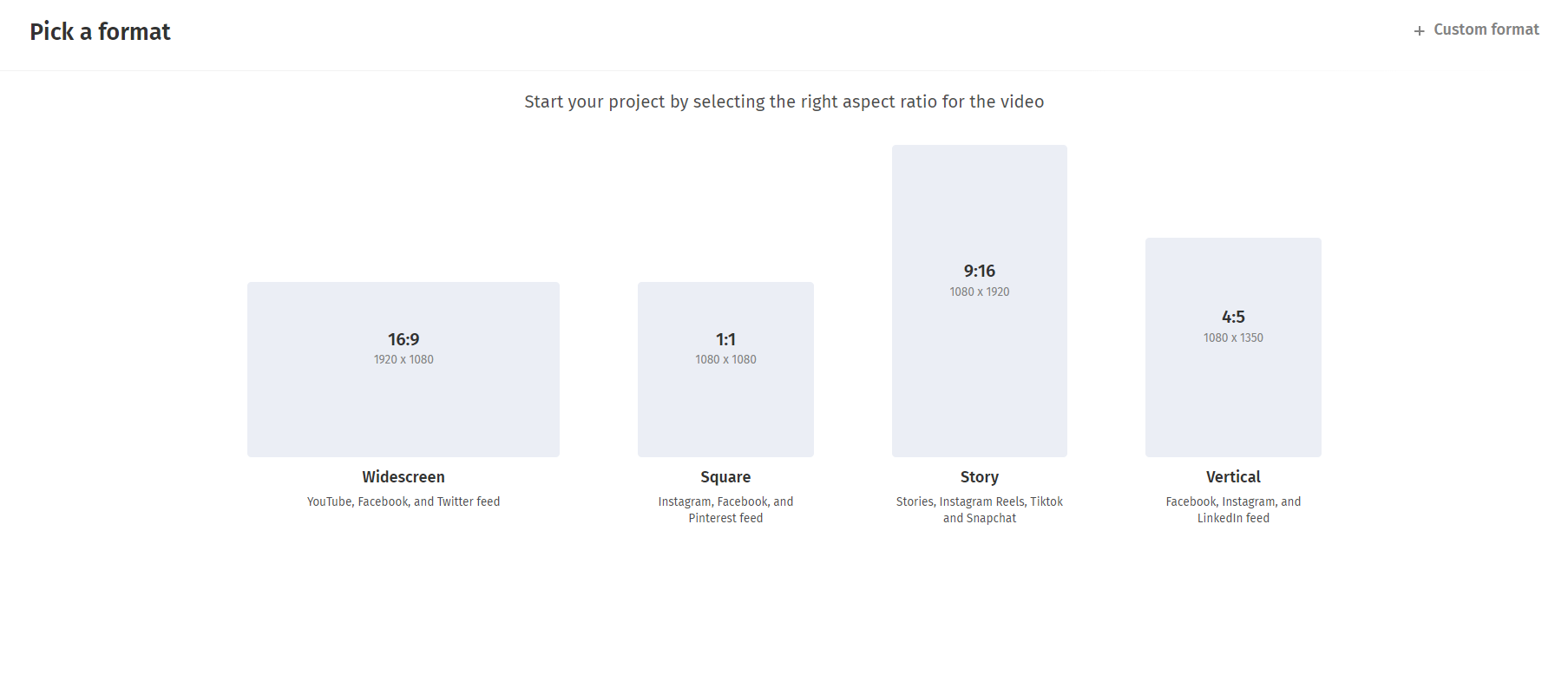 Once you've decided which format to use, you can upload your video. You can add files from your local storage by browsing or by dragging and dropping the file. Adding new material to an already-in-progress edit is possible.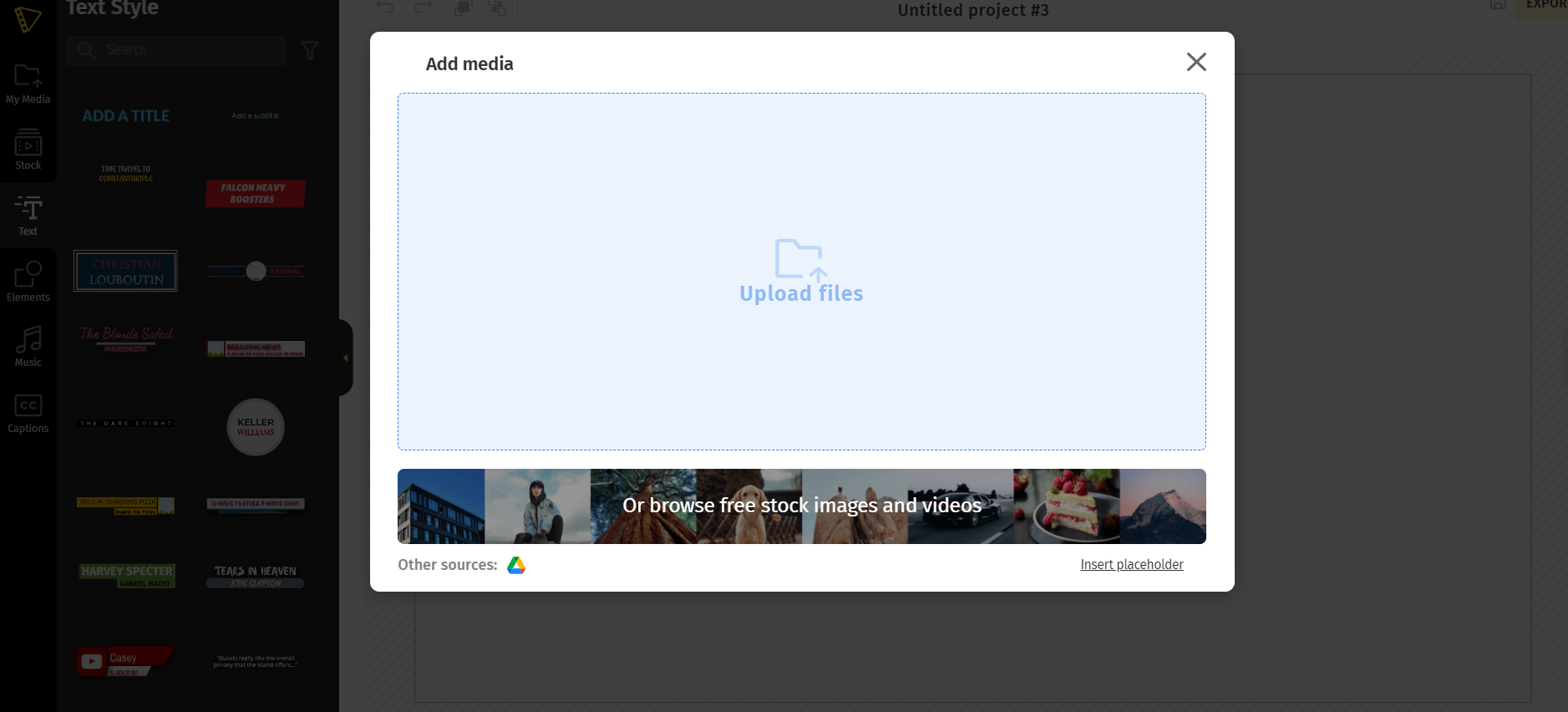 Step 2: Choose the caption mode
Next, click the caption tab. Move to the left side of your body and caption (last tab with the CC picture). Choose the caption mode that best suits your needs.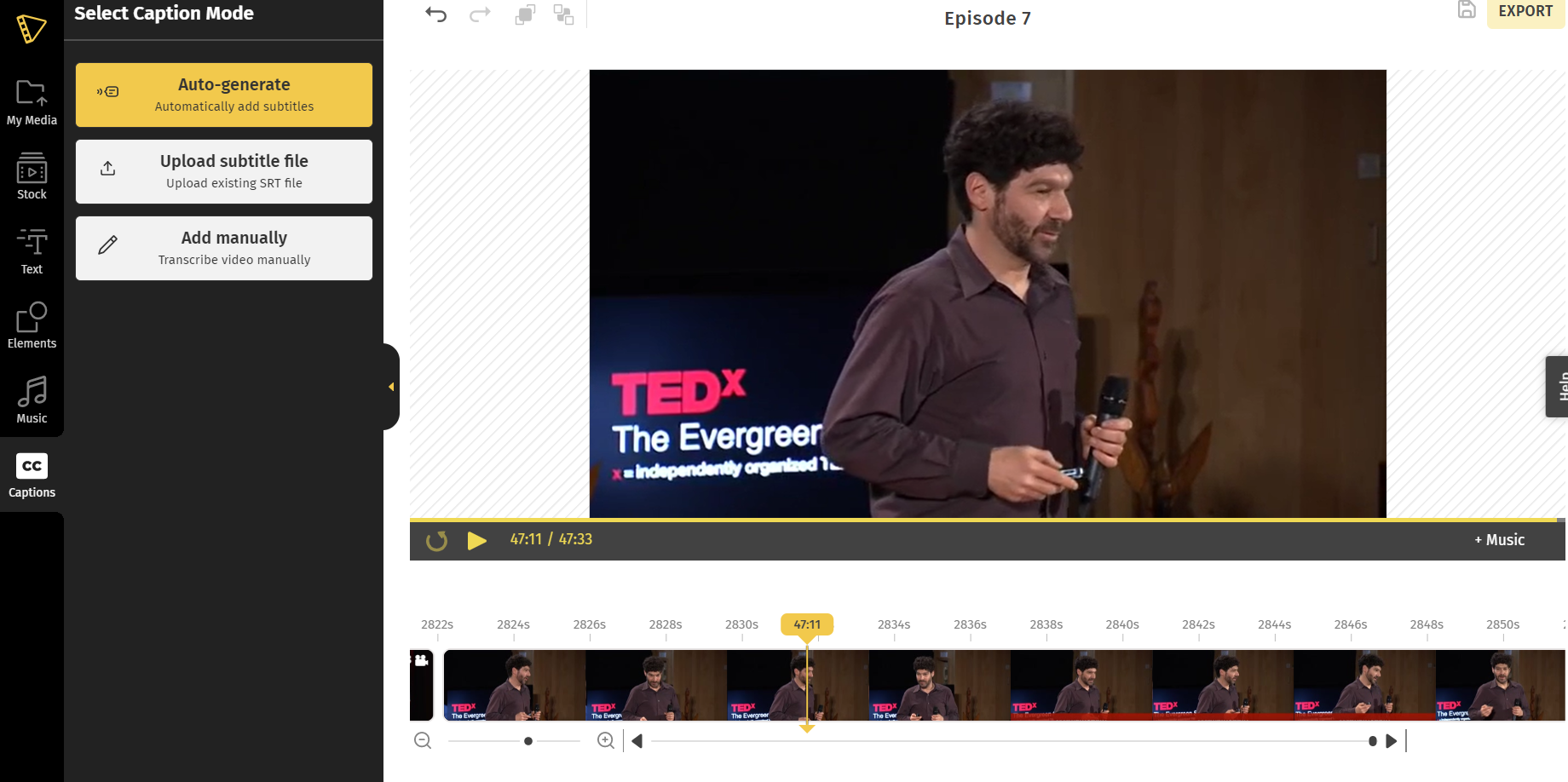 Auto generate captions
If you want to automatically create captions, this is the easiest method to do so. With this strategy, you may cut down on both time and effort needed by a good amount. It's the quickest method to obtain professionally done captions in a matter of minutes.
When you choose this option, you will be taken to a section where you can choose your language. You can choose from more than 100 languages on Typito. First, pick the language of your video. Next, choose the language you want the subtitles to be written in. To move on, click "next."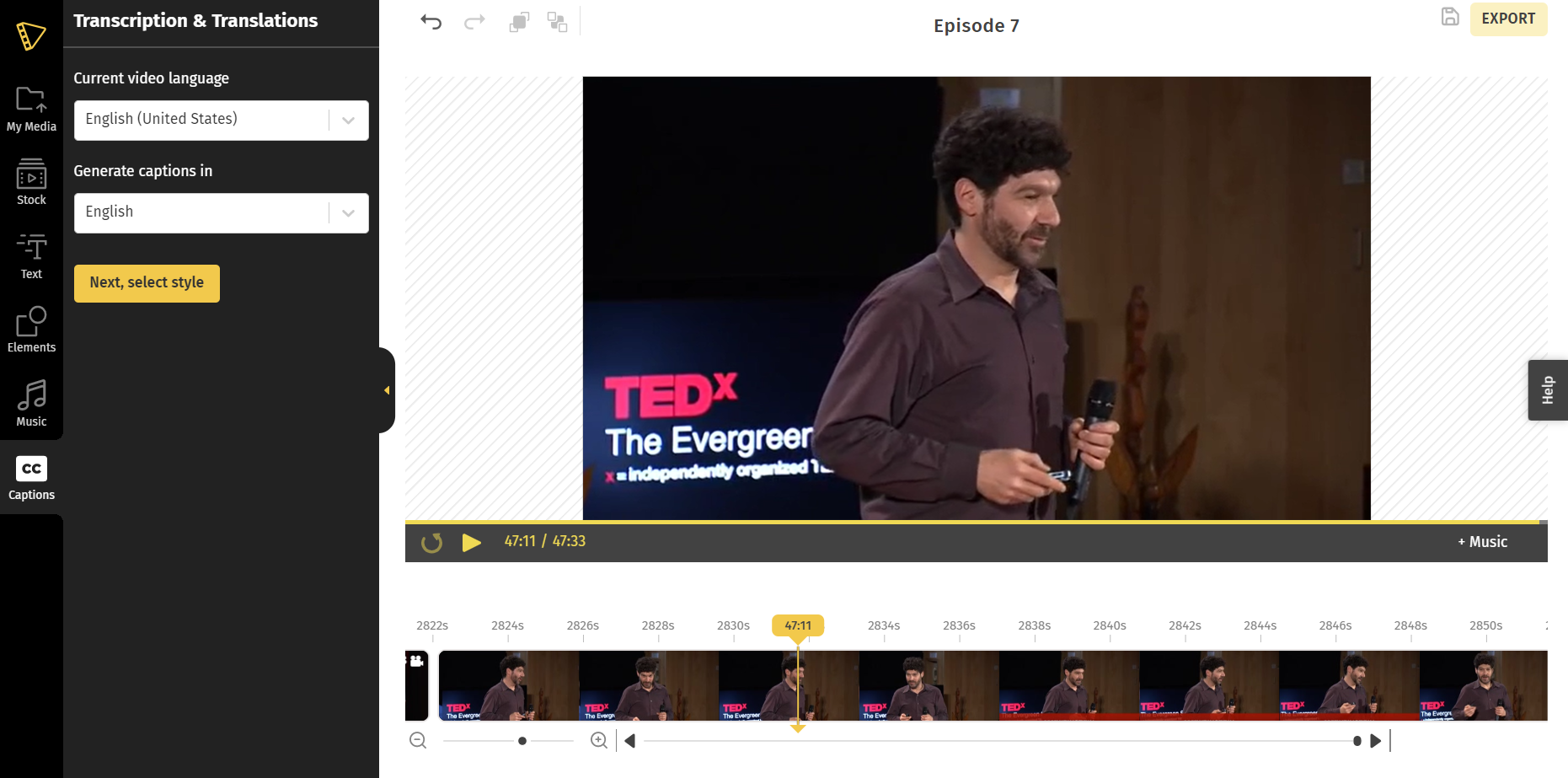 You will be directed to a tab to choose the theme. To avoid distracting from your video's aesthetic, check that the chosen theme's colors and typeface go well with those already present. Your video's captions will be most effective if they are positioned near the video's bottom, but you may move the text around if necessary.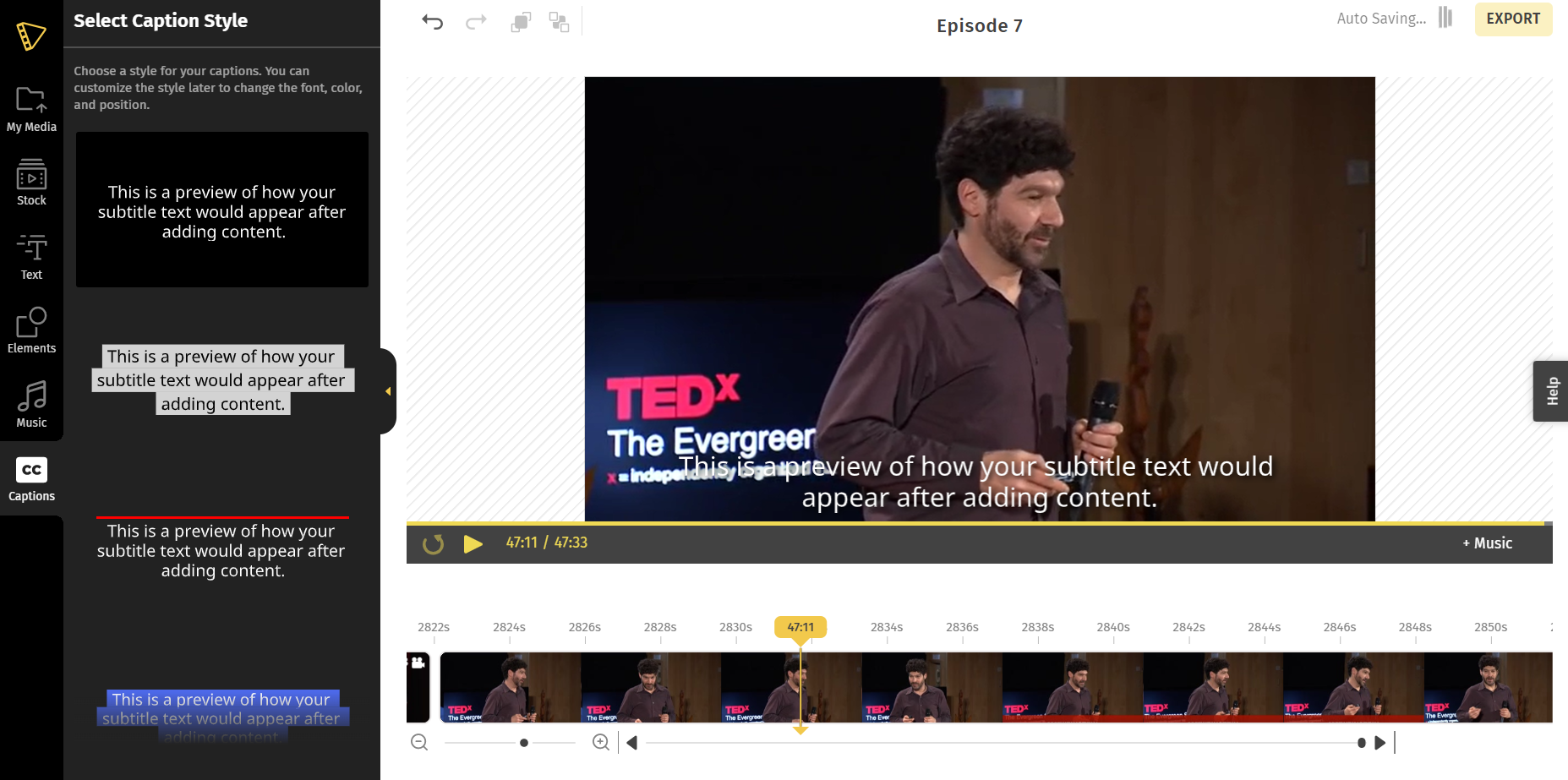 Upload SRT file & sync captions
This is the best option for you if you already have a plain-text file with the subtitle translations for your video and all you need to do is synchronize it with your video.
Click on "upload subtitle file." Choose the language you want your video to generate captions in and the language of your current video. Pick a theme for your captions.
The next step is to upload the .srt file from your computer, or you can simply drag and drop it. Click "next".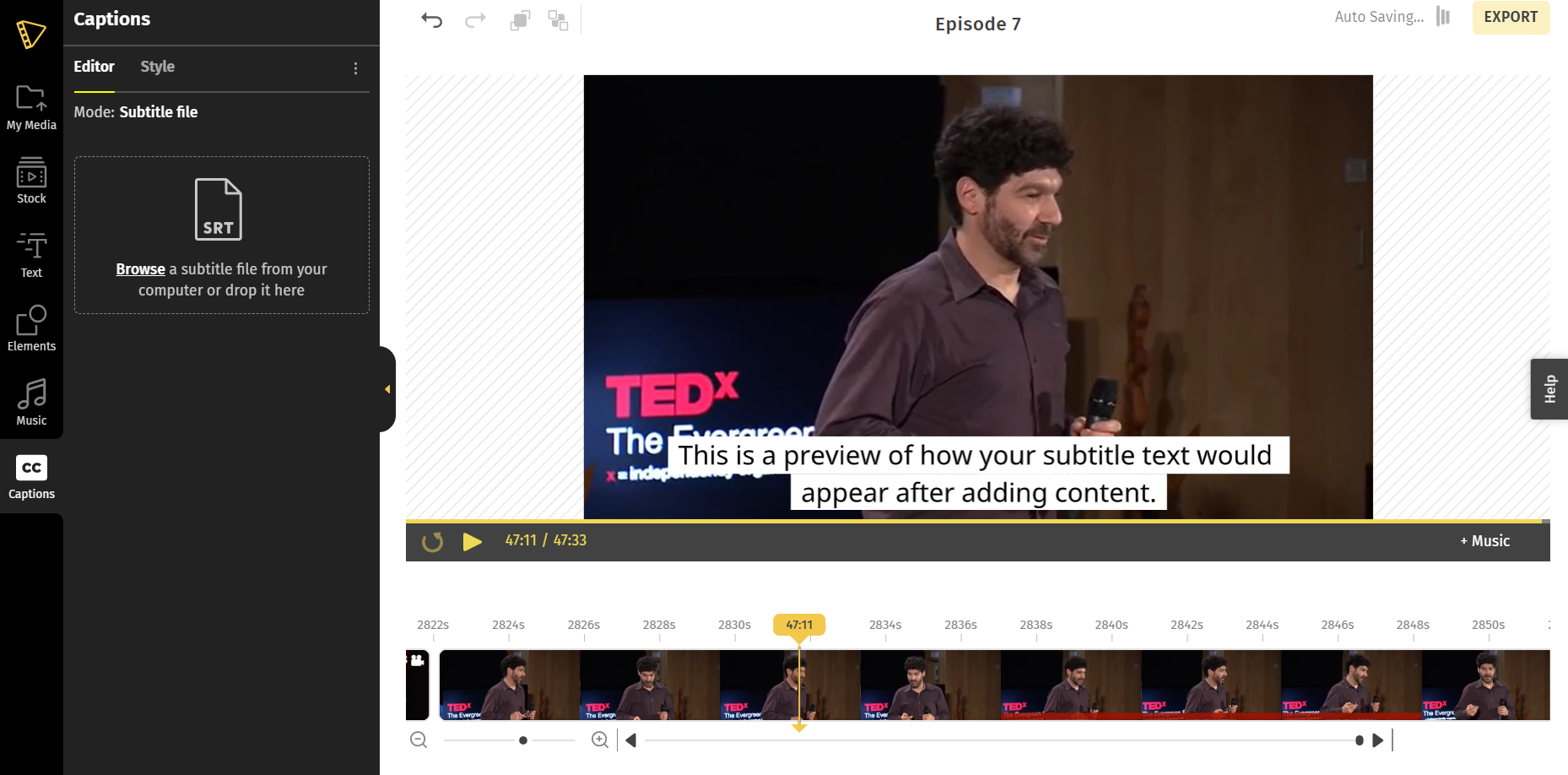 Your SRT file will be automatically synced with your video.
Manually add captions
This method works best for short videos, where you can just manually type out the captions you want.
Once you choose this option, you will be directed to a tab where you can choose the language and then the theme of your caption.
Next, click "add caption" at the end. Start playing your video, pause it for a few seconds, and then input the phrase that was said.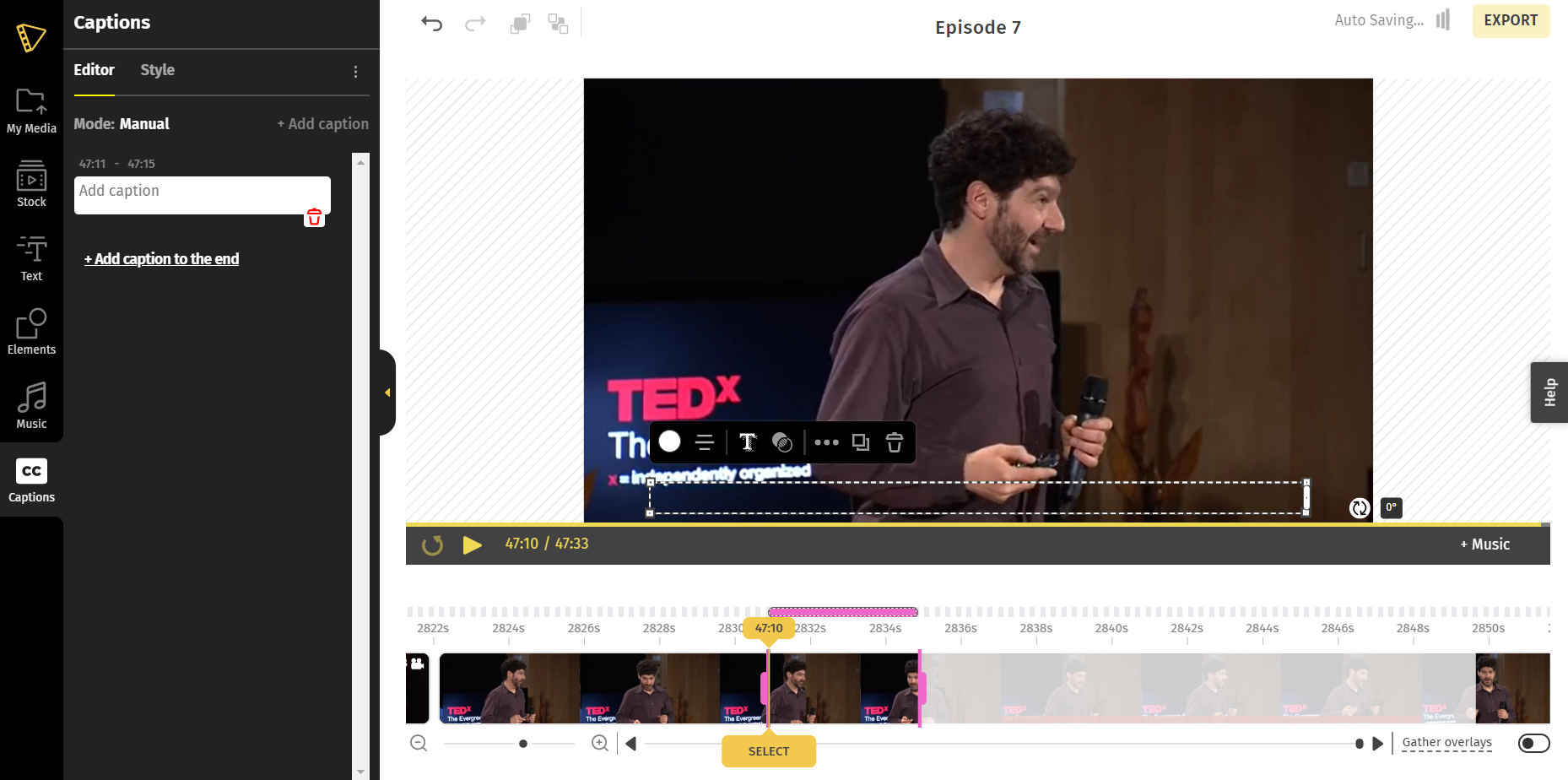 You can also adjust the duration of the captions on the timeline itself by moving the handle bars.
Step 3. Stylize your captions
When you press "Next," you'll see that your subtitles are ready. It's visible in both the clip and the left panel. If you want to be sure your video is flawless, watch it again and rectify any errors you see. You may make adjustments to the video or the left panel.
Select "style" from the left panel. Typito gives you full control over the visual appearance of your captions, allowing you to choose everything from the font and style to the size and color scheme, and even the amount of white space between the words.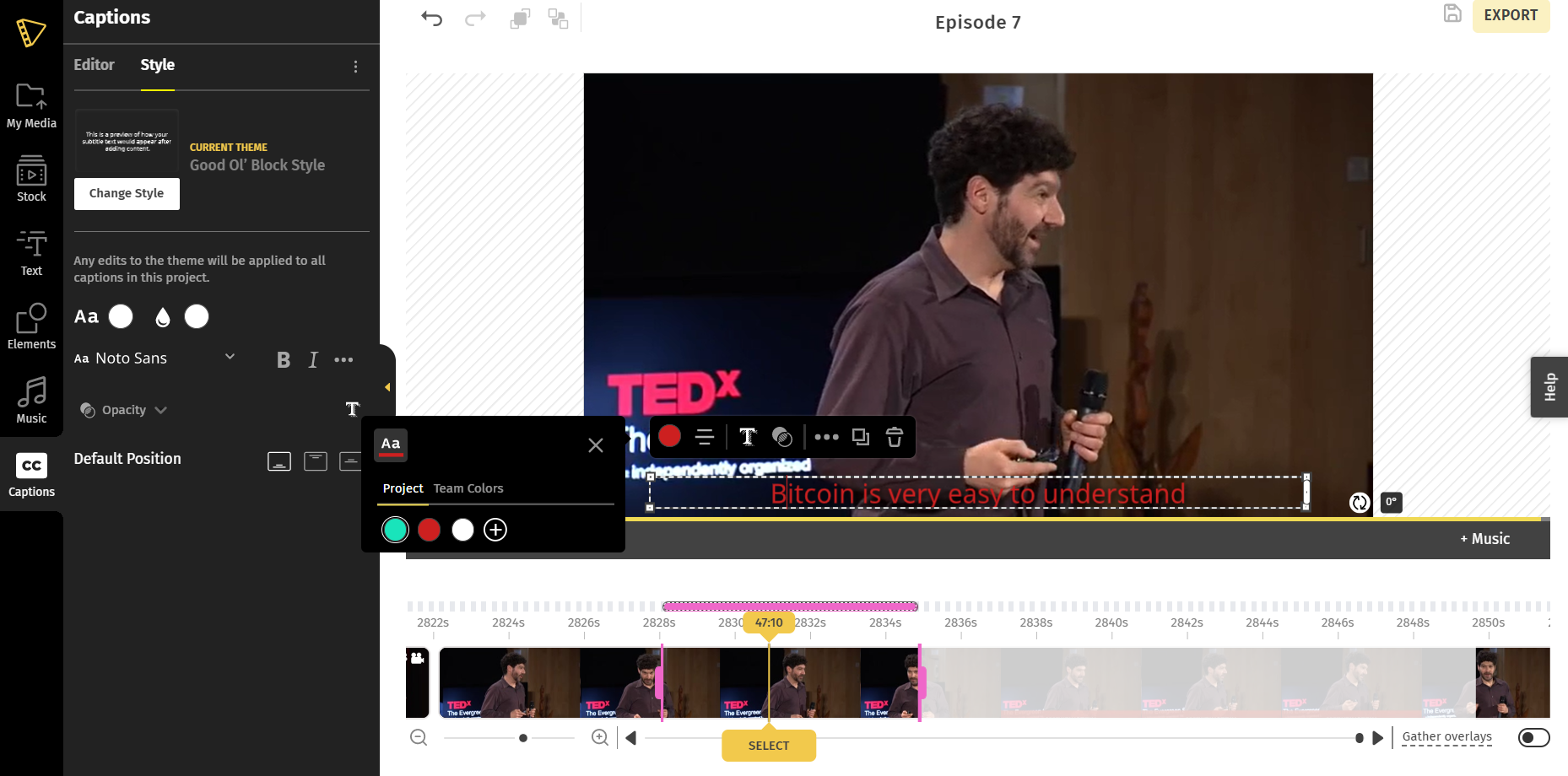 When you want to adjust the font size, click the ellipses (...) that show after bold and italics.
Ensure that your captions are tailored to fit the video, are clearly readable, and do not distract from the main focus of the video itself.
Step 4: Export and Download
Make sure there are no spelling or grammatical errors in your captions once you've added and edited them. Take a look at the preview of your video to make sure everything is where it should be.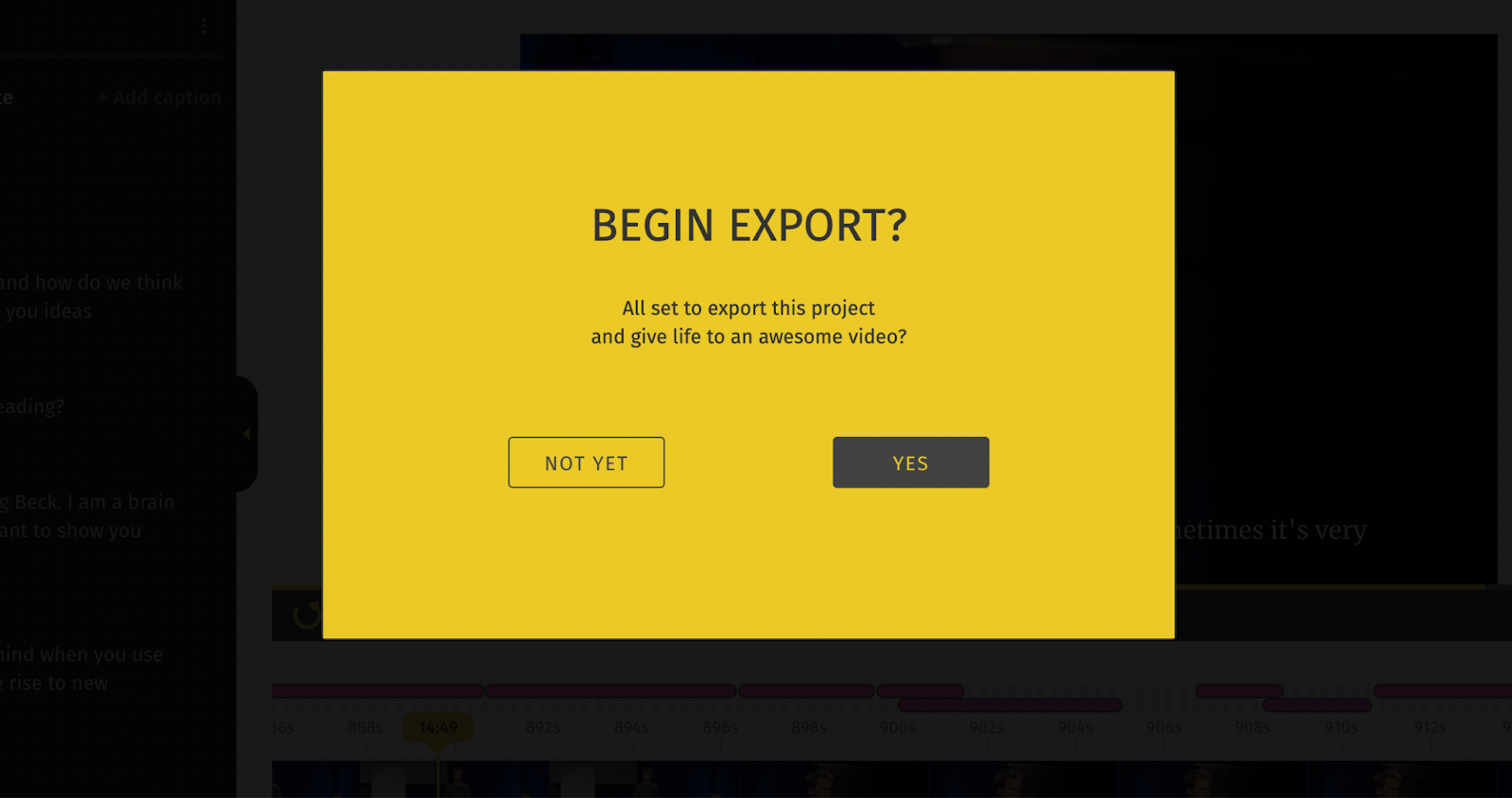 The next step is to click on export, then yes. Once your video is exported, you can either download the video with the captions embedded in it in an mp4 format or click on "download subtitle" to get the srt.file format of your captions.
---
Let's Wrap Up
A video contains both audio and video cues to build a wholesome watching experience.Having captions that transcribe what is being said and any important sounds can relay make your videos more accessible to people who may not be able to easily watch or hear your video.
When you know what video captions are and how useful they can be for your marketing strategy, you can start making the most of the time and energy you spend creating videos.
With Typito, you won't have to switch between a video editor and an alternative video captioning software. All of your video captioning needs, from production to editing to translations, may be met with one convenient service.
Typito streamlines the process of adding closed captions and subtitles to videos.
💡
Typito isn't limited to only adding captions to videos. Add some flare to your video with some of the special effects out there.

Join the over 200,000 users who are already using this platform to produce professionally designed videos with automated captions, motion graphic text animations, video templates, and music, and upload videos in formats that are optimized for social media.