How to Easily Make Training Videos Like a Pro
These days, it is impossible to walk through a social media platform and not cross bite-sized instructional or training videos. Some of the most common examples of such the food channel BuzzFeed tasty. With 40 million Instagram followers, BuzzFeed tasty stands as a glorious testament to the power of a training video. Next time you think about making a training video, maybe scrolling over your Instagram feed might help.
However, the beauty of training videos lies in their diversity to be used for any purpose! From corporate training to YouTube channel on fixing your leaky pipe, training videos belong to everyone. Training a new hire properly is crucial for the development of your firm. After all, your employees are the ones who get you business and help develop your company. Training is of course, multifaced. For example, corporates, as part of their learning management system (LMS) utilize employee development and training software to track their growth. However, videos materials are undoubtedly part of any training system as it helps with information retention.
As per Wyzowl, 86% of consumers prefer watching video content from brands, out of which, around 36% of them would prefer these videos to be instructive or educational.
As per Vyond, employees mostly prefer self-led online training [like video tutorials], followed by instructor-led conventional training modules.
In this guide, we will explain how you can make a training video and leverage its power to boost your business, your employee morale, or only your presence as an expert in the field. However, boosting employee morale and a sense of teamwork and togetherness can really have an immediate positive effect on business production and quality of work! So whether it is with team-building exercises such as a vitual holiday escape room, or perhaps even just a social time between employees, organizing online social events, will be an excellent step to take. And either way, this alone will boost your positive presence and the respect your employees will have for you!
What is a Training Video?
---
A training video is an instructional video that charts out a step by step process for its viewers to execute a particular activity or understand a specific product and its usage.
Reading manuals is a passé. People want information from service to products, and they want it in the most simplified and easily understandable manner. Training videos are here to help you help your customers or your employees/colleagues.
A training video is preferred mainly over textual instruction by consumers because:
It is more dynamic and visual.
More explanatory and capable of addressing doubts.
More interactive and apt for large-scale training.
It takes half the time and effort to understand.
Popular Types of Training Videos to Explore
---
Before you start on your quest for training videos, it is essential to understand the type of videos in the market and select the most relevant training video for your business objective.
Here's a list of 6 popular types of training videos.
1. Educational Training Videos The most common kind of training videos out there, educational training videos are created while keeping the students and their understanding in mind. Most of these videos are used for virtual classrooms, which we saw become incredibly relevant during the recent pandemic. This video by KPMG offers an engaging lesson in animation training and motion design.
2. Corporate Training Videos Corporate Training Videos are yet another common type of training video usually reserved for internal training in organizations to help employees understand the business, interact with customers, and stay abreast of company policies. These videos are visual briefing material that tends to be more interesting than document handouts. Tesco made waves with its corporate training video on building customer engagement and continues to be an inspiration.
3. How-to-Guides The how-to-guides are gaining widespread popularity for their easy-to-understand content and a visual step-by-step process to understand a particular service, product, or hobby simpler and more interactive. For example, watching a How to Bake a Cake video is more appealing than reading a 2-page recipe post on How to Bake a Cake. The aforementioned BuzzFeed Tasty is a great example of cookery-based how-to-guide videos. This idea can be used for any other food court or ghost kitchen/cloud kitchen.
4. Workout and Fitness Training Videos The recent pandemic and a couple of years before that witnessed a surge in-home fitness videos' popularity. California-based Blogilates is a popular workout video channel that relies on the YouTube model for traction and engagement. Workout and fitness training videos are great for follow-along workouts that make it easy for trainers to conduct training sessions with time or location barriers.
5. Safety Training Videos Under the category of health and safety, these training videos are essential instructional video guides that can potentially be life-saving. For example, a video like using a fire extinguisher or giving CPR can probably save lives and property. Lifesaver is a brilliant example of such video.
6. Screencast Training Videos These are usually screen recordings of mobile or video screens demonstrating the ongoing activity. Software companies can use this to explain their products or by gamers who often display their gaming skills this way on YouTube. The screencast lesson on MS Excel 2016 is one such example.
How to Make an Impactful Training Video?
---
Though video editing is considered a specialized niche, it does not mean that you can never try your hand at it. Even if you lack experience creating a training video, you can still pick up the pace and make an impactful training video.
Here are 5 key steps to create a Training Video for your business:
1. Do Your Research and Choose a Topic
Relevance is key. Nothing turns an audience away more than vague and irrelevant videos that do not address their doubts and queries. Therefore, it is essential to undertake a thorough consumer analysis, track their behavior, and determine what ticks them to capture their attention. You can take surveys, map their behavior online, and have one-on-one interviews, to name a few.
Based on your analysis, you get to choose the topic for your video. A clean and easy-to-understand topic is your best bet to attract more viewers.
2. Choose a Type of Training Video
Now that you have decided on the topic, now it's time to attend to the format. Videos are available in plenty of formats, and each format plays a different role for different audiences.
For instance, a micro-video is not ideal for corporate training, and a simple instructional hobby video does not require the reinforcement of a documentary. Moreover, each video has a different strategy and approach that determines the level and effort required to complete it.
Screencast
It involves recording the computer screen while going over step-by-step tutorials to help viewers get first-hand insight into processes. A popular example of this is gamers using it when going live on YouTube or giving troubleshoot tips to help viewers.
Animation
Often used as explainer videos, animated videos leverage videos and texts' dynamism to convey the message. They can be a branding video or a short tutorial to help consumers get involved with the company.
Presenter Video
This is usually a live presentation, where the presenter offers guidance and training for a specific topic. These videos can either be live or recorded before editing and converted to a fully-fledged learning video. DIY videos are some of the common examples of presenter videos.
Interactive Video
Interactive video is the latest flavor format. In such videos, viewers can interact with the video by selecting links or responding to specific questions, and it takes its course based on their responses. It is a great way to pump up those engagement rates.
Give it some thought to understand which video type will help you cover the topic best.
3. Scripting & Recording your Training Video
A script and a storyboard are essential for a successful video. Consider these two elements as the blueprint of your training video, where you put down your ideas on paper and connect the dots to formulate the final product.
Start with a script. To make things easy, write it down in a conversational format, like talking to a friend. Once your conversation is on paper, you can proofread and edit the entire document to make it more crisp and understandable.
Next, we move on to the storyboard - which is a visual representation of how the story will be. Many producers prefer to go old school with a pen and paper, but there is a great many software that can help you achieve a frame that will help you determine the video length before starting with the process.
Recording and editing your training video is next in line. Once you are prepped with your script and storyline, time to record your video, you can either use your smartphone, a digital camera or use your computer in case of a screencast video.
4. Creating and Editing Your Training Video
Once you have your footage, it's time to put in the final pieces of your training video.
How To Make a Training Video in 4 Easy Steps
---
Step 1: Choose Your Format
Training videos are no more limited to business and personal sites. Still, they have a vast audience waiting for them on social media platforms like Instagram, video sharing platforms like YouTube, and much more.
Choose from 20+ formats; if your video is going to primarily viewed on a desktop using a 16:9 widescreen format, however, if your training is going be channeled through a mobile device a 9:16 vertical format will be more appropriate.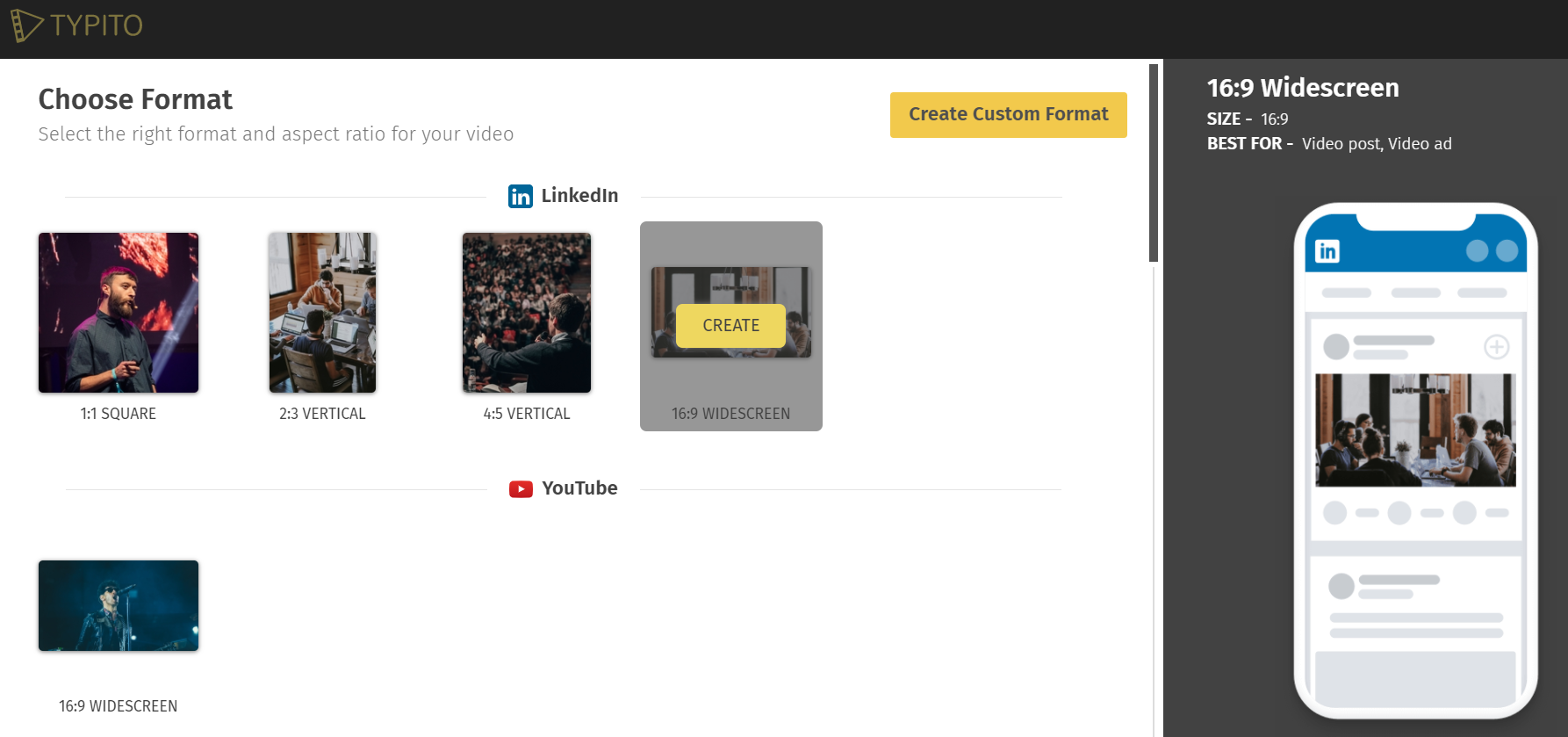 Step 2: Select or Upload the Images/Videos Files
This option allows you to add the most important element to your video, the footage. You can upload your custom footage or select from the stock library, Simply type the keywords in the search bar and you will receive a plethora of images to choose from.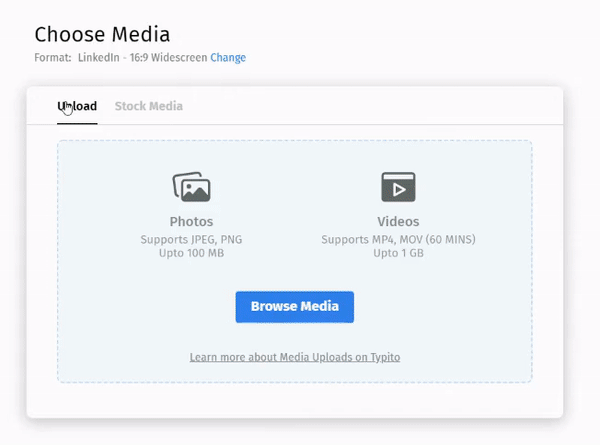 Step 3: Bring it all Together for Your Training Video
Your custom footage will now appear on the timeline and you can use it to polish your training video. If your training is a presenter model, it will be a good idea to have the audio in that can be uploaded and synced with the video. But more about that in the coming paragraphs.
1. Add the Intro Title: This is what tells your audience what this video is all about. You can portray the title using the intro text. Such texts are ideally clear and crispy to deliver the message. To add the intro title, go to the left pane, click on the Tex tab and go for the title to add an intro.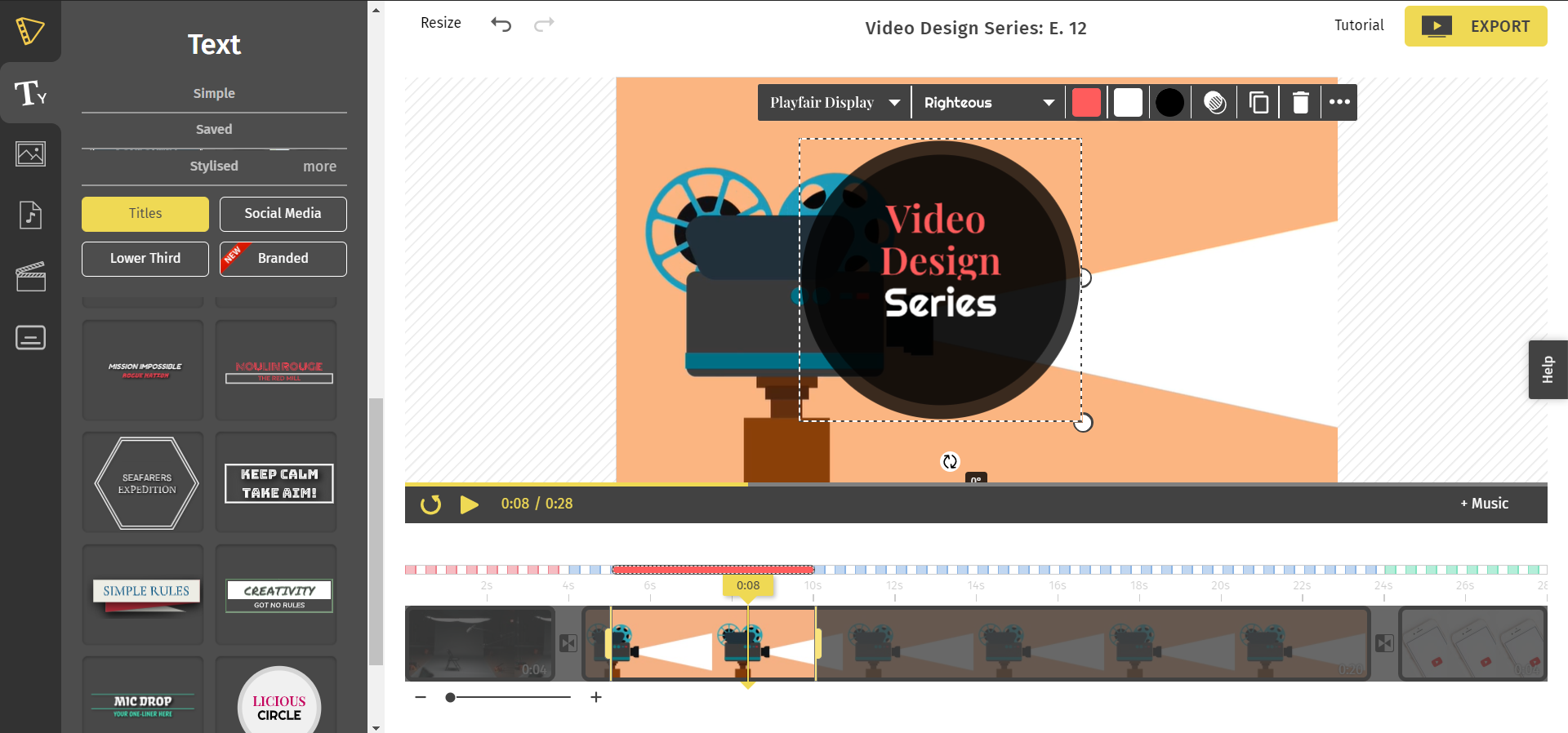 Text Captions: Moving on, you can also add the text captions to explain your video in an elaborate and engaging manner. You can again go to the left panel and select the lower third text. Add your annotations and you have a comprehensive video.
Outro Label: This is your video's CTA. You can give in your number or email id and ask the viewers to get in touch for further assistance.
Captions and Subtitles: In order to make it easier for your viewers to follow the trail of the video's message, it is a good idea to add captions and subtitles. Again, from the left panel and now instead of going for the TEXT option, go below, and select the last option of captions.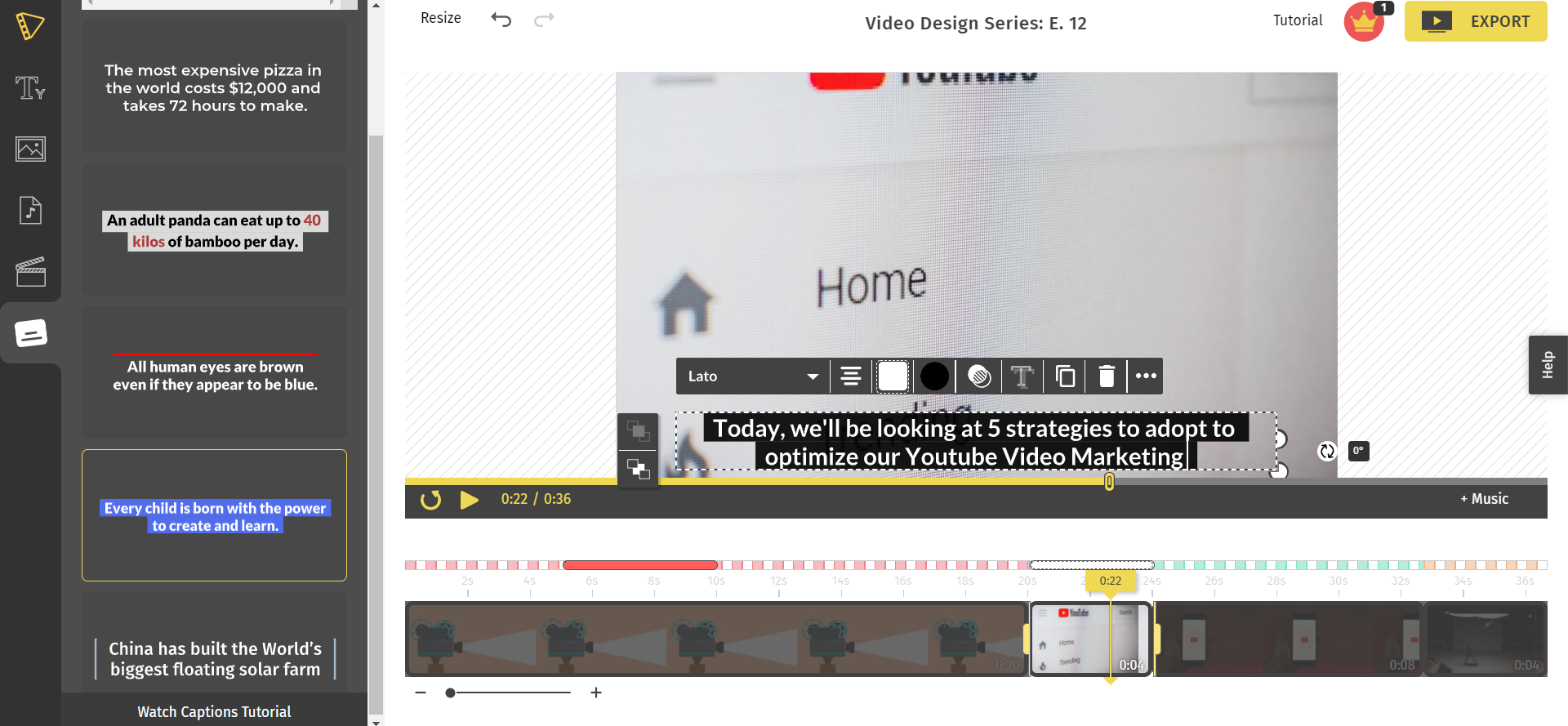 Step 4: Export your Training Video
Once you are satisfied with the complete video, give your video a quick preview and then simply click on Export and download your Video. Your training video is ready to be shared.
Tips for How to Training Video More Engaging?
---
Here's our handy checklist to ensure your training videos stay engaging.
Keep Your Videos Short
Keep Your Background Professional and Clean
Add Annotations
Know Your Audience
What are the Benefits of a Training Video?
---
If you still think that training videos are tedious and a tad bit expensive on your wallet, you can take a look at the following benefits you get to avail by incorporating training videos into your marketing or community-building efforts.
Helps Retain Information Better
Many ed-tech companies would agree that video-based teaching has a more significant impact than conventional learning. For instance, when merely dictating an eye's parts versus showing a comprehensive diagram of an eye in training videos, the latter is more likely to help students remember the eye's anatomy with colors and interactive learning. This allows users to be responsive to the videos and thus, helps improve the engagement rate. Such observation is not limited to ed-tech, but how-to-videos, corporate training videos, and many others.
Helps engage viewers attention
When given a choice, people would prefer watching videos to reading paragraphs about a particular topic. This is especially true for those who say 'the movie was much better than the book.' Videos attract more attention and guarantee more engagement, as well as retention. Even research by Forrester backs the claim.
Videos are Flexible as well as Accessible
This works especially for an organization with more than 100 employees or a large target audience. A seamless net connection is enough to reach out to thousands of viewers via training videos.
This negates the chance of distributing learning materials that might even find their way to the trash can. With training videos, you can ensure that your message reaches your employees or your target audience quickly.
Training Videos for 2021: Interactive Training Videos
---
Interactive videos are gaining widespread popularity for their engagement boosting abilities. Great for training and educational videos, the interactive element allows your viewers to be proactive and attentive during the video.
What is an Interactive Video?
As the name suggests, an interactive video is a select category that allows users to interact with the video content via various tools. Viewers can click on the right options, hover over them, and a lot more to give their answers.
The interactive mode allows them to choose between options, ask questions, search for answers, basically use their mind more than just their eyes while viewing your video.
For instance, Deloitte New Zealand's interactive video focused on recruitment and company culture made waves in the corporate world. In this video, applicants engaged with the presentation in the form of questions and answers that checked their EQ and observational skills and their adaptability in line with the Deloitte culture.
Another interesting example is a health and safety interactive video by Lifesaver. The video walks the viewer through a health emergency and educates them on the principle of CPR and the Heimlich Maneuver. The viewer is the potential lifesaver and is put in life-or-death situations all through the video.
What are the Benefits of an Interactive Video?
Interactive videos allow users to decide what to do next. They get to choose the course of action in the video and have different scenarios played out that ropes in the viewers even further.
Here are a few advantages of going for an interactive video:
Interactive Videos are Highly Engaging
Interactive videos are immersive and enable viewers to understand the content at their own pace. Since the learning curve differs from person to person, interactive videos' paced activity allows each viewer to take their time to understand the concept. This is especially helpful in training and educational videos where viewers can interact and engage with the video, making it the most preferred training video on that subject.
Cross-Device Presence
Albeit a few hiccups, interactive videos work well across several devices, including any PC, phone, or tablet. The omnipresence makes the production process more comfortable since you can pick up your project irrespective of your device or location.
Flexible learning and Accessibility
Video medium itself is a flexible medium and interactive tool giving its users options to choose how they want to pace learning. Since interactive videos are guided by user-driven decisions and control, they have a personal touch, which adds a layer to the viewer's learning experience.
Most interactive video platforms are cloud-based, negating the hassle of locations or saved work.
Can I Implement an Interactive Video in My Business?
Absolutely! While industries like education, tech, and DIY are more likely to fit the training video module like a glove, it works well for other sectors. If you want to talk about your product/service, a training video, irrespective of the industry, is the way to grab your audience's attention.
Conclusion
Making a training video just got easier!
Cloud-based video platforms like Typito make it easier to create detailed and engaging training videos, complete with text overlays and annotations that make your journey into (training) video production a breeze.
Next time you want to build an audience for your brand, try giving training videos a chance.