The Best Apps For Video Editing In 2021
If you are looking for the best apps for video editing, the chances are that you don't own a professional desktop and high-end software that you can use to edit your videos. Video marketing is gaining importance not only among the top-tier organizations but among the SMB communities as well. This makes it more important than ever for storytelling through video, production, and editing to be more cost-efficient and have a great reach among the masses.
Lying right in the sweet spot of this paradigm are the much-talked-about video editing apps. Before we dive into the list of the best video editing apps for you, let us dissect the important role videos will play in your business' growth.
If you think that getting a video made is an expensive task, think again!
With SMBs rooting for less expensive video-making options and companies offering easy-to-use and impactful video editing apps at low cost, the demand and supply equation seems to be fulfilling pretty well.
Here are the best apps for video editing - based on their specific functions and how they can help you make more interactive videos to engage your audience in the best manner!
Apps For Editing Videos With Text Overlay
---
You can tell your story by blending videos with text by adding beautiful text overlays to them. Today, almost all videos require text in one form or the other, most commonly, text captions. These text captions deliver your message more clearly and even help your audience get the message without sound.
Here are a few tools that can make your videos more textually active!
1. Adobe Premiere Rush
If you are short on time and find yourself without a hands-on-talent to help you create a video, Adobe Premiere Rush can help. One of the best apps for video editing in the market, Adobe Premiere Rush is a medley of Adobe's Premiere Pro, AfterEffects, and Auditionmeant meant to help those with limited design skills.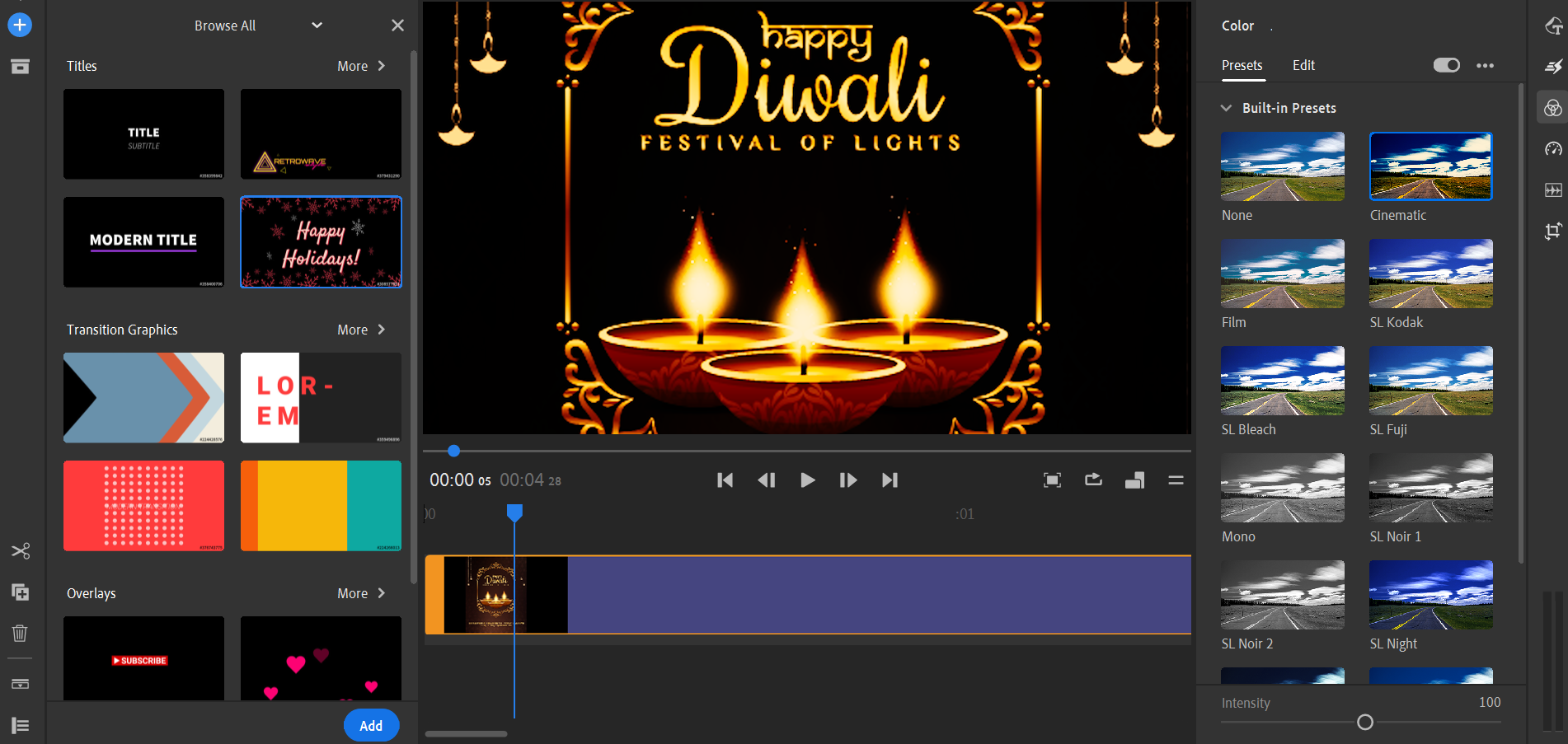 It is easy to learn, has cloud storage ability, and a feature-rich interface that offers great reinforcement to help you maneuver through the tricky parts of motion graphics and audio addition. While some creative people are often known to thrive in messy workspaces, Premiere Rush does not believe in letting things lie around. This can be exemplified with side panels that hide when not in use.
Adobe Premiere Rush offers the flexibility to add regular texts and text animation to videos without a long-drawn process. The software allows you to add text snippets to a variety of formats - something that comes in handy when you are making videos for different social media platforms with varying video dimensions.
You can either add the text to an existing template or customize your textual presence on a blank background.
In the case of an existing template, simply drag it from the panel to the main screen and change the default text, which you can customize based on your requirement. In case of a blank background, explore the Edit panel and make your personalized text by choosing the font, color, and style of your choice.
Speaking of audio features, Premiere Rush has a cool one-click audio mixing feature that automatically adjusts the volume of background music during voice-overs. This avoids the unpleasant metallic sound without the robotic effect and Its affinity to the cloud ensures that this audio effect remains uniform across all devices. synchronizes your project across all the devices.
All hail cloud storage!
Once your video is complete, you can easily export it to your favorite social media platform.
Pros:
Social Media Friendly: Exporting your videos to social media platforms including Snapchat, Facebook, Instagram, Vimeo, and Twitter is now easy with Adobe Premiere Rush,.
Scalable Pan and Zoom Enhancements: Change the effects on still images as well as their positions with ease.
Auto-Fill to Frame: Premiere Rush makes it easy to fit the aspect ratio and does so automatically without any need to match the ratio of the imported media. This feature works more on default, and you don't have to calibrate its aspect ratio.
Cons:
Few Video Effects: Adobe Premiere Rush has fewer effects and limited options for transitions.
Premiere Rush is Compatible With:
Typito
When you are creating explanatory videos or professional-grade videos for your business, you need text to educate your customers about your service/product. It is important that these text captions align perfectly with your video's visual elements and can be implemented without hassle.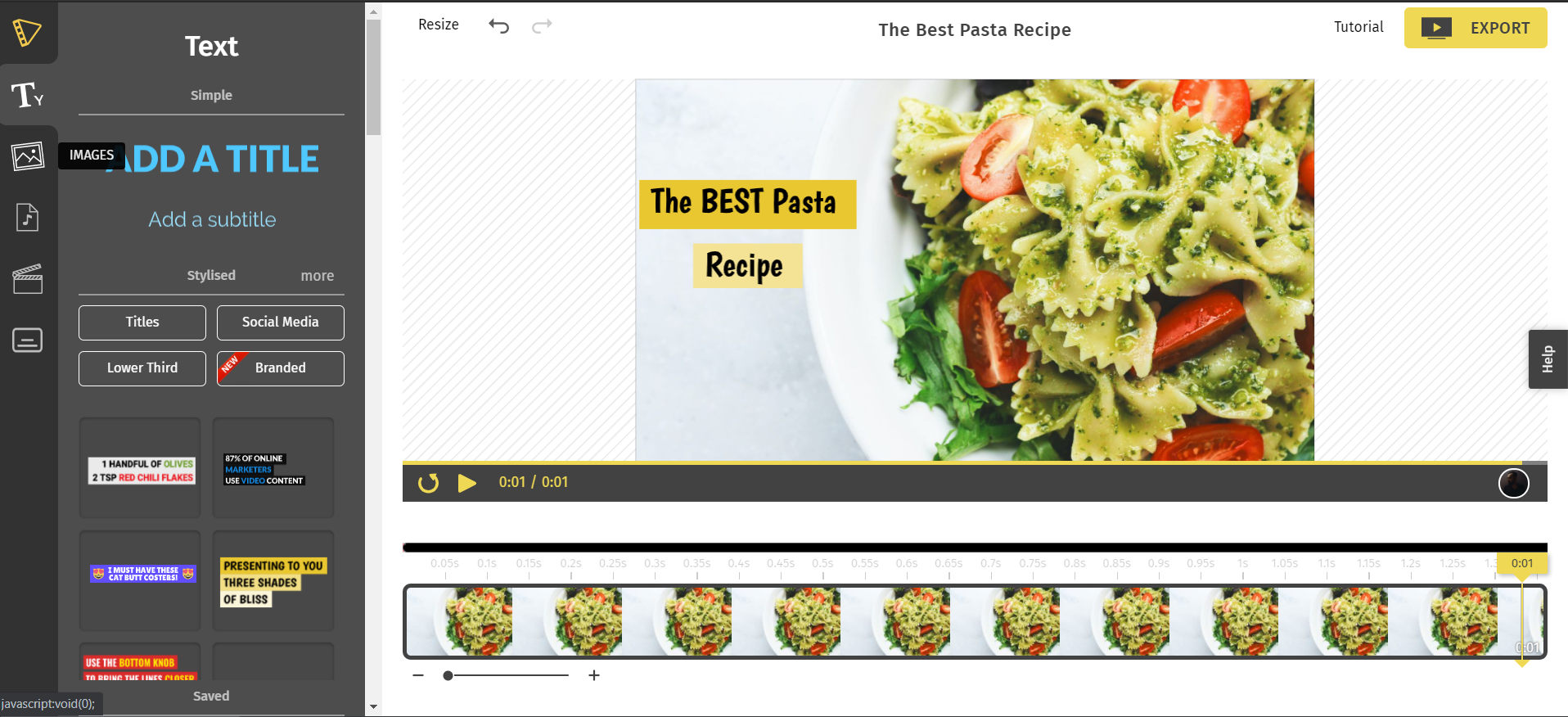 Typito is the answer to your text query. With an easy-to-use drag-and-drop interface, Typito makes creating a marketing video with the supporting texts a cakewalk.
How is Typito making Text-based video editing easier?
The answer is Instant Captions. Adding captions to videos may seem like an easy thing to do, but it is a labor-intensive task without the proper tool. Typito simplifies the task with its Instant Captions tool, where users can automatically add subtitles that are in sync with the video with zero-hassles.
Pros:
500+ Free Video Text Templates: Create stunning text animations with more than 500 templates without any prior experience.
Brand Kit: You can create brand-compliant videos by importing your own fonts, brand colors, and brand assets like logos etc. to create your video.
Auto-Subtitle Videos: You can add subtitles automatically to your video with the voice-to-text auto-captions feature. In addition to automatically adding subtitles to your video, you can also customize the way your subtitles appear to match your video style or branding down to the color and font.
Cons:
Typito is an online platform and works purely on a seamless net connection.
Typito is Compatible With:
iMovie
iMovie from Apple Inc is making video editing easier on Mac or any iOS device. Simply put, this video editing tool makes Hollywood-style clips and supports 4K video format that leaves your viewers with a scintillating viewing experience.
You can easily add photos and videos, trim scenes with the tap of your finger, and incorporate effortless transitions to make your video appealing and thrilling to your audience.
To make your video more vibrant, its text features allow you to create custom titles, roll out the credits, or make your video more insightful with words. You can also add your logo in the background for trademark purposes.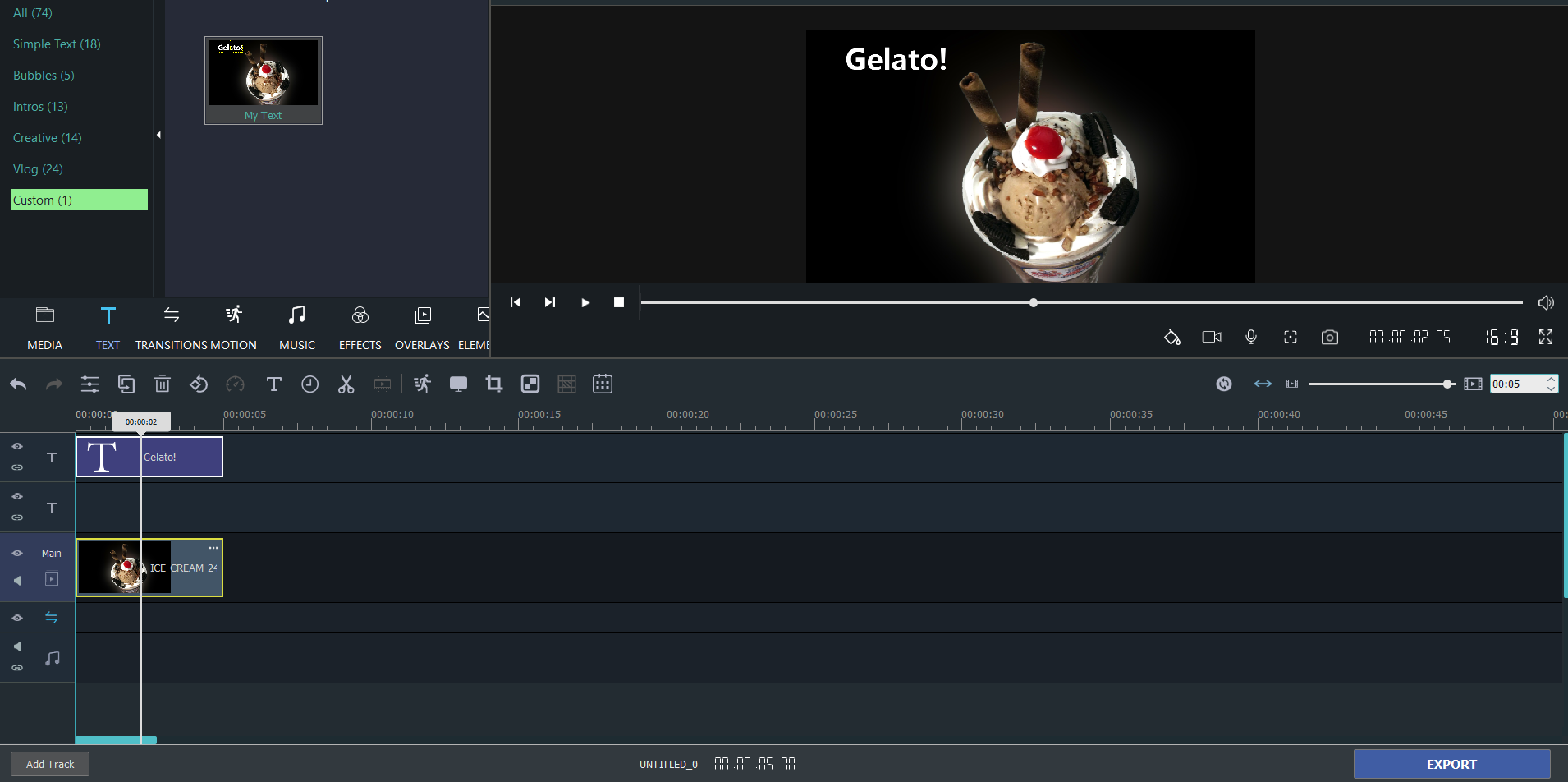 Its extra-special effects make your actions more believable, and the best part is, you can speed them up or slow them down, again with a simple cursor. Choose from 13 creative filters and customize your video as per your message delivery or desired effect. You can also add the split-screen for the extra suave effect.
Pros
The Green Screen Effect: iMovie has to offer Mac and iOS users the green-screen effect that allows you to make videos in exotic locations without leaving the comforts of your home.
Choose from the Templates: Does the inspiration to create evades you? Maybe the Hollywood-style templates can help you create your blockbuster trailer!
The Apple Omnipresence: iMovie on macOS and iOS are in sync, and you can simply pick up the project you left incomplete on your MacBook on your iOS device. No sweat!
Cons:
While working on an iOS device, the clip trim feature tends to be a bit imprecise. But working with your thumbs on a mobile phone can be a bit inaccurate in comparison to a mouse or a pointer.
iMovie is Compatible With:
Video Apps for Editing Animated Videos
---
Animated videos are a great way to instill some fun and engagement into your marketing and messaging plans. These animated videos can be a part of your campaigns or internal communications, bringing forth greater interest in what you have to say.
However, creating an animated video is easier said than done. While some companies may not have the bandwidth to hire a full-time motion graphic designer, it does not mean they have to miss out on the advantages of having an animated video for their business.
The following tools are known for creating animated videos seamlessly that would cost you less time and money.
Moovly
Moovly is an online cloud-based animation maker that does not require any installations or downloads. A seamless working web browser is all that you need to create your animated video.
Moovly has cleverly categorized its service offerings into business, education, and personal videos, along with the option to create custom videos, complete with templates that allow users to move on their animation journey.
Moovly is great for business owners who want to explain their brand/product/service, cut an advertisement for the business, or create educational/training videos for employees.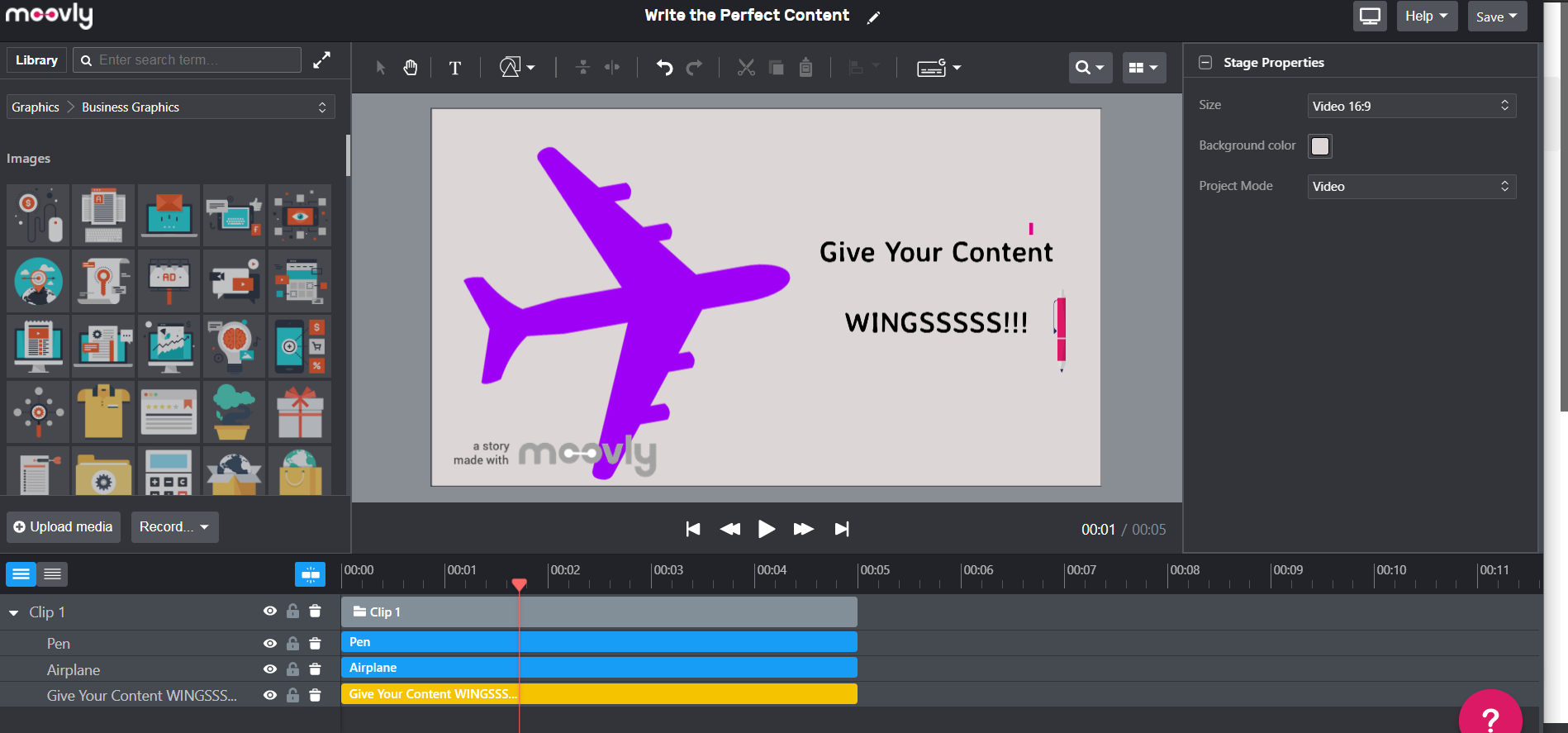 Pros:
Simple interface: With easy to use interface, Moovly does not torture you with long tutorials and complicated methods. The simple interface, precise menus, and other easy-to-access tools make it easy to understand your way around.
Assorted Templates: If you are stuck, Moovly offers an assorted collection of templates for businesses, teachers, and others to make video editing easier.
Large Elements Library: Moovly has a vast library of stock imagery, videos, and motion graphics that can enhance the video and make it more vibrant. These are good quality licensed elements and free to use!
Cons:
Small Selection of Video Templates: Though there are some pretty great templates for you to work on, there are not many of them - some are pretty short as well (not more than 17 seconds).
Your Editing Process May Lag a Bit: While the cloud-based Moovly does not weigh on your system it does slow down its functioning if the internet bandwidth is not up to the mark.
Animaker is Compatible With
macOS
Windows
Browsers like Chrome, Firefox or Safari
Animaker
A free animation software, Animaker is great for beginners. With its easy drag and drop feature and a smart interface for the match, Animaker is great for everything animation and more. In fact, it helps you with 2D, infographics, handcraft animation, whiteboard, 2.5D, and typography.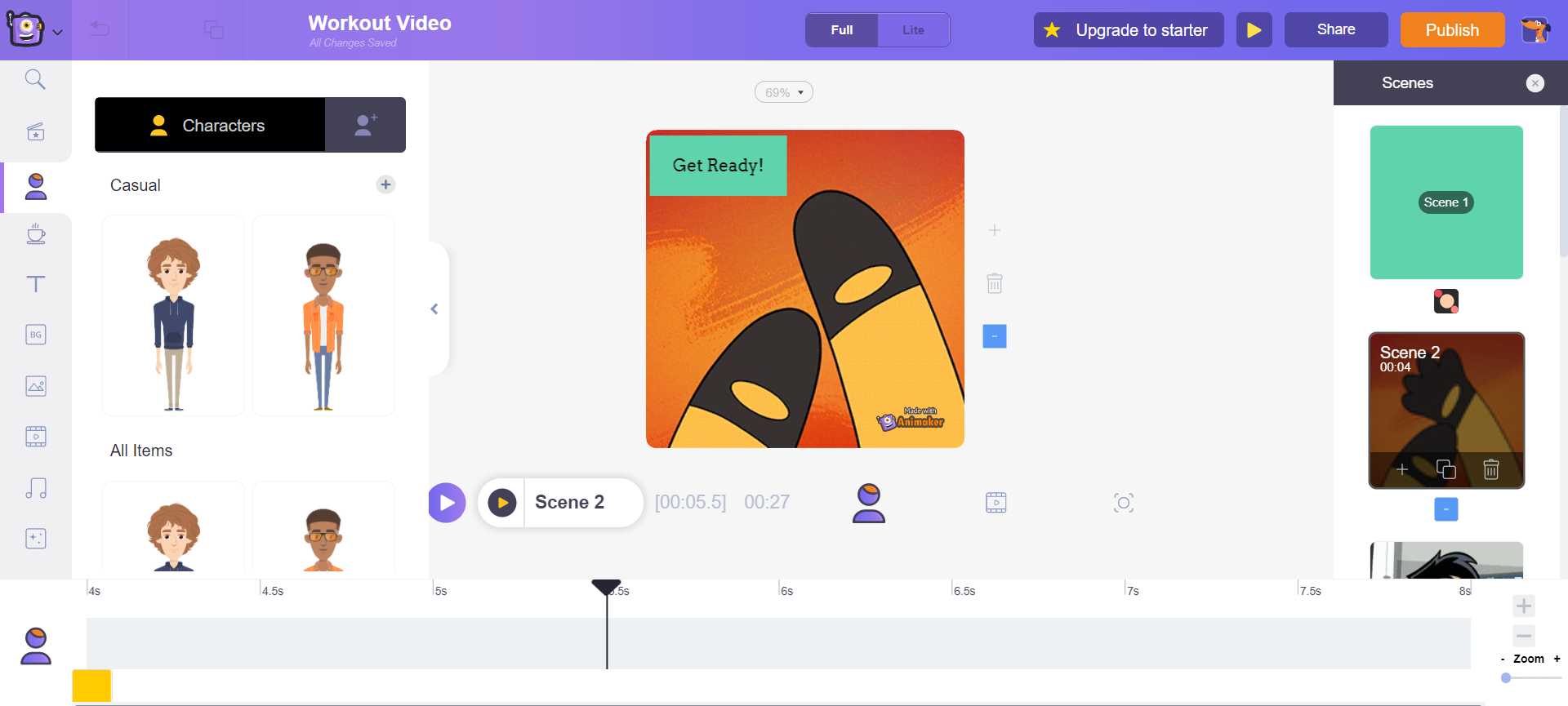 It is equipped with text-to-speech features and the additional option to add sound effects (from its library or customized) and voiceover. You can also add a background score of your choice from the library and enhance the video engagement.
Pros:
HD Support: It supports HD for both vertical and horizontal video layouts.
Extensive Library: From stock images to videos and sounds, the stock library at Animaker is equipped with a plethora of elements for your video.
Cons:
Paid Version is the Favourite: Many of the elements here are available on paid versions.
Animaker is Compatible With
FlipaClip
Bring your characters to life with the nifty FlipaClip! A video editing app dedicated to animating movies, series, or clips, it is a powerful tool that makes animating on a phone a lot easier.
With a powerful set of tools, FlipaClip allows you to design and redesign characters, as well as track your work with a comprehensive dashboard and easy stacks. The app arms you with intuitive, easy-to-learn controls that help you diversify your animating capabilities.
Storyboarding, sketching, learning, and animating gets easier with FlipaClip. In fact, the app also helps new animators draw precise pictures, learn frame-by-frame animation, and turn that lesson into creating rotoscope videos or quirky Gifs. Choosing among colors also gets easier with the lasso tool that allows you to select your content in focus and adjust hues with a paint bucket. You can also add custom audio to your animated clip.
With this video editing app, you can easily create fun and engaging videos for YouTube, Tik Tok, Instagram, and other popular social media platforms and share your amazing creation with the world!
Pros:
It's a one-stop destination for animation video editing with all essential drawing tools in one place.
Highly intuitive and responsive tools.
Allows frame-by-frame animation for a smooth clip transition.
Comprises dubbing FX-library.
Great tool for both experts and beginners.
Cons
Does not have the ability to support 4k export.
Has a limit of 10 layers.
FlipaClip is Compatible With
Apps for Editing Virtual Reality Videos
---
Virtual Reality is no more constricted to high-tech industries. In fact, sectors like real estate are leveraging the power of 360 virtual reality videos to help their visitors get a peek into their townships and campuses without leaving the comfort of their homes. This improves customer engagement and also attracts potential buyers. Perhaps this is why, Virtual Reality Videos, or more commonly known as VR videos, are making a splash in the real world.
These interactive videos are great for personal memories as well as for businesses as well. Here are some of the best editing apps for a VR video to help you in your 360° journey.
Adobe Premiere Pro
Yet another Adobe entry, its Premiere Pro version, is all about letting your videos experience the action with its 180/360 VR videos. Import your 180/360 VR video to your Premiere Pro account and monitor your project either on-screen or using a VR headset.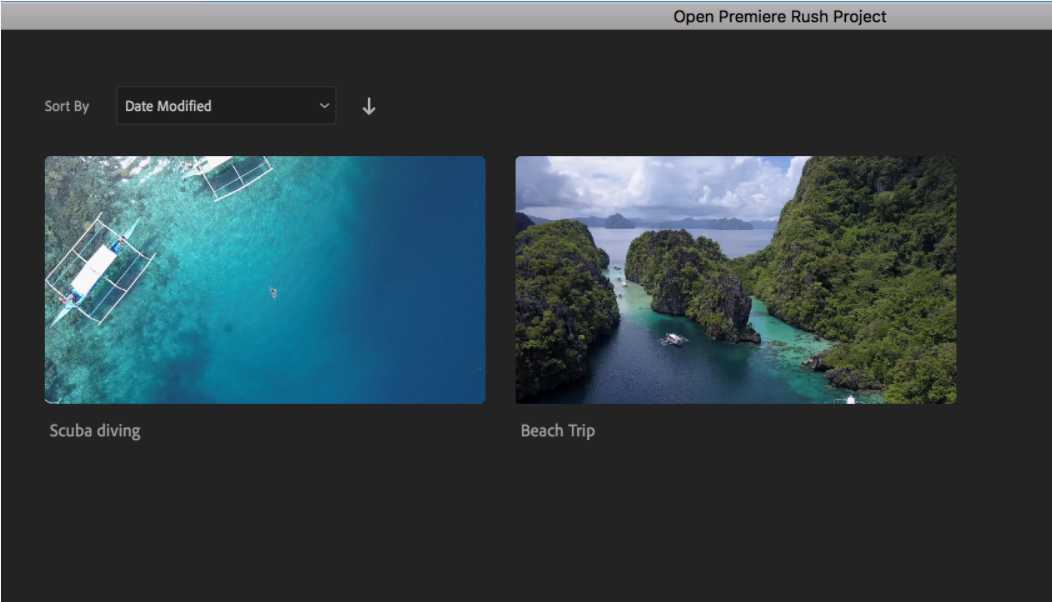 Premiere Pro detects if your clip has a VR sequence and configures it to the VR viewer automatically. You can learn more about how to edit your VR video on the software.
Pros:
Unlimited Video Editing: There is no restriction to the number of videos you can edit.
Cloud Storage: If you are a part of the Cloud Creative plan, you get to use Adobe's Creative Cloud Pan.
In-built Social Media Sharing Feature: Exporting and sharing videos is easy with its built-in social media feature.
Cons:
Limit of Computers on a Single License: Only two computers can use a single Adobe Premiere Pro license.
Adobe Premiere Pro is Compatible With
HitFilm Express
HitFilm is a unique editor that works great with 360 editing of classic videos. It is an admirable ability to correct a distorted image due to the camera and performs functions like 'Blur' and 'Channel Blur', essential for a 360 video's effects.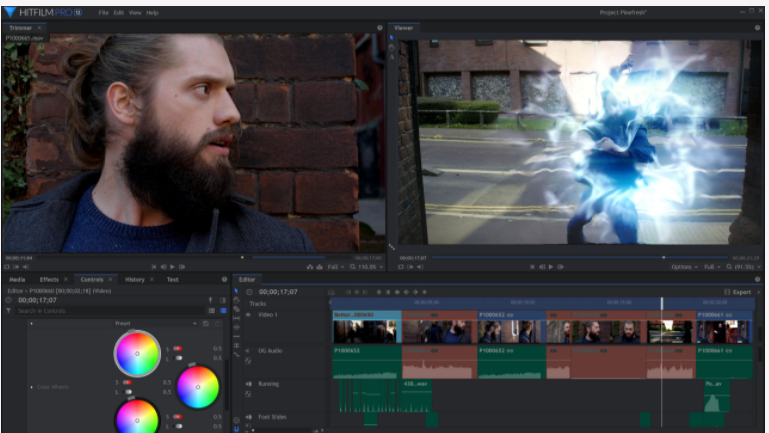 You can also use its fisheye effect and include sound effects right from its library. In case your video has been amidst a lot of noise, the software also reduces the background sound and balances it out by using special mixers.
Pros:
Allows easy video exports: Makes sharing on your favorite social media easier
Fish-eye effects at hand: Largely used for interactive videos, it is a great tool to keep at hand.
Noise reduction and sound effects: Cut out the background noise and add relevant sound effects with ease.
Cons:
Time-consuming orientation to the tool: It takes a while for the new user to be acclimatized with the software.
Hitilm Express is Compatible With
Collect -  360° Video OverCapture & Editor
If you are a social media aficionado or an influencer, then this app is for you. A one-stop destination for video makers, 360° OverCapture, combine several clips together, add music, effects and upload to your story, Instagram, Facebook, or YouTube directly from your phone.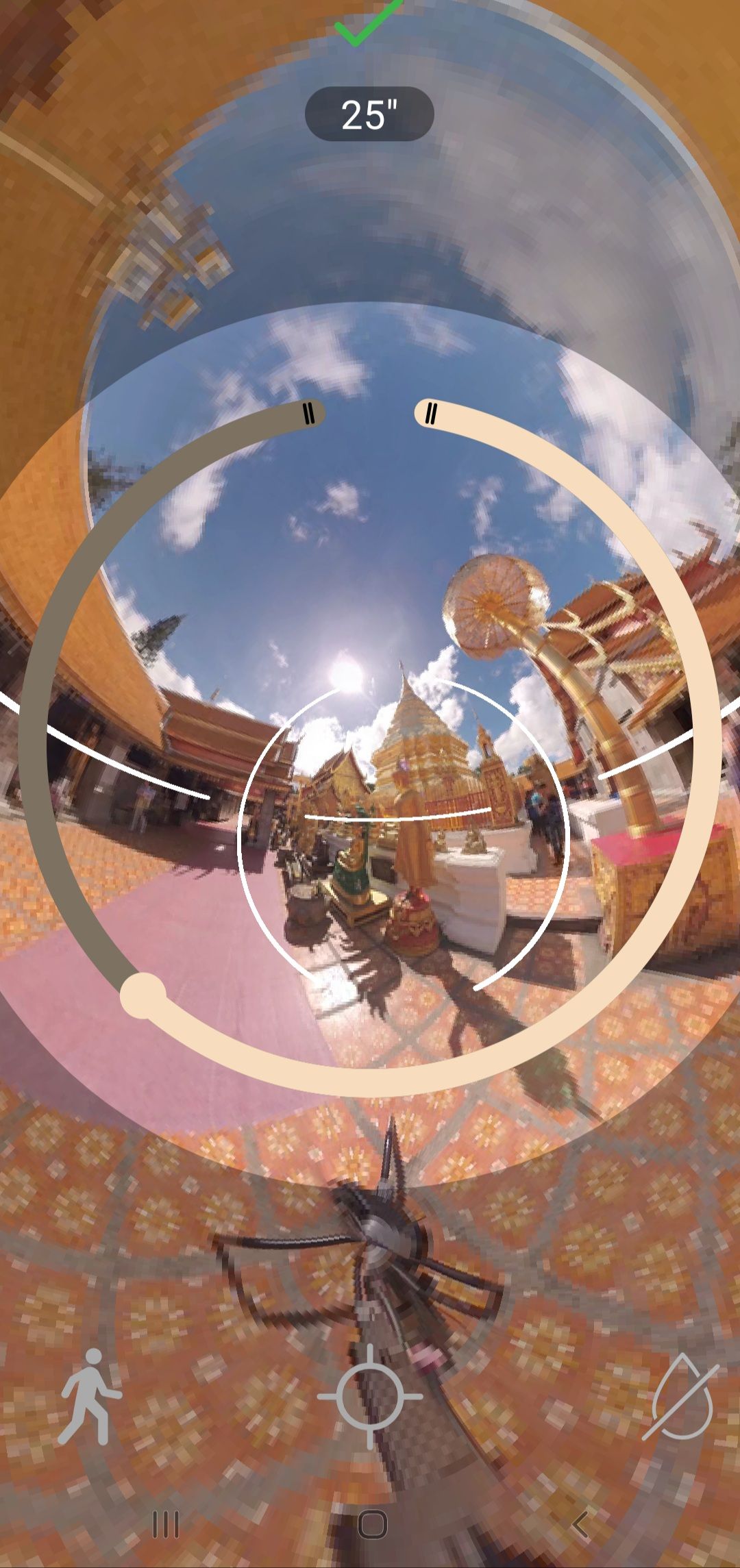 Its ease of use and high compatibility makes it one of the most popular 360° Video OverCapture editor in the market.
Pros:
High Compatibility: This app is compatible with plenty of video formats and equipment. It even offers end-to-end support for vertical, horizontal and square video formats.
Intuitive Interface: Easily reads the video format and edits accordingly
Easy Merge: It allows easy merge of several 360° videos.
Efficient: With this app, you can easily trim and create slow/fast motion videos.
Cons:
While this app is great for 360 video, it's often not compatible with all cameras. Perfect for on the go editing but you might need a separate device for creating intro and outro.
Collect 360 is Compatible With
Final Takeaway
Creating videos is no child's play, but with these best apps for editing videos, the journey becomes easier. So whether you are looking to add texts to your video or make one on-the-go, these video editing apps and tools are your best friends.
Typito is the new-age video editing tool that helps you simplify your video-making journey with an easy and streamlined interface and accessible tools. With Typito, you don't have to reach out to a professional or enroll in a video-making course. A simple tutorial by Typito and you are good to go!