How to Start a Fitness YouTube Channel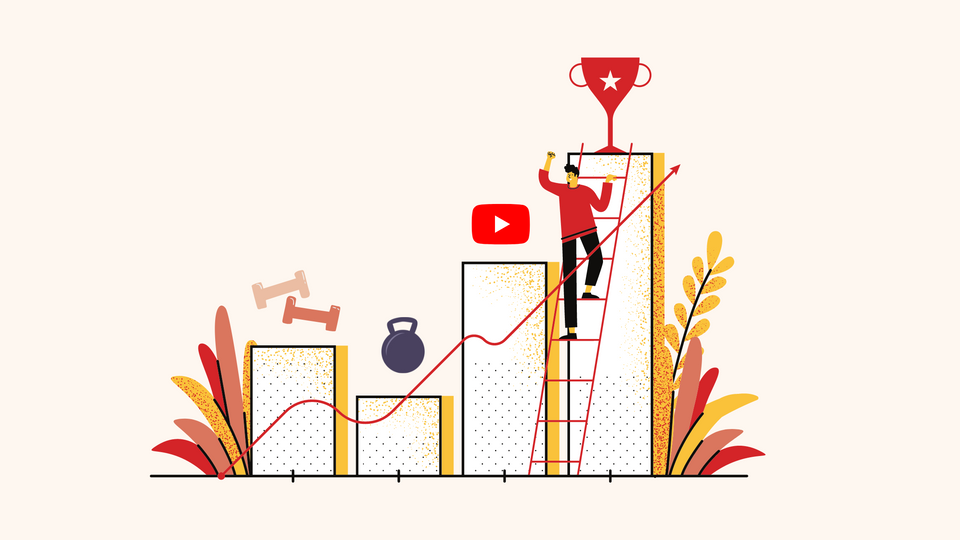 So, you've been pondering over how to start a fitness YouTube channel for a while now but you're not sure where to start. Does the mere thought of it make you feel overwhelmed? Well, we get it. You're not alone.
Here's the thing: YouTube has transformed the way the fitness industry operates today. It is growing exponentially and poses a wonderful opportunity for anyone trying to make a living out of fitness videos.
The good thing? You don't need celebrity trainers, expensive cameras, or professional crews to create fitness videos. It's all about your zest for leading a healthier lifestyle and the unique content you bring to the table to inspire others.
Whether you're a personal trainer trying to reach potential clients, or a fitness vlogger trying to hit more subscribers, or a beginner who's all set to start a fitness YouTube channel, or a fitness brand who's trying to grow your business, video marketing is essential.
And if you think about it, fitness people prefer learning from videos rather than going through lengthy blog posts.
Stick with us till the end, as we are going to guide you to do everything right.
Here's what we will discuss:
Why Should You Create Fitness Videos on YouTube
They say that a picture is worth a thousand words.
But ever wondered how much is a video worth?
Well, a hell lot! Don't just take our word for it, let the numbers speak for itself.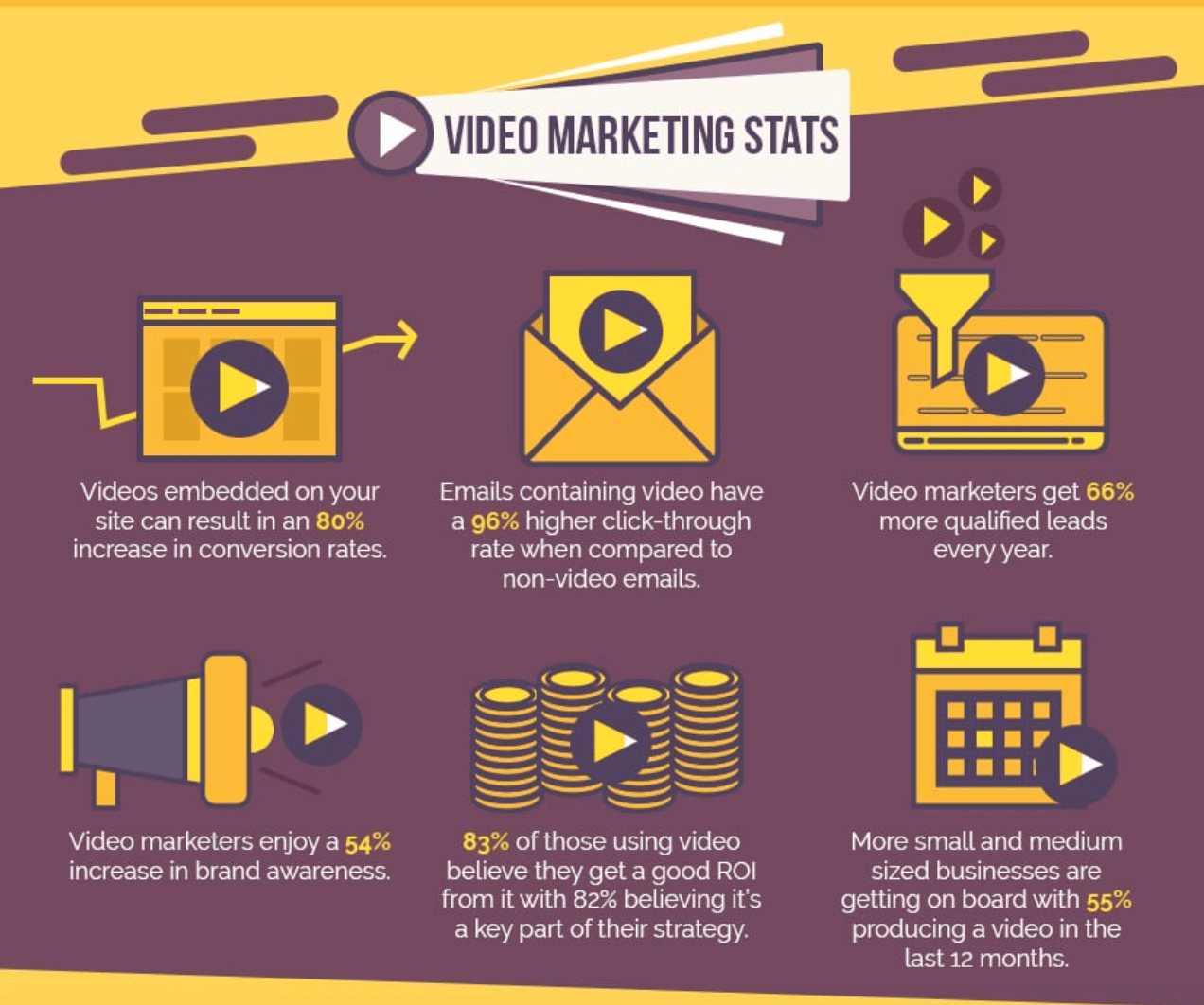 Source: Smart Insights
The fitness industry is evolving continuously, and over the years, we have seen it grow from a mere nothing to a multi-billion dollar conglomeration, which has become vital to millions of people worldwide.
The global fitness industry witnessed tremendous growth in the past few years and is estimated to be more than $96 billion. With so many enthusiasts and influencers, the YouTube fitness community grew enormously—to the extent that Youtube reported that their "home workout" content category inclined by 515%.
🔊So it's loud and clear: Interest in watching fitness videos is increasing year on year, and YouTube, being at the forefront with a huge global reach than other video platforms, just can't be ignored.
Fitness + Video = A dynamic combination. Videos are the ideal platform for storytelling and it isn't a surprise why fitness studios, personal trainers, and enthusiasts worldwide are leveraging it as a key lead generation channel.
While we have given you enough reasons to start a fitness channel on YouTube, here are a few more to inspire you:
👉 Lets you tap into a wider audience
👉 Helps leverage the home workout crowd
👉 Increases brand awareness
👉 It's easier to show than to describe
👉 Search engines value video content
👉 Enables you to create fitness content that helps people
👉 Earn revenue via YouTube ads, brand sponsorships, and affiliate programs
Note: While the benefits outweigh the downsides, it's important to note that starting a fitness vlog or channel takes effort and time. And you need to have a lot of patience because the process isn't overnight.
How to Start a Fitness YouTube Channel
Committing to creating YouTube content is easier said than done. But it's half the battle won if you have a proper plan in hand.
Here's a step-by-step guide to help you learn how to start a fitness youtube channel:
1. Define the goals of your YouTube channel
Ask yourself these questions:
Why am I creating this fitness YouTube channel?
What outcomes do I want from my fitness YouTube channel?
How different will my fitness YouTube channel be from the rest?
What are the other ways to monetize my fitness videos besides YouTube?
The answer to these questions will give you a complete picture of what you want to achieve from your YouTube channel. Then, set benchmarks to accomplish these goals either quarterly or half-early. Make sure to keep your goals realistic and achievable.
2. Know your target audience
After your goals are in place, understand the audience you are creating the fitness video content for. This will help you produce video content attuned to what they want to engage with.
Speaking of which, there are 4 key things you should know about your audience:
Demographics: This is your audience's age, gender, and location. This data will help you create videos in a language and format that caters to them.
Psychographics: These are characteristics that drive audience behavior. For instance, their values, lifestyle, motivations, aspirations, and insecurities. This data will help you understand the various ways to connect with the audience emotionally.
Online behavior: This gives you an overview of what your audience prefers to watch for entertainment. It includes insights into the type of channels they like to subscribe to, social media sites they are on, and their average spending time. This data will help you create content that best engages them.
Offline behavior: This includes your audience's purchase behavior, hobbies, habits, work status, and where they prefer spending their time at. These data insights will help you create content that evokes emotions in them.
While the above is true, go a little further in understanding better about your audience to create fitness content that they will find useful.
In order to do so, ask yourself these questions:
What are the real pain points that your target audience face?
How much is too much to pay for fitness training online?
What factors put you off from other fitness programs that you have tried?
What's their average income?
What's their fitness routine look like?
What other interests do they have?
Knowing and understanding your audience sets the stage for you to create video content that will resonate better and entice more people to convert to your paid programs.
3. Find out what your competitors are doing
Keep an eye on other fitness YouTubers and the type of videos they are creating. This will help you come up with unique content ideas.
Watch videos in the fitness niche: Observe what type of fitness videos (long-form, short-form, tips, tutorials, etc.) creators are making.
Subscribe to your competitors' fitness channels: Note the frequency of videos your competitors create.
Delve into their comments sections: Browse the comments to gauge what people think about your competitors' videos. Try to understand what they are lacking and jot down the things that could have been better.
Look at their video views: Find out which videos have the highest views and engagement levels.
All of this will help influence your own content schedule and what your content plan should look like.
4. Validate your content ideas
Before taking any steps to create a fitness YouTube channel, it's vital to validate your content ideas. This is pretty simple and straightforward to do.
Ask yourself these questions:
Is there a good demand for what you will be creating?
What are they asking for if there's an existing audience for the niche?
What could you do better than your competitors?
Conduct keyword research to verify how many people are looking for things relevant to your content idea. Here are some handy tools to help you with keyword research: Google Keyword Planner, SemRush, or AHREFS.
5. List the type of fitness videos you want to create
While you're excited to start your fitness YouTube channel, it's important to note that it's a wide niche, and there's a lot you can cover, but you cannot do it all. So think of the type of fitness videos you want to create.
Keep your target audience in mind and what they enjoy watching or engaging with on YouTube. Here are some fitness video ideas to help you get started:
Home workout
Diet and nutrition
Yoga & meditation
Fitness challenges
Health and fitness tips
Healthy food and recipes
Fitness or weight loss journeys
Daily exercise or workout routines
Reviews of home gym equipment and accessories
Reviews of protein powders and fitness supplements
6. Create your video content calendar
Once you know the type of fitness videos you want to create, the next step is to have a detailed calendar that includes a proper publishing schedule.
Outline when, what, and how frequently you will be uploading videos to your channel
Pick 10-12 topics your audience will love watching online and create a proper publishing calendar around them.
Pick a day and make that your "publishing day" and stick to it because consistency is the key.
7. Create your youtube account
All you need is a Google account (or Gmail) to set up your YouTube channel. Have a Google account under the name of your fitness channel.
Once that's done, here's what you need to do:
Sign-in to YouTube via your brand's Gmail.
Navigate to your account page on YouTube and click create a new channel.
Customize the dashboard. Update your homepage banner by uploading a nice photo (max size: 4MB) that signifies your brand.
Edit your profile and complete the sections under the About & Description tabs.
Add links to your blogs, websites, and other social media accounts.
8. Shoot your fitness videos
You don't need fancy DSLRs or high-end cameras to shoot. You can invest in them later on when your viewership grows.
Here is some basic video equipment to help you get started:
Smartphone: Your phone is more than enough to shoot your videos. But make sure to invest in a tripod, though.
Lighting: Videos recorded in a well-lit space look pleasing, high-quality, and professional. Invest in a good quality ring light to cast off those shadows and keep your footage inviting.
Hardware: Though mobile apps help edit videos on your phone, a computer is highly preferred because it gives you enough storage space to save your edited videos and have them as a backup just in case something goes wrong with your channel.
9. Edit and upload your fitness videos
Unlike Instagram and Facebook Live, YouTube videos require editing. You don't have to learn complex video editing tools for this. You have plenty of video editors online that can edit your footage in no time. Most of these tools have free trials and are cost-effective.
You don't need complex software or special skills to edit your fitness videos. You can do that faster and without breaking a sweat through online video editors.
10. Share and promote your videos on social media
Lastly, it's time to share and promote your videos. You can do this in multiple ways. Send it to a verified email list, use your social media platforms, or embed your YouTube links in blogs to reach a wider audience.
Business Growth Plan for Your Fitness YouTube Channel
If you have made up your mind, creating a roadmap or a business plan for your fitness YouTube channel is the next step. It will keep your short-term and long-term objectives in sync while ensuring you stay 100% focused on the purpose of starting one.
Your business plan doesn't have to be detailed. It should be basic enough to let you know you're on track.
If you're still finding it hard, then here's a handy template to help you get going:
This 4-week template features a roadmap to grow your fitness YouTube channel. Every section will see [Text in Bracketed Placeholder] and italicized instructions. Just delete these texts and replace them with your ideas, strategies, and plan.
Week 1: Channel branding



Day 1: Define your channel

The answers to the listed questions here will help you create an on-brand mission for your YouTube fitness channel.
Question
Answer
What's the purpose of your Youtube channel?
[Write your answer here]
What interests you the most in the fitness category?
[Write your answer here]
How do you want to help your target audience with your video content?
[Write your answer here]
What plans do you have to be different from your competitors?
[Write your answer here]


Day 2-4: Channel design

Assess the design of your images and creative elements. Have a video content plan that's on-brand, eye-catching, and relevant.
Question
Answer
How are you going to create your videos? Research and shortlist a few good video editing tools that help make your videos look professional
[Write your answer here]
What are your competitor fitness channels on Youtube doing? What makes them different?
[Write your answer here]
Do a gap analysis to determine how you can stand out from your competitors and what are the additional things you can implement in your videos to grab viewer attention?
[Write your answer here]


Day 5-7: Asset creation

Leverage your findings and create a fresh suite of creative channel art. Add links to all your brand creatives that you will be using for your YouTube channel.
Question
Answer
Channel banner
[Add link to your design asset(s)]
Channel icon
[Add link to your design asset(s)]
Custom video thumbnails
[Add link to your design asset(s)]
Channel trailer, watermark, cards
[Add link to your design asset(s)]
Week 2: Community building


Day 1: Map the subscriber growth plan

Have a proper publishing cadence to attract and retain your subscribers. Determine the ideal ways to increase viewers and strategies to make them click the "Subscribe" button.
Question
Answer
Create your video publishing schedule. Plan your calendar in a way that you have tasks aligned for the entire quarter. Do detailed research to find out what's trending and what will drive viewer attention.
[Add link to your video publishing calendar]
How are you going to ask your viewers to subscribe? What kind of approach will you take for this?
[Add link to the sheet that will contain all the YouTube video descriptions + social media posts that will gain subscribers]
What strategic sections will you want to highlight in your channel to attract new subscribers?
[List the videos with maximum views and subscribers to highlight on your Youtube channel]


Day 2-4: Research latest trends for content ideas. Shoot and publish on your channel

Think of your target audience's interest level and start creating videos around it—perhaps, like a series.
Question
Answer
Is the video content good enough that your viewers feel intrigued to share it with others? If yes, then why?
[Write your answer here]
How are you going to make your video content interactive?
[Write your answer here]
Are your video content ideas sustainable to ensure long-term channel growth? Also, do you have additional resources to meet the publishing cadence?
[Write your answer here]
What strategies are you going to implement to increase your videos' discoverability? Hint: YouTube SEO, Social media, etc.
[Write your answer here]


Day 5-7: Create your fitness channel's homepage

After you have published some videos on your channel, analyze their metrics to identify the ones you want to show on your homepage. You can even organize them based on categories.
Category
Videos
Which are your top performing videos?
[List the video links here]
How-to tutorial videos
[List the video links here]
Any other category
[List the video links here]
Week 3: Optimizing your fitness videos to increase discoverability


Day 1: Keyword research

Leverage Google Keyword Planner or any third-party tools like AHREFS or SemRush to conduct keyword analysis to know the search volume of the topics you're trying to target.
Keyword and
Search Volume
[Insert keyword]
[Insert volume]
[Insert keyword]
[Insert volume]
[Insert keyword]
[Insert volume]


Day 2-4: Optimize your videos

Leverage SEO to improve your video's discoverability for potential keywords.
Question
Answer
Have you optimized the keyword in the video title? Does your video meet the intent of the search term?
[Write your answer here]
Have you optimized the keyword in your video description? Does your description precisely explain what your content is all about?
[Write your answer here]
Do your topic tags and selected category fit your video and your audience?
[Write your answer here]
Are you consistent with your video thumbnail image to ensure branding? Are they appealing enough to convey the message?
[Write your answer here]
Is your video quality good? Are you including attractive elements like text, graphics, timers, etc., to make it look professional?
[Write your answer here]


Day 5-7: Leverage translation tools

Add captions to your videos to make it more convenient for your YouTube viewers.
Task
Strategy
How are you planning to add translations to your video?
[Explain your approach]
Are you going to use automatic captions? If yes, how?
[Explain your approach]
Week 4: Data and Analytics


Day 1: Analyze key data metrics

Use YouTube Analytics to understand how well your videos are performing. Analyze the data to know what's working and what's not to keep improving.
Task
Strategy
What are your top-performing videos and what factors contributed to its success?
[List the video URLs and its success factors]
What are your low and worst performing videos and list the factors that led to its failure?
[List the video URLs and its success factors]


Day 2-3: Audience analysis

Analyze the demographics to understand who's watching your videos and how you can keep them engaged with unique content.
Demographics
Description
Audience Gender
[Overview of the gender]
Audience Age
[Overview of the age range]
Audience Location
[Overview of their location]
Other Demographics
[Overall demographics data]


Day 4-5: Engagement analysis

Identify user behavior to understand what factors contribute to viewer engagement levels.
Name of the Report
Description
Subscribers report
[Data overview]
Watch time report
[Data overview]
Like & Dislikes report
[Data overview]
Comments report
[Data overview]
Video shares report
[Data overview]


Day 6-7: Retention analysis

Find out which YouTube videos feature the highest retention rate and a longer watch time. These metrics will help you map content based on your audience's interests more easily.
Question
Answer
Which videos have the highest retention rates?
[Video URLs]
What are the common factors that led to your videos' growth?
[List all the positive aspects]
What are the best practices you should follow to optimize your existing and upcoming videos?
[Jot down all the key observations]
FAQs
1. How much money do fitness YouTubers make?
Let's talk about money and ask you first—how much do you think fitness YouTubers make?
Well, if you were like Pamela or Adriene with lots of subscribers, you will be making no less than millions. For instance, Reif, a popular fitness YouTuber is estimated to have earned about $20,000 per video back in 2020.
The secret to her success? It's a lot more than just her knowledge and expertise in the Fitness arena. From watching her videos it's clear that she extends a lot more like:
Well, it's five things:
👉 Her passion for exercise and maintaining a healthy lifestyle
👉 Her elegant physique and a passionate presence
👉 Her easy-to-follow workout sessions
👉 Her high-quality videos with clear text instructions
👉 Her approach towards fitness is minimal and different
2. Why is your YouTube channel name important?
While it's true that your channel name signifies your brand and the business you're in, it goes a lot deeper than that. Your channel name plays a key role in making your audience remember the name, ranking on YouTube's search results, and the way ads are shown when monetizing.
So your channel name just isn't the way people remember and view your content but also benefits the YT's algorithm and have an idea of what type of content you create.
3. How to choose your YouTube channel name?
Ideally, your youtube channel name should be short and easy to remember. The name should be able to convey instantly the type of video content you create. That said, don't describe your channel's topic (like Videos to lose weight), as it can sound generic, flat, and unattractive.
Spend less time editing and more time getting healthy. Typito makes fitness video creation a breeze - so it's for you to create videos that train, inspire and connect with your audience. Ready to get started for free?