15 Best Twitter Video Downloaders that are Hassle-Free to Use
Twitter is a great go-to platform for starting conversations and following trends. It is also a great place to go for an online presence whether you want to spread the word about your personal beliefs or market a company. Or, of course, to simply be part of something and keep up with social media's current affairs. On top of Twitter, you can find a Twitter followers app to help you get your recognition, but if you already are a Twitterati, you would already know that. You would also already know that a Twitter video download is a significant pain point. It is not as straightforward as clicking a button to download videos to your device with tons of embedded video tweets.
Of course, some free server-side apps and websites do the job of creating downloadable videos from the URL. However, most of these tools are far from being convenient and not always the safest way to download embedded videos from Tweets. Most online Twitter video downloaders are backdoors to malicious sites run by scam bosses.
We are sure this is not where you would want your click to take you. This is where it counts to have a simple app or software installed on your devices or desktops so you can have the video content saved for content curation or merely building a fun video library without the risk of hackers or malware.
If you've previously found it challenging to download Twitter Videos, your search ends here. In this article, we'll cover a complete compilation of the 15 best Twitter video downloaders.
15 Best Twitter Video Downloaders that are Available Online
If you find yourself at the crossroads thinking whether to choose online Twitter video downloader services or a dedicated app, skip the former. Instead, choose this must-try list of 15 best Twitter video downloaders:
1. TWSaver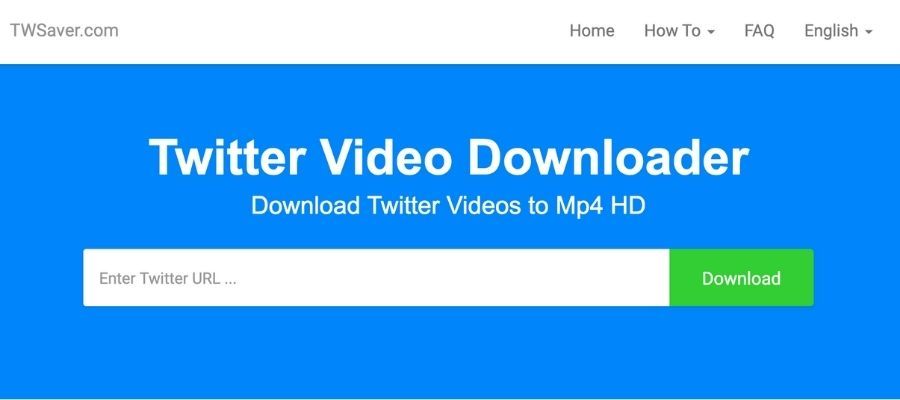 If you think downloading an app to your gadget and getting it to download a Twitter video is too tedious, you can shrink the step count in the process by choosing TWSaver. It has a clean interface that represents simplicity. All you have to do is paste the URL into the form tab and click go.
In a matter of minutes, the video you want to save will be ready to download-the simplicity and convenience place TWSaver in the first spot among 15 best Twitter video downloaders.
How to download Twitter videos using TWSaver
Step 1: Sign in to Twitter and access the post with embedded video.
Step 2: Right-click on the video content and copy the URL.
Step 3: On the TWSaver page, paste the copied URL and click the Download button.
Step 4: Wait till the process is complete, and you'll have three download options (SD/HD/UHD).
Step 5: Download the version you prefer.
Benefits of using TWSaver
User-friendly interface
Allows batch download
Options to choose the video quality
Suits people who need quick downloads
Comes with app extension
You can easily navigate its interface because it is 100% hassle-free and user-friendly. If you can settle with an app that does not offer parallel downloads or other fancy features, TWSaver is a valuable option to consider.
2. Getfvid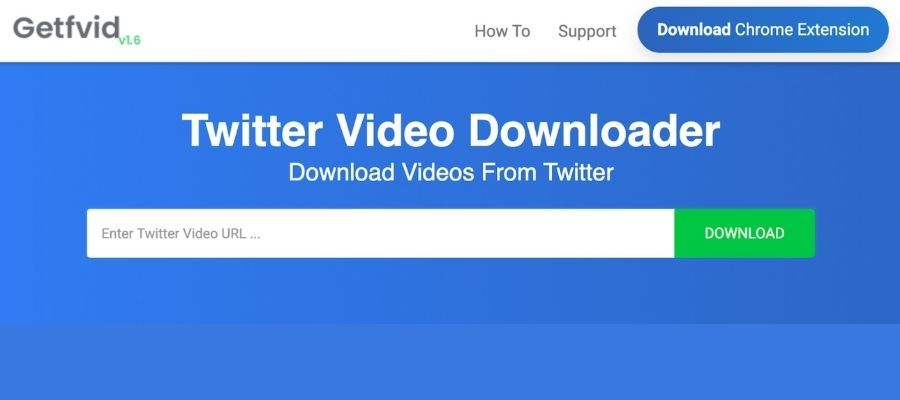 Not every online Twitter video downloader can download videos from both Facebook and Twitter accounts without running into bugs or glitches. At least, that is the impression most people have from experience. But Getfvid breaks conventions by showing how reliability could be part of the equation without the need for an app.
If you don't expect web app-like performance to run batch downloads, Getfvid will give you a downloadable link after pasting the URL. If you are not a heavy user or a content creator working with batch files each day, it makes a better choice than other infamous service providers.
How to download Twitter videos using Getfvid
Step 1: Play a Twitter video and right-click the video to view and copy the URL.
Step 2: Paste the copied URL from the source video into the Getfvid's text box and do not refresh the page for the next few seconds.
Step 3: Once ready, you will be able to download your video in standard or HD quality.
Step 4: Occasionally, if you run into an error, check if the video is marked private or try the Chrome extension.
Benefits of using Getfvid
100% safe
Superb video quality
Superb and friendly interface
Fast conversion and downloads
Options to choose between online and app-based download
The beauty of Getfvid is that it neither stores your videos nor keeps any copies or histories of your downloaded videos. Every video is hosted directly on Twitter's servers. Getfvid is completely trustworthy and anonymous.
3. SaveTweetVid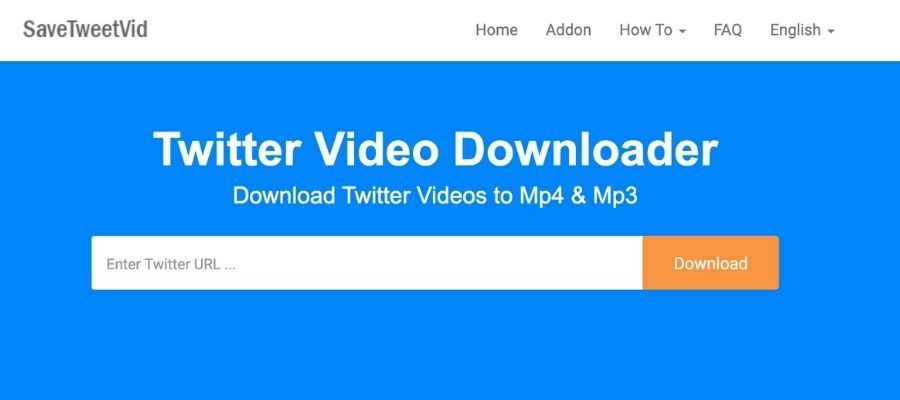 SaveTweetVid is a step up from other Twitter Video downloaders because it is available online and offline as a browser extension.
We found the latter compatible with the most recent browsers, but our recommendation would always be Google Chrome because the experience surpasses expectations and output is instant. You may not relate SaveTweetVid experience to that of a full-suite software because it is only designed to be browser-ready.
How to download Twitter videos using SaveTweetVid
Step 1: Copy the link URL from the source video.
Step 2: Paste the link in the white textbox and click the download button.
Step 3: After analysing, a dialogue displays options to choose MP3 or MP4 format.
Step 4: Select the format and wait till the download is complete.
Benefits of using SaveTweetVid
No broken links
Simple and fast video downloader
Parsing is done at remote servers in CDN
Reliable on most occasions
The content won't need further enhancement
For most regular users, it is nothing less to look away from because SaveTweetVid can turn Twitter videos into high-quality Mp3 or Mp4 content. The quality is spotless and won't need further enhancement by a video editing professional.
4. Keep Offline
Keep Offline is another free Twitter video downloader capable of downloading any video embedded in Twitter posts. The interface of this online downloader is as crisp and intuitive as the app.
The download speed is higher than most other sites, and you unlikely face bugs in getting video downloaded to your device. Moreover, it is proven safe and effective from a security perspective, with most users feeling exceptionally satisfied without negative experiences.
How to download Twitter videos using Keep Offline
Step 1: Copy the link address from the source.
Step 2: Paste the link in the URL text box.
Step 3: Click download and wait till the video is ready to save.
Benefits of using Keep Offline
Free online downloader
Parses video in seconds
Reliable and safe from viruses
User-friendly and quick
Efficient for occasionally downloading large files
Keep Offline is one of the best online Twitter video downloaders because it is supported on portable gadgets and Windows operating systems. It is as simple as pasting the URL copied from the source and clicking the download button. Your video will be ready to save in a flash.
5. GetMyTweet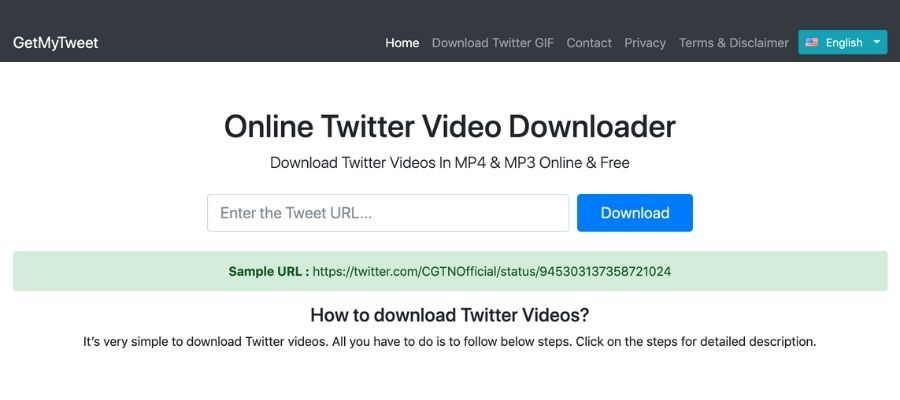 If you need a trusted tool to make videos downloadable off Twitter, you will need nothing less than the best because extracting Twitter video is a complex process. After conversion, quality comparison tells whether the process is a hit or miss. This is where the GetMyTweet stands out because the video quality is stellar.
GetMyTweet works on all devices and browsers. The tool is 100% safe to use and doesn't keep any record of the downloads. The links are directly hosted on Twitter's servers.
How to download Twitter videos using GetMyTweet
Step 1: When the video is playing, click the dropdown button to copy link to tweet.
Step 2: Paste the URL in the textbox space.
Step 3: Select the best quality and format option that suits your need.
Step 4: Click download to get the content on your local device.
Benefits of using GetMyTweet
Stellar quality
Videos are immediately accessible
Fast and easy download
Custom selection for quality and size
User-friendly interface
The tools we often see are not always the best choice because most results for best Twitter video downloaders will have you redirected to spammy or unverified sites. GetMyTweet is a no-nonsense site that lets you download your Twitter video without any unnecessary redirection.
6. TwitterVideoDownloader.com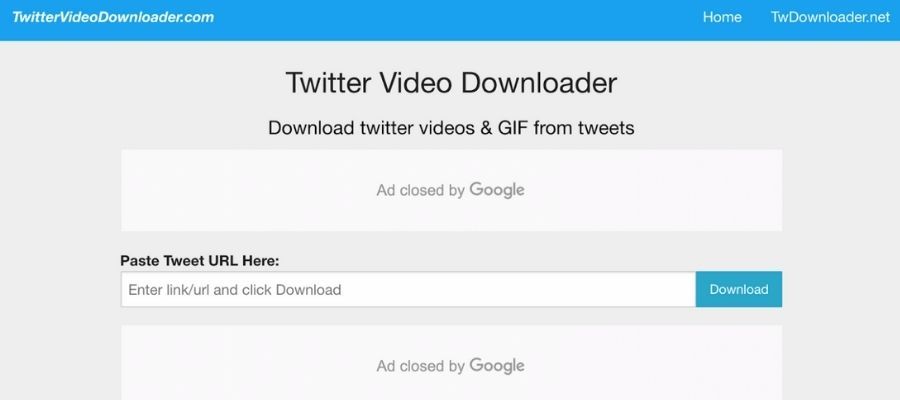 TwitterVideoDownloader is yet another useful web application that lets you download Twitter videos as well as GIFs with ease. The moment you copy-paste the video URL into the site, the tool extracts the MP4 link from the respective tweet, which can then be saved to your computer or mobile for later use.
Like most trustworthy apps, Twittervideodownloader.com doesn't store or maintain a history of downloaded videos. All videos are saved from Twitter's CDN directly.
How to download Twitter videos using TwitterVideoDownloader.com
Step 1: Open the source and play the video you want to download.
Step 2: While the video is playing, right-click for options and copy the URL.
Step 3: Paste the URL in the text box reserved for the link on twittervideodownloader.com.
Step 4: Wait till the process is complete, and the video will be available locally.
Benefits of using TwitterVideoDownloader.com
Best suited for a single video
Download links are 100% functional
No risk of ransomware
Best way to download videos locally
Fast response
Saving videos locally is a challenge because Twitter disallows video downloads. When you turn to just about any video downloader, you cannot expect the quality resolution or safety from hackers because you could end up parting with valuable data.
These concerns would fizz out if you consider Twitter Video Downloaders because the interface seems excellent for new users. After all, you would not have to fiddle with settings to export the downloaded video with specific requirements. Apart from this, the tool is super fast and works within seconds.
This tool mainly benefits people who occasionally download videos to their devices. Since it is not an app, it does lack the ultra-fluid performance that many other app-based downloaders from this list are capable of.
7. SSS Twitter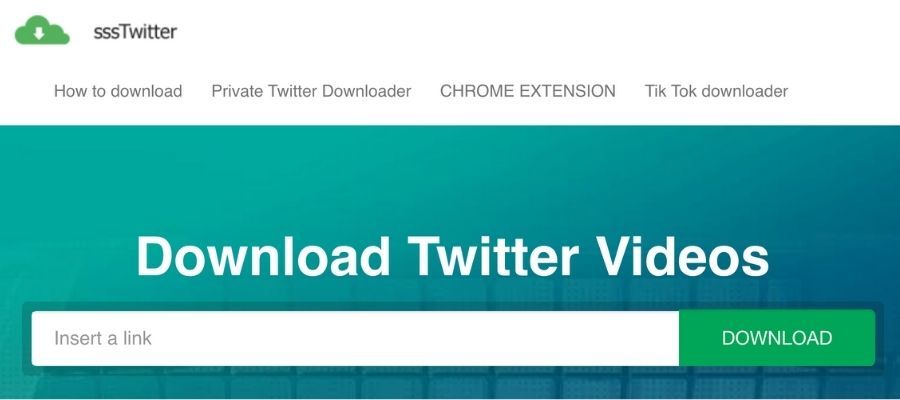 If you prefer versatility, SSS Twitter has everything you need for getting videos downloaded from Twitter in the format and quality of your liking. It features a simple interface that is clean and fuss-free. Copy the URL from the source and paste it into the textbox on the website. As simple as that!
One extra feature that SSS Twitter offers is choosing the quality and format in which you want to download the video. The process is lightning-quick, and you would not have to wait indefinitely between multiple downloads.
How to download Twitter videos using SSSTwitter
Step 1: Copy video URL from source account or tweets.
Step 2: Paste the link with tweet ID in the URL space and hit the download.
Step 3: Wait for parsing to complete and select the format and quality of your liking.
Step 4: Alternatively, download the app from Appstore and click the browser icon on the content to get videos directly.
Benefits of using SSSTwitter
Download via online as well as the app-based method
Trustworthy site
Downloads video without delay
Crisp quality videos
Provides sample to let you get an experience beforehand
The video can be downloaded to iOS, Android, and Windows devices. SSS Twitter also offers a Chrome extension that makes downloading suitable for someone finicky.
8. Download-twitter-videos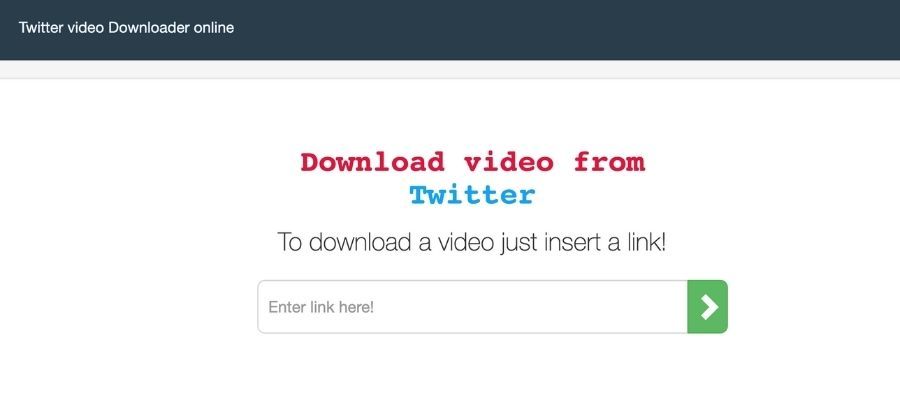 Sometimes, your browser type decides if a video downloader can be compatible. At times, we have seen downloads fail just because of compatibility issues. If this is your concern, too, Download Twitter Videos might solve this problem for you.
It does not matter what browser you use, download-twitter-videos begins downloading in a snap. It does not depend on third-party apps to facilitate the process. In terms of resolution, you can choose between HD and SD, depending on your needs.
How to download Twitter videos using download-twitter-videos
Step 1: Open the Twitter video and copy the URL.
Step 2: Paste the copied URL in the text box and click submit.
Step 3: You'll have the option to download in the required quality.
Benefits of using download-twitter-videos
One of the fastest video downloader
Free downloader
Free from ads
Compatible on PC, tablet, mobile, etc.
Does not store data
We found both download format options to be exceptional. After downloading 10+ videos in succession, the system never hung, nor did the ongoing process fail midway. You can initiate downloads from 40+ sources, including popular ones like YouTube, Facebook, Vimeo, etc.
9. Video Downloader Bot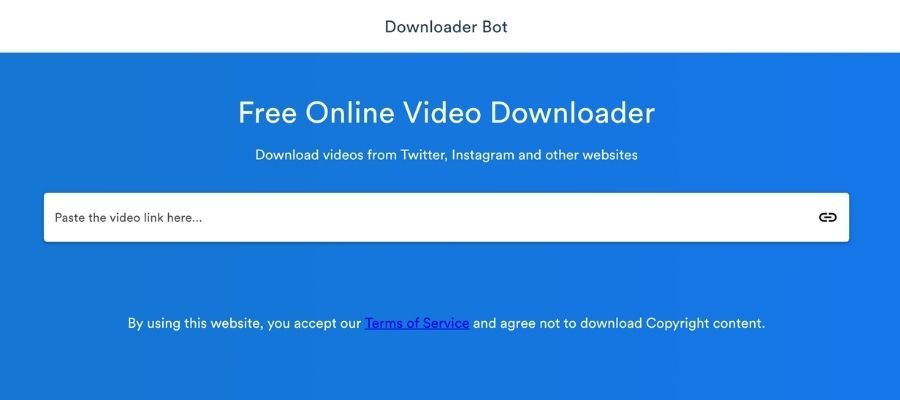 How about having a professional download video file from Twitter on your behalf? If you seem to feel comfortable with a third-party individual worrying about getting Twitter videos in the required format and resolution on your local device, tag @DownloaderBot in the comment under the embedded tweet.
Once ready, you will receive a downloadable link as a reply. It is that simple and fuss-free. We have reasons to believe it is not a spammer operating the account because the account seems to have garnered a chunk of followers with several positive feedback.
How to download Twitter videos using videodownloaderbot
Step 1: When you come across videos you like on Twitter, comment @DownloaderBot.
Step 2: The owner of the handle will get your video converted and a downloadable link will be available within seconds.
Step 3: Alternatively, on videodownloaderbot.com, paste the URL and video ID copied from the source
Step 4: Wait till the process is completed and download the file at your preferred quality.
Benefits of using videodownloaderbot
Instant conversion
Best video quality
No broken links or bad experience
95% success rate
Free from viruses
If you worry about privacy, you may visit the videodownloaderbot.com and paste the copied link in the textbox to get the conversion started.
10. Downloader4twitter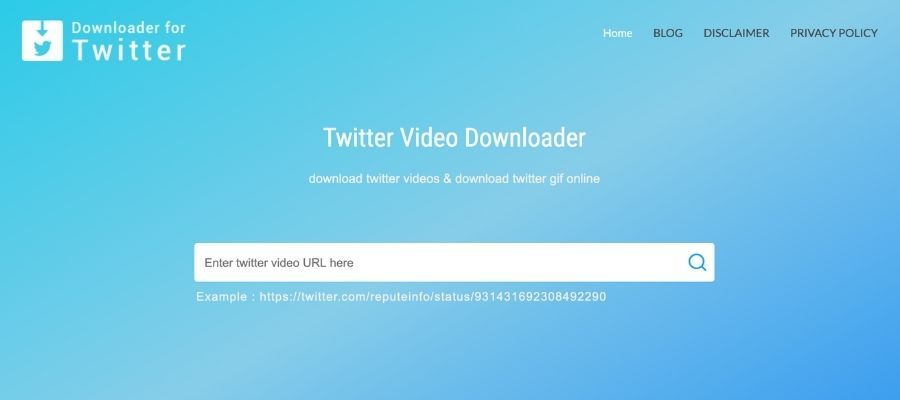 We love speed when it comes to Internet experience because, let's face it, no one likes to waste time waiting several minutes to download a video from a Twitter post. This issue seems to have been taken care of by Downloader4twitter.
All you have to do is copy the video URL and paste it in the input box. In doing so, you get two resolution choices to choose from -standard and high definition.
How to download Twitter videos using Downloader4twitter
Step 1: Copy the video URL from the Twitter post and paste it into the text box.
Step 2: Select a preferred resolution to export the video.
Step 3: Choose the local file destination before initiating the download.
Benefits of using Downloader4twitter
Faster downloads
No disruptions amid parsing
Safe to use website
Provides the option to choose between three resolutions
Supports video download from other social channels
It does involve a bit of user input in several steps but it is worth the effort when you consider the speed of download.
11. TWDownload
The TWDownload lets you download both GIFs and videos from both Twitter and Instagram with excellent quality. The content can be downloaded straight to your devices without running into compatibility issues.
If you are frequently saving content from Twitter, it is a great option to consider because it is a heavy-duty downloader capable of back-to-back conversion. It's a tool that every content creator must try or have in their kit so videos can be downloaded on the fly.
How to download Twitter videos using TWDownload
Step 1: Copy the video URL from Twitter and paste it in the tool's input box.
Step 2: Click the Download button and wait for a few seconds.
Step 3: After the download, the content is available offline.
Benefits of using TWDownload
No login required
Fast parsing
Works best on photos and videos
Doesn't saves any download history
Can download videos from Instagram too
All you need to get the job done is to copy-paste the URL into the dedicated textbox. After that, the tool will begin converting the URL into a downloadable link. When you click it, the video is saved to your gadget.
12. Download Twitter Videos (Chrome Extension)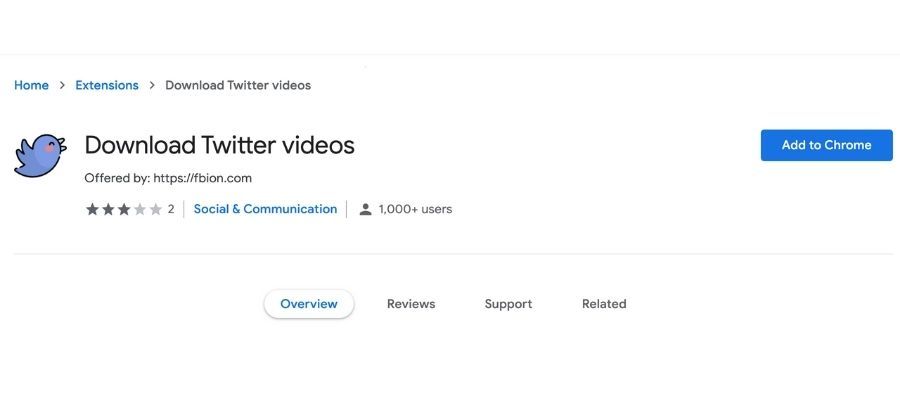 If you prefer extensions to webpage tools, then this chrome extension gives you the freedom to do away with copy-pasting URLs to initiate the download.
To start using this Twitter video downloader, you must first install its Chrome extension. That enables you to directly download the video from tweets by clicking the MP4 button in the dock below the content.
How to use this extension?
Step 1: Once you install this extension, a script begins to execute.
Step 2: The code analyzes the JSON code and finds the tweet id of the current tweet showing on the screen.
Step 3: Once the tool finds the video ID, the tool sends a request to Twitter in order to get its data. Once this is done, the download button shows up below every tweet and in the tool's window
Step 4: Copy-paste the tweet ID into the respective slot and let the conversion begin
Step 5: Hit the download button and save the videos locally via a zip file
Benefits of using Fbion's extension:
Safe and user-friendly
Single click download
Downloads in MP4 format
Best choice for content curators
Let's you download videos in 400p, 450p, and 800p
This extension supports downloads in various resolutions. This is great news, especially if the video has a longer duration. If copy-pasting URL is a chore and a waste of time to look for the website tool each time you want to download a video, the extension is more accessible.
13. MyMedia (For Transferring Files Directly to Your iPhone)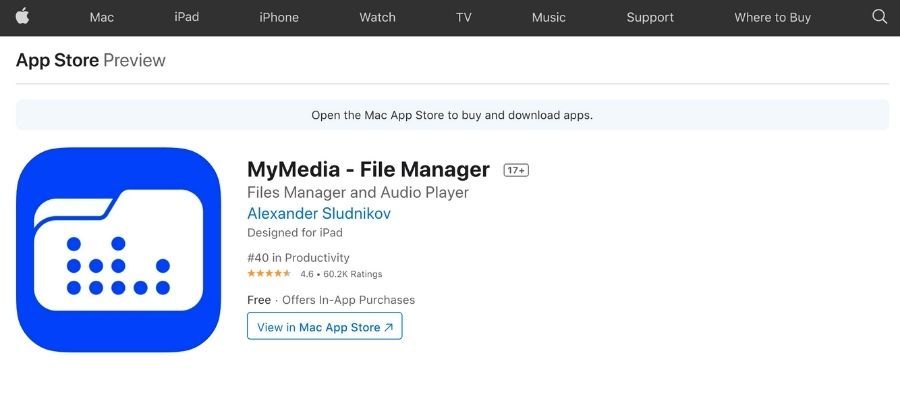 Android devices are slightly easier to work when compared to iOS because most Twitter Video downloaders seem to have no issues running on Android OS. Among the list of downloaders that have broken this convention is MyMedia.
MyMedia makes Twitter videos available to users of iOS and Android devices. It is a file manager for iPhone with features like video download and management. It is not a standalone downloader but a secondary app that does a fantastic job at moving files to plug and play storage devices.
How to download Twitter videos using MyMedia
Step 1: Firstly, use another video downloader to get videos from Twitter posts.
Step 2: Once the video is downloaded, use MyMedia to move files to camera storage.
Step 3: Set the preferred quality before download to get the best results.
Benefits of using MyMedia
Seamless output
Capable tool for batch downloads
Beginner-friendly
Free from malware
Transfer effortlessly to plug and play storage devices
For primary download, you might need another app. Once downloaded, your video files will stay saved on MyMedia, from where it can be moved to the chosen destination.
14. Experts Tool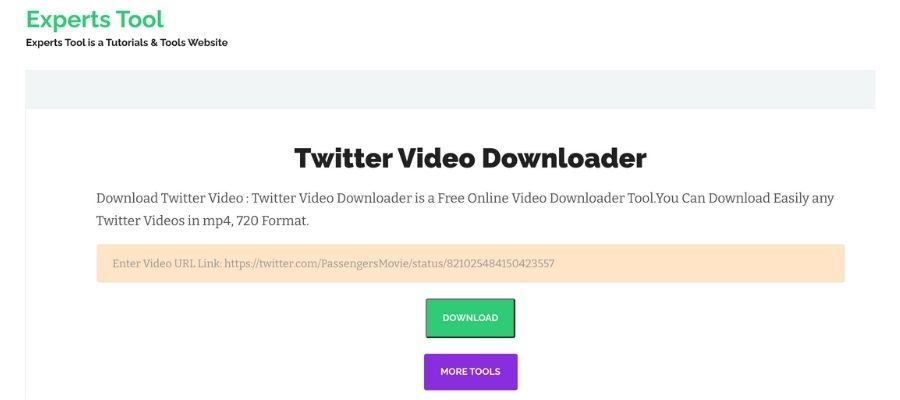 Another online downloader that is brilliant in form and function because it offers an option to save Twitter videos in MP4 and 720p formats on your PC or mobile devices.
The download process is made easy with a one-click process. You can choose between SD and HD video formats too.
How to download Twitter videos using Experts Tool
Step1: Right-click the video on the Twitter post and copy its URL.
Step 2: Paste the copied video link on the tool's home page and click 'Download'.
Step 3: After a few seconds, the file will be converted and ready for download.
Step 4: Choose any quality you prefer and the download will begin.
Benefits of using Experts Tool
Supports all browsers and devices
Fast and effective for quick video downloads
No third-party apps or plugins required
Get videos in HD quality (1080p & 720p)
Option to use Google Chrome extension
This tool is one of the best ways to convert Twitter videos into MP4 files in a click of a button.
15. Jihosoft 4K Video Downloader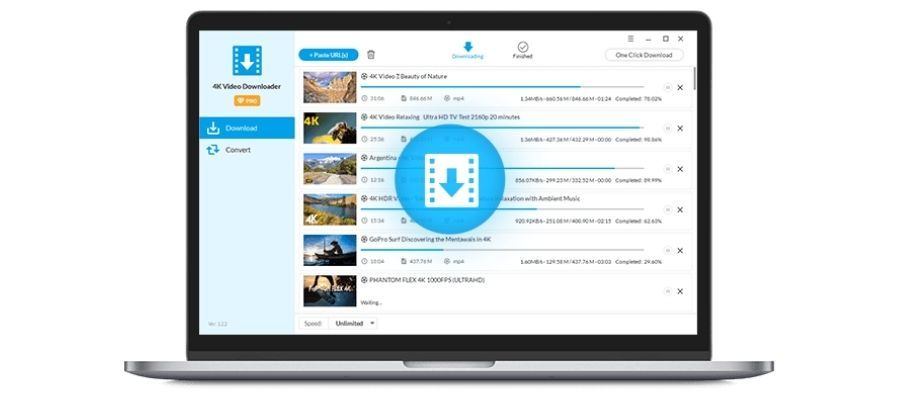 If you need a one-size-fits-all tool, the Jihosoft 4K Video Downloader is an all-rounder. It lets you download videos from social media channels like Twitter, YouTube, Facebook, Instagram, or anywhere across the Internet without the need for individual downloaders.
One feature that deserves special mention would be the option to queue up multiple videos so they can be simultaneously downloaded. We think it deserves a solid 5 out of 5 ratings for being the best Twitter video downloader.
Jihosoft can download videos in 4K resolution that not all video downloader apps are capable of. There is no better alternative to the Jihosoft 4K video downloader if you use videos for content creation and marketing.
How to download Twitter videos using Jihosoft
Step 1: Make sure you have the original version of Jihosoft by downloading from the official site to your Windows and Mac operating system.
Step 2: Run the app after installation and decide if you prefer the Paid or Free version. If you choose the former, you will receive 20-digit code on your email. The trial version handles basic downloads, as well.
Step 3: Copy the URL from Twitter post and paste the same in the app window to allow automatic analysis of the URL
Step 4: After parsing, select the format and video quality of your final output
Step 5: Click Download to begin the process, and the speed depends on the video length and network bandwidth. The paid version lets you download several videos at once
Benefits of using Jihosoft
Fast downloads
Clean interface
Free and Paid versions
Runs multi-thread downloads
Converts video from YouTube, Twitter, Instagram, Dailymotion, Vimeo, etc.
If you prefer to have videos downloaded as audio from Twitter, Jihosoft lets you do so by converting the YouTube standard aspect ratio of 16:9 to mp3 format instantly.
It is a smarter app that automatically detects the source to save you one extra step of manual selection. The output quality is where it stands out from the competition, needing fewer enhancements to make it consumer-ready.
Conclusion
Downloading videos from Twitter is not new but is neither a direct process. Twitter does not allow one-click download because most videos may be subjected to copyright laws and users may want them shared as private media with permission only to view but not download.
So before you embark on a mission to download videos in batches, make sure you have contacted the owner to check whether the video can be downloaded or used in a specific way.
Most of the Twitter downloaders in this list do not take responsibility for legal consequences when users download videos with restricted usage rights. Therefore, the onus is upon you to ensure you are within the legal rights while using Twitter downloaders.