Refer Your Friends and Use Typito for FREE
In the last few days, our team opened up one of the most awaited feature on Typito from a private beta to all our creators - Referrals on Typito!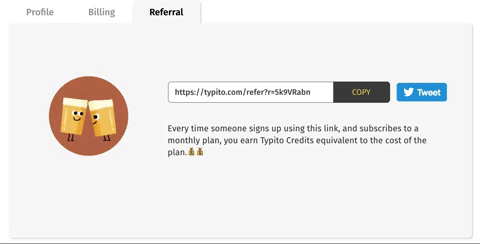 Check out Referral section under Accounts to learn more
How it works
You get a special Referral Link. You can find it in your Account section in Referral tab. Anyone who signs up on Typito using your referral link would be eligible for 20% discount on any annual subscription.
Every time someone signs up using that link and pays for an annual subscription plan the first time, we top up your account with Typito credits worth one month. If the user signs up for the $55 Professional Plan paid annualy, we top up your account with 55 Typito credits. You can use the credits to pay for videos or buy monthly plans on Typito.
What are you waiting for? Share the Referral Link with your friends! :)
We hope you like our first version of Referrals on Typito. We plan to build a dashboard for our creators to track more information about referrals real soon. For the time being, join other creators to share your referral links on Social Media and accumulate free videos on Typito like these awesome creators:
Thanks and Happy Typitoing!
~Matthew CEO & Co-founder Typito
[Update] - We started Referral program on Typito by offering a week of free trial for every new paying user. After introducing Typito credits, we felt it's fair to rewards credits as part of the referral program since it can be used anytime you want.
[Update-2] - With the introduction of teams on Typito, we now maintain separate referral links for different teams.