How to Make a Video with Pictures and Music in 5 Minutes
While a still image is one of the most robust forms of art and communication, a video is much more influential and has the power to connect with your audience on a deeper level. Videos leave a more significant impact on a person's mind, and it makes all sense to learn how to make a video with pictures and music.
If you thought video creation was going to take hours probably, then you are in for a surprise. With the help of the right tool, it's hardly a few minutes. The user-friendly features should allow you to "move" your photos automatically and help you add an excellent soundtrack to make your viewers feel something.
Now, that's exactly where Typito comes in.
Before we get into the details and tell you the step by step process to make a music video with pictures, here are some interesting stats to help you understand the importance of creating a good video and its market demand.
It is possible that many businesses or even individual creators may not have the budget to invest in a video. For them, video making tools can come in handy, especially when you want to add music and pictures to make your videos more interactive.
Whether you are a small business or a creative person looking for a quick fix with your personal projects, this step by step guide is going to be extremely useful.
You can bring in different montages, add the background score, and a lot more to make your video informative. And of all these, in just 5 minutes. A special gift or a remembrance perhaps?
So let's get started.
How to Make a Video with Pictures and Music
---
With Typito, learning how to make a video with pictures and music is very simple. Typito can be used to make videos across all platforms, be it LinkedIn, Instagram, Facebook, Twitter, or the good ol' YouTube.
The steps to add pictures and music are super basic, and you don't have to be a professional to get this cracking. Just follow these steps:
Step 1: Login and start a new project
Go to typito.com and log in to your account. If you aren't a registered member yet, quickly sign up for one.
Next, click on the New Project button.
You will be directed to the format page where you will be given the option to choose the aspect ratio of your video. Select one of the video formats shown on the screen and click Create.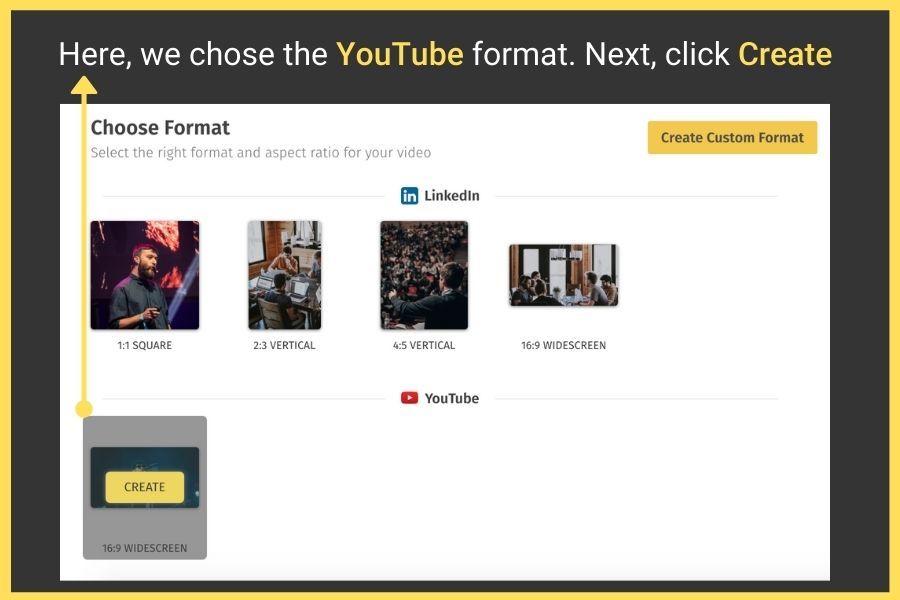 Note: One of the best parts about the video making journey on Typito is that you don't have to research the aspect ratio for your video. Simply select the platform of your choice, and voila! You have the appropriate aspect ratio for your video.
For this guide, we will be going ahead with YouTube.
Step 2: Choose pictures from the gallery or upload from your computer
Typito gives you two options to add pictures to the video.
Upload: Lets you upload pictures from your computer
Stock Media: Lets you choose a few pictures from the inbuilt gallery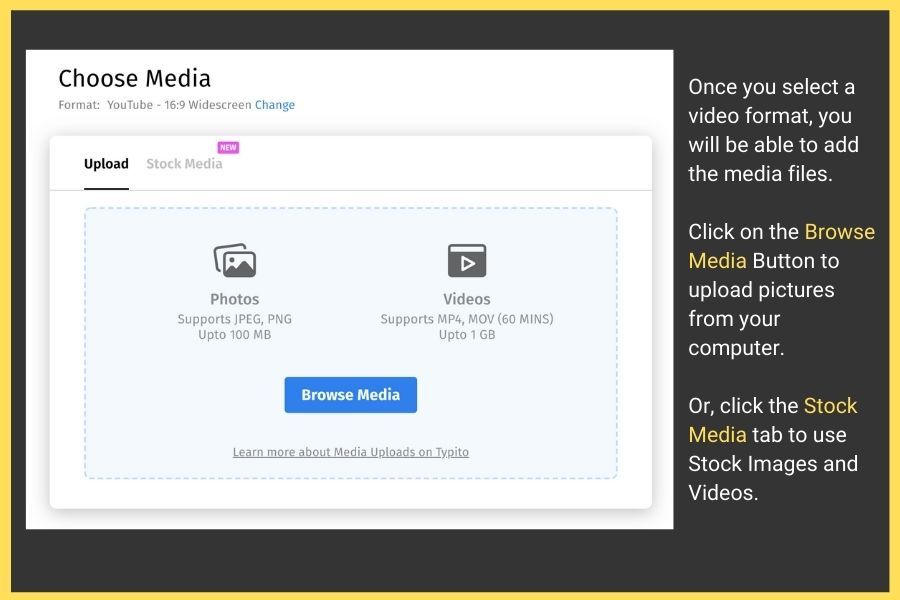 It will not take more than 10 seconds to upload your images. Once done, click on Create Project.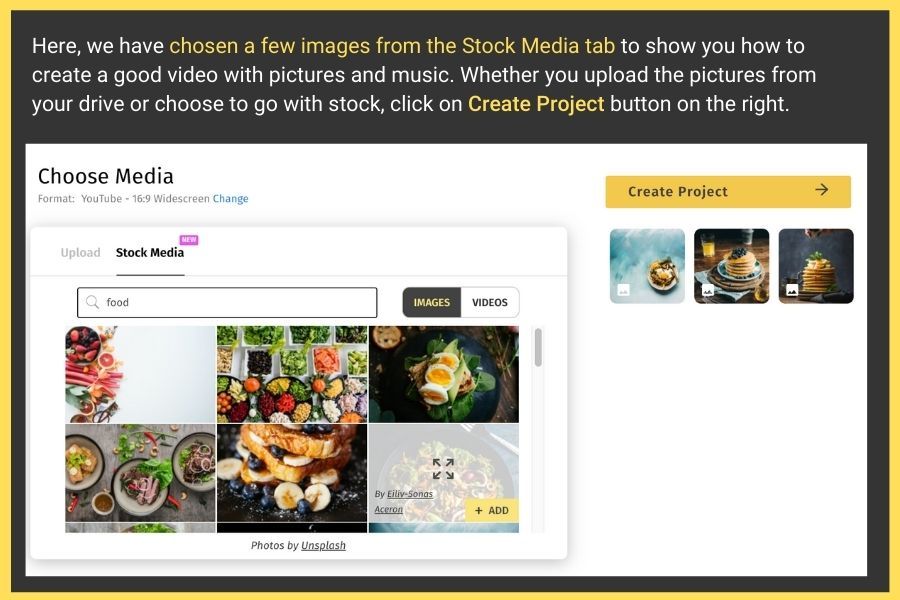 Step 3: Add music to the background
Your video project will now be created with all the pictures you have added. Next, you will be directed to a fully-fledged dashboard where you will see 5 main options on the left pane:
Text
Images
Audio
Media
Captions
With these handy features, you can play around with the font, colors, add captions, text, music, subtitles, and much more. Just in case you missed adding a picture, you can quickly click on the "Media" tab and upload one again or choose from the "Stock Media" again.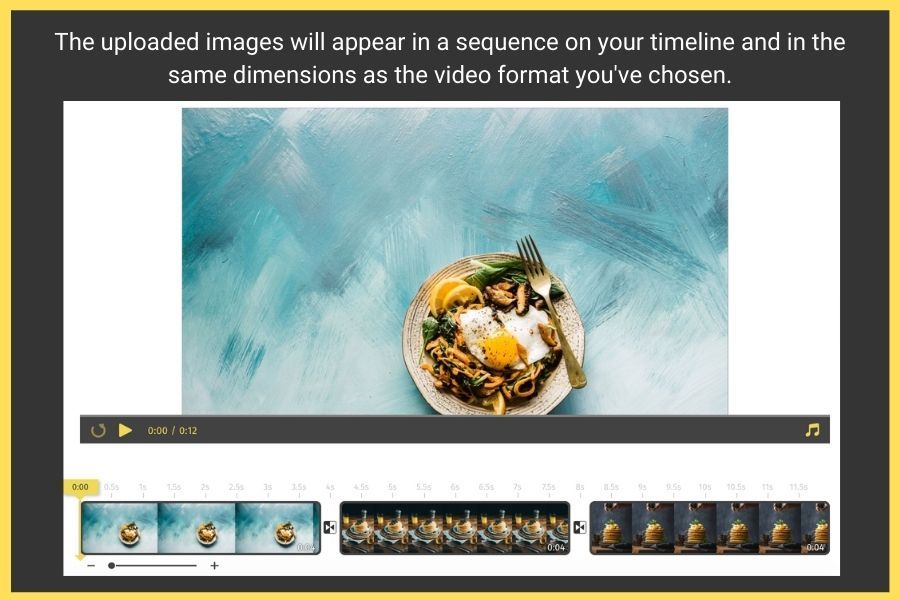 Note: With Typito, you don't have to clip the pictures. It automatically does it for you. All you have to do is upload your pictures in a queue, and its smart system will detect when to shift to the next scene. This also helps when you want to add different text to each picture.
Adding music to your video is made simple with Typito, as it already has some popular tones uploaded for your convenience.
From the left pane, choose the audio tab.
Either choose the music from the library or upload the music file from your computer.
Clicking once on the music file will have it applied to the pictures. You can test this by playing it right on the dashboard.
You can adjust the volume of the music by sliding on the level you want to.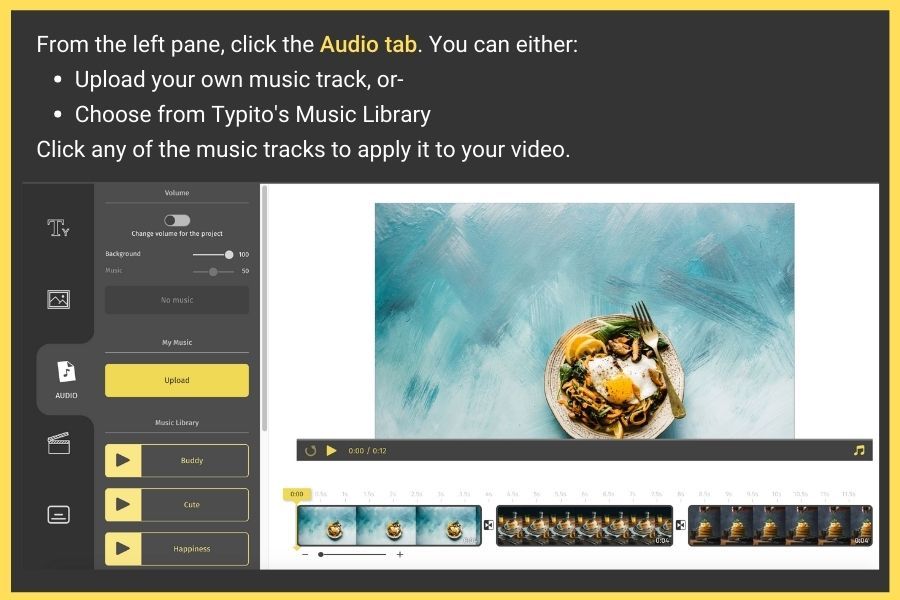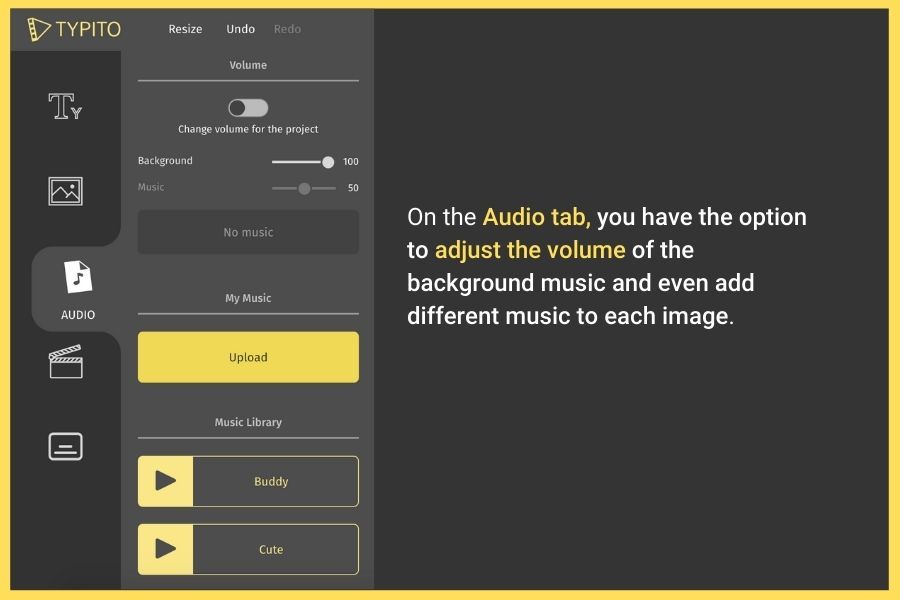 Step 4: Export the video
Once you have finished adding the music to the video with uploaded pictures, the final step is to export it. Just click on the Export button at the top right corner.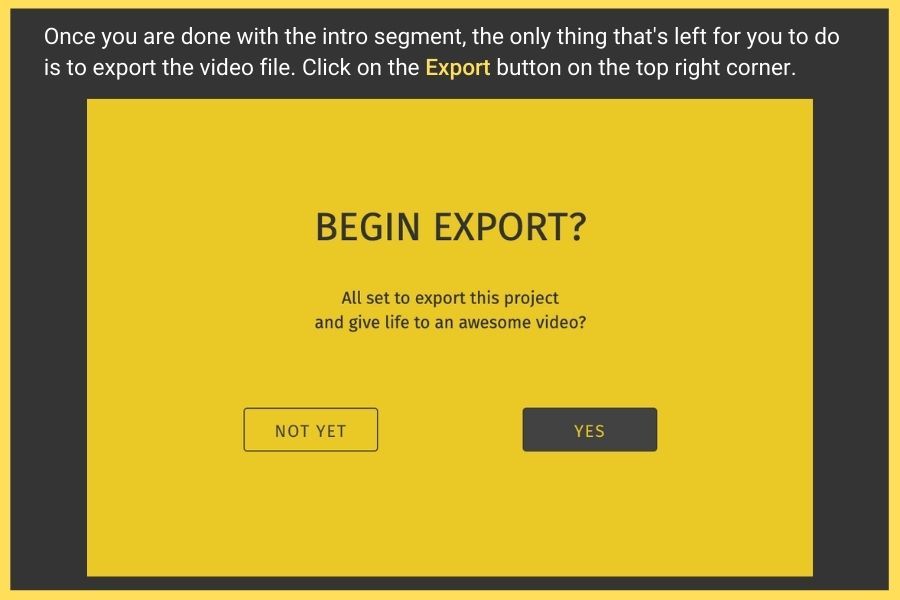 Based on the video size, the export process may take a few seconds to even minutes.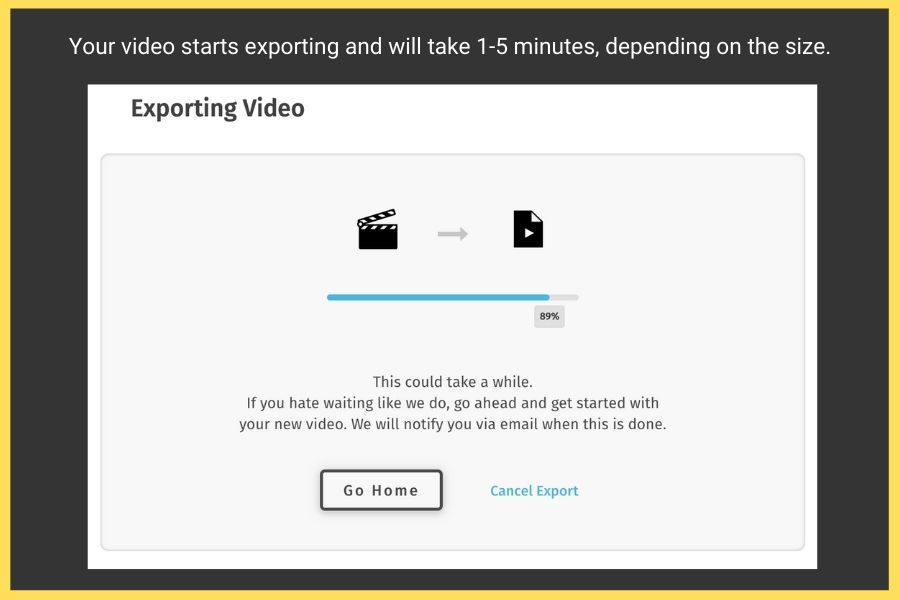 Once that's done, your video is all ready to be:
Downloaded and saved on your computer
Shared as a link publicly
Posted on Facebook
Published on your YouTube channel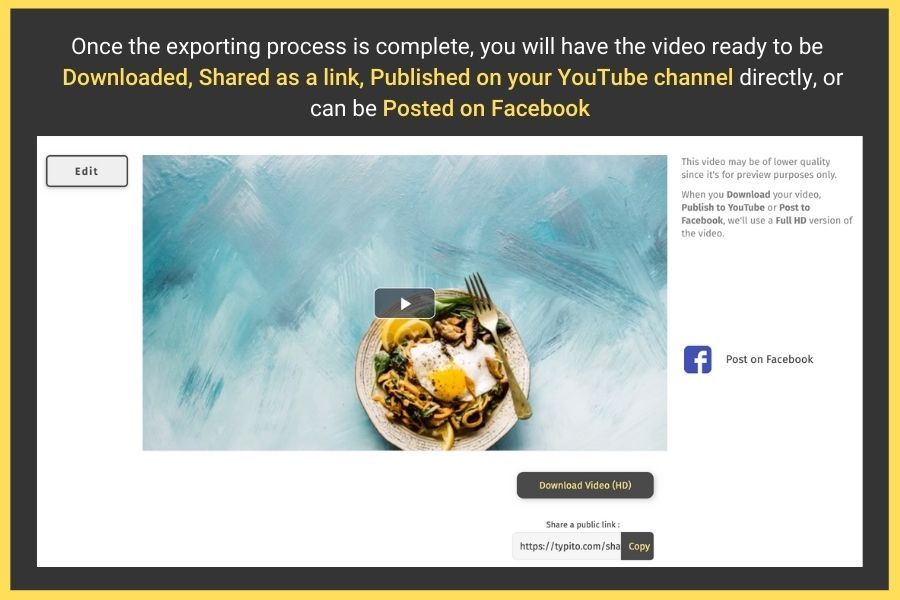 From merging or cutting photos on a video to integrating music, adding motion graphics, animated text, and overlay titles, Typito is that one-stop tool that enables everyone to create magic in minutes.
The interface is user-friendly and has all the options handy to try out different things. Not everyone has the money or time to invest and learn high-end tools like Final Cut Pro or Adobe After Effects.
With typito, learning how to make a video with pictures and music is a no-brainer. The moment you see those features, you will know how to use and play around with them quickly. It's all in a click of a button. As simple as that!
Importance of Adding Music to a Video with Pictures
---
Music has the power to touch one's emotions and can easily establish positive connotations to a brand or product—think of the number of hits Apple or Samsung use to launch their gadgets. We will tell you what exactly to look for when adding music or audio to your video.
Whether it is an image film or explainer video, the background's right music ensures recognition value. Let's consider radio stations for a moment. They usually use jingles to acquaint themselves.
Music generates critical emotions: Preferably, the music in your video, although if it's only playing in the background, has the power to create a pleasant mood and encourages positive feelings among viewers.
A perfect example of this is Liziqi's YouTube channel. She hardly talks in her videos. There is only music and action at all times. Just with these two, she has become a sensation in the internet world.
To comprehend music's role in amalgamation with a moving picture, recall the times when silent movies were introduced. The reason for its success was the ability to tell exciting stories without any dialogues and yet inspired curiosity, sadness, or enthusiasm. How was this possible? Quite simply, it's music!
1. Music evokes emotions
Music touches inner feelings and can bring life to a moving image by making it seem more beautiful, interesting, romantic, and dynamic.
Musicologists say that both harmony, volume, tempo, and the type of musical instruments have a key role. Your "mood technique" actually deals with the kind of effect an instrument gives out. (Source: Nielsen)
2. Music conveys messages effectively
When you add music to a video (could be your memorable photographs, brand marketing, or product), never think of it from an advertising perspective. Instead, keep it personal, as this helps your audience to feel excited.
Instead of using expected music in a few scenes in a video, try some promising musical interventions. Underline your message or bold it with a few sung words. Perhaps, you can even have your song written.
Alternatively, use music for creating those little surprises and make your viewers laugh or stimulate action.
3. Music creates strong memories
While a video must follow specific standards, even music has to be recognizable. Ultimately, the goal is to make your potential customers think of your brand directly the moment they hear a specific tune. That's why most brands will have their music or jingles written. In fact, "audio branding" works perfectly for classics or pop songs.
5 Tips to Select the Right Music for Your Video
---
Whether it's instrumental music, an affluent orchestral track, or a simple melody, the right soundtrack has the potential to help your customers think of your identity immediately.
Simply put, the type of music you choose has a huge impact on your creatives. With that established, here are a few tips to help you choose the right music for your video.
1. Find the right mood
Most marketers plan their video in detail—focusing more on storyboards but often forget about the music that should go in.
There are specific scenes, which might be accompanied by moments or sounds that won't be spoken. It is essential to take time to think about music while planning a video. Consider the type of mood you desire to create, at which moment. Come up with a good strategy around one of these descriptors:
Funny
Entertaining
Mysterious
Playful
Dramatic
Edgy
2. Never mix different music styles
Never overdo your video with music, but you can create various moods with small melodies to convey your message. Though some marketers like to mix several music styles in their videos, the reality is that "less is more."
If you add multiple music styles in the foreground, your customer has a higher chance of forgetting about your product. It's better to focus on one amazing song rather than using different styles.
3. Coordinate content and music
This tip is crucial but demanding at the same time because you might be thinking of the music at the time of editing your video. Therefore, it is helpful to have an idea for every scene and the music that can fit in.
Also, make it a habit to experiment with different types of music and see the edited video multiple times to know if it can evoke your viewers' emotions.
4. Be mindful of the copyrights
Before you excitedly begin to download your favorite music or song from the internet and integrate it into your video, think of the legal aspects. Every time a music piece is exploited, the user is rewarded accordingly.
You're not permitted to use any music on your video unless you pay for its license. This way, you'll be able to use a music file without any restrictions and be free from paying hefty penalties.
5. Make it appealing to your target audience
Say, for instance, if you desire to portray that you're an energetic, young, and a crazy startup with quick decisions or smart processes in place, indie songs work well. On the other hand, if your target audience is primarily older citizens and would like to use nostalgic memories to convince them to purchase a product, go with soft, old melodies, or pop songs.
If your company is elegant and traditional, a classic, clean melody, which isn't too exciting or fashionable, will work.