How to Add Music to Videos Online in 5 Simple Steps
Music can evoke emotions and has the power to establish positive connotations. Adding music is one of the most crucial steps in video creation but it often takes the backseat and isn't given too much thought.
Believe it or not, the right track can bring good engagement and can leave an impact on your viewers. Now, if you thought that it's a time-consuming task, then you're in for a surprise. Learning how to add music to videos online is just a 5-minute work if you know the right tools.
Before we show you how that's done, here are some interesting thoughts on why music is so important for your videos.
Selecting the right music track takes time and is something that shouldn't be overlooked. Once you have that handy, adding it to your video is a simple task and that's exactly where Typito comes in.
Today, we will not just show you how to add music to videos online but also give you tips to choose the right track to increase engagement.
So, let's get started.
How to Add Music to Videos Online
---
For this guide, let's assume that you have your "music file" saved on your computer and all set to add it to your video. Now, even if you don't have a music file handy, Typito has got you covered.
Interestingly, Typito features a small music library, curated with a few music tracks (copyrights-free) that you can choose, which matches your video well. However, if you're looking for a bigger collection, then stay tuned, as we explain some good sources to choose one.
Step 1: Login and upload your video
Go to Typito.com and sign-in to your account. If you haven't registered yet, quickly sign-up for one.
Choose an appropriate format for your video.
Hovering on any video format will show the Create button. Click on it once you have decided on the video format.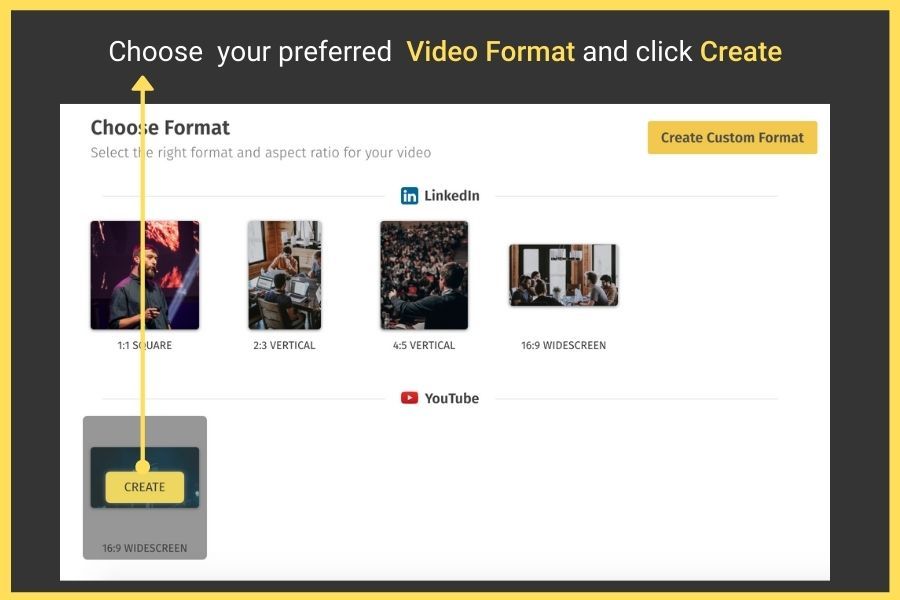 Note: The video formats in Typito are designed to make sure that any video that you create is compatible with the same specifications that any social media platforms use.
Step 2: Choose a video from the gallery or upload from your computer
After you choose the video format, Typito gives you two options to add a video file, which are:
Upload: Lets you upload video or images from your computer
Stock Media: Lets you pick images or videos from the integrated stock footage library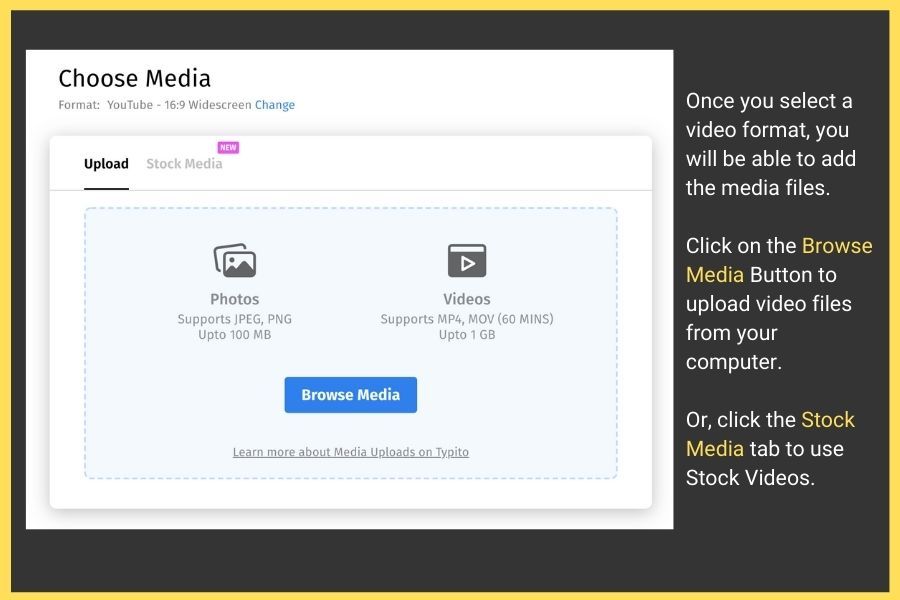 Note: In this example, we have selected a video from the footage library.
Depending on the video size, the uploading process may take anywhere from a few seconds to a couple of minutes. After the video is uploaded, click on the Start Editing button.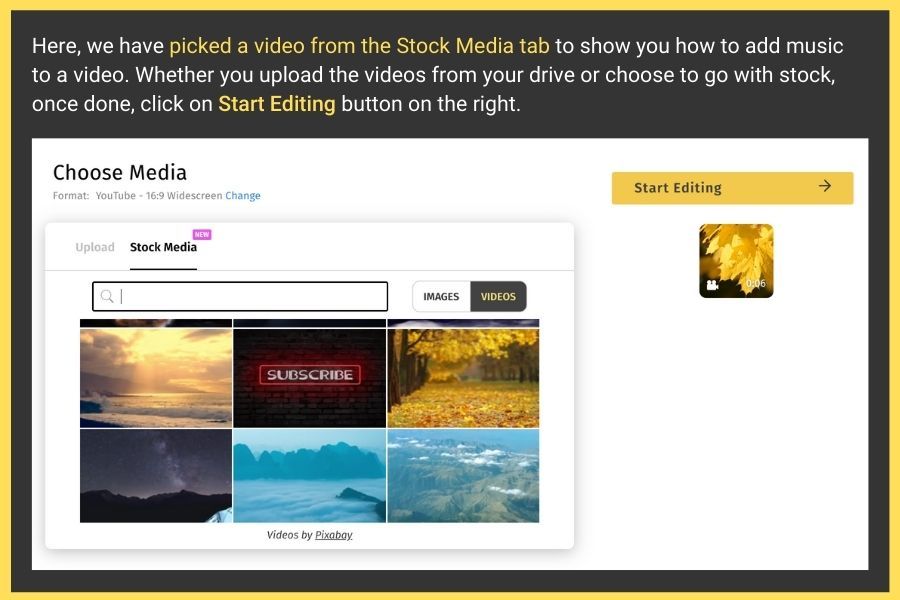 Step 3: Add music to the video
Your new video project gets created and you will be taken to Typito's user-friendly dashboard where you can edit the video and play around with different features.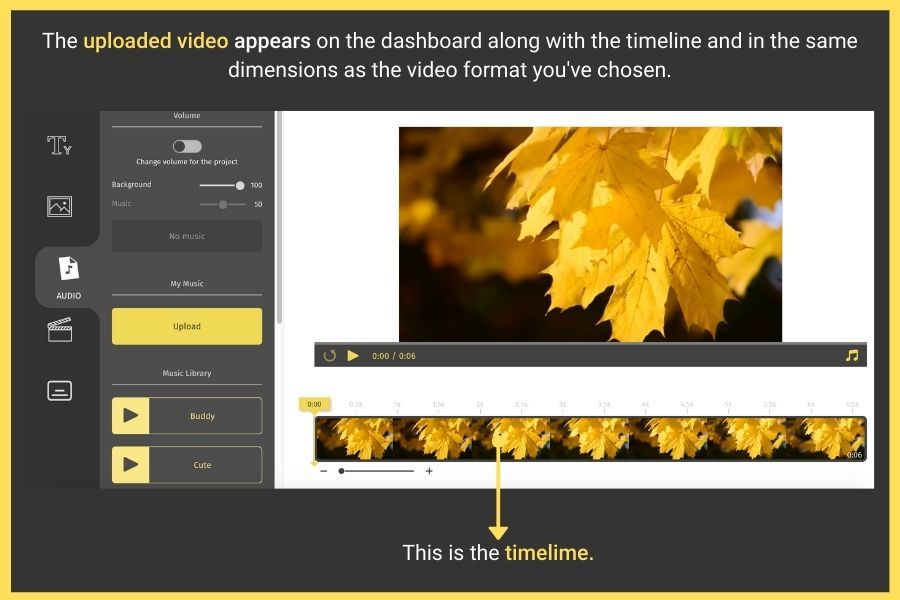 From the left pane, click on the Audio tab.
You can either upload your music file or choose from the music library. Here, we have uploaded an MP3 file (named 'creativeminds').
To apply or add the music to the video, just click on the music file once.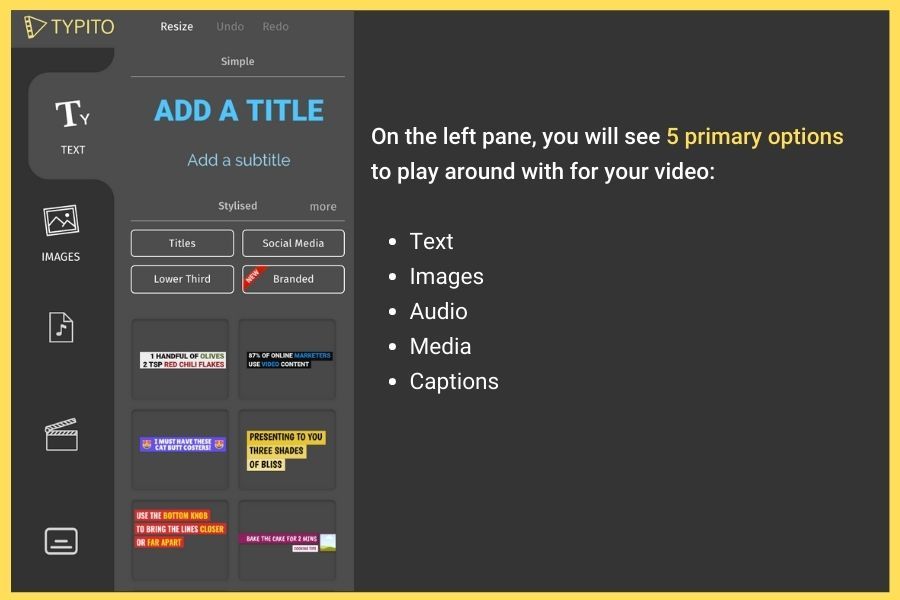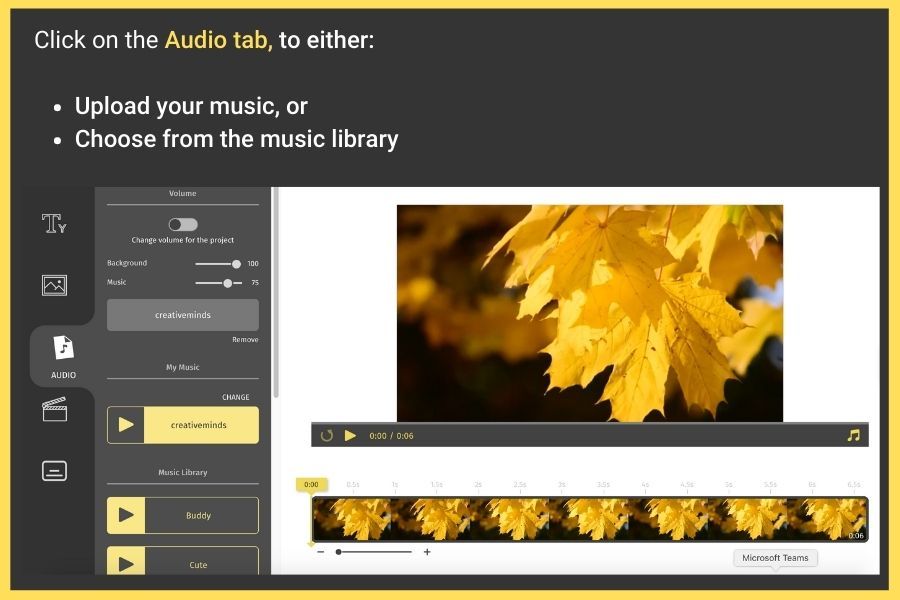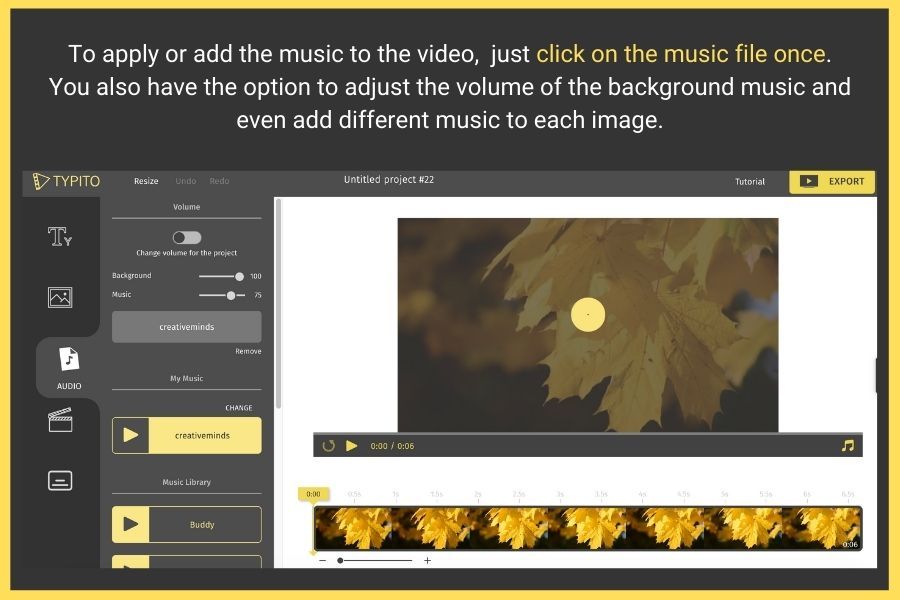 Step 4: Adjust the volume of the music
Depending on the video you are designing, you can adjust the music volume for the track you've selected. To do this, enable the toggle button from the menu.
This feature is useful when you want to create videos with both dialogues and background music.
Say, for instance, you are trying to create a video that highlights a product for a brand and you wish to control the volume levels being played in the background and talk about the product in detail.
Once you have fine-tuned everything, you can play it right there from the dashboard to have a preview of your video with the music.
Step 5: Export the video
Once everything is done, the final step is to click on the Export button on the top right corner. The exporting process might take anywhere from seconds to videos, depending on the size of the video you have created.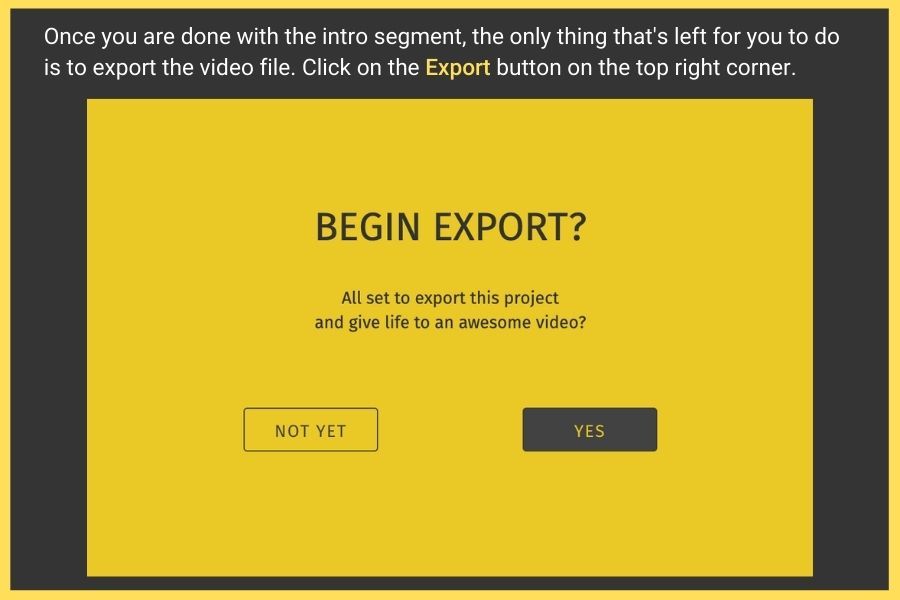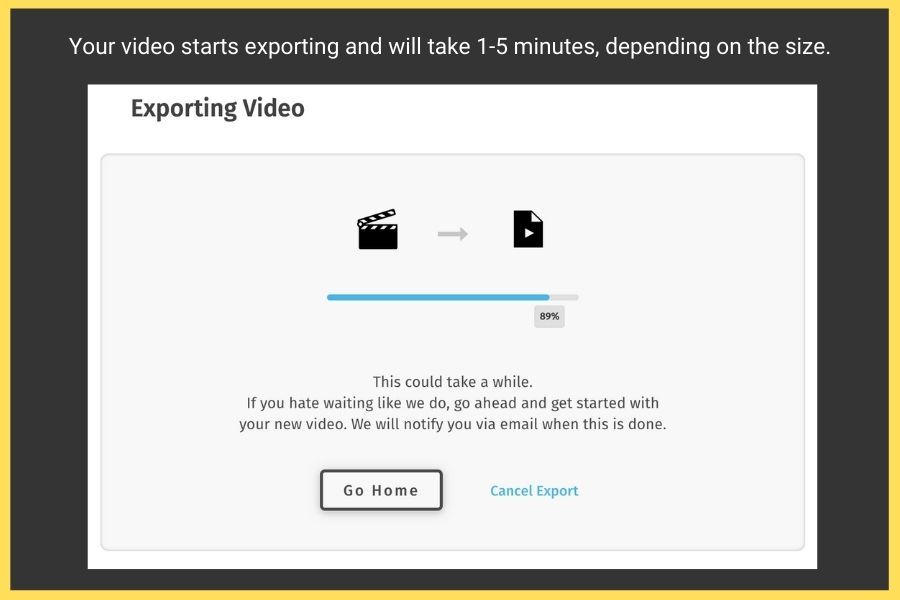 Once the export process is complete, your video can be:
Published on YouTube
Shared as a link publicly
Downloaded and saved to your desktop
Published on Facebook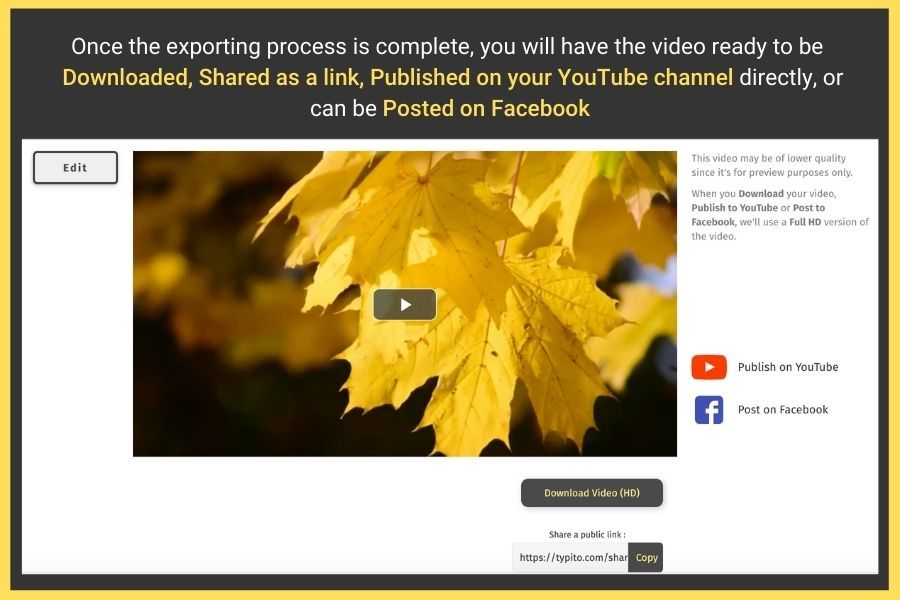 Now that you have learned how to add music to videos online, let's move on to our next segment, which stresses the importance of using good music in the background.
Tips to Add the Right Music to a Video
---
They say that "Music is the literature of the heart" and it's true.
Musical accompaniments are so impactful that soundtracks in some scenarios outsell the actual movie. There are even events when certain background songs take a permanent place in the cultural consciousness.
A good example of this is Celine Dion's "My Heart Will Go On…" It is such an apt and intense ballad of romantic longing that it's almost impossible for one to hear it and not think of Titanic.
Like visuals, good music has the power to attract views quickly. Even a poorly shot video can grab the attention of the audience and perform well if the right music is added. Music evokes emotions that talking cannot.
And if you still don't see the significance of music in a video, then try watching a movie trailer on mute? We bet you will never experience the same thing as you would when it's played with sound.
Selecting music for a video might sound like a difficult task but it's not if you follow these tips:
1. Match the music with the mood
Whenever you make a video, ask yourself this one important question:
"What emotions will I want to evoke from my video?"
Once the viewers are done watching your video, how do you want them to feel? Should they feel happy? Sad? Or is it more of a go-lucky video?
Have you seen those environmentally green or motivational videos? If that's what you want, then you will need something chirpy and upbeat.
Or perhaps, your video is about being innovative? Then you might want to use powerful music featuring a higher beat. On the other hand, if you are trying to create an inspirational video, then use music that starts subtle but has a greater build-up.
In short, you will have to match your music with the mood you are trying to create for your video. As simple as that!
2. Use fades to blend
This is another vital aspect while creating a video. Fade your music in and out if you don't want to get an abrupt begin or finish. In addition, it lets you bookend or blend music beautifully.
If you are adding voiceover to a video, you will want the music to fade out before the voiceover begins, as this allows the voice to be unique while the music smoothly fades in the background.
3. Beware of copyrights
Music is not free most of the time. Hence, it's important to choose one wisely. If you still break the laws, then be prepared to face some serious lawsuits in the future.
If music is royalty-free, then it only means you have to buy it and use it as much as you want. No royalty fee. Many people often misunderstand the "free music" ads shown on the internet.
The reality is that 95% of the time you will have to attribute the website or the composer, which is called Creative Commons License.
Using attributions within the video can look awkward sometimes, especially if you are using it for commercial purposes. Though we recommend you to purchase the music license, get creative with free stuff if the price is too high.
4. Try mixing the music
Sometimes, it's good to experiment and try new things with music. For example, you can try keeping your intro and outro music different from each other.
This trick works, especially if your video is long because when viewers realize that there's a change in the video, it serves as a small wake-up nudge. Even a slight change in the music lets the viewers sense a difference in idea or thought.
Resources to Look for Good Music Online
---
Below are a few good resources, both free and paid, to help you get started correctly.
When it comes to videos, music can truly make or break the deal. So consider these tips while creating one to make sure you're going in the right direction. If you have more resources or tips which you feel should have been on this list, please feel free to add it in the comments section!
Also, let us know how you are incorporating music into your videos.