How to Add Audio to Video Online (Step-By-Step Guide)
When it comes to online videos, audio is one of the most essential and yet one of the most overlooked aspects of video design. Your video may seem complete with kickass visuals and complementary text captions, but these only check the boxes for visuals impact. There is still an essential part of your editing process that needs attention - background audio for video.
In the world of video marketing, you've probably heard about the preference for watching videos without sound. And yet, videos with sound haven't completely fallen off the wagon. In fact, 76% of rated video adverts required sound to be understood.
So, to add audio to a video or not? Let's consider what you're missing out on if your videos don't have audio.
There's no denying that videos with sound stand a better chance at capturing attention in the first few seconds of the video. Especially if you don't have cool text captions on your video, or might not have highly captivating visuals. If your video is simple, the right audio track might just be your differentiator that hooks attention from the start of the video to the end.
The real power of audio, however, is the emotional impact it has on viewers. With just a few right beats and rhythm you can trigger and amplify emotions and feelings for your brand or cause.
Here's a video campaign by The girl effect that nails the effect audio has on video. Notice how the tune they've added slows down and picks up pace at the right visual cues. Now try watching it on mute.
In the next few sections we'll cover the following topics to give you have a comprehensive idea of how to add the right audio to your video:
1. How do I add audio to a video?
2. How do I choose the right audio for a video?
3. Where can I find audio for a video?
How to Add Audio to Video Online?
---
For this tutorial, let's assume you have audio clips saved as audio files that you want to add to your video. However, if you do not have an audio clip at hand, we've got you covered.
Typito has a small but well-curated audio library you can access and choose from multiple clips to see which fits your video best. If you still want more, you can check out our top picks for Best Audio Libraries for Free Audio clips at the bottom section of this article.
Let's take a look at how to add audio to a video in 3 easy steps with Typito.
Step 1: Upload your Video
Log in to your account to upload the video onto Typito. Choose an appropriate video format.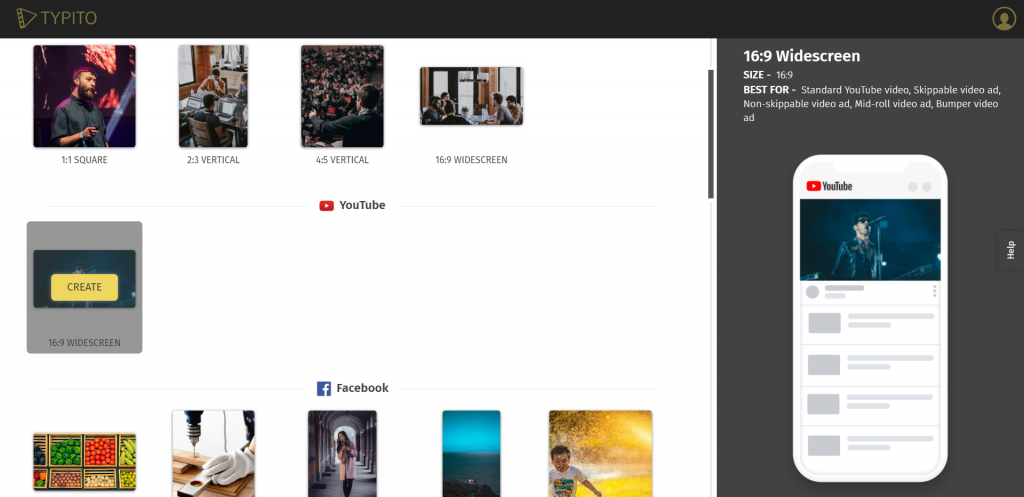 Choose the video format for YouTube.
Typito's video formats are designed to ensure that any video you create is compatible with the same video specifications as the video dimensions on popular social media platforms. Click the Create Button on any of the formats you want to choose and then upload your video.
Step 2: Add/Choose an Audio File
Next, on your Typito Edit Screen click the Audio tab from the panel on the left.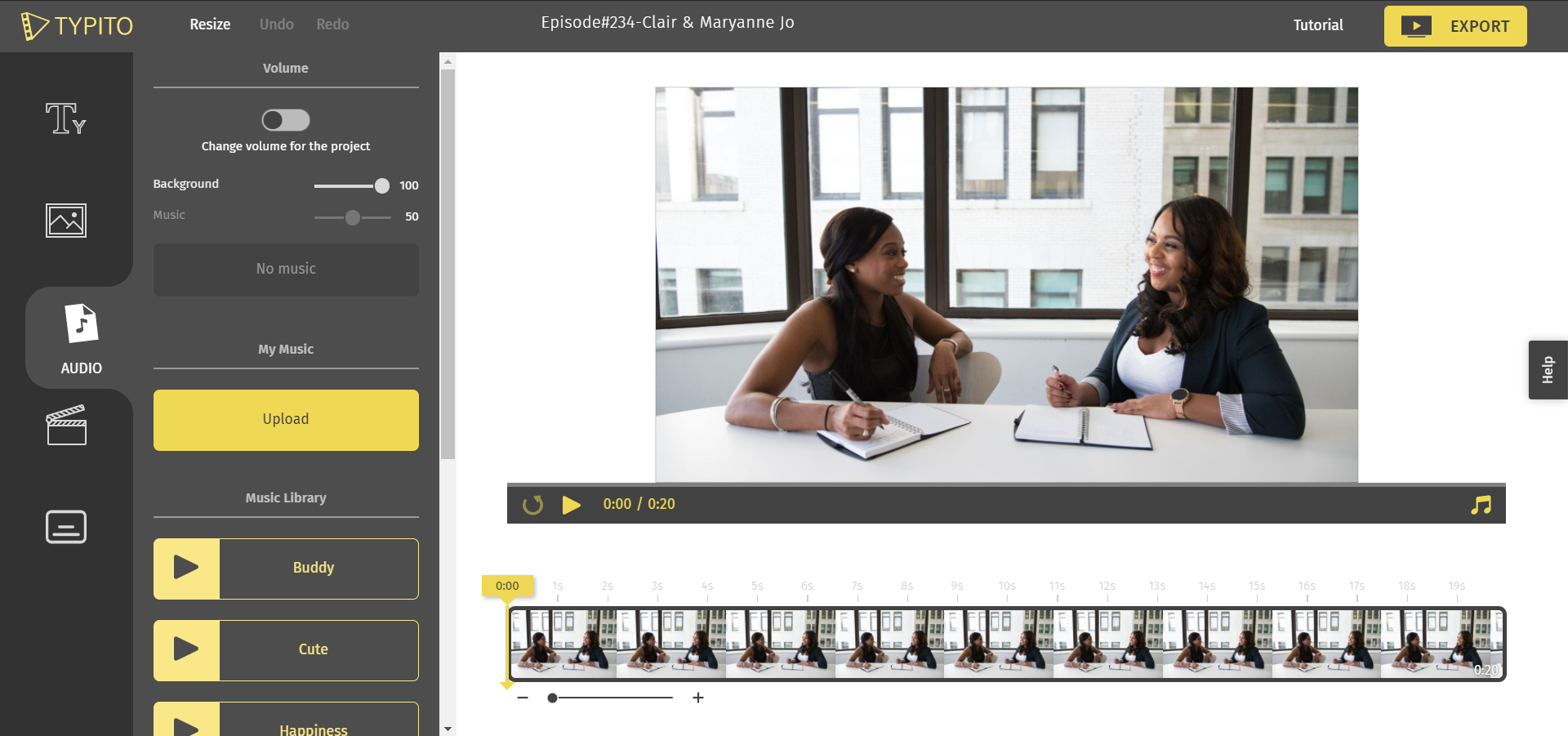 Here's what your editing dashboard will look like.
You can choose to upload an audio file if you have a preexisting audio clip you want to add to your video. Click the Upload button to upload a file from your computer. Once the audio file is successfully uploaded, click the file to add it to your timeline.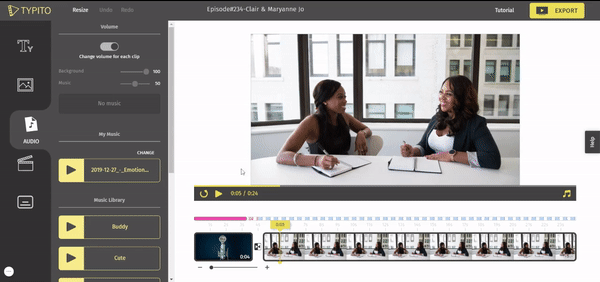 Simply click an audio track to add it to your video.
You can also add any of the audio clips from the Music Library section on the left panel. Click the Play Button to preview the audio, and then click the name of the audio file to apply it to your video.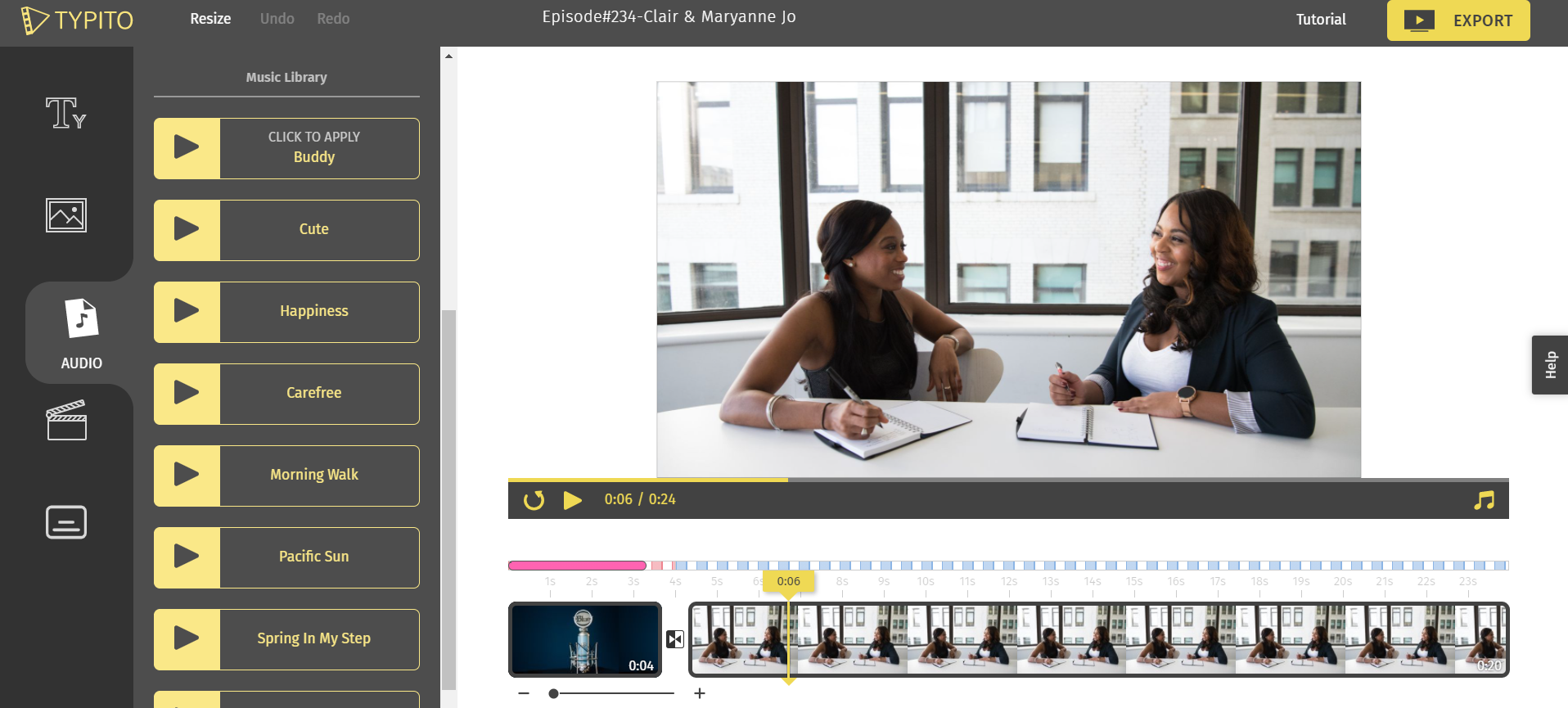 Typito has a collection of audio tracks you can use for your video.
Pro-Tip
When adding audio to your video, here are some tips you might want to consider:
Choose a complementing background music track that does not overpower the visuals of your video.
If your video has a narration, skip adding an underscore background music. This will help you avoid losing out on the effect of the narration.
Step 3: Adjust your Audio
Depending on the type of video you're creating you can choose to have the audio clip played for the entire duration of your video or just for specific clips like the intro or outro of your video.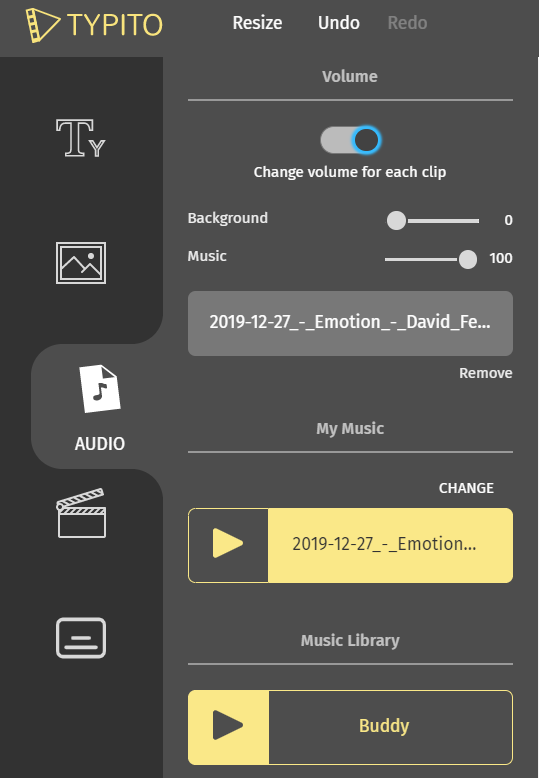 You can adjust the audio to suit your video.
To play an audio clip for a specific clip enable the toggle switch at the audio menu. You can also adjust the background and audio volume of the audio clip you've added.
Once you've fine-tuned your video and the audio you can go ahead and give your video a quick preview. Click the export button once you're ready to publish your video.
How do I choose the right background audio for a video?
---
Choosing audio for your video sounds straightforward enough, but it takes patience to find the right type of music for your video. The Audio you add to your video largely depends on the intent of the video you've created.
Let's take a look at three different ways to use audio for your video depending on intent.
Music or Background Soundtracks - to maintain attention and influence the emotion of viewers. Apple's ad campaigns usually steal the show with catchy-upbeat audio that's impressively synced to the visuals and text captions on the screen.
Voice Overs - as verbal narrations that compliment the visuals on your screen. Nike has a great example of how to compliment an audio track with a voice-over.
Sound Effects - to make your video more exciting and simulate a more realistic viewing experience. Here's a great example by Marks and Spencer's Food Ad campaign that amazingly blended sounds effects with an audio track.
What to keep in mind when choosing background music for your video:
The Intent of your Video Message
The next time you watch a marketing ad video or a motivation video, pay close attention to the background music used and how it influences the way you feel about the video's message.
Now let's try putting this to practice. First, start by identifying your video's goal- do you want viewers to feel empowered or motivated to take action? Or do you want to hold the viewer's attention consistently as the visuals play?
Once you've identified the intent, you'll have more clarity on what kind of audio would fit best. For example, if the intent of your video is to educate or inform with a series of text captions, such as explainer videos, choose a soundtrack that is well-paced, has an even tempo that keeps viewers engaged but not distracted from the visuals.
If you intend your video to appeal to emotions, such as in marketing campaign videos, try out a more dramatic soundtrack.
The Role you want the Audio to Play
The right complementary background audio can boost the effectiveness of your message and might just nudge your viewers to act on the intent of your video.
While your visuals communicate your message, the audio plays a complementary role in telling viewers how to feel about what they watch. Do you want viewers to feel empowered and ready to take action (such as buy a product, or donate), or do you want viewers to feel at ease and encouraged so that they're in a better mood to understand the details your video conveys?
For a product launch video or an intro video to your organization, try adding an upbeat music track that will set the mood for a feel-good, and positive vibe. A fundraising video for donations or an awareness video on animal cruelty the on the other hand might need a more slow-paced, low music track that evokes a sense of empathy for a message being conveyed.
The right music track that aligns with the visual cues of the video is a subtle but powerful that you don't want to miss out on.
Where can I find Music to Add to my Video?
---
There are tons of resourceful audio libraries online that have a lot of royalty-free audio to add to your video.
Here are our top picks for royalty-free music websites for videos :
1. Youtube Audio Library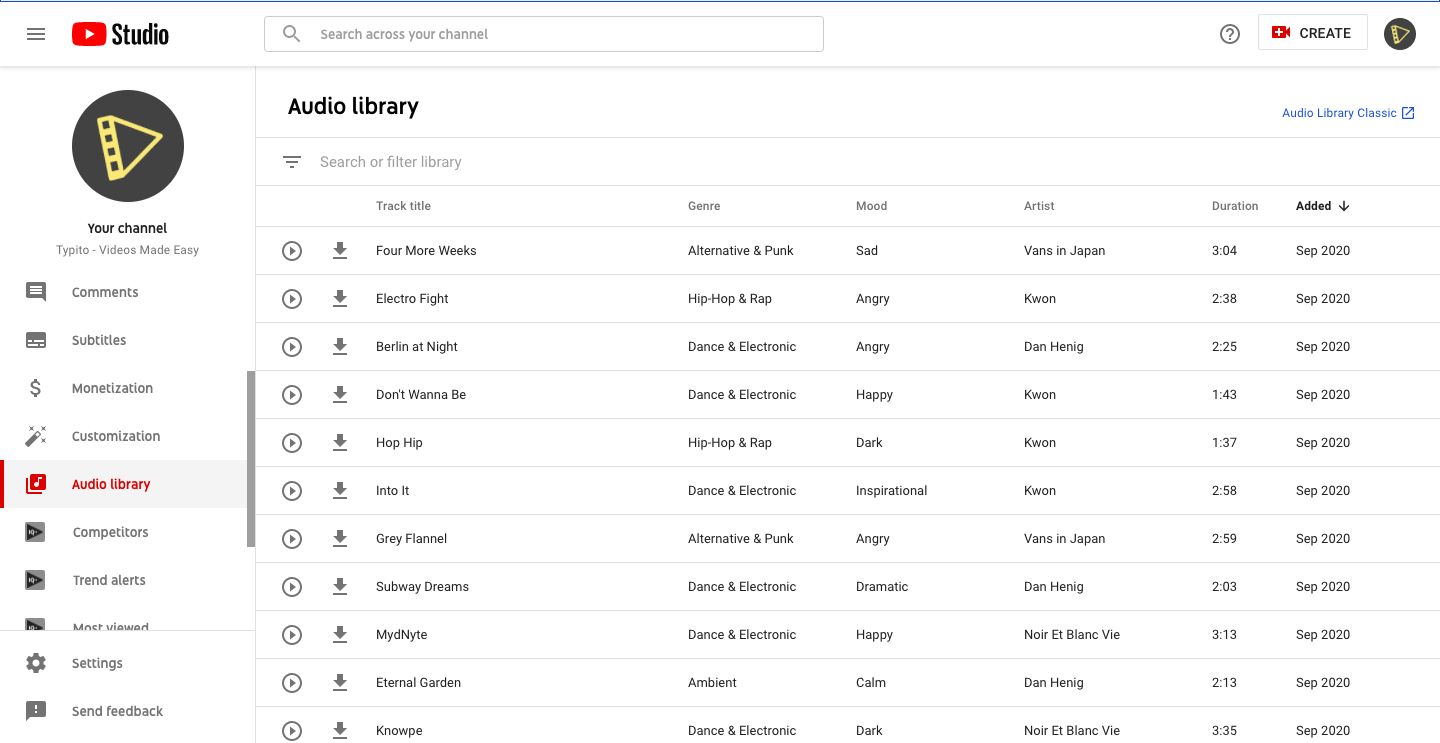 YouTube Audio Library has a great collection of royalty-free production music that you can use in your videos.
The music here is copyright-safe. You can search by filters like track title, artist, or keyword to find a perfect audio track for your video.
2. Bendsound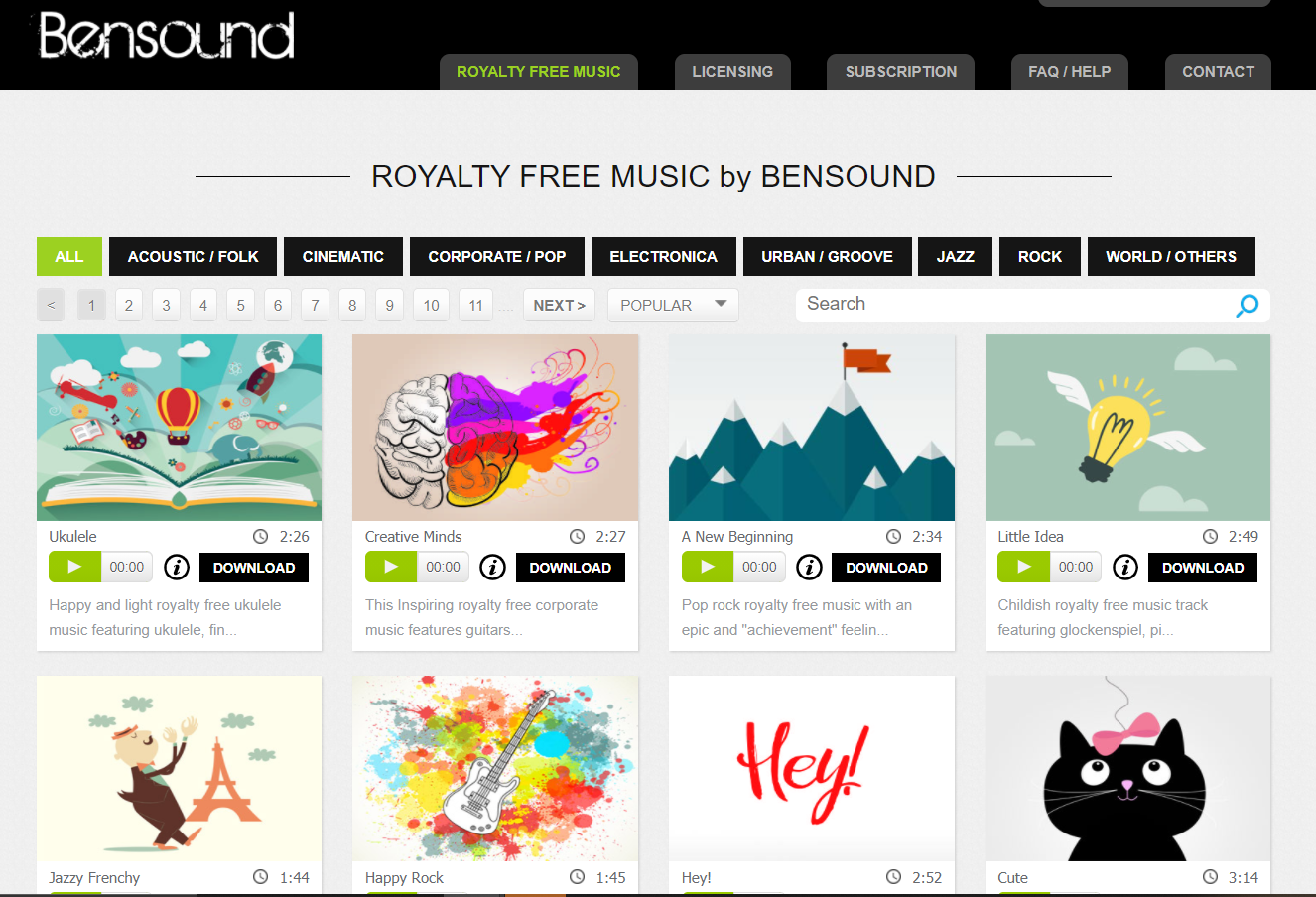 Bensound has a ton of audio track options with categories like acoustic/folk, cinematic, corporate/pop, electronica, urban/groove, jazz, rock, world, and more. You can also filter by popular or newest tracks.
The audio available on Bensound is a Free License with Attribution. This means that the music here is free to use for online videos but you will need credit Bensound.com when publishing your video online.
3. Audio Jungle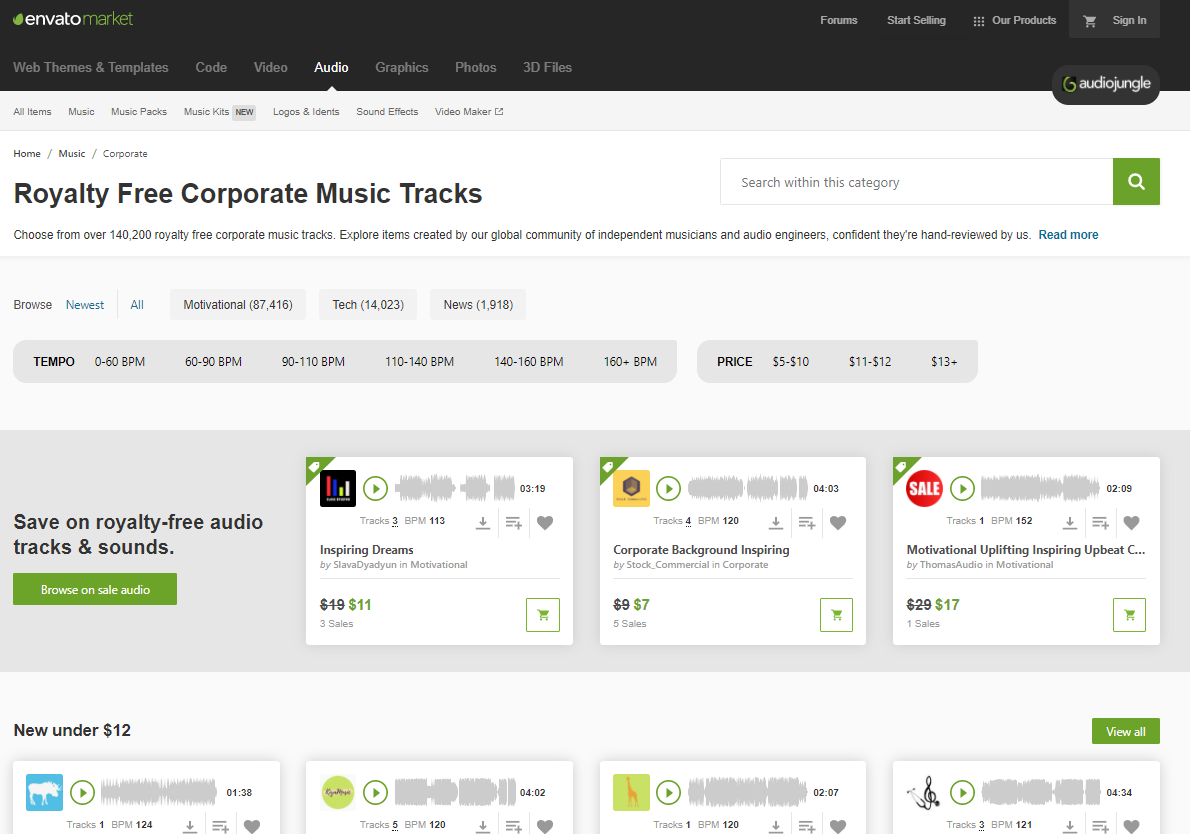 AudioJungle has thousands of royalty-free music and audio tracks. You can search for tracks by music genres like ambient, cinematic, classical, folk and acoustic, hip-hop, etc.
While AudioJungle does not have free music tracks. It does, however, offer flexible pricing with some of the tracks available are priced at as low as $4.
We hope this guide gives you a comprehensive idea of how to boost your videos with audio, what type of audio to choose for your videos, and of course the simplest way to add background audio to your video using Typito.
While we're rooting for your creative ideas, we're also here to ease out your process of creating well-designed quality brand videos.