Growing Your Brand on YouTube and Other Video Platforms in 2017
Last 5 years have clearly witnessed the rise of video content as a medium used by influencers, thought leaders and celebrities to speak to their audience. You can find most of your idols on YouTube, Twitter, Facebook, Instagram leveraging the power of online videos. It has most certainly replaced text based blogs to a great extent.
There's no rocket science behind this paradigm shift in online content creation:
Once you get the hang of it, creating videos is a fast and easy affair
Videos communicate the gist of your message faster, saving time for your audience
Your audience is more receptive to videos than text content
Virality of the content, its potential to get shared on social media platforms in an organic manner, is high for videos compared to other mediums.
Having said that, it's very likely that you can get lost in the world of online videos. There are a bunch of video creating and sharing platforms and you might not know what works the best for you. In this post, we will try to cover all the major video content platforms - how to leverage them for building your brand and what to keep in mind while doing that. If you need a quick refresher on what brand awareness is before we start, then you can see this page.
YouTube
YouTube, without doubt, is the biggest video content platform in the world. YouTube's trump card over other platforms is the content discoverability it offers via it's search experience. Among all the platforms, YouTube stands out clearly as a winner when it comes to helping viewers search and get relevant video results for the queries they have.

What YouTube had to say about their creator ecosystem in 2015 and it has got only better since then (src: youtube.com/yt/press/statistics.html)
Highlights
Monetisation - It pays you for placing advertisements on your original video content on the platform.
Discoverability - YouTube enables discoverability of content. This is very helpful for beginners who create good video content - if the content has prominent following, it would definitely rank higher, giving the creator and his/her channel the much needed exposure.
Video specifications
Duration - YouTube's average video duration is slightly above 7 minutes. YouTube works best for video content that's 4 - 10 minutes in case of vlogs although there are exceptions on either sides.
Resolution - YouTube supports 144p to 4K videos. Now, considering that most of the YouTube audience watch videos on mobile, desktops, laptops and tablets - you don't have to stretch yourself to create 4K videos. We'd recommend 1080p Full HD videos.
Aspect Ratio - 16:9
Verdict
If you are a content creator who wants to build a specific brand of video messaging, it's highly recommended that you pivot your video strategy around YouTube. Create the lengthy polished videos for YouTube and create short flavours of the same to engage with audience on other platforms. YouTube is also a great way of promoting an independent brand, for example, if you have a business around private label soft gels YouTube is a great way to market your business to a wider community while maintaining the 'indie' image that could benefit your brand.
Facebook
With 1.86 Billion monthly active users, Facebook is the largest social network on the planet and you have more than enough reasons to build your video presence on Facebook.
Highlights
Monetisation - Facebook is planning to soon open up a monetisation model similar to that of YouTube where the content creators would be paid for letting Facebook place advertisements on those videos. Since it is not yet open, that makes it a great opportunity for creators to leverage a market that's not saturated yet.
Virality - Unlike YouTube, Facebook videos is built on a social graph and that provides a tremendous potential for video content to be shared across friends networks.
Starting Fast - Facebook has a consistently accessible audience due to the large numbers of users on the platform, so it can be easy to find your audience quickly. However, if it is proving to be a slow start you can also visit sites like GetViewed.net and buy likes, to get a head start in forming your audience.
Video specifications
Duration - Facebook's average video duration is slightly above 1 minute. It's recommended that you create a 1 minute snackable version of your YouTube videos if your content strategy is around YouTube. More than 2 minutes, it would be hard to hold your audience to watch the video on Facebook.
Resolution - We'd recommend 1080p Full HD videos.
Aspect Ratio - Facebook videos are mostly watched on mobile phones. For a win-win situation between mobile and desktop, go for square videos on Facebook (1:1).
Verdict
If you are a brand with short snackable content (for example - AJ+), you should definitely consider pivoting your content strategy around Facebook. Every platform spends ludicrously when they are in a phase to get content creators on board and Facebook is at that stage right now.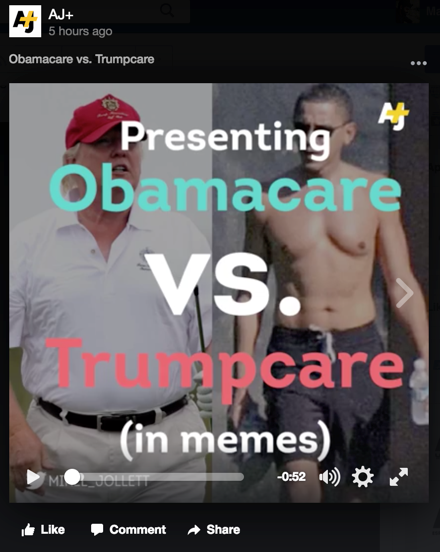 Square videos of 1 minute duration, Facebook is the perfect platform for Media and Publishing groups like AJ+
If your videos are long form (more than 5 minutes), I'd suggest that you create short teaser versions of those on Facebook to leverage the virality on the platform.
Instagram
Started as a photo sharing mobile app, after its acquisition by Facebook, Instagram's vision to become a social network built on rich multimedia content is clear.
Highlights
Engagement - If you a video creator with a 10000+ followers, Instagram is a place where you can engage with them easily.
Multimedia - You can publish a mix of photos, short videos, teasers on your profile and that would work just fine. Instagram gives a lot of flexibility for creators when it comes to the type of content they want to publish.
Video specifications
Duration - 30 seconds would work great. It's also important to note that Instagram has a hard limit of 1 minute for video length.
Resolution - We'd recommend 1080p Full HD videos.
Aspect Ratio - Instagram videos are watched mostly on mobile phones. We'd recommend 2:3 or 1:1 aspect ratio for the videos.
Verdict
If you are new to Instagram, start by posting images, posters announcing your content on Facebook or YouTube - you can announce new content first on Instagram so that your followers have a reason to stay on the platform. Gradually you should plan to create 60 second teasers to leverage the engagement on Instagram better.
Furthermore, there should absolutely be no shame in admitting that you might need help with your Instagram. In fact, majority of people these days need assistance with their Instagram because of the fierce competition out there. Most of the aspiring influencers nowadays are known for outsourcing various aspects of their Instagram engagement in order to give themselves an advantage, and a chance to actually do well. This means that there are a lot of companies, which can help you with your Instagram growth. However, before outsourcing any aspects of social media, it would be prudent to gather information from blogs like https://increditools.com/best-instagram-followers-apps/ on different types of apps that could make your Instagram journey smooth.

Rosanna Pansino publishes a teaser for her YouTube video on Instagram to engage with her audience on Instagram
Addiitonally, Instagram stories can be used to share sneak peaks into your upcoming videos. Apart from this, you can also create short original content that is suitable for the Instagram stories format - short 5-10 second clips with graphic overlays over them, shot vertically. This gives your followers a reason to keep an eye on your Instagram profile.
Twitter
With 319 million monthly active users sending 140 character messages, Twitter is known for it's engagement (why would it exist otherwise?). Having launched videos in 2014, Twitter appears to be still flirting with the idea of becoming a video content powerhouse. As of today, it's a decent place to watch GIFs and short videos.
Highlights
Influencer Reach - What makes Twitter unique is that you can tweet to influencers and celebrities and if your tweet rightfully catches the attention and warrants a response, you will get one! Same logic can be applied to videos. Create videos and tweet it out relevant influencers. There's a chance it can go viral!
Teaser GIFs - Twitter is perfect for creating teaser GIFs of your content that's published across platforms. This can build anticipation among your followers.
Video Specifications
Duration - 30 seconds would work great. More than 1 minute and it would be a drag on Twitter.
Resolution - We'd recommend 1080p Full HD videos.
Aspect Ratio - 1:1. Square videos work well on mobile as well as Twitter's center aligned web user interface.
Verdict
Twitter can be used in a way similar to Instagram. Publish teaser images, GIFs on Twitter to announce the content post-production. If your videos are short form (60 seconds or less), you can upload original content on Twitter as well.
Snapchat
After its humongous $33 Billion valuation IPO, Snap's messaging product Snapchat would definitely be accelerating to become the millennial's top video sharing platform. After Instagram adopted Snapchat's popular stories feature, both the platforms seem to have a lot in common. Let's see how you should approach Snap.
Highlights
Engagement - Snapchat's ephemeral videos (which expires after 24 hours) brings in an air of exclusivity driving high engagement.
Multimedia - You can publish a mix of snaps, teaser videos, ephemeral videos on your profile.
Video specifications
Duration - 30 seconds. More than that, could be drag on Snapchat.
Resolution - We'd recommend 1080p Full HD videos.
Aspect Ratio - We'd recommend 2:3 or 1:1 aspect ratio for the videos.
Verdict
Please don't fully believe anyone who says that they've figured out their video strategy on Snapchat. They are either lying or are not sure what they are talking about. Snapchat, with it's ephemeral video messaging angle to content, is a different animal. Since it's new, feel free to try different strategies on Snapchat. To begin with, you can treat it the same way you treat Instagram.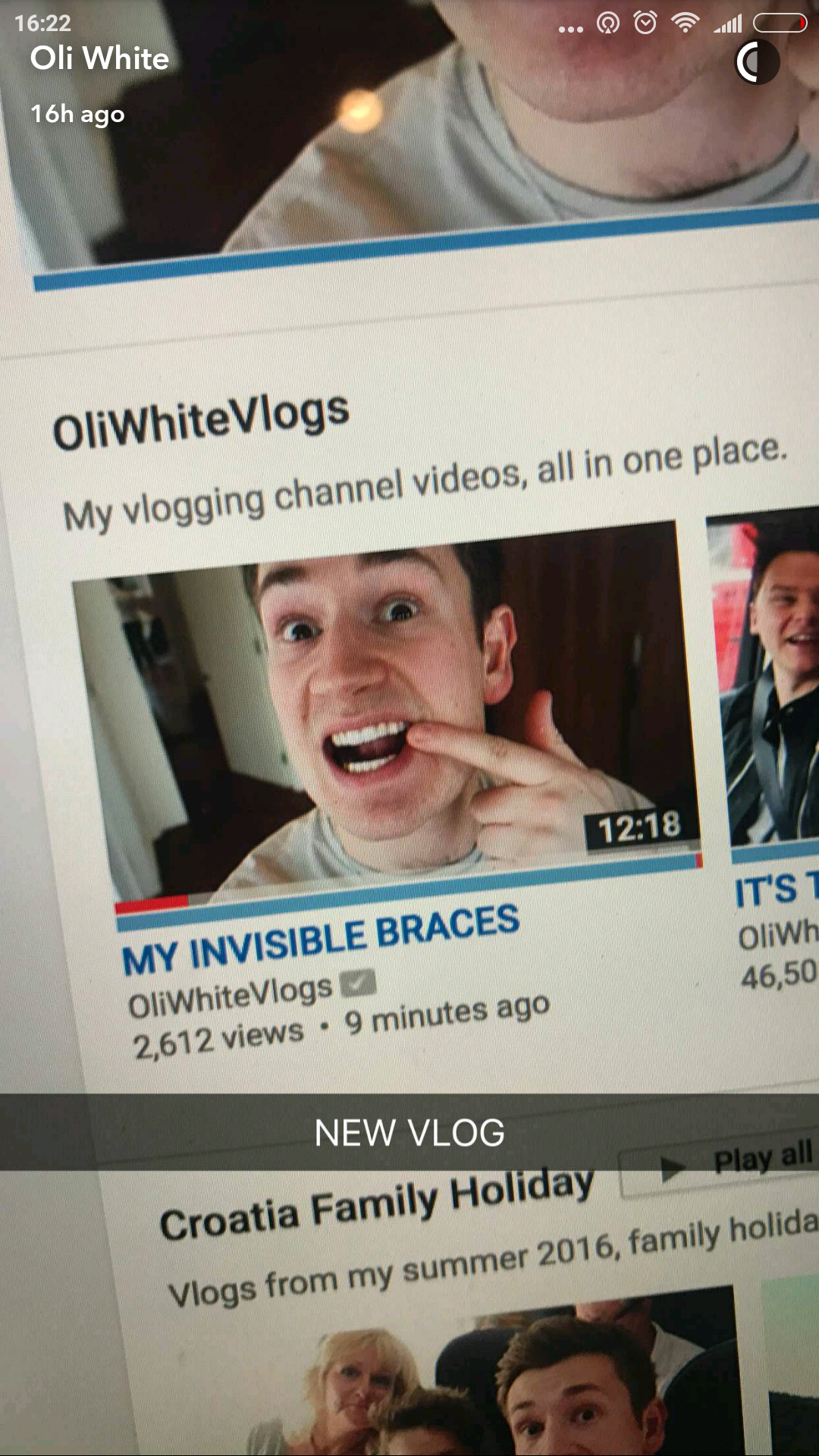 Oli White uses Snapchat to create vlog teasers
Although Snapchat has seen an exodus of YouTube creators after the introduction of Instagram stories, it remains a platform where you can create content that engages a younger viewer base (millennials if you may again). The main disadvantage of Snapchat is that you are not easily discoverable like in Instagram or YouTube. Users need to know your Snapchat ID to follow you since Snapchat is not in the business of giving you recommendations. This may change in light of Snap's recent IPO and dismal quarter performance. Snapchat may be desperate for growth and YouTube creators with tons of followers may be what they are looking for. If you are creator in Asia or if your channel has a large viewer base in China and Korea, Snow is a Snapchat equivalent that you may want to look to, to engage your followers.
Other Platforms
Periscope -  It's a live video streaming platform(part of Twitter Inc) that's adopted by many video creators today. Periscope works great if your brand requires a lot of impromptu video creation.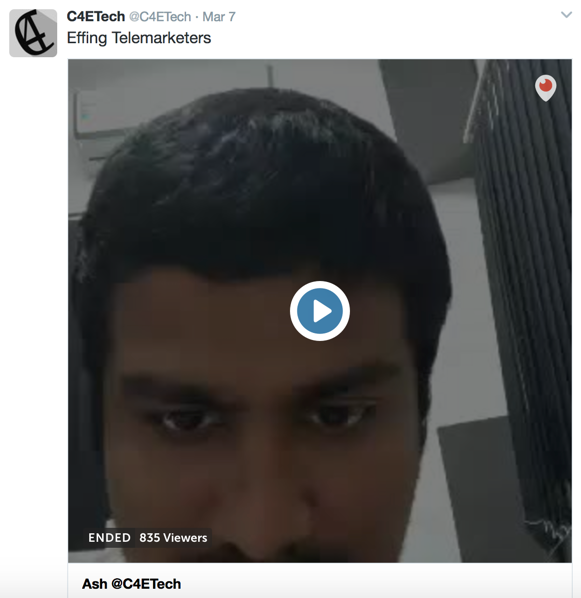 Ash from C4ETech shoots live videos on Periscope quite often to engage with his audience
Vimeo - If your content is curated, high quality videos that are meant to be online for demo purposes, Vimeo is the place where you'd want to be. Most professional short film makers hangout on Vimeo. But I am not certain how Vimeo can tie in well with a video branding exercise.