The Best Intro and Outro Maker for YouTube Online
Creating videos is no easy job. From creating scripts to recording, editing, and managing your channel, there's a lot to be taken care of. Besides this, getting the attention of your viewers is a cut-throat competition. However, a killer intro video is a perfect way to stay engaging and to get this right, all you need is a good intro and outro maker for YouTube.
Or probably, an all-in-one video tool that could save you the time of creating impressive intros and outros and have things up and running in no time. Before we get into the nitty-gritty of how to create intros and outros for your videos. First, let's understand the basics.
What are Intros and Outros?
---
Intros and Outros are clips made of high-resolution graphics. An intro is the video's beginning or opening segment, whereas an outro is the video's ending or closing segment.
An intro segment includes brand logos or introductions for branding.
An outro segment includes elements that reinforce branding and usually have a CTA (Call to Action).
Overview of Intros
Intros are often known as "video bumpers," which is all about catching the viewers' attention and reinforcing the brand. Intros are the perfect way to boost the overall video quality. Even if your video doesn't have any fancy graphics or perhaps it's just shot with a smartphone, a good intro can make all the difference.
Also, note that not all videos will need intros. This is usually determined based on the video's length and where it is displayed.
Overview of Outros
Outros are also known as "endslates" and are an excellent way to increase brand awareness and trigger the CTA (Call to Action). But there's a trick here—unless your intro and content segments are engaging, it's never going to encourage your viewers to take any action on the elements in the outro segment.
A CTA could be about anything that can engage viewers to take further steps with your brand.
This could be any action from making a purchase, downloading an ebook, seeing a free guide, reading a blog, calling a phone number, visiting a website, checking the social media handles, and much more.
Typito: Why it is the Best Intro and Outro Maker for YouTube
---
YouTube is one of the world's most popular video-sharing platforms, and finding a consistent viewer base on it is essential for success. Honestly, finding your foot amidst the mounting tribe of video creators can be a little tricky but not impossible.
Creating user-friendly videos and being true to your audience expectations is the ideal recipe for becoming a successful YouTuber.
When we say "user-friendly videos," it's all about creating videos with explicit beginnings, as well as endings. Amateurish creations with uncertain beginnings and abrupt endings will only sabotage your engagement levels, and eventually, your view count. This is where the concept of "Intros" and "Outros" come in.
Considering the current digital world, creating outstanding intros and outros is a no brainer. All you need is a good intro and outro maker for YouTube.
Meet Typito, an all-in-one video design tool that helps you create stunning videos faster without needing to learn any video editing skills.
With Typito, creating both intros and outros for your YouTube videos is simple and straightforward. It has predefined motion graphic text templates, a music library, and font styles to quickly let you do all the work in less than 15 minutes.
To keep things clear and precise, we have divided this tutorial into two sections:
Section 1: Creating intros for YouTube videos with Typito
Section 2: Creating outros for YouTube videos with Typito
So, let's get started.
Section 1: Creating Intros for YouTube Videos with Typito
---
Here's a step by step process to get this right.
Step 1: Login and choose the video format for YouTube
Go to typito.com and either signup or login to your account. On the homepage, click the button New Project from the top right corner.
Choose the video format for Youtube from the various formats available and click click Create.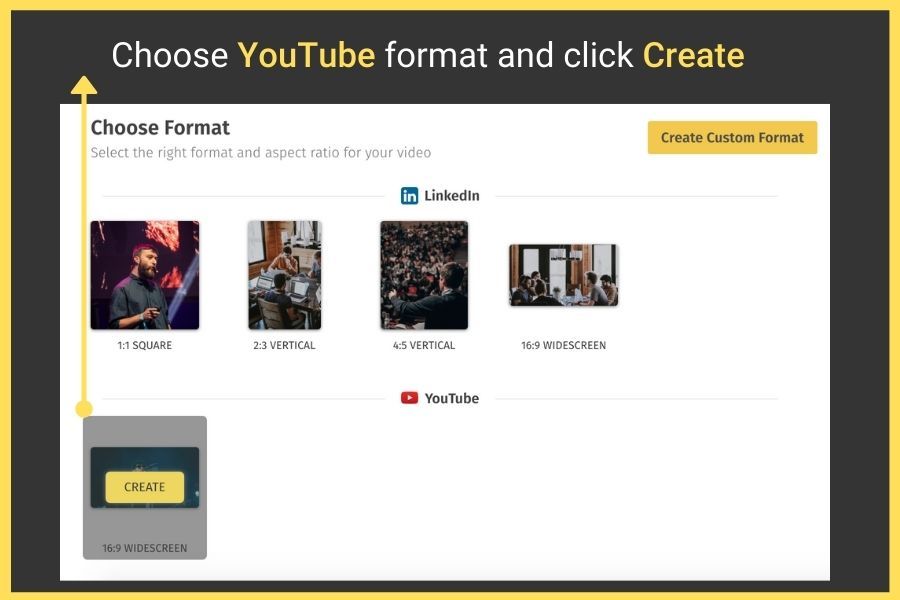 Next, upload your video from your computer. If you already have a YouTube video that you need to create an intro for, click on Browse Media to upload it.
If you want to create a video, you can click the Stock Media tab and choose any of the preloaded stock videos, to try it with stock footage.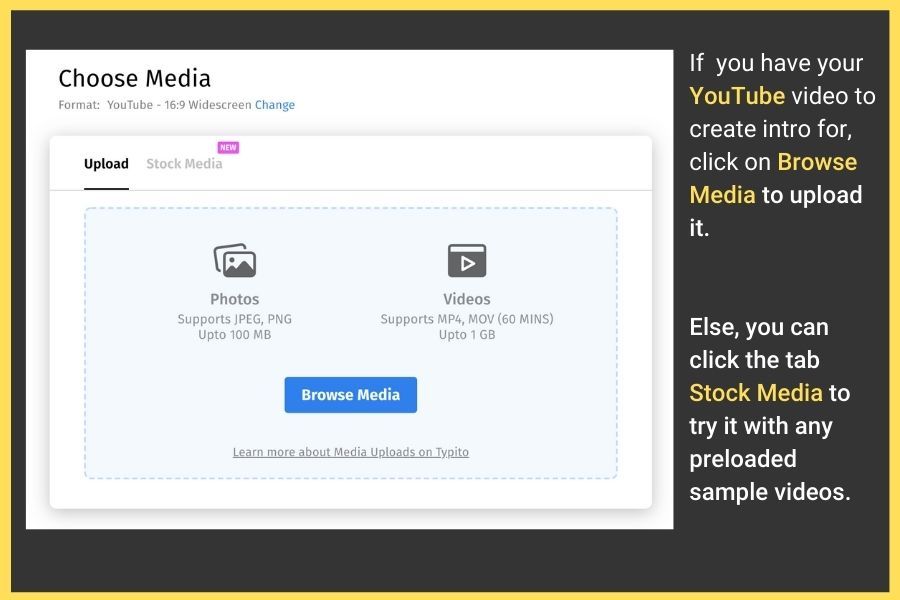 Once that's done. Click on Create Project.
Once your file is uploaded, this will redirect you to Typito's user-friendly editing dashboard.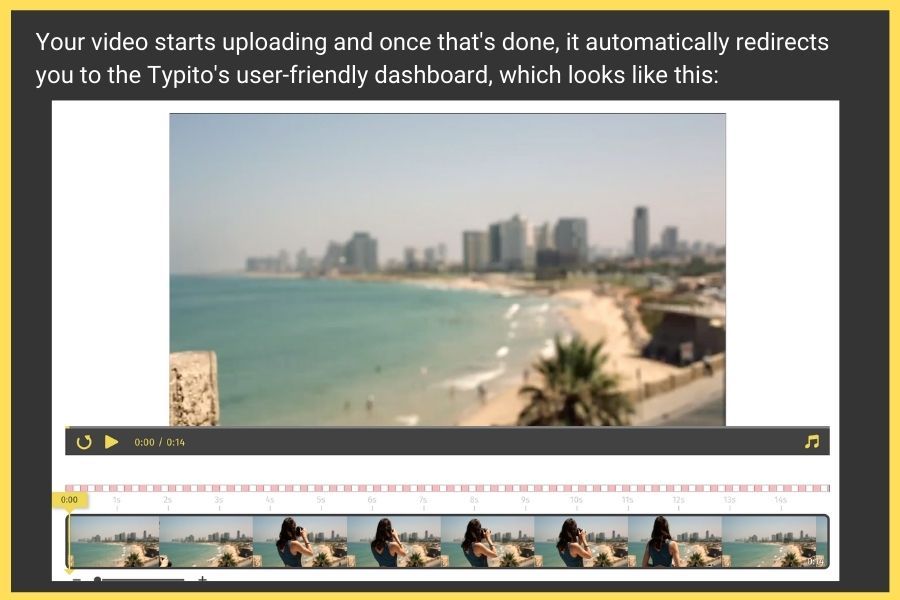 Step 2. Choose from an array of Intro templates
A stunning intro not only sets the tempo for your YouTube video but also ensures that it's engaging.
Your animated intro title will need a complimenting animated logo so that it pops up to the audience. Interestingly, Typito has you covered for this.
From the left pane, click on the "Text" tab to choose from an array of intro templates that suit your video.
Note: No matter what option you choose to go with, you will have options to change the text color, font style, font size, text alignment, line height, letter spacing, animation effects, and much more.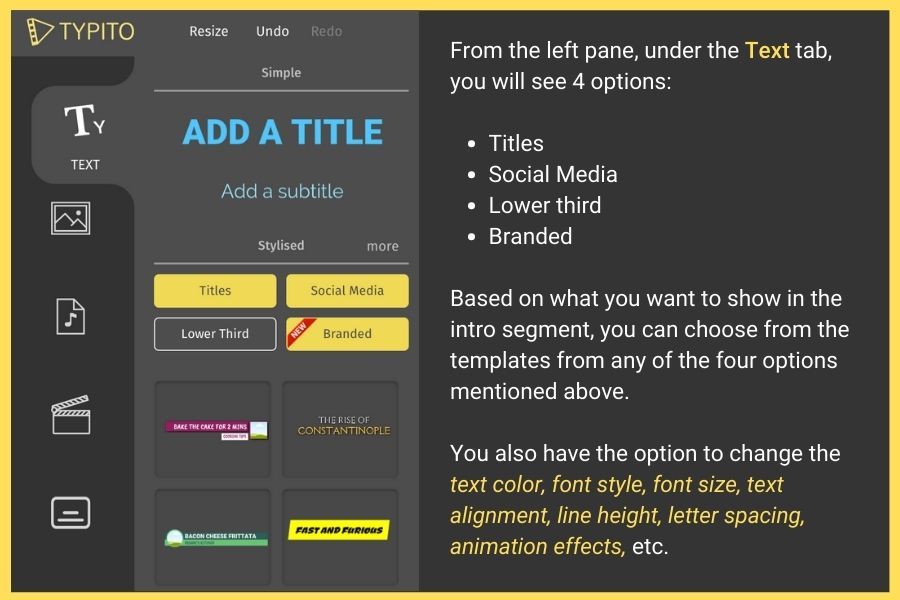 Go to our intro templates page and choose your favorite from the list of predefined motion graphic templates, which you strongly feel will go with your YouTube channel and the content you create. If you are new to creating videos and have no clue how to create intros for your YouTube videos, here's what you can quickly do.
Interestingly, hovering on any of these motion graphic templates will quickly show you how it will animate and display it to the users. This not only gives you a complete picture but also speeds your decision making.
If you have decided on which intro template to go with, just click on it once and you will be redirected to a preview of how it's going to look like on the YouTube video.
You will see two buttons on the right, which are:
Use the template: This will transport the motion graphic template to the video directly.
Save: This will save the chosen template on your account so that you can use it whenever required.
Note: After you click the "use the template" button, it will be automatically placed on the video waiting for you to edit. You can play around with colors, change the font style, size, adjust the letter & line spacing, and much more.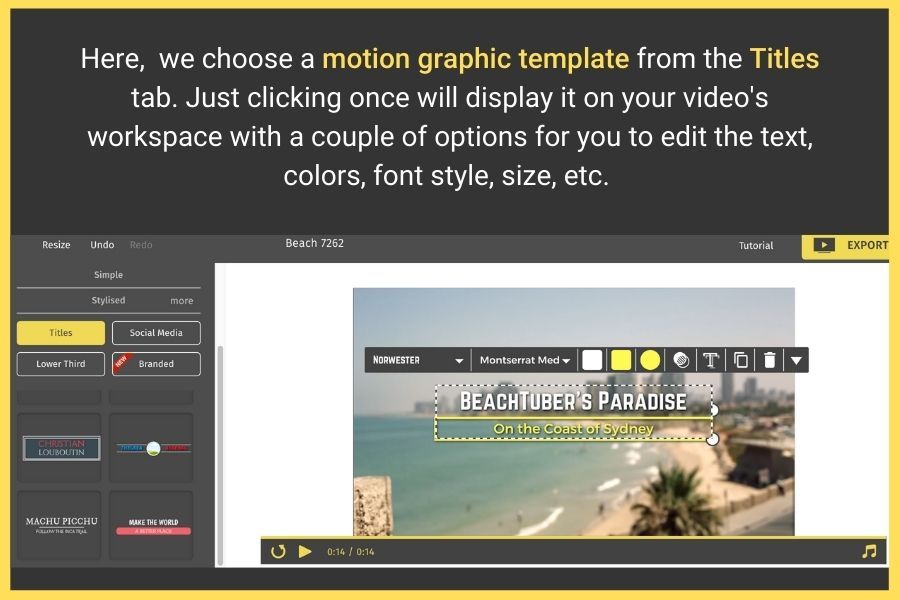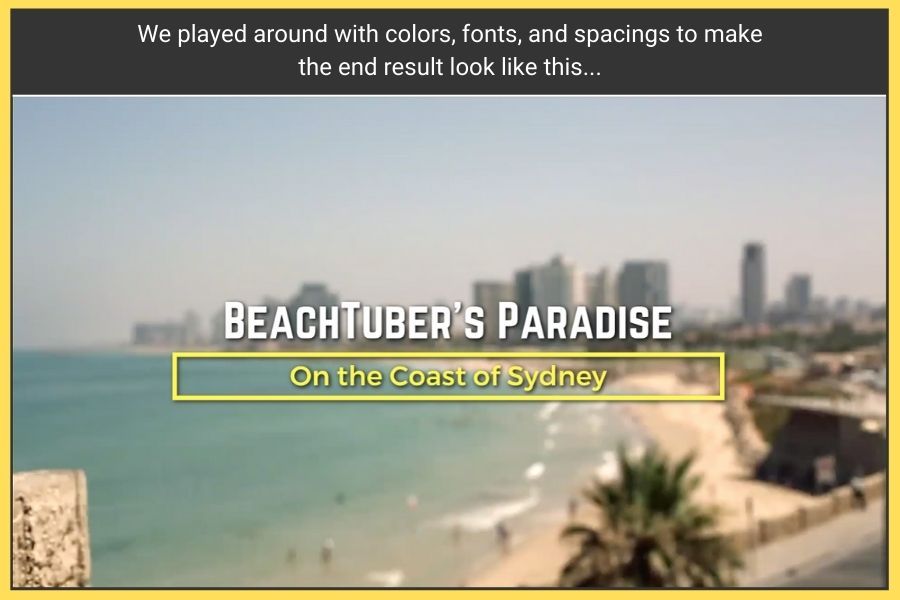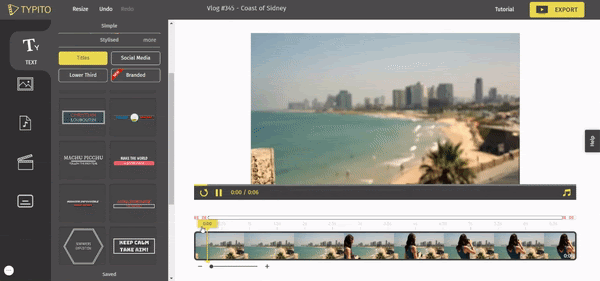 Step 3: Add some music to the intro segment
Here's where you can make your intro's a lot more interesting. Besides giving you a lot of predefined motion graphics templates, Typito also offers the option of adding audio to the intro background, which again can be:
Uploaded from your computer drive, or
Chosen from the music library. All you have to do is click the track to apply it to your video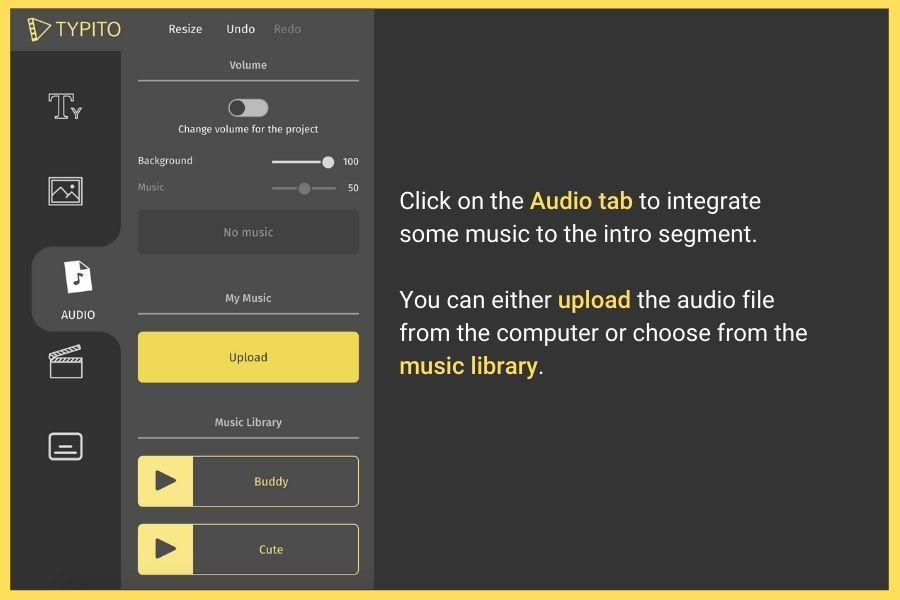 Step 4: Export the video file
After you have completed the intro segment, all you have to do is export the video file. To do this, click the Export button in the top right corner.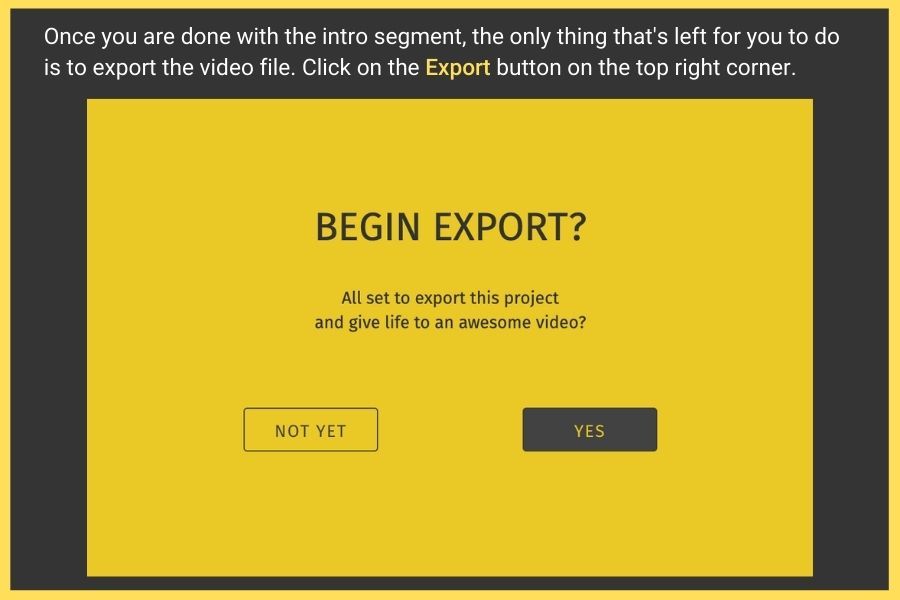 The exporting process begins, and the time to complete this depends on your video size.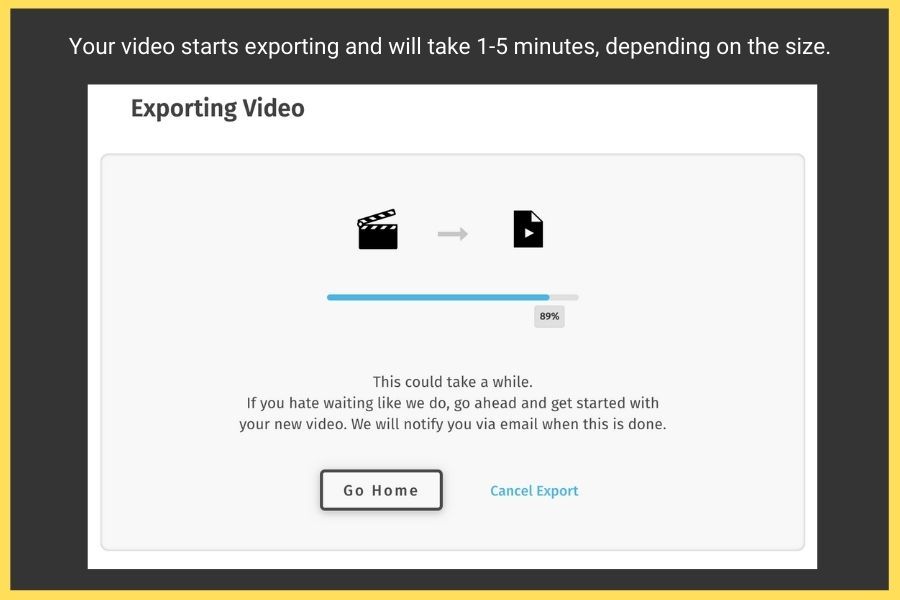 Once the exporting process is complete, you will have the video ready to be:
Downloaded
Shared as a link
Published on your YouTube channel directly
Posted on Facebook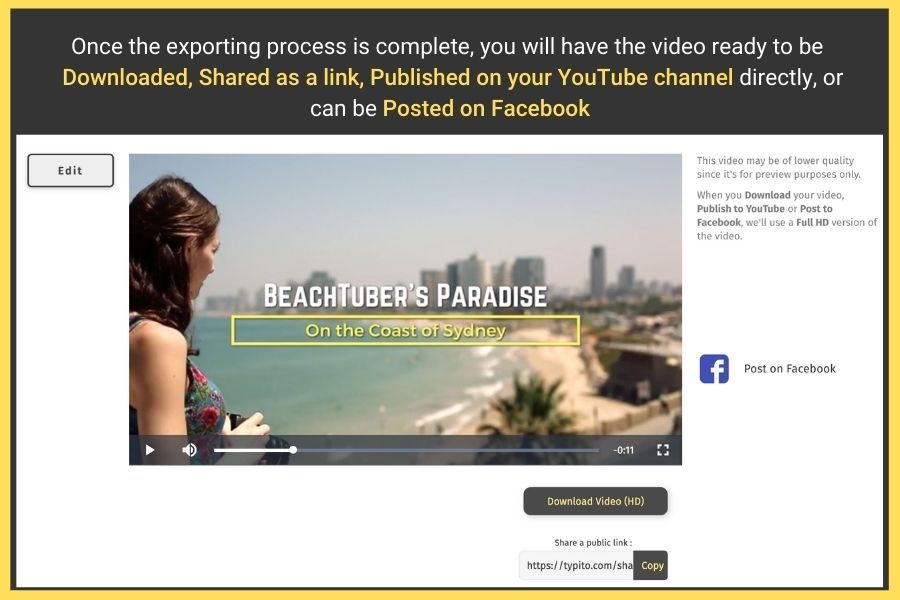 Section 2: Creating Outros for YouTube Videos with Typito
---
An engaging intro and content segment has the power to make your viewers click on the CTA in the outro section—which could be anywhere from making them shop on a website, visiting a specific link to downloading an ebook, exploring your social accounts, or making them watch more of your YouTube videos.
Here's a step by step process to do this correctly.
Note: We are skipping Step #1, as it's the same as mentioned above.
Step 1: Choose from an array of outro templates
Whether you want to give that extra little push to get your viewers to hit the subscribe button or explore your social accounts or watch other videos, Typito helps you do it with ease.
Since outros entail a CTA, they can usually be:
Outro templates
Social media templates
Combination of the above
For example, we chose a template from the Social Media tab, and came with an outro like the one below.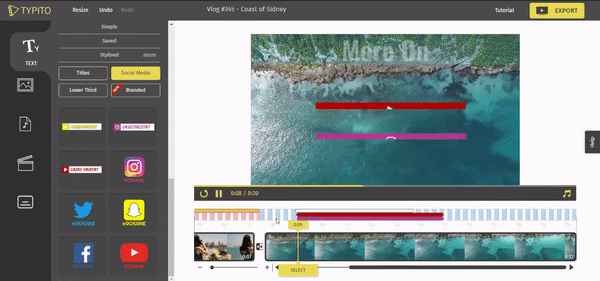 Perhaps, you can quickly go to our outro templates page and choose an appropriate predefined motion graphics template that ideally suits your video design. Click Save to add it to your editing dashboard.
Step 2: Add some music and export the video file
Again, you can add a different audio clip or music to the outro along with the CTA. After you're done, just export the video file.
Quick Tip: Create your intro and outro on Typito separately and save it so that you can merge it with your video content at the beginning and the end.
However, if you have varying intros and outros most of the time, the ideal option is to work the video altogether in Typito and export it. The beauty of this tool is that you can log in and edit it anytime.
From allowing you to cut or merge clips, adding captions, motion graphics, overlay titles to integrating music, highlighting social media handles, and CTAs, Typito lets even the rookie editors create magic. Not everyone has the technical skills or the money to use expensive tools like Adobe After Effects or Final Cut Pro.
With typito, the best intro and outro maker for YouTube, things become fast and simplified. The key reason is due to the handy intro and outro templates, which let you create professional yet stunning videos without the help of video editing expertise. It takes only 10-20 minutes or even less.
What is the Importance of an Intro in a Video?
---
Keep things professional: The current audience is more inclined to watching well-created videos, which features eye-catching intros. In order to stay up-to-date with video executions, it's vital that you amalgamate contemporary design elements to meet the user expectations.
Increases brand trust: Speaking of YouTube videos in specific, it's all about Personal Branding, and when you manage to place an amazing intro in every video, the chances for a brand recall increases whenever your viewers encounter your brand. Be consistent with your content formats, as this creates trust and positive expectations with your brand.
Solves declining audience attention span time: The challenge for any creator with videos revolves around "audience attention span" whose lasting time should be at least 7 seconds. Now, a crisp and small intro of about 5-10 seconds can be made just to accomplish this to ensure that your viewers get a heads-up of what they are going to watch. A no-intro or an extended intro both can be a huge turn-off for your viewers to opt-out from your video altogether.
Video marketing: This is a huge online phenomenon, which continues to grow. With videos getting maximum attention these days, everyone is after user attention and that's why you, as a creator or brand, should stay focused on the conventional methods while working with an intro and outro maker for YouTube. Digressing the standard formats increases the chances of rejection.
What is the Importance of an Outro in a Video?
---
Retains the viewers on the channel: Speaking of YouTube videos specifically, your views matter a lot. That's what makes you successful as a whole. Therefore, your audience must stay hooked onto your videos, which can be achieved by creating a strategic outro segment highlighting your past videos' links. This is one of the smart ways to increase views of your videos.
It helps viewers act on the CTA (Call to Action): Abrupt video endings can be unpleasant. To keep your outro segment engaging, ensure that you include CTA(s) at the end of the screen to persuade your viewers to do an activity. Now, this could be from making them click on your website link, subscribing to your channel, or purchasing your products.
Increases your followers on social media: This is important, especially if you are a blogger or someone who is into personal branding and would want viewers to explore your social media handles. To do this, you can strategically showcase the Outro's social account details and gain a good follower count.
Creates a connection between your brand and viewers: Adding some creative design elements to your logo and brand content can give a distinct sign-off for your outro. This means whenever your video concludes; viewers will be able to establish a connection with your channel. If you look at this long-term, it resonates with people to recall the brand and identify it. Just put in some effort to create a strong brand identity—something that could leave a long-lasting impression with your outro.
Now that you know how to work with this intro and outro maker for YouTube videos and are aware of the elements that go into intros and outros let's get into our final segment that highlights some more tips to ensure that you have a professional video created.
Tips and Tricks to Create an Effective Intro Segment
---
Sometimes too many choices can feel like a curse. The scenario is true when you are starting but, the key lies in understanding what you are looking for. If you are clear with your requirements, you can use the template, which suits your needs.
Here are some pro tips to always remember:
Follow the C.R.A.P strategy: If you have read this blog, you know what we are talking about. C.R.A.P is a concept that revolves around four crucial factors—Contrast, Repetition, Alignment, and Proximity—and you might want to follow it if you're going to create stunning intro segments. Designed by Robin Williams, C.R.A.P is not just a framework that's easy to remember but also dissects the issue of creating intros.
Have all that it takes to create a first impression: Your intro should be able to make an impression within 5 seconds, as that's the timeframe viewers take to decide whether they want to watch the video or not. Yes, that's a tight window to achieve the goal, but most YouTubers manage to. So it's not impossible. Focus on your brand's core essence—"who you are," and "what you offer." Pick a nice, bold template to keep this succinct and focused.
Pay attention to the style quotient: It is relatively easy to get confused with the whole bunch of customizable features that Typito provides, but keep in mind, the key is to create videos that are brand-compliant. Use text fonts and colors that match your logo and brand color scheme.
Don't forget the context: To keep your video intros creative and help your viewers have a glimpse of what they will learn, try adding a bold title template along with a small space for the caption. This is handy, especially if you have different segments or multiple video categories.
Conclusion
---
Every YouTube channel serves a purpose. This could be to create brand awareness, build customer relationships, or promote their products to their target audience for many businesses. On the other hand, for individual YouTubers, this could be for fan following, affiliate marketing, social media traffic generation, and much more.
No matter what the reason is, you need viewers to see it. To get them to watch your videos and take action, having a strong intro & outro matters. Neglecting both these aspects calls for a missed opportunity to take your brand a step further.
With typito', intros and outros are easy to create. Our ready-made motion graphic templates are waiting for you! Increase your YouTube channel's ROI now!