5 Ways to Monetize Your YouTube Video
Gone are those days when YouTube was for checking out songs and funny videos. Today it becomes a career to many, they call themselves YouTubers. While we as viewers enjoy their videos, the question of how do they exactly make money always rises. If you too are willing to make some serious money out of YouTube, do not hesitate as we bring to you 5 ways to monetize your YouTube video.
Merchandising
Merchandising can be a great way of earning money through your videos. Now what does this mean? If you are willing to create your own brand, then you can keep your videos as a way through which you can keep your subscribers aware of your brand. If you plan to do so then, it's also important to understand that your YouTube channel theme and the brand should match. If not so then it can create a confusion for the audience.
Create content that matches the kind of merchandise you've got to sell. For example: If you own a fitness related YouTube channel, you can choose to start a fitness related line of your own like what Cassey Ho did - a YouTube channel called Blogilates and also an e-commerce platform called Popflex. We've given you a small summary on how Merchandising can help in monetizing videos on YouTube. But if you're willing to know more then check out this blog post by Printsome. Note that this works only if you have a considerably big subscriber base and can influence your followers' buying decisions.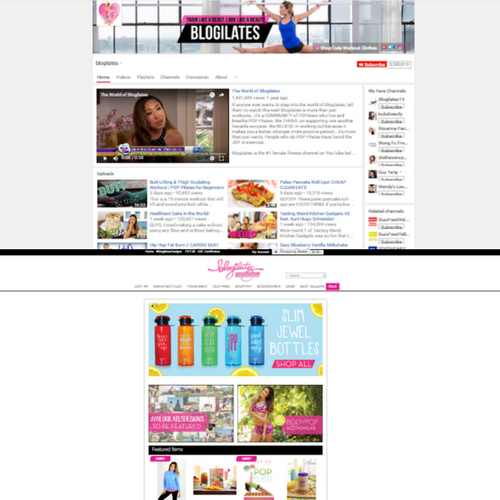 Blogilates and it's online shopping platform showcases a variety of products required to be fit and fine.
Affiliate Marketing
Affiliate Marketing is another widely used and popular way of monetizing YouTube videos. Google defines Affiliate Marketing as "a type of performance-based marketing in which a business rewards one or more affiliates for each visitor or customer brought by the Affiliate's own marketing efforts". While your favorite vlogger tells you where to buy the product from and leaves a link in the description box below, he/she is being an affiliate marketer. This is a common way used by most YouTube channel owners today. For example: Sejal Kumar - a leading fashion blogger made a haul video on a Diwali sale available on NYKAA on her youtube channel. She offered links to all the products on NYKAA also letting people know of the sale.
Affiliate marketing is growing, changing, and adapting as different niches and audiences emerge, meaning more opportunities for monetization even for niche channels. One example of such is the growing number of financial advisors, bitcoin enthusiasts, and market analyzers on youtube, creating videos about the state of the market, predictions and more. Many of these youtubers have sought affiliation from financial services and products like etoro, leadJig, ect and have seen some success from approaching it by this angle.
If you understand your viewer base and the type of products or services they would like to use/need, you can get a strong affiliation with a company that fits that niche. Overall, affiliate marketing has had a profound impact on how social media platforms emerge and you can even see how affiliates are changing in 2021 in regards to social media, as platforms like Instagram, and Tiktok become more popular.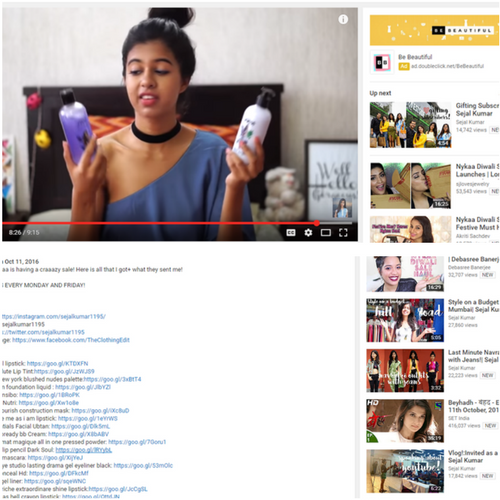 Sejal Kumar is an affiliate marketer for NYKAA and other brands.
Product Placement
There is a special bond created between vloggers and their dedicated subscribers. And hence product placement is an interesting and effective method. There are three important aspects here; the vlogger, brand and the audience. While a vlogger shares his/her opinions, ideas or skills with their audience they are creating a strong bond of trust. This is why when certain products are used by your trusted vlogger you too tend to want to buy it. Before choosing to use product placement it is necessary to understand that there are different kinds of product placements too. To know more about product placement and its kinds you may want to take a look at this post by Brand24.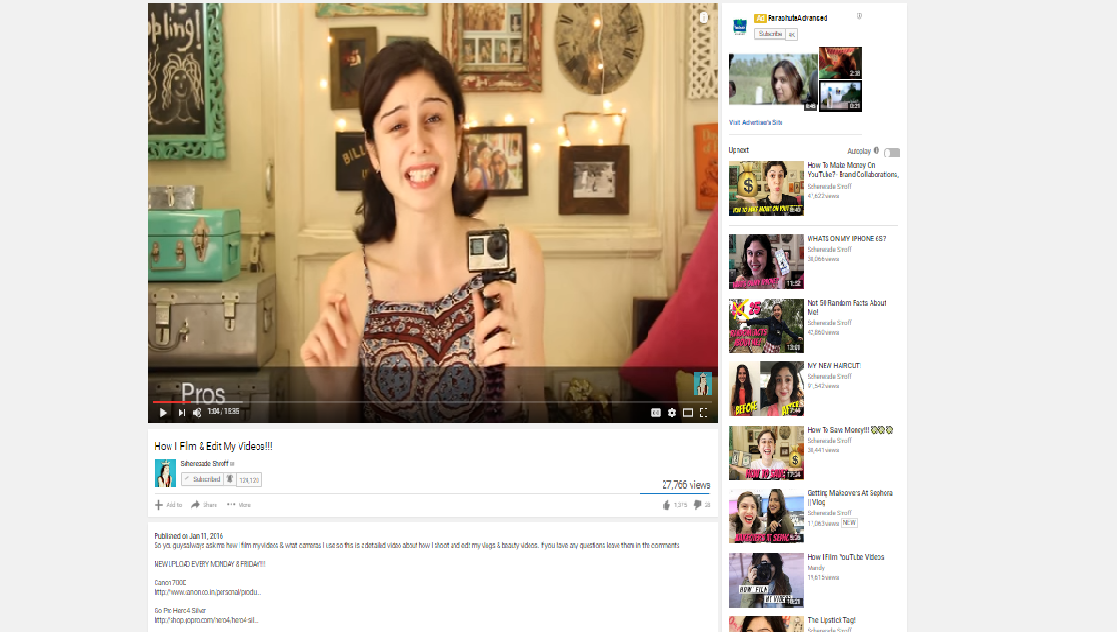 In this video on 'How I Film and Edit My Videos' Scherezade Shroff speaks of the Go Pro Hero 4 Silver and other equipments which is a type of product placement.
YouTube Partner
Once you are in the YouTube partner program monetizing your videos is an easy task. So here are the 4 easy steps to monetize your videos.
Step 1 : Enable your channel for monetization.
Step 2 : Connect your channel to an AdSense account.
Step 3: Review video criteria and Ad Formats.
Step 4: Monetize your videos with Ads.
More information on these sites can be found on this Google page.
Becoming a YouTube partner comes with certain conditions such as having millions of views for your already uploaded videos. Allowing rentals and InVideo overlay ads are ways under YouTube partnership that can lead to advertising revenues.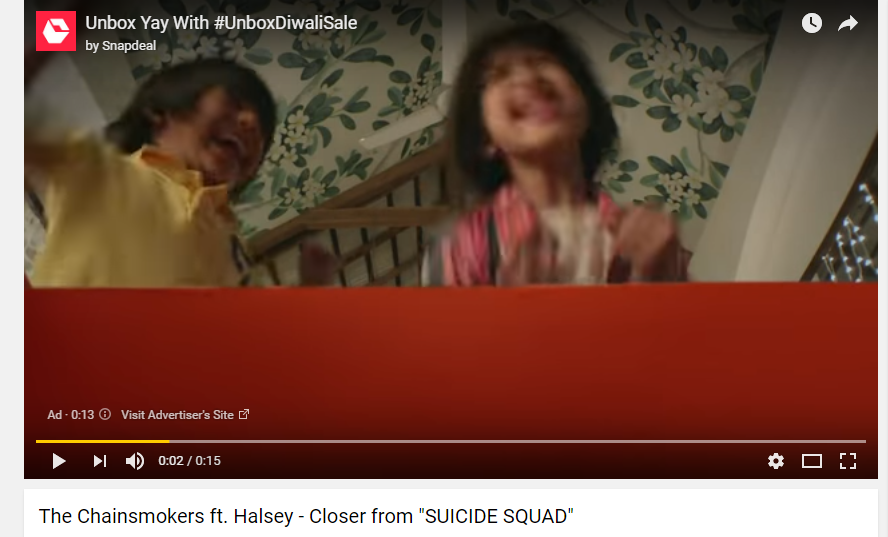 The Advertisements that appear before any video on YouTube is making money for the video creator, in this case, the creator of 'The Chainsmokers ft. Halsey'
Paid Content
Unlike other videos on YouTube these are the ones that has to be paid for. A paid channel can opt for monthly or yearly subscription wherein the subscribers will be able to watch the videos only after the amount is paid. In the cases of all paid channels, at first a 14-day free trial is offered and later upgrading to a fair subscription. To be a paid content channel it is necessary to have a minimum of thousand subscribers. Check out this post by Google to gather more information on paid content on YouTube.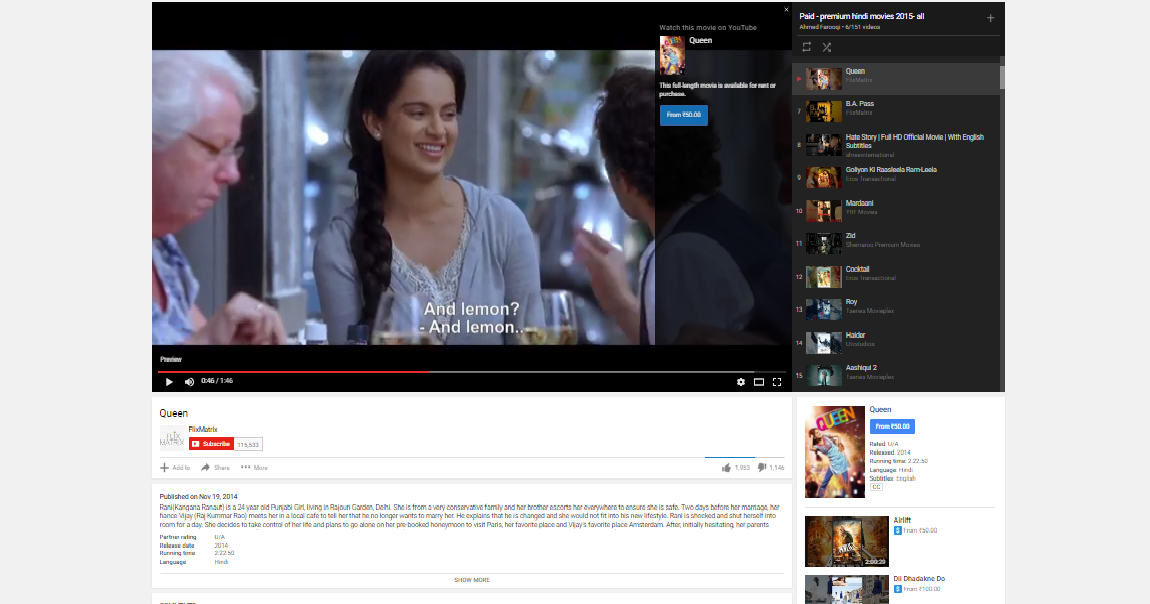 Yash Raj Films to Eros, several known channels have paid content. They offer a two-minute preview of the video and you've to pay to watch the full video.
While these are the 5 most important ways of monetizing your videos, once you have a good follower base there are many more monetisation avenues that open up for you, especially on the advertising front. Endorsing brands outside YouTube, placing advertisements on your personal website etc are just a few entry points that can get you a lot of revenue. For all this to happen, you need to focus on creating helpful content for the users and they will gradually trust you with many buying (or otherwise) decisions they make. To cut it short, the magic starts happening when you become an influencer. While we wish you the best with this, becoming an influencer is a dream that only a handful of people ever realize, so you may want to consider other money-making avenues as well. The important thing is to try and maintain a steady income while you are working on your dream to become a YouTuber so you remain financially stable.
So there we've done our job of helping you with 5 great ways to monetize YouTube videos. You could stick to just one of them or use them all. Helping you with the best ways was our call while which one to choose is completely yours. Let us know what ways you monetize your videos on YouTube using comments below.