How BuzzFeed's Tasty Videos Are Produced At Lightning Speed
BuzzFeed's food brand Tasty is a classic case study material for Repeatable Virality in this new age of digital media. With more than 40 million active followers on Social Media, BuzzFeed hit the nail on the head when it decided to build Tasty, a brand that produces recipe videos at a considerably fast rate, doing all this while racking up views, shares and all sorts of social media engagement metrics at an unbelievable rate of 10 million impressions within 24 hours for most of the videos. Such impressive social stats have prompted marketers like Mondelez and Newell Brands to buy ads that promote their products into these short clips — which marketers say gives almost the same visibility as a Super Bowl Ad.
A lot of our food video creators on Typito have been trying to crack BuzzFeed's snackable template for their videos and we decided it's time to don Sherlock's cap and look at how these small viral videos are produced at such a fast rate. And find something interesting, we did!
Working Backward
In Computer Science and Mathematics, working-backward is an approach where the problem solver starts at the end and works toward the beginning. After watching more than 50 Tasty videos, we felt the fastest way to produce a 1-minute snackable video is to work backwards! So let's start with the first step while working backward: the End Product
Step 1: End Product dictates the Making
If you look at Tasty videos, you will find that most of them have the following attributes, for important reasons:
Square (1:1 aspect ratio) - Square videos do much better on Social Networks like Facebook, Twitter and Instagram because of the inherent newsfeed structure in these applications. Square video looks bigger on a newsfeed structure which usually takes up 50% of the screen in the vertical centre of the page.
60 Seconds - All Tasty videos are more or less 60 seconds in duration. This is primarily because Tasty videos depend a lot more on Social Network than YouTube for its visibility and virality. Videos on Social Networks need to compete with posts by your friends and hence have to be short and crisp.
Let's look at a model Tasty video that suits both these criteria:
Now that we are able to visualise the end product, it's time to work backward, one step at a time.
Step 2: Highlights make the Story (Stage - Post Production)
Can someone who watches a Tasty video try to recreate the recipe at home without the help of any other reference? It's going to be very hard. That's because Tasty videos are more like a compilation of highlights in sequence. It conveniently ignores certain aspects of the recipe, but would cover most of the important parts in sequence and that gives the audience a feeling that they understood the recipe well.
In the video above, let's look at the 10 parts the video creator really wanted to highlight: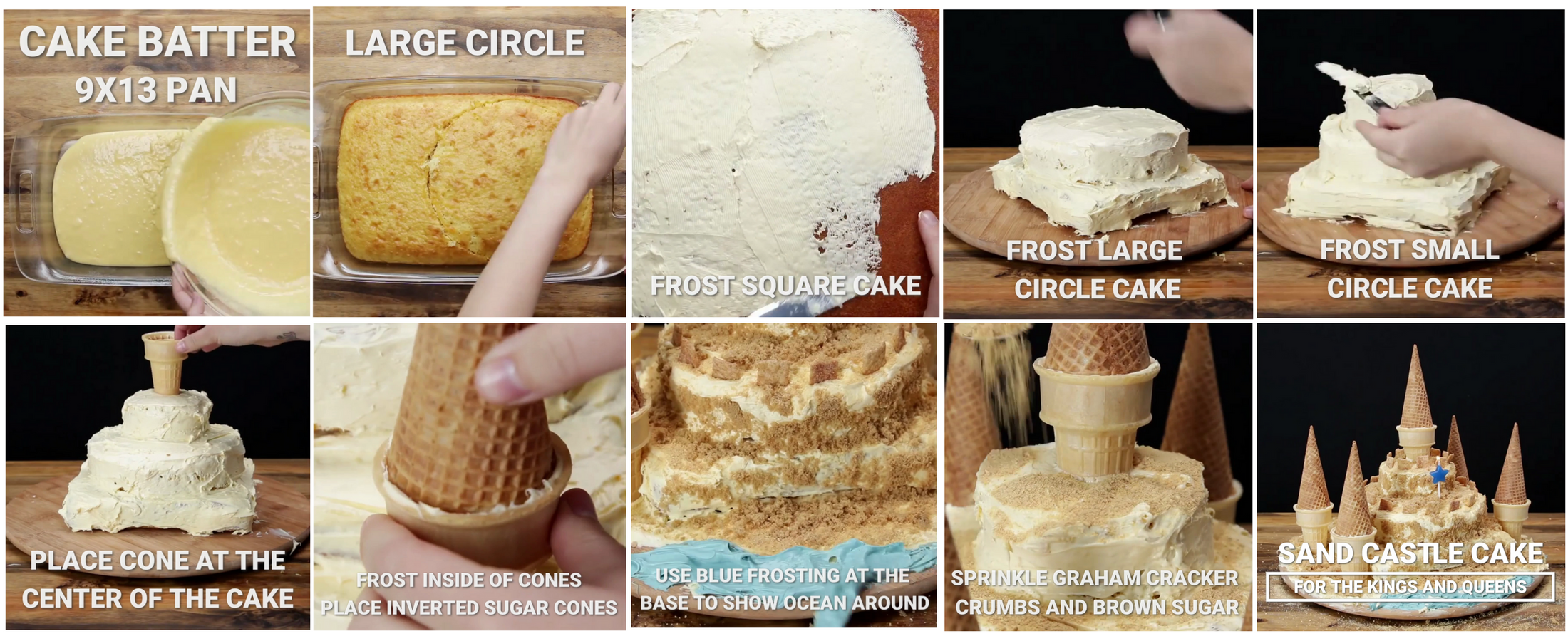 Here are the 10 important parts of Tasty's Sand Castle Cake video
If you ponder a little, you will realise there might be 20 other parts to creating the Sand Castle Cake that could have been covered in the video. They are ignored since these 10 highlights comprise the smallest set of events the creator thinks, would give the audience the feel of a complete story. Remember, it can't be more than 60 seconds! So effectively all that the editor had to do during post-production was speed-up the video snippets that feature the highlights anywhere between 2 times to 4 times so as to push the video within the time-frame and add beautiful motion graphics templates and text animations using an online tool like Typito to add more context in the video (most of the recent videos of Tasty add add text animations religiously).
Step 3: Don't shoot everything (Stage - Production)
I am guessing that you have now started getting a good hang of working backward :-). If you are only going to feature 30% of the actual recipe procedure, you don't have to shoot everything. Just ensure that the highlights are shot with great detail and care. This would reduce the production efforts by close to 70%. If you are a perfectionist, you can even go to the extend of estimating the average color / contrast in the highlight scenes and arrange for lighting that would make these scenes look better. But the core idea remains the same - you don't shoot the whole recipe.
Step 4: Plan for the minimum (Stage - Pre Production)
Working one more step backward, the video team can now just focus on getting the ingredients and raw materials required to shoot the highlights. In the first scene of the Sand Castle Cake video, they show the cake batter ready on a dish and transitioning to a baked cake in the next shot. It's evident that you really don't need to wait for that cake batter to get baked. You can as well use another baked cake that's ready in the setting. To summarise, pre production for Tasty videos would be all about getting the raw materials ready for each of the highlight scene that would be shot.
Practice makes it perfect
Creating Tasty videos using the 'work backward' approach requires the skill-set to visualise how you want the final video to be and then carefully breaking them down into highlights and a storyboard of how the highlight scenes would be shot and finally boiling down to what pre-production preparations to be done for the shooting of highlight scenes. While this may appear to be taken out of a job description of a visionary video creator, it's not all that complicated as it appears to be. Since the video template doesn't change a bit, this is an approach that a video creator can master with enough practice. After getting your hand dirty with a couple of videos, any video creator should be able to produce a Tasty video of comparable quality within 2 hours.
Do give the 'working backward' approach a try and let us know how it goes! In the meantime, check out this video we created explaining the  'work backward' approach. Tell us what you think.