Typito's First Retreat after going Remote
This is the story of our first retreat at Typito after operating as a remote team since Covid-19, how we planned it out, and what we learned from the experience.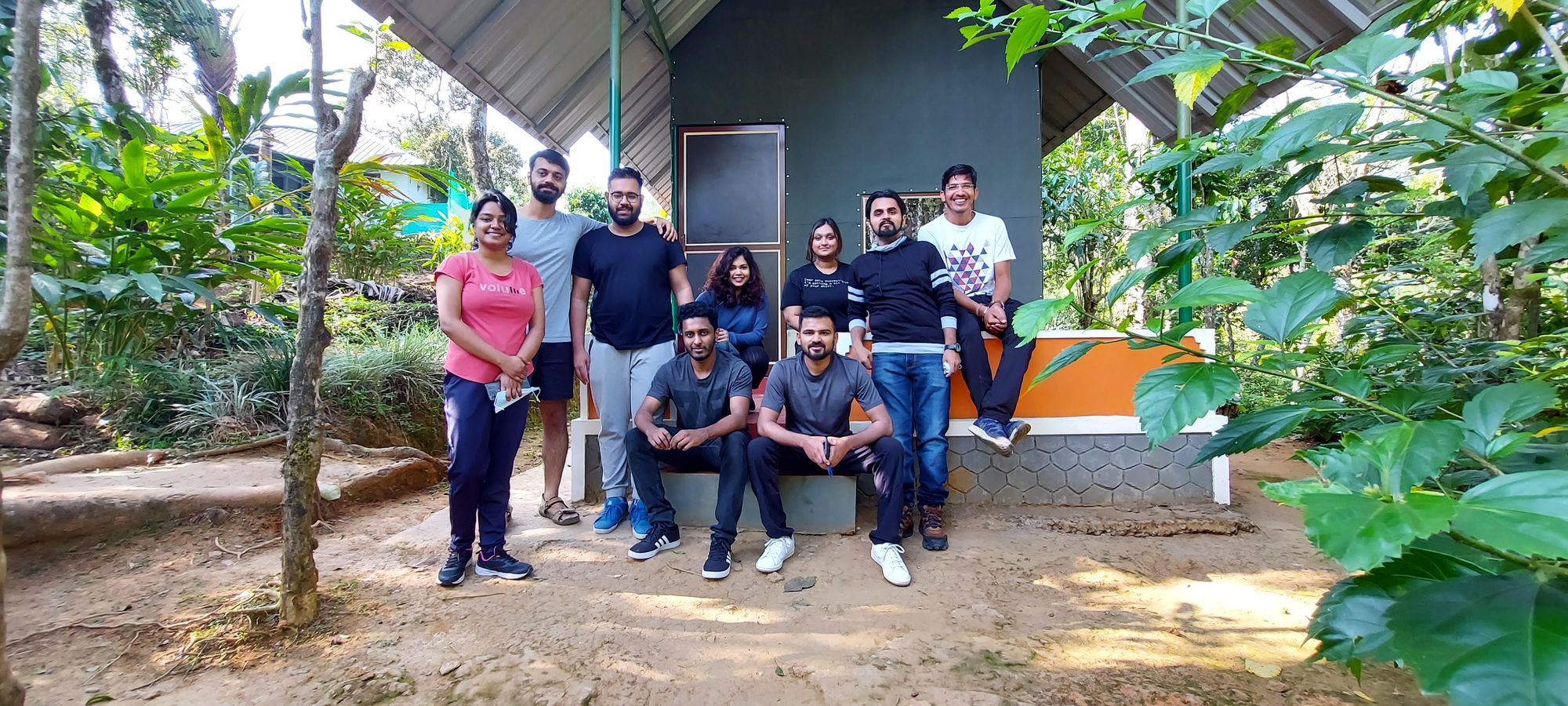 Team Typito at the Retreat - Feb 2021
When Covid-19 struck and when the Indian Government declared Lockdown 1.0 in March 2020, we were a team of 3 full-timers at Typito working from Bangalore. But by the end of the year, we had expanded to a 9 member team. Like the many startups that ended up hiring and on-boarding employees with the help of Zoom calls, Slack chats, and Google Docs, we were not exempted from the fatigue and disconnect felt from working from our homes for more than 9 months. We tried to spend Friday evenings playing games online and keep ad-hoc informal catch-ups, but we soon realized nothing could replace the magic of catching up physically.
So when the idea of a retreat was floated in one of our meetings, I could see everyone nod their heads violently with their eyes wide open (a signal of "hell, yes!"  a fast multi-person consensus move optimized for Zoom calls spearheaded by Nisha in our team). It was the quickest all-in confirmation we got and very soon the wheels were set in motion.
What do we do at a Retreat?
Anything other than routine work would be my short answer. However, it took us some time, research, and brainstorming to get there. Basim, who has been a champion of remote productivity in our team, took the lead on understanding what other companies usually do during retreats. After a bit of research featuring the Zapiers and Buffers of the world, he recommended that we do everything other than routine work and it made sense although I took a while to understand and appreciate it. Let me explain why this seemingly counter-intuitive thought makes sense.
When you go for a retreat, you get a very small window of time with your teammates, and using that to conduct daily standups and engage in day-to-day work would be a wasted opportunity. You do this every working day anyway and being able to do it maybe 20% better in a physical gathering is not worth the effort, especially when you consider the other side - using the time and space to get to know each other better and doing things that we usually don't do at the office.
After some brainstorming we arrived at the following loosely structured plan with owners assigned:
Board games (Basim)
A collaborative brainstorming exercise (Matthew)
Last 6 months retrospective by product/engineering/marketing pods (Anshul) [closest to work we did]
360-degree informal feedback session (Matthew)
More board games (Basim)
Half a day outing (Matthew, Alex)
And a lot of time together!
We decided to pack all of this in 3 days.
Destination: Ela Ecoland in Munnar
The next step for us was to decide on the retreat destination. We decided to go with Ela Ecoland Nature Retreat in Munnar because of the following reasons:
This was our first retreat and hence we preferred a partner who  could be a lot more adjusting and accommodating with our inexperience in retreat planning. We could count on Ela Ecoland folks to do that since we knew them personally.
This place is in the middle of a cardamom plantation in Kerala that's adjacent to the forest area, with no signs  of the city buzz. It was the perfect place for all of us to disconnect from the hustle and bustle of our respective workplaces.
With 9 members in our team, we got the option to book the entire property (4 cottages and a treehouse) exclusively for us during the retreat days. This meant we could hang out in their common areas like the restaurant or by the fireplace for as much time as we wanted. It gave us a lot more flexibility in terms of executing our retreat plan.
A couple of us (Alex and I) were already living in Kerala during this period and Anshul was planning to be in Kerala during that time as part of his digital nomad-ing calendar. This meant Munnar in Kerala served as a great destination with the least air travel required. This also meant it was easier for us to plan our travel logistics (for example, arranging for a taxi from the airport to the destination).
Retreat in Action
We planned to have the entire team  assemble  at the Kochi Airport by 2PM on Wednesday, 18th February 2021 (except for Anshul who traveled to Munnar on his own from Thekkady in Kerala, and Alex who would be joining us en route to Ela Ecoland from Adimali). We started for the place after grabbing a quick lunch and reached the destination by 6 PM. We decided to chill the remaining day, playing board games and relaxing by a bonfire. We had so many tabletop games to choose from, and I'm sure at least one person was thinking about Dungeons & Dragons, but we finally settled on "Secret Hitler", which ended up being quite fun.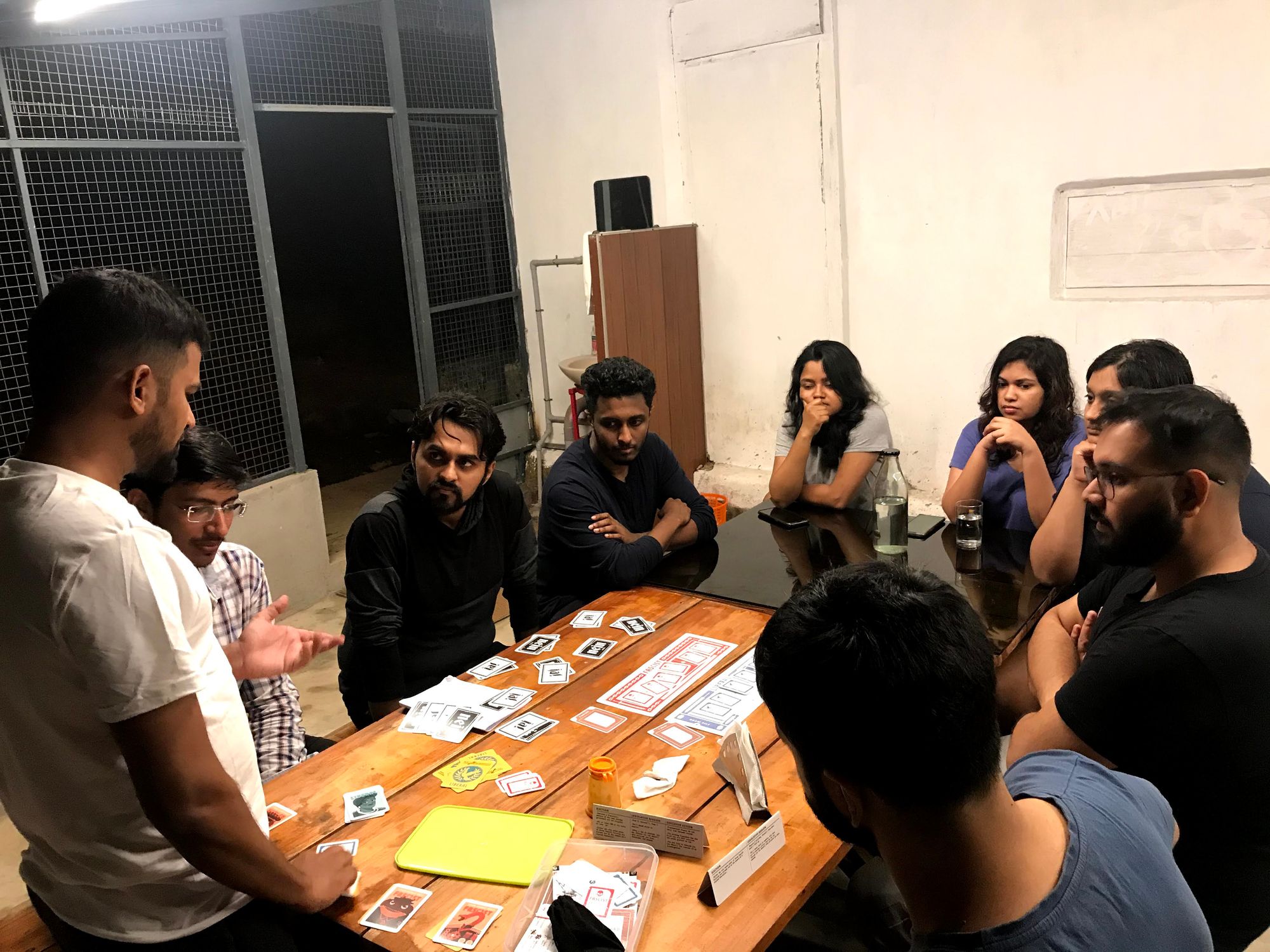 Basim preparing everyone for a round of Secret Hitler - a social deduction game
The second day had a bit of 'work-related' agenda embedded into it. We wanted to have 3 exercises done on the day - a collaborative brainstorming exercise on "What we would do at Typito if we have infinite resources", a presentation by everyone about how we are doing in product, marketing, and engineering as functions, and finally a 360  (many to many) open feedback session (something we picked up from Ray Dalio's Principles and modified a bit to our taste).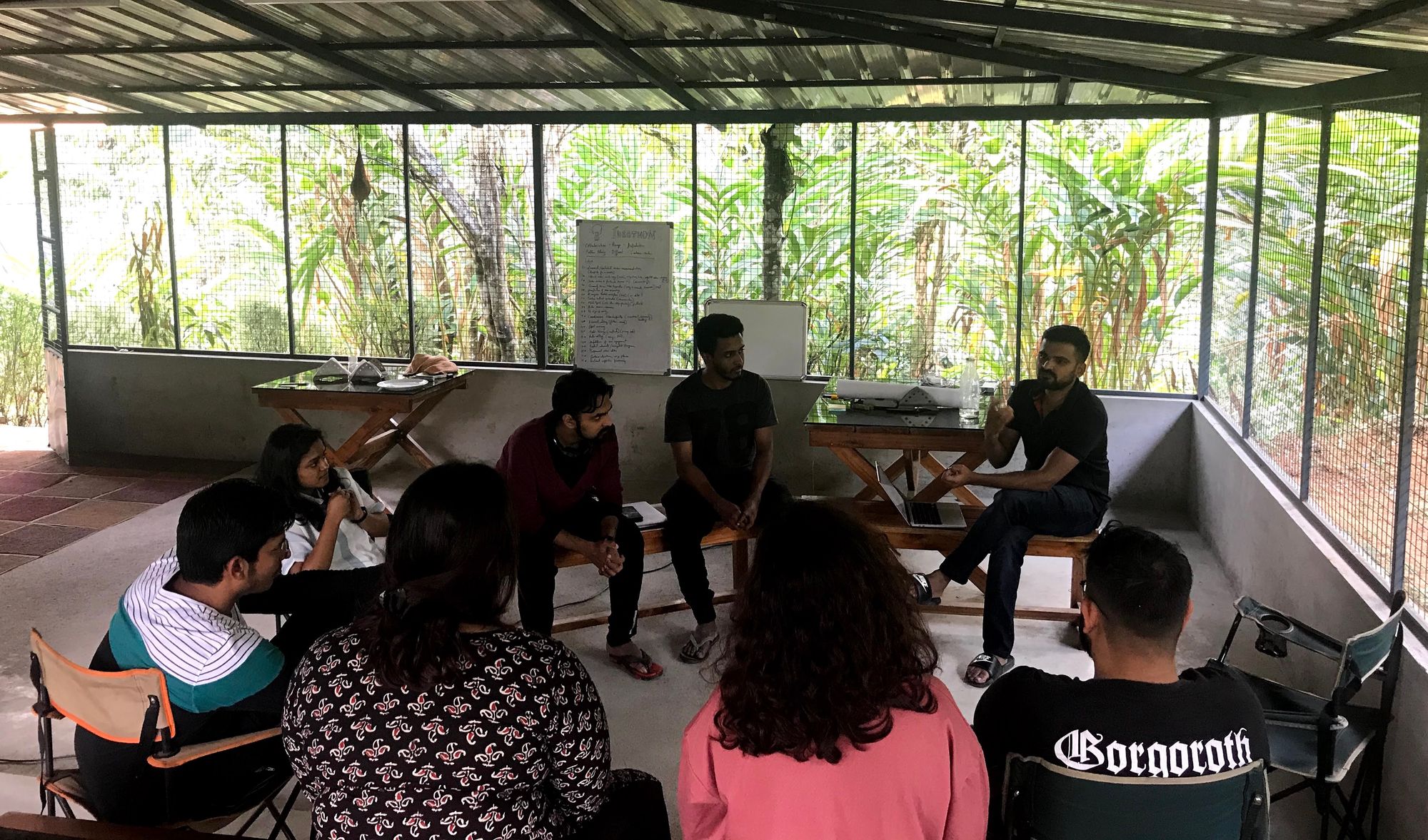 The engineering team giving an update on what we did in the last 6 months
We could only complete the brainstorming exercise and the presentation  sessions by the afternoon. We decided to keep the feedback session for later since all of us wanted to take a break after  a cognitively  heavy day. We were taken for a plantation tour by the kind folks at Ela Ecoland in the evening.

Ela Ecoland cardamom plantation tour in the evening
We ended the day having a long discussion touching upon topics like remote work, procrastination, Herzberg's motivation-hygiene theory, work-life balance, career growth, etc. It worked as a platform for the team to open up about the challenges they face  when working remotely and this turned out to be a great ice-breaker, one that really got everyone comfortable to bring up crucial conversations and difficult topics to the fore-front.
Day 3  needed some planning from our end. Unlike the previous day, this one required all of us to be up at 7 AM since we had signed up for a trek to Kannadipara, and wanted to reach the starting point at least by 8:30 AM.  Kannadipara trek is a 3-hour trek that starts from Viripara waterfalls (5 kilometers away from Ela Ecoland)  and it is organized by the Forest Department. The trek route would be through tea plantations, gradually  moving into a dense forest and finally  hitting a viewpoint about the hills.   We were fortunate to sign up for this since they had just started taking visitors a few weeks back.

Left: On the way to Kannadipara. Right: After we reached Kannadipara
The trek was exhausting and followed up with a dip in the lovely Viripara waterfalls. I have to admit none of us wanted to get out of the waterfalls.
At the Viripara waterfalls
We were  back at our base in Ela Ecoland around 3PM. We had our late lunch and took a nap break. We convened again later in the evening, played a few more board games, and concluded the day with the  360  feedback session which was a fitting end to our plan. The next day early in the morning we packed our bags and left for Kochi (Airport) and our retreat came to an end like all good things do.
Reflections on the Retreat
The retreat was one of the best things we did this year, without a doubt. For a remote team, the impact it has is invaluable.
First and foremost, everyone in the team got a much-needed break. The idea was to engage with the team and do something that's not even close to our routine, and see how it goes. The board game sessions and the 3-hour intense trek were all moments where we, as a team, learned about each other and got to unwind and not worry about OKRs and deadlines.
When I asked the team for feedback a week back, one opinion they all shared was how the retreat helped them understand and relate with the other real  team members,  with whom their interactions till then were limited to just Zoom video calls. We were doing a meaningful collaboration, but without really understanding the person behind that camera. The retreat helped bridge that gap to a great extent.
The retreat was also a great opportunity for the team to reflect on how we did in the past 6 months and orient ourselves towards what we wanted to do in the near future. This particular retreat was dedicated to "Remote Readiness". As a team, we wanted to commit to the decision we took to go remote, discuss the challenges, and find solutions to them.
If you are a startup that's working remotely and is contemplating the idea of conducting a retreat, go for it! And please don't hesitate to reach out in case you have any questions on how to go about it. I'm on matthew@typito.com and happy to help!