A Complete Guide: Best Twitter Video Requirements [Updated 2021]
Twitter videos have become increasingly popular in recent years. Videos on Twitter have become the more preferred type of content shared and viewed than photos and GIFs in recent years. It's no wonder that marketers and businesses opt for posting video content to gain more engagement.
It is essential to know the right Twitter video requirements like the optimal size limit of a Twitter video, format, and aspect ratios. Keeping an eye out for details like this ensures you upload videos in the best way for an enhanced viewing experience.
Lucky for you, both Twitter In-feed videos, as well as Twitter video ads, have similar video specifications. But we'll still walk you through the necessary Twitter video requirements for each of these, along with some of the best practices to increase engagement.
Before we get into that, let's see what makes Twitter videos stand out from the rest of the other media forms and why it's necessary to optimize videos with the right formats.
What are the different ways to share videos on Twitter?
Twitter allows you to upload your videos easily in three easy different ways.
Recording a video: You can record, edit, and share your videos directly from the Twitter app.
Importing a video: You can upload your video from your gallery or computer into the Twitter app or Twitter web.
Going live: You can also create live video interactions with an audience or guests in real-time.
Now that you know the different ways to upload videos, let's dive into the necessary video specifications required to share your video tweets.
What is the best video format for Twitter?
As Twitter recommends, the best video format for uploading videos using the Twitter app or Twitter web is the MP4 file format with H264 Codec and AAC audio codec. These specifications are usually standard for MP4 files.
The H264 Codec and AAC audio provide the best quality in terms of video and audio.
Twitter also supports the MOV format for videos on mobile apps. So, you can use either format to upload videos using the Twitter app.
Video creators opt for MP4 most of the time as it is compatible with almost every social media platform. Most video apps and editing software allow you to export your videos in the MP4 format.
Make sure you go with the MP4 format for any video you upload, as it saves a lot of time and energy.
What is the best aspect ratio for Twitter videos?
The aspect ratios that you can use for your Twitter videos should be in the range of 1:2.39 and 2.39:1.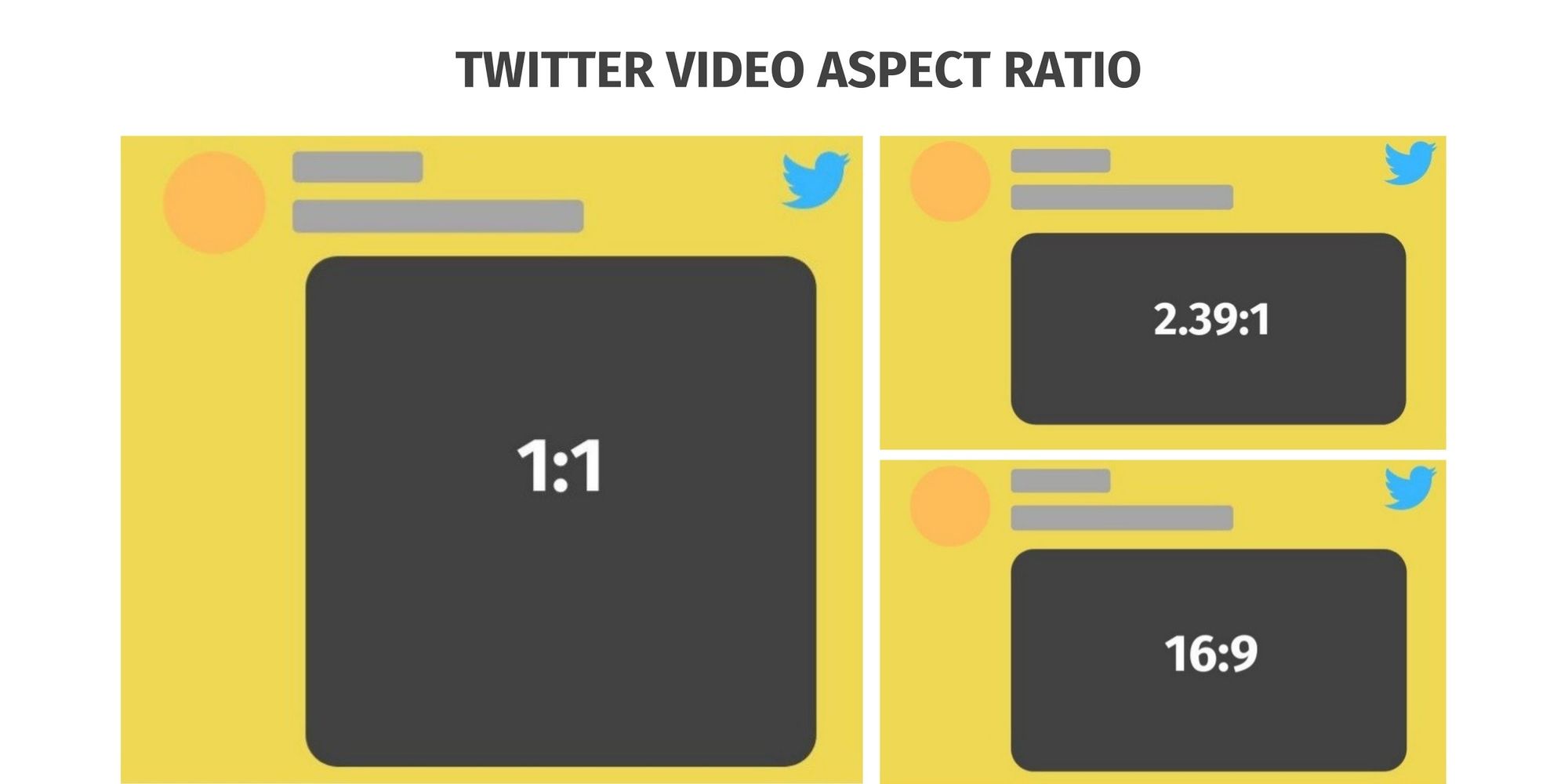 Commonly used Twitter Video Aspect ratios
Make sure you opt for a higher aspect ratio so that your video takes up more space because the better the visibility of your video, the better will be the engagement.
Twitter recommends the following aspect ratios for your videos.
16:9 (Landscape or Portrait)
1:1 (Square)
These aspect ratios give a much wider view and also provide a better experience while watching the video.
Note: Typito has pre-set video formats that give you the option to create and edit your Twitter videos with the two recommended aspect ratios.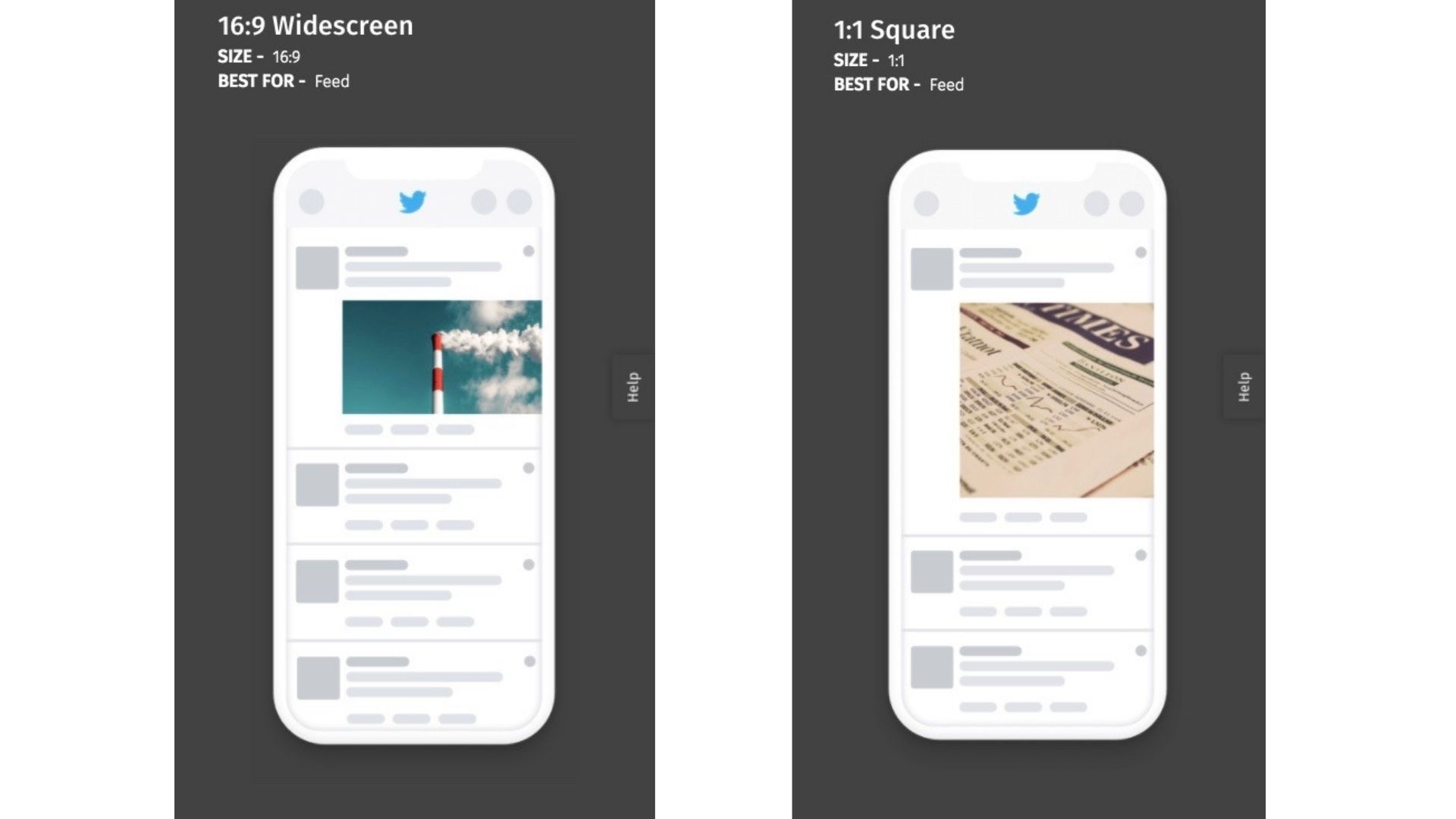 16:9 (left) and 1:1 (right) aspect ratio for Twitter videos
Twitter video upload requirements
Here are some other video specifications for Twitter videos that you might want to consider.
Twitter Video Resolution
For Twitter videos on the web:
The minimum resolution is 32 x 32.
The maximum resolution is 1280 x 1024 depending on the orientation.
While these dimensions work equally well, Twitter does provide a few recommendations for the resolution of the videos:
1280x720 (landscape videos)
720x1280 (portrait videos)
720x720 (square videos)
Twitter Video File Size
The maximum filesize for a TweetVideo is 512MB. On the web, you can upload videos up to 512MB, but you might be prompted to edit or trim them if they exceed 2 minutes and 20 seconds in length.
Twitter Video Duration Limit
The maximum duration for Twitter videos is 2 minutes and 20 seconds (140 seconds long) and the minimum duration is 0.5 seconds. To upload videos up to 10 minutes long, you will have to use Twitter's Media Studio business product and apply for permission to upload long videos.
Twitter Video Frame Rate
Frame rate refers to the speed at which the images in a video are shown. Twitter recommends using a frame rate of 60 FPS or less (minimum 30 FPS).
These were some of the primary video requirements for Twitter videos. Now, let's look at a few ad formats for Twitter videos and the specifics that come along with each of them.
Twitter Video Ad Specifications and Video Formats
Twitter has become a great hub for promoting brands and reaching potential customers. With Twitter video ads, you could make use of all the different ad formats that Twitter offers and grow your community of followers in no time.
There are plenty of different ad formats that can promote your brands and increase engagement. But we've listed the ones that Twitter offers specifically for video ads.
Types of Twitter Video Ads
There are four types of Twitter Video ads you can explore as a brand looking to promote your business on Twitter:
Promoted Video Ads
Amplify Pre-roll Ads
Twitter Takeover Ads
Twitter Live Video
1. Promoted Video Ads
With the help of Promoted video ads, you can advertise your brand or business by making your videos appear directly on the user's timeline.
How can Promoted video ads help your brand?
Using promoted video makes it easy for you (your brand) to upload and distribute video across Twitter and measure the effectiveness of each content posted.
Twitter now also offers advertisers the option of running ads with a Cost Per View (CPV) ad buying model, which means that you only get charged when the user starts playing your video.
When making your promoted videos, use your logo and place it strategically in the upper-left corner as this will help in driving product consideration.
Video Specifications for Promoted Video Ads
File size: Max 1GB (For optimal performance Twitter strongly recommends keeping files under 30 MB.)
Video length: The recommended video length is 15 seconds or less, and the maximum duration is 2 minutes and 20 seconds.
Note: You can request permission to upload longer videos, but it's best to keep your videos short and to the point.
File types: MP4 or MOV
Frame rate recommendation: 30fps is recommended, although you can go for a higher frame rate.
Video aspect ratio: 1:1 or square videos is recommended, but you can go for 16:9 as well.
Thumbnail: Use PNG or JPEG images with an aspect ratio matching the size of the video.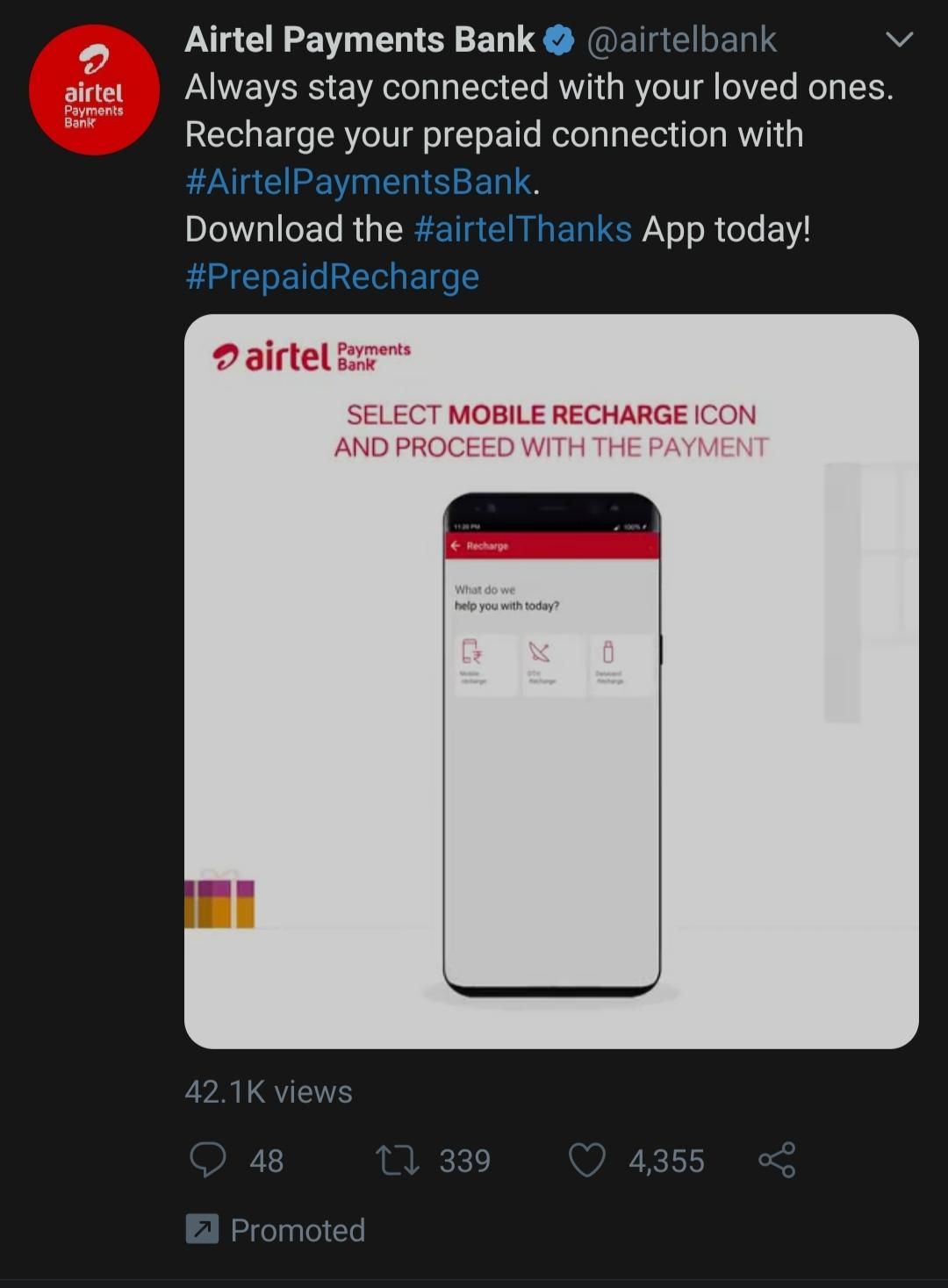 A square Promoted video ad of Airtel Payments' appearing on relevant users' timelines with the label 'Promoted'
2. Amplify Pre-roll Ads
Pre-roll ads are short video ads that play before content that users are already watching.
How can Pre-roll ads help your brand?
You can monetize these videos with Amplify Pre-roll and align your brand with brand-safe, premium publishers like major sports events, top TV shows, and professional news outlets.
Your pre-roll video ad will automatically be matched with publisher content to serve your specified target audience. Make sure you choose relevant content categories that fit with your brand so that both the videos align and match the audience's interest.
Remember to place your logo in the upper left corner of your video and keep it persistent because prominent product placement will help drive product consideration.
Video Specifications for Amplify Pre-roll ads
File size: Max 1GB
Video length: The recommended video length is 15 seconds or less, and the maximum duration is 2 minutes and 20 seconds.
Note: Videos longer than 6 seconds will have a "skip" button after the 6-second mark.
File types: MP4 or MOV
Frame rate recommendation: 30fps is recommended, although you can go for a higher frame rate.
Video aspect ratio: 1:1 is recommended.
Thumbnail: Use PNG or JPEG images (max size of 5MB) with an aspect ratio matching the size of the video.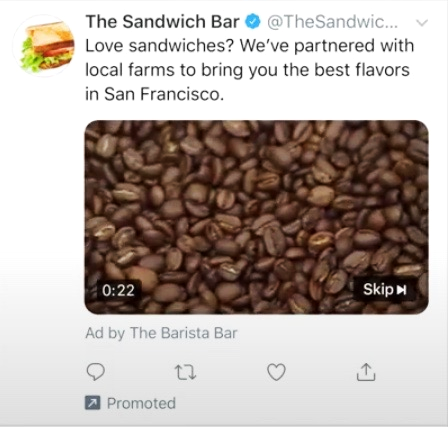 An example of how you can choose relevant brands for your ad - the Barista Bar promoting in the Sandwich Bar
3. Trend Takeover Video Ads
Trend Takeover ads are mass-awareness ad campaigns that put the spotlight on your brand. So how do these work? Trend Takeover campaigns allow your ad to be the first ad that someone will see when they open Twitter for the first time that day.
How can Trend Takeover video ads help your brand?
It allows you to reach a massive audience by placing your ad alongside trending content for the day on the audience's timeline. This makes Trend Takeovers perfect for advertisers seeking to increase their brand awareness, and drive interest, and conversations around their product, event, or launch being advertised.
Trend Take over ads can be very effective, especially in instances when your campaigns are time-bound like events, a periodic promotional offer, or campaigns related to holidays/cultural events since they give you a 24-hour window to take over the top Trends list on Twitter and the Explore tab.
A Trend Takeover campaign typically includes 3 elements- 1. A #Hashtag (up to 20 characters), 2. a Trend description (up to 70 characters, optional but highly recommended), and finally 3. Companion Tweets that will appear on your audience's feed to stimulate interaction. But with the Trends Takeover + you can include a 6-second immersive video or GIF with your ad message.
Video Specifications for Trend Takeover + Ads
If you're opting for a Trends Takeover+ campaign, Twitter recommends using videos that are 5-6 seconds long. This is an ideal video length to allow sufficient buffer time for viewers to see your logo or CTA before it replays in a loop.
File types: 6-second looping GIF/MP4 or even a static image
Aspect ratio: 16:9 (for both GIF and images)
File size: 5MB for image, 15MB for GIF
An example of a First view ad by OnePlus India appearing at the top of the Explore page
4. Twitter Live Video
With Live videos, you can interact and engage with your audience all in real-time.
How can Live videos help your brand?
This is a great way to promote your brand or product, especially when something new is launched. Live videos are a great way to offer more authentic engagement with the audience.
Live streaming can be beneficial to promote your brand in multiple ways. You could use it to launch your new products, make announcements, hold interviews, create tutorials, and much more, thus getting to know your customer's reviews and answering their questions on the go.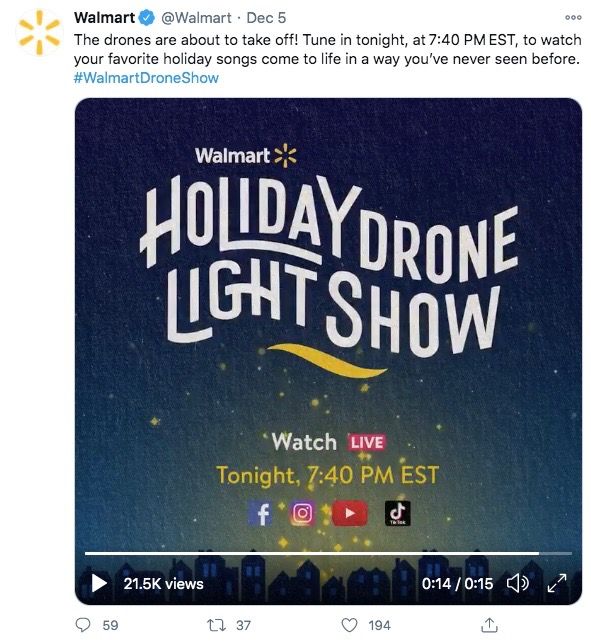 Walmart went live to share moments of exciting drone lights with holiday songs
Why is Periscope shutting down?
Twitter also had a separate app called Periscope, which was very popular and used to create live videos anywhere and on the go. But after five years of being acquired by Twitter, Periscope announced that they were shutting down by March 2021 due to declining usage and high costs.
Almost all of Periscope's live streaming capabilities have been added to Twitter as features and you can download an archive of your data from Periscope before the app goes down.
You still have Twitter's Live video to get to know your audience's preferences, so make the most of it and boost your brand's credibility.
Best Practices to Increase Engagement for Twitter Videos
With video becoming Twitter's fastest-growing advertising option, it becomes necessary to create and upload videos in the best way possible. Here are a few practices to keep in mind while making videos to increase engagement for your videos.
1. Keep it short and simple.
In today's fast-moving world, where humans can get distracted instantly, grabbing their attention can be a mammoth task. But to keep growing your business, you'll have to make sure the first few moments of your video are catchy enough for them to stay on and watch the rest of the video.
Always remember to deliver your main message in the first 3 seconds of your video. Also, try to keep your video under 15 seconds to maximize branding impact.
Apply the same principle for your Tweet copy as well by trying to keep it crisp and concise and staying under 100 characters.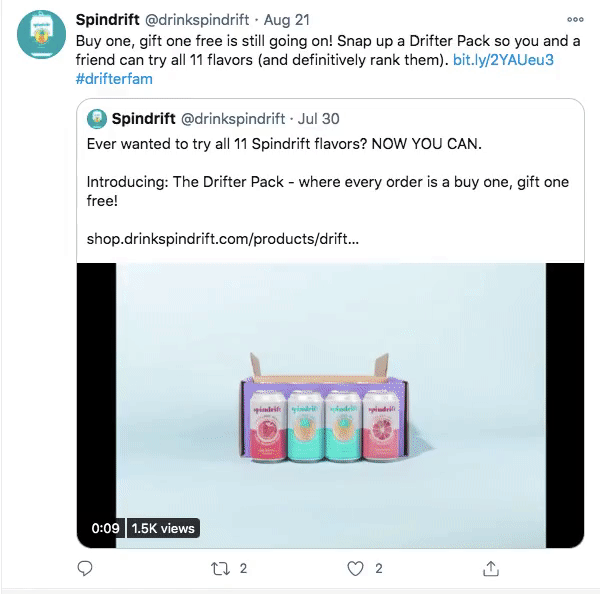 A short 15-sec video by Spindrift with a short, concise Tweet copy
Take a look at this short little video by Spindrift. It checks off all the categories required for a simple video. The language used is also simple and to the point, telling the audience exactly what it's about.
2. Add Hashtags to increase your reach
Hashtags are very common on Twitter, and you'll hardly see a post that is without them. They're important as they help categorize your tweets, which makes it easy to find them.
You could use a lot of hashtags in your post, but with Twitter, less is more. So try to stick to 1-2 relevant hashtags in your Tweet copy.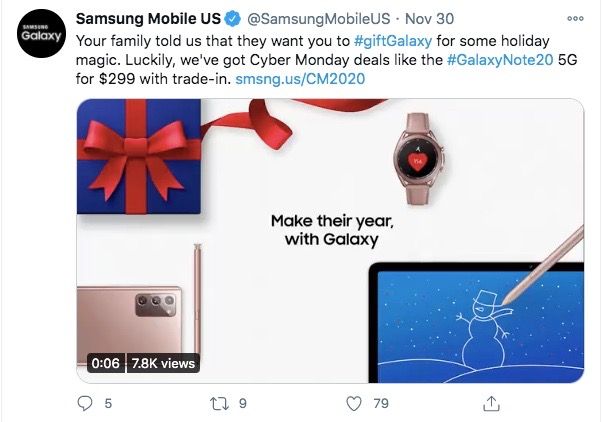 Samsung mobile's short video with a limit of 2 hashtags
In the above example, Samsung has added just two simple hashtags which are about gifting their products, and have also included a link in their description directing users to their relevant landing page.
3. Include Product and People
Twitter suggests opening up your ads with the product in focus. Doing so has resulted in a 24% increase in positive interest and a 34% increase in click intent.
Twitter also says that videos with products that have a human touch or interaction with them resulted in a 40% increase in the overall response.
So make sure you incorporate and include a positive human interaction and desire for the product in your video.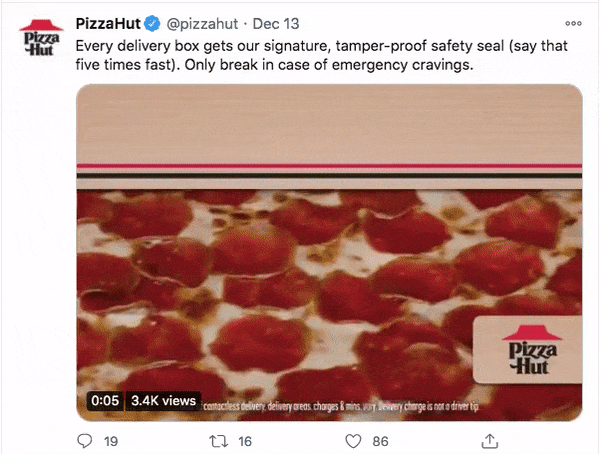 PizzaHut's short video with the product in focus and a touch of human interaction (literally)
Take a look at how pizza brings focus to its product immediately and ensures its customers of safe packaging. Also, notice how they've placed their logo at the bottom throughout the video to increase brand memory.
4. Include Captions
As 93% of Twitter videos are viewed on mobile devices, it's important to have a sound-off viewing strategy. This is because most people use Twitter and other social media when they're on the go and may not always have access to sound.
So use captions and other forms of text to give your video more context and make it easier for your viewers to understand the content better.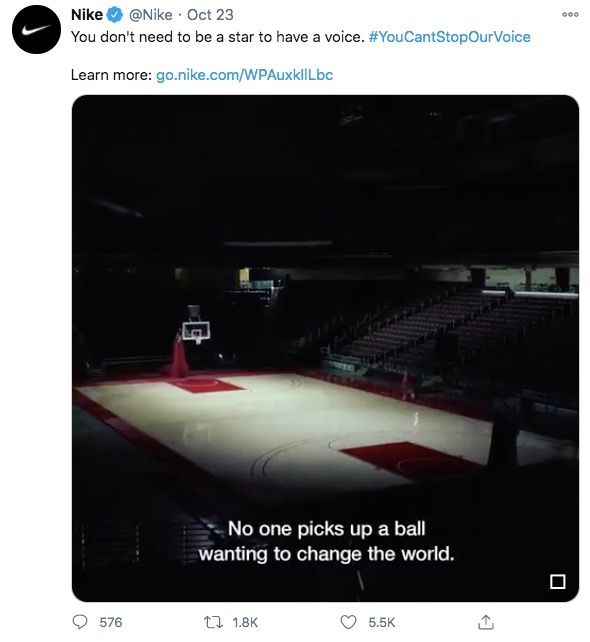 A video by Nike with captions of the narration
You can use captions effectively when your video has a narration in the background like the example above or any conversation between people. It helps in understanding what is being spoken much clearly.
5. Flash that Logo
Twitter advises that brands should consider positioning their logo within their video frame and from the beginning of the video to drive brand association from the start because when logos are placed evidently, there's a 30% increase in brand recall.
You can include your logo in the upper left or right-hand corner of your video to help gain faster brand recall but make sure it stands out.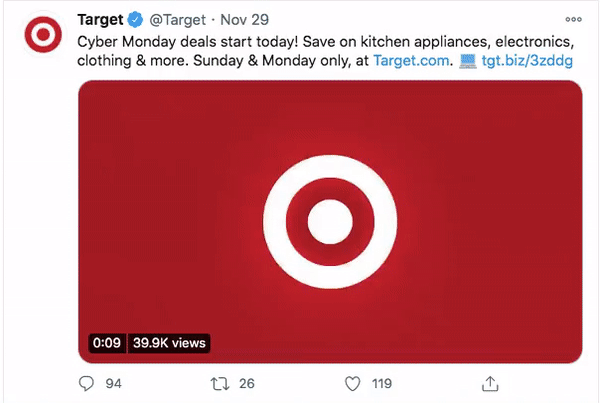 Target's creative way of placing its logo at the beginning of the video
Here's how Target begins all their videos by placing their logo creatively at the beginning of the video. This instills the logo in the viewers' minds and helps in the instant recollection of the brand.
Wrapping up,
Given all the Twitter video stats, it's no doubt that Twitter has so much potential in marketing your brands and helping you gain the traffic that you need. But posting the best content for your brand is all really up to you.
There are nearly 330 million monthly active users on Twitter and with this massive number, it might be easy for your organic posts to get lost in the crowd. So, investing in video ads is something you should consider to get your brand to a higher scale.
Apart from that, make sure you follow all the necessary video specifications required for each Twitter video because the last thing you want is an amazing video that cannot be posted because of the wrong video formats.
Hope these tips and tricks were of use!
We're here to ease out the process of creating well-designed quality brand videos. Create engaging Twitter across different dimensions, use professionally designed graphic overlays to make captivating ad videos for your Twitter Feed, and upload your own audio or music track to build unforgettable brand videos.